August 06, 2022
Happy Saturday. Smart Brevity™ count: 959 words ... 3½ mins. Edited by Donica Phifer.
🏛️ Breaking: The Senate parliamentarian today left Democrats' plan for curbing drug prices mostly unscathed, as party leaders prepared to start moving their sprawling economic bill this afternoon. Keep reading.
In a partial victory for the industry, the proposal to cap price increases for prescription drugs in the commercial market was blocked, Bloomberg reports.
💰 Situational awareness: An Austin jury ordered conspiracy theorist Alex Jones to pay $45 million in punitive damages to the parents of a 6-year-old boy killed in the Sandy Hook Elementary School shooting. Jones falsely called the 2012 tragedy a hoax. Go deeper.
1 big thing: Credit-card debt is soaring
Recession fears and price pressures haven't tamed Americans' urge to splurge:
Credit-card balances are defying the gravitational pull of stubborn inflation and slower growth, writes Javier E. David, Axios managing editor for business and markets.
Credit cards account for $890 billion of Americans' staggering $16 trillion in household debt.
"If your costs begin to exceed your income. What do you do? You look for a relief valve through borrowed money," investor Peter Tarr tweeted.
🧠 What's happening: Spending on experiences, like travel and entertainment, has supplanted physical goods like clothing and home items as the purchases of choice.
Consumers are compensating for soaring prices by discount shopping — and using copious amounts of plastic to offset surging costs for food and gas.
👀 What we're watching: Bloomberg cited a New York Fed report highlighting a worrying rise in delinquent accounts among lower-income and subprime borrowers.
That could lead to a spiral of unpaid debts if the economy worsens.
⚠️ Threat level: Credit-card issuers are leaning into Americans' hunger for debt, primarily by offering travel-related bonuses and cash back on purchases, according to Wells Fargo data.
The survey found that 45% of Americans with rewards credit cards "rely on their credit card rewards to help offset some of the cost of everyday purchases."
2. 🚀 Full jobs recovery
It took 27 months for the economy to regain the nearly 22 million jobs lost in the first two months of the pandemic. July figures, out yesterday, show they're all back — with 32,000 more than in February 2020.
The number of long-term unemployed people (above) was the lowest since July 2000, with the exception of April 2020, Nathan Bomey wrote in Axios Closer.
Why it matters: Recent layoffs have been worrying. But hiring appears to be overwhelming dismissals for now.
💡 Some employers are abandoning résumé-filtering algorithms that eliminated long-term unemployed people as job candidates, Goodwill Industries International CEO Steve Preston tells Axios.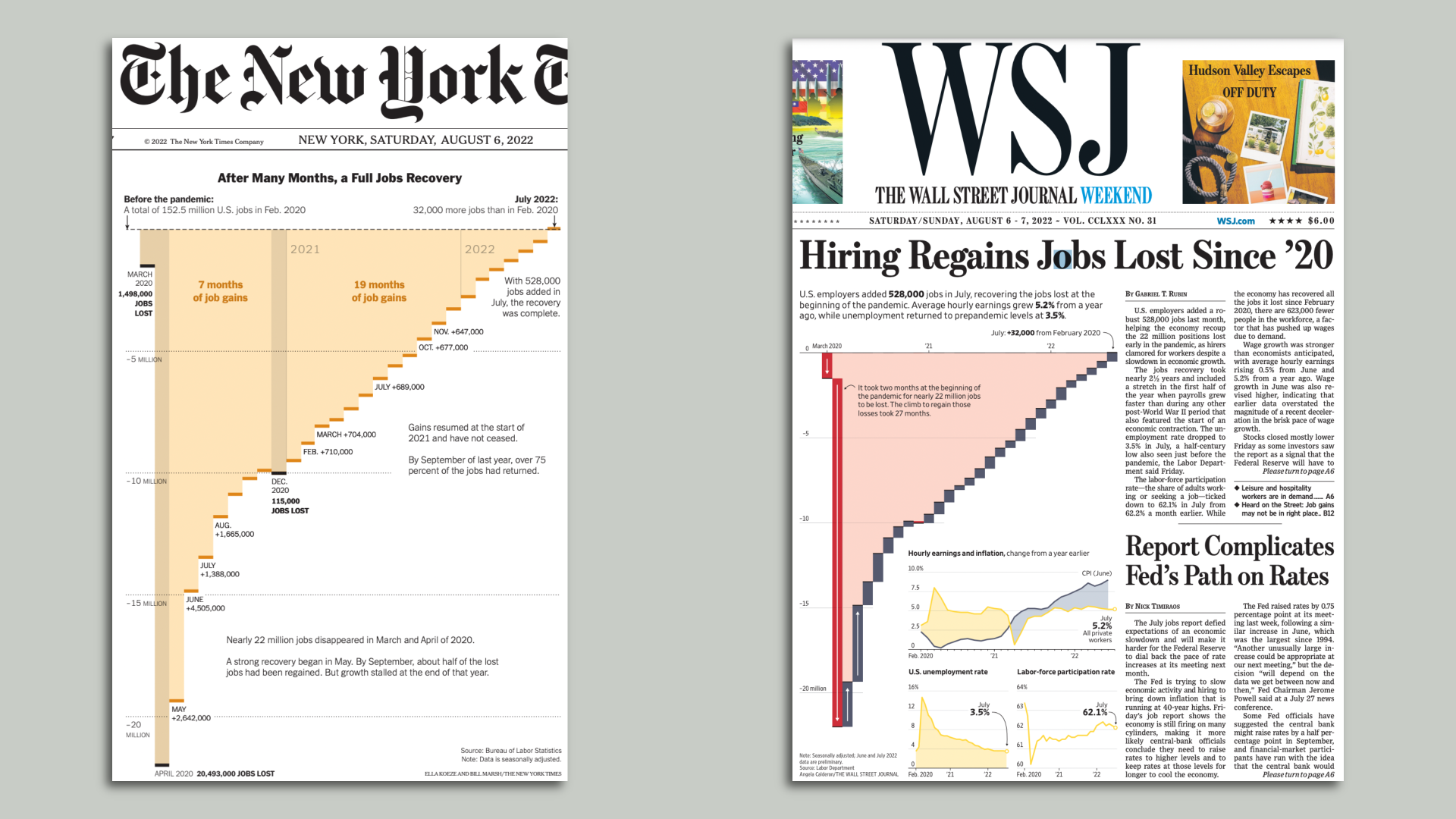 💥 The New York Times sees "many markers of a boom" amid the inflation gloom — businesses want to hire, consumers want to spend, oil is gushing:
"Recessions ... are about too much supply and too little demand. What the U.S. economy is facing is the opposite."
Reality check: Tara Sinclair, an economist at George Washington University, told The Times it's "a boomtown situation where everyone's just waiting for it to get cut off."
3. First abortion ban since Roe fell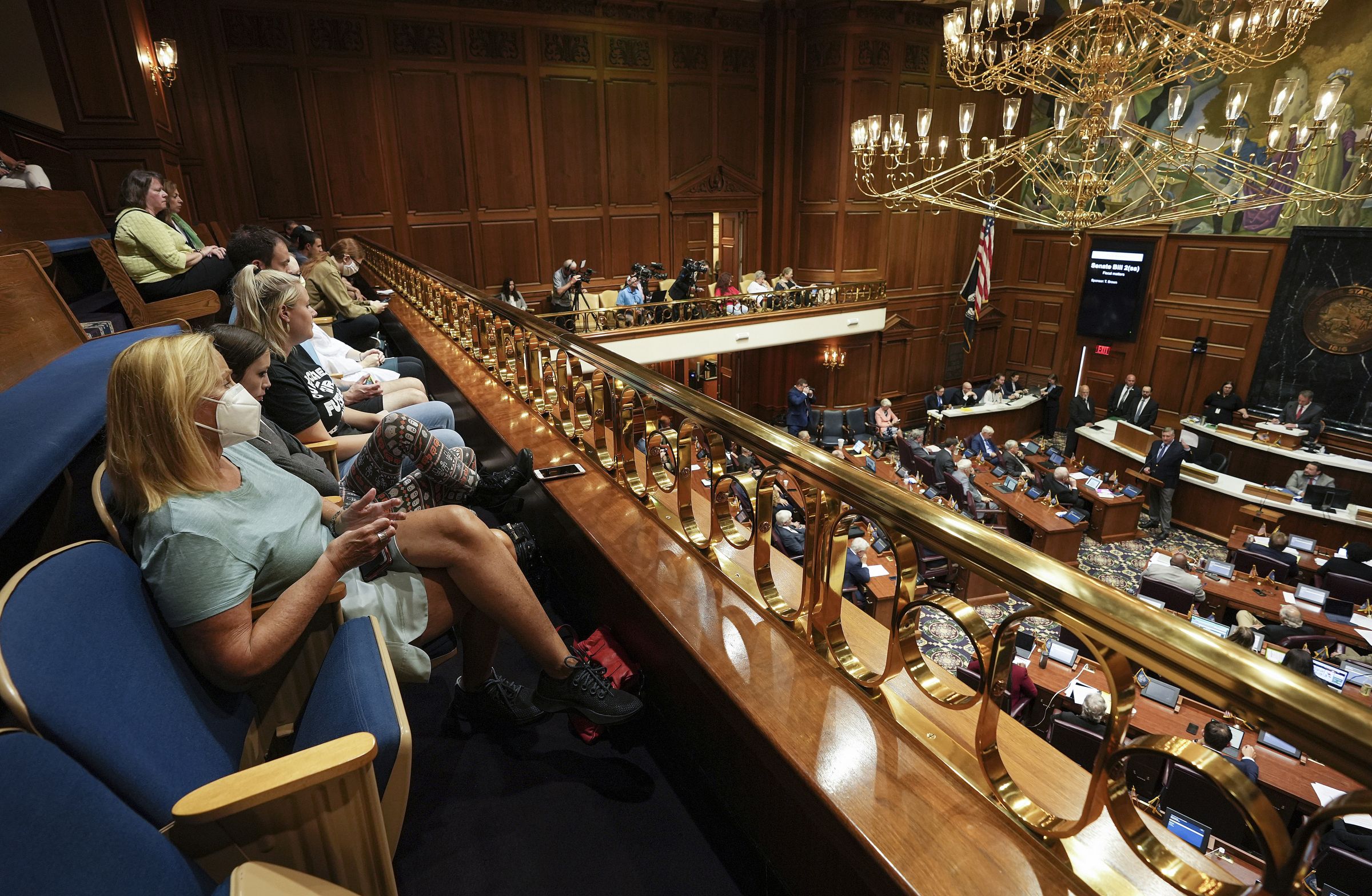 Indiana became the first state to approve a near-total abortion ban after the Roe ruling.
Indiana Gov. Eric Holcomb (R) signed the bill late last night after passage by the state House and Senate.
The ban takes effect Sept. 15.
Under the new law, abortions can be performed at hospitals or outpatient centers owned by hospitals. Abortion clinics will lose their licenses.
Business balks: The drug maker Eli Lilly — which is based in Indianapolis, and employs more than 10,000 in the Hoosier State — said the law could hamper the state's "ability to attract diverse scientific, engineering and business talent from around the world."
"Given this new law, we will be forced to plan for more employment growth outside our home state," the statement said.
Zoom out: Many other Republican states have already begun taking action to ban abortion, Axios Herb Scribner writes.
4. 📷 1,000 words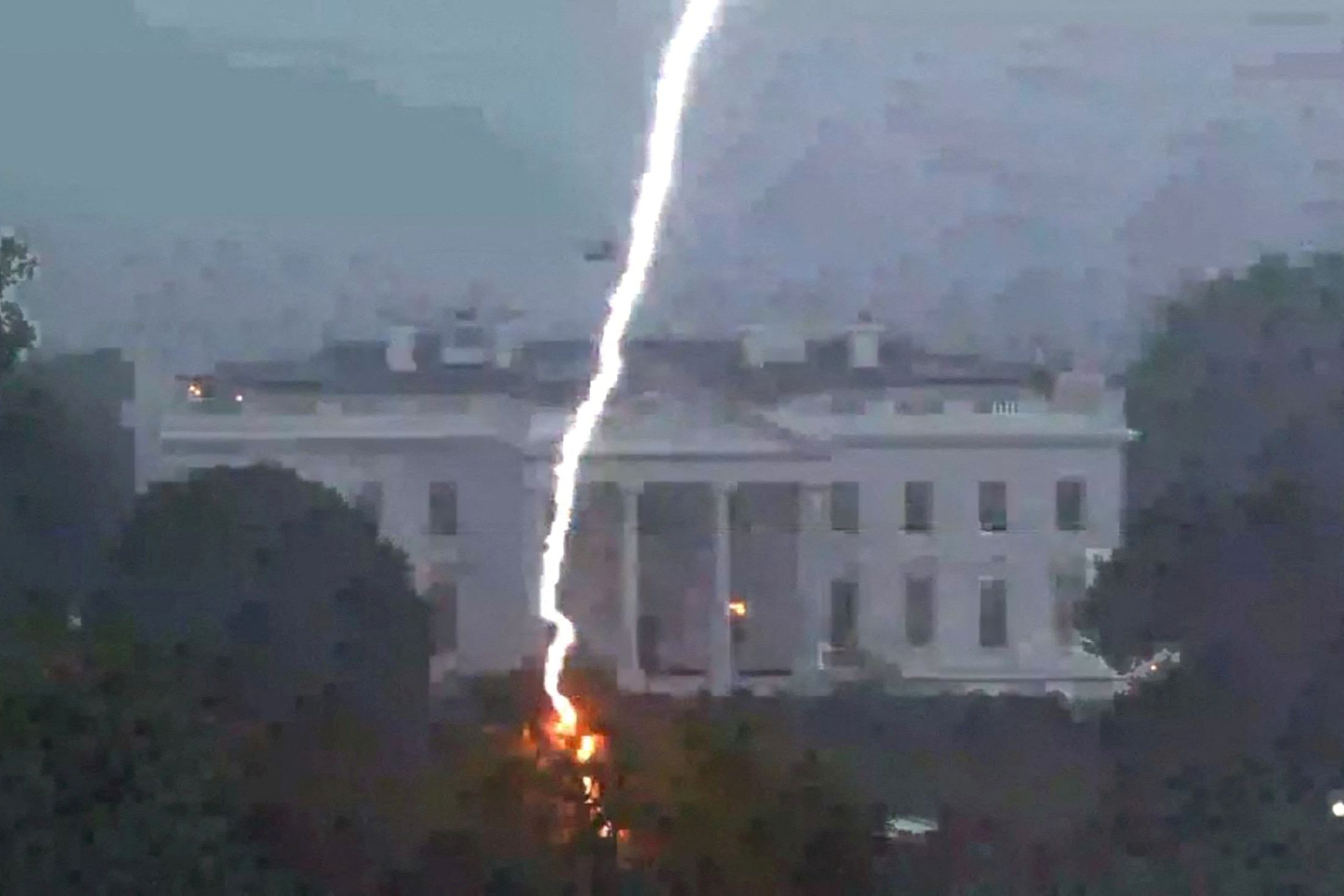 Lightning hits a tree in Lafayette Park, across from the White House, on Thursday evening. Three people were killed, and another was critically injured.
The frame grab above is from a Reuters TV camera mounted on a nearby rooftop.
Those killed are James Mueller, 76, and Donna Mueller, 75, of Janesville, Wis., and a 29-year-old man who hasn't been named. Details.
5. Taiwan says China simulates attack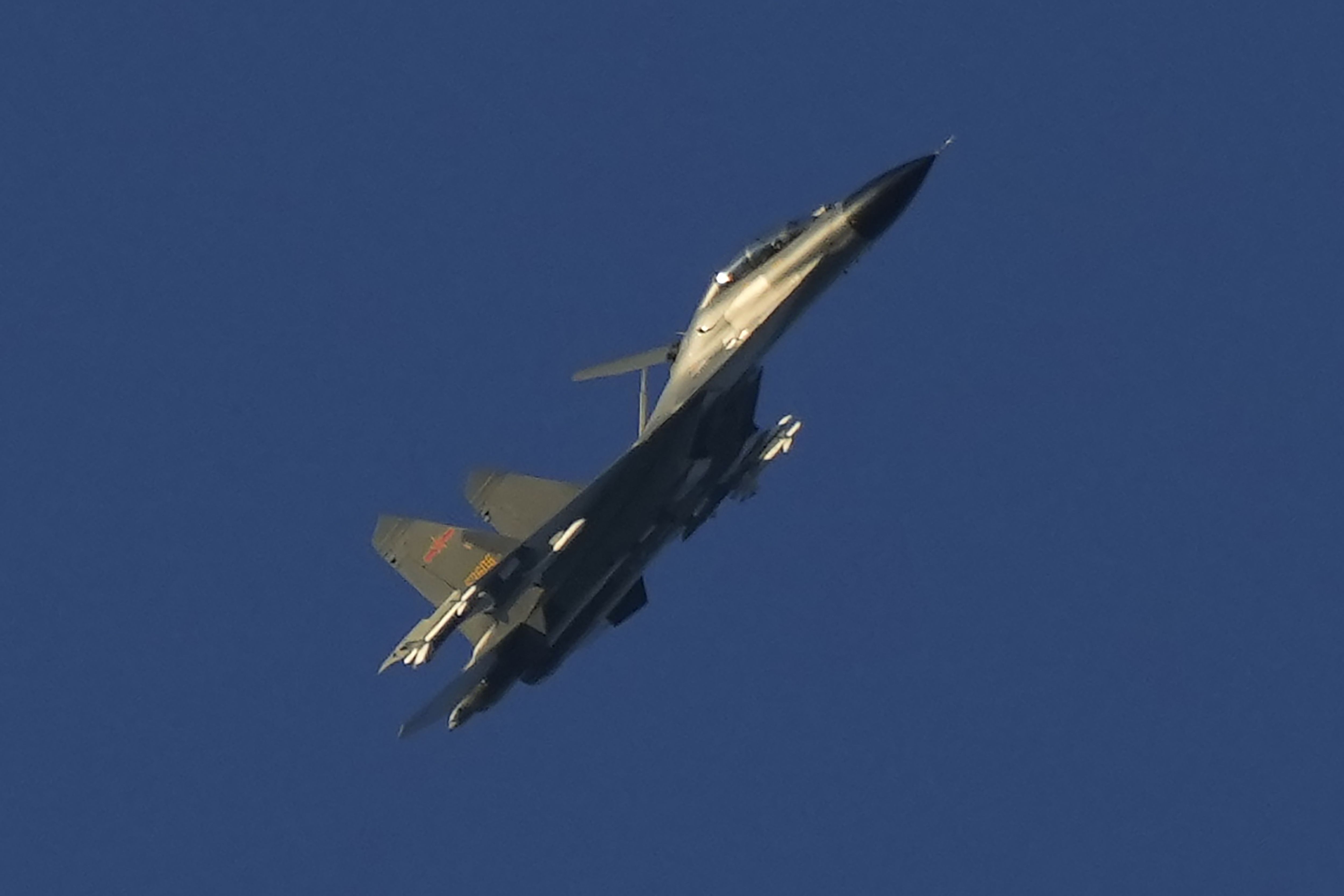 Taiwan officials said Chinese aircraft and warships rehearsed an attack on the island today as part of Beijing's retaliation for a visit by Speaker Pelosi, Reuters reports.
China also cut off contacts with the U.S. on vital issues yesterday — including military matters and crucial climate cooperation.
🇹🇼 Taiwan's defense ministry said multiple Chinese ships and planes conducted missions in the Taiwan Strait — with some crossing the median line, an unofficial buffer separating the two sides.
Taiwan said it scrambled jets to warn away 20 Chinese aircraft, including 14 that crossed the median line.
🇨🇳 China's Eastern Theater Command said it continued to conduct sea and air joint exercises north, southwest and east of Taiwan. It said its focus was on testing the system's land strike and sea assault capabilities.
6. ☕ New bet: Reusing coffee grounds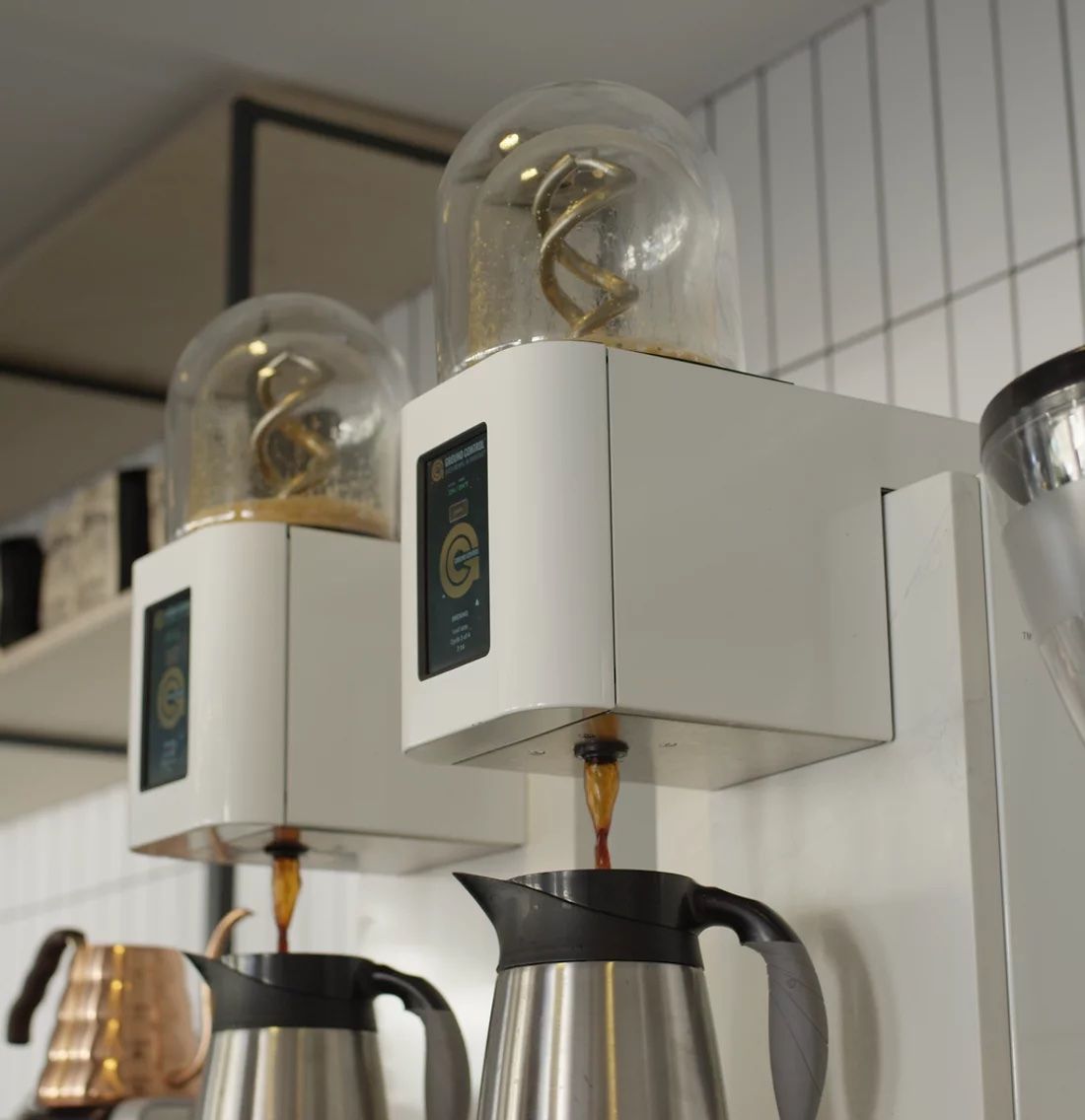 Ground Control, based in the Bay Area, is out to break a cardinal coffee rule: Don't reuse the grounds, Bloomberg reports.
Ground Control, designed for businesses, "washes coffee grounds with fresh water over separate cycles, usually three or four —each time catching different flavors and characteristics from the beans."
The machine, called Cyclops, is "crowned with an eye-catching glass bulb with double helix extraction tubes that look like a Back to the Future prop," Bloomberg writes. "The result is a preternaturally smooth cup, without the bitterness or thin flavor that reused grounds will conjure up." 
📬 Invite your friends to sign up here for their daily essentials — Axios AM, PM and Finish Line.