Axios AM
July 14, 2018
Happy Saturday, and happy Bastille Day — the French national day, marking the storming of the royal Bastille prison in Paris in 1789, beginning the French Revolution.
🚨 Situational awareness: "The nation's top intelligence officer said ... the persistent danger of Russian cyberattacks [is] akin to the warnings ... of stepped-up terror threats ahead of the Sept. 11, 2001, attacks," per the N.Y. Times' Julian E. Barnes.
Director of National Intelligence Dan Coats, speaking at the Hudson Institute: "The warning lights are blinking red again ... Today, the digital infrastructure that serves this country is literally under attack."
1 big thing ... Mueller's map: What 35 indictments tell us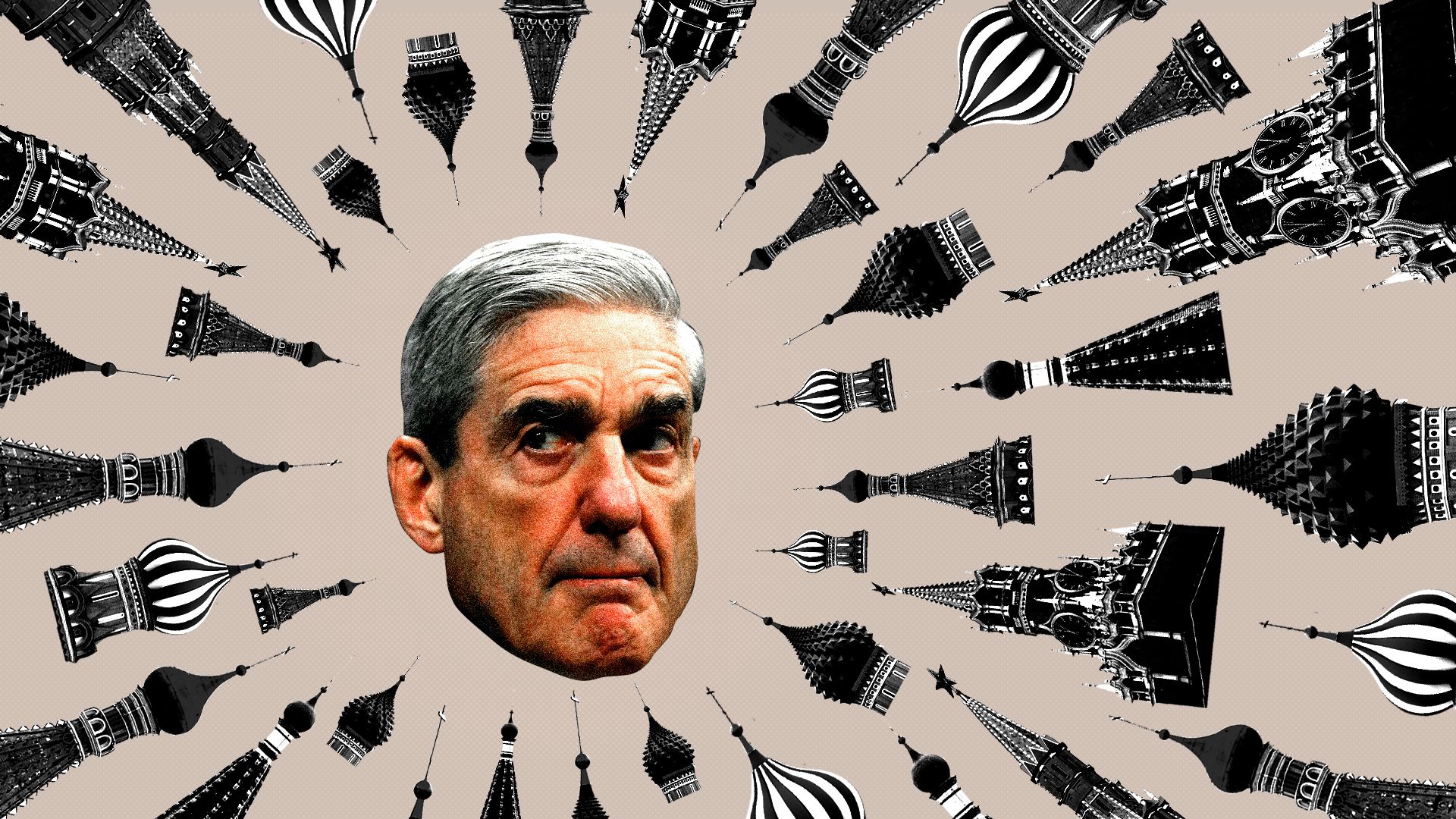 Wait! A Russian military intelligence agency leased server space in Arizona and a computer in Illinois?
Wait! The Russian military used bitcoin to buy servers, register domains and pay for other election-hacking activity?
Wait! The Russian military used screenshots and keystroke-capture to monitor dozens of DCCC and DNC employees as they typed?
Wait! The Russian military tried to trick more than 30 Hillary Clinton campaign employees into clicking on a document titled "hillary-clinton-favorable-rating.xlsx" (that actually went to a Russian website)?
Wait! The Russian military extracted opposition research on Republican candidates in bulk from the DNC, as part of a multi-gigabyte haul?
Wait! A lieutenant captain in the Russian military named Nikolay Yuryevich Kozachek (Козачек Николай Юрьевич) disguised himself online as "blablabla1234565"?
That's what I kept thinking as I read special counsel Robert Mueller's 29-page indictment yesterday of a dozen Russian intelligence officers (from Boris and Ivan to Sergey and Viktor).
And none of that is even the most alarming, damning news in the filing in U.S. District Court in D.C. Mueller, who personally signed the document, saved that for page 25:
Two of the officers conspired "to hack into the computers of U.S. persons and entities responsible for the administration of 2016 U.S. elections, such as state boards of elections, secretaries of state, and U.S. companies that supplied software and other technology related to the administration of U.S. elections."
And they actually pulled it off: "In or around July 2016, [Russian military officer Anatoliy Sergeyevich Kovalev] and his co-conspirators hacked the website of [an unnamed] state board of elections ... and stole information related to approximately 500,000 voters, including names, addresses, partial social security numbers, dates of birth, and driver's license numbers."
Mueller has now indicted or secured guilty pleas from 32 people and three Russian companies.
Vox's tally: "four former Trump advisers, 26 Russian nationals, three Russian companies, one California man, and one London-based lawyer. Five of these people (including three former Trump aides) have already pleaded guilty."
All of the documents are on one page on Mueller's official Justice Department website. I curled up and read them all. What I learned:
Known knowns about Mueller:
He has keystroke-by-keystroke reconstructions of online activities by the Russian "Conspirators," as the indictment calls them — down to their web searches.
He's going broader, deeper, wider than people realize — following the money, following the keystrokes, following the concentric circles of characters.
His indictments and plea agreements are providing a serial narrative of what Sen. John McCain has called an "act of war" perpetrated during one of the closest elections in American history.
Known knowns about Russia:
Yesterday's indictment was so significant because its scope went far beyond propaganda efforts and into a physical attack on America's state-by-state machinery of democracy.
This wasn't an attempt — the Russians actually succeeded in some of their incursions.
The attack was more sophisticated and involved vastly more resources than most U.S. politicians realized.
Be smart: David Kris, founder of Culper Partners consulting firm and head of the Justice Department's National Security Division under President Obama, told me that Mueller is following traditional prosecutorial practice by starting at the outer ring.
"His next steps may include moving in closer to the center of things."
One possible shot to drop ... Russian blackmail or threats targeting Americans who took things of value: "That's a traditional element of Russian tradecraft."
Go deeper ... "Mueller's web: Everyone caught up in the Russia investigation."
2. First-person account: I got Russian leaks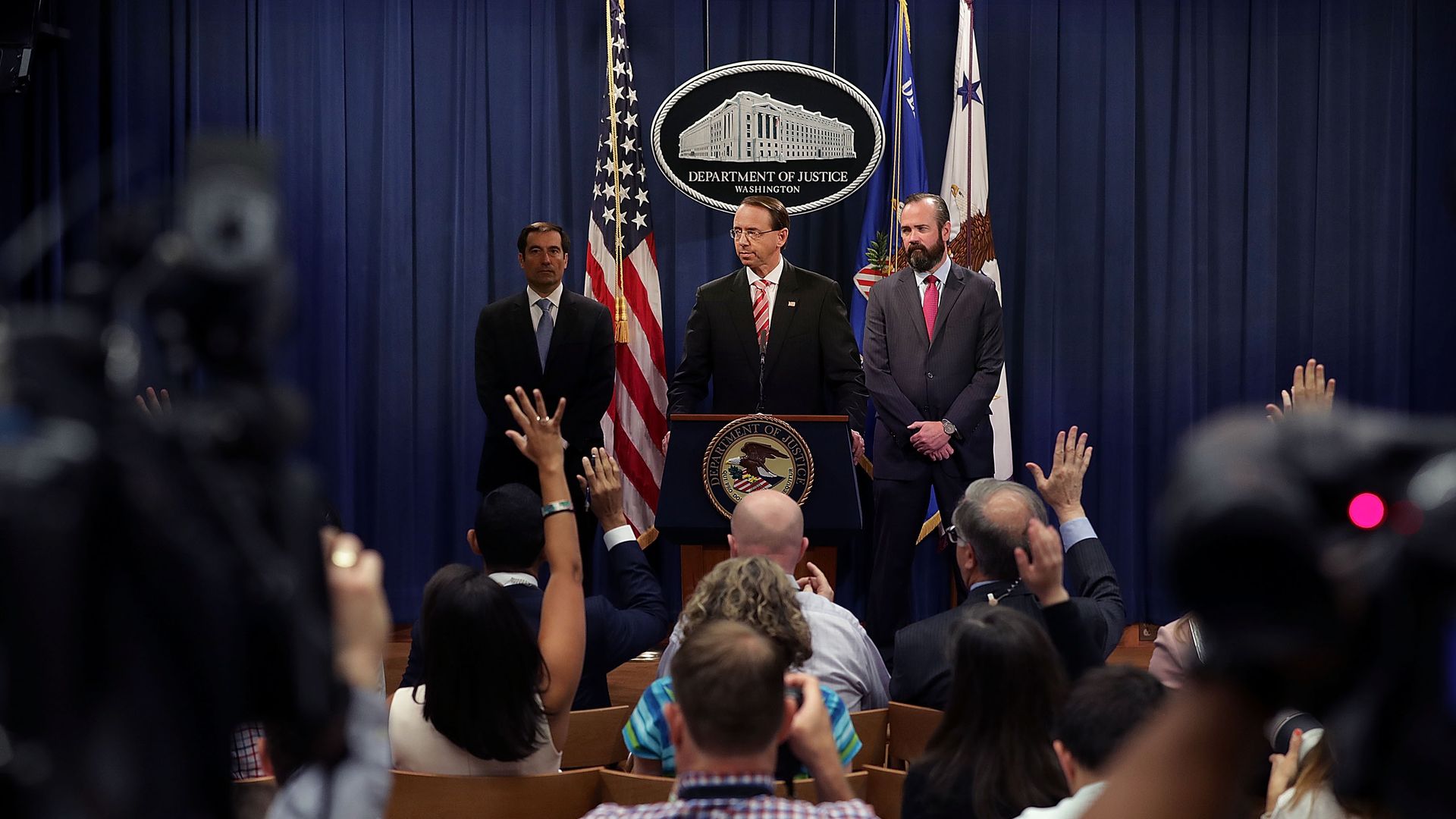 Mueller's indictment names the Russian intelligence agents behind the Guccifer 2.0 persona, the public face of the cyber break-in at the DNC.
Axios' Joe Uchill — author of Codebook, our cybersecurity newsletter — gives this behind-the-scenes account:
Washington Post columnist Josh Rogin tweeted after the Russia indictment: "American reporters who took stories from Guccifer 2.0 or DC Leaks have to wonder if they weren't used as a tool of a foreign military intelligence operation against our country."
We did wonder about that:
At The Hill (where Joe was a cybersecurity reporter in 2016), we always tried to make it clear that Guccifer 2.0 was likely a Russian asset. We never published full documents — though we did summarize some — and only printed stories we believed explained some aspect of Russia's intent with the campaign.
With Kevin Collier, I was one of two reporters who had ThreatConnect perform forensic analysis on emails from Guccifer 2.0 that ultimately determined he used a Russian anonymity service known as a VPN. (I scrubbed the emails of any identifying information other than the IP address to protect my source's anonymity).
Guccifer 2.0 claimed to be from Romania. The first reporter to conduct an interview with Guccifer 2.0, Motherboard's Lorenzo Franceschi-Bicchierai, quickly established that Guccifer 2.0 did not speak Romanian.
3. What Trump is thinking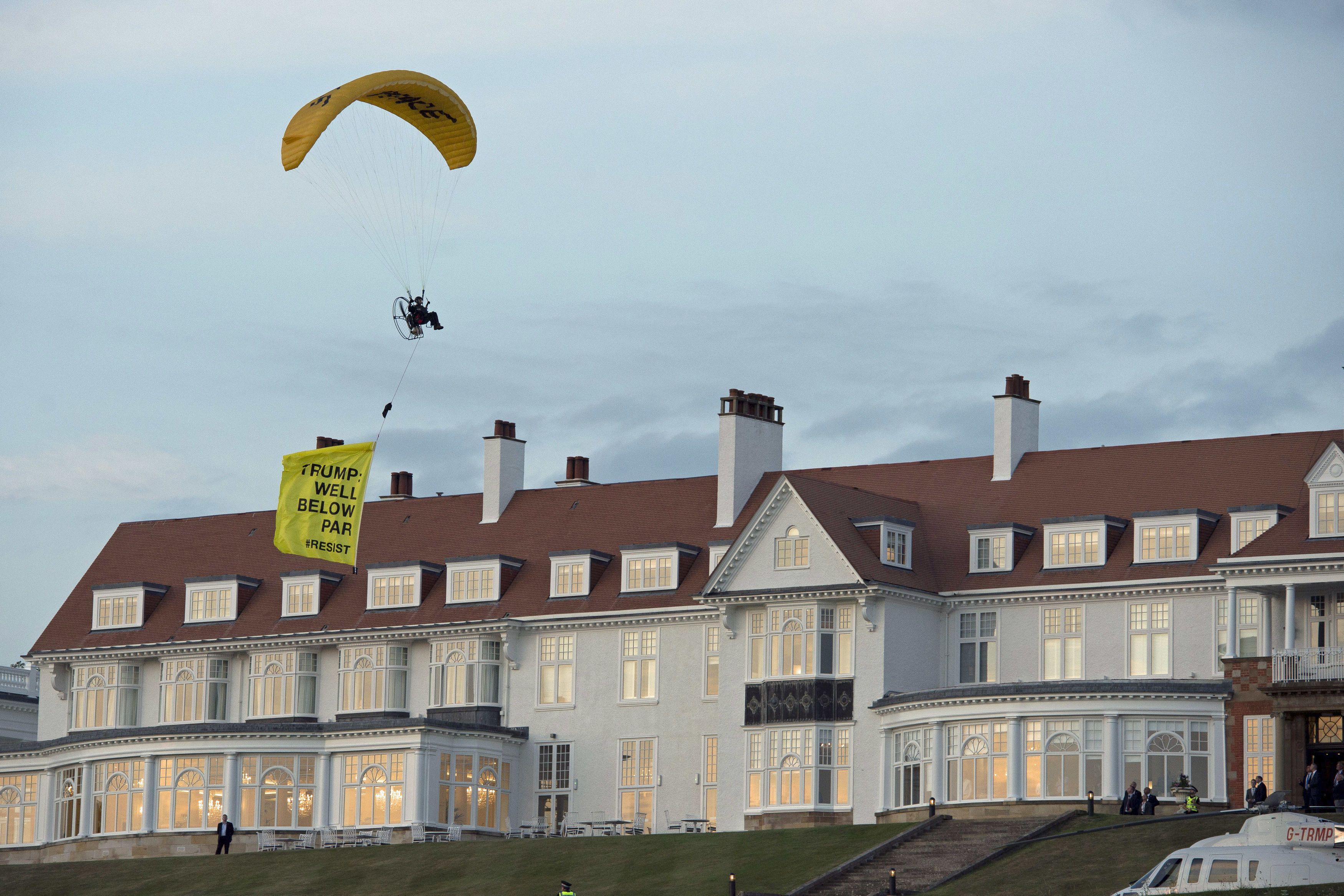 What President Trump says publicly on Russian hacking is no different from what he says privately, Jonathan Swan reports from London.
Trump's view: Putin's a bad guy, sure, but there are lots of bad guys in the world. Whatever!
The president does not take the election-intrusion element of the Russian threat seriously — despite spin from administration officials that they're taking it seriously.
Trump sees the entire Mueller investigation as a "Deep State" (that's the U.S government) plot to undermine his election victory and his presidency.
In tweet from Scotland this morning, Trump blames Obama:
"The stories you heard about the 12 Russians yesterday took place during the Obama Administration, not the Trump Administration. Why didn't they do something about it, especially when it was reported that President Obama was informed by the FBI in September, before the Election?"
White House deputy press secretary Lindsay Walters said in a statement:
"Today's charges include no allegations of knowing involvement by anyone on the campaign and no allegations that the alleged hacking affected the election result. This is consistent with what we have been saying all along."
Swan also gives this readout from Trump's private time with British Prime Minister Theresa May yesterday, from a source familiar with their meeting:
Despite the awkwardness of Trump's criticism of her in a morning newspaper interview, the meeting was the warmest they've had by far.
Trump was said to be mortified by the Sun story, which maybe caused him to be more accommodating.
He started out by showing contrition, which set the tone for the day.
He publicly did what he rarely does — offered an apology.
He loved the pomp and circumstance, which put him in a good mood.
He remains obsessed about Germany and its gas pipeline deal with Russian, and continues hammering on it.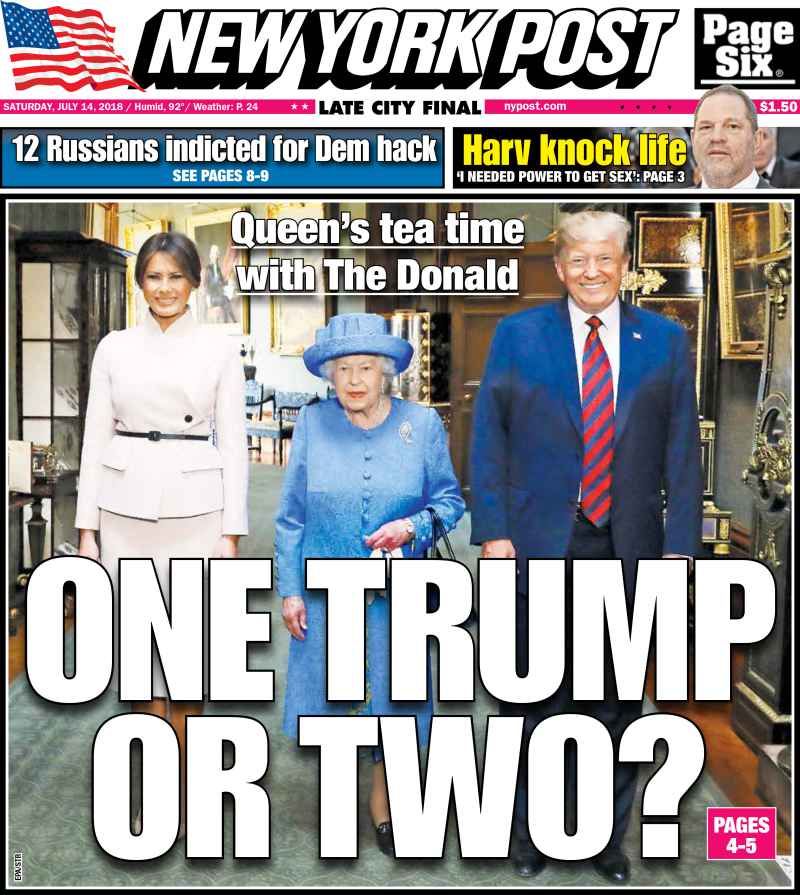 Bonus: 3 lies heard 'round the world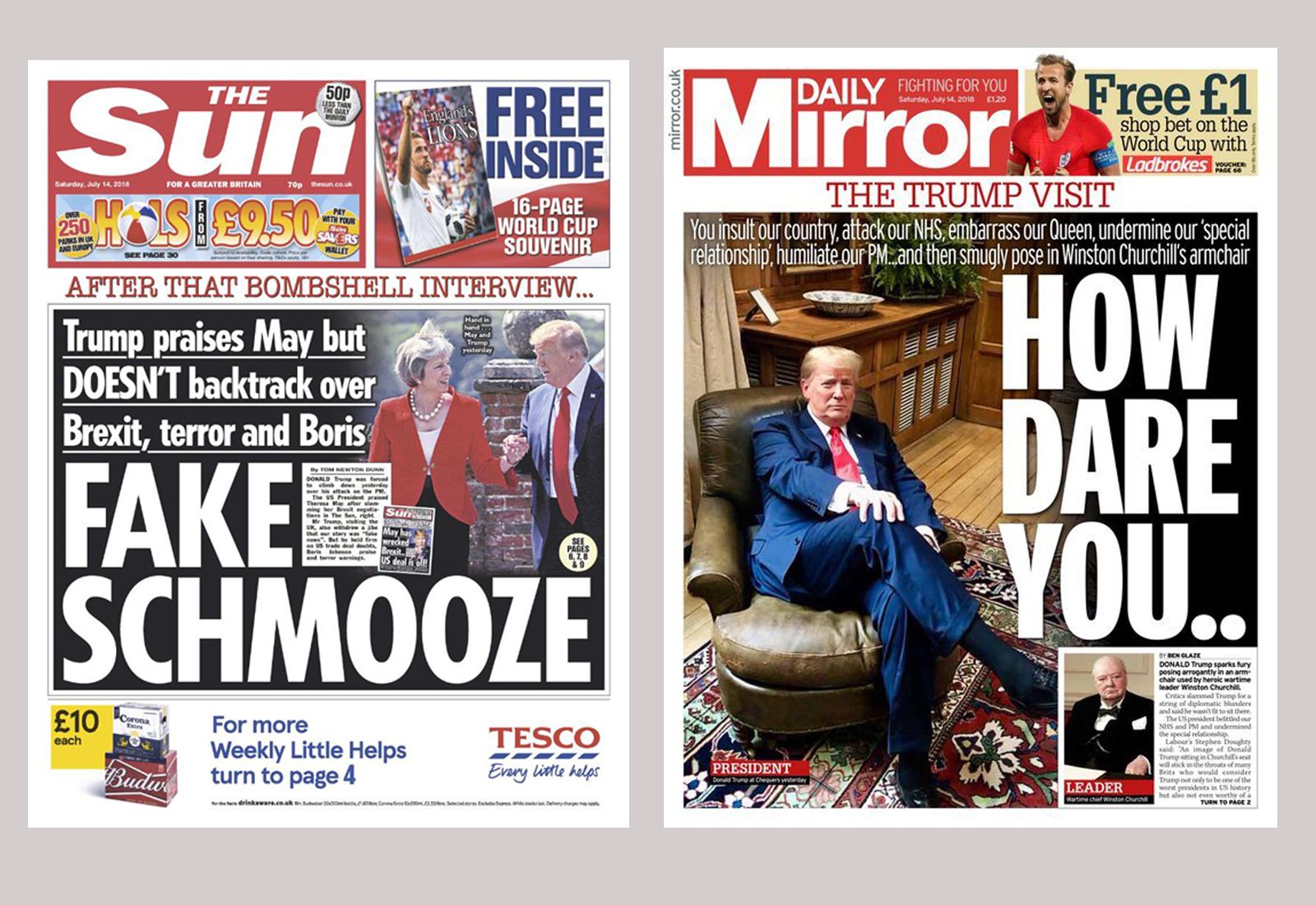 Be smart: Most GOP voters don't care. We should — the rest of the watchful world sure does. 
P.S. The cover of tomorrow's Washington Post Outlook section is "Can truth survive this president?" by nonfiction book critic Carlos Lozada, keying off five new books on the state of truth under Trump:
"The disregard for honesty in the Trump era ... is eliciting new research and polemics from philosophers, literary critics, political analysts and social scientists. (In the publishing world circa summer 2018, the death-of-truth brigade is rivaled only by the death-of-democracy crew.)
4. Shot: Trump declares success in War on Poverty
"Republicans for years have proclaimed the federal government's decades-old War on Poverty a failure," the WashPost's Jeff Stein and Tracy Jan write:
"Now the Trump administration is pitching a new message on anti-poverty programs, saying efforts that Republicans had long condemned as ineffective have already worked."
A White House Council of Economic Advisers report this week "declared the War on Poverty 'largely over and a success,' arguing that few Americans are truly poor — only about 3 percent of the population."
Why it matters: "The report is the latest in a string of Trump administration efforts to argue that poverty is a diminishing problem in the United States. ... And the report marks a departure from decades of GOP rhetoric."
5. Chaser: Profits swell, but workers see no relief
"Corporate profits have rarely swept up a bigger share of the nation's wealth, and workers have rarely shared a smaller one," the N.Y. Times' Patricia Cohen writes:
"The lopsided split is especially pronounced given how low the official unemployment rate has sunk."
"Hourly earnings have moved forward at a crawl, with higher prices giving workers less buying power than they had last summer."
"Last-minute scheduling, no-poaching and noncompete clauses, and the use of independent contractors are popular tactics that put workers at a disadvantage."
"Threats to move operations overseas, where labor is cheaper, continue to loom."
Be smart: "For the first time in a long while, workers have some leverage to push for more."
"Throughout the recession and much of its aftermath, ... many Americans were grateful to receive a paycheck instead of a pink slip ... Now, complaints of labor shortages are as common as tweets."
6. 1 flick thing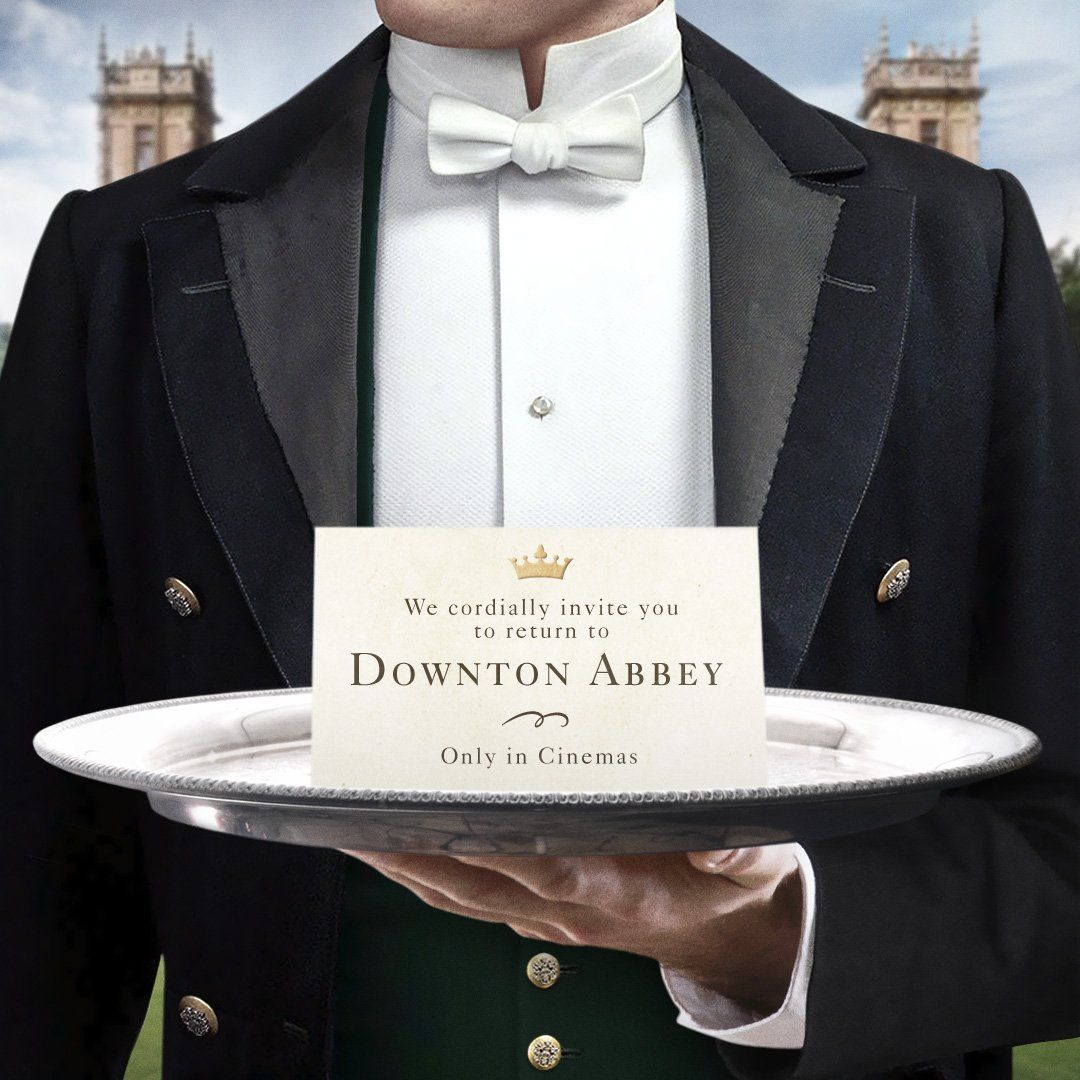 Downton Abbey and the lives of the Crawley family and its servants are coming the big screen, per Hollywood Reporter:
"The original main cast from the hit TV series will return for the feature, which is set to shoot later this summer."
"Also returning from the series is its creator, Oscar winner Julian Fellowes, who wrote the film's screenplay and will produce alongside Gareth Neame and Liz Trubridge.
"Downton Abbey, which concluded [on PBS ]in 2015, portrays the lives of the aristocratic Crawley family in England and their servants amid the backdrop of such historic events as the sinking of the Titanicand World War I."
Why it matters: "It has become one of the most popular TV shows in the world, airing in at least 150 countries."
T'hanks for reading. Axios.com will have updates all weekend.