Good Saturday morning. Situational awareness: Mueller has told the White House that he'll probably seek to interview six current and former White House aides: Hope Hicks; Sean Spicer; Reince Priebus; White House counsel Don McGahn; one of his deputies, James Turnham; and Josh Raffel, a White House spokesman who works closely with Jared Kushner. (WashPost)
Be smart: These six know a lot about the process of the West Wing, and saw and heard a lot that Mueller's interested in. This is another clue that Mueller is obsessed with understanding how things worked, building his web of details and connections — and methodically working from the outside of the circle to the very center of it.
https://www.axios.com/newsletters/axios-am-a77732c1-d5ed-4d26-858d-ad2d2dc2c690.html?chunk=0#story0
1 big thing: Why Trump hopes new Trump sticks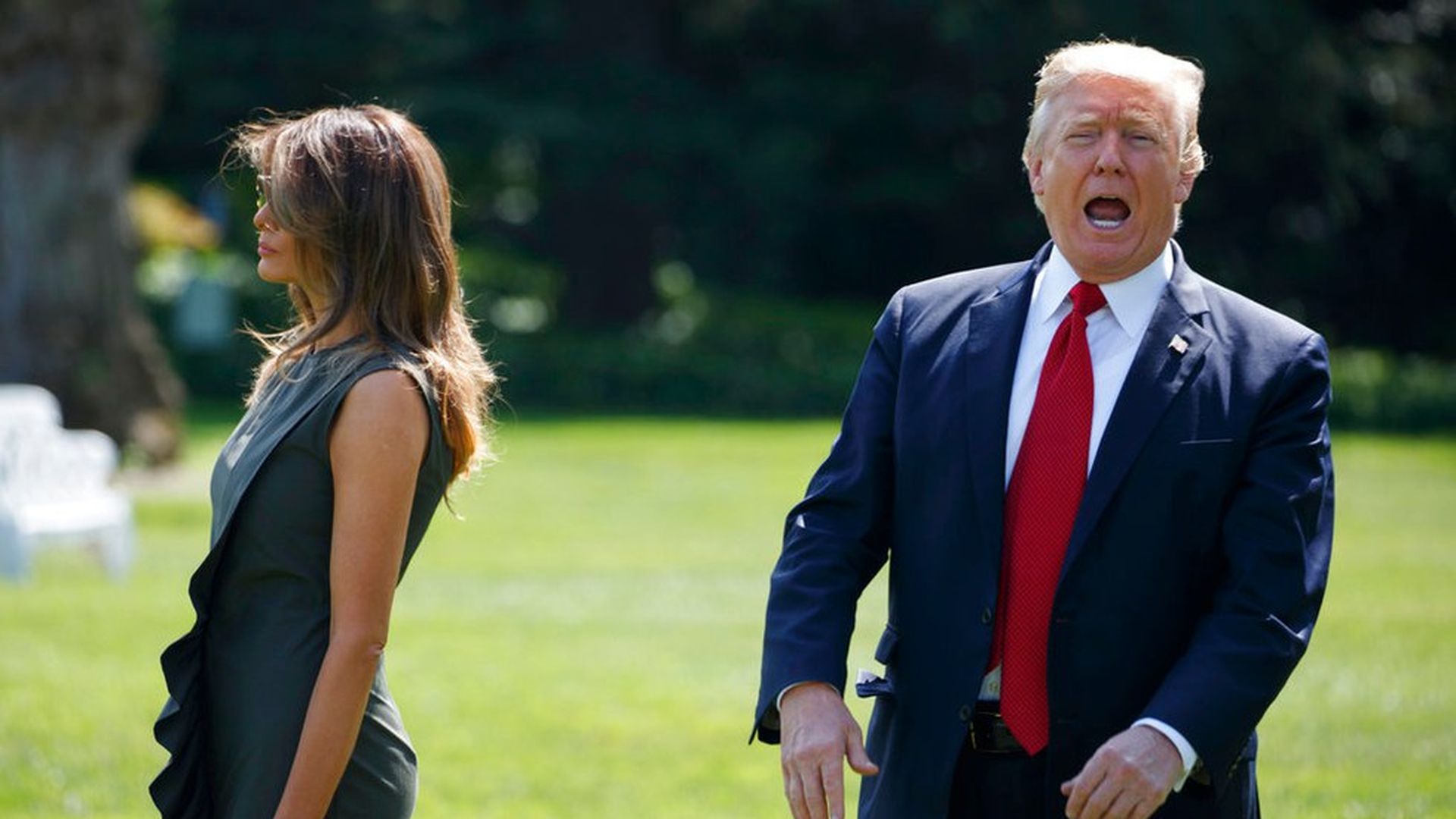 A Trump adviser says that after a tumultuous seven months in office, it had finally dawned on the president: "People really f@&@ing hate me."
For someone who has spent his life lapping up adulation, however fake, it was a harsh realization. This is a man with an especially acute need for affirmation.
This week's bear hug of Nancy Pelosi and Chuck Schumer opened Trump's eyes to one solution: Stop doing things that people hate, and start striking deals.
Who knows if this will stick. But there's reason to think it might, according to Trump's friends and aides. Here's why, based on conversations Jonathan Swan and I had in the aftermath of the surprising deal:
He can blame Republicans for his troubles. Trump has convinced himself he was duped by GOP leaders into repealing health care and blowing his first seven months on a fool's errand. If he can strike a few deals, he can reshape history to make the party — not himself — the culprit.
He can please the kids and New Yorkers. With the banishment of Bannon and his allies, Trump is left with a largely moderate to Democratic staff.
A senior administration official said of Trump's deal with Chuck and Nancy: "He just wanted to do something popular." He's reveling in the coverage, including lavish praise from "Morning Joe."
He can spend money, not take it away. Trump hates complex topics and gravitates to things you can build, such as planes or new infrastructure projects.
Remember he told Republican senators the House healthcare bill was "one mean sonofabitch." He said he wanted the Senate version to be much more generous, with no worry about cost.
One senator recalled Trump saying: "We're going to have so much ... economic growth, that we'll have so much money — more than you imagine."
He can liberate himself. He feels boxed in inside the White House and felt handcuffed to GOP leaders. No more. He had it with McConnell — thinks he's past his prime, no longer capable of leading. Considers him low-energy. He has much more natural rapport with Schumer, a friend from the New York days.
Be smart: With the expiration of vehicles allowing simple-majority votes in the Senate, Trump achievements soon will require substantial Democratic votes. So he was going to have to pivot at some point anyway, building bridges and finding new dance partners.
But we can't overstate the level of despair among Republicans. One person very close to Republican leadership told us: "He accepted a shakedown when he was holding all the cards. ... This is quite literally a guy who watches 'ER' trying to perform a surgery."
Will it stick? With Trump, who the hell knows?
https://www.axios.com/newsletters/axios-am-a77732c1-d5ed-4d26-858d-ad2d2dc2c690.html?chunk=1#story1
2. Mass flight in Florida
The Weather Channel is calling Hurricane Irma a nightmare scenario for Florida:
"Irma will make a direct hit on South Florida beginning Sunday morning as at least a Category 4 hurricane."
"A potentially devastating storm surge will swamp parts of southwest Florida Sunday."
"Destructive winds will then race up the Florida Peninsula."
"Irma's center is increasingly expected to track up the Florida west coast Sunday into Monday, then into Georgia Monday night into Tuesday.
"Significant inland wind damage and rainfall flooding could occur in parts of central and north Florida, Georgia and the Carolinas."
Miami Herald: Rain has "already begun pouring into Miami-Dade County, and thousands are without power. Gov. Rick Scott told those in evacuation zones to leave immediately."
N.Y. Times Quote of the Day ... Terry Tempest Williams, an author and naturalist, on thoughts that turn apocalyptic in light of a preponderance of staggering hurricanes and wildfires and a powerful earthquake: "For so many years, talking about the weather was talking about nothing. Now it really is our survival."
https://www.axios.com/newsletters/axios-am-a77732c1-d5ed-4d26-858d-ad2d2dc2c690.html?chunk=2#story2
3. Be this guy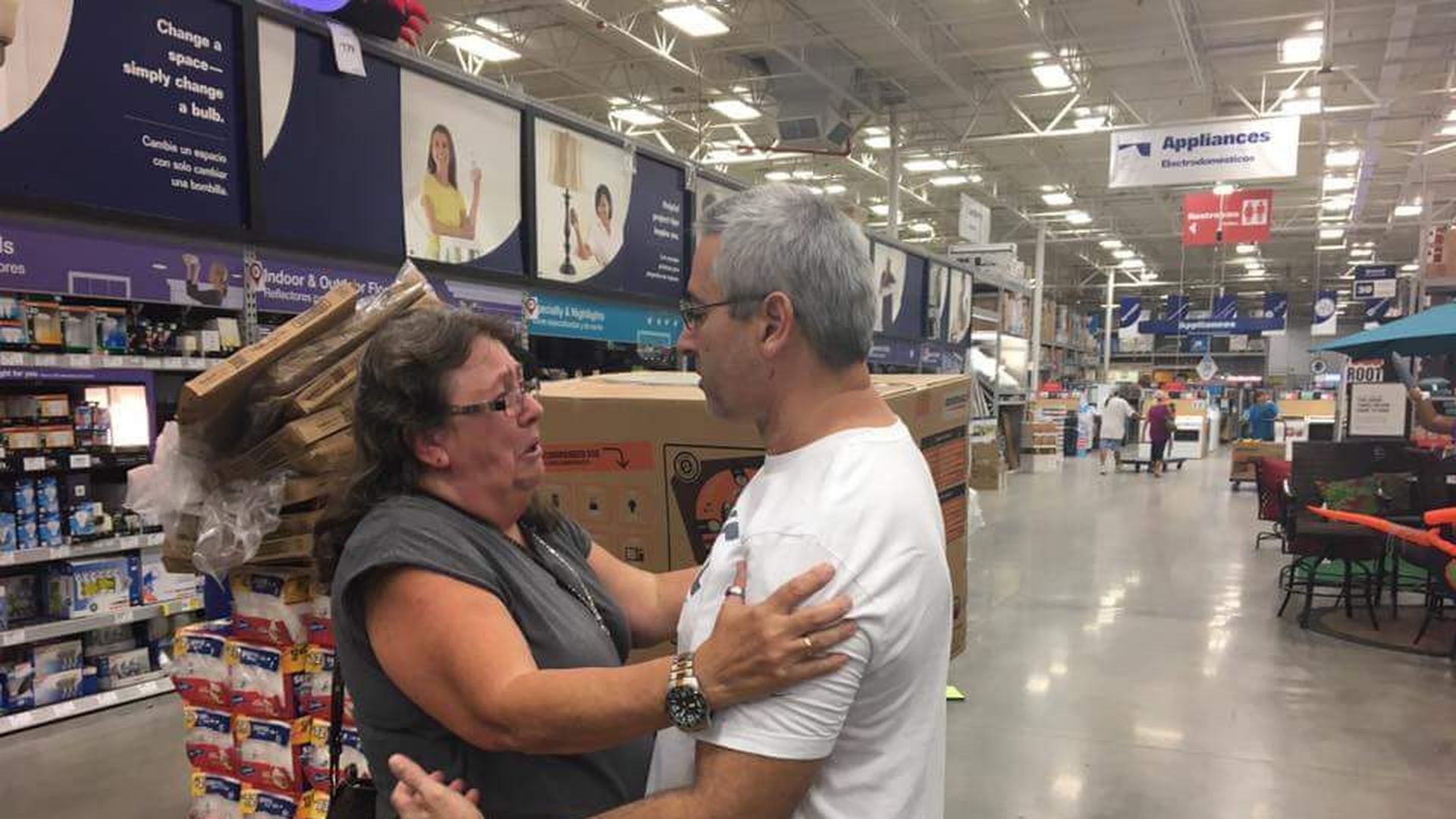 Pam Brekke had traveled 30 miles from Sanford, Fla., to a Lowe's in Orlando that got a surprise shipment of 216 generators amid the Irma frenzy, according to Nancy Alvarez of ABC affiliate WFTV.
Pam was "next in line to purchase a generator when she watched workers load the final unit onto a cart for the customer who was standing before her in line."
That customer, Ramon Santiago, "walked up and insisted she take his." He didn't even know why she was crying.
It turns out that her father's on oxygen, and she was worried about taking care of him during the storm.
https://www.axios.com/newsletters/axios-am-a77732c1-d5ed-4d26-858d-ad2d2dc2c690.html?chunk=3#story3
4. Pic du jour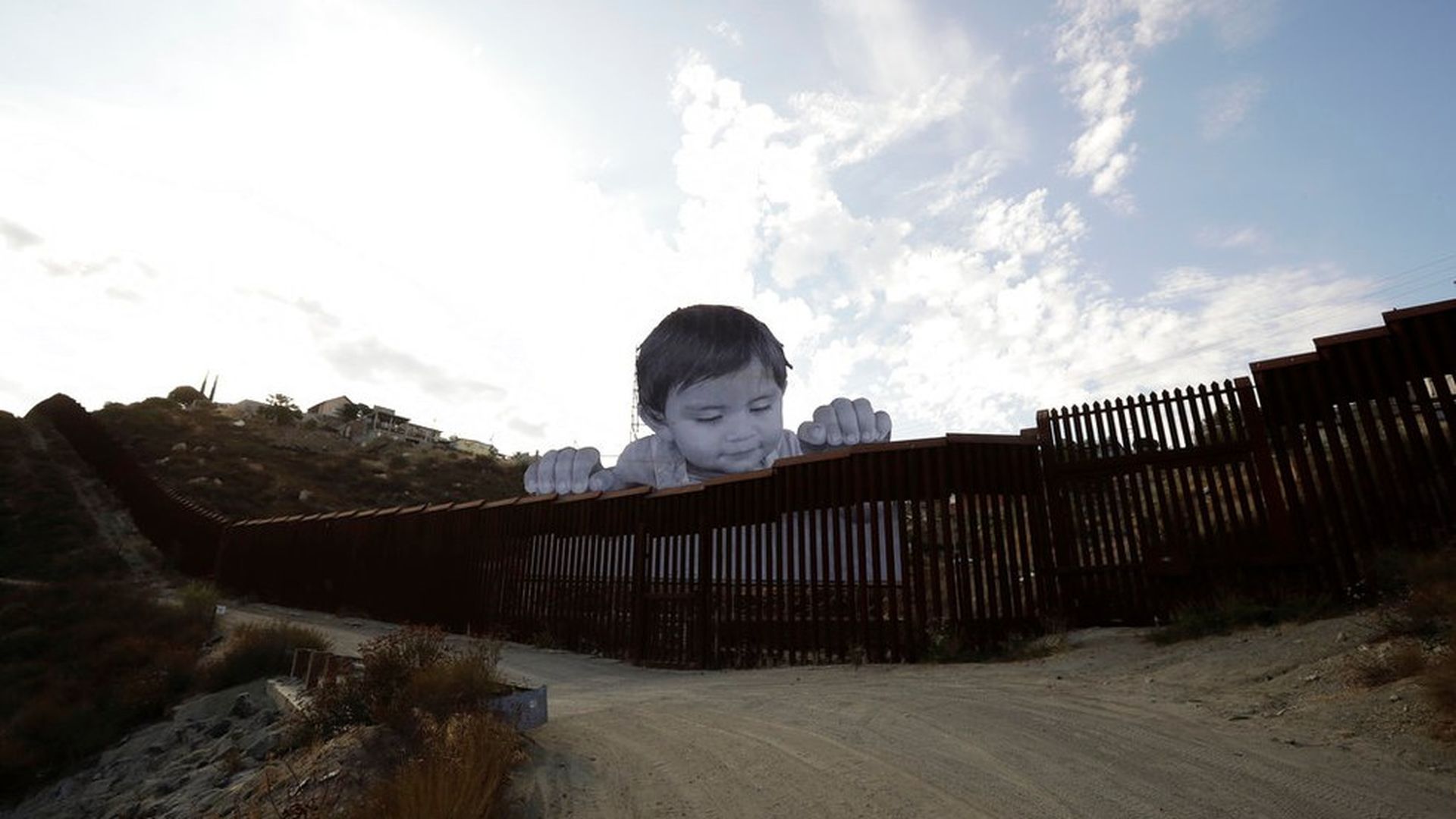 "A photo of a giant toddler stands in Mexico and peers over a steel wall dividing the country from the United States," AP's Julie Watson writes from Tecate, Mexico:
"The boy appears to grip the barrier with his fingers, leaving the impression the entire thing could be toppled with a giggle."
"A French artist who goes by the moniker 'JR' erected the cut-out of the boy that stands nearly 65 feet ... tall and is meant to prompt discussion of immigration."
Yesterday, "a steady stream of people drove to the remote section of wall near the Tecate border crossing, about 40 miles ... southeast of San Diego. Border Patrol agents warned visitors to keep the dirt road clear for their patrols and not pass anything through the fence."
"On the Mexican side, families scrambled down a scrubby hillside to take selfies with the artwork. Children in school uniforms played tag under the scaffolding supporting the photo."
Sentence of the day: "People on each side of the wall waved to each other."
"For artists and activists, the 650 miles of existing wall and fencing between the U.S. and Mexico has long been a blank canvas. Musicians have played simultaneously on both sides. ... There have been volleyball games and church services held simultaneously on each side of the border."
"Sections of wall on the Mexican side have been covered with paintings of everything from butterflies to an upside-down American flag."
https://www.axios.com/newsletters/axios-am-a77732c1-d5ed-4d26-858d-ad2d2dc2c690.html?chunk=4#story4
5. Mexico's quake of the century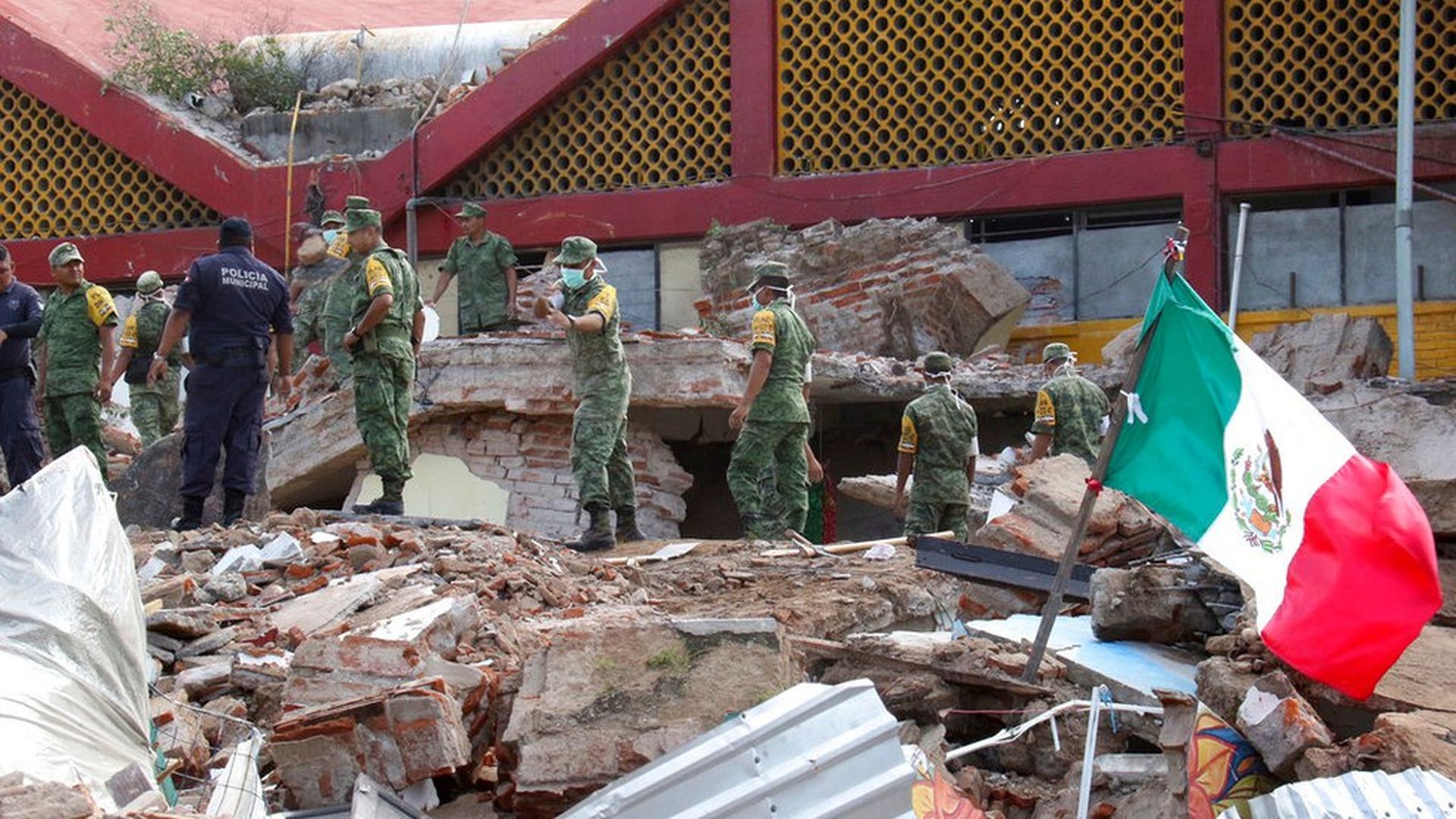 The death toll from Mexico's 8.1 earthquake, said to be the country's largest in a century, is at least 61. The L.A. Times says a similar mega-quake could easily strike easily California.
Why it matters: The results would be much more devastating: The San Andreas fault "runs very close to and underneath densely populated areas."
https://www.axios.com/newsletters/axios-am-a77732c1-d5ed-4d26-858d-ad2d2dc2c690.html?chunk=5#story5
6. Exclusive: Hillary's next campaign
Hillary Clinton guests on Crooked Media's "Pod America America," chatting with several of the aides who helped defeat her in 2008, as part the rollout for her new memoir, "What Happened," out Tuesday.
She'll also appear on a podcast with Max Linsky, co-host of "With Her" during the campaign.
Here's a first look look at the rest of opening itinerary, designed by Clinton aide Nick Merrill; Cary Goldstein of Simon & Schuster; and Robert Barnett, lawyer and part-time publisher:
First audio excerpts (aimed at driving pre-sales): "Morning Joe"
Second audio excerpts: Rachel Maddow
First network Sunday-morning show: "CBS Sunday Morning," with Jane Pauley
First network evening-news show: ABC "World News Tonight," with David Muir (Tuesday)
First live interview, and first morning show: NBC's "Today," on Wednesday
First cable: CNN's Anderson Cooper, then MSNBC's Rachel Maddow
First radio: NPR
First print: Susan Page of USA Today (Tuesday)
First daytime: "The View" (Wednesday)
First public TV: "PBS NewsHour"
First late-night show: Stephen Colbert (with promo on Emmys)
First women's magazine: Vogue (with excerpt)
First weekly: People
First webcast: Refinery 29
First event: Barnes & Noble in Union Square in New York, followed closely by Lissa Muscatine's Politics & Prose in D.C.
She'll also do C-SPAN and another late-night show.
Those are the first few weeks. She'll continue doing events at least through Thanksgiving, when holiday book-buying begins.
https://www.axios.com/newsletters/axios-am-a77732c1-d5ed-4d26-858d-ad2d2dc2c690.html?chunk=6#story6
7. Narrowing Amazon's quest
When Amazon announced it was in search of a second headquarters ("HQ2") that could bring 50,000 jobs and $5 bill in investment to the winning metro area, Axios' Kim Hart and David McCabe studied the criteria and came up with these five likely contenders:
Chicago, Denver, Detroit, Phoenix and Minneapolis.
N.Y. Times' Upshot did the same exercise and came up with this final four: Boston; Denver; Portland, Ore.; and Washington, D.C.
The criteria that The Times used, based on eight pages of guidance provided to cities:
Areas with at least one million people where job growth is strong.
And the right labor pool is large and growing.
And the quality of life is high.
And workers can easily get around — and out of town.
And there is space and a willingness to pay to play.
That left Denver:
"The city's lifestyle and affordability, coupled with the supply of tech talent from nearby universities, has already helped build a thriving start-up scene in Denver and Boulder, 40 minutes away. Big tech companies, including Google, Twitter, Oracle and I.B.M., have offices in the two cities. Denver has been attracting college graduates at an even faster rate than the largest cities. The region has the benefits of places like San Francisco and Seattle — outdoor recreation, microbreweries, diversity and a culture of inclusion (specifically cited as a criterion by Amazon) — but the cost of living is still low enough to make it affordable, and lots of big-city refugees have been moving there for this reason."
My pick: Providence, R.I., which was one of three known finalists for GE HQ (which wound up in Boston, edging out NYC). Rhode Island Gov. Gina Raimondo (D) would fight for it. Amazon would instantly be synonymous with Providence in a way that it wouldn't be with other likely picks. And with all of Amazon's M&A activity, it makes sense to be on the East Coast, with an easy day trip from New York or D.C.
https://www.axios.com/newsletters/axios-am-a77732c1-d5ed-4d26-858d-ad2d2dc2c690.html?chunk=7#story7
8. If you read only 1 thing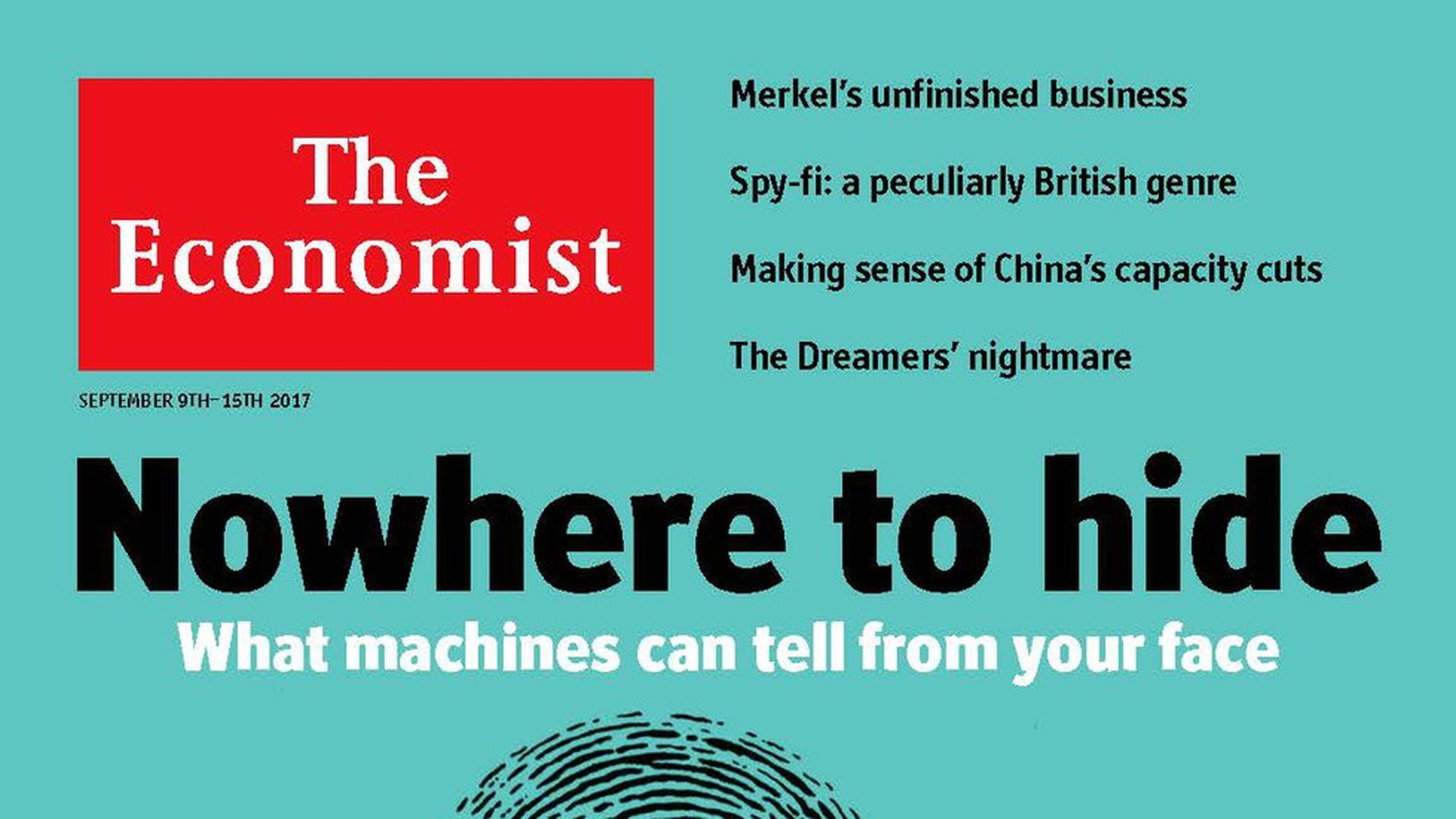 Eye-opening scenes from the "age of facial recognition," in The Economist's cover editorial:
"In America facial recognition is used by churches to track worshippers' attendance; in Britain, by retailers to spot past shoplifters. This year Welsh police used it to arrest a suspect outside a football game. In China it verifies the identities of ride-hailing drivers, permits tourists to enter attractions and lets people pay for things with a smile. Apple's new iPhone is expected to use it to unlock the homescreen."
"One big difference between faces and other biometric data, such as fingerprints, is that they work at a distance. Anyone with a phone can take a picture for facial-recognition programs to use. FindFace, an app in Russia, compares snaps of strangers with pictures on VKontakte, a social network, and can identify people with a 70% accuracy rate."
"Facebook's bank of facial images cannot be scraped by others, but the Silicon Valley giant could obtain pictures of visitors to a car showroom, say, and later use facial recognition to serve them ads for cars."
"Some firms are analysing faces to provide automated diagnoses of rare genetic conditions, such as Hajdu-Cheney syndrome, far earlier than would otherwise be possible. Systems that measure emotion may give autistic people a grasp of social signals they find elusive."
"Researchers at Stanford University have demonstrated that, when shown pictures of one gay man, and one straight man, the algorithm could attribute their sexuality correctly 81% of the time. Humans managed only 61%."
Why it matters: "Amazon and Microsoft are both using their cloud services to offer face recognition; it is central to Facebook's plans. Governments will not want to forgo its benefits."
Go deeper: "Advances in AI are used to spot signs of sexuality."
https://www.axios.com/newsletters/axios-am-a77732c1-d5ed-4d26-858d-ad2d2dc2c690.html?chunk=8#story8
9. Uber v. FBI
"Federal law-enforcement authorities in New York are investigating whether Uber used software to interfere illegally with its competitors, ... adding to legal pressures facing the embattled ride-hailing company," the Wall Street Journal reports on the front page:
"The investigation ... is focused on a defunct Uber program, known internally as "Hell," that could track drivers working for rival service Lyft."
How it worked: "Uber created fake Lyft customer accounts, tricking Lyft's system into believing prospective customers were seeking rides in various locations around a city. That allowed Uber to see which Lyft drivers were nearby and what prices they were offering for various routes."
Why it matters: This is "one of at least three federal investigations under way into Uber's practices."
P.S. Also on the Journal front page ... "Bridgewater Associates LP is poised to amass a huge investment fund in China, giving its founder, Ray Dalio, the kind of clout that has largely eluded Western financial firms in the world's second-largest economy."
"He has told associates at Bridgewater that he considers himself an 'economic doctor' who has a unique ability to diagnose countries' financial ailments, adding that China is his longest-term project. Mr. Dalio has made charitable donations totaling tens of millions of dollars in the country."
https://www.axios.com/newsletters/axios-am-a77732c1-d5ed-4d26-858d-ad2d2dc2c690.html?chunk=9#story9
10. 1 fun thing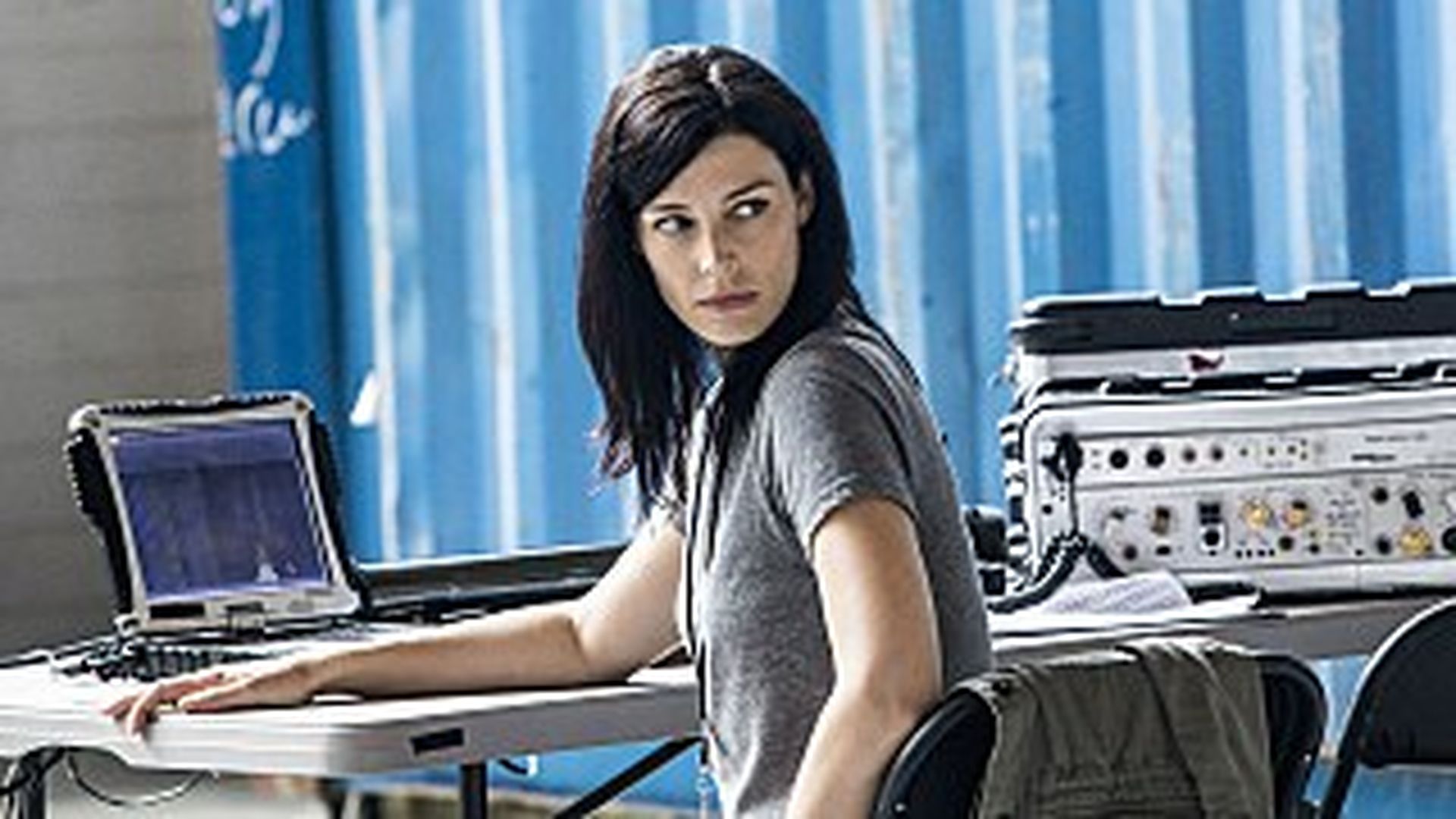 "In turbulent times, TV turns to what's familiar, including military dramas," by L.A. Times' Lorraine Ali:
This fall, "Navy SEALs, elite air squadrons and camo-clad foot soldiers combat a variety of enemies in several new military-themed series that include NBC's 'The Brave,' NatGeo's 'The Long Road Home,' the CW's 'Valor' and CBS' 'SEAL Team.'"
"The invasion of military programming stands out among the other offerings of TV-as-comfort-food that arrive this season. The escape-from-the-headlines entertainment includes the reboots, revivals and spinoffs such as 'Dynasty,' 'Star Trek,' 'Will & Grace,' 'SWAT,' 'Curb Your Enthusiasm,' 'American Idol' and 'Young Sheldon.'"
"In unpredictable times, the familiar is a cozy place to be … even if it happens to be in a war zone. From TV's earliest days in the '50s, shows that celebrated America fighting the good fight ('Navy Log') and military camaraderie ('The Phil Silvers Show') have been perennials, a panacea for the chaos and rancor of politics, social upheaval and real warfare where decisive victories are hard to come by."