Good Monday morning, and happy Columbus Day, a federal holiday. USA Today reports, under the delightful headline, "Christopher Columbus, your ship may have sailed": "A growing number of cities are ... replacing Columbus Day ... with Indigenous Peoples Day, also known by some as Native Americans Day."
https://www.axios.com/newsletters/axios-am-a71dd237-316f-433c-93ff-1e193a891c43.html?chunk=0#story0
1 big thing: "World War III"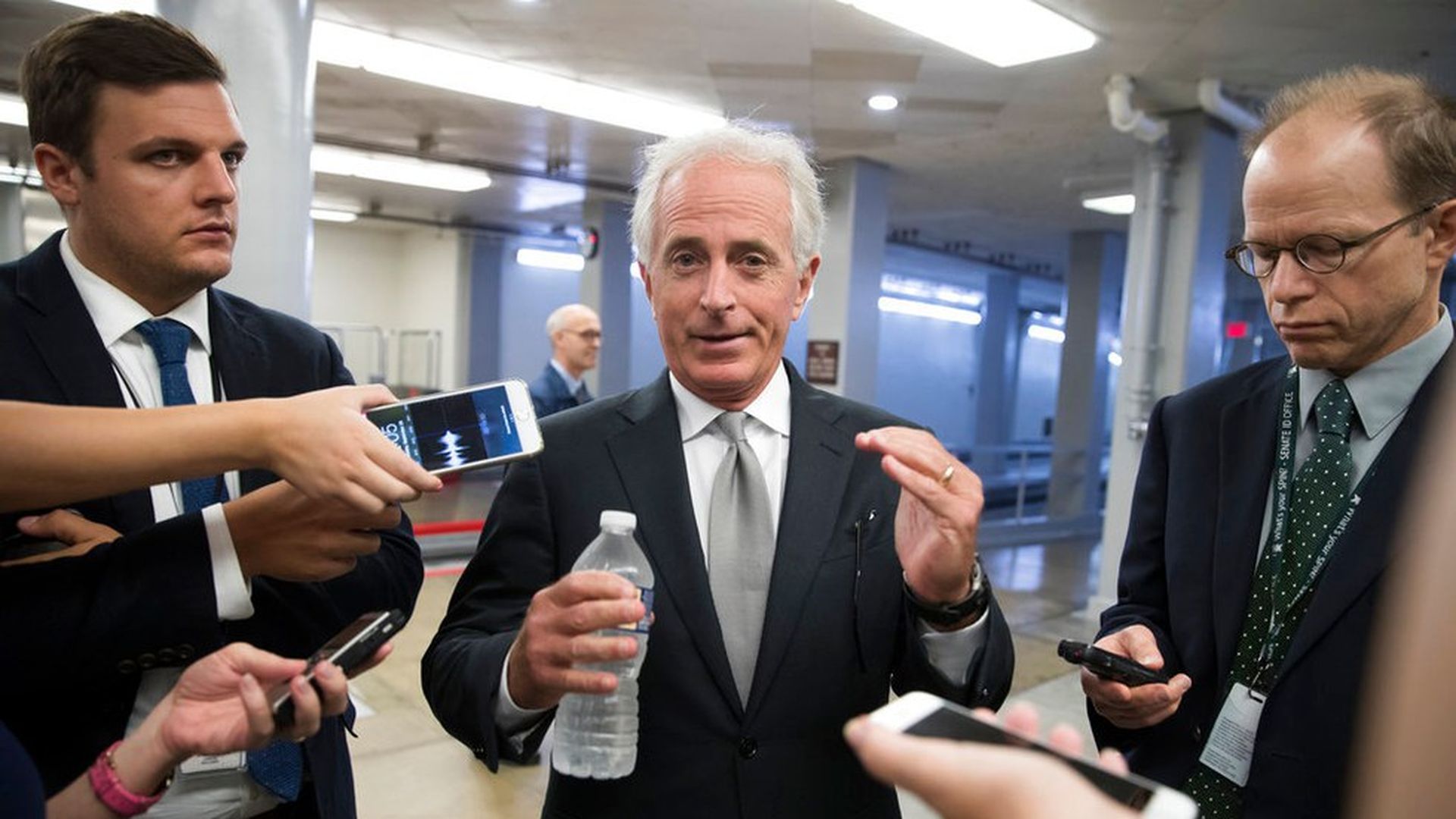 That escalated quickly. After a nasty Twitter back-and-forth with President Trump on Sunday morning, retiring Senate Foreign Relations Chair Bob Corker (R-Tenn.), told the N.Y. Times' Jonathan Martin that Trump's "reality show" could set the nation "on the path to World War III."
"He concerns me," Corker said. "He would have to concern anyone who cares about our nation."
Corker — once friendly enough with Trump that he was a serious vice-presidential possibility — announced last month that he won't seek reelection, and so is free to speak his mind in a way that most pols aren't.
Why it matters: A Republican close to the White House told me: "These comments now shape the criticism of the President going forward. Corker's comments will be the catalyst for all the doubts about Trump's fitness ... [H]e has sown the strands of doubt about Trump into a vivid tapestry."
Be smart: This looks like a public intervention, but it's really a very targeted message. Corker, sources tell me, knows that the best way to reach Trump is through the media.
Corker is trying to send a signal flare to Trump — and, especially, the couple of aides closest to him (especially Chief of Staff John Kelly) — that Trump needs more restraint and constraints.
The unthinkable exchange began with Trump tweeting that Corker "[d]idn't have the guts to run": "Corker 'begged' me to endorse ... I said 'NO' and he dropped out ... He also wanted to be Secretary of State, I said 'NO THANKS.'"
A top lobbyist texted me: "Bye, bye tax reform."
Corker responded from his official Senate account: "It's a shame the White House has become an adult day care center. Someone obviously missed their shift this morning."
Corker's frustration had been building. In August, after Charlottesville, he had said Trump lacks "stability" and "competence."
A Republican who has worked on Capitol Hill, in the Executive Branch and on K Street emailed me: "Simply stunning. A high-wire act with a nation's destiny hanging in the balance."
But, wait: There's more! Corker told JMart he speaks for most of his Republican Senate colleagues:
"Look, except for a few people, the vast majority of our caucus understands what we're dealing with here. If you write that, I'm sure there will be some that will come to you and say, 'No, no, no. I don't believe that.'"
"But of course they understand the volatility that we're dealing with, and the tremendous amount of work that it takes by people around him to keep him in the middle of the road."
Be smarter: The Corker mission could backfire: The more stories there are about the retired generals "babysitting" Trump, the more he'll resist.
https://www.axios.com/newsletters/axios-am-a71dd237-316f-433c-93ff-1e193a891c43.html?chunk=1#story1
2. The only story that matters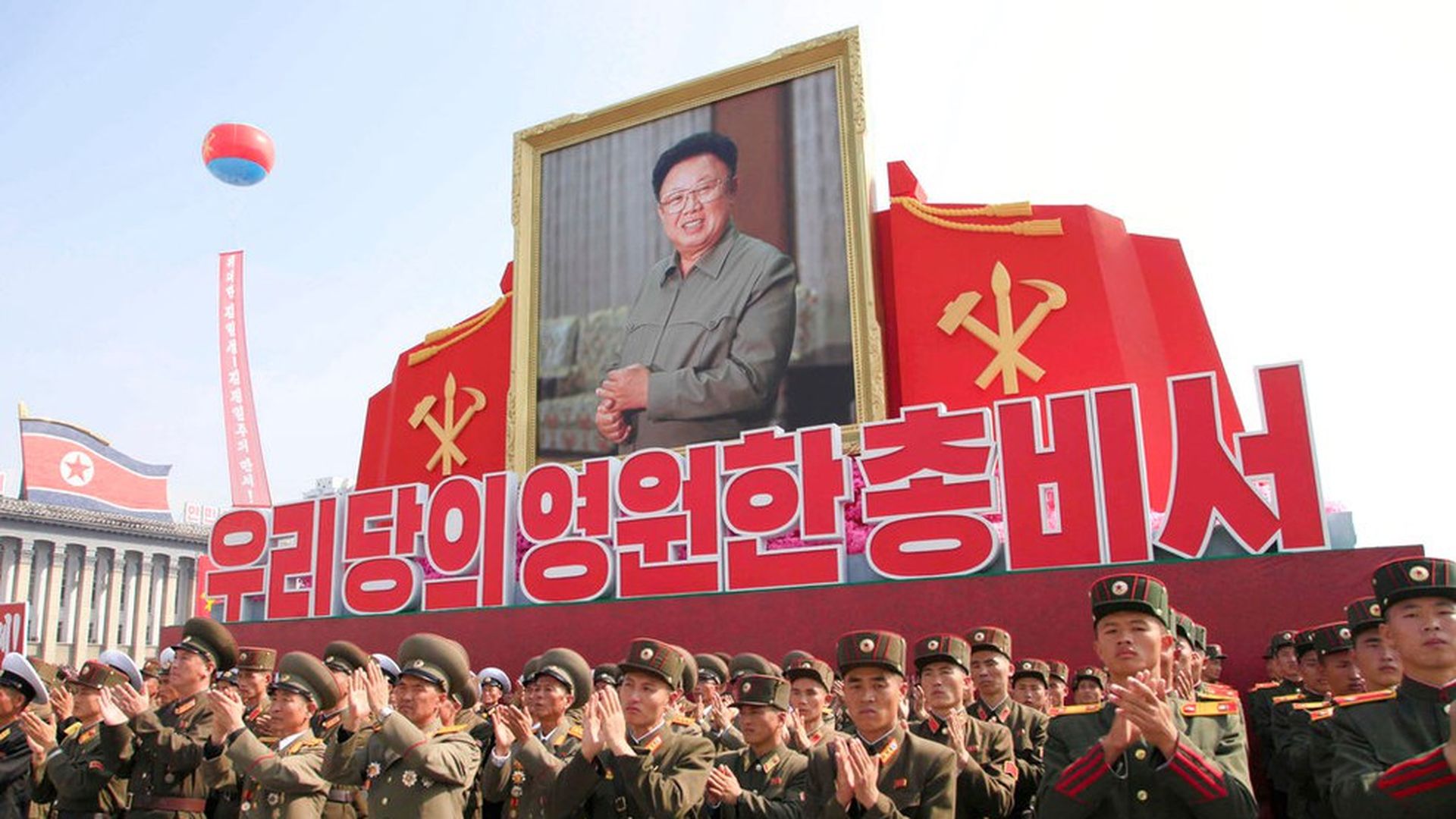 U.S. pressure on North Korea is bearing fruit, the Wall Street Journal's Paul Sonne and Felicia Schwartz write on the front page:
What's new: "Over 20 nations have curbed the diplomatic or business operations of the North Korean government following a more-than-yearlong effort by the State Department."
Why it matters: The quiet successes are "a contrast to the heated exchanges between North Korean leader Kim Jong Un and Mr. Trump."
How it's happening: "U.S. officials have asked countries to shut down businesses owned by the North Korean government, remove North Korean vessels from ship registries, end flights by the country's national air carrier and expel its ambassadors."
Endgame: 'U.S. policy makers, led by Mr. Tillerson, have said they hope that Mr. Kim eventually will conclude his program comes at too high a cost to his regime and his nation and enter disarmament talks."
Wait! What? "The U.S. intelligence community has concluded that no amount of pressure would convince Mr. Kim to disarm because the North Korean leader sees the nuclear and missile program as his regime's ticket to survival, Senate Foreign Relations Committee Chairman Bob Corker ... said at a recent hearing."
Trump starts his holiday with a tweet: "Our country has been unsuccessfully dealing with North Korea for 25 years, giving billions of dollars & getting nothing. Policy didn't work!"
https://www.axios.com/newsletters/axios-am-a71dd237-316f-433c-93ff-1e193a891c43.html?chunk=2#story2
3. A Facebook "public file"?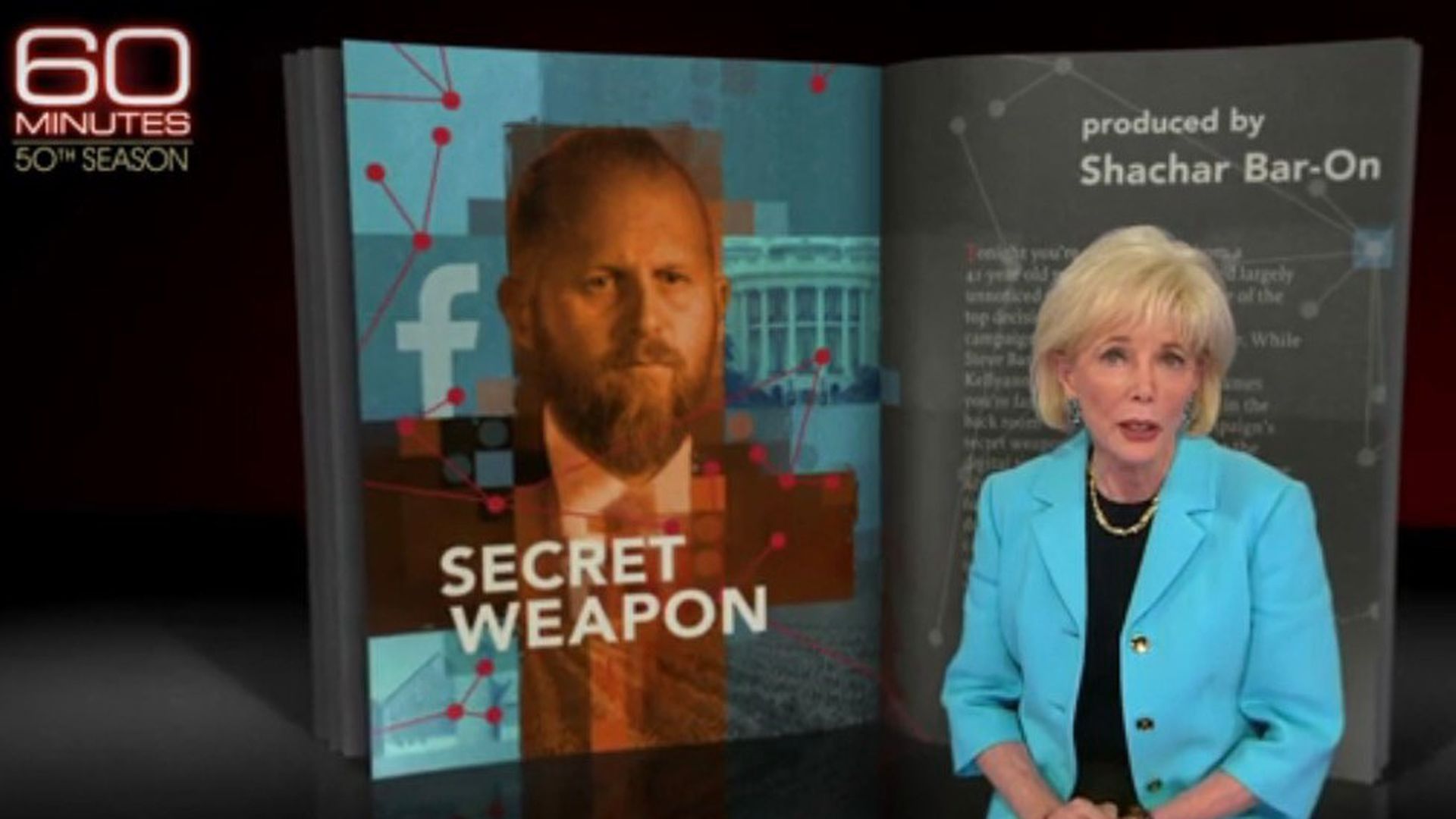 "In elections, Facebook's reach has kept growing," by WashPost's Matea Gold and Elizabeth Dwoskin, on A1:
Data point: "By Election Day, Trump's campaign had spent roughly $70 million on Facebook ... nearly all in the last four months of the election."
What's happening: "[T]he company's role in the Russia probe is ... prompting uncomfortable scrutiny of its increasingly lucrative political advertising business and how little is known about the ads voters are exposed to online."
Why it matters: "The situation has the potential to affect a key profit center for Facebook. The same proprietary technology that has made Facebook the go-to advertising platform for political campaigns also enabled Russian operatives to target U.S. voters with inflammatory ads."
What's next: "Democratic Sens. Amy Klobuchar (Minn.) and Mark R. Warner (Va.) plan to introduce a bill in the coming weeks that would require sites with more than 1 million users to maintain a public file containing a copy of political ads and information about who they are aimed at."
Be smart: You'll see talk online about Facebook "embeds" to the Trump campaign, based on a "60 Minutes" interview with Trump digital director Brad Parscale. The Facebook employees, who had been screened as Republicans, showed up several times a week at Parscale's office in San Antonio.
"60 Minutes," acting shocked, did a poor job of explaining that these are basically salespeople — provided by the platforms to encourage ad buying.
The same system was used in the 2012 campaign.
https://www.axios.com/newsletters/axios-am-a71dd237-316f-433c-93ff-1e193a891c43.html?chunk=3#story3
Bonus: Pic du jour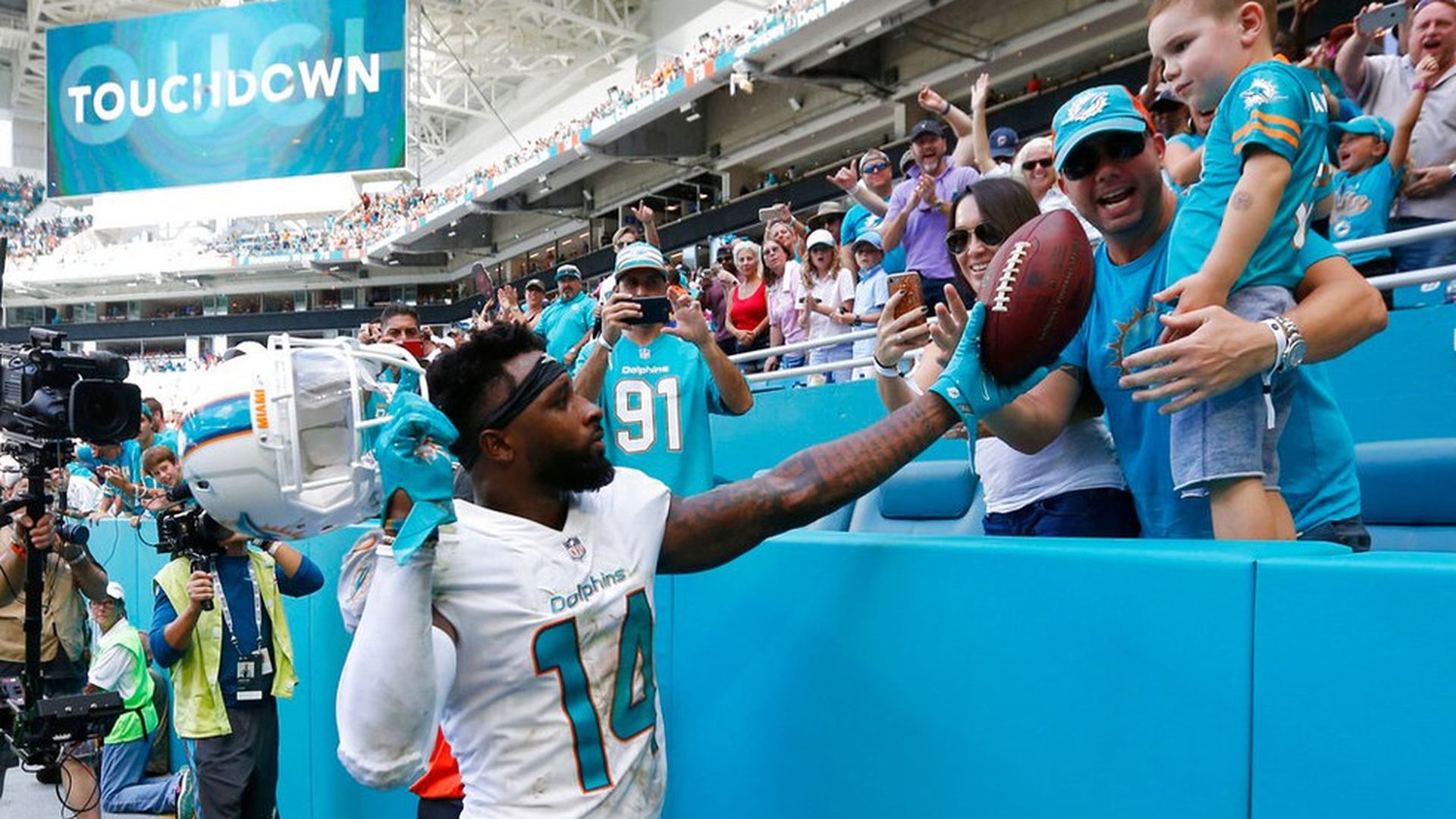 Miami Dolphins wide receiver Jarvis Landry gives the football to a surprised young fan after scoring a touchdown in the second half of 16-10 win over the Tennessee Titans yesterday at Hard Rock Stadium in Miami Gardens, Fla.
https://www.axios.com/newsletters/axios-am-a71dd237-316f-433c-93ff-1e193a891c43.html?chunk=4#story4
4. Pence's protest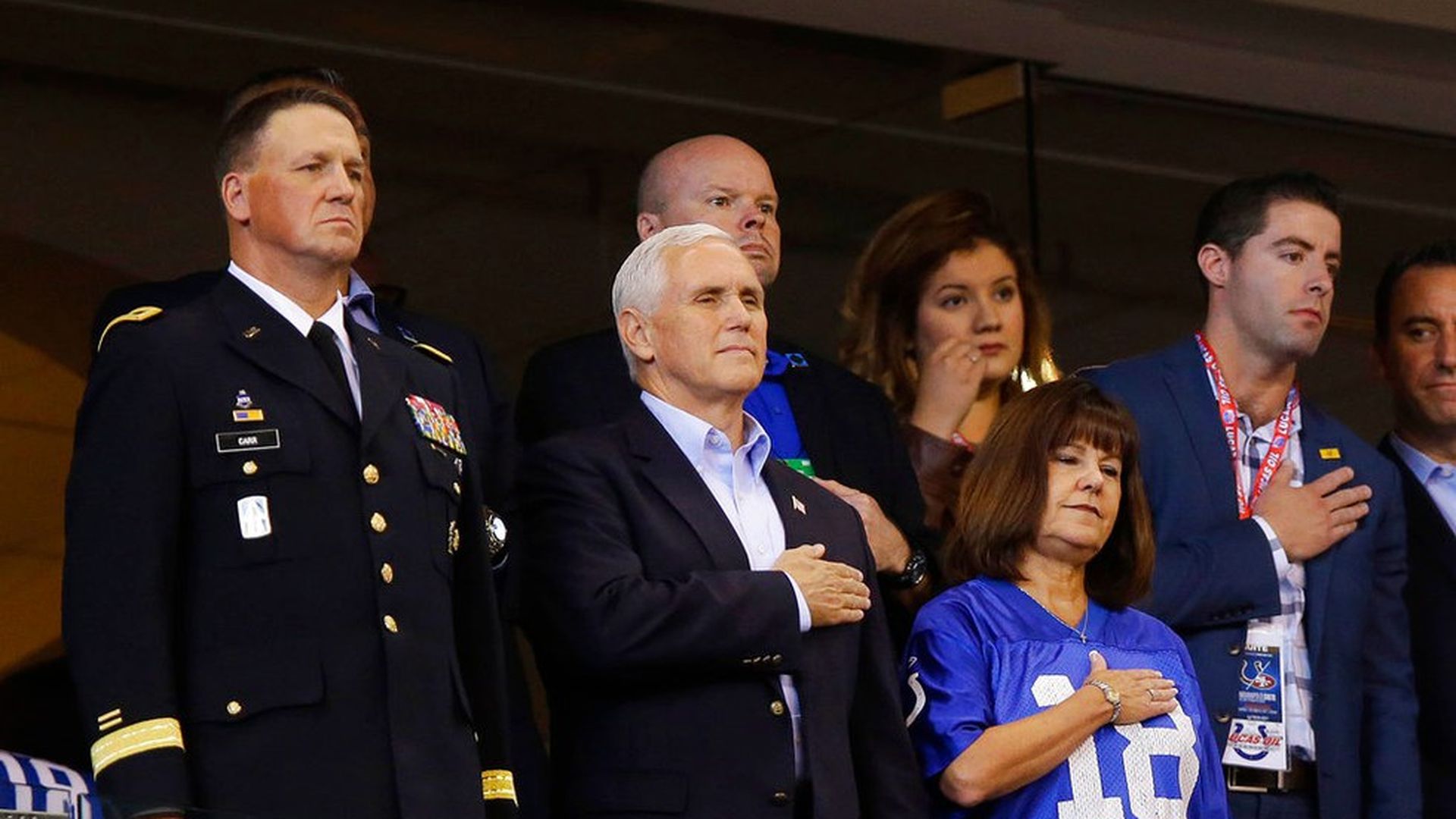 "Sunday's Indianapolis Colts game was turned into a political arena when Vice President Mike Pence tweeted that he walked out of Lucas Oil Stadium after a group of San Francisco 49ers players knelt during the national anthem," the Indianapolis Star reports:
"More than 20 49ers players dropped to a knee during the anthem, as they have repeatedly since last year, to protest racial inequality and social injustice."
Pence tweeted: "I left today's Colts game because President Trump and I will not dignify any event that disrespects our soldiers, our Flag, or our National Anthem."
Trump later tweeted: "I asked @VP Pence to leave stadium if any players kneeled, disrespecting our country."
Be smart: ABC's Ron Claiborne reported on "World News Tonight": "Pence's protest was planned. Reporters were warned he could leave early."
Look for ... questions about the cost, which former White House officials said includes Air Force Two travel, military support, local security, perimeter security, hospital crisis centers, and the continuity of government apparatus that accompanies the V.P.
https://www.axios.com/newsletters/axios-am-a71dd237-316f-433c-93ff-1e193a891c43.html?chunk=5#story5
5. The conversation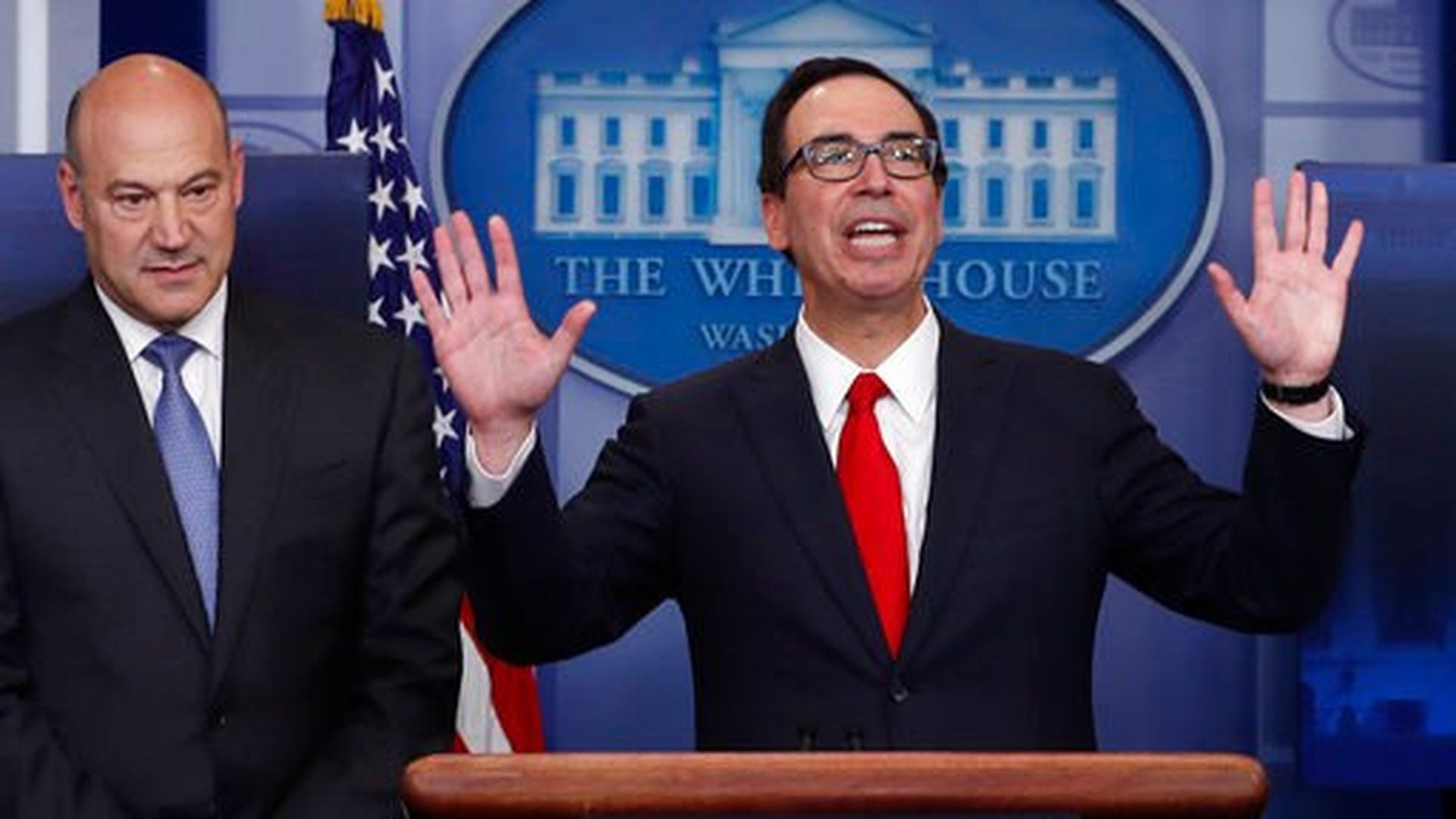 "Cohn and Mnuchin Risk Reputations" by pushing Trump tax plan — N.Y. Times columnist David Leonhardt:
"Within the administration, there are real differences among how top officials have behaved and how they are perceived. Several — Tom Price, Reince Priebus, Sean Spicer and Rex Tillerson — ... turned themselves into punch lines."
"The clearest exception is Jim Mattis, the defense secretary. Mattis has done so partly by avoiding scandal and minimizing conflicts with Trump. But he has also been careful to set his own ethical boundaries."
"Cohn and Mnuchin have started to risk theirs. This column is a plea to them: Please stop, for everyone's sake, including yours."
Why it matters: "Neither one of them has yet turned 60 years old [Cohn is 57; Mnuchin, 54]. These won't be their last jobs. In the daily scrum, I'm sure that pleasing their boss must seem like the most important possible thing. But ... [t]he Jim Mattis route is a lot better than the punch line route."
https://www.axios.com/newsletters/axios-am-a71dd237-316f-433c-93ff-1e193a891c43.html?chunk=6#story6
6. Trump's hard-line immigration opener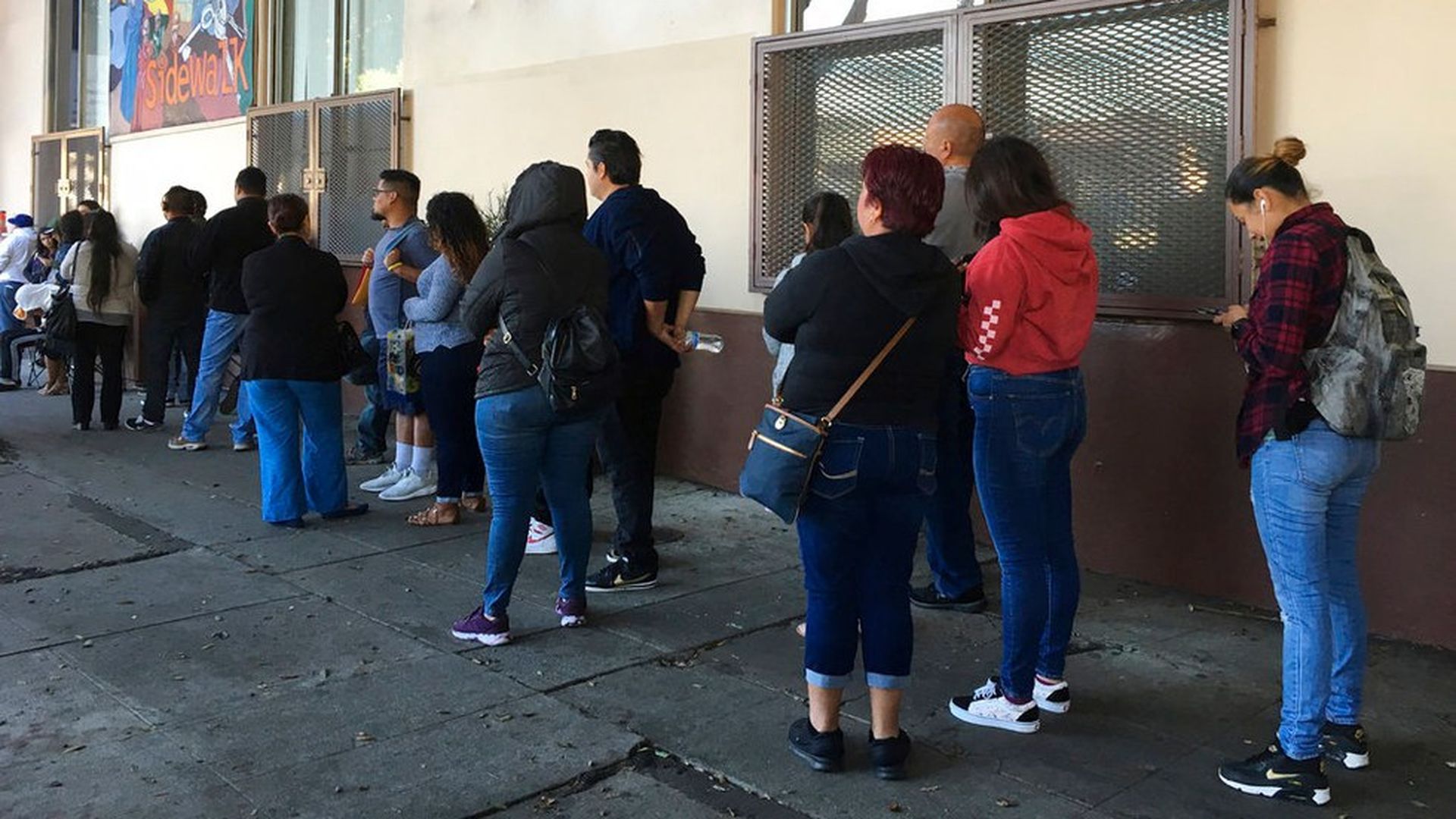 "The Trump administration revealed a sweeping set of hardline immigration demands [last] night — including the building of a wall on the southern border and major changes to the legal immigration system — as tradeoffs for legislation to protect the so-called Dreamers, a move that could kill prospects for a deal to protect roughly 700,000 young people now facing possible deportation," per the L.A. Times.
"The White House proposals would curb the ability of American citizens to sponsor family members to join them from abroad, upending decades of immigration policy, and put strict new limits on asylum claims."
"Democrats quickly denounced the proposals, saying they did not come close to what President Trump and congressional Democratic leaders had discussed over Chinese food last month at the White House when they struck a tentative deal for legislation to protect the Dreamers, young people who arrived in the U.S. illegally when they were children."
Quote du jour ... On a White House background call last night, an official said the dinner deal on immigration was "a deal to work out a deal as fast as possible."
https://www.axios.com/newsletters/axios-am-a71dd237-316f-433c-93ff-1e193a891c43.html?chunk=7#story7
7. Harvey Weinstein fired by his own company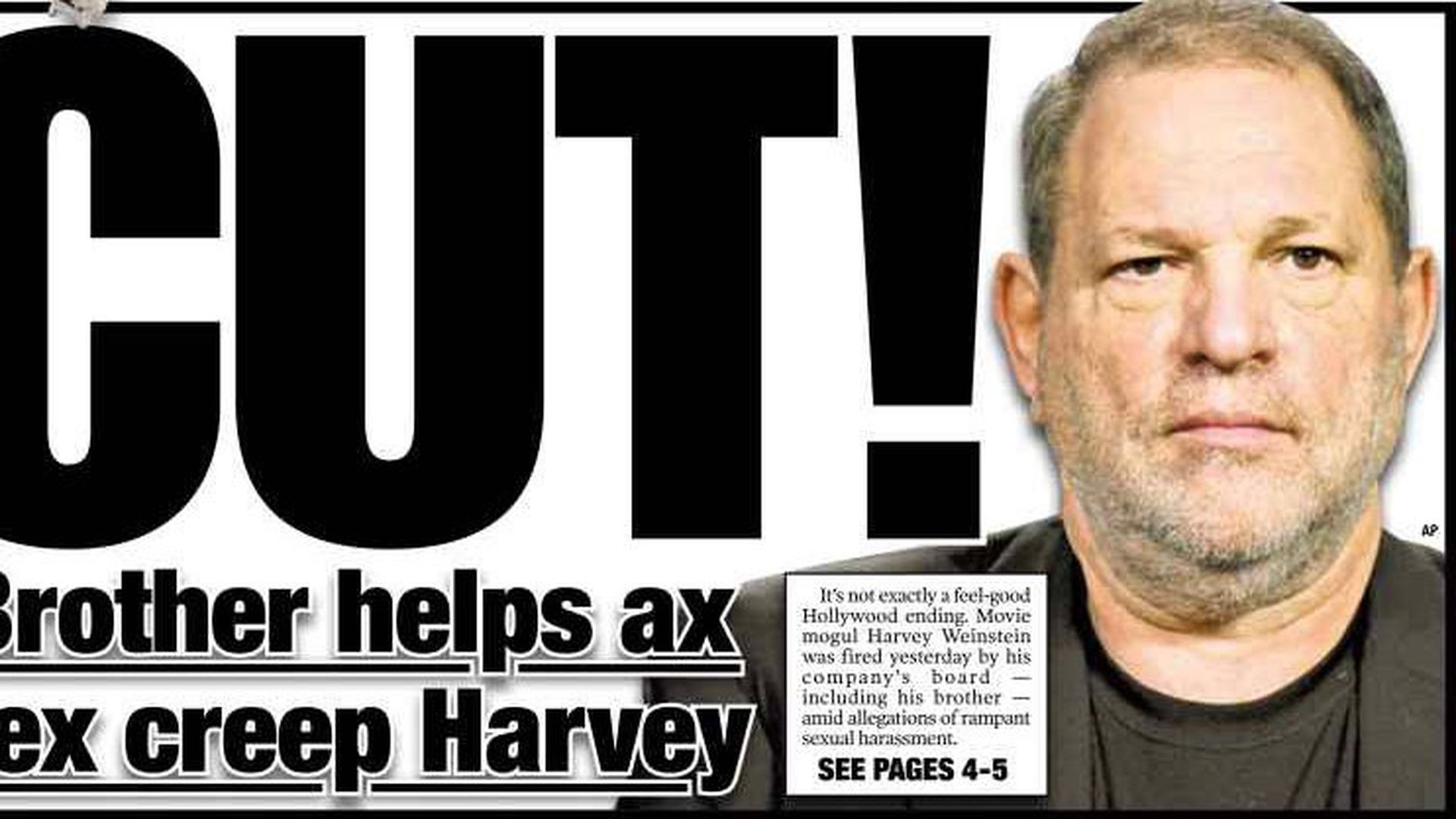 https://www.axios.com/newsletters/axios-am-a71dd237-316f-433c-93ff-1e193a891c43.html?chunk=8#story8
8. The "Hunger Games" of America's electricity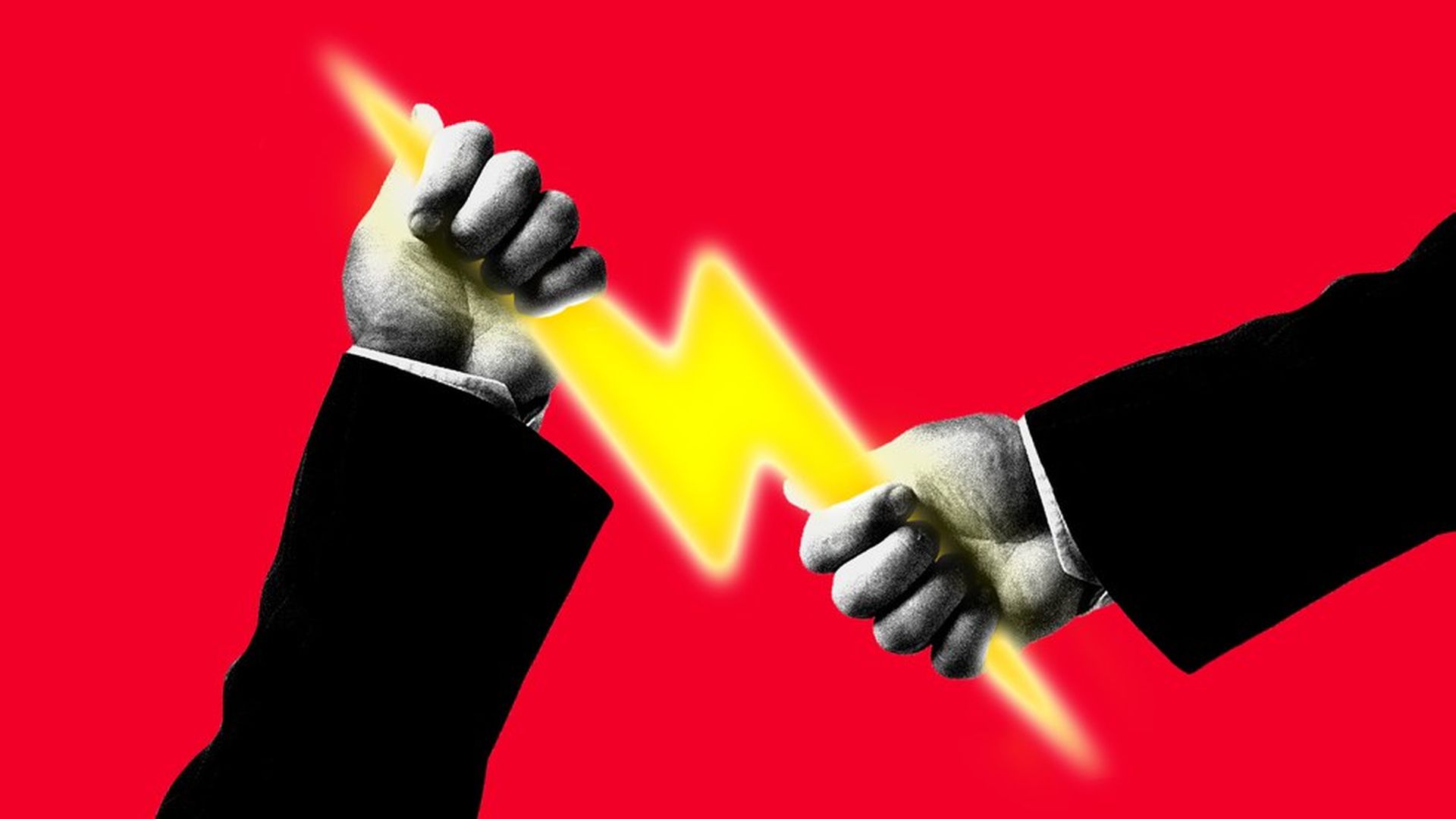 https://www.axios.com/newsletters/axios-am-a71dd237-316f-433c-93ff-1e193a891c43.html?chunk=9#story9
9. Scrutiny of Cabinet travel widens
https://www.axios.com/newsletters/axios-am-a71dd237-316f-433c-93ff-1e193a891c43.html?chunk=10#story10
10. 1 fun thing
"You're All No. 1! High Schools Say 'Vale' to the Valedictorian," a Wall Street Journal A-Hed by Tawnell Hobbs (subscription):
"It's getting lonely at the top of the class in high school — or very crowded — as more schools alter or do away with the traditional role of valedictorian. While some schools no longer hail a single student with the best grade-point average, others are granting the distinction to anyone who gets at least a 4.0 GPA. And that is increasingly common as certain honors, or advanced-level classes, tend to grant higher than a 4.0 for an A."
"At least half of U.S. states have schools that have stopped naming valedictorians, or now name multiple, to head off what school officials say has become unhealthy competition among students. "