Axios AM
January 16, 2021
☕ Hello, Saturday. Today's Smart Brevity™ count: 1,472 words ... 5½ minutes.
1 big thing ... "Off the rails": Swan series on Trump's final days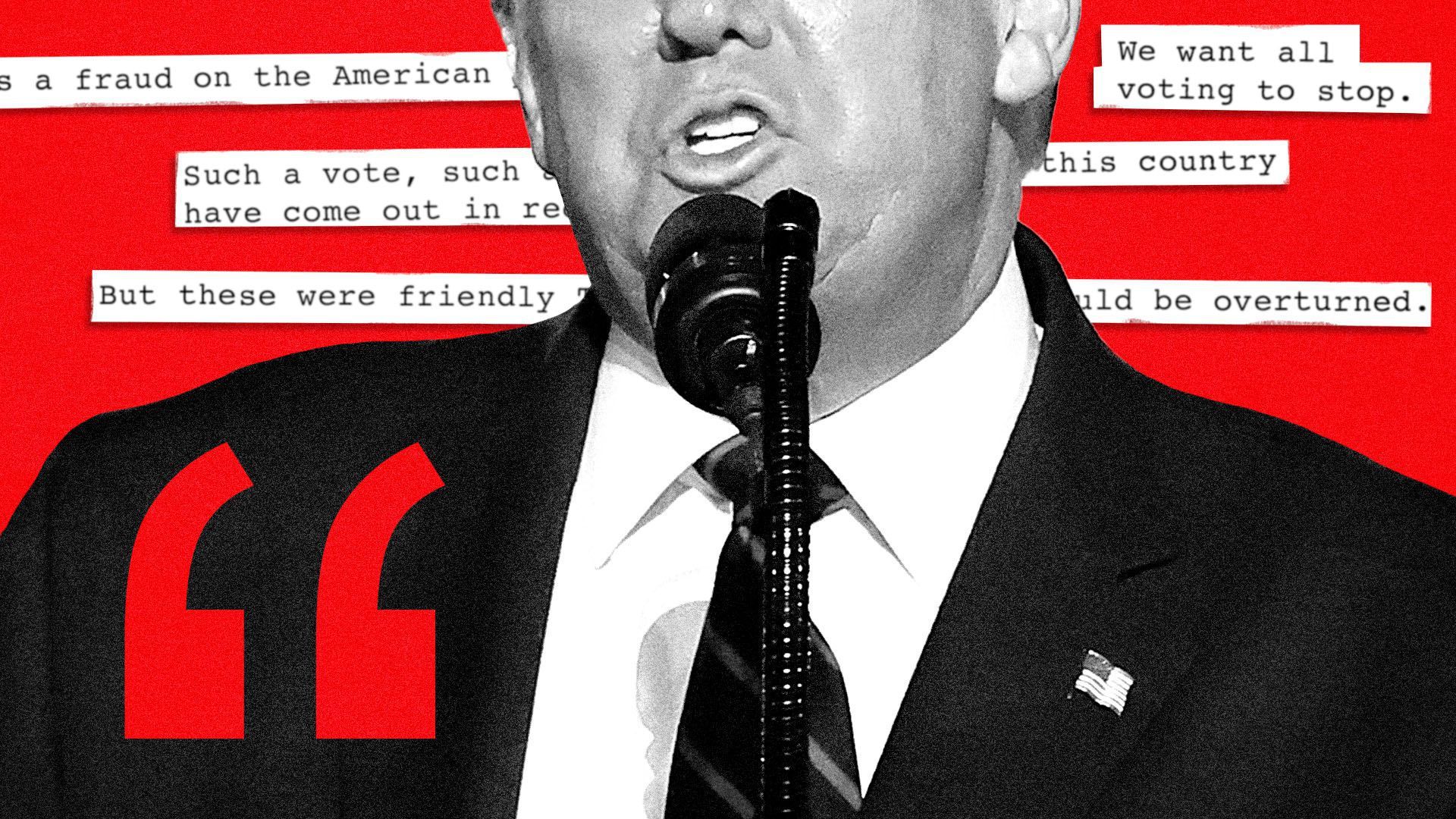 President Trump started choreographing election night in early October, including acting out a premature victory speech, Jonathan Swan and Zachary Basu report in Episode 1 of "Off the rails," an Axios series taking you inside a president's collapse.
Beginning on election night and continuing through his final days in office, Donald Trump unraveled and dragged America with him, to the point that his followers sacked the U.S. Capitol with two weeks left in his term.
In Episode 1, "A premeditated lie lit the fire," we learn that Trump's refusal to believe the election results was premeditated. He had heard about the "red mirage" — the likelihood that early vote counts would tip more Republican than the final tallies. And he decided to exploit it.
"Jared, you call the Murdochs! Jason, you call Sammon and Hemmer!"
President Trump was almost shouting at his son-in-law and his senior strategist, Jason Miller, in the White House residence late on election night.
He barked out the names of top Fox News executives (including Bill Sammon) and talent (Bill Hemmer) he expected to answer to him.
"And anyone else — anyone else who will take the call," he said. "Tell these guys they got to change it, they got it wrong. It's way too early. Not even CNN is calling it."
As the clock ticked into the first minutes of Nov. 4, Trump's lawyer Rudy Giuliani ranted to top campaign aides: "There's no way he lost; this thing must have been stolen. Just say we won Michigan! Just say we won Georgia! Just say we won the election! He needs to go out and claim victory."
For weeks, Trump had been laying the groundwork to declare victory on election night — even if he lost. But the real-time results, punctuated by a shocking call by Fox upended his plans and began his unraveling.
Trump had planned for Americans to go to bed on Nov. 3 celebrating — or resigned to — his re-election. The maps they saw on TV should have been bathed in red.
But at 11:20 p.m. that vision fell apart. The nation's news channel among conservatives became the first network to call Arizona for Joe Biden. Inside the White House, Trump's inner circle erupted in horror.
The big picture: Over the next two months, Trump took the nation down with him as he descended into denial, despair and a reckless revenge streak that fueled a deadly siege on the U.S. Capitol by his backers seeking to overturn the election.
He'd once bragged he could shoot another person on Fifth Avenue and not lose his voters. In reality, many of them had eagerly lined up to commit violence on his behalf.
2. Trump practices premature victory speech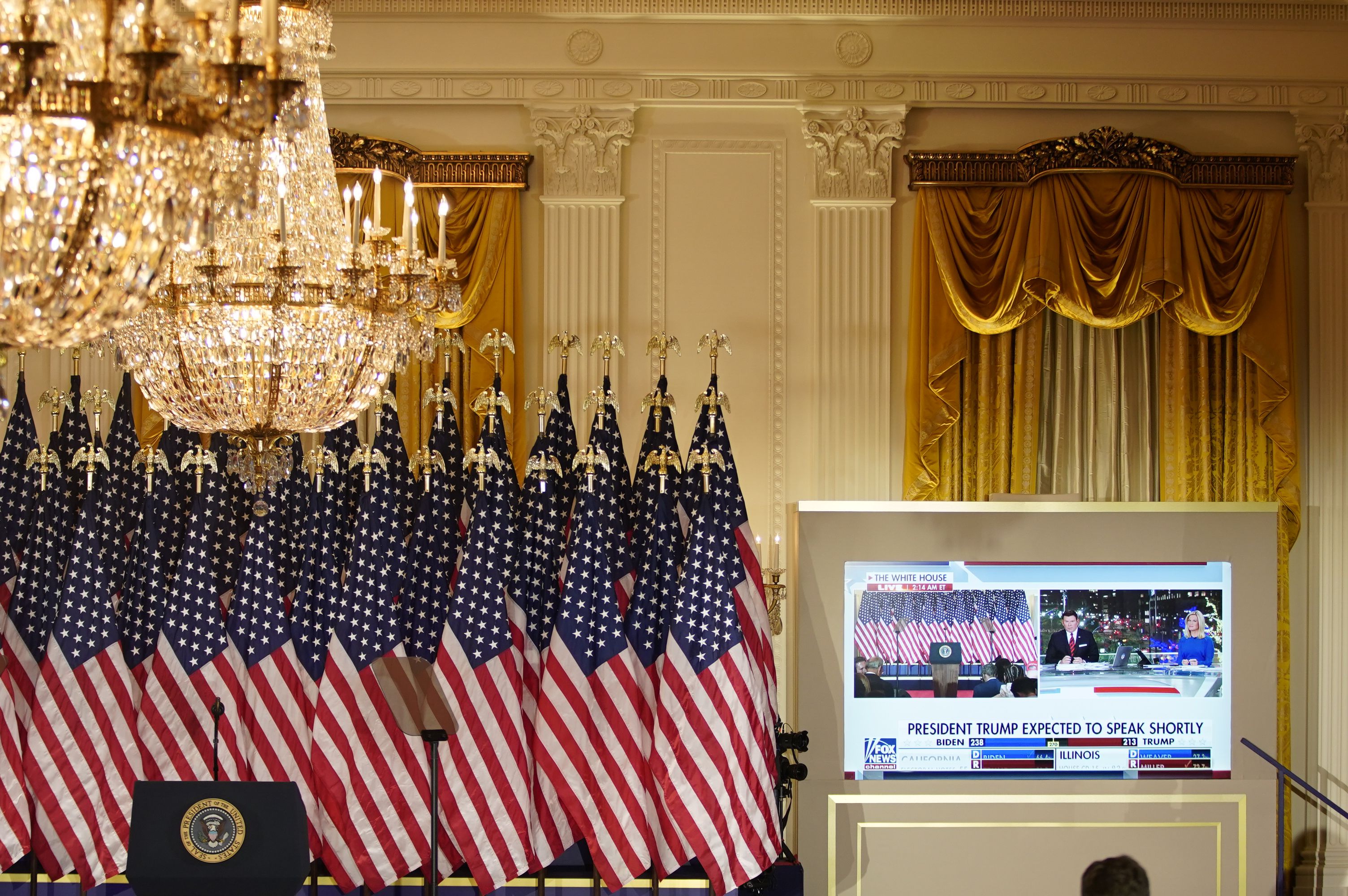 "Off the rails," Episode 1, continues...
Trump preparations for election night were deliberate, strategic and deeply cynical. Trump wanted Americans to believe a falsehood that there were two elections — a legitimate election composed of in-person voting, and a separate, fraudulent election involving bogus mail-in ballots for Democrats.
In the initial hours after returns closed, it looked like his plan could work. Trump was on track for easy wins in Florida and Ohio, and held huge — though deceptive — early leads in Pennsylvania and Michigan.
But as Bill Hemmer narrated a live "what if" scenario on his election telestrator from Studio F of Fox's gargantuan Manhattan headquarters, the anchor sounded confused. "What is this happening here? Why is Arizona blue?" he asked on camera, prodding the state's outline on the touch screen, unable to flip its color.
"Did we just call it? Did we make a call in Arizona?" Hemmer's screen had turned Arizona blue before he or the other anchors, Bret Baier and Martha MacCallum, found out that Fox's Decision Desk had called it.
Trump was steaming. His son-in-law, Jared Kushner, chief of staff Mark Meadows, campaign manager Bill Stepien, senior strategist Jason Miller, and data cruncher Matt Oczkowski took the elevator up to the third floor.
They met Trump and the first lady halfway between his bedroom and the living room at the end of the hall. Trump peppered them with questions: What happened? What the hell is going on at Fox?
About 200 guests — donors, Cabinet secretaries, White House physician Sean Conley, TV boosters Diamond and Silk, and other VIPs — gathered in the East Room for the official election night party. They munched on beef sliders.
Most didn't wear masks. "You knew in real time that you were in a superspreader event," one attendee said.
Trump started choreographing election night in earnest during the second week of October, as he recovered from COVID-19.
Reince Priebus, his former chief of staff, told a friend he was stunned when Trump called him around that time and acted out his script — including walking up to a podium and prematurely declaring victory on election night if it looked like he was ahead.
3. An ad lib that was a lie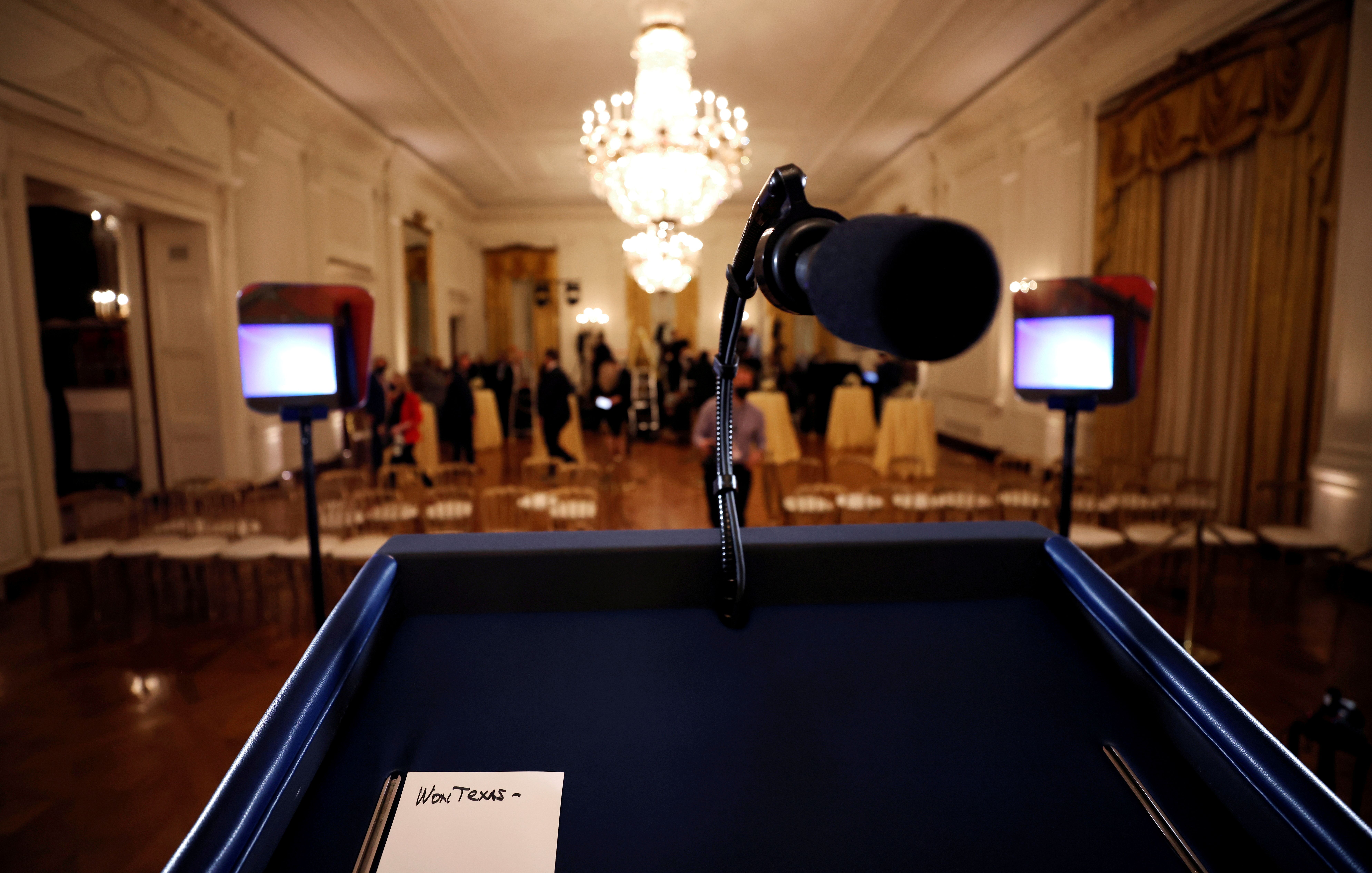 "Off the rails," Episode 1, continues...
Stephen Miller's speechwriting team had prepared three skeleton speeches for election night for all the possible scenarios: a clear victory, a clear loss and an indeterminate result.
But the speechwriters knew that if Trump was facing anything other than a resounding victory, the words would be his alone. This president would never admit defeat or urge patience.
The top officials tried to pressure Fox to retract its Arizona call. Kushner called Rupert Murdoch, who said he'd see what was going on. The Trump campaign's senior-most officials aggressively texted anchors MacCallum and Baier.
Making the situation even more awkward, several high-profile Fox News personalities, including "Judge" Jeanine Pirro, were at the White House while their own network spoiled what was supposed to be a victory party.
It was shortly after 1 a.m. on Nov. 4 when Trump finally came down from his living quarters. The speechwriters sent their final draft to Trump's longtime teleprompter operator, stationed at his laptop in a small room adjoining the East Room.
The draft didn't include the words that became the most infamous line of his speech: "Frankly, we did win this election."
At 2:20 a.m., maskless aides and supporters in the East Room held up cellphones to record Trump, the first lady, Vice President Mike Pence and his wife walking out to waiting cameras as "Hail to the Chief" played.
Trump declared victory — and announced that Democrats were perpetrating a giant fraud on the American people.
Both claims were lies.
📱Go deeper: Read the whole fly-on-the-wall episode in the Axios stream.
🎧 Axios premiers a new podcast series on Monday, "How it happened," featuring Jonathan Swan and "Off the rails." Subscribe to "Axios Today" to catch the first episode as soon as it drops.
4. Tech scrambles to derail new threats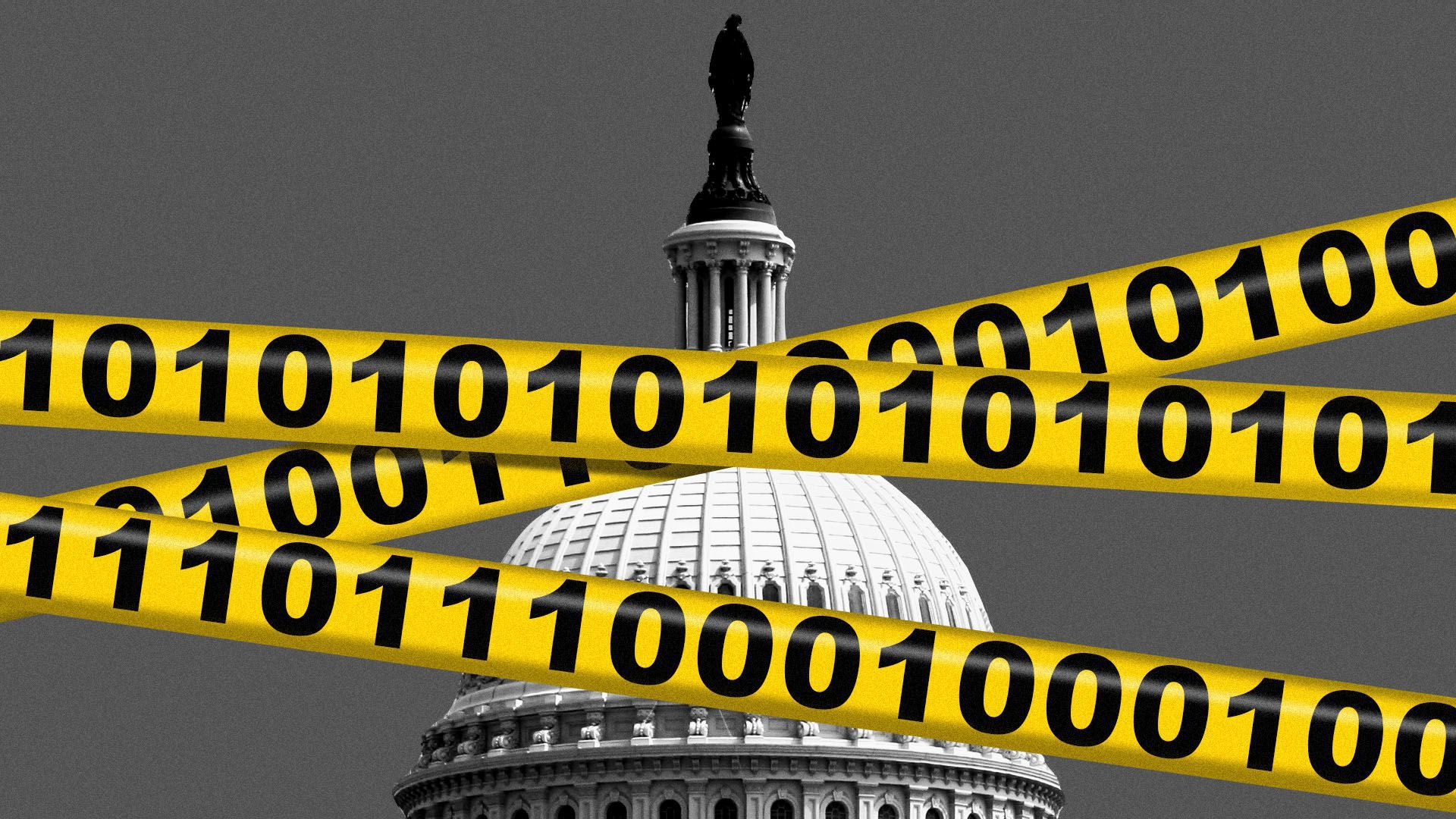 Tech companies are sharing more information with law enforcement in a frantic effort to prevent violence around the inauguration, Axios' Margaret Harding McGill and Sara Fischer report.
Why it matters: Big Tech knows it'll be blamed for any violence that turns out to have been planned online.
Facebook yesterday announced new measures aimed at preventing people from using its platform to foment violence.
The company is blocking the creation of new Facebook events in locations close to the White House, U.S. Capitol and state capitol buildings through Inauguration Day.
What we're hearing: Some companies, including Facebook and Twitter, have briefed the Hill on recent talks they've had with law enforcement.
The companies are sharing information about troubling material they find on their platforms as well as soliciting threat information from law enforcement so they can act against problematic accounts.
Facebook meets regularly with other tech firms to warn each other about security threats they detect on their platforms, said a Facebook source.
5. America: Anxious, angry and heavily armed
Firearms background checks in the U.S. hit a record high in 2020, Axios Future author Bryan Walsh reports.
Why it matters: This past year took our collective arsenal to new heights, with millions of Americans buying guns for the first time. That trend coincides with a moment of peak political and social tension.
Almost 40 million firearms background checks were processed in 2020 — by far the most since the FBI began keeping records in 1998.
Nearly 4 million checks were processed in December alone — the single busiest month ever — and the total for 2020 was almost 40% higher than in 2019, which had been the previous record-holder.
Between the lines: Past spikes in firearms sales were prompted by fears of tightening gun control laws — usually in the aftermath of a mass shooting event or the election of liberal Democrats. But 2020's surges seem to be connected to more general fears.
March — the month when pandemic restrictions snapped into place — saw what was then the biggest month on record, only to be eclipsed in June during the peak of the protests around George Floyd's murder.
6. 📷 Parting shot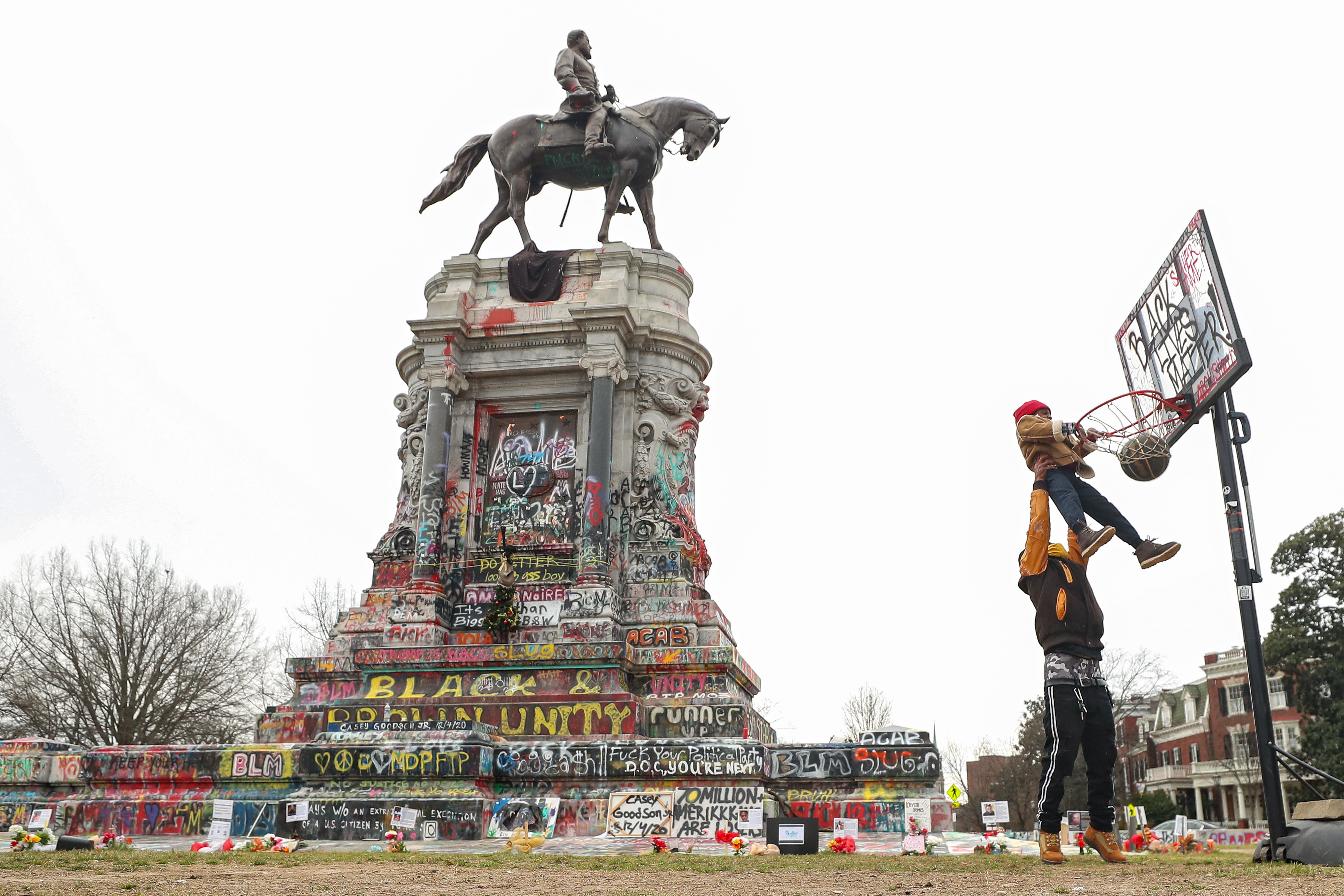 Michael Fisher Sr. lifts his son, Michael Fisher Jr., to dunk at the Robert E. Lee statue on Monument Avenue in Richmond yesterday.
📬 Thanks for starting your holiday weekend with us. Please invite your friends to sign up for Axios AM/PM.