Good Saturday morning. OK, new topic ... Trump tweets this morning: "Subject to the receipt of further information, I will be allowing, as President, the long blocked and classified JFK FILES to be opened." The backstory.
Situational awareness: Damage from California wildfires is now estimated to exceed $1 billion, giving the U.S. 16 separate billion-dollar disasters so far this year, tying 2011 for the most in one year, per the Weather Channel.
https://www.axios.com/newsletters/axios-am-a1610f38-0aa3-4663-a9d7-5b763cddc0c2.html?chunk=0#story0
1 big thing: Big Tech's new Wall Street problem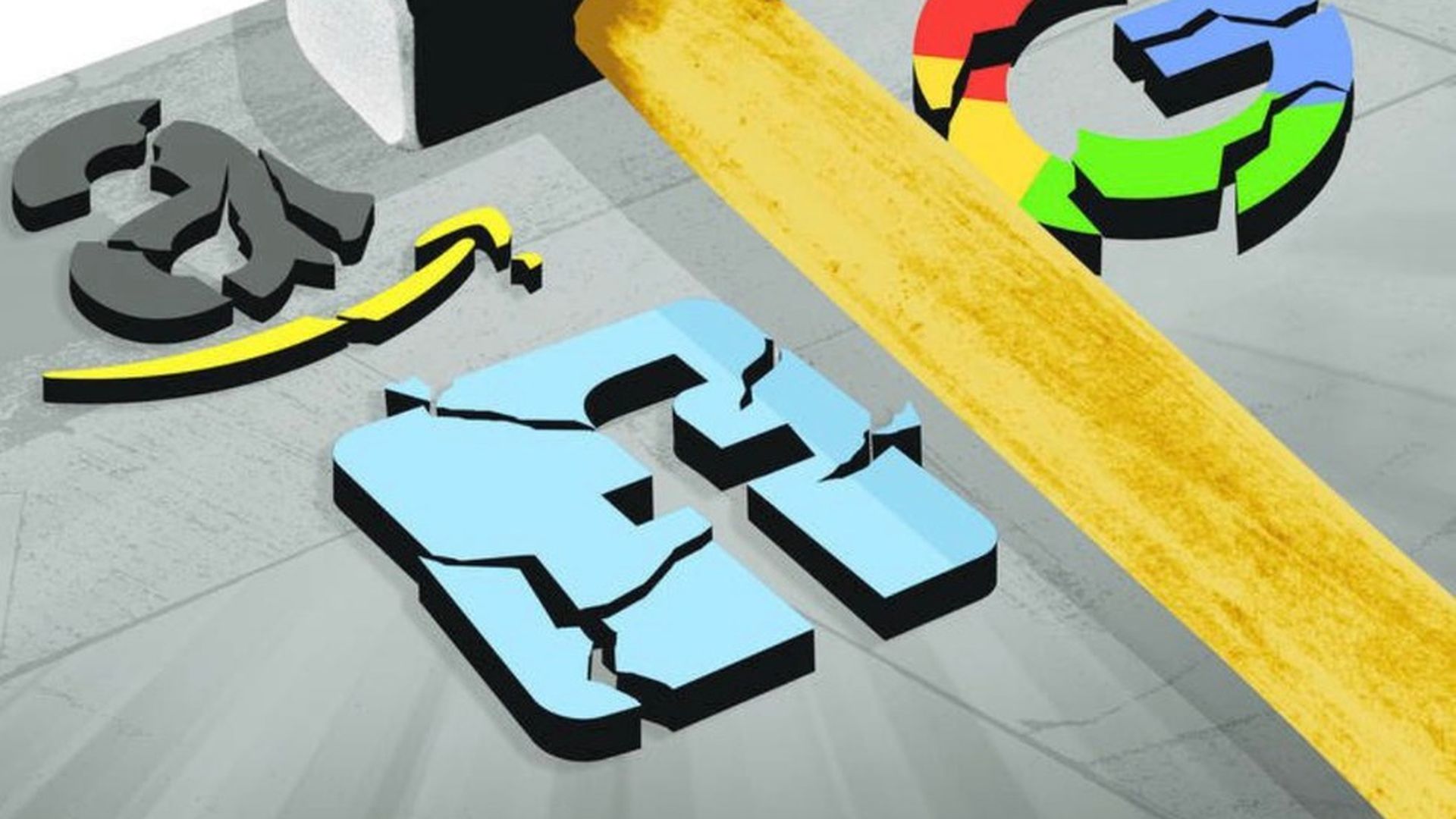 Just as Big Tech has begun to seriously worry about Washington, now Wall Street is waking up to possible government threats to the market dominance of the Silicon Valley giants.
While the "biggest companies don't face an immediate threat of being broken up ... just the possibility creates a risk factor in the stocks," Barron's reports in its new cover story:
"More than antitrust issues are in play. The huge amounts of personal data that Google, Facebook, and Amazon are amassing is just as troubling to some."
Why it matters: "Taken together, these challenges threaten the stock valuations of the group. To get an idea of the worst-case scenario, take a look at two of tech's dominant players from previous eras: IBM [1969] and Microsoft [1998]."
"If these giants get sideswiped, it could be because of the fatal flaw in large tech companies that's often drawn social ire and regulation — the will to exploit their dominance."
Possible hits to the platforms' business models are blossoming in Europe, and the contagion could spread across the Atlantic. An AP takeout from London points out that the giants "are increasingly facing an uncomfortable truth":
"[I]t is Europe's culture of tougher oversight of companies, not America's laissez-faire attitude, which could soon rule their industry as governments seek to combat fake news and prevent extremists from using the internet to fan the flames of hatred."
Be smart: My conversations with tech execs show they're skeptical that Congress will figure out the mechanics of inhibiting the platforms in a way that would do serious damage to the bottom line.
It's true that potential D.C. action is in the early stage. And there are huge impediments to doing anything radical. But the companies are now such tempting targets, this is a rising passion in both parties.
https://www.axios.com/newsletters/axios-am-a1610f38-0aa3-4663-a9d7-5b763cddc0c2.html?chunk=1#story1
2. Picture of the week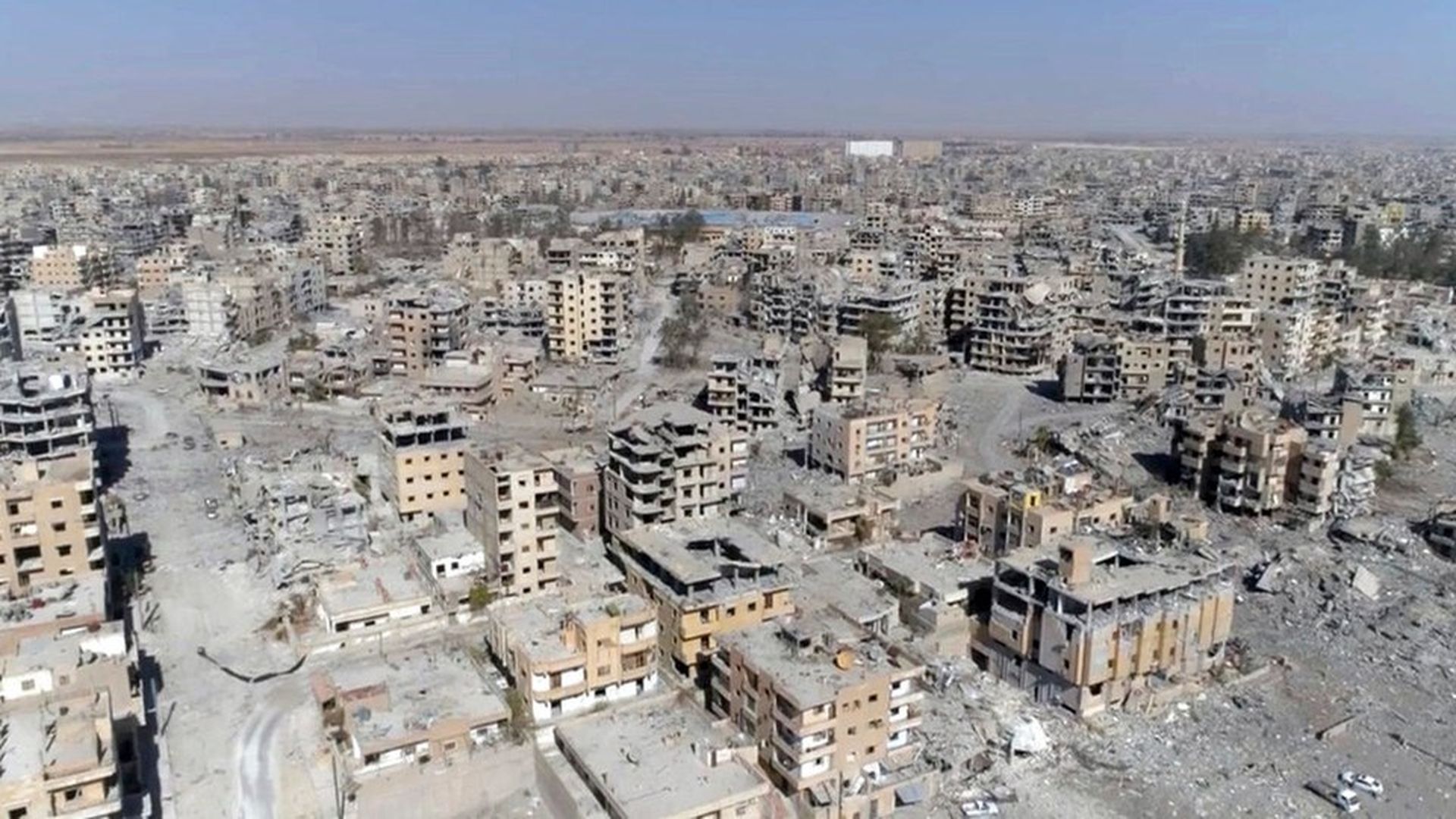 This frame grab from drone video shows damaged buildings in Raqqa, Syria, two days after Syrian Democratic Forces said that military operations to oust the Islamic State have ended, and that their fighters have taken full control of the ancient city on the Euphrates River.
The devastation was "caused by weeks of fighting between Kurdish-led forces and the Islamic State group, and thousands of bombs dropped by the U.S.-led coalition," AP writes.
Why it matters: "Entire neighborhoods are seen turned to rubble, with little sign of civilian life. ... The U.N. and aid organizations estimate about 80 percent of the city is destroyed or uninhabitable."
Now, a humanitarian crisis is escalating.
https://www.axios.com/newsletters/axios-am-a1610f38-0aa3-4663-a9d7-5b763cddc0c2.html?chunk=2#story2
3. Data du jour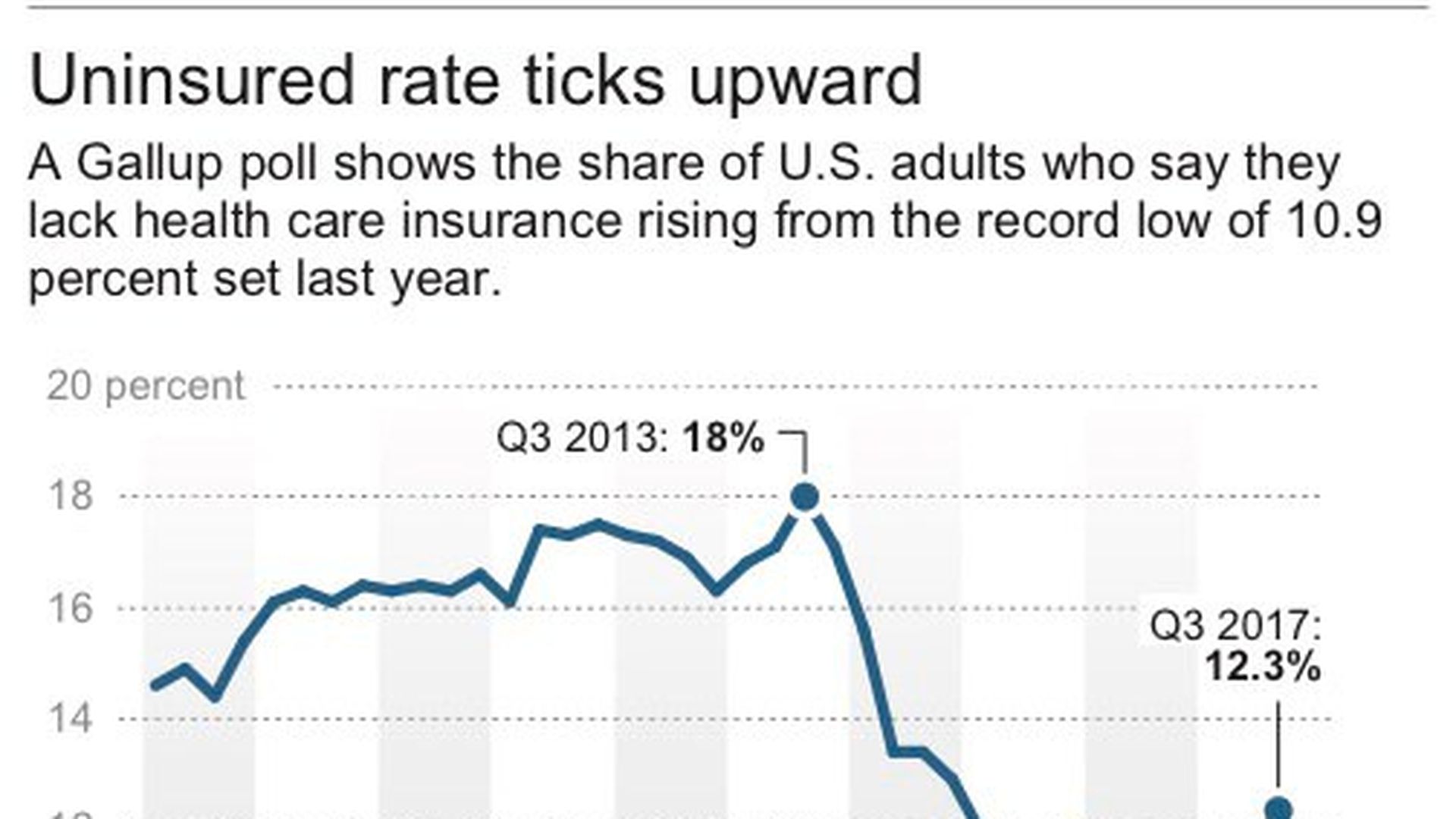 "Millions of Americans with insurance through the Affordable Care Act could find themselves locked into health plans they do not want for the coming year because of the Trump administration's schedule for the enrollment season that starts in less than two weeks," the WashPost's Amy Goldstein reports.
Why it matters: "In the past, a few million consumers each year have been auto-enrolled and then were sent government notices encouraging them to check whether they could find better or more affordable coverage. This time, ... the automatic enrollment will take place after it is too late to make any changes."
https://www.axios.com/newsletters/axios-am-a1610f38-0aa3-4663-a9d7-5b763cddc0c2.html?chunk=3#story3
4. Bite of the day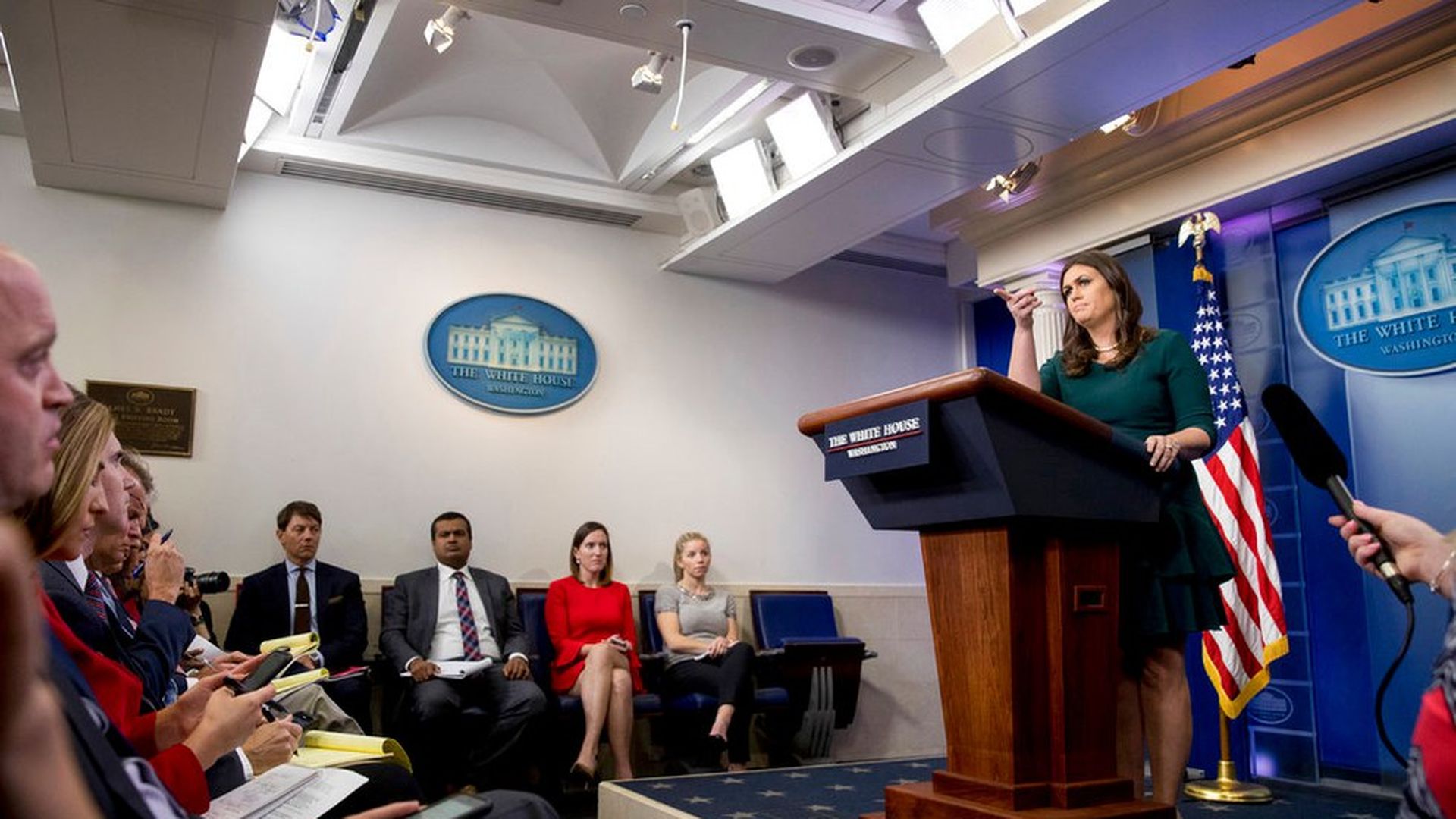 Shot ... Sarah Sanders, to CBS' Chip Reid after a tough question at yesterday's briefing: "If you want to go after [White House chief of staff] General Kelly, that's up to you. But I think that ... if you want to get into a debate with a four-star Marine general, I think that that's something highly inappropriate."
Chaser ... Sanders, in a follow-up email to CNN's Dan Merica: "Of course everyone can be questioned. But after witnessing General Kelly's heartfelt and somber account, we should all be able to agree that impugning his credibility on how best to honor fallen heroes is not appropriate."
P.S. N.Y. Times Quote of the Day ... Chirlane McCray, wife of New York Mayor Bill de Blasio, who has far extended the boundaries of what a first lady does in the city: "I have the advantage of many perspectives as someone who has lived in different kinds of communities: as a woman, as someone who previously identified as a lesbian, as someone who is a person of color. I've had a lot of life so that informs what I do."
https://www.axios.com/newsletters/axios-am-a1610f38-0aa3-4663-a9d7-5b763cddc0c2.html?chunk=4#story4
5. A new North Korea problem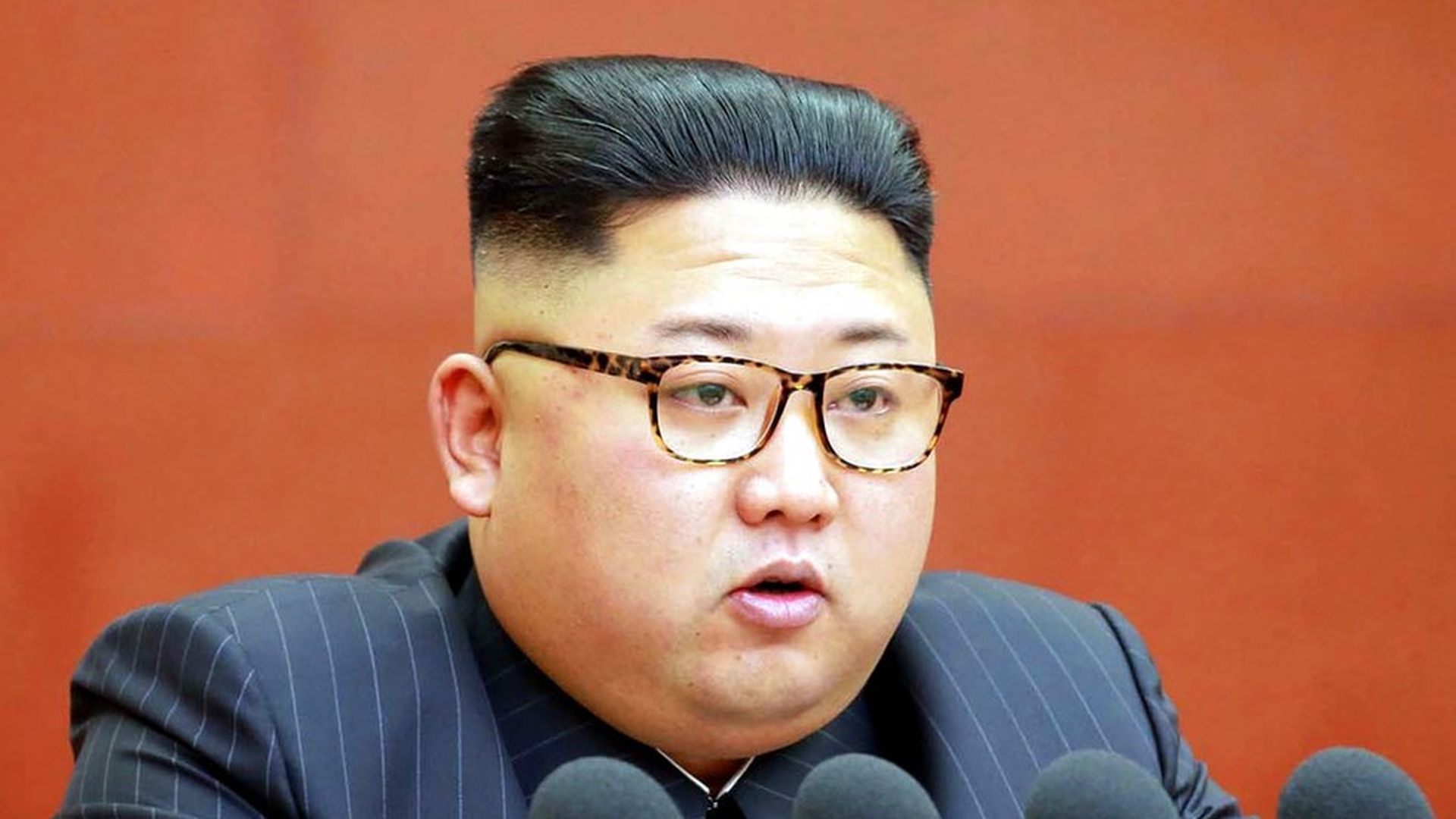 "[A]nalysts ... see signs that Mount Mantap, the 7,200-foot-high peak under which North Korea detonates its nuclear bombs, is suffering from 'tired mountain syndrome,'" the WashPost reports on A1:
Why it matters: "Chinese scientists ... have warned that further nuclear tests [by North Korea] could cause the mountain to collapse and release the radiation from the blast."
P.S. CIA Director Mike Pompeo said Thursday a Foundation for Defense of Democracies forum that North Korea is months away from perfecting its nuclear weapons capabilities, AP reports:
Pompeo: "They are close enough now in their capabilities that from a U.S. policy perspective we ought to behave as if we are on the cusp of them achieving" their objective of being able to strike the United States.
John Brennan, Pompeo's predecessor as CIA director, said at Fordham University in New York on Wednesday that the prospects of a military conflict on the Korean Peninsula "are greater than they have been in several decades": "I don't think it's likely or probable, but if it's a 1-in-4 or 1-in-5 chance, that's too high."
https://www.axios.com/newsletters/axios-am-a1610f38-0aa3-4663-a9d7-5b763cddc0c2.html?chunk=5#story5
6. Poll du jour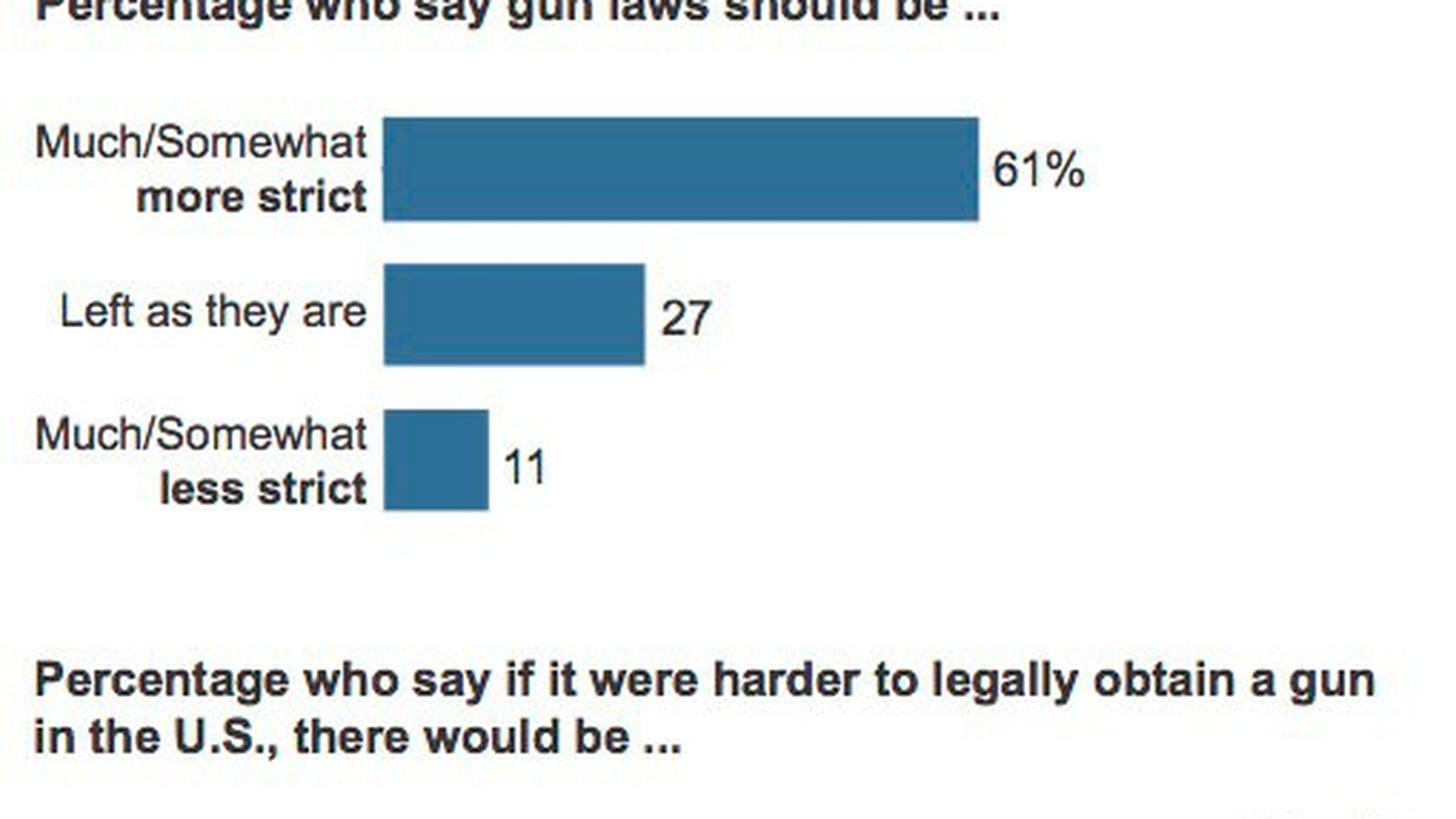 https://www.axios.com/newsletters/axios-am-a1610f38-0aa3-4663-a9d7-5b763cddc0c2.html?chunk=6#story6
7. The blueberry test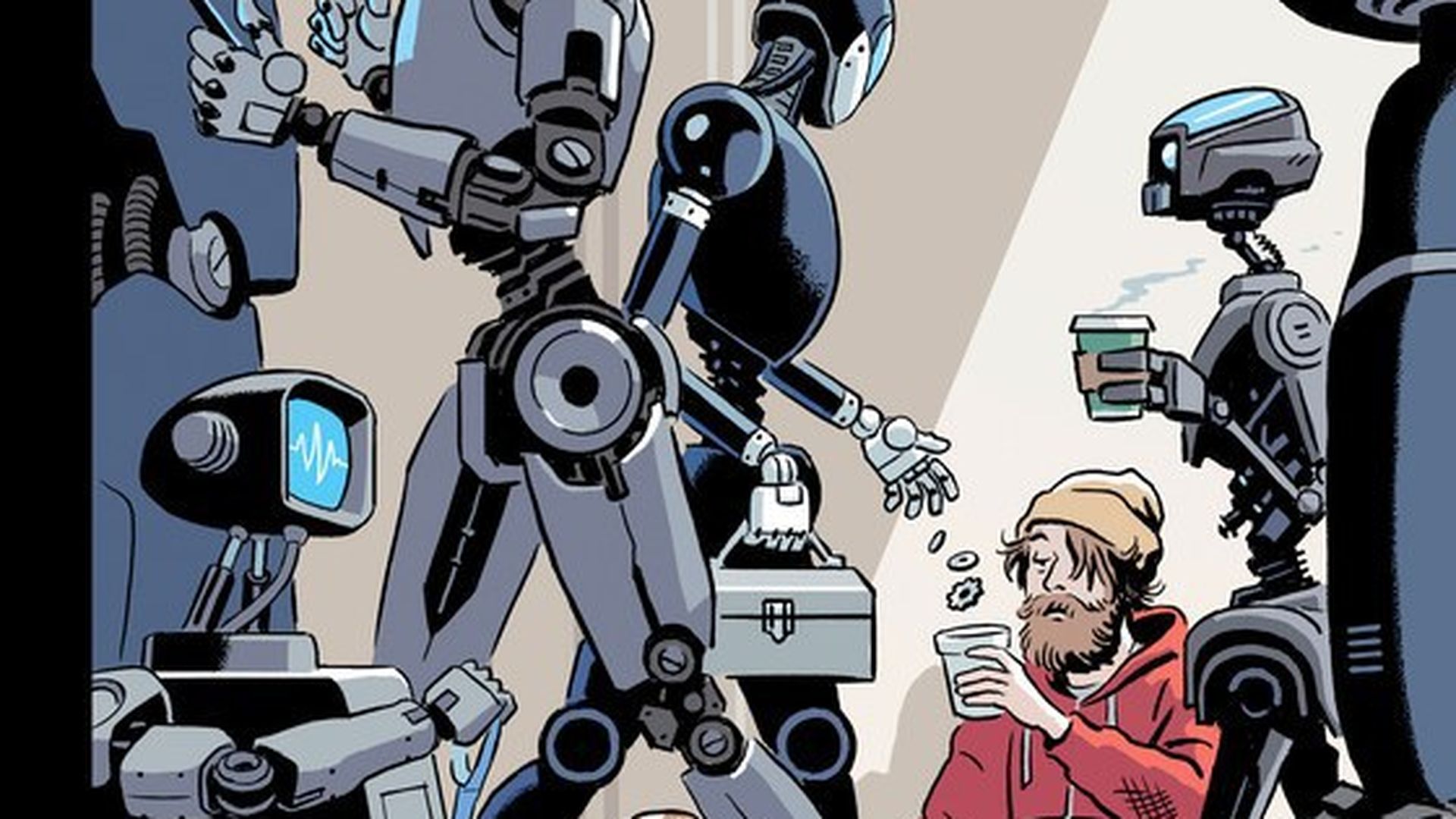 "Welcoming Our New Robot Overlords: Once, robots assisted human workers. Now it's the other way around," by The New Yorker's Sheelah Kolhatkar:
The frontier: "An industrial robot will pick up the same object, in the same location, over and over. The challenge, and the multibillion-dollar business opportunity, [is] to teach a robot to function in an environment that [is] constantly changing."
Why it matters: "Harvesting fruit and other produce ... is the kind of job that Americans are increasingly reluctant to do ... Yet the implications extend beyond agriculture. A robot that could efficiently pick blueberries could probably do a lot of things that are currently the exclusive province of human beings."
https://www.axios.com/newsletters/axios-am-a1610f38-0aa3-4663-a9d7-5b763cddc0c2.html?chunk=7#story7
8. 1 Bannon thing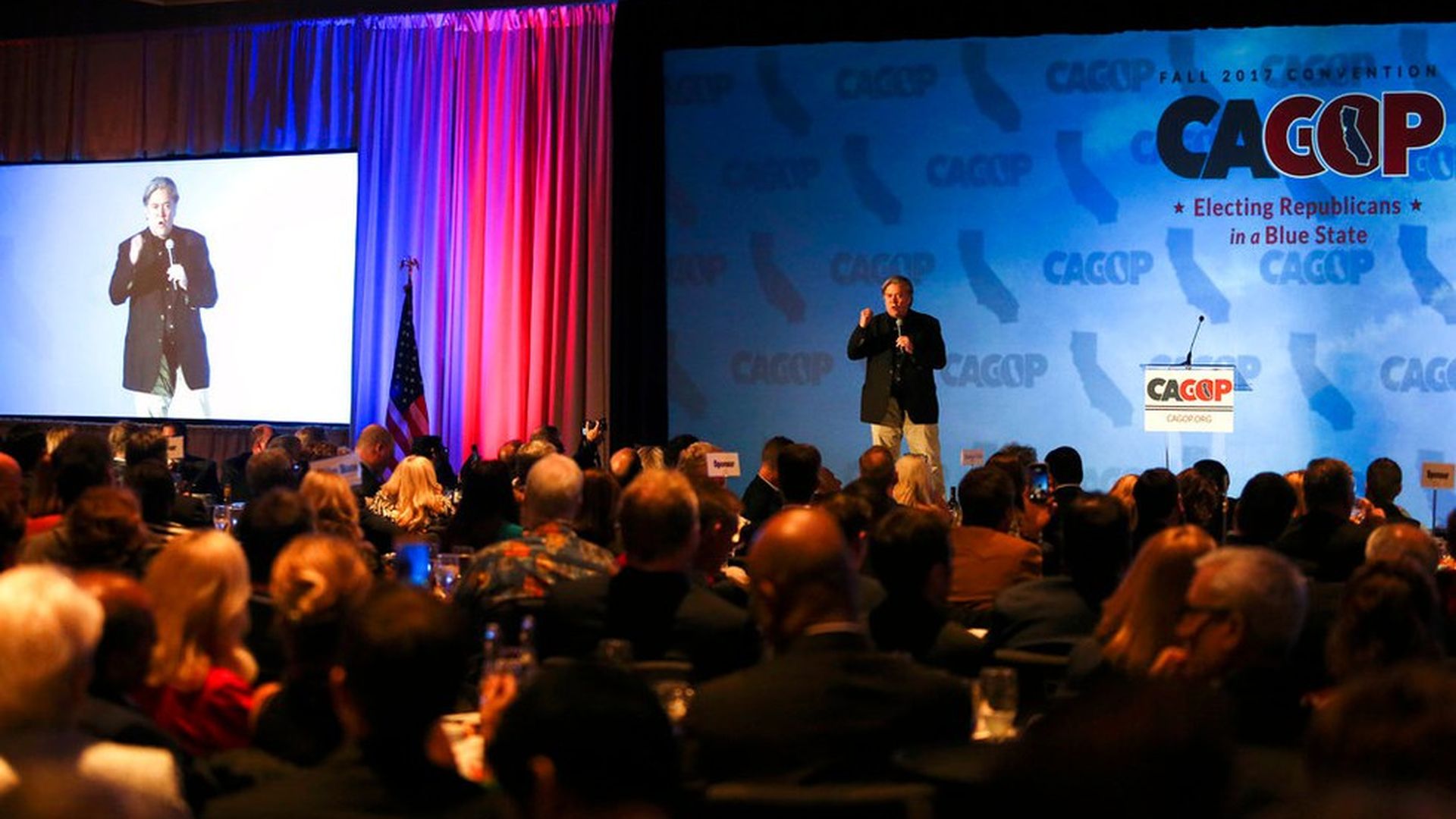 Steve Bannon, at the California Republican Convention in Anaheim last night: "There has not been a more destructive presidency than George Bush's."
P.S. College Republican schism to be fought this weekend at California GOP convention ... L.A. Times, top of column 1, "Trump divide trickles down to colleges: Student campaigns mirror GOP infighting on the national stage," by Teresa Watanabe and Rosanna Xia:
"Trump sparks revival for college Republicans, along with battle over 'future and soul' of movement."
"Campus conservative leaders said Trump's election boosted their numbers even if it intensified hostility toward them."
Brock Bauer, a UCLA sophomore majoring in financial actuarial math: "It's a counterculture. It feels like you're rebelling against your generation."
The wilderness ... Dem-on-Dem fight in California: Axios' Alexi McCammond finds younger Dems want to replace the party establishment with more progressive leaders.
https://www.axios.com/newsletters/axios-am-a1610f38-0aa3-4663-a9d7-5b763cddc0c2.html?chunk=8#story8
9. A worthy read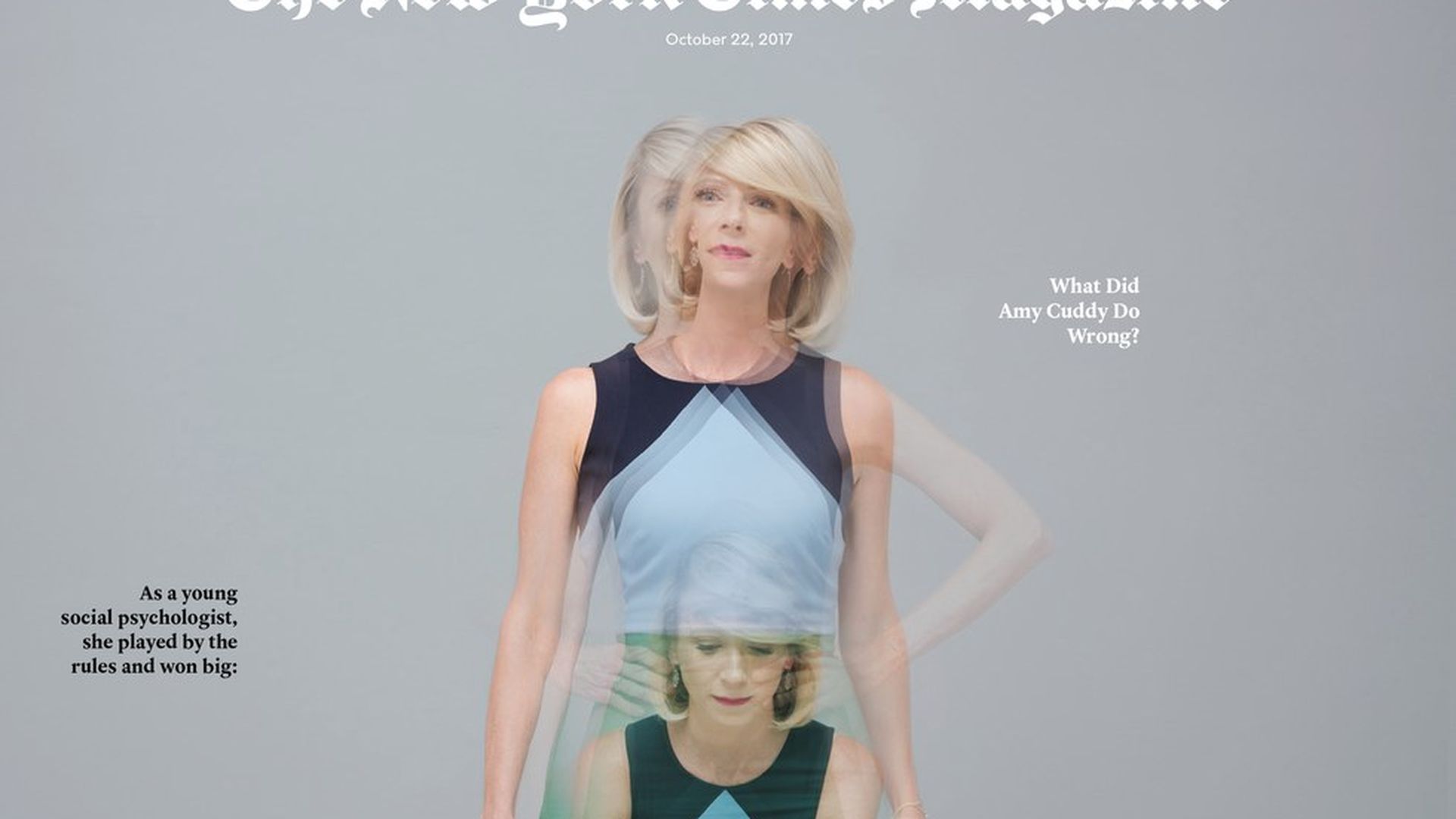 The viciousness of academic schadenfreude is captured in the memorable cover story of tomorrow's N.Y. Times Magazine, about challenges to the researcher who popularized "power poses" ...
"When the Revolution Came for Amy Cuddy ... As a young social psychologist, she played by the rules and won big: an influential study, a viral TED talk, a prestigious job at Harvard. Then, suddenly, the rules changed," by Susan Dominus:
Cuddy's 2010 study "found that subjects who were directed to stand or sit in certain positions — legs astride, or feet up on a desk — reported stronger 'feelings of power' after posing than they did before."
"The video is now TED's second-most popular, having been seen ... by some 43 million viewers. ... Cuddy became a sought-after speaker, a quasi celebrity and ... the author of a best-selling book, 'Presence,' in 2015."
Why it matters: "[F]ellow academics have subjected her research to exceptionally high levels of public scrutiny. ... Since 2011, a methodological reform movement has been rattling [social psychology], raising the possibility that vast amounts of research ... might be unreliable."
"Some say that she has gained fame with an excess of confidence in fragile results ... But many of her colleagues ... believe that the attacks on her have been excessive and overly personal."
https://www.axios.com/newsletters/axios-am-a1610f38-0aa3-4663-a9d7-5b763cddc0c2.html?chunk=9#story9
Bonus: Maria Bartiromo's "6 Big Things"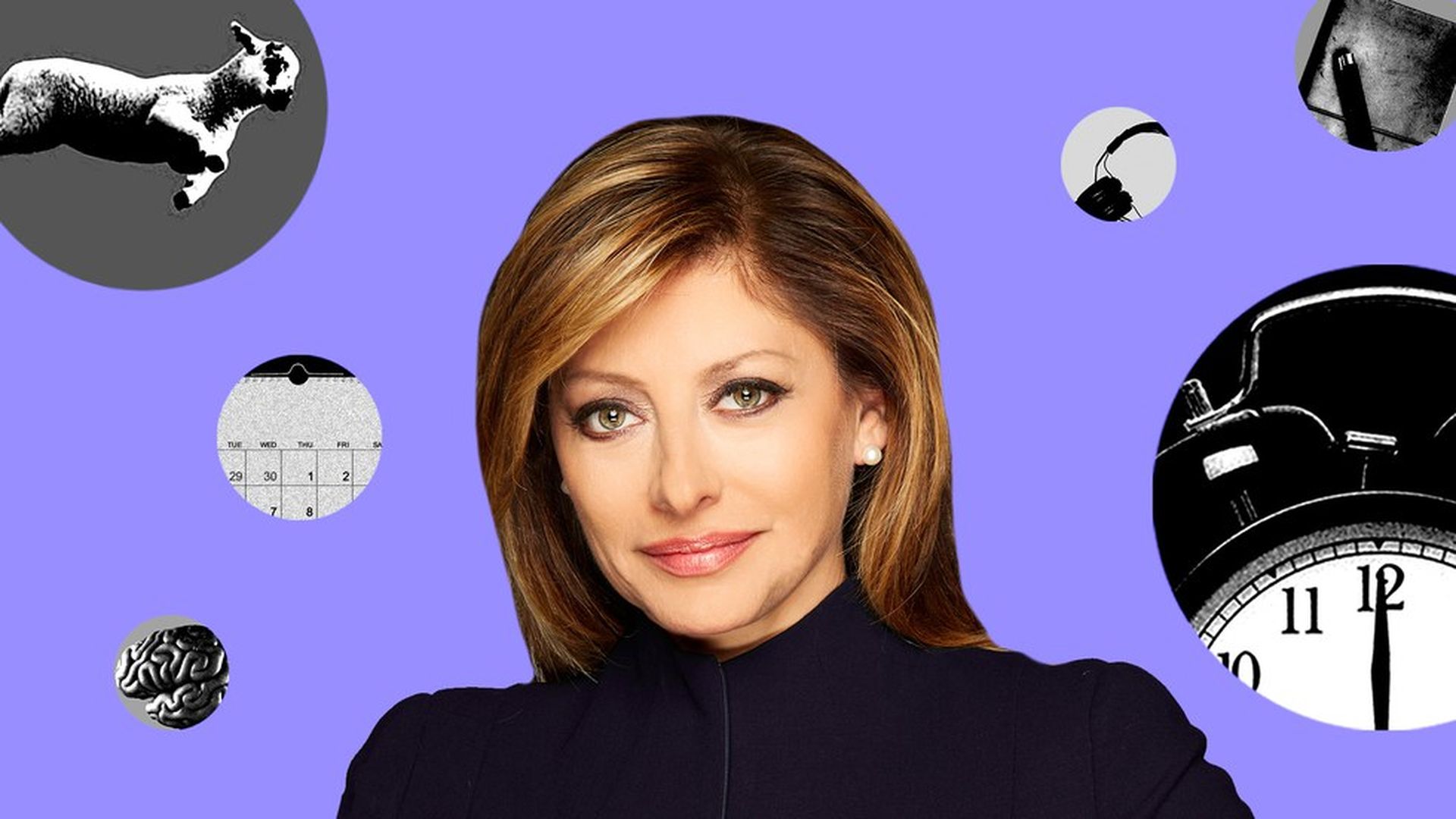 For this Axios Top 10 weekend feature looking at hacks and habits, Fox Business anchor Maria Bartiromo — who's airing an interview with President Trump tomorrow — tells us what's on her bucket list.
https://www.axios.com/newsletters/axios-am-a1610f38-0aa3-4663-a9d7-5b763cddc0c2.html?chunk=10#story10
10. 1 Trump thing: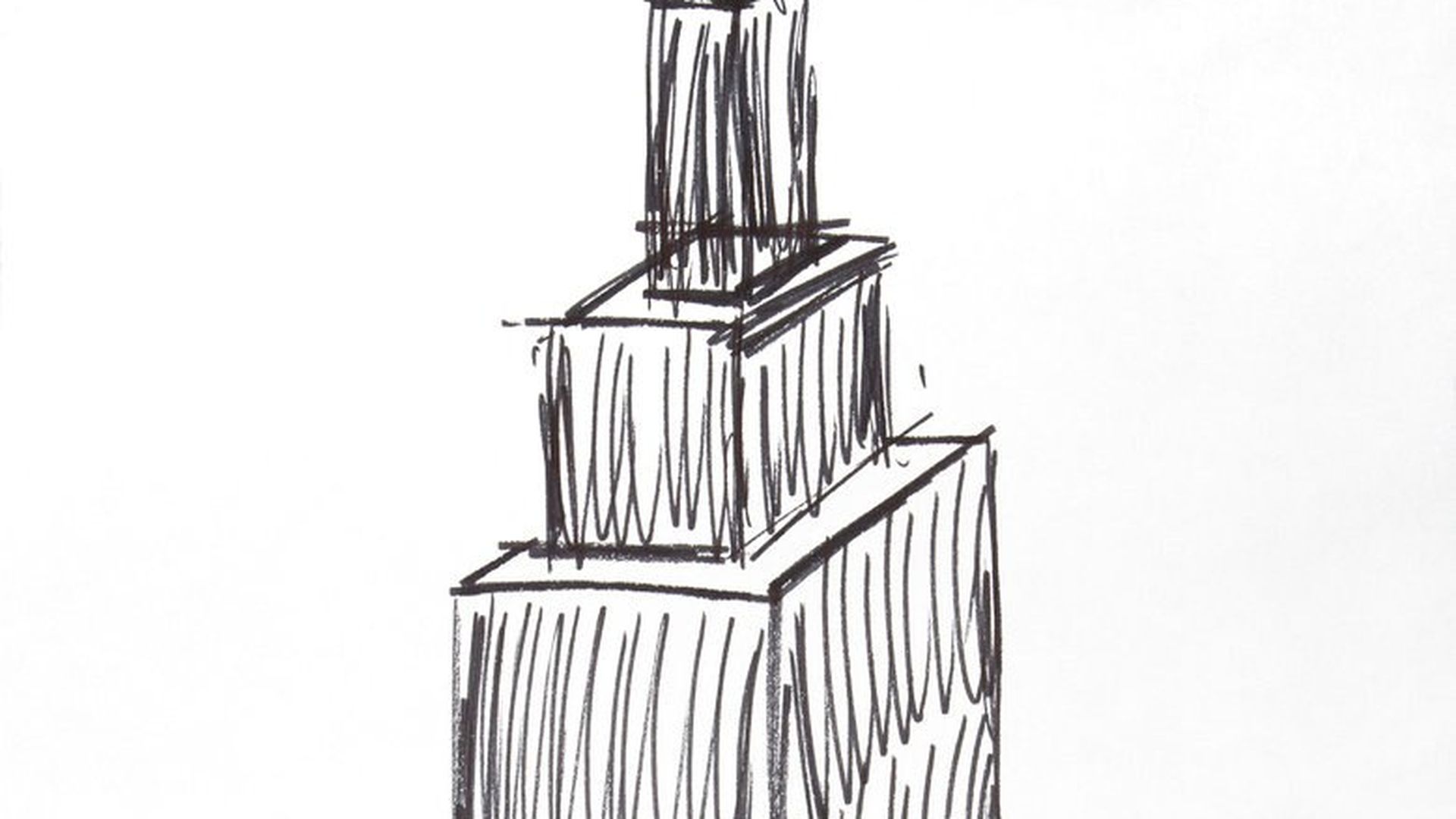 A sketch of the Empire State Building by President Trump (with his distinctive signature) sold at auction Thursday in L.A. for $16,000, per AP:
Julien's Auctions says the 12-inch-by-9-inch, black-marker depiction of the skyscraper was created by Trump for a charity auction in Florida during the time he opened his Mar-a-Lago estate as a private club in 1995.
Julien's says the drawing originally went for less than $100.