Good Sunday morning. This beta week for our three newsletters has been a sneak peek, ahead of the full launch of Axios on Wednesday. With the wild, historic week ahead, make sure your friends and colleagues are part of the breakfast conversation. Have them sign up here with this easy, one-click link.
https://www.axios.com/newsletters/axios-am-a069c140-8838-4892-a720-d3fa9a5f22dd.html?chunk=0#story0
The 1 thing: White House briefing may move
The White House's iconic James S. Brady Press Briefing Room, renovated a decade ago with modern lights and wiring, may soon be much quieter. White House Chief of Staff Reince Priebus told Chuck Todd on "Meet the Press" that, at least temporarily, the daily briefings may move "50 feet to the EEOB," the Eisenhower Executive Office Building, across West Executive Drive from the White House.
Sean Spicer, the incoming White House press secretary tells me: "While no decisions have been made, there is enormous interest in covering Donald Trump … The current briefing room only has 49 seats so we have looked at rooms within the White House to conduct briefings that have additional capacity to accommodate members of media including talk radio, bloggers and others."
It looks like the most likely new venue is on the first floor of the Eisenhower Executive Office Building, South Court — new and TV-ready, with 150 seats.
Spicer was responding to an Esquire posting by Peter Boyer, a former Fox News executive and New Yorker writer, quoting a senior Trump official as saying of the press: "They are the opposition party … I want 'em out of the building. We are taking back the press room."
The inside take: The press will fight furiously to keep briefings in the West Wing, however cramped and inconvenient. In the first year of Bill Clinton's presidency, communications director George Stephanopoulos got hammered for closing a door between the press and his staff. The late Gwen Ifill, then of The New York Times, reported that ordering "the reopening of the door" was one of David Gergen's Day 1 moves when he was brought in, in June 1993, to engineer a reset with the press: "The closing of the door in January had sent relations between the reporters and Mr. Clinton off to a bad start."
https://www.axios.com/newsletters/axios-am-a069c140-8838-4892-a720-d3fa9a5f22dd.html?chunk=1#story1
​2. Brits in twist over notion of Trump-Putin summit
Trump's obsession with stagecraft now moves to the world stage. The Sunday Times of London floated an intriguing idea for his opening trip, but a Trump aide is flatly denying the report. The paper's lead story said the Trump team has told British officials that his first foreign trip could be a meeting with Putin — possibly in Reykjavik, Iceland, echoing Reagan's Cold War deal-making with Gorbachev.
The paper said: "In a bid to reset western relations with the Kremlin, Trump will begin work on a deal limiting nuclear weapons. … The prospect of a Trump-Putin 'love-in' is causing ­concern in British intelligence and political circles."
https://www.axios.com/newsletters/axios-am-a069c140-8838-4892-a720-d3fa9a5f22dd.html?chunk=2#story2
​3. Trump v. Lewis
Trump doubled down last night on his Twitter criticism of Rep. John Lewis, the civil-rights hero, for calling him illegitimate: "Congressman John Lewis should finally focus on the burning and crime infested inner-cities of the U.S. I can use all the help I can get!"
The backlash was bipartisan, with many critics pointing out that this is the Martin Luther King Jr. holiday weekend:
Never-Trumpet Bill Kristol got 47,000 retweets when he said: "It's telling, I'm afraid, that Donald Trump treats Vladimir Putin with more respect than he does John Lewis."
Fox online pointed to the "growing number of Democrats, Hollywood celebrities and some Republicans [who] came to the defense of … Lewis."
The WashPost says the "feud could be harbinger of new round of hyper-partisanship [and] seemed to jettison any lingering hopes that the inauguration would temporarily ease partisanship."
https://www.axios.com/newsletters/axios-am-a069c140-8838-4892-a720-d3fa9a5f22dd.html?chunk=3#story3
4. More than $20 million
That's the advance President Obama can expect for his book, according to Keith Urbahn, a literary agent at Javelin DC.
https://www.axios.com/newsletters/axios-am-a069c140-8838-4892-a720-d3fa9a5f22dd.html?chunk=4#story4
​5. Thiel v. Steyer? Wild race in Calif.
Peter Thiel has been raising his national and D.C. profile month by month, and now we know a possible reason why: He's eying a run for California governor next year. Politico's Alex Isenstadt scoops that the PayPal co-found "has been discussing a prospective bid with a small circle of advisers, including Rob Morrow, who has emerged as his political consigliere."
The state of play: "Those who have been in touch with the 49-year-old entrepreneur are skeptical that he'll enter the race. He is a deeply private figure, and California is unfriendly territory for a Republican – particularly a pro-Trump one."
This could be a fireworks show: Jerry Brown is term-limited, so it's an open seat. Possible Democratic candidates include environmentalist Tom Steyer, former Los Angeles Mayor Antonio Villaraigosa and Lt. Gov. Gavin Newsom.
The inside take from Axios' Dan Primack, a longtime Thiel watcher: "One reason some friends/peers have said he didn't want a D.C. post was that he doesn't like the idea of running a bureaucracy. Likely had his pick from Trump and said 'no thanks.' I know governor is different than a 'department' -- and that he has led investment firms to differing extents. But it just doesn't seem to comport with him (leaving aside how little he likes to let the public into his personal life)."
https://www.axios.com/newsletters/axios-am-a069c140-8838-4892-a720-d3fa9a5f22dd.html?chunk=5#story5
​6. Populism's next epicenters
The populist fires of 2016 will continue across the globe in the new year, with Oxford Economics concluding in a new report that "at least one further victory in a major economy is very likely."
Business Insider posts a fascinating chart from the report, showing that Latin America is one of the next big cauldrons, with Brazil and Mexico both seen as having a more than 20% chance of having "a populist movement being in power in the next 2-3 years."
The inside take: Also watch western Europe, where Trump officials think Germany's Angela Merkel could well lose her bid for a fourth term, and this spring's French presidential election promises a rowdy counterblast to immigration.
https://www.axios.com/newsletters/axios-am-a069c140-8838-4892-a720-d3fa9a5f22dd.html?chunk=6#story6
7. Tops in tech
We told you yesterday about the McKinsey report on how automation could destroy any of our jobs. The New York Times' Upshot, under a "Robot Revolution" heading, has similar dire warnings about inequality caused by automation: "In December, the White House released a report on automation, artificial intelligence and the economy, warning that the consequences could be dire: "The country risks leaving millions of Americans behind and losing its position as the global economic leader."
Huge relief at Elon Musk's SpaceX with the launch yesterday of its first rocket since a Sept. 1 launch-pad accident — "a rousing return-to-flight mission that also included a rocket landing on a ship at sea." Musk's twitter feed called the launch, ending with "Liftoff."
https://www.axios.com/newsletters/axios-am-a069c140-8838-4892-a720-d3fa9a5f22dd.html?chunk=7#story7
8. This bull can bite
The Dow is up 8.9% since Election Day — a surprise Trump rally triggered by optimism that his tax and other policies will be business-friendly. But the L.A. Times' Tom Petruno has a warning: "If he disappoints, or his tax, trade and spending policies trigger unexpected or dangerous consequences, stocks could react violently.
"A new bear market — meaning a drop of 20% or more in the Dow and other indexes — could in turn quickly undermine the business confidence and spending crucial for Trump's … agenda."
https://www.axios.com/newsletters/axios-am-a069c140-8838-4892-a720-d3fa9a5f22dd.html?chunk=8#story8
​9. Even the REAL circus can't survive these times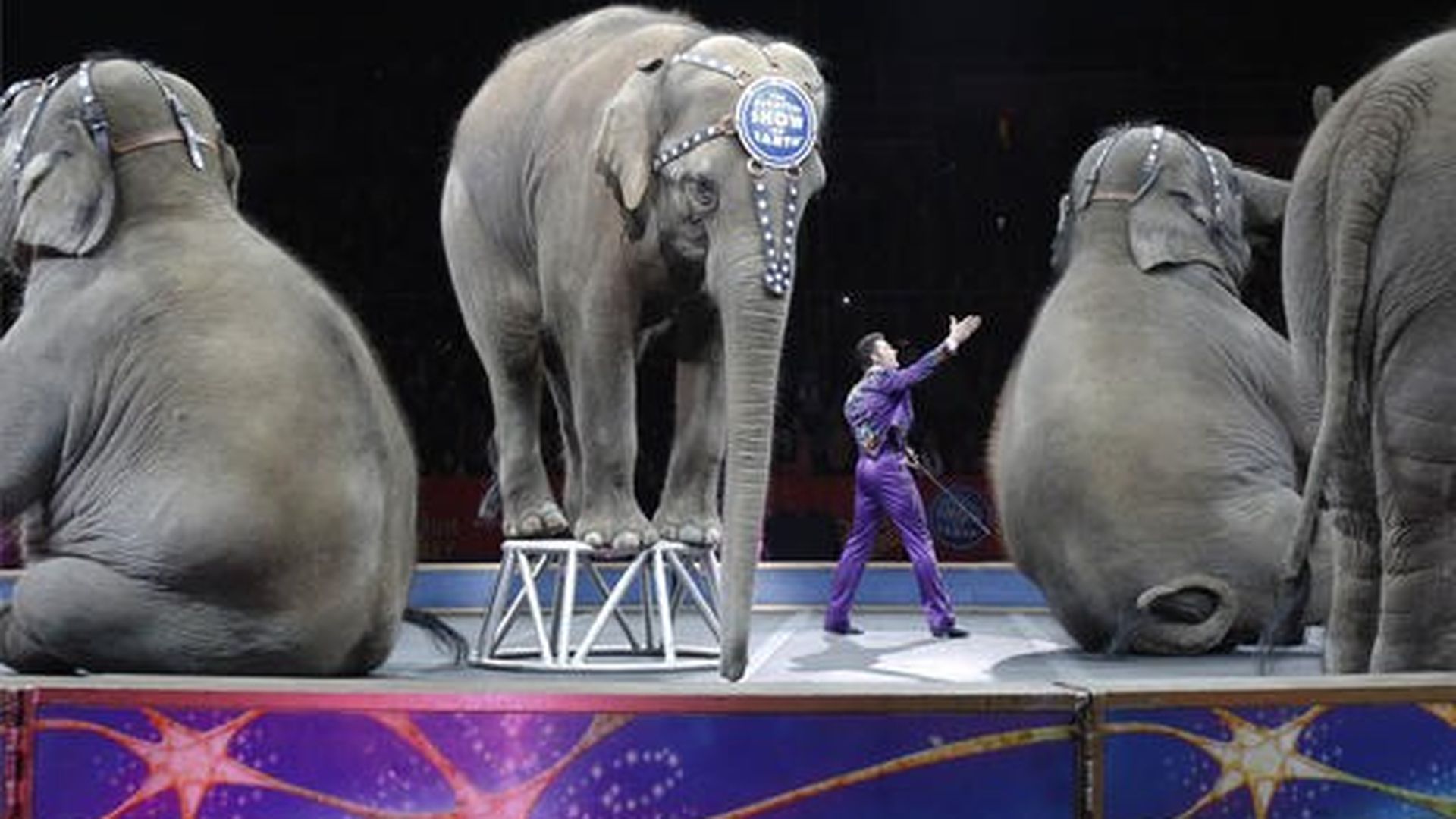 One of my early memories growing up in Southern California was going to the Ringling Bros. and Barnum & Bailey Circus at the Long Beach Arena in our blue Chevy station wagon. My Grandma Powers talked for years about animal trainer Gunther Gebel-Williams and his mystical way with the big cats. It was the first time I saw cotton candy, and I wanted one of those spinning toys that lit up when you pulled the two strings.
The circus will close forever in May, AP reports from Ringling Bros. winter quarters in Ellenton, Fla.: "Declining attendance combined with high operating costs, along with changing public tastes and prolonged battles with animal rights groups all contributed to its demise."
After the elephants were removed from the tour, attendance fell more than projected, calling the business model into question: "Attendance has been dropping for 10 years … but when the elephants left, there was a 'dramatic drop' in ticket sales. Paradoxically, while many said they didn't want big animals to perform in circuses, many others refused to attend a circus without them."
https://www.axios.com/newsletters/axios-am-a069c140-8838-4892-a720-d3fa9a5f22dd.html?chunk=9#story9
​10. 1 fun thing: SNL can't quit DJT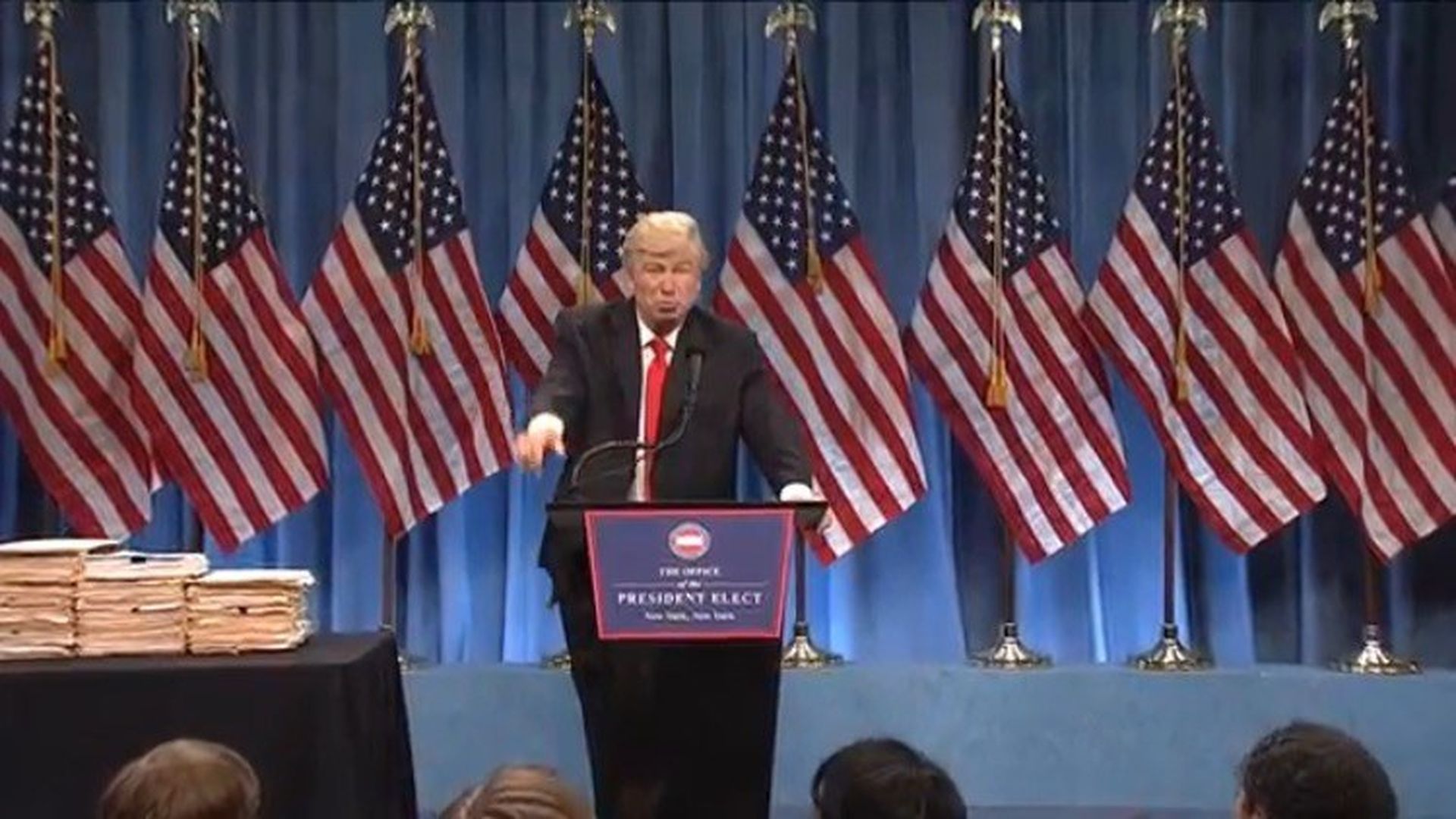 Alec Baldwin returned to "Saturday Night Live," playing Trump at his press conference: "Thank you for coming. I'd like to start by answering the question that's on everybody's mind: Yes, this is real life. This is really happening. … We've also got some huge, A-list actors coming like Angelina Jolie, Ryan Gosling and Jennifer Lawrence. They will ALL be at my inauguration — courtesy of Madame Tussauds."