Good Saturday morning, and happy Christmas Eve EVE. 🎅
https://www.axios.com/newsletters/axios-am-9f6d3eb3-4b46-477a-8de4-60f609b90159.html?chunk=0#story0
1 big thing: 2018 governing, foretold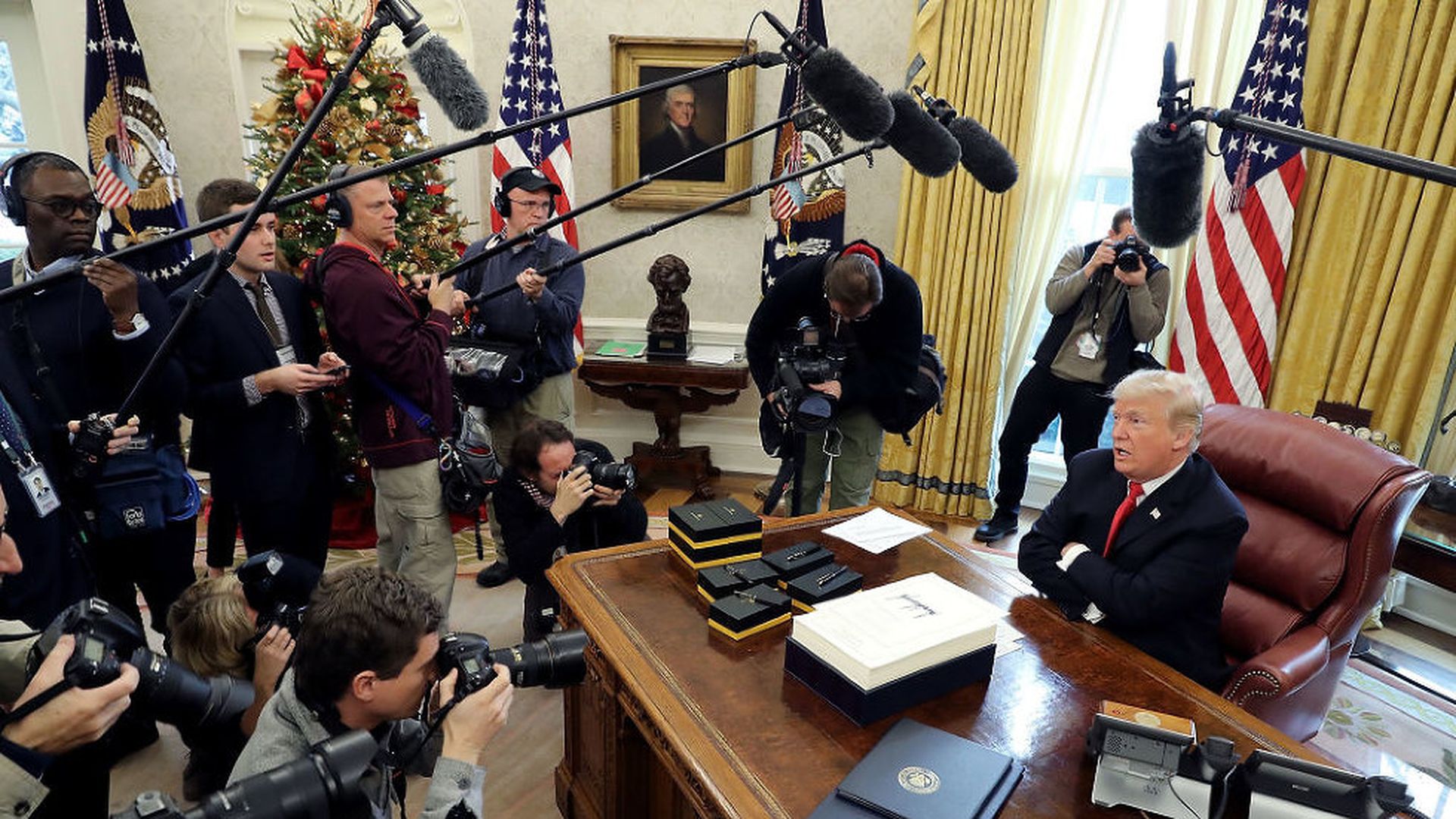 Two weeks of insight: Between now and New Year's Day, Axios CEO Jim VandeHei and I will bring AM readers our year-end thoughts on the topics that matter most ...
Top White House officials tell us they anticipate 2018 will be a legislative and accomplishments grind, exacerbated by the very realistic prospect of losing their congressional majorities.
Complicating matters, President Trump faces a wave of staff departures, with thin pickings for replacements.
During Year 1, Trump had a ready supply of executive orders that he could sign while Congress dithered. But we're told there's not a big cupboard of new ones for next year: The most feasible ones have been done.
One official said: "It's tough to look out on the horizon and see another sure or easy victory."
What's ahead ... Earlier this month, economic staffers got a calendar invite for a Jan. 3 meeting with Gary Cohn to begin a push on infrastructure:
The centerpieces include reform of a permit quagmire that can last decades for a major project, and funding for what the White House calls "transformative" technologies — infrastructure for self-driving vehicles, and a boost for "tunneling" to make way for underground high-speed rail.
That could get some Democratic votes. But fiscal conservatives in the Republican base are never going to be wild about spending on public works.
A source close to the White House said that in a midterm year, "Do you really want a bipartisan issue? What is going to mobilize people to go to the polls and say. 'I have to vote for a Republican?"
At the same time, the White House will begin promoting welfare reform, with a job-training element to try to attract Democrats:
Speaker Paul Ryan is all for this. But Senate Majority Leader Mitch McConnell coolly choked the idea during an Axios News Shapers conservation with me this week: The measure would need 60 votes, and he doesn't see it attracting a single Democrat, making it a mathematical dead end.
There are other possibilities. At the Axios event, McConnell said for the first time that a bipartisan banking reform bill will get "early consideration" on the Senate floor in 2018, calling it "an important thing to do." But that really isn't a base-motivator, either.
AP's Alan Fram points out in a lookahead story for Congress: "Since Republicans will have just a 51-49 Senate majority next year — well shy of the 60 votes needed to pass most bills — Democrats will have leverage for most things, including a deal to prevent a politically jolting January federal shutdown."
Be smart: Most people ignore midterm elections and don't bother voting. Next year feels different: The Trump show has grabbed a sustained audience and Democrats, especially women, want it canceled ASAP. This will further galvanize Democrats and polarize the two parties.
Sleeper issue: Still lots of rumblings of another Supreme Court retirement. Nothing would light up D.C. like the chance for a Trump Court to rule the land for a generation.
https://www.axios.com/newsletters/axios-am-9f6d3eb3-4b46-477a-8de4-60f609b90159.html?chunk=1#story1
2. Rich already trying to exploit tax law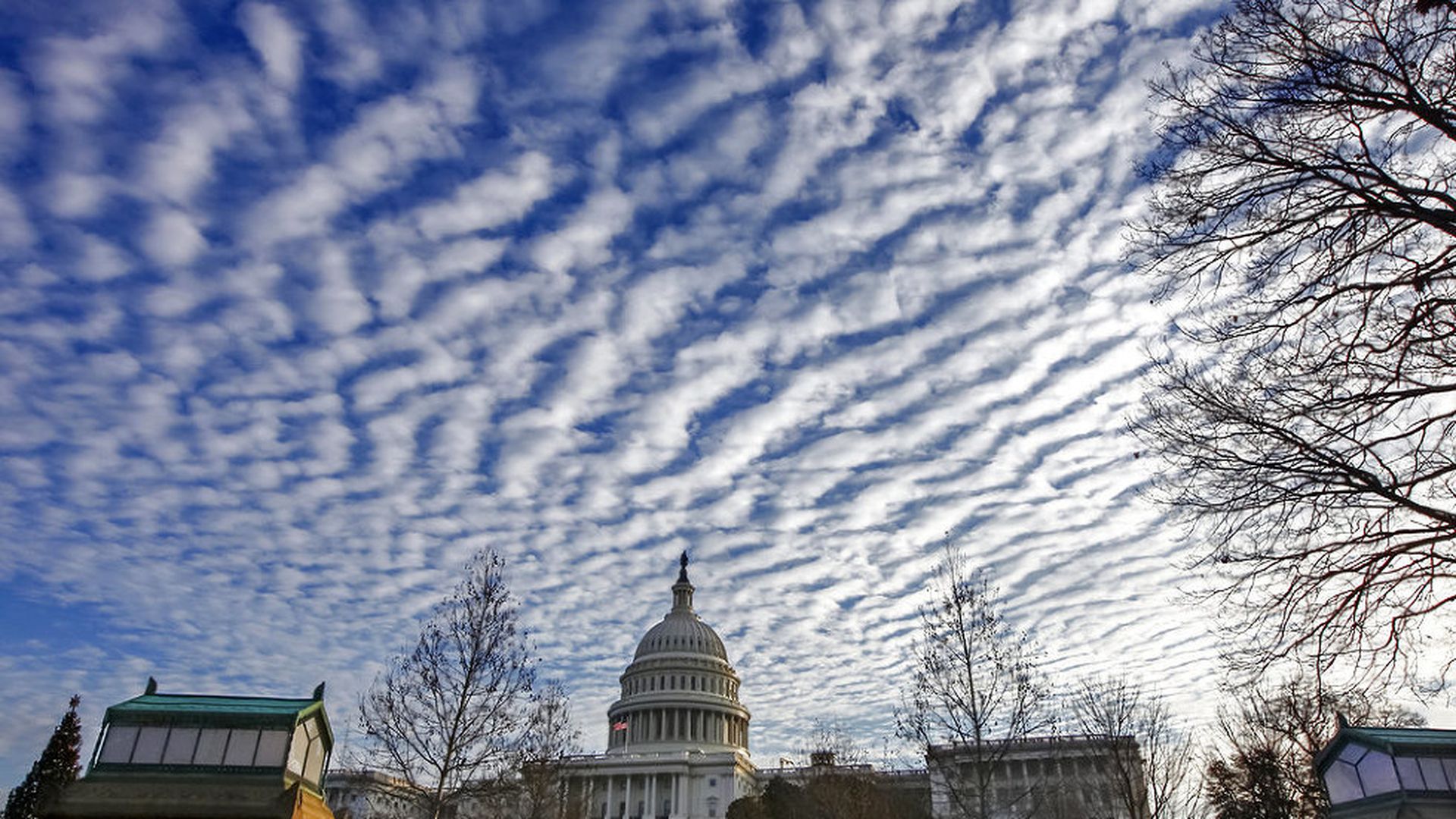 CPAs, lawyers and financial advisers tell Bloomberg personal-finance writer Ben Steverman that they are still trying to sort out the new law's financial consequences for major life decisions:
Estate planning: "Starting in 2018, single people who die with about $11 million would not be subject to the estate tax, up from $5.5 million. Married couples can shield about $22 million from estate and gift taxes. ... The higher thresholds expire in 2026."David Scott Sloan, co-chair of global private wealth services at Holland & Knight in Boston: "We're lining up appointments for January because of the tax-free gifting opportunities."
Business ownership: "The pass-through deduction could also create an incentive for more workers to quit their jobs and become independent contractors. But the law also could complicate the taxes of many Americans who are self-employed now, including so-called gig economy workers such as Uber drivers."
Marriage: "Under current law, many two-income couples end up paying more in taxes by getting married. The law eliminates that marriage penalty for couples making less than a combined $600,000.""But be advised: Those individual tax-rate changes are set to end in 2026 -- after that, your marriage might have to be just about love.
N.Y. Times Quote of the Day ... Paul J. Feiner, supervisor of the Town of Greenburgh in Westchester County, on a rush of property owners who want to prepay 2018 taxes to beat the $10,000 cap on deducting state, local and property taxes:
"I'm getting swamped with many, many calls, usually one an hour, from people who want to prepay their taxes."
https://www.axios.com/newsletters/axios-am-9f6d3eb3-4b46-477a-8de4-60f609b90159.html?chunk=2#story2
3. The only story that matters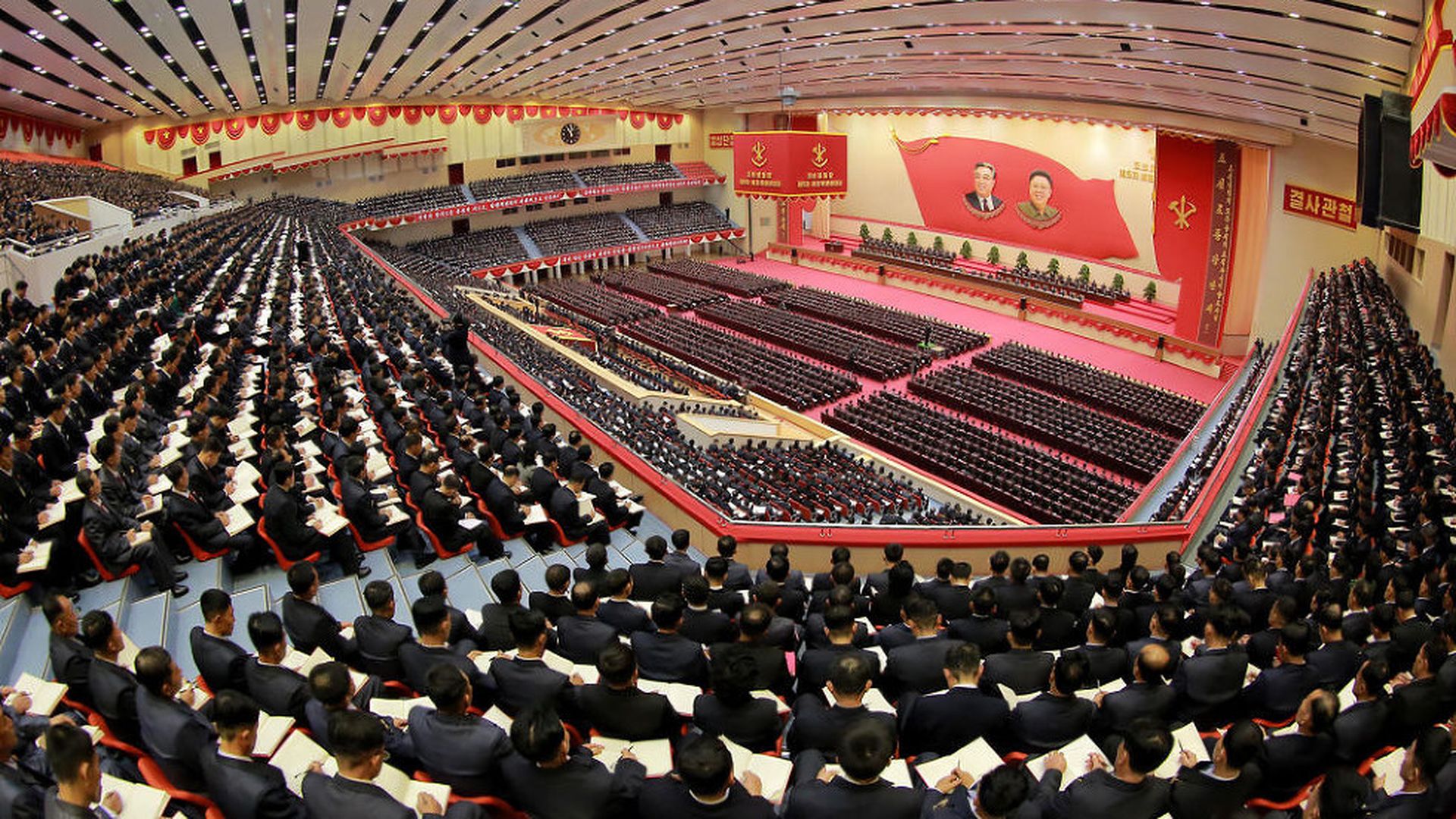 "Storm clouds are gathering" over the Korean Peninsula, Defense Secretary Jim Mattis declared yesterday, without forecasting a specific conflict, AP's Bob Burns reports from Fort Bragg, N.C.:
Mattis told several dozen soldiers and airmen at the 82nd Airborne Division's Hall of Heroes, on his last stop on a two-day pre-holiday tour of bases to greet troops: "My fine young soldiers, the only way our diplomats can speak with authority and be believed is if you're ready to go."
https://www.axios.com/newsletters/axios-am-9f6d3eb3-4b46-477a-8de4-60f609b90159.html?chunk=3#story3
4. Pic du jour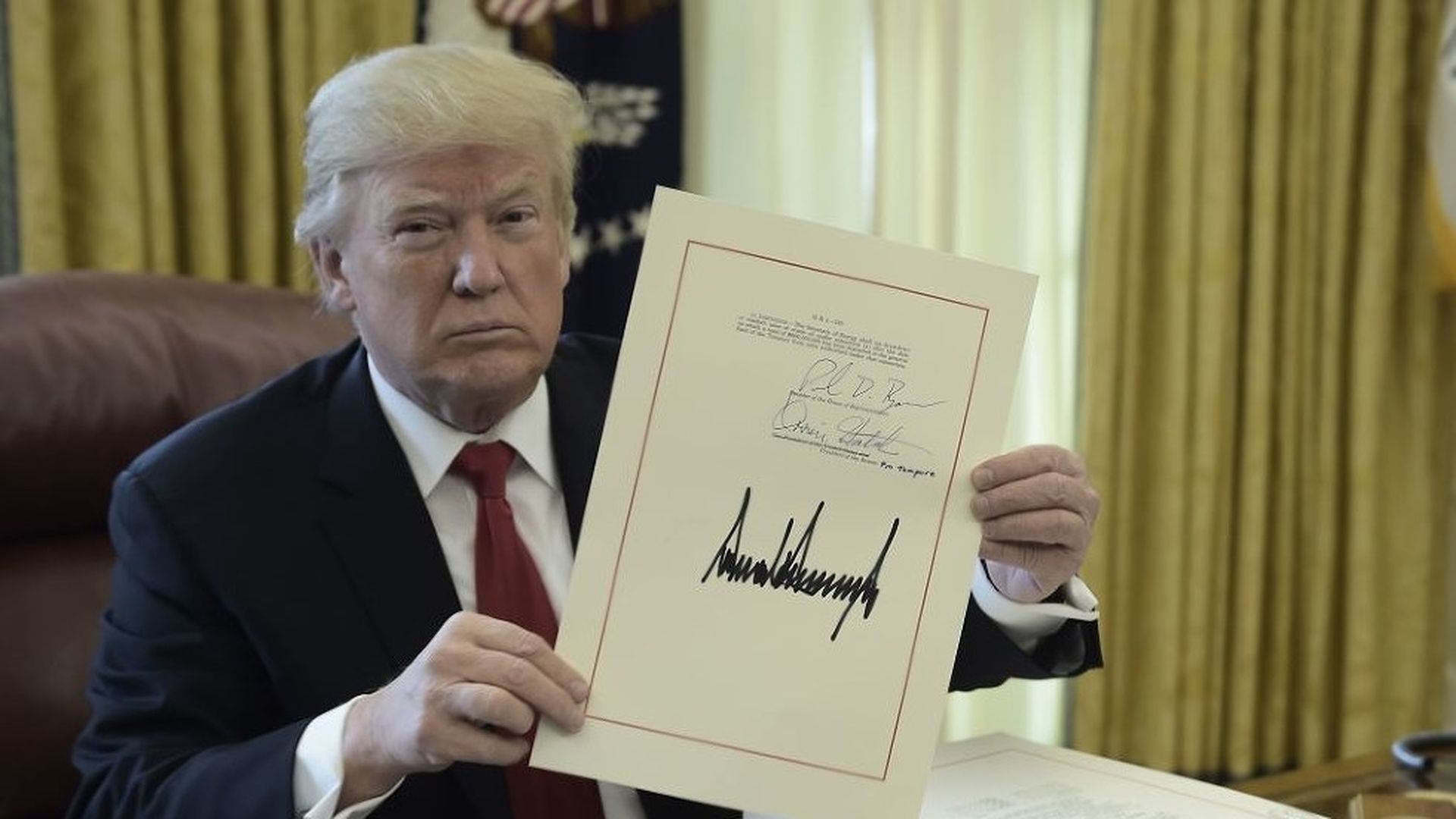 President Trump to the press, during yesterday's Oval Office signing ceremony for H.R. 1, Tax Cuts and Jobs Bill Act:
I'll be working very hard over the holidays. Again, I want to wish you a very merry Christmas. I have some beautiful pens over here. And because all of these folks are either continuing to work down the road or getting ready to leave — and I'm sure they'll be working very hard also — I think I'm probably going to hand some of them to the press. The media — would any of the media like any of — oh, look at these camera guys. But I think we'll do that. So we have them.
Many of you have worked very hard. Many of you have worked very, very fairly, and we really appreciate that. So here you go folks. You want the box with it, or not? ...
Q: Any regrets?
No.
https://www.axios.com/newsletters/axios-am-9f6d3eb3-4b46-477a-8de4-60f609b90159.html?chunk=4#story4
5. Apple to hit $1 trillion market value in 2018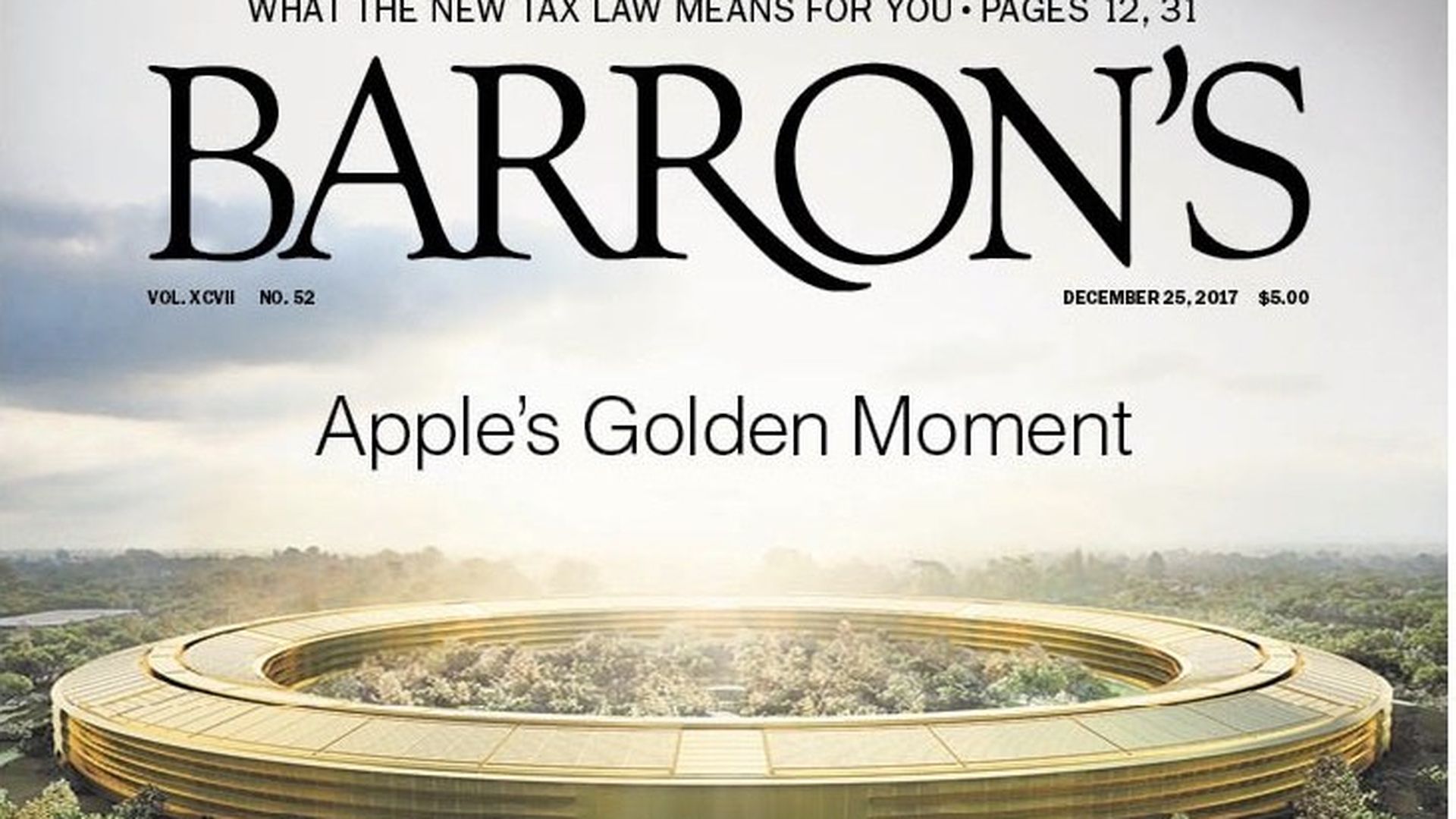 The Cupertino colossus has the best shot to be the world's first trillion-dollar company (requires just an 11% rise in market value, from $899 billion), Barron's Jack Hough reports:
The four other contenders — Amazon, Microsoft, Google, and Facebook — will likely take longer.
"In its most recent fiscal year, Apple had $229.2 billion in revenue and $48.4 billion in earnings, roughly as much as the second- and third-most profitable U.S. companies, Microsoft and JPMorgan Chase, combined."
David Rolfe, chief investment officer at Wedgewood Partners, which manages $25 billion: "You have to go back to Rockefeller and Standard Oil to find a company so dominant in a business so large ... [I]n many quarters, Apple collects more than 80% of gross profit across the smartphone industry."
The Barron's takeaway: "We don't think the peak is near. Apple seems to be escaping its product supercycle peaks and troughs to post more-consistent year-to-year growth."
https://www.axios.com/newsletters/axios-am-9f6d3eb3-4b46-477a-8de4-60f609b90159.html?chunk=5#story5
6. Who saw THIS coming?
"Bitcoin Finds Floor After Worst Selloff Since 2015," Bloomberg's Todd White reports:
"Bitcoin clawed its way upward [today] along with most cryptocurrencies, halting a four-day tumble that drew worldwide attention to the unregulated $500 billion market that's frequently called a bubble."
"The recovery coincided with a pause in bearish news that had snowballed since Monday and shaved 24 percent off bitcoin's value ... Comments by central bankers ... and a wish to reduce stakes before the holiday season fueled the plunge, strategists said."
Today, bitcoin rose 5.1% compared with 24 hours earlier, to $14,625.
The craze ... Bitcoin is up more than 1,700% since the start of the year and topped out around $18,000:
"A Reuters analysis of 17 stocks of companies that have made blockchain or cryptocurrency announcements showed an average gain of 224% through Thursday's close from they released those statements."
"[S]hares of Long Island Iced Tea Corp. jumped nearly 300% on Thursday after the beverage maker said it would rename itself Long Blockchain Corp. to reflect a new focus on blockchain technology."
"The moves are reminiscent of the tech boom, when the market value of companies such as Zapata and Books-A-Million rose sharply after they announced an internet business or an updated website. After the dot-com bubble burst, many of the companies went out of business or became much less valuable."
https://www.axios.com/newsletters/axios-am-9f6d3eb3-4b46-477a-8de4-60f609b90159.html?chunk=6#story6
7. Trump making FBI director's job harder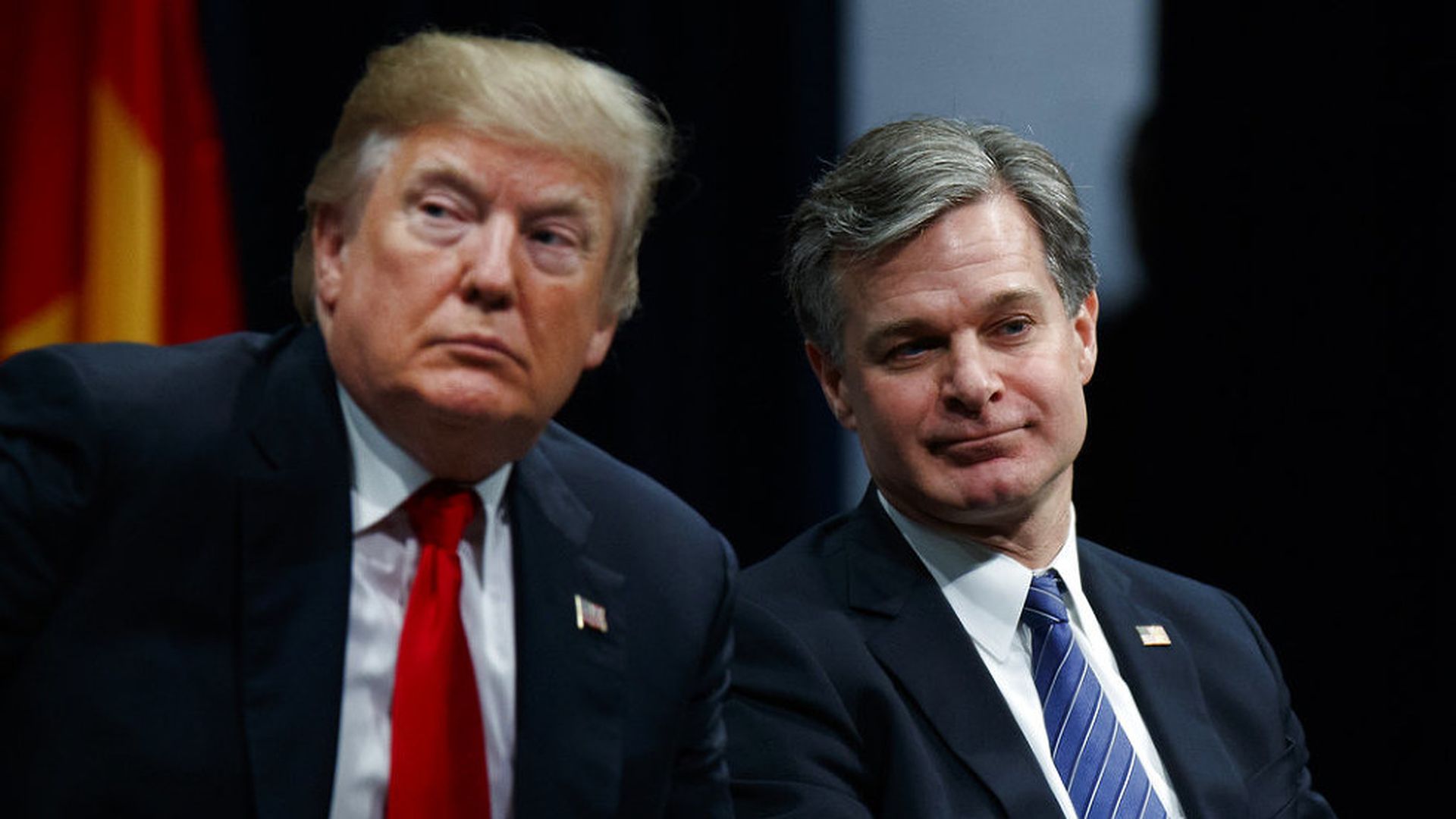 President Trump's public lashing of the FBI, and the criticism by normally supportive Republican members of Congress, have damaged bureau morale, the N.Y. Times reports:
Director Christopher Wray, trying to move past his predecessor's era, "has kept a low profile, making sure his anodyne speeches inside and outside the F.B.I. do not inflame the White House."
https://www.axios.com/newsletters/axios-am-9f6d3eb3-4b46-477a-8de4-60f609b90159.html?chunk=7#story7
8. Visualizing #MeToo results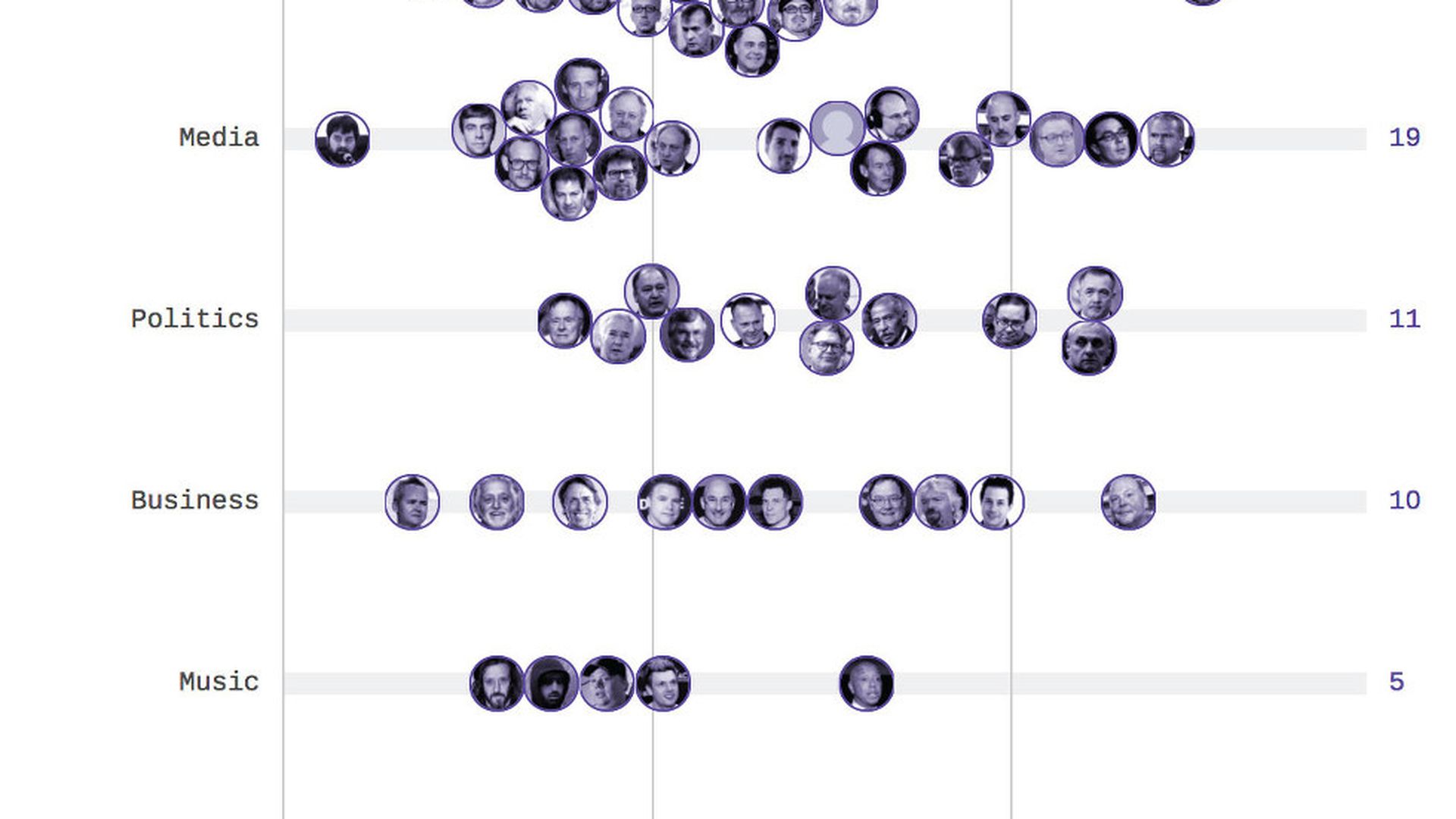 Since Harvey Weinstein was disgraced in October, more than 80 prominent men have come under fire for sexual harassment and abuse allegations, as Axios' Haley Britzky and visuals editor Laz Gamio capture in this stunning graphic.
The majority have been in the entertainment industry. But cases have also hit sports, tech and politics.
Why it matters: The #MeToo movement has resulted in the loss of jobs, book deals and entire companies, proving that these actions have consequences and will no longer be ignored.
Click here for an online version of the graphic that lets you hover over each photo for details.
https://www.axios.com/newsletters/axios-am-9f6d3eb3-4b46-477a-8de4-60f609b90159.html?chunk=8#story8
9. An epic year: 21 of 30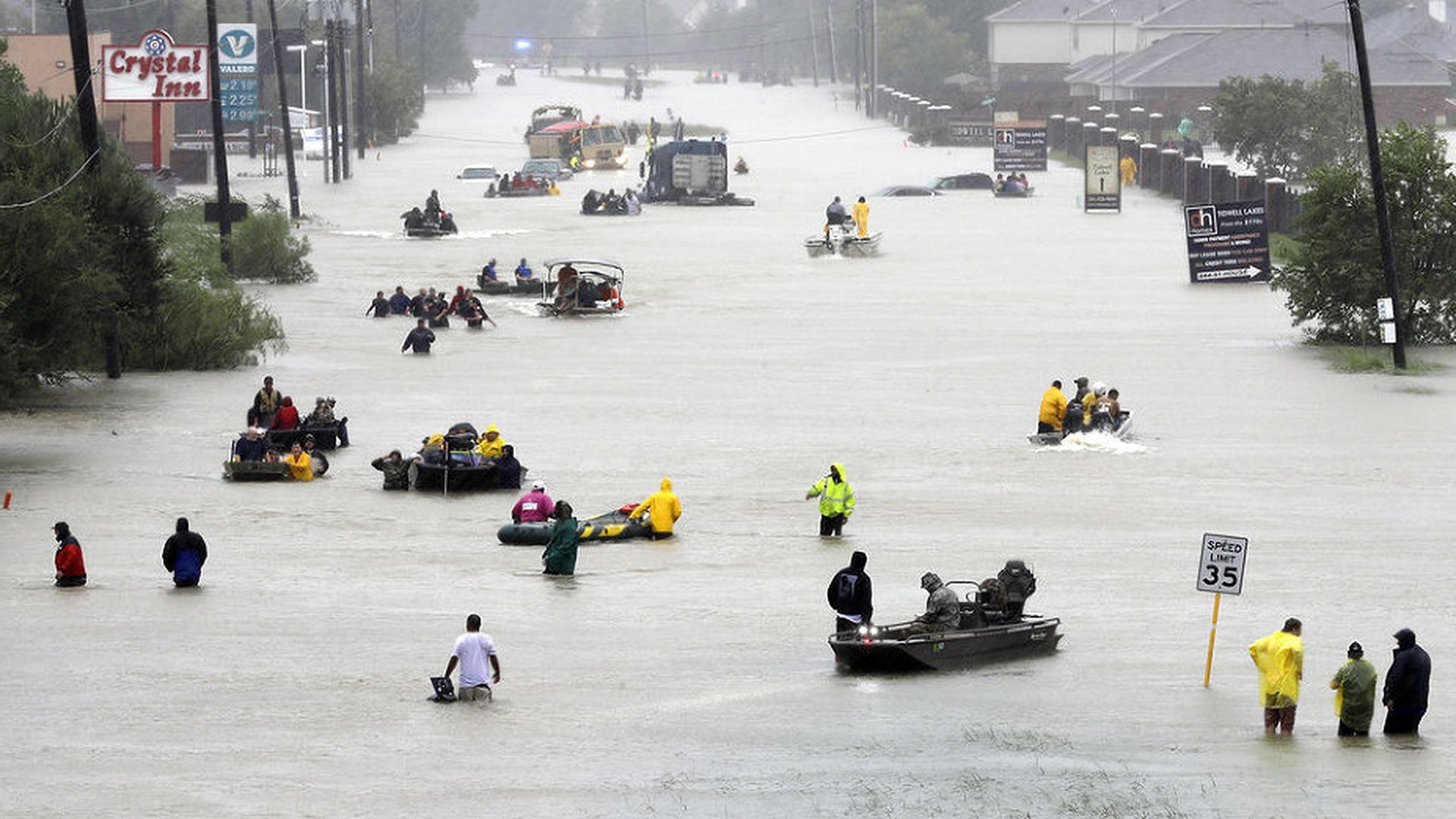 Reliving 2017 in 30 images ... Three major storms — Harvey, Irma and Maria — battered Puerto Rico and much of the Caribbean, as well as Texas and Florida, as 2017 went down as one of the most active hurricane seasons in recorded history, AP reports:
There were six major Atlantic hurricanes in 2017; the average is 2.7. A pair of recent studies found fingerprints of man-made global warming were all over the torrential rains from Harvey that flooded Houston.
Here, rescue boats float on a flooded Houston street as people are evacuated from rising floodwaters brought on by Tropical Storm Harvey on Aug. 28.
The storm, which later became a hurricane, dumped record rainfall throughout the Houston area.
https://www.axios.com/newsletters/axios-am-9f6d3eb3-4b46-477a-8de4-60f609b90159.html?chunk=9#story9
10. 1 shop thing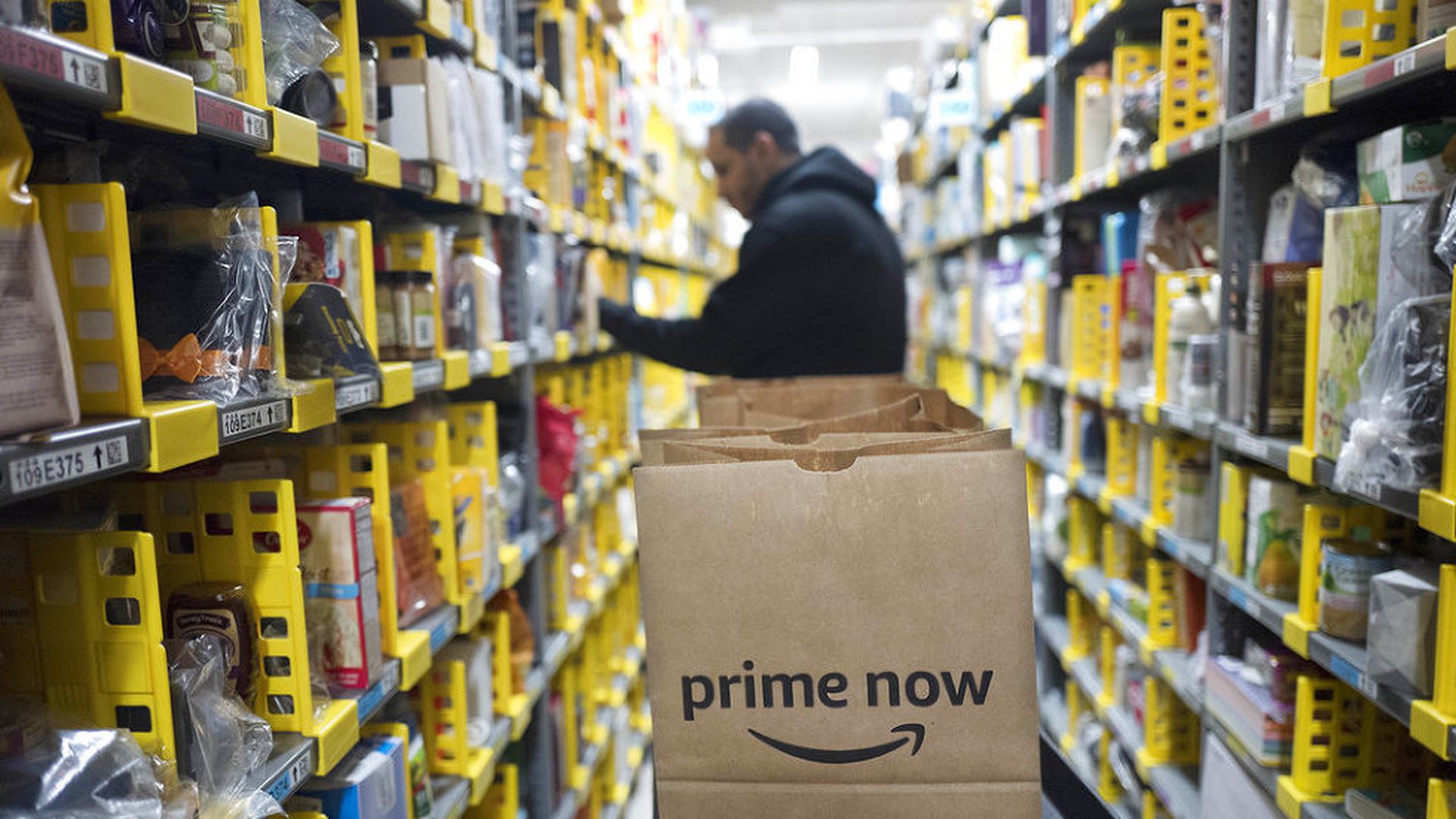 What a country ... Even after shipping deadlines have passed, Amazon still has a way of getting toys, wine or other gifts to procrastinators, AP reports: Amazon's same-day Prime Now, in 25 cities, will be delivering until 11:59 p.m. on Christmas Eve. The online retailer goes from order to delivery in two hours.