Good Wednesday morning from San Francisco.
Situational awareness ... AP's Zeke Miller in Tokyo: "Vice President Pence said the U.S. is preparing to announce the 'toughest and most aggressive' economic sanctions against North Korea in the coming days, boosting pressure ... during the Winter Olympics."
https://www.axios.com/newsletters/axios-am-9e831472-04d4-4921-980b-0b754ab10dbe.html?chunk=0#story0
1 big thing ... Snap stuns Street: still has game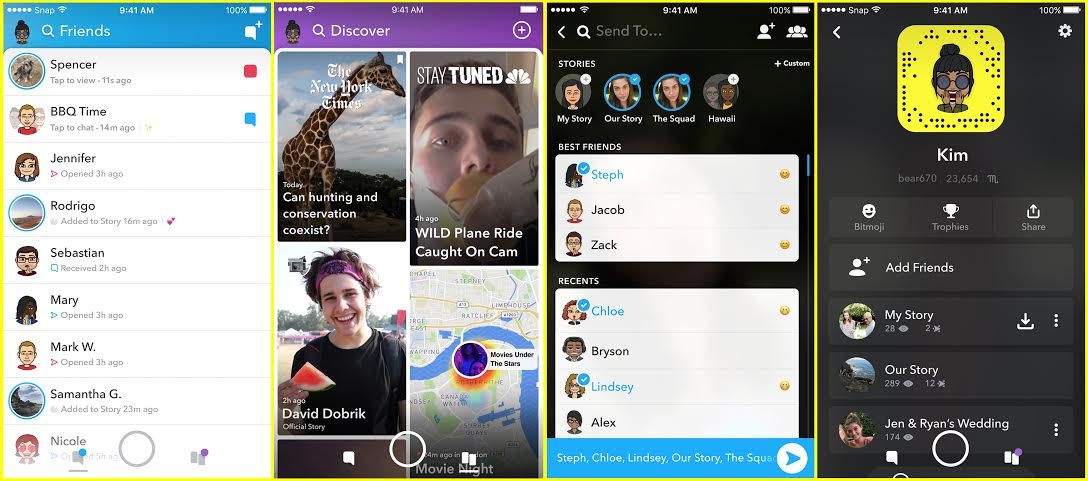 Snapchat redesign announced Nov. 29, "organized around your relationships." (Provided by Snap)
Snap Inc. announced that it beat Wall Street predictions on earnings and revenue last quarter — surprising investors, who had modest expectations for the company, Axios' Sara Fischer writes:
Snapchat added 9 million new daily active users (DAUs) — the highest number of quarterly net adds since the third quarter of 2016.
Why it matters: Snapchat had a difficult first year as a public company, missing growth expectations as it faced competition from Instagram and Facebook. Yesterday's success, demonstrated by major stock gains, is reviving investor confidence in the company — at least for now.
A redesigned version, which was supposed to come out late last year, will roll out to all users in Q1, Snapchat CEO Evan Spiegel told investors.
Key stat:
Facebook Q4 2017 average revenue per user in North America: $26.76.
Snapchat Q4 2017 average revenue per user in North America: $2.75.
Be smart: Sara says Snap's Q1 is unlikely to be as stellar as Q4. So Wall Street is nervous this is temporary.
How it's playing ... Reuters headline: "Snapchat overhaul convinces investors it can fight Instagram":
Why it matters: "Confidence that the two could coexist in the social media sector was shaken when Snapchat's user growth stalled last year. Analysts, though, said that Snapchat appeared willing to look inward and try to fix problems rather than be distracted by Instagram."
"Snapchat is courting advertisers in an internet ad market dominated by Facebook and ... Google, which together control half the market share."
P.S. ... Separate story from Sara Fischer: "Walt Disney Co. CEO Bob Iger announced ... that Disney's new sports streaming package, set to debut this spring, will be priced at $4.99 monthly and will feature live programming, live sports events and other programming like ESPN's popular '30 for 30' series."
https://www.axios.com/newsletters/axios-am-9e831472-04d4-4921-980b-0b754ab10dbe.html?chunk=1#story1
2. Trump's marching order: grand parade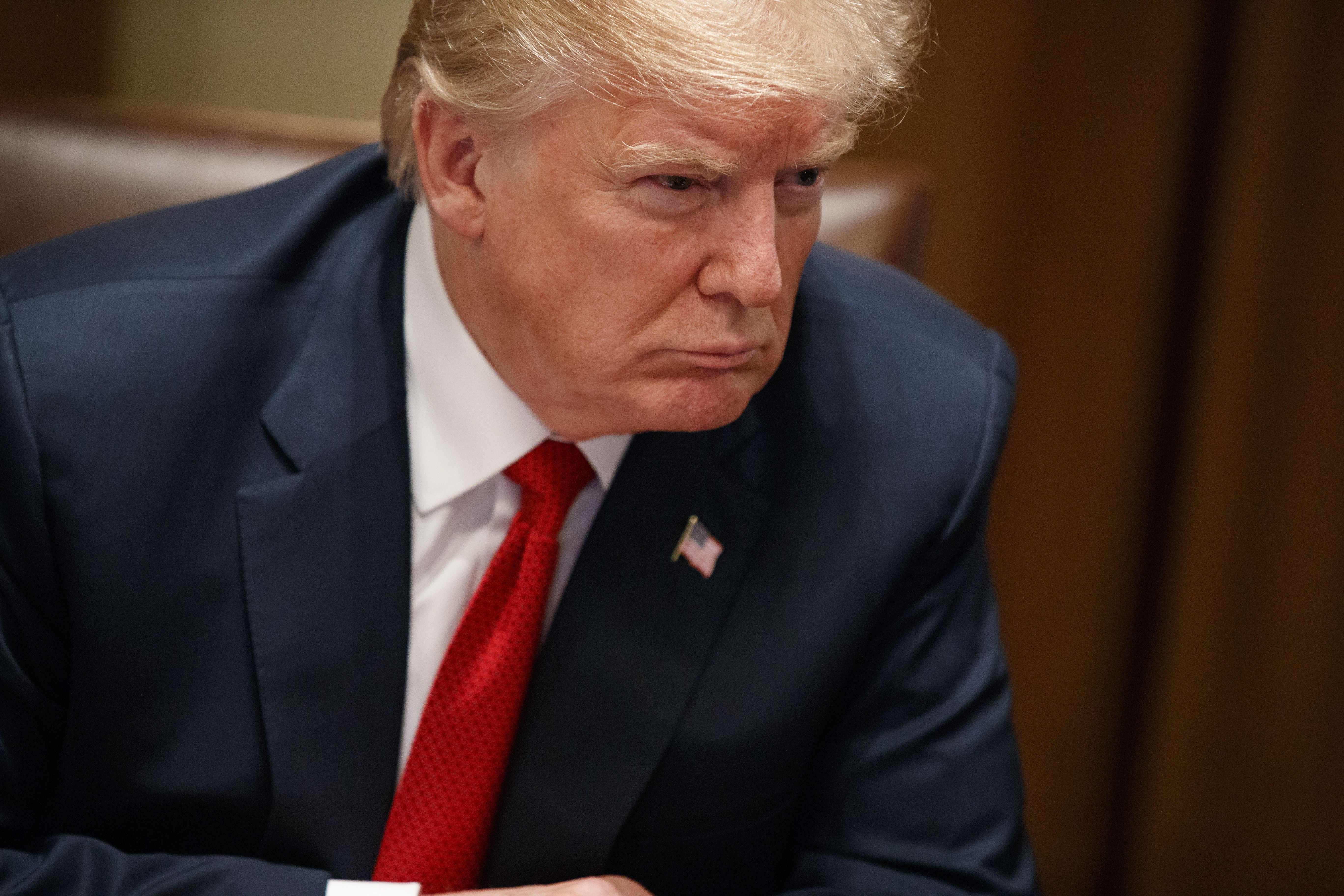 President Trump listens yesterday during Cabinet Room meeting with law enforcement on the MS-13 street gang and border security. (AP's Evan Vucci)
"President Trump's vision of soldiers marching and tanks rolling down the boulevards of Washington is moving closer to reality in the Pentagon and White House, where officials say they have begun to plan a grand military parade later this year showcasing the might of America's armed forces," the WashPost reports:
"Trump has long mused publicly and privately about wanting such a parade, but a Jan. 18 meeting between Trump and top generals in the Pentagon's tank — a room reserved for top-secret discussions — marked a tipping point."
"The inspiration for Trump's push is last year's Bastille Day celebration in Paris, which the president attended as a guest of French President Emmanuel Macron. Trump was awestruck by the tableau of uniformed French troops."
A military official: "The marching orders were: I want a parade like the one in France."
Why it matters: "Shows of military strength are not typical in the United States — and they don't come cheap. The cost of shipping Abrams tanks and high-tech hardware to Washington could run in the millions, and military officials said it was unclear how they would pay for it."
"A White House official familiar with the planning described the discussions as 'brainstorming' and said nothing was settled."
White House Press Secretary Sarah Sanders: "President Trump is incredibly supportive of America's great service members who risk their lives every day to keep our country safe ... He has asked the Department of Defense to explore a celebration at which all Americans can show their appreciation."
https://www.axios.com/newsletters/axios-am-9e831472-04d4-4921-980b-0b754ab10dbe.html?chunk=2#story2
3. Exclusive details on coming budget deal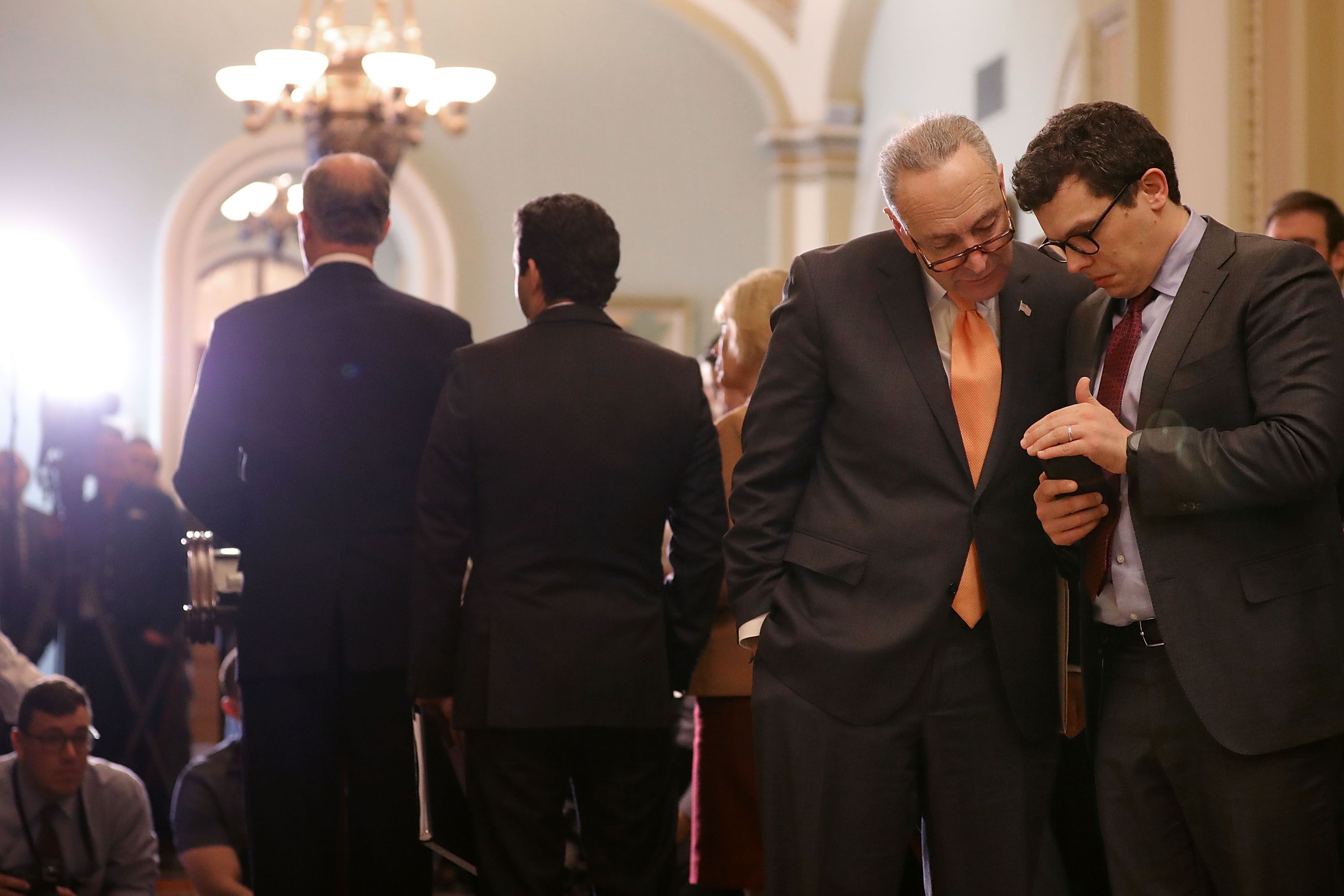 Senate Minority Leader Chuck Schumer talks with communications director Matt House following weekly policy luncheon at Capitol yesterday. (Chip Somodevilla / Getty Images)
It seems increasingly likely that a debt-ceiling increase will be attached to a budget deal that Senate negotiators from both sides hope to announce as soon as today, Axios' Jonathan Swan reports:
The two-year deal Swan expects McConnell and Schumer to strike: busting the budget caps on defense and domestic spending, raising the debt limit, plus funding for disaster relief and funding for community health centers.
Why it matters: That would be a pretty good deal for President Trump. Sure, the fiscal conservatives will hate it, but Trump has never been one of them.
The deal would expose the gap between Schumer and House Democratic Leader Nancy Pelosi: She wanted to hitch the immigration deal to the spending fight, while Schumer appears OK with allowing it to be separate.
Be smart: This means DACA will likely be dealt with — or not — on its own terms and not used as a hostage in a government shutdown staredown. 
How it's playing ... WashPost lead story: "Senators say deal on budget is in sight" ... Wall Street Journal A1: "Senators Close In on a Budget Deal."
https://www.axios.com/newsletters/axios-am-9e831472-04d4-4921-980b-0b754ab10dbe.html?chunk=3#story3
Bonus: Pic du jour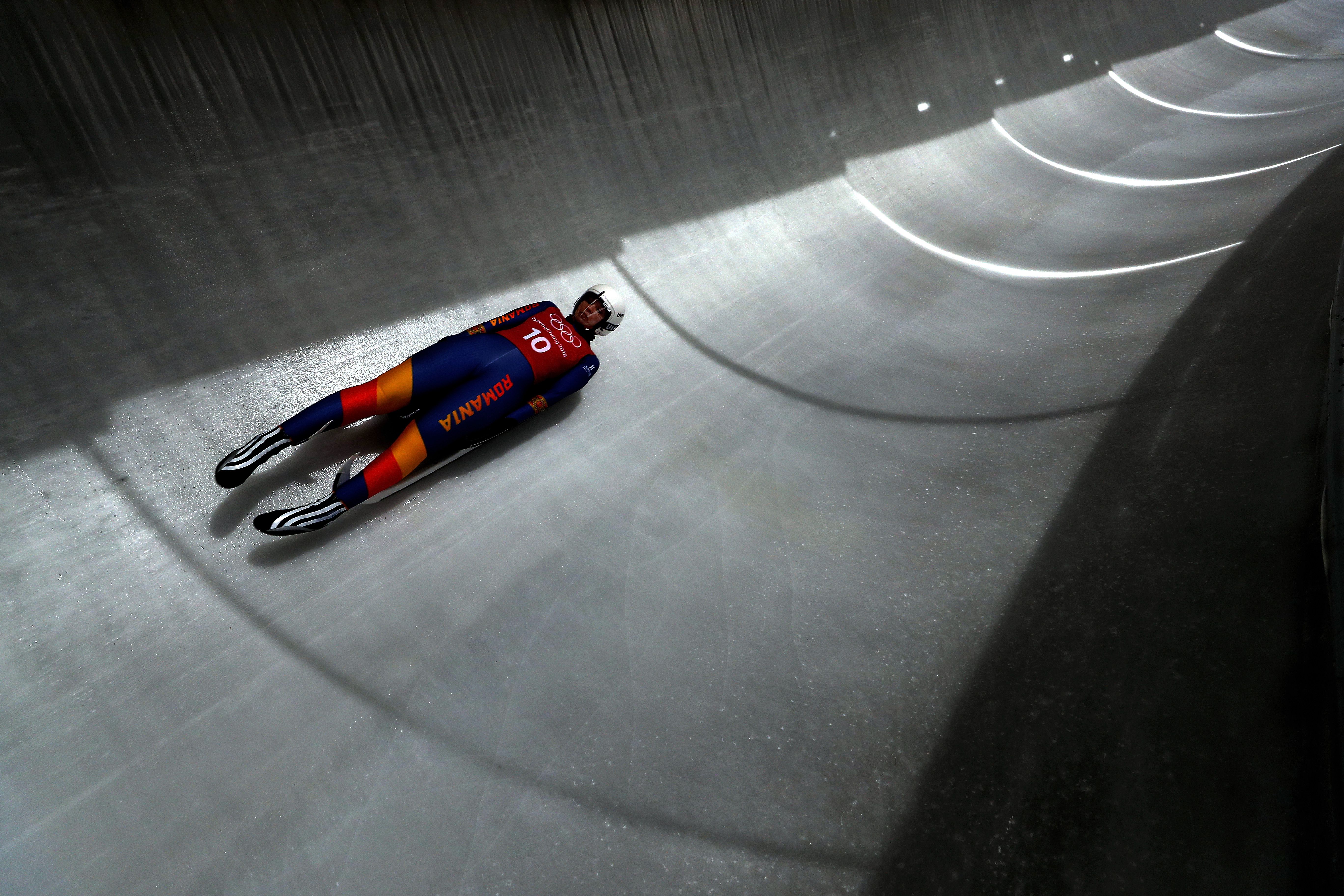 Al Bello / Getty Images
Luger Raluca Stramaturaru of Romania trains at the Olympic Sliding Center in Pyeongchang-gun, South Korea, ahead of the Winter Games, which open Friday.
https://www.axios.com/newsletters/axios-am-9e831472-04d4-4921-980b-0b754ab10dbe.html?chunk=4#story4
4. Giant step for the private space industry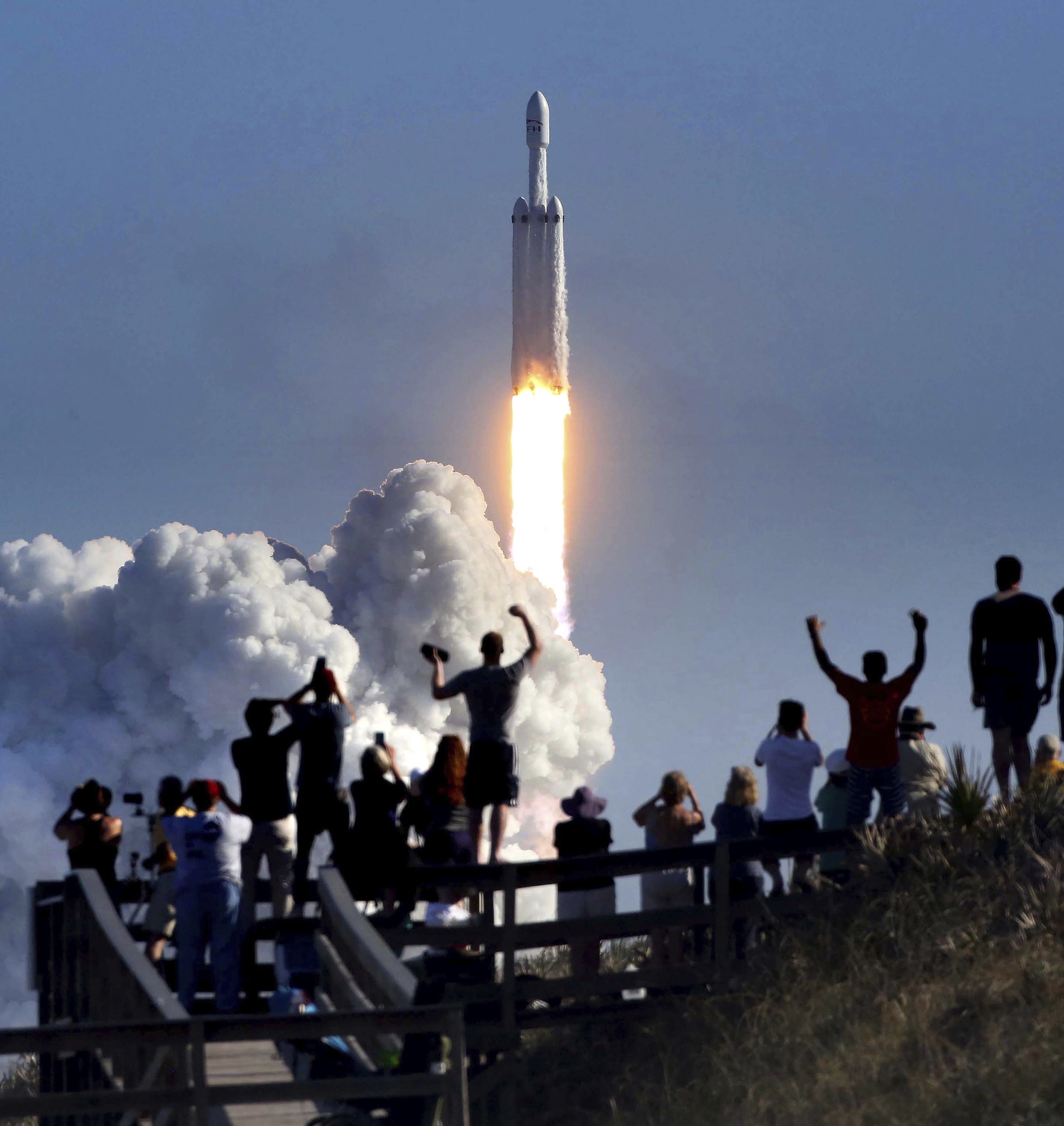 The crowd cheers at Playalinda Beach in Canaveral National Seashore, just north of Kennedy Space Center. Playalinda was one of closest public viewing spots, 3 miles from SpaceX launchpad 39A. (Joe Burbank / Orlando Sentinel via AP)
"SpaceX launched the world's most powerful operational rocket from Kennedy Space Center in Florida," from the same pad where NASA launched rockets that carried astronauts to the moon, the L.A. Times reports:
"By nailing the giant rocket's first flight, and landing its two side boosters on the ground, the Hawthorne [Calif.] company set the stage for faster and cheaper launches of satellites."
Why it matters ... Private space race: "Although other companies, such as Jeff Bezos' Blue Origin and Orbital ATK, are also developing giant rockets to hoist heavy payloads to space, [yesterday's] successful launch gives SpaceX several years of lead time."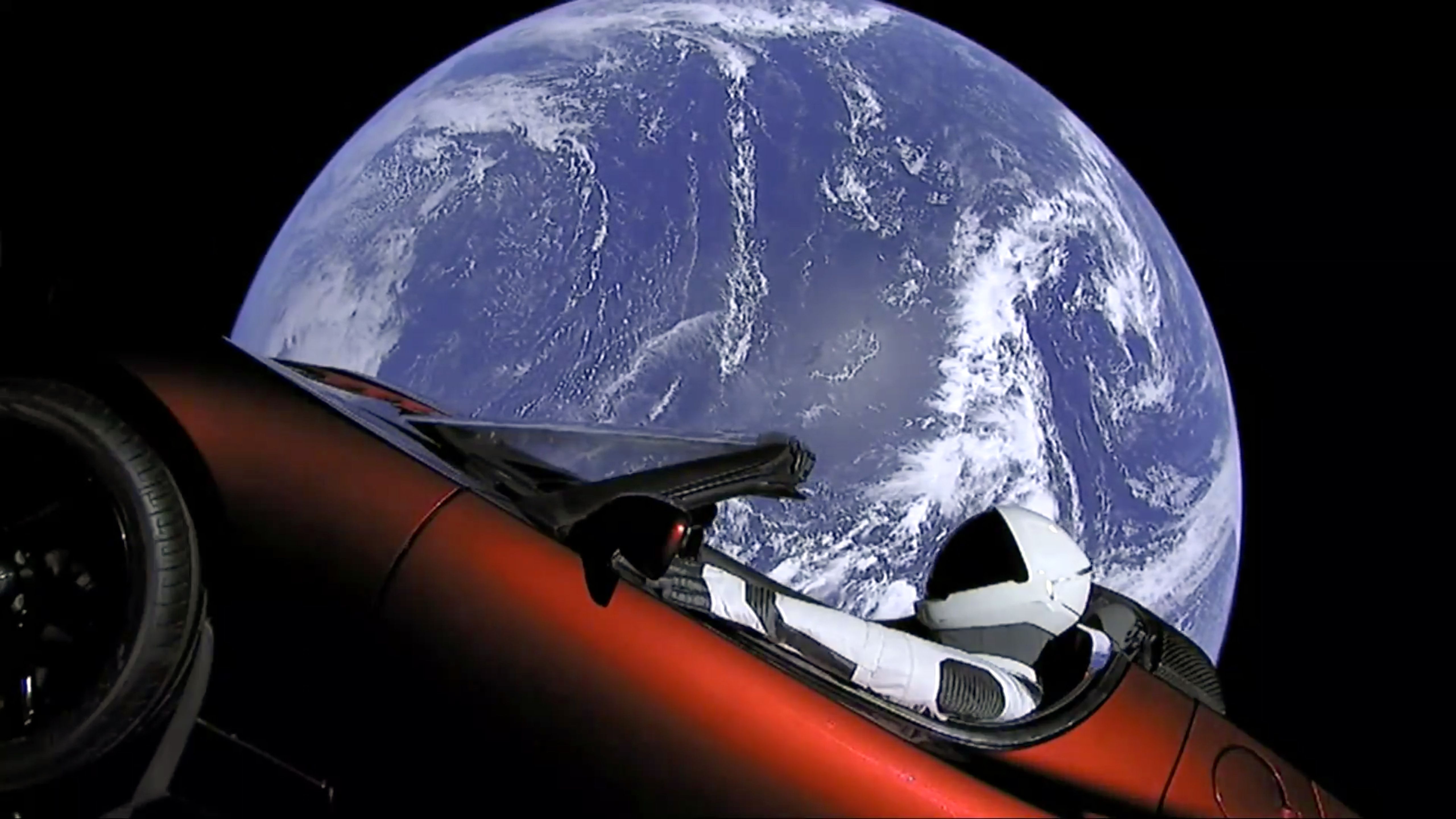 SpaceX via AP
Playful payload: This image from video shows a mannequin wearing a SpaceX spacesuit, strapped into the red Tesla launched into space.
N.Y. Times: "They are expected to orbit the sun for hundreds of millions of years."
Space.com: The Tesla's glovebox contains a copy of "The Hitchhiker's Guide to the Galaxy."
A sign on the the dashboard says "Don't Panic!" — an iconic phrase from the book.
Watch more: Axios Sourced video.
https://www.axios.com/newsletters/axios-am-9e831472-04d4-4921-980b-0b754ab10dbe.html?chunk=5#story5
5. Machines get much of blame for down Dow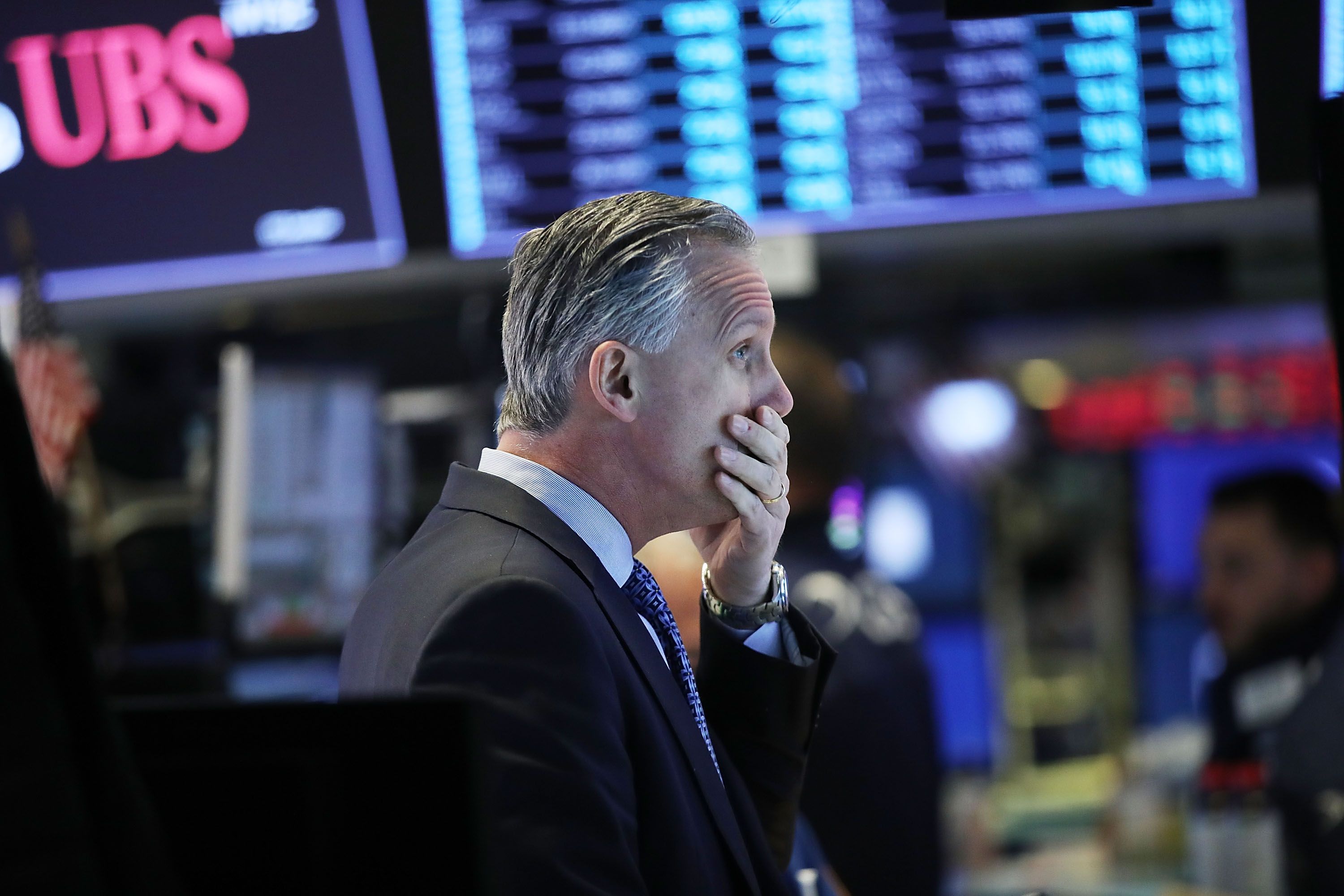 Traders work on the floor of the New York Stock Exchange yesterday. (Spencer Platt / Getty Images)
"Lightning-fast trading models, automated sell orders and an arsenal of sophisticated algorithms ... are likely to have made a crazy trading day that much crazier," the WashPost reports:
"If an algorithm appears to sell rashly or emotionally, analysts said, it is because a human taught it to do so."
"Some use their mathematical speed to exploit tiny fluctuations in price, buying and reselling within a fraction of a second."
"Others attempt to predict how markets will move by analyzing a torrent of data points, including indicators in labor-market news releases and the wording of politicians' speeches."
Why it matters: "The computers react to evidence exponentially faster than any human — think millionths of a second, instead of minutes — and can move en masse, trading at high volumes around the world. That makes them potentially ... dangerous."
https://www.axios.com/newsletters/axios-am-9e831472-04d4-4921-980b-0b754ab10dbe.html?chunk=6#story6
6. Steve Wynn quits amid scandal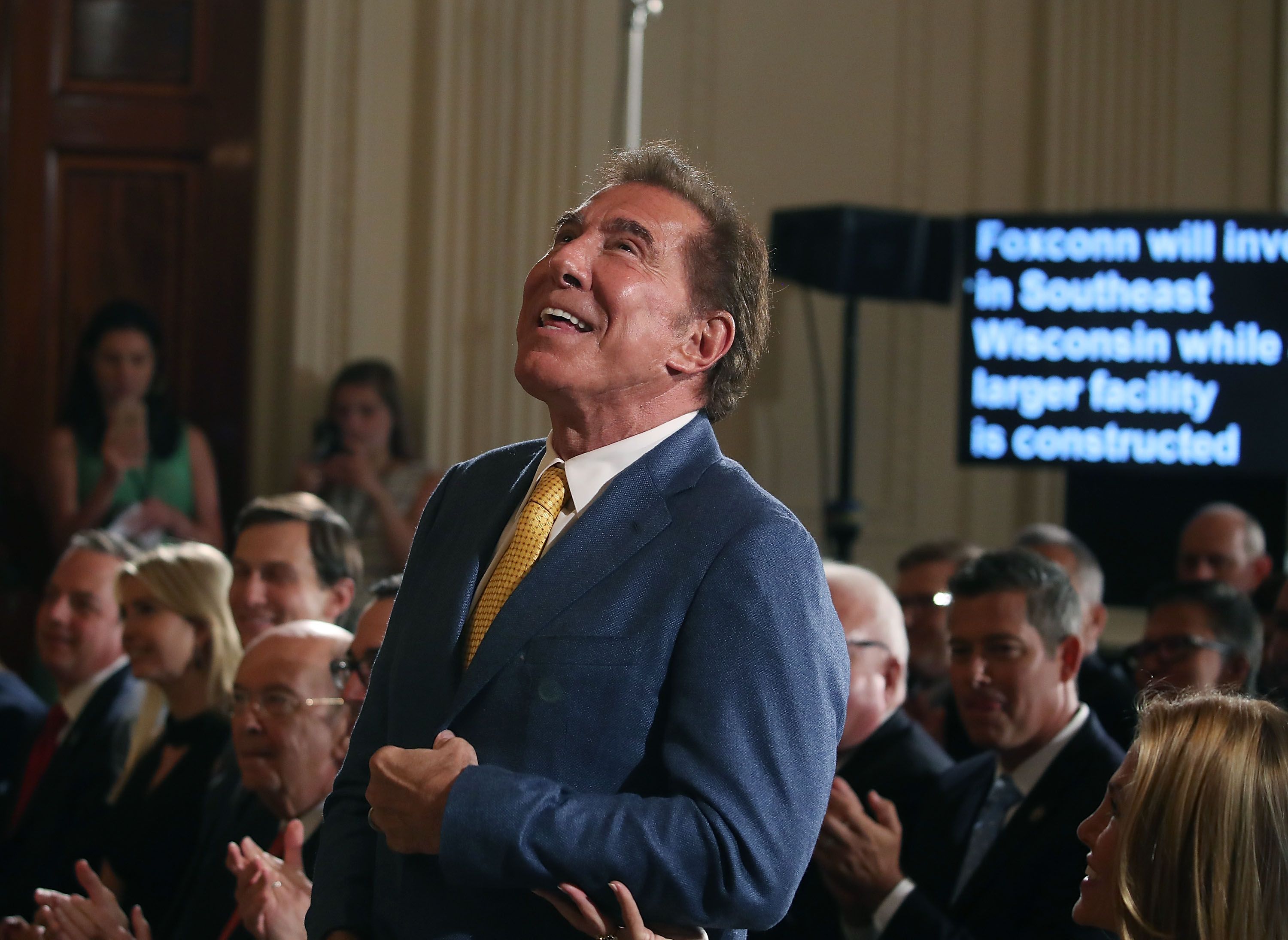 Steve Wynn is acknowledged by President Trump last July at an East Room news conference on Apple supplier Foxconn's plans to build a factory in Wisconsin. (Mark Wilson / Getty Images)
Steve Wynn, 76, "the billionaire gambling mogul and worldwide brand, ... resigned [last] night as chief executive of the casino company he founded, in the wake of accusations of sexual misconduct," the Boston Globe writes:
"The Wynn Resorts Board of Directors has chosen Matt Maddox, currently president, to be CEO, and Boone Wayson to be non-executive chairman of the Board of Directors."
Why it matters, from Wall Street Journal: Wynn is "considered to be the architect of modern Las Vegas."
"Drawing on interviews with dozens of people who have worked for Mr. Wynn, the Journal ... last month described behavior that amounted to a decadeslong pattern of alleged sexual misconduct by the CEO."
"They included an allegation that Mr. Wynn in 2005 paid a $7.5 million settlement to a manicurist who told people at the time that Mr. Wynn forced her to have sex with him."
https://www.axios.com/newsletters/axios-am-9e831472-04d4-4921-980b-0b754ab10dbe.html?chunk=7#story7
7. Worth pondering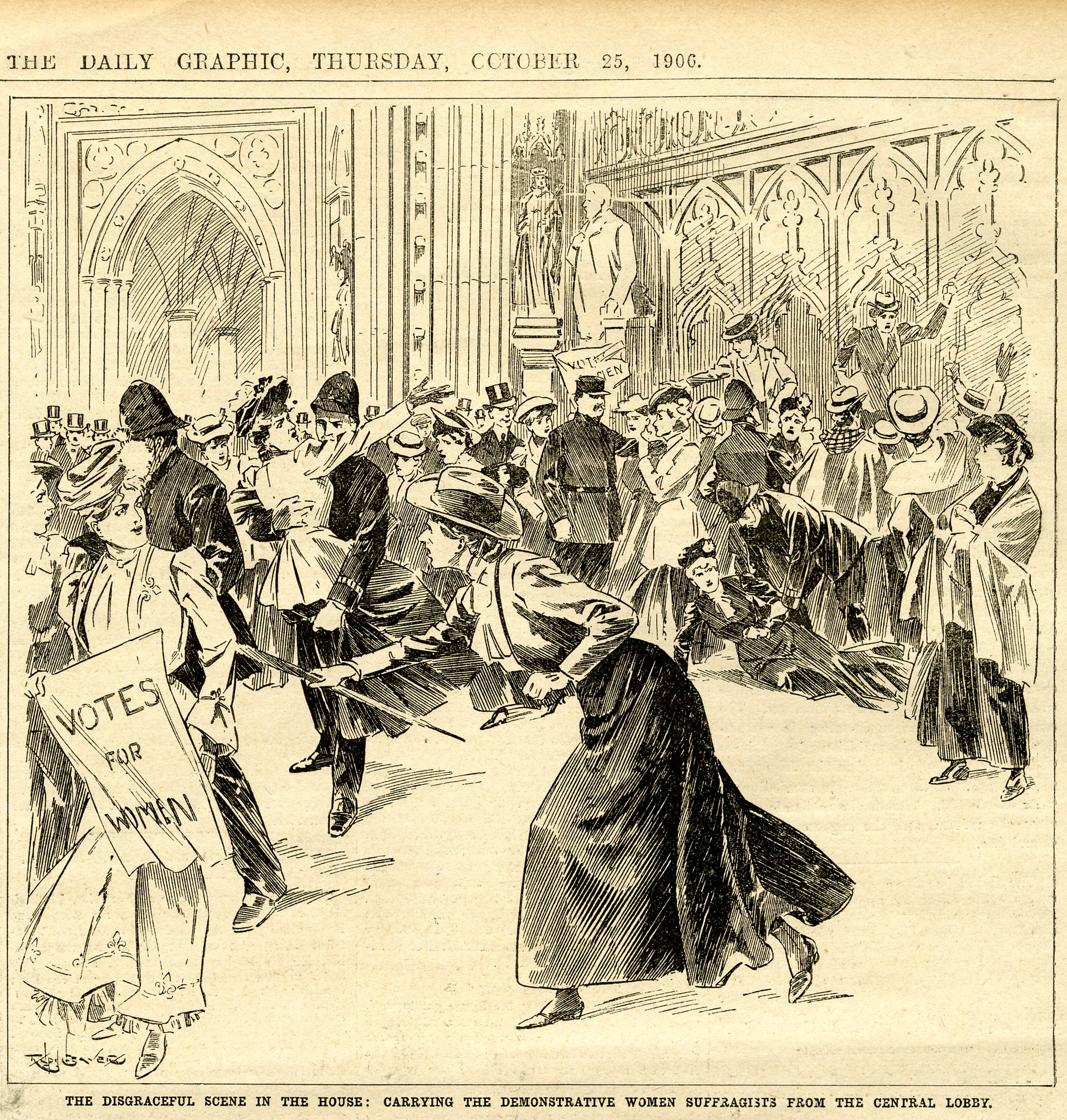 Handout image from U.K. Parliament marks centenary of the Representation of the People Act. Daily Graphic in 1906: "The disgraceful scene in the House: Carrying the demonstrative women suffragists from the Central Lobby." (Parliamentary Art Collection via Getty Images)
N.Y. Times Quote of the Day ... Julianne Hughes-Jennet, a lawyer, on the 100th anniversary of women getting the right to vote in Britain:
"One hundred years in the context of history is a drop in the ocean."
https://www.axios.com/newsletters/axios-am-9e831472-04d4-4921-980b-0b754ab10dbe.html?chunk=8#story8
8. Best Buy hastens CD extinction
"The shiny compact disc, once as essential to every living-room music system as a copy of Michael Jackson's Thriller album, is quickly going the way of the eight-track and cassette tape," USA Today reports:
"[T]he nation's largest store-based electronics retailer, Best Buy, ... is ... planning to quit selling music CDs at its stores by July 1."
Why it matters: "The rise of streaming music services such as Apple Music, Spotify and Pandora, as well as the availability of digitally downloadable tracks and albums, are making the CD extinct.
Our thought bubble: Best Buy still sells CDs?!
https://www.axios.com/newsletters/axios-am-9e831472-04d4-4921-980b-0b754ab10dbe.html?chunk=9#story9
9. L.A. Times sale in works: billionaire in talks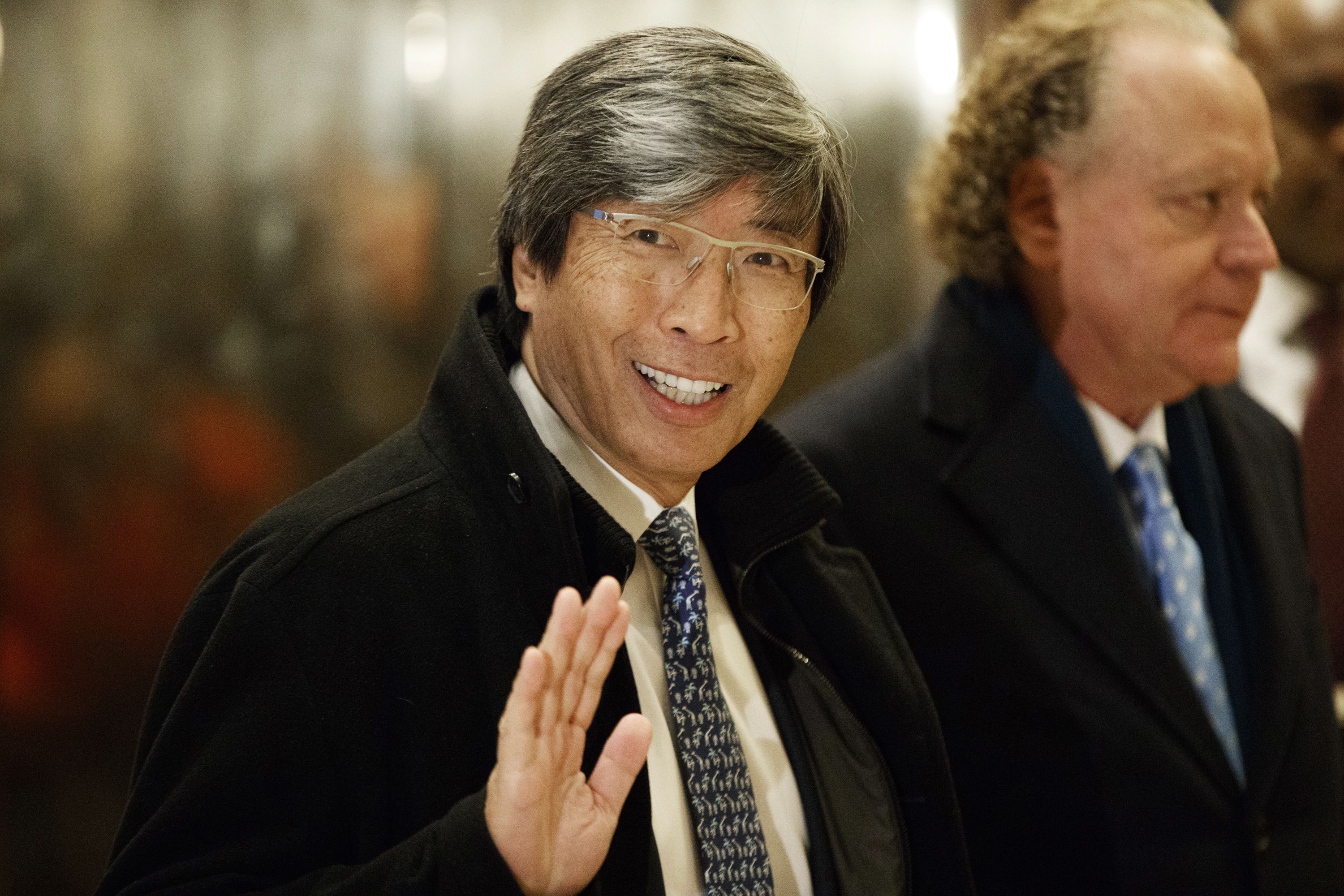 Pharmaceuticals billionaire Dr. Patrick Soon-Shiong arrives in the lobby of Trump Tower in New York for a meeting with President-elect Trump in early January 2017. (AP's Evan Vucci)
"Los Angeles biotech billionaire Patrick Soon-Shiong is nearing a deal to buy the Los Angeles Times and the San Diego Union-Tribune from their owner, Tronc," L.A. Times reports on the front page:
"The nearly $500-million cash deal, if consummated, would return The Times to local ownership after 18 years and end a tumultuous relationship with its corporate parent in Chicago."
WashPost's Paul Farhi, who broke the story: "Ever since Tronc's forerunner company, Tribune Co., acquired the Times in 2000, the newspaper and its parent company have engaged in a cross-country feud about the paper's management and direction."
https://www.axios.com/newsletters/axios-am-9e831472-04d4-4921-980b-0b754ab10dbe.html?chunk=10#story10
10. 1 fun thing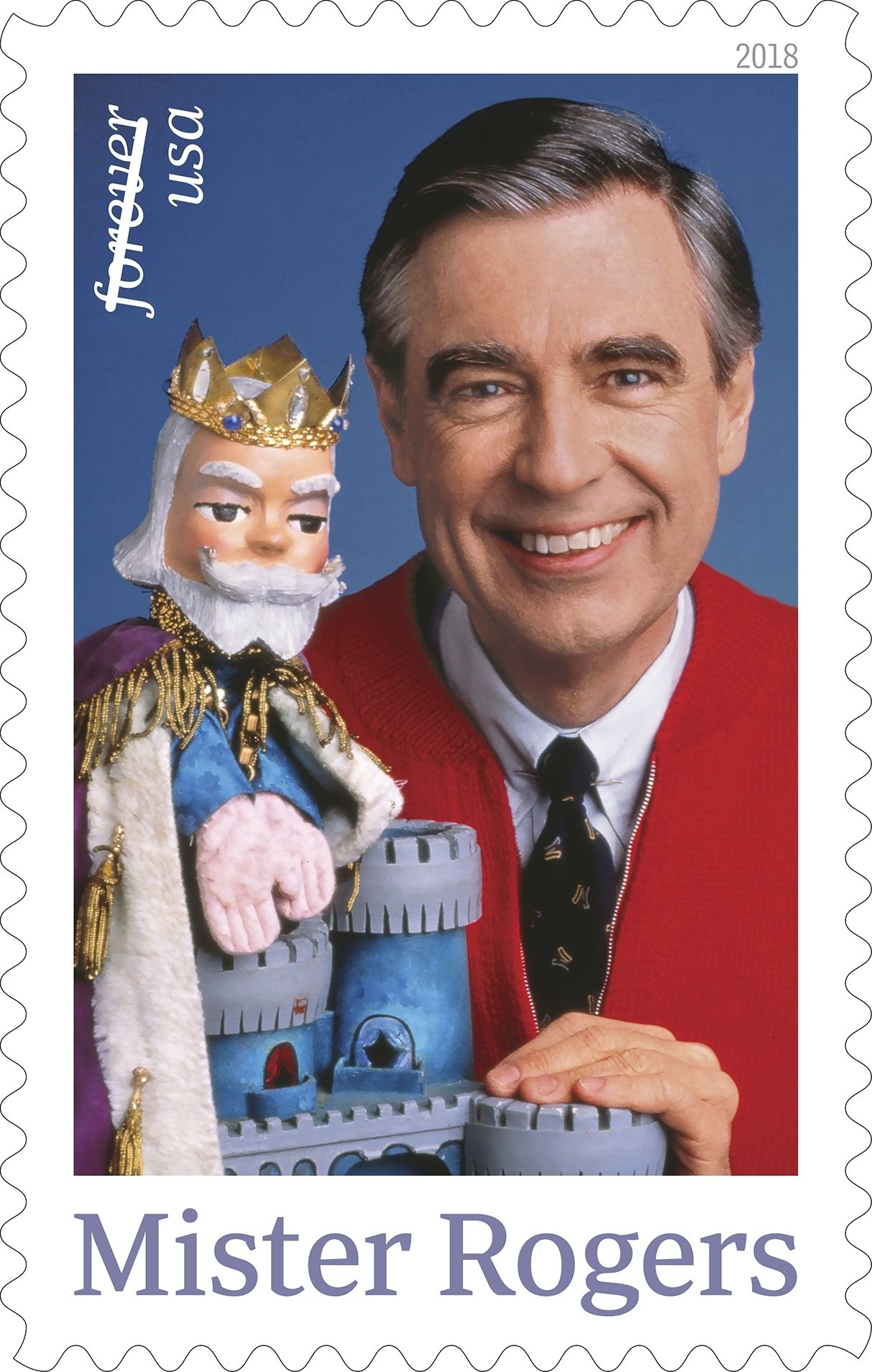 USPS via AP
"The U.S. Postal Service plans to issue a new stamp [March 23] featuring Mister Rogers, the children's television host known for his zip-up cardigan, sneakers and soothing manner," AP reports:
"The Forever stamp [can be used even after rate increases] will be unveiled ... in the same Pittsburgh public television station where 'Mister Rogers' Neighborhood' was produced."
"The stamp features Fred Rogers and the royal puppet King Friday XIII."
"Rogers produced, wrote and hosted 'Mister Rogers' Neighborhood' for more than 30 years. He died in 2003 at 74."
"His message remained a simple one throughout the years: He told his viewers to love themselves and others."