June 23, 2022
Happy Thursday. Smart Brevity™ count: 1,443 words ... 5½ mins. Edited by Noah Bressner.
🚨 Situational awareness: The FDA plans to order Juul e-cigarettes off the U.S. market, The Wall Street Journal scoops. Juul's top vape rivals — Reynolds American and NJOY — are set to get approved. Juul could appeal. Go deeper.
1 big thing — Axios explains: Biden's gas jam
The Biden administration needs gas prices to come down fast. But that could require supporting greater oil and gas production — the opposite of what it wants to fight climate change, Axios' Andrew Freedman writes.
Why it matters: The result so far has been mixed messages and rising tensions with the energy industry — whose help the White House needs to bring gas prices down.
Between the lines: For consumers, gas prices will likely stay high for the foreseeable future, despite the gas tax holiday Biden proposed yesterday.
Zoom out: The Biden administration has asked the oil industry to boost production and refinery output in the near term, while the White House remains committed to shifting away from fossil fuels over the long term to reduce the severity of climate change.
"We can deal with ... this immediate crisis of high gas prices and still seize the clean energy future," Biden said yesterday.
To oil industry officials, this doesn't signal any willingness to put in place policies that would encourage companies to spend money on new drilling or refining capacity — which is what they say it will take to increase supply enough to bring prices down.
Zoom in: The industry is skittish about spending money now to pump more oil, given the stress of recent boom-bust cycles. It wasn't that long ago that oil prices plunged during the first coronavirus lockdowns.
The industry hasn't been subtle about its asks: More drilling permits for public lands + pipeline approvals — with a break from new regulations, to encourage putting more money into energy infrastructure.
Bob McNally, founder and president of Rapidan Energy, told Axios the White House view is: "I need more oil right now. I need more refining capacity right now" — without "blessing new, long-term infrastructure."
"That's where the disconnect comes in," he said.
A senior Biden administration official told reporters Tuesday night: "We can walk and chew gum at the same time ... We still have the climate imperative — in fact, the climate science is only getting worse and worse on that front — and we do need to accelerate the clean energy transition."
2. Title IX is 50 today
Title IX, the landmark legislation that barred sex discrimination in education and paved the way for a decadeslong women's sports boom, turns 50 today, Axios' Kendall Baker and TuAnh Dam report.
Why it matters: Before Title IX, 294,000 girls were participating in high school sports nationwide. Just 15% of NCAA athletes were women. Those numbers today: 3.4 million ... and 44%.
Between the lines: That profound shift has contributed to the dominance of U.S. women at the Olympics: In Tokyo, American women would have finished fourth in the medal standings (66) if they were a country.
Zoom out: Title IX's impact has been felt far beyond sports, from hiring and admissions to cases of sexual assault.
Reality check: There are still significant gaps, especially when it comes to hiring more female coaches and increasing recruiting budgets. There are also compliance concerns:
A report from the Women's Sports Foundation found that 86% of colleges are offering a disproportionate number of athletic opportunities to men compared to their enrollment.
Dozens of schools are taking advantage of a loophole that allows them to count male practice players as female participants when reporting their numbers to the Department of Education.
What's next: A half-century after Title IX granted women equal access to sports, the opportunity for them to profit off their name, image and likeness could spark another revolutionary leap forward.
The NIL era allows athletes to monetize their audiences directly. But disparities in media coverage still limit women's visibility and earning potential.
Go deeper: Title IX propels women from college courts to CEO suites ... Title IX timeline.
3. Axios first: Stacey Abrams wants to FUND the police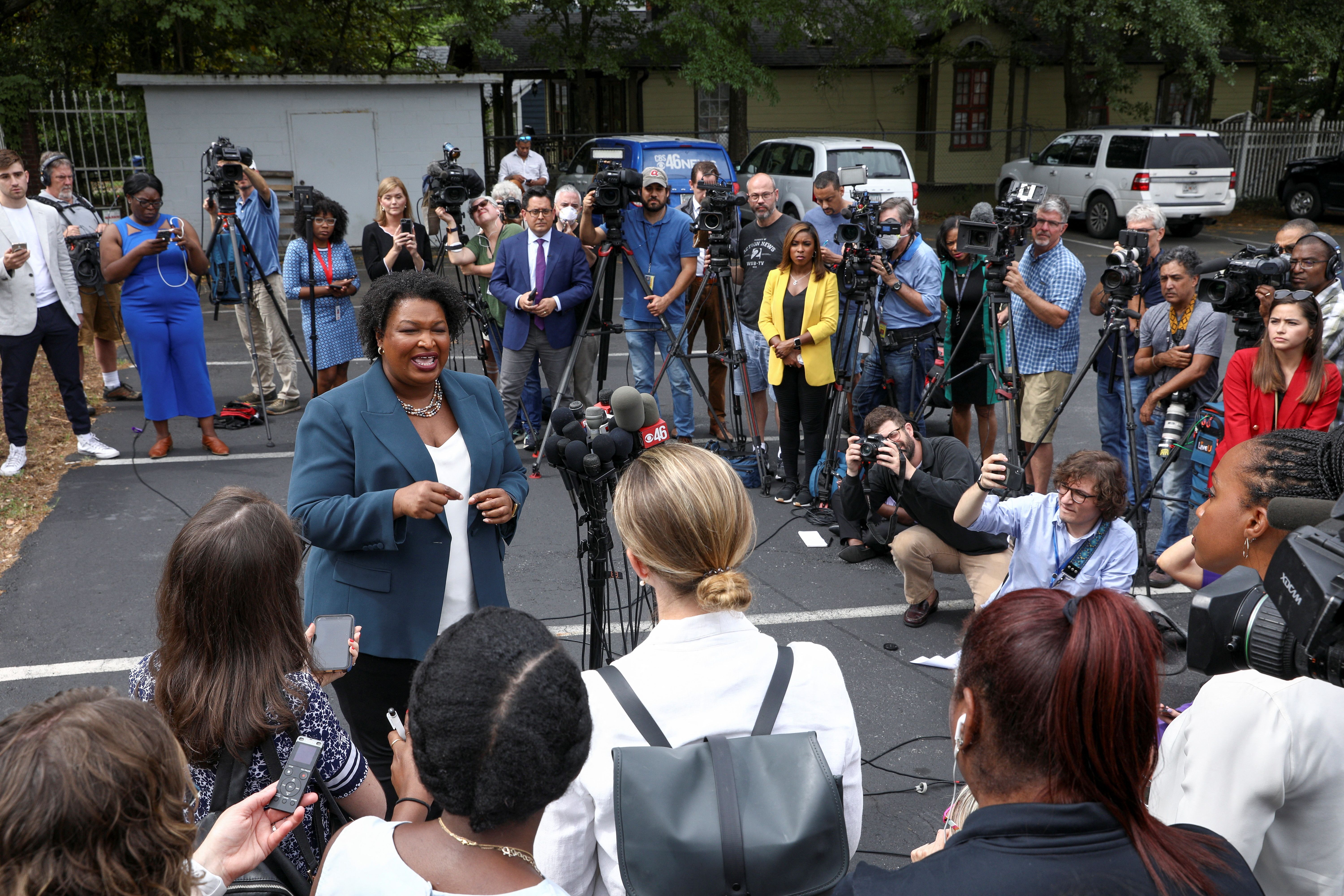 Stacey Abrams tells Axios' Emma Hurt that if elected governor of Georgia, she'd do something Republicans have insisted she won't: Fund the police.
As the second prong of a public safety and criminal justice reform platform first shared with Axios, Abrams is proposing to raise the base pay for Georgia state troopers, adult and juvenile correctional officers and community supervision officers to $50,000 per year.
Abrams last week released a gun-control plan.
Abrams argues Democrats can do both: "We have to support law enforcement, but we also have to have meaningful accountability."
What's happening: Many Americans' views on funding for police have shifted since the summer of 2020, when the Atlanta City Council nearly voted to withhold its police budget.
Abrams told Axios she believes "higher pay leads to fewer negative interactions and fewer use of force incidents."
She said she isn't worried about alienating progressive voters with the plan: "People don't care about your party. They care about their lives."
The other side: Her opponent, Georgia Gov. Brian Kemp (R), has pushed for multiple pay increases for law enforcement — including a $5,000 raise for all state employees last year, two correctional officer raises and a $1,000 bonus for law enforcement and firefighters this year.
The intrigue: This week, Kemp's campaign released an ad accusing Abrams of having once supported the "defund the police" movement.
Abrams told Axios: "I do not, and have never said, and have never supported defunding the police." She accused Kemp of "cherry-picking information."
4. 📷 1,000 words: Yellowstone crowds return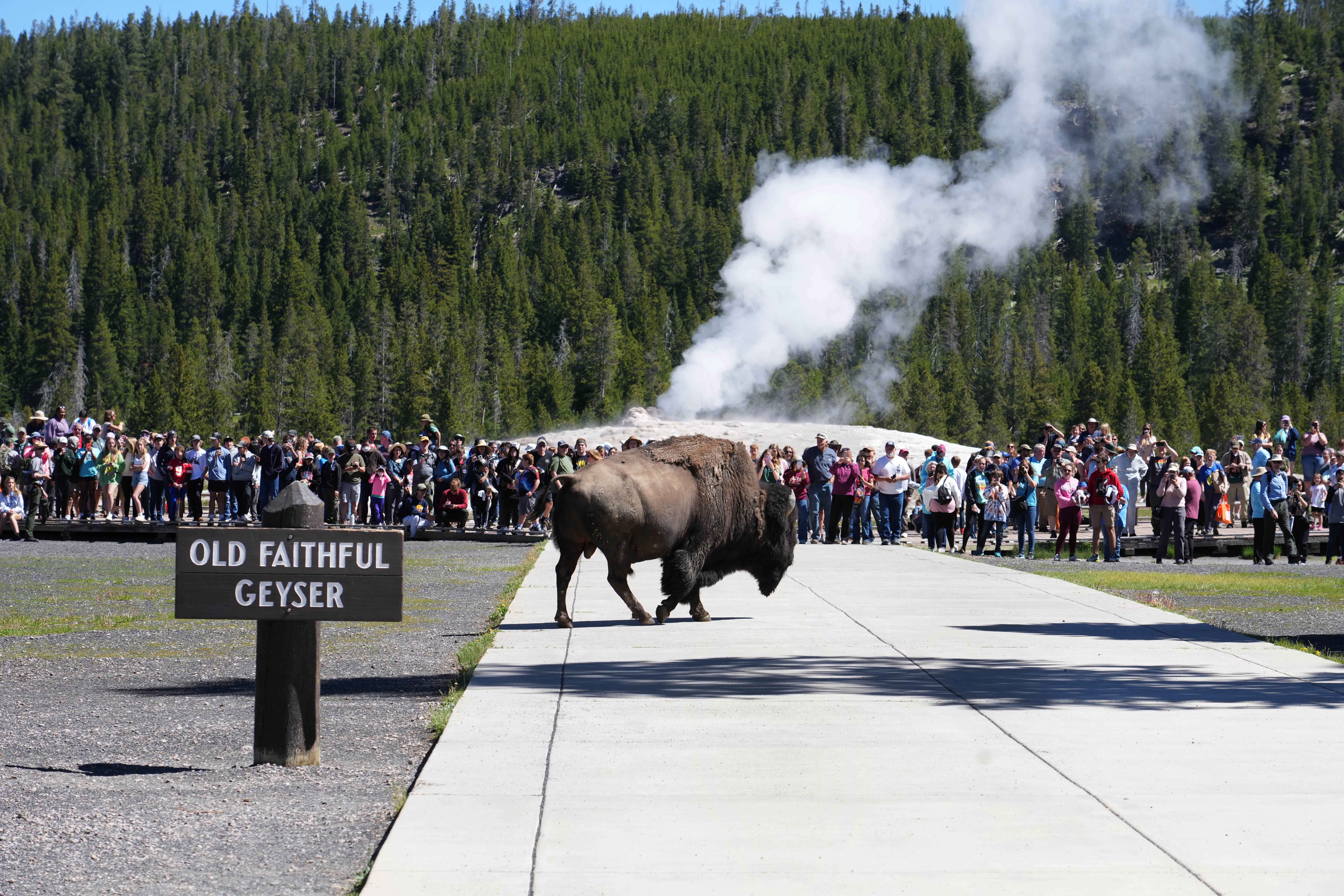 A bison strolls past tourists who have just watched Old Faithful Geyser erupt in Yellowstone National Park, which had been closed for just over a week because of flooding and damage to roads.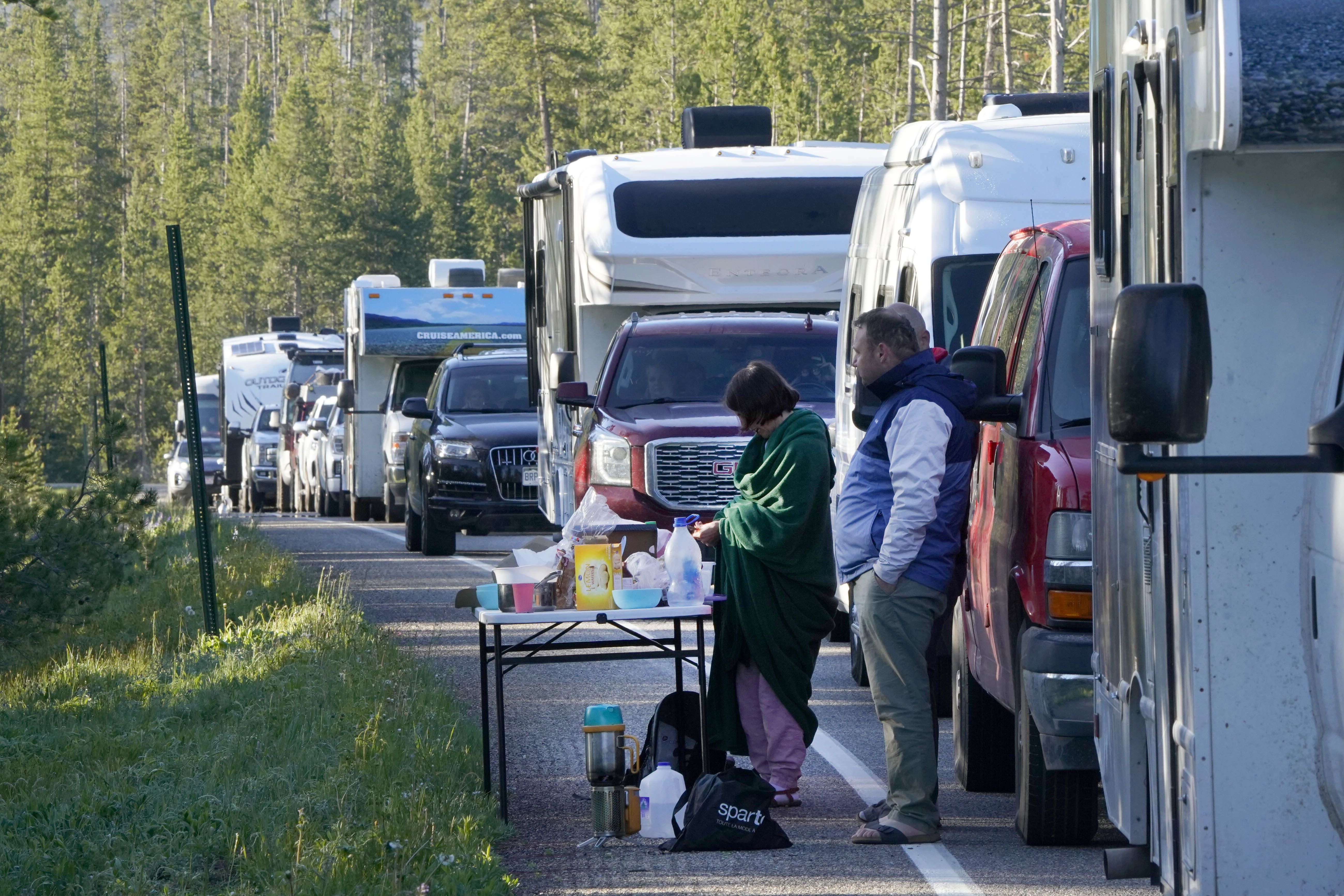 Visitors from France cooked breakfast yesterday as they waited for Yellowstone's South Entrance to reopen.
5. Job market power shift
COVID-era worker leverage over employers is leveling off and even eroding in some sectors, Axios Markets co-author Emily Peck reports.
What's happening: There are still way more listings on the Indeed job-search site than before the pandemic — a clear sign of high demand for workers. But postings are coming back down from the highs of last year.
The tech sector, where we've seen the most layoffs over the past month, is notching noticeable declines. Listings for "software developers" fell 7% over the past four weeks.
The Layoffs tracker website noted 109 layoffs so far in June — down from just 17 in March.
🧠 Between the lines: Psychology is playing a role in the power equation. Employers fearing a recession are pulling back postings, Bloomberg notes.
6. 🌰 Ohio State trademarks "THE"
THE Ohio State University won its fight to trademark the word "THE," Axios Columbus reports.
THE U.S. Patent and Trademark Office issued the registration for use on clothing.
When Ohio State athletes make it to the pros, they emphasize "THE" when naming their alma mater in TV intros.
The patent office initially denied the application, calling the word "merely decorative." THE university fought back and won after three years.
Ohio State's licensing and trademark program generates over $12.5 million in annual revenue, per a university statement.
Axios Columbus co-authors Tyler Buchanan and Alissa Widman Neese joke that this derails plans to call the newsletter "THE Axios Columbus."
Backstory from trademark attorney Josh Gerben.
7. 🛏️ America's sleep gap
15% of Americans are struggling to get a good night's rest, Axios' Tina Reed writes from new CDC data.
Researchers looked at the share of U.S. adults who had difficulty getting to sleep or staying asleep in the past 30 days.
Women are more likely to struggle with sleep than men.
Health officials recommend adults get seven hours or more per night.
8. 🍣 1 food thing: Cheetos sushi
Minnesota state Rep. Mike Freiberg tweeted this photo of an imitation crab meat sushi roll covered in Flamin' Hot Cheetos crumbs, available at Lunds & Byerlys markets in the Twin Cities.
The spiciness of the Flamin' Hot Cheetos accentuates the spice of the wasabi, and the combination of textures makes it fun to eat.
📬 Invite your friends to sign up here to get their daily essentials — Axios AM, PM and Finish Line.