January 22, 2022
Happy Saturday! Smart Brevity™ count: 1,189 words ... 4½ minutes. Edited by Jennifer Koons.
⚡ Breaking: "Lethal" U.S. military aid to help Ukraine defend against a possible invasion by Russia began arriving last night, the U.S. Embassy in Kyiv tweeted. (Bloomberg)
1 big thing: Roe @ 49
Today marks the 49th anniversary of Roe v. Wade, and both sides say this could be the last time the abortion-rights ruling has its current scope, Axios' Oriana Gonzalez writes.
The backdrop: A challenge to Mississippi's ban on abortion after 15 weeks, heard by the Supreme Court in December, could lead to a rollback in abortion rights. A ruling is expected by late June.
One side: Nancy Northup, president and CEO of the Center for Reproductive Rights, an abortion rights organization that is also representing the plaintiffs in the Mississippi case, said: "Roe is more at risk now than ever, and it's possible this anniversary could be its last."
Jen Psaki said about Roe as she opened yesterday's White House briefing: "We are deeply committed to making sure everyone has access to care and we will defend it with every tool we have."
The other side: Yesterday's March for Life, the annual anti-abortion rally in the nation's capital, sounded like a victory celebration as speakers expressed a growing sense of optimism that their long-sought goal, a sweeping rollback of abortion rights in America, was in reach, AP reports.
With a 6-3 conservative majority on the court, "this is the moment the pro-life movement has worked tirelessly to bring about," said Marjorie Dannenfelser, the Susan B. Anthony List president.
What's next: Abortion rights activists wants Congress to pass legislation that would codify the right to abortion in the absence of Roe.
The House in September passed the Women's Health Protection Act. But the bill is unlikely to pass in the Senate, where it doesn't have the needed 60 votes.
Rep. Diana DeGette (D-Colo.), co-chair of the Congressional Pro-Choice Caucus, told Axios her caucus is working with Senate colleagues to find a path for WHPA to pass.
What we're watching: Democrats could lose control of Congress in this year's midterms — a major blow to the abortion rights movement.
Go deeper: Axios' interactive county-by-county map showing potential distances to abortion services if Roe falls.
State action: Legislatures act on abortion limits, expansions.
2. Big Tech's next bets
"Big tech wants to find the next big opportunity, and our analysis of deals, patents, recruitment and other yardsticks shows that cash is flowing into everything from driverless cars to quantum computing," the Economist reports in this cover story.
Why it matters: "The shift reflects a fear that the lucrative fiefs of the 2010s are losing relevance ... [T]ech's titans are increasingly moving onto each other's patches (the share of sales that overlap has doubled since 2015 to 40%). So they are all looking to swoop into new territory."
Zoom out: "Analysts reckon that somewhere between 5% and 20% of the tech giants' massive R&D spending goes towards ... 'frontier technologies': the metaverse, autonomous vehicles, health care, space, robotics, fintech, crypto and quantum computing. (Artificial intelligence, AI, is now so ubiquitous that we are not counting it as a frontier in itself.)"
Zoom in: The trifecta for the Big Five — Amazon, Alphabet (Google), Meta (Facebook), Apple and Microsoft), The Economist reports based on everything from acquisitions /investments to LinkedIn profiles:
Metaverse (immersive online worlds).
Cars: "Alphabet, Apple and Amazon have ... all placed expensive bets on autonomous cars."
Health care and fitness: "an area tech firms see as appealing in part because of AI's increasing applicability to biology."
The Economist's shorthand for the Big Five: MAAMA.
3. Killing of NYPD officer puts new mayor on spot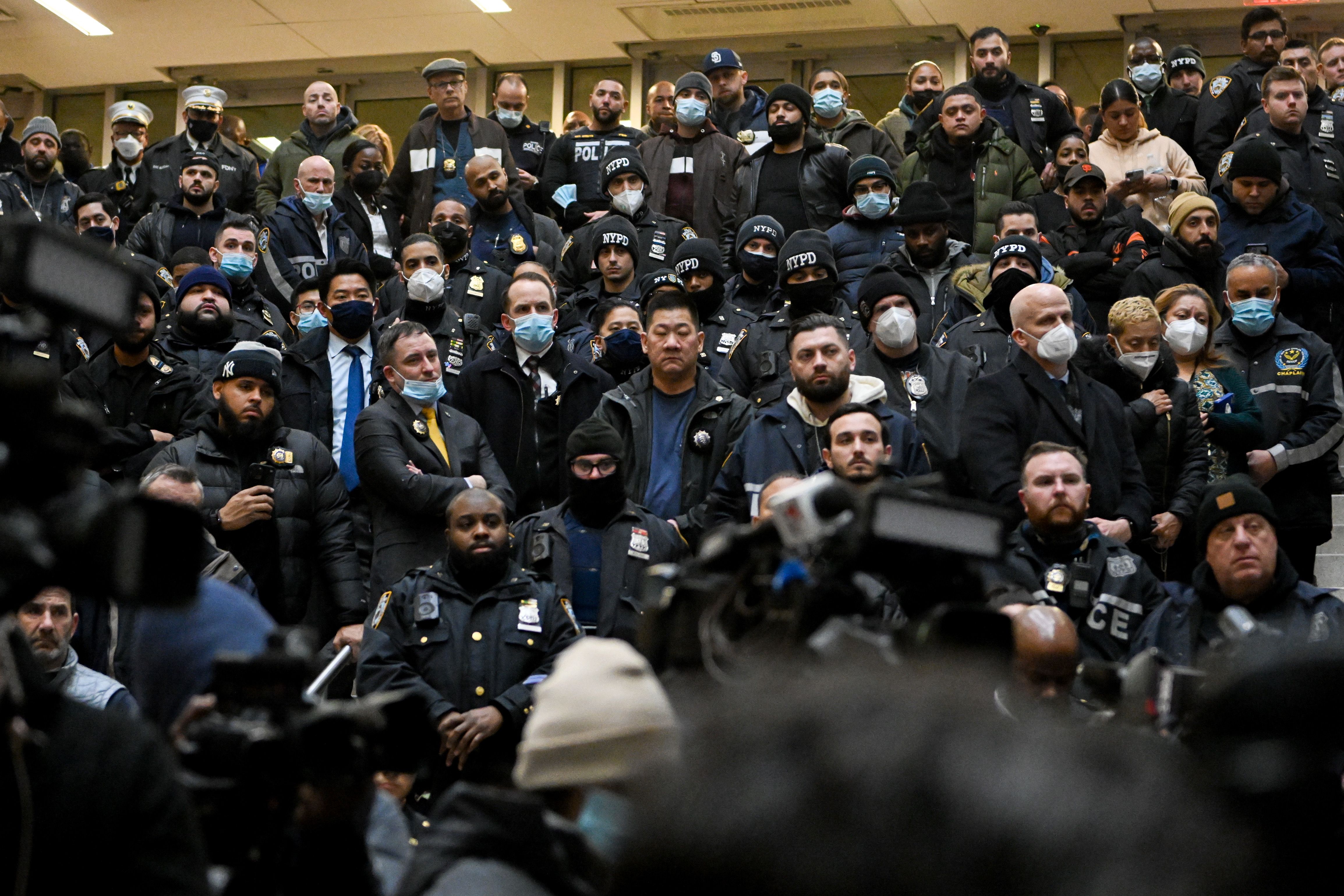 Above, members of the NYPD gather on the staircase during a press conference at Harlem Hospital last night.
A 22-year-old NYPD officer was killed and a 27-year-old officer was critically wounded in a shooting in a Harlem apartment while responding to a domestic disturbance last night, AP reports.
The 47-year-old man who police say shot them with a stolen gun was also in critical condition, wounded by a third officer who fired at him as he tried to flee.
The two officers were shot while answering a call about an argument between a woman and her adult son. Officer Jason Rivera, 22, was killed. Officer Wilbert Mora, 27, is hospitalized.
The man police say shot them — 47-year-old Lashawn J. McNeil — also was critically wounded and hospitalized.
What happened: Rivera and Mora walked from the front of the apartment down a hallway, and McNeil swung open a bedroom door and opened fire, Chief of Detectives James Essig said.
As McNeil tried to flee, a third officer who had stayed with McNeil's mother in the front of the apartment shot at McNeil and wounded him in the head and arm, Essig said.
Zoom out: They were among four officers shot in the city in as many days, prompting an emotional response from Mayor Eric Adams, who took office Jan. 1.
"This was just not an attack on these brave officers," Adams said. "This was an attack on the city of New York."
Police said the gun used in last night's shooting, a .45-caliber Glock with a high-capacity magazine capable of holding up to 40 extra rounds, had been stolen in Baltimore in 2017.
McNeil was on probation for a 2003 drug conviction in New York.
4. Pacific eruption, before and after

Satellite images show Nomuka (population 500) in the Tonga islands, before and after last weekend's undersea eruption in the South Pacific.
Volcanic fallout on the surface of the ocean is damaging boats and making travel between the islands challenging, Reuters reports.
Tongans queued for limited money services. A national emergency team distributed 60,000 liters of water, and a desalination plant on a New Zealand naval ship arrived yesterday. The official death toll is 3.
5. 🗳️ Big endorsement in huge race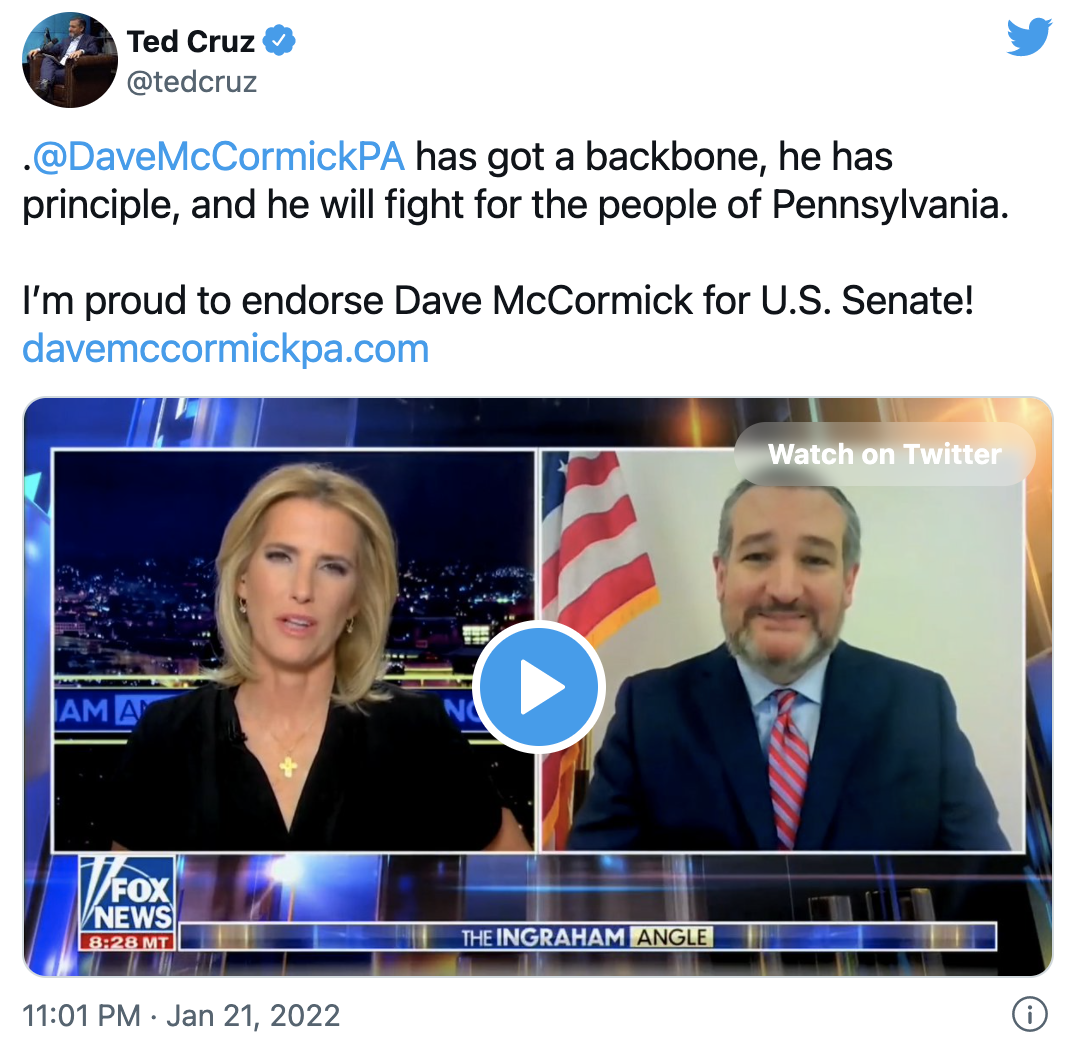 Dave McCormick, former Bridgewater CEO and Bush 43 official, and Dr. Oz (Mehmet Oz) are in a crowded field in the Republican primary to succeed retiring Sen. Pat Toomey (R-Pa.).
Why it matters: Oz is a frequent Sean Hannity guest. So this is a notable moment in the "Fox primary."
McCormick also won the endorsement of Sarah Huckabee Sanders — former press secretary to President Trump, and likely next governor of Arkansas.
The bottom line: It's going to be one of the highest spending, highest stakes primaries in the country.
6. 📷 Parting shot: Online schooling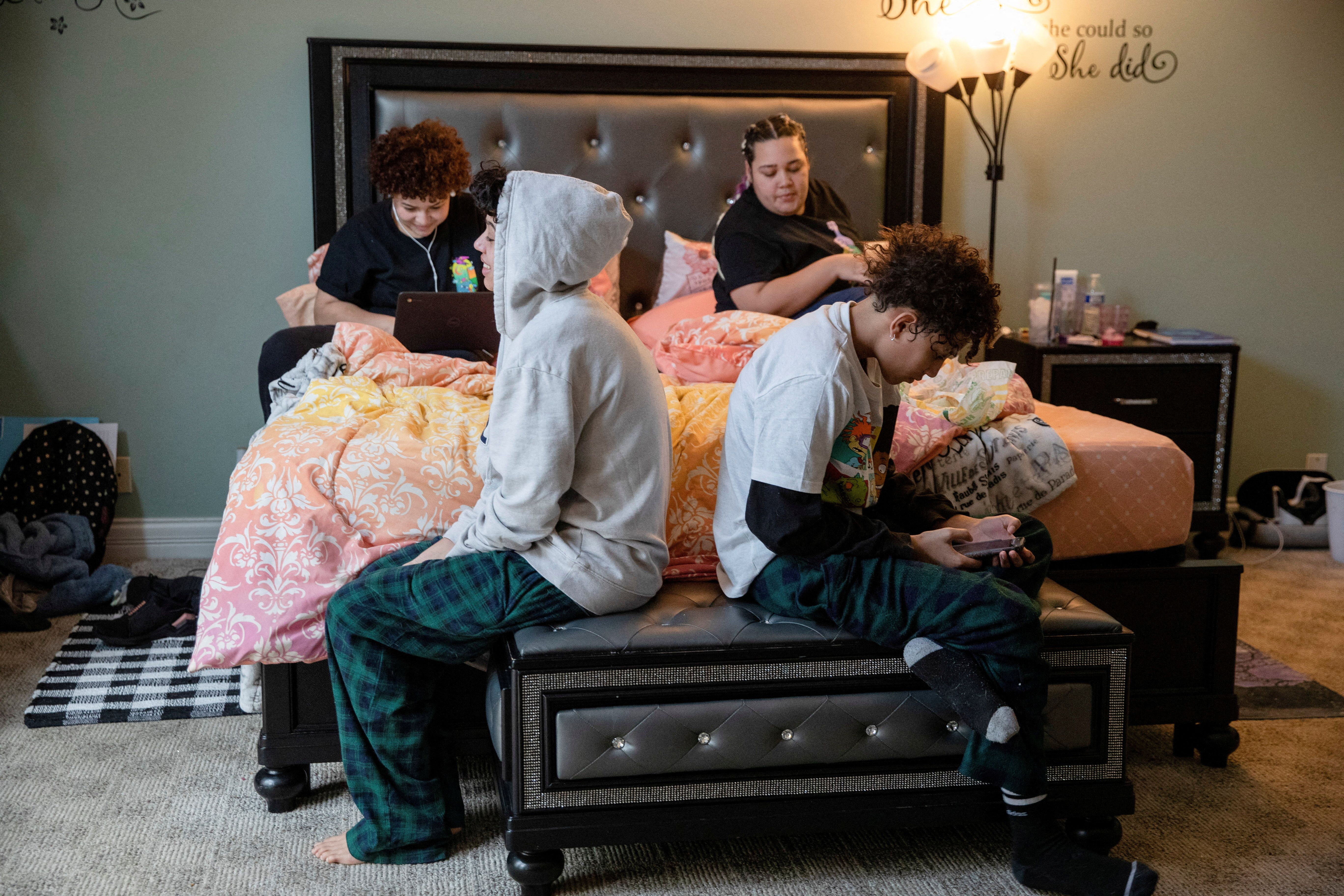 This is a real picture for history ... Would have been the cover of LIFE back in the day ...
Leila Martinez (not shown), a teacher at Iroquois High School in Louisville, juggles between her own classes and her children's classes during a virtual learning day last week.
Cousin Jodalys Vargas Aquino (bed, left) and Leilani Rodriguez Martinez (bed, right) attend online classes while sisters Alani Rodriguez Martinez (plaid, left) and Melani Rodriguez Martinez take a break from virtual school.
📬 Was this email forwarded to you? Sign up here for your own personal copy of Axios AM and Axios PM.