Good Sunday morning, and Godspeed and karma to the millions battling hurricane horrors. Situational awareness: Trump at yesterday's Harvey- and Irma-focused Cabinet meeting at Camp David, re "tax cuts and tax reform": "I think now with what's happened with the hurricane, I'm going to ask for a speed-up. I wanted a speed-up anyway, but now we need it even more so."
https://www.axios.com/newsletters/axios-am-9a7e1bf0-8ada-421e-9e5e-dff939c0dd82.html?chunk=0#story0
1 big thing: Trump's chance for a racial reset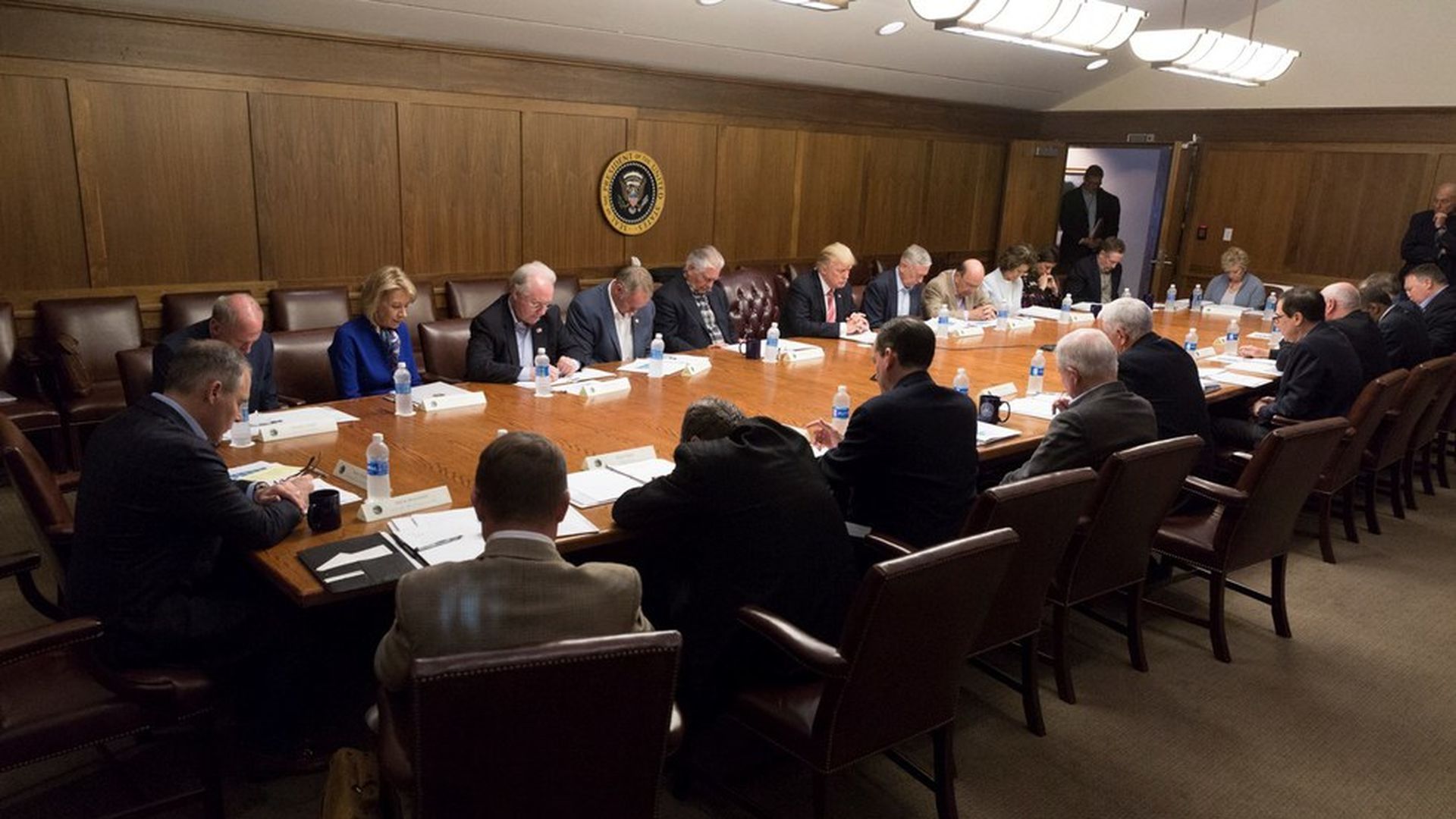 President Trump's botched Charlottesville response was the low point of his presidency for some of his key aides. Now, he has a chance for a reset, at the same time that he's reveling in the adulation for his surprise deal with Democrats.
Trump meets one-on-one Wednesday with Sen. Tim Scott of South Carolina, the only Republican senator who is African-American, who told Vice after Charlottesville that the president's "moral authority is compromised."
Why it matters: Scott grew up poor in the South, as the son of a single mom who toiled as a nursing assistant. He has been harshly critical of Trump on racial issues, and plans to expose the president to his own moving life story in forceful terms.
Scott, who endorsed Marco Rubio during the primaries, blasted Trump for his reticence in denouncing the KKK.
Scott lambasted Trump as late as mid-October for "oftentimes toxic" rhetoric. But he said he would vote for him anyway, because Hillary Clinton had also said "vicious" things.
Scott pilloried Trump on "Face the Nation" after the Charlottesville violence, saying the president needs to "sit down and become better acquainted — have a personal connection to the painful history of racism and bigotry of this country."
Scott was repulsed by Trump's blame of "both sides" for racial carnage, and for suggesting there were "very fine people" among white-nationalist chanters.
Scott sought the meeting before Charlottesville, sources tell Axios' Jonathan Swan:
The senator hopes that exposing Trump to new views — and a life story vastly different from Trump's privileged upbringing — will lead to a broader White House conversation on issues affecting minority communities, including historically black colleges and universities (HBCUs), poverty, and the overall direction of the country on race.
But first, Scott plans to tell the president his own story in "very personal" terms, and underscore how seriously he took what Trump said, and didn't say, after Charlottesville.
Scott has a powerful testimony for Trump: The senator has spoken movingly about a conversation with his mom during high school about why a pair of Converse high tops was beyond their means. He has recalled how his family once took refuge in the home of a strong grandfather — and how he later drove that teary-eyed man to vote for Barack Obama.
And Scott gave a series of speeches on the Senate floor about police mistreatment of African Americans:
"[M]y brother, who became a Command Sergeant Major in the United States Army, ... was ... pulled over by a law-enforcement officer who wanted to know if he had stolen the car he was driving because it was a Volvo."
"I don't know many African-American men who don't have a very similar story to tell — no matter their profession, no matter their income, no matter their disposition in life."
And he told of a shocking encounter with a Capitol Police officer who said with "a little attitude" that he didn't recognize the senator: "The pin, I know. You, I don't."
Be smart: Aides say Trump is most likely to take in information if there's a personal story attached to it. The session with Scott provides exactly such an opportunity. The moment could be fleeting or consequential, depending on whether Trump realizes that, at 71, he has a lot of catching up to do.
https://www.axios.com/newsletters/axios-am-9a7e1bf0-8ada-421e-9e5e-dff939c0dd82.html?chunk=1#story1
2. Irma begins U.S. assault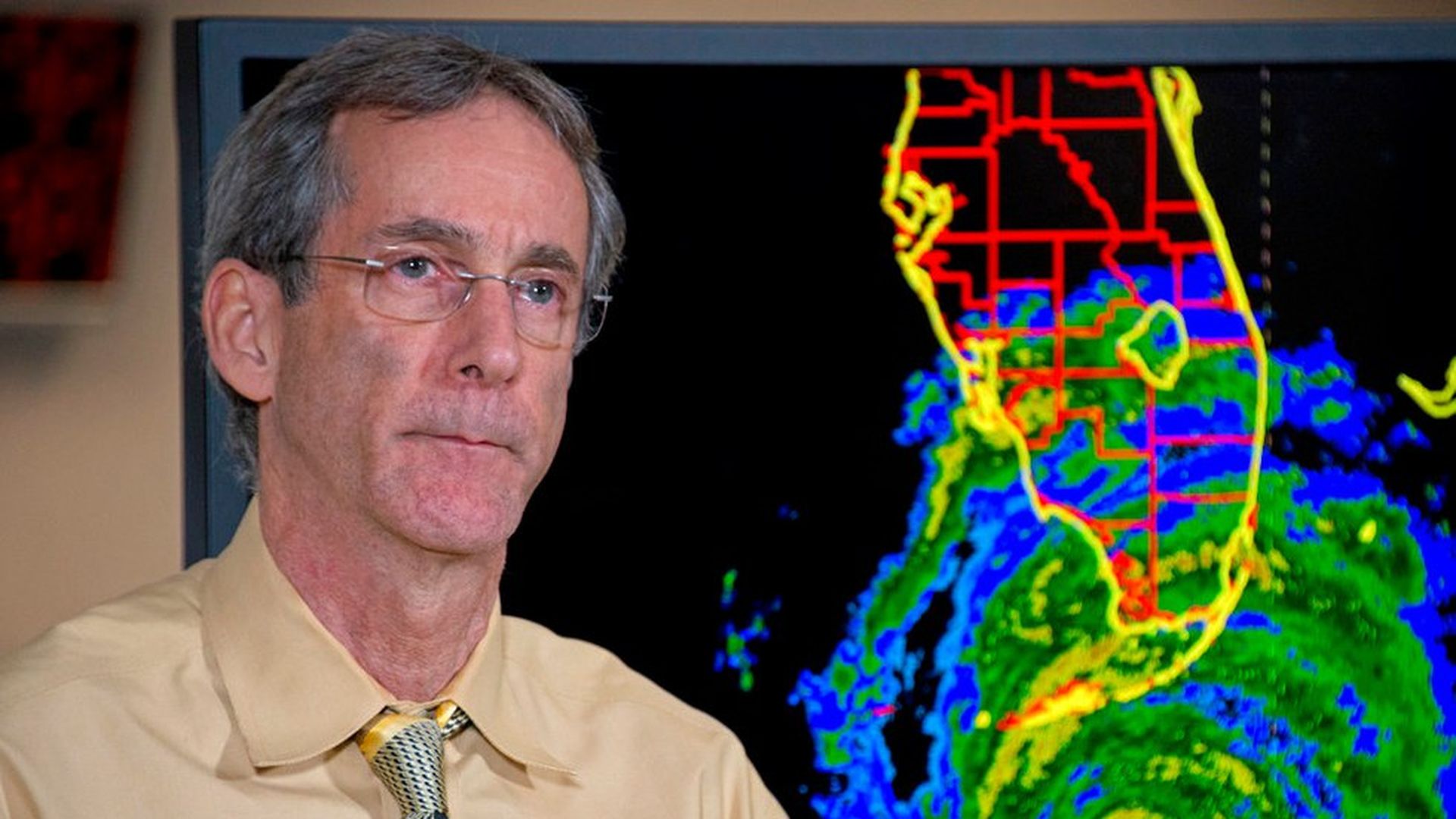 "Potentially catastrophic strike," per Weather Channel, as Irma makes landfall in the Florida Keys: "Destructive winds are ongoing in many parts of South Florida ... Hurricane and storm surge warnings have been extended northward ... A catastrophic storm surge will swamp parts of southwest Florida."
AP latest: "Florida Gov. Rick Scott had warned residents in the state's evacuation zones Saturday that 'this is your last chance to make a good decision.' About 6.4 million people were told to flee."
"[B]ecause the storm is 350 to 400 miles wide, the entire Florida peninsula was exposed."
Tampa is expected to take the direct hit, tomorrow, but forecasters "said the greater Miami area of 6 million people could still get life-threatening hurricane winds and storm surge of 4 to 6 feet."
Inside the Keys — Miami Herald: "Larry Kahn, editor of the Keynoter and an editor for FlKeysNews.com, reported from one of Monroe County's four 'refuges of last resort' — a shelter set up at Marathon High School on Sombrero Road, that power was out, there was no running water, and everything outside was submerged by storm surge and rain. 'Everything is underwater. I mean everything.'"
N.Y. Times Quote of the Day ... Roman Gastesi, the county administrator for Monroe County, Fla., which encompasses the Florida Keys, who implored residents there to leave as Hurricane Irma approached: "This is the big one, the hurricane we have all feared."
https://www.axios.com/newsletters/axios-am-9a7e1bf0-8ada-421e-9e5e-dff939c0dd82.html?chunk=2#story2
3. The spirit of Houston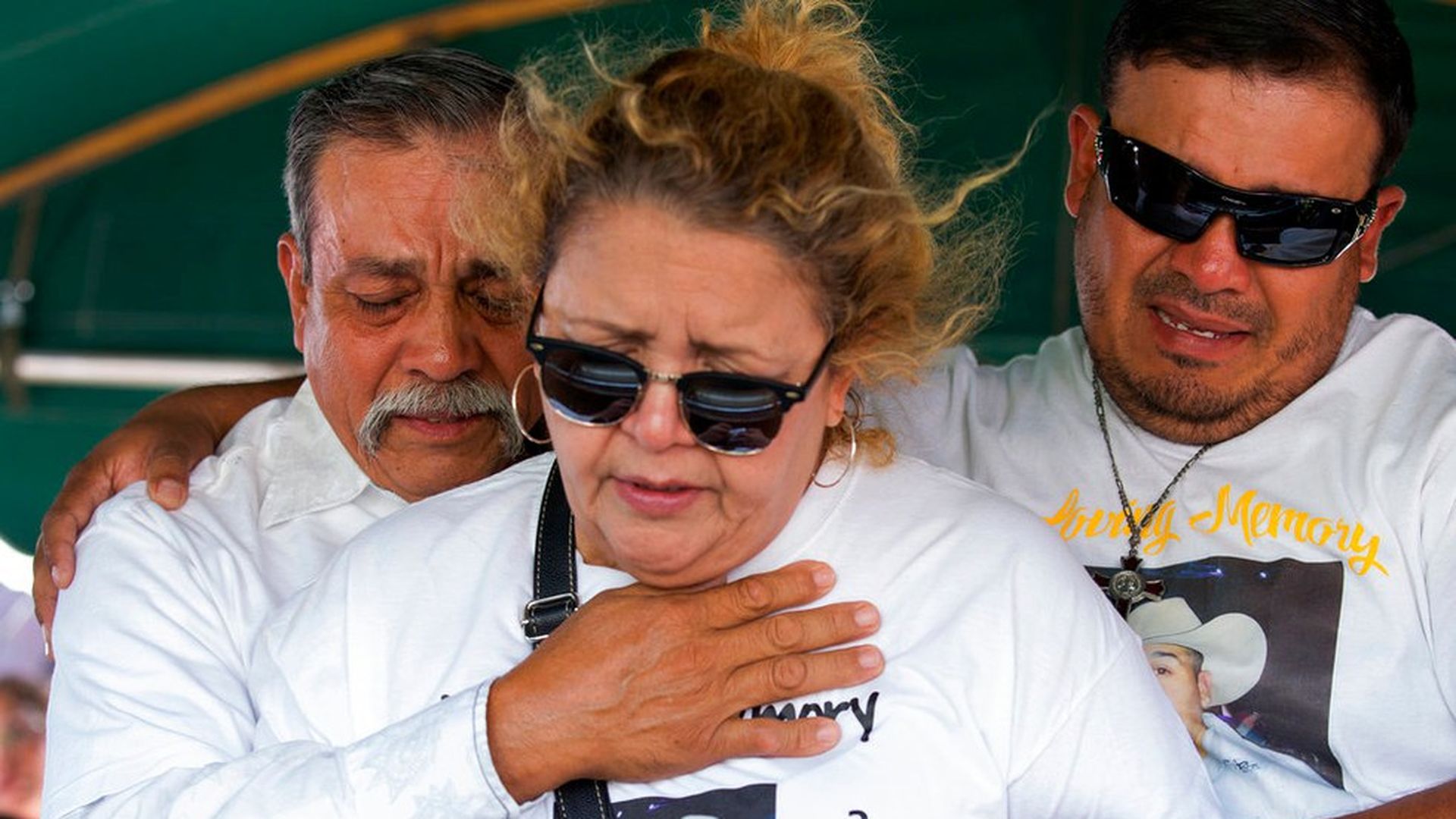 "How a Harvey rescue effort ended in nightmare for 'Dreamer,' friend' [who] gave their lives trying to save others in boat," by Houston Chronicle's Susan Carroll and Lomi Kriel:
Alonso Guillen navigated a small motorboat in 6 feet of choppy floodwater, steering toward [a Houston] apartment complex off Interstate 45 near the overflowing Cypress Creek. It was Alonso's first time behind the wheel of the flat-bottom johnboat, designed for hunting and fishing. He and his friends Luis Ortega and Tomas Carreon Jr. had borrowed it before leaving Lufkin, an East Texas town about 120 miles from Houston.
Cries for help buzzed on the Zello app they had downloaded to their phones as people stranded in the high waters brought by Hurricane Harvey begged for rescue. ...
They needed to cross the roaring creek to make it back to their trucks. It had risen so high that there was only a 3-inch gap between the nearby bridge and the water. ... The water shoved them sideways. They hit the bridge, and the boat flipped. They fell into the churning, murky water. The undertow was swift and strong.
[On] the boat that overturned ... were three friends: Luis, an American; Tomas, a Mexican immigrant married to a U.S. citizen; and Alonso, a so-called "Dreamer," a recipient of a special temporary permit for some young immigrants. All three of them were lost in Cypress Creek.
Why it matters: "With first responders overwhelmed, people of every skin color and creed rushed to one another's rescue in the nation's fourth-largest city."
https://www.axios.com/newsletters/axios-am-9a7e1bf0-8ada-421e-9e5e-dff939c0dd82.html?chunk=3#story3
4. iPhone X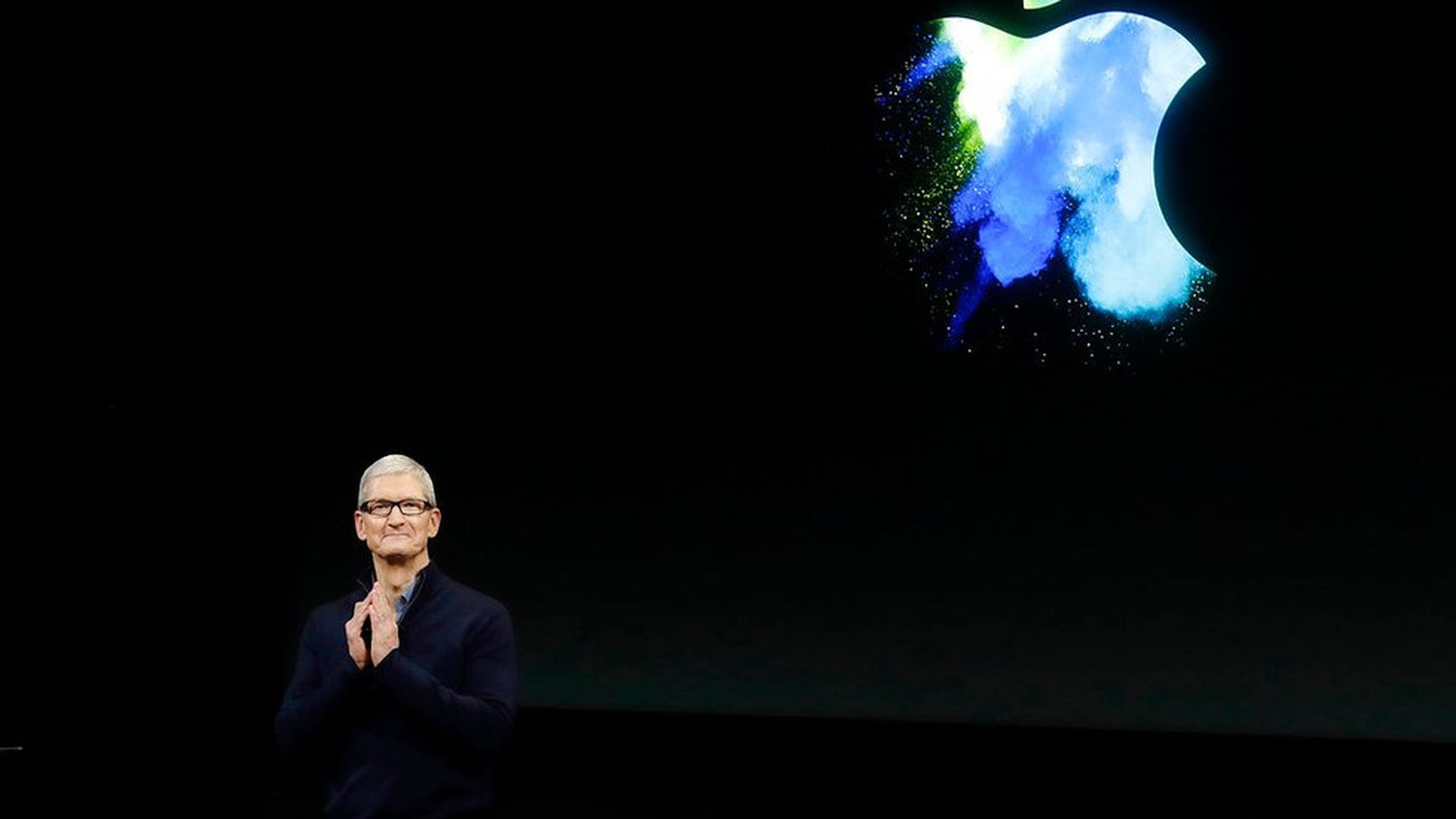 "Apple's Top New Phone to Be Called 'iPhone X,' Code Leaks Show," by Bloomberg's Mark Gurman: "Strings of software code inside of the leaked operating system ... show the expected three new phones will be called the iPhone 8, iPhone 8 Plus, and iPhone X."
"The iPhone 8 and iPhone 8 Plus are successors to the current iPhone models, while the iPhone X is the premium version with an all-new design, crisper OLED screen, improved cameras, and a 3-D facial recognition scanner for unlocking the device."
"The 'X' in the iPhone's name may be a reference to this model being a special 10th anniversary edition."
Why Tuesday's announcement matters, per WashPost's Hayley Tsukayama and Jena McGregor:
"This [iPhone] iteration could prove a test of [Apple's] consumer tech dominance as it faces a bevy of challenges: Samsung seems to have resumed its smartphone momentum with the new Galaxy Note 8, Apple trails competitors such as Google in the home hub space, Siri's artificial intelligence isn't as advanced as others, and it is losing to Amazon.com as an entertainment innovator.
"Is this the moment [Apple and CEO Tim Cook] reclaim the mantle as tech's top innovator?"
"Apple fans, who crave the days when the company changed the world with revolutionary products, are eager to see more ... industry-disrupting ideas."
Go deeper ... I recommend this sneak peek from Frank Foer's must-read book out Tuesday, "World Without Mind: The Existential Threat of Big Tech." An adaptation runs on the cover of WashPost Outlook, "How Silicon Valley is erasing your individuality: The perils of monopoly":
"[T]he tech companies ... have compiled an intimate portrait of the psyche of each user — a portrait that they hope to exploit to seduce us into a compulsive spree of binge clicking and watching. And it works: On average, each Facebook user spends one-sixteenth of their day on the site."
https://www.axios.com/newsletters/axios-am-9a7e1bf0-8ada-421e-9e5e-dff939c0dd82.html?chunk=4#story4
5. NFL Week 1: Graybeard QBs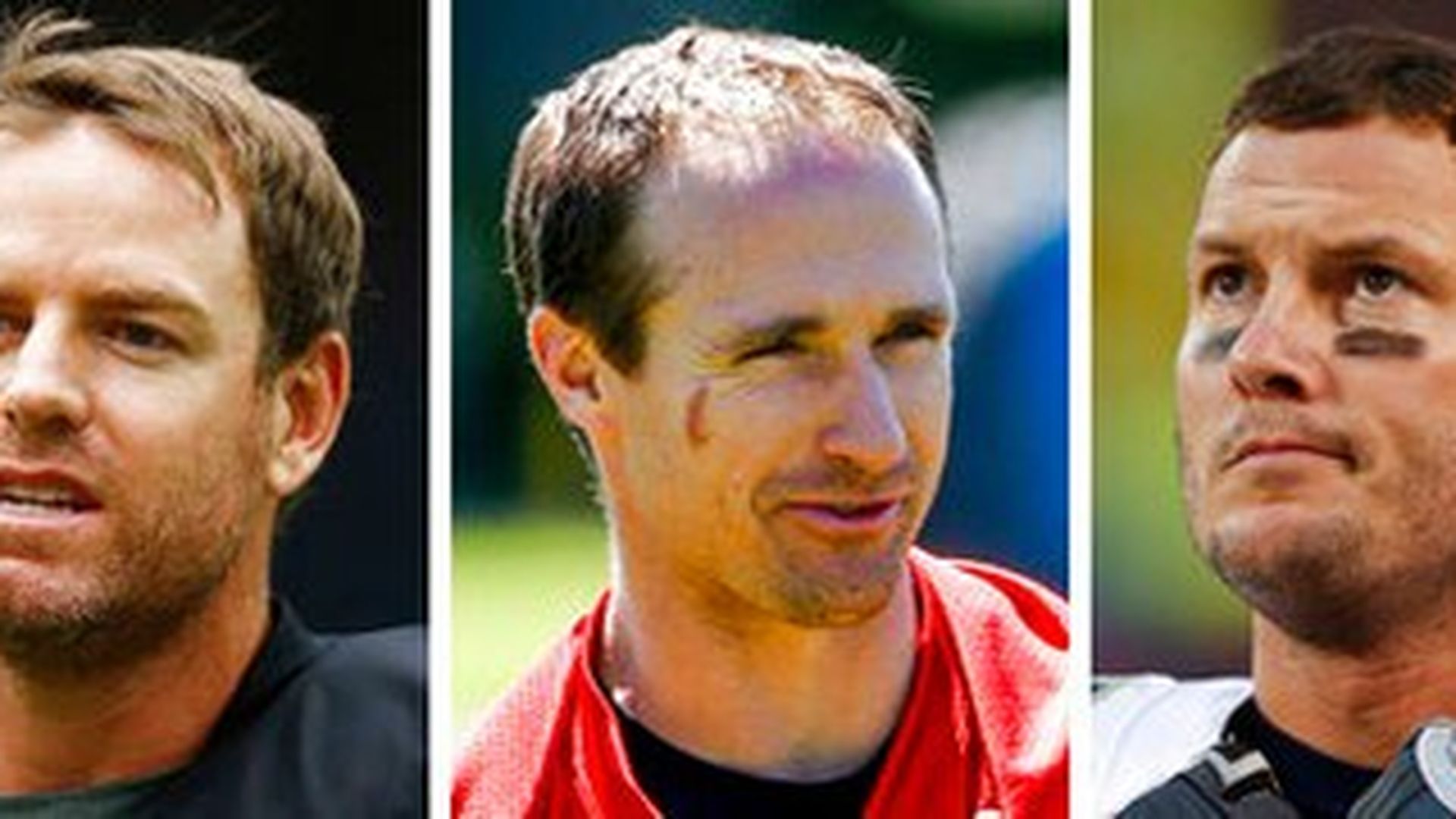 Amazing stat: The NFL season begins with 7 starting quarterbacks who are 35 or older. The dean, New England Patriots' Tom Brady (40), is joined by the New Orleans Saints' Drew Brees (38), the New York Jets' Josh McCown (38), the Arizona Cardinals' Carson Palmer (37), the New York Giants' Eli Manning (36), the Steelers' Ben Roethlisberger (35) and the L.A. Chargers' Philip Rivers (35).The Green Bay Packers' Aaron Rodgers — who, inspired by Brady's diet and stretching, thinks it's "realistic" to play past 40 — is 33. The reason for the crop of graybeard QBs, according to AP Pro Football Writer Arnie Stapleton:"Quarterbacks are delaying retirement while making more money, eating better, working out year-round and benefiting from rule changes that have resulted in fewer hits and less wear and tear on their bodies. Bolstering veterans' value is the paucity of QBs running the pro-style system in college.""The spate of rule changes over the last two decades that fed the offensive explosion is bearing fruit now that quarterbacks are elongating their peak performance years and prolonging their careers."P.S. Sports Illustrated's pick for Super Bowl LII, on Feb. 4 at U.S. Bank Stadium in Minneapolis: Patriots 31, Packers 27 (Steelers and Vikings also in the final four).
https://www.axios.com/newsletters/axios-am-9a7e1bf0-8ada-421e-9e5e-dff939c0dd82.html?chunk=5#story5
6. 1 fun thing: Panda gourmet
"In the Bellies of the Beasts ... Bloodsicles and beef bouillon bubbles: how a behind-the-scenes team at the National Zoo feeds 350 species of animals," by Washington City Paper's Laura Hayes:
"Feeding 1,200 animals, from anemones to elephants, is a complex, integral, and utterly fascinating facet of life at the zoo. At an annual operating budget of $1.2 million, it is also the zoo's biggest expenditure."
"And the keepers use food for far more than sustenance, making the operation even more complicated. Food serves as a training reward; a vehicle for giving medication; and a bonding mechanism for animals and keepers."
"Members of the zoo's food team navigate hidden passages to reach behind-the-scenes areas where they filet small, pungent fish for squeaking otters. Or they spend their days in the belly of the big cats exhibit sprinkling edible glitter on ground beef so that when it comes out the other end, they can test the cats' hormone levels."