September 30, 2022
Hello, Friday. It's the last day of September.
Smart Brevity™ count: 1,493 words ... 5½ mins. Edited by Noah Bressner.
🌀 1 big thing — Axios Local dispatch: What it's like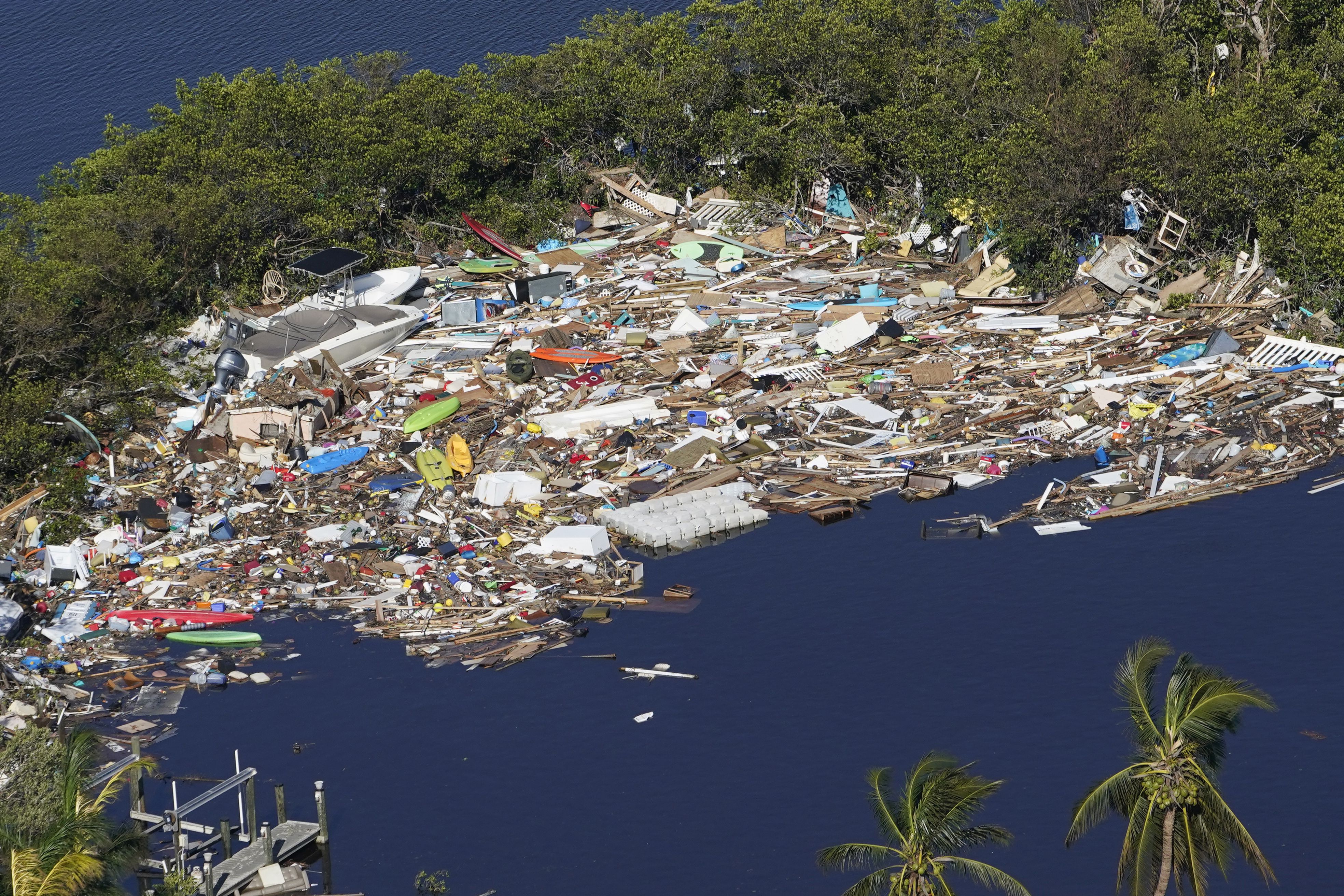 Hurricane Ian flooded homes on both of Florida's coasts ... cut off the only road access to a barrier island when Sanibel Causeway fell into the sea ... and knocked out power to 2.6 million homes and businesses.
The storm also isolated a swath of the nation's grandparents in their dreamy Southwest Florida retirement communities.
They were left without any way to let families know whether they're OK, Axios Tampa Bay's Ben Montgomery writes from the landfall zone.
So Ian left a staggering mark on Southwest Florida — but also consumed kitchen tables in Michigan, Ohio and Pennsylvania.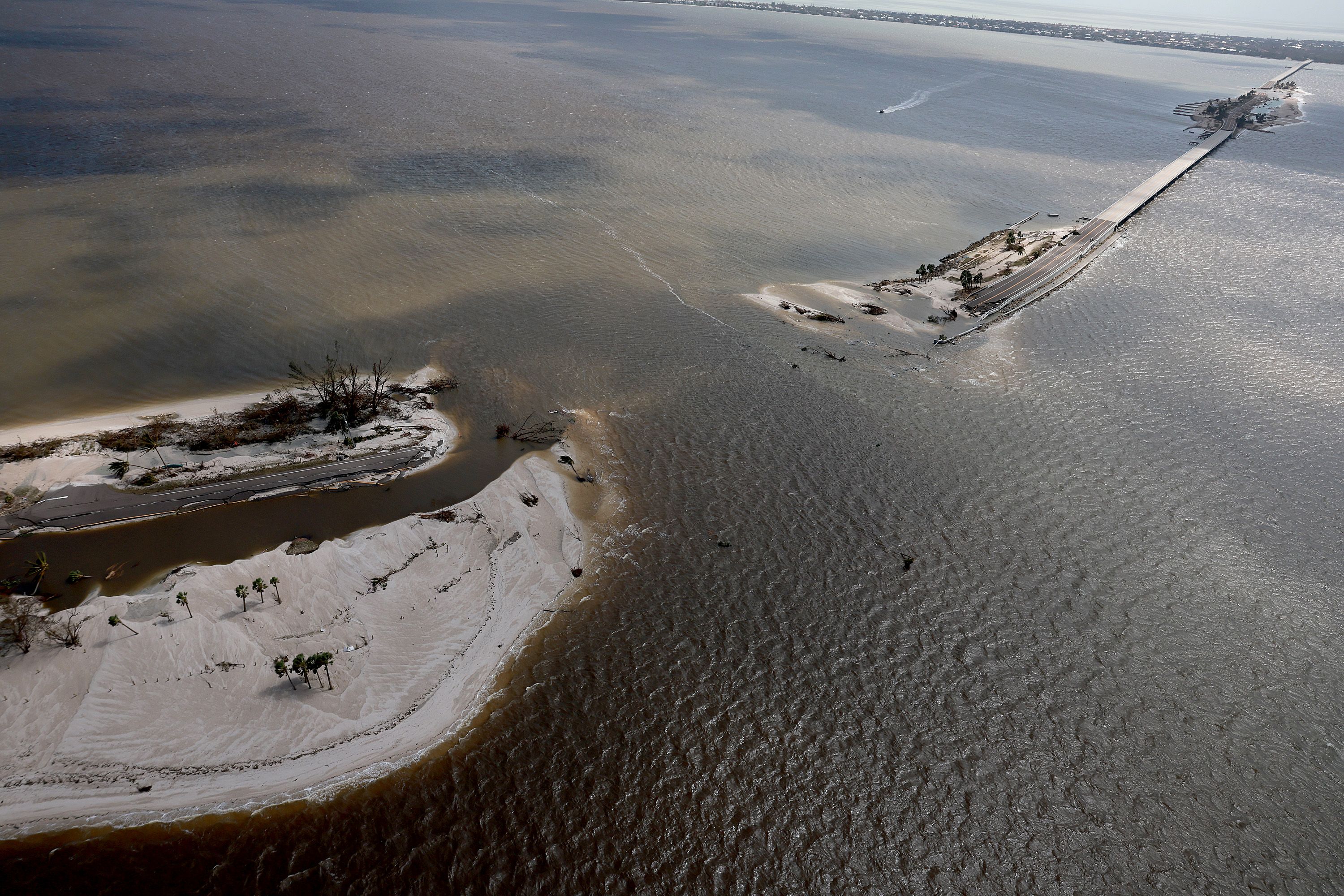 📝 Being there: Near Port Charlotte, Fla., flooding and fallen trees made entire interior coastal neighborhoods inaccessible without a tractor or a chainsaw — cutting off waterfront communities between U.S. 41 and the Intracoastal Waterway.
Vast swaths of people who live in the 30 miles between North Port and downtown Sarasota have no power, no cell phone service and no way to get out.
So Facebook updates never come — and texts go unanswered — even in some areas that avoided the worst of the storm.
Trees tipped over and blocked roads. But the umbrellas were still stuck in the tables at Chick-fil-A.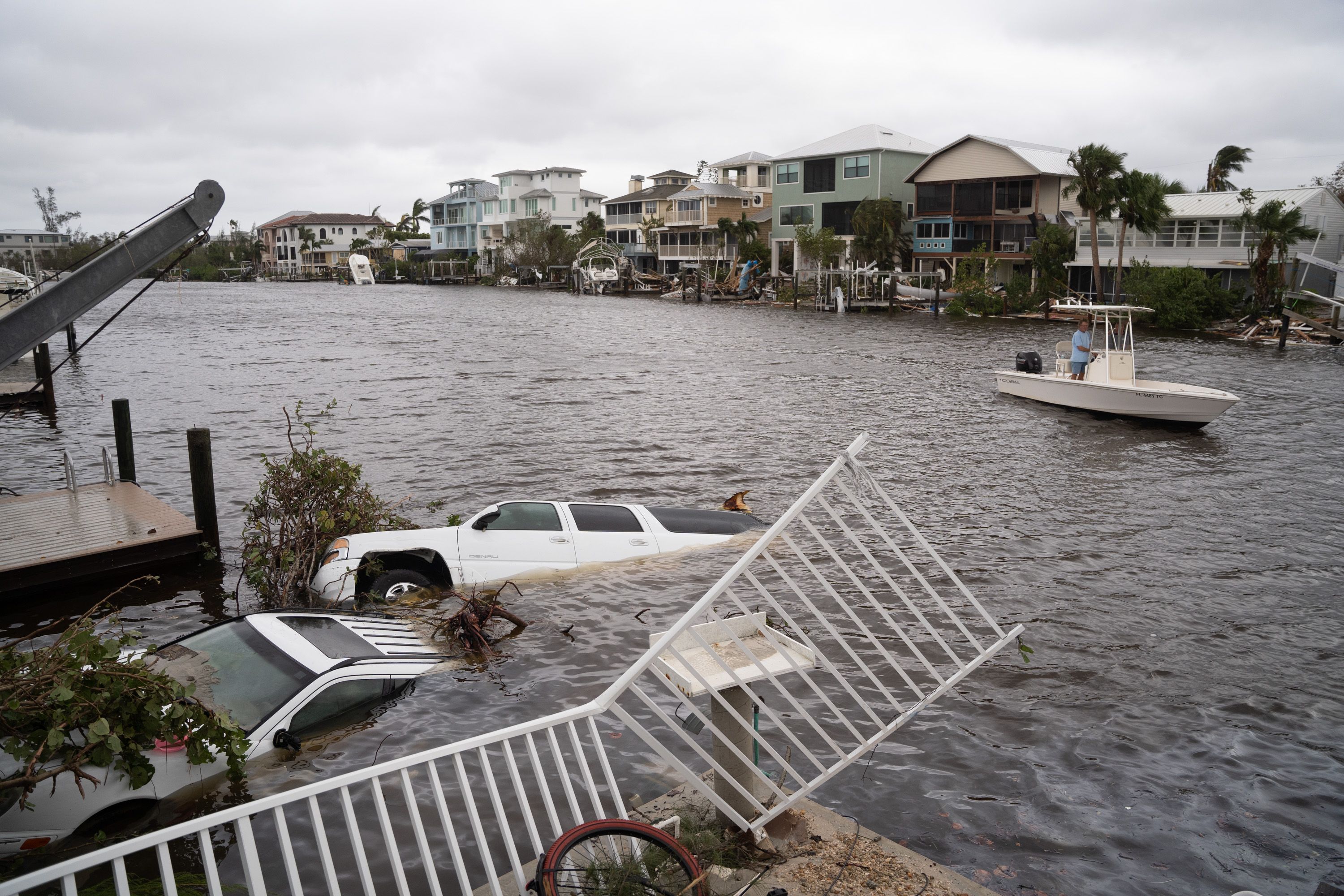 During a drive yesterday, Ben couldn't get a Verizon cell signal west of Interstate 75 for 30+ miles between North Port and South Sarasota — and couldn't access dozens of neighborhoods.
Cars were flooded. Signs were stripped of their branding. Palms looked bedraggled and exhausted.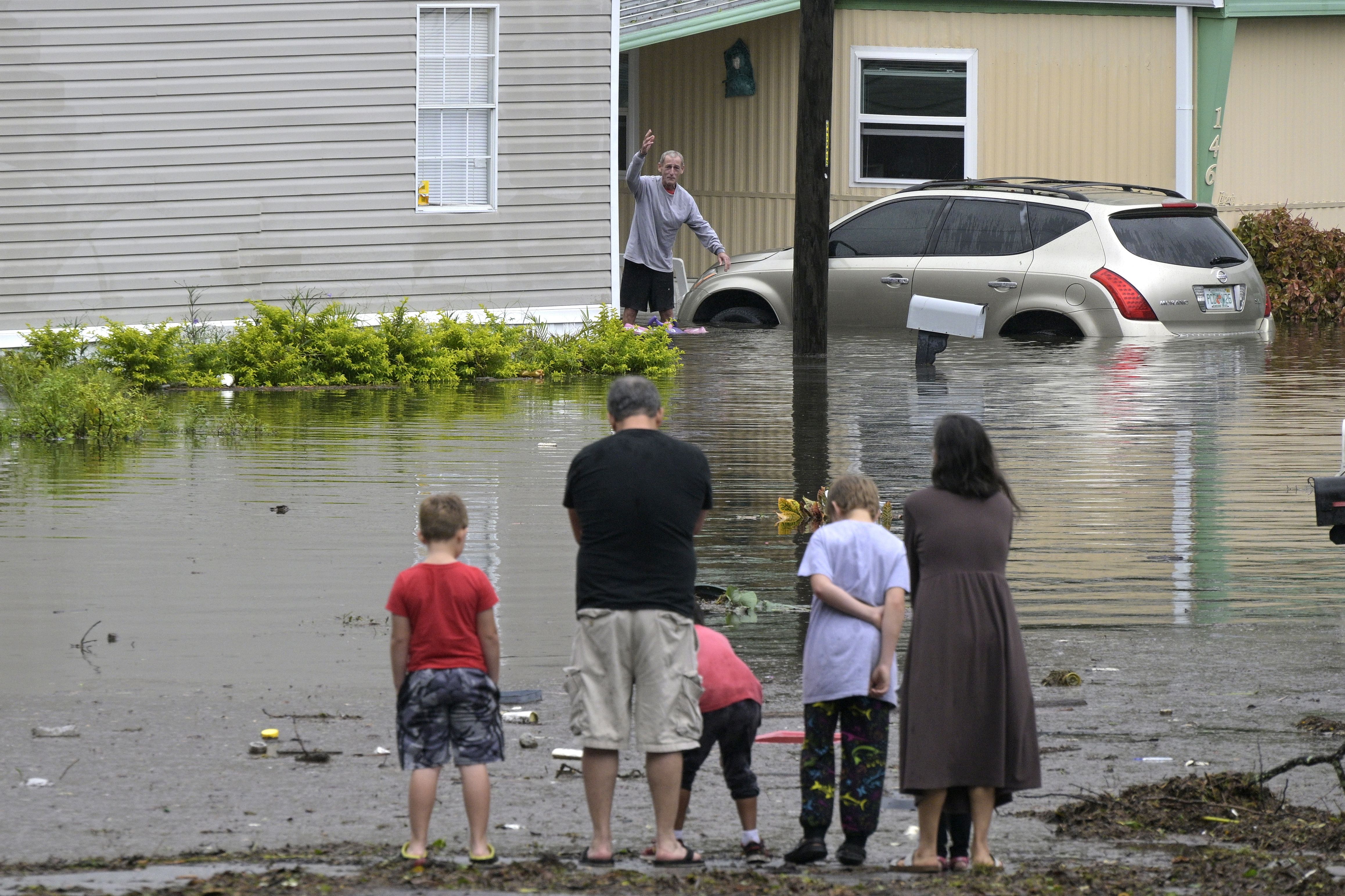 Above: Residents check on each other in an Orlando neighborhood flooded by Ian's aftermath.
Although the human toll is not yet clear, President Biden said at FEMA headquarters: "This could be the deadliest hurricane in Florida's history."
2. ⚡ Time lapse: Lightning lights up Ian's eye
In a rare event, Hurricane Ian was illuminated by nearly continuous lightning flashes within the towering storms surrounding its eye, Axios severe-weather expert Andrew Freedman reports.
"For an Atlantic storm, this is more lightning in the eyewall than I've seen in any other landfalling storm," Chris Vagasky, a meteorologist at the weather-tech company Vaisala, told Axios.
"Some Pacific storms have had more prolific lightning in the eyewall, but in this basin, Ian is right up there at the top — especially for eyewall lightning as it was coming ashore."
3. Scoop: Trump wanted Haberman phone records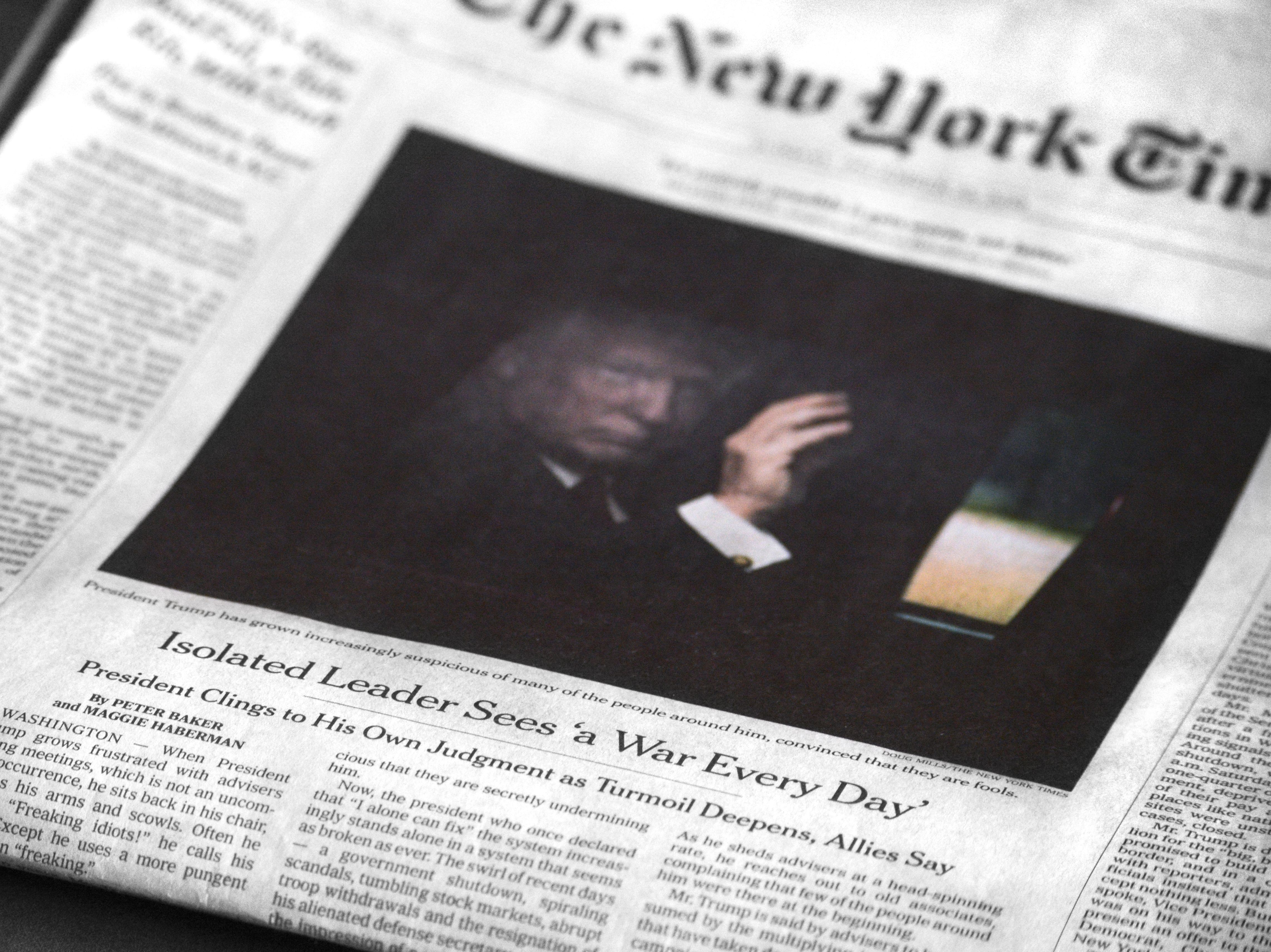 N.Y. Times reporter Maggie Haberman reports in her book — "Confidence Man," out Tuesday — that former President Trump had threatened internally to go after her phone records to expose leakers.
"Trump, angry about my published stories, would bellow that he wanted administration officials to obtain my phone records and identify my sources," Haberman writes.
"It did not appear that anyone ever acted on it."
Why it matters: News organizations go to great lengths to prevent the government from seeing their communications, in part to protect the identity of sources who help expose what's really going on.
Context: N.Y. Times columnist Frank Bruni says (subscription) "Donald Can't Quit Maggie," which pretty much sums it up.
Trump, in the course of giving Haberman three interviews for this book, told aides: "I love being with her; she's like my psychiatrist."
Trump's obsession: He has called her "Maggot Haberman" and tweeted in 2018: "Maggie Haberman, a Hillary flunky, knows nothing about me and is not given access."
In February, he repeated in a statement about the book that she "knows nothing about me."
👂 What we're hearing: When there's a negative story in The Times, Trump privately calls it "Maggie's story"— no matter the author.
Trump has been known to rant: "I never speak to her." Aides roll their eyes.
Joe Klein, in a N.Y. Times review of "Confidence Man" (subscription), calls Haberman "famously formidable":
"The only other journalist who can match her access to a recent president is Lou Cannon, who spent much of a lifetime covering Ronald Reagan."
"She is an exemplar of her craft, relentless, judicious and even-keeled, giving credit, where due, to her colleagues and fellow biographers."
When asked about Trump's threat about Haberman's records, spokesman Taylor Budowich responded with his standard comment about Haberman's book:
"While coastal elites obsess over boring books chock-full of anonymously-sourced mistruths, America is a nation in decline. President Trump is focused on Saving America, and there's nothing the Fake News can do about it."
4. The future of car dealers
Carmakers are delivering an ultimatum of sorts to their franchised dealers: Evolve and invest for the electric-vehicle era, or say goodbye, Axios' Joann Muller writes from Detroit.
Ford dealers have until the end of October to decide whether to invest up to $1.2 million on chargers and other EV-related services.
The automaker wants its dealer network to serve double duty as a public charging network. Those who refuse won't be allowed to sell future Ford EVs. They'll have a second chance to get on board in 2027.
Other brands, including GM and Hyundai, are demanding similar changes.
Why it matters: They all want to compete with disruptive EV makers — looking at you, Tesla — which sell directly to consumers.
🔋 The intrigue: Some experts say automakers are using the shift to EVs as a way to thin their dealer ranks.
When GM presented a similar choice to its 900 Cadillac dealers in 2020, more than a third opted for a buyout instead. The rest are all-in on EVs.
🖼️ The big picture: Car dealers are raking in profits, because pandemic-related supply chain disruptions mean they have fewer cars to sell and can charge higher prices.
Meanwhile, EVs are becoming more popular. They now account for about 5% of new car sales.
🥊 Reality check: Carmakers insist their dealer networks can be an asset in the EV era, because of their physical locations and existing customer relationships. But those dealers have lots of work to do before they're EV experts.
5. 💬 Musk text trove
Newly disclosed text messages between Elon Musk and Twitter CEO Parag Agrawal show the two men briefly bonded in the spring over their love of engineering.
But then Musk tweeted on April 9: "Is Twitter dying?"
Why it matters: That soured a relationship that bloomed around the time Twitter offered the billionaire Tesla CEO a board seat, after learning he had purchased a huge stake in the company, AP writes.
6. Iranians flock to anti-censorship tools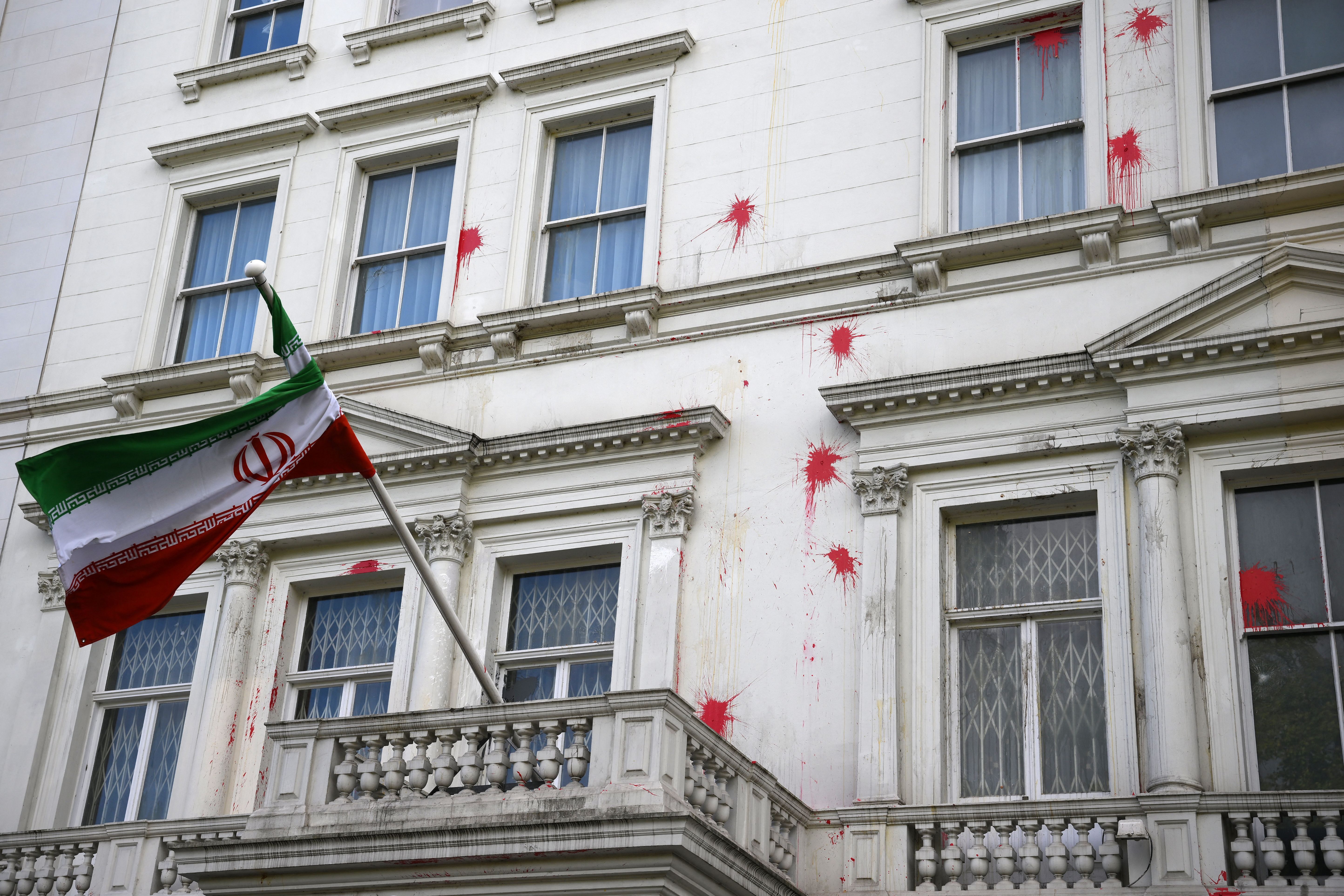 Iranian citizens are flocking to tools designed to help citizens of blacked-out nations connect to the internet, as their government tries to squelch protests, Axios' Ashley Gold, Margaret Harding McGill and Scott Rosenberg report.
"Daily demand for virtual private network (VPN) services in Iran is up over 3,000% compared to before the protests," Simon Migliano, head of research at Top10VPN.com, told Axios via email.
"This is a massive spike, given that demand was already healthy before the social media shutdown."
Google says its Jigsaw subsidiary's open-source Outline tool has seen a spike in demand from Iran this week, per data shared exclusively with Axios.
Outline allows third parties to set up secure VPNs that are resistant to disruption and censorship efforts.
Reality check: VPNs and related tools can route around government blockages of specific services but can't aid users when the government has simply shut down basic internet access.
7. 🇬🇧 King coins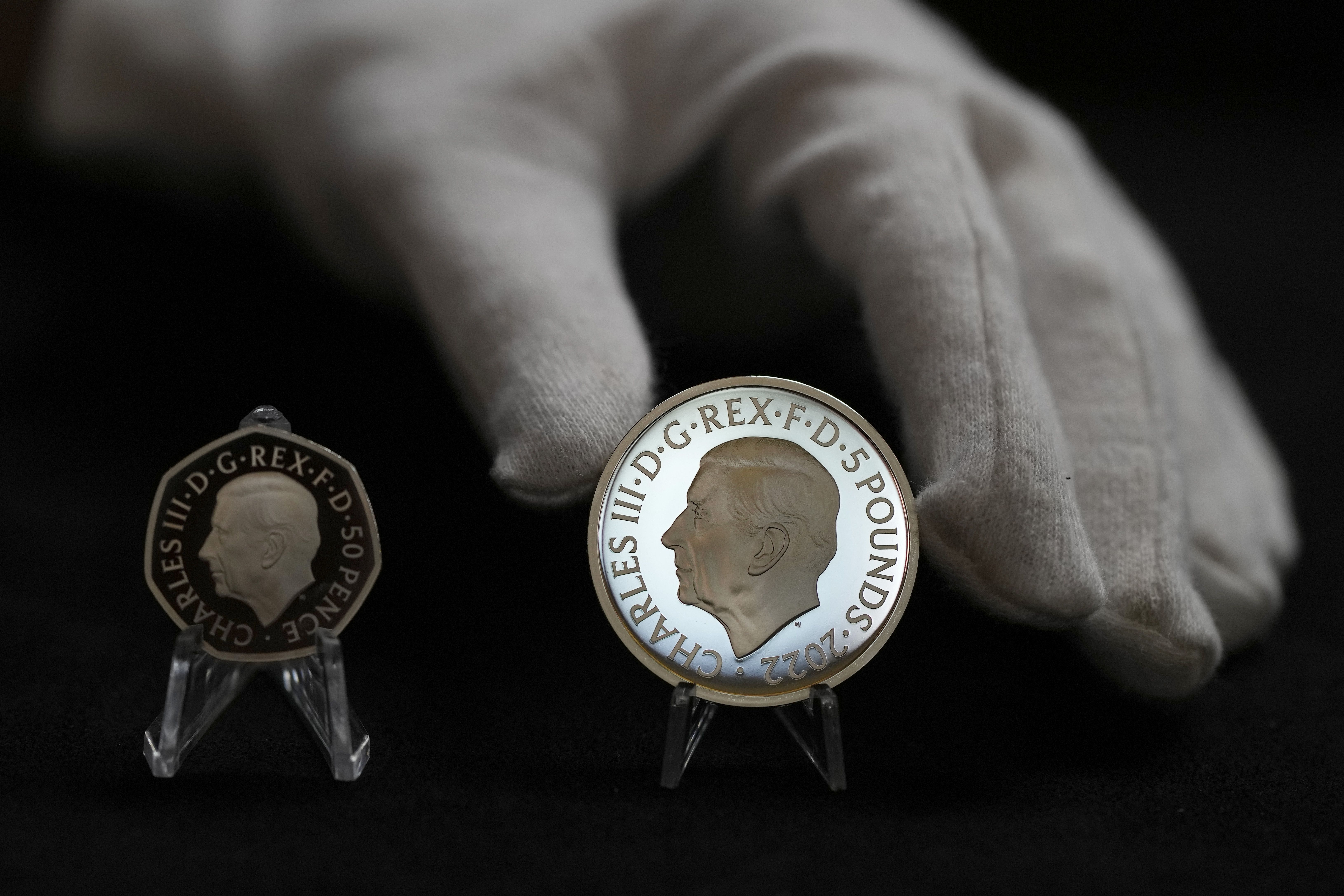 The Royal Mint unveiled the first coins bearing the portrait of King Charles III:
On the left is the 50-pence coin. At right is a 5-pound commemorative coin.
A Latin inscription says: "King Charles III, by the Grace of God, Defender of the Faith."
The likeness was created by British sculptor Martin Jennings, and was approved by the king. (Keep reading.)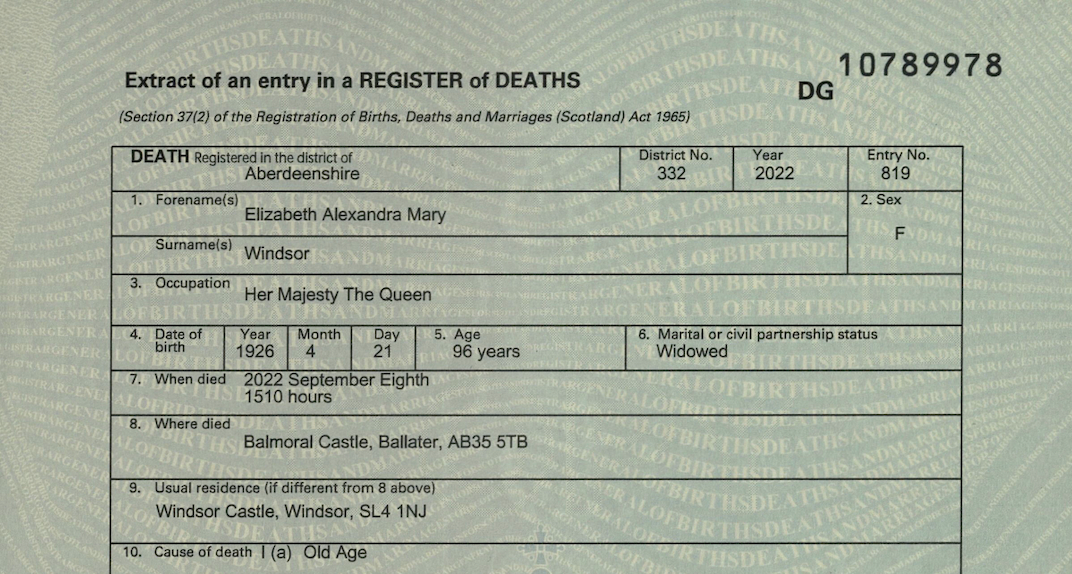 👑 Scottish authorities released the death certificate of Elizabeth Alexandra Mary Windsor, "Occupation ... Her Majesty The Queen."
"Cause of death .... Old Age."
8. 📺 Trevor Noah leaving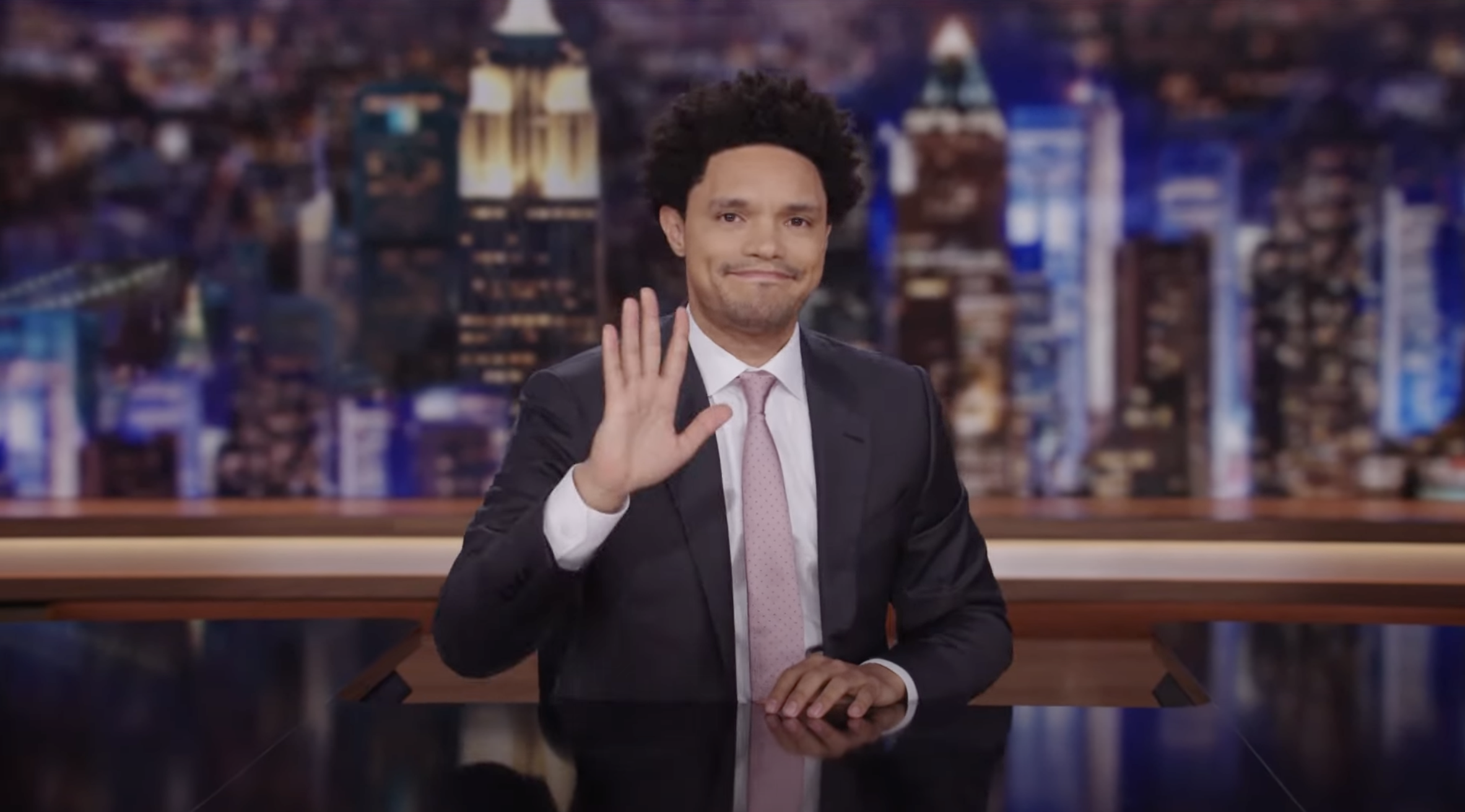 Trevor Noah, host of "The Daily Show" on Comedy Central, said he'll leave the program after hosting it for seven years, indicating he wanted to dedicate more time to stand-up comedy, Reuters reports.
"I spent two years in my apartment [during COVID], not on the road," he told his studio audience, which gave him a standing ovation.
"Stand-up was done. And when I got back out there again, I realized that there's another part of my life that I want to carry on exploring."
The 38-year-old comedian — who was born in South Africa and moved to the U.S. in 2011 — had big shoes to fill when he took over in 2015 after the exit of longtime host Jon Stewart.
He quickly established himself with his own brand, suited for an era where online influence was often greater than that of content on cable.
🔮 What's next: Comedy Central told Variety there is no timetable for his departure but suggested the show would continue with another host.
📬 Invite your friends to sign up to get their daily essentials — Axios AM, PM and Finish Line.