Axios AM
January 25, 2019
⚡ 1 big thing: Roger Stone indicted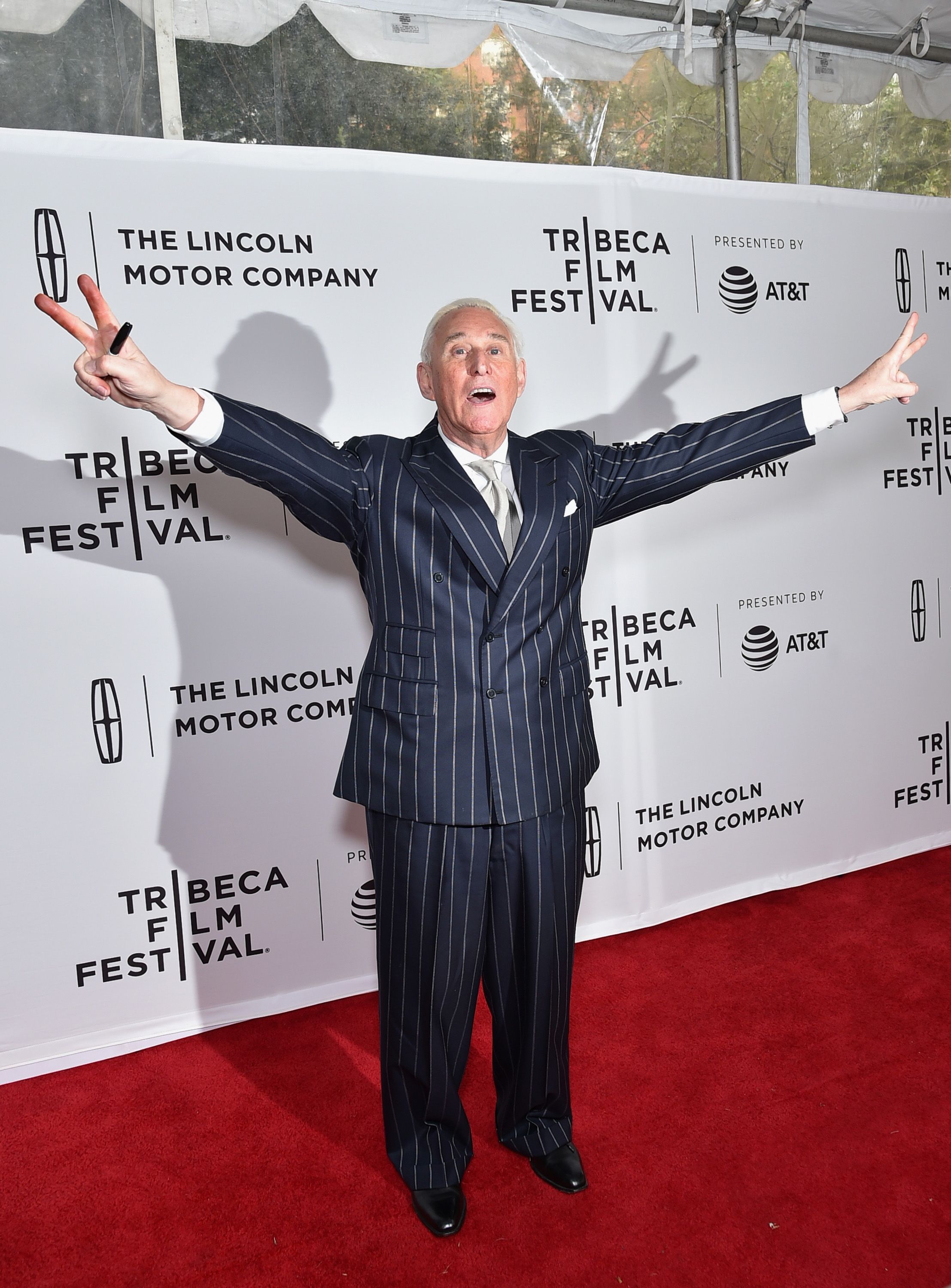 Former Trump campaign adviser Roger Stone was arrested in Fort Lauderdale, Florida early this morning, following an indictment yesterday in D.C., according to special counsel Robert Mueller's office.
"The indictment, which was unsealed upon arrest, contains seven counts: one count of obstruction of an official proceeding, five counts of false statements, and one count of witness tampering," Mueller's office said.
From the indictment: "During the summer of 2016, STONE spoke to senior Trump Campaign officials about Organization 1 [Wikileaks] and information it might have had that would be damaging to the Clinton Campaign. STONE was contacted by senior Trump Campaign officials to inquire about future releases by Organization 1."
"After the July 22, 2016 release of stolen DNC emails by Organization 1, a senior Trump Campaign official was directed to contact STONE about any additional releases and what other damaging information Organization 1 [Wikileaks] had regarding the Clinton Campaign."
"STONE thereafter told the Trump Campaign about potential future releases of damaging material by Organization 1," Wikileaks.
2. The 99% voter: Eat the rich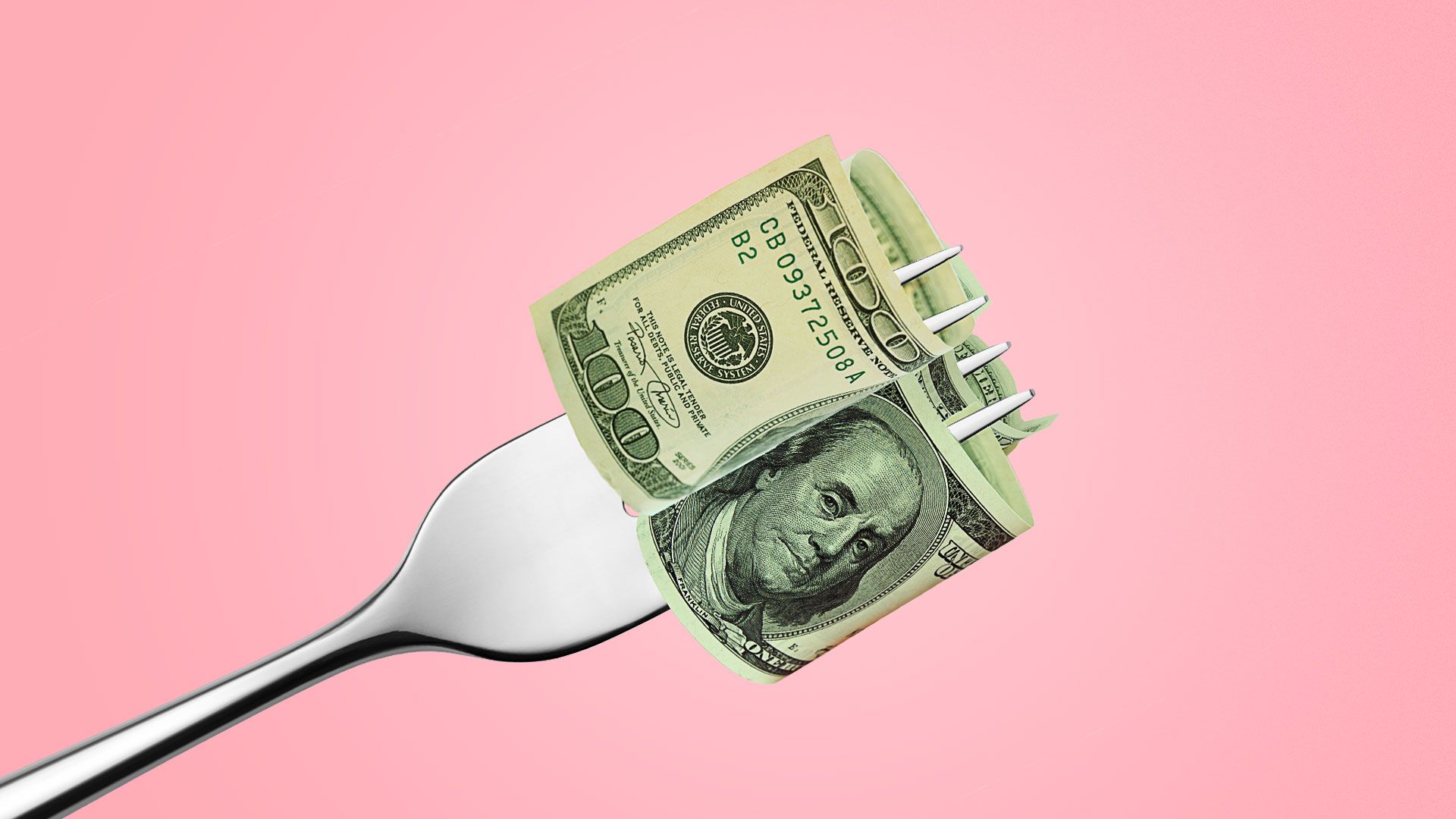 The "wealth tax" proposed by Sen. Elizabeth Warren reflects the fact that income inequality has become an early battleground of the 2020 campaign, Axios' Dan Primack and Felix Salmon report. 
Why it matters: This is new in American politics, pushed by rising awareness of — and efforts to weaponize — the top 1%.
At the same time, the left has more of a platform than ever, with liberal ideas dominating the primary so far, and Democrats now in control of the House.
Driving the news: The Washington Post, citing an economist advising Warren, reports that she will propose a new annual "wealth tax" on Americans with more than $50 million in assets:
"Emmanuel Saez and Gabriel Zucman, two left-leaning economists at the University of California, Berkeley, have been advising Warren on a proposal to levy a 2 percent wealth tax on Americans with assets above $50 million, as well as a 3 percent wealth tax on those who have more than $1 billion."
The backdrop: The economy is technically as strong today as it has been in years, particularly the labor market.
But that's perhaps the problem: Many people see all these good numbers and wonder why they're still struggling so much economically, and what will happen when things turn south: "If this is the best case scenario ... uh-oh!"
So this is a way for Democrats to harness economic anxiety, as Trump did on the other side in 2016.
Be smart: 2020 could be the first presidential campaign in our lifetimes in which "the rich" genuinely have something to fear from one of the final candidates. 
3. GOP senators clash over shutdown in private lunch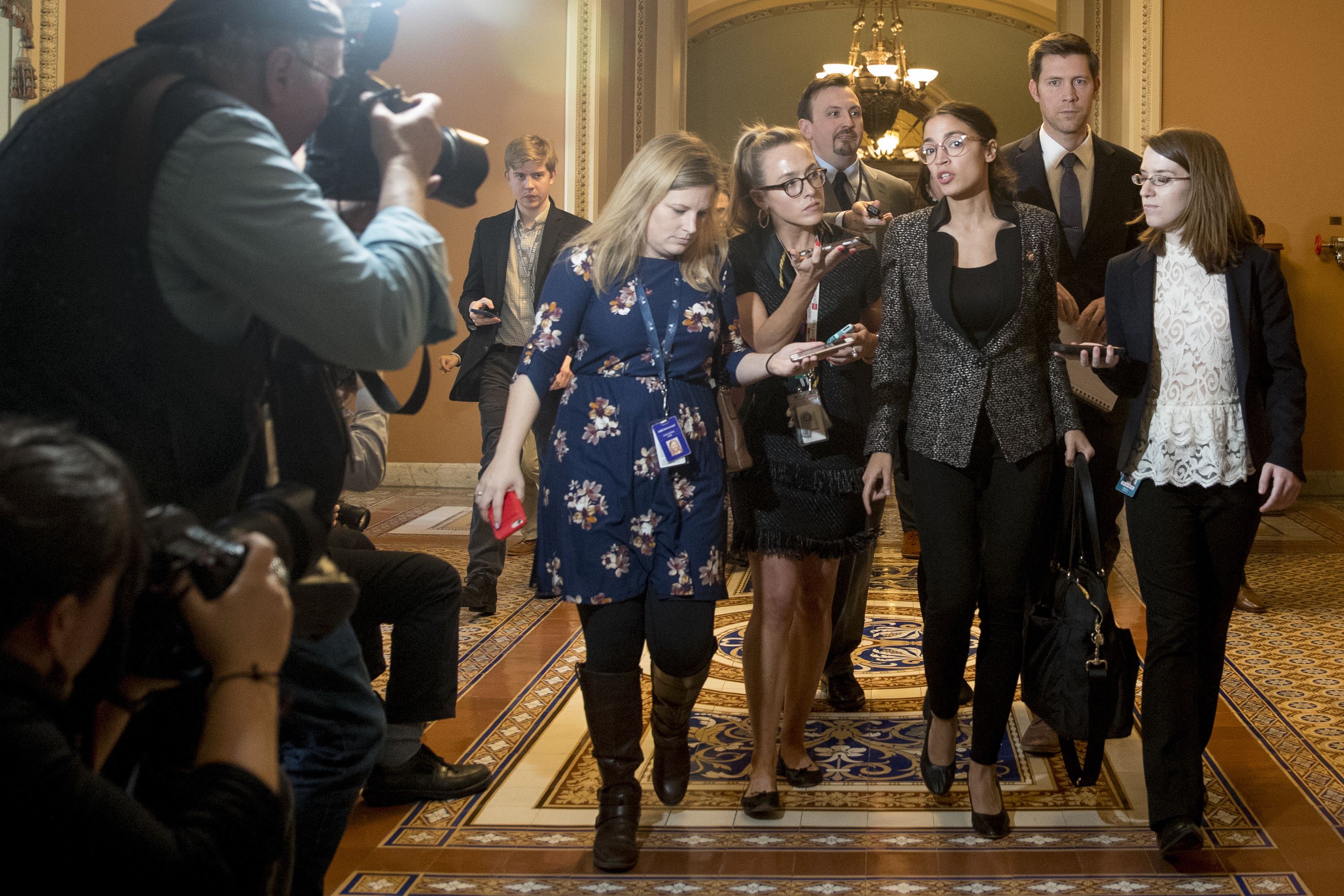 "Republican senators clashed with one another and confronted Vice President Pence inside a private luncheon [yesterday], as anger hit a boiling point over the longest government shutdown in history," the WashPost's Sean Sullivan and Paul Kane report:
"This is your fault," Sen. Ron Johnson (R-Wis.) told Majority Leader Mitch McConnell.
"Are you suggesting I'm enjoying this?" McConnell snapped back.
Why it matters, per The Post: "The outbursts highlighted the toll the shutdown has taken on Republican lawmakers, who are dealing with growing concerns from constituents and blame from Democrats."
At the same time, the GOP senators are "facing pressure from conservatives to stand with Trump in his demand for money to build a wall."
4. Visualizing the insane news cycles
The migrant caravans managed to keep a persistent level of American attention amid last year's whirlwind news cycles — as you can see in this data collaboration by Google Trends and Schema Design, in partnership with Axios.
Stormy Daniels, on the other hand, saw a fast spike in interest that almost immediately dissipated, Axios' Stef Kight writes.
Hurricanes Michael and Florence tied the most overall search traffic.
The midterms had the longest-lasting surge in search interest — 43 days.
5. "The news is dying, but journalism will not"
A bright spot for journalism, at a time when trust in media is down, and reporters are (often rightly) flagellating themselves ... "Trump's policy conduct since taking office ... has ... been a forcing mechanism for good reporting," Peter Hamby, host of Snapchat's "Good Luck America," writes for Vanity Fair:
"His brazenness has prompted newsrooms to grind out some of the best journalism in years."
"Trump's secrecy around policy-making has prompted reporters to dig even deeper into the budget cuts and decision-making at his Cabinet agencies."
"His audacity around policy-making has sparked mass public convulsions and impressive media coverage of family separations at the U.S-Mexico border, the impact of a trade war on farmers across the country, the threat of coastal communities sinking into the rising and warming oceans, the real-life impact of the ... shutdown."
Be smart: Like "a lot of journalist-on-journalist combat these days, [the] debate about horse-race reporting versus policy reporting feels too small."
"The conversation that should concern everyone, in both media and politics, is not about what gets covered. It's about what gets attention."
6. Coming to a TV near you: personalized ads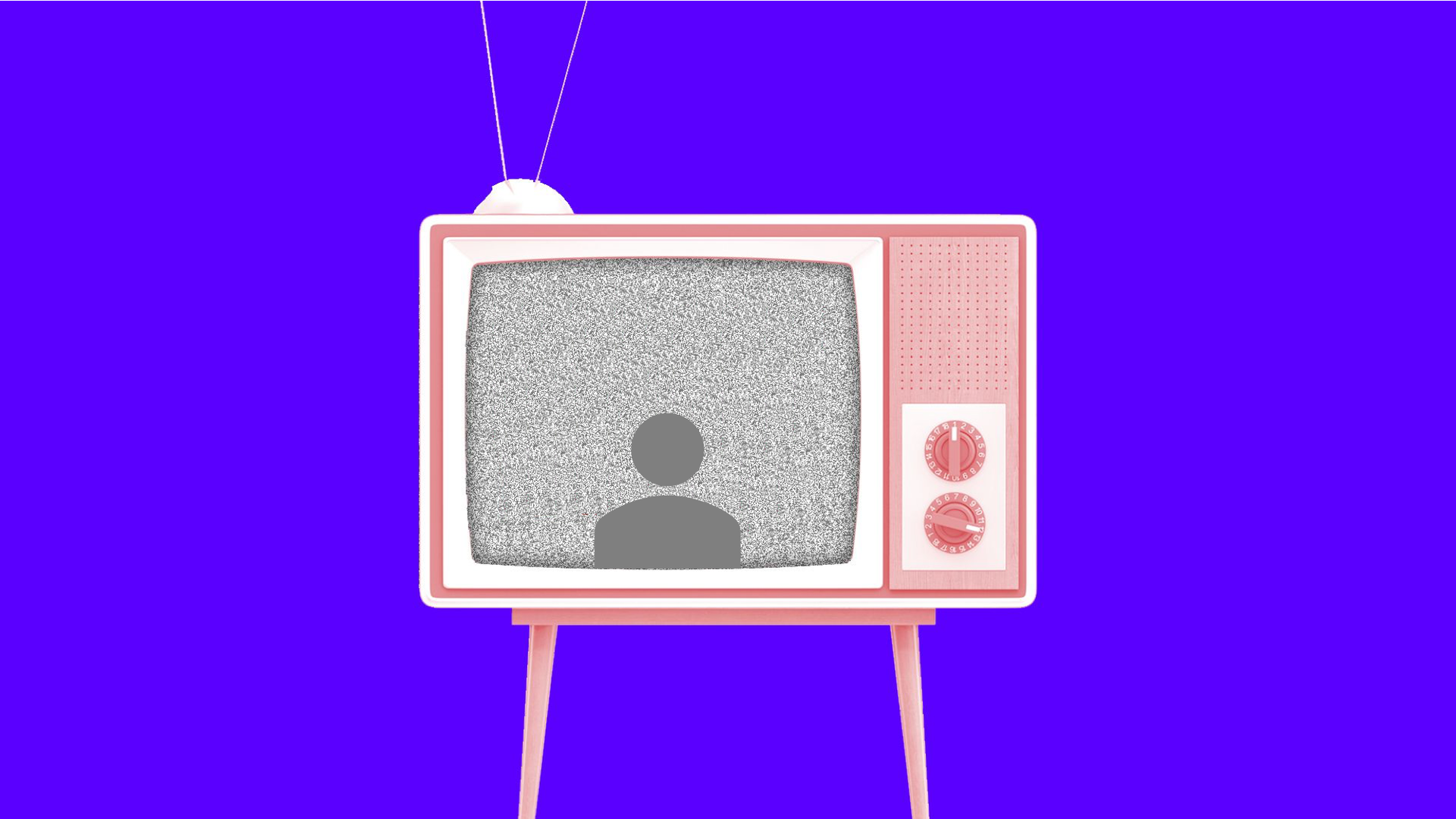 The hottest new trend in TV tech — and an exciting experiment for political campaigns — is "addressable" ads, or TV ads that can be targeted to specific households via user data, Axios' Sara Fischer writes.
By the end of this year, almost every major TV network and provider will have rolled out their version of an addressable ad product.
Why it matters: It's a huge departure from the way TV ads have been bought and sold for decades. Struggling networks hope personalized ads will make the TV experience better for users who are ditching TV for ad-free streaming services like Netflix.
Be smart: The TV industry knows it needs to make ads more innovative, so it doesn't keep losing viewers to ad-free services, and Google and Facebook.
How it works: TV networks and providers (cable and satellite companies or digital TV companies like Hulu) are using data from set-top boxes (the box you get from your cable company with the blinking lights), combined with data from digital networks (produced as you browse the web), to target ads to you.
These ads tend to cost less because they reach a smaller, more targeted group.
So smaller businesses can afford to buy national TV ads for the first time.
And you may start seeing TV ads from brands that you'd normally only see on social media, like Dollar Shave Club, as well as big brands like Target.
The bottom line: Personalized TV ads are the next big thing, but it'll be a while before most TV ads are sold that way.
7. Robots to hit heartland hard
The robot divide: A Brookings study finds that a "familiar group of manufacturing-heavy states like Wisconsin, Ohio and Iowa, whose support swung the [election] for Trump, ... have among the largest share of jobs, around 27 percent, at 'high risk' of further automation in coming years," per Reuters.
Why it matters, from Axios' Erica Pandey: As middle- and low-wage jobs in the American heartland disintegrate further, the national anger and polarization fueled by an urban–rural divide will only deepen.
The next crop of vulnerable jobs — including middle-wage occupations like trucking and administrative office work, as well as lower-wage jobs like waiting tables and farming — are scattered all over the country, but the highest concentration is once again in the heartland, according to the report.
8. Steam goes out of globalization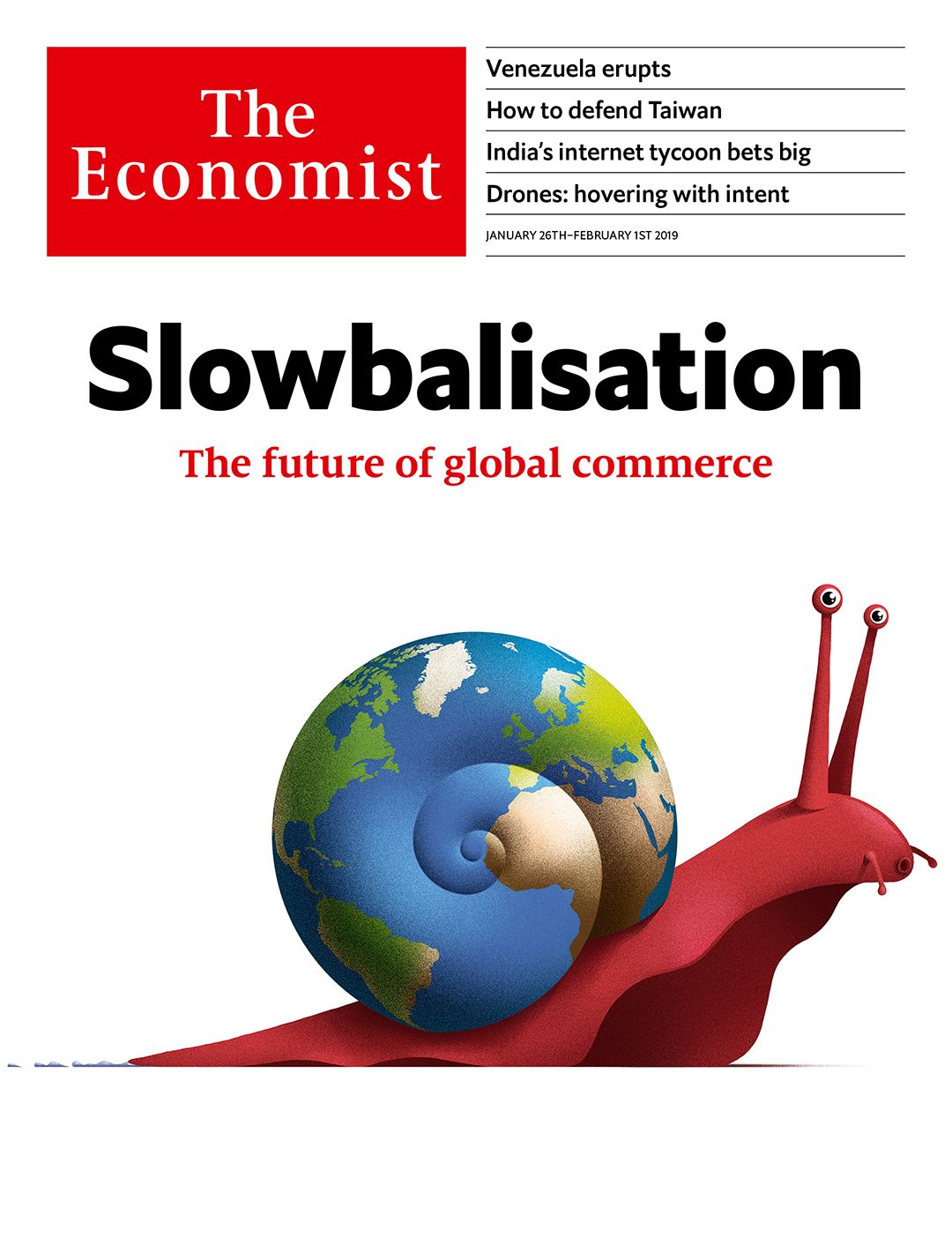 "Today's trade tensions are compounding a shift that has been under way since the financial crisis in 2008-09," The Economist writes in its cover editorial:
"[C]ross-border investment, trade, bank loans and supply chains have all been shrinking or stagnating relative to world GDP."
Globalization "has given way to a new era of sluggishness. Adapting a term coined by a Dutch writer," The Economist calls it "slobalization."
The golden age of globalization was 1990-2010:
"The new world will work differently."
"The integrated world's neglected problems have now grown in the eyes of the public to the point where the benefits of the global order are easily forgotten."
9. Mitt Romney, "Mr. President"
Scoop: Sen. Mitt Romney (R-Utah) finally gets to be called "Mr. President."
At tomorrow night's Alfalfa dinner, one of Washington's most exclusive annual events, the freshman senator will be named the club's new president.
The other speaker, as outgoing president, will be John Kerry.
The Gridiron Club, made up of top D.C. journalists, told members that the Republican speaker at the spring dinner on March 2 will be Sen. John Kennedy of Louisiana, and the Democrat will be Sen. Amy Klobuchar of Minnesota.
10. 1 🎬 thing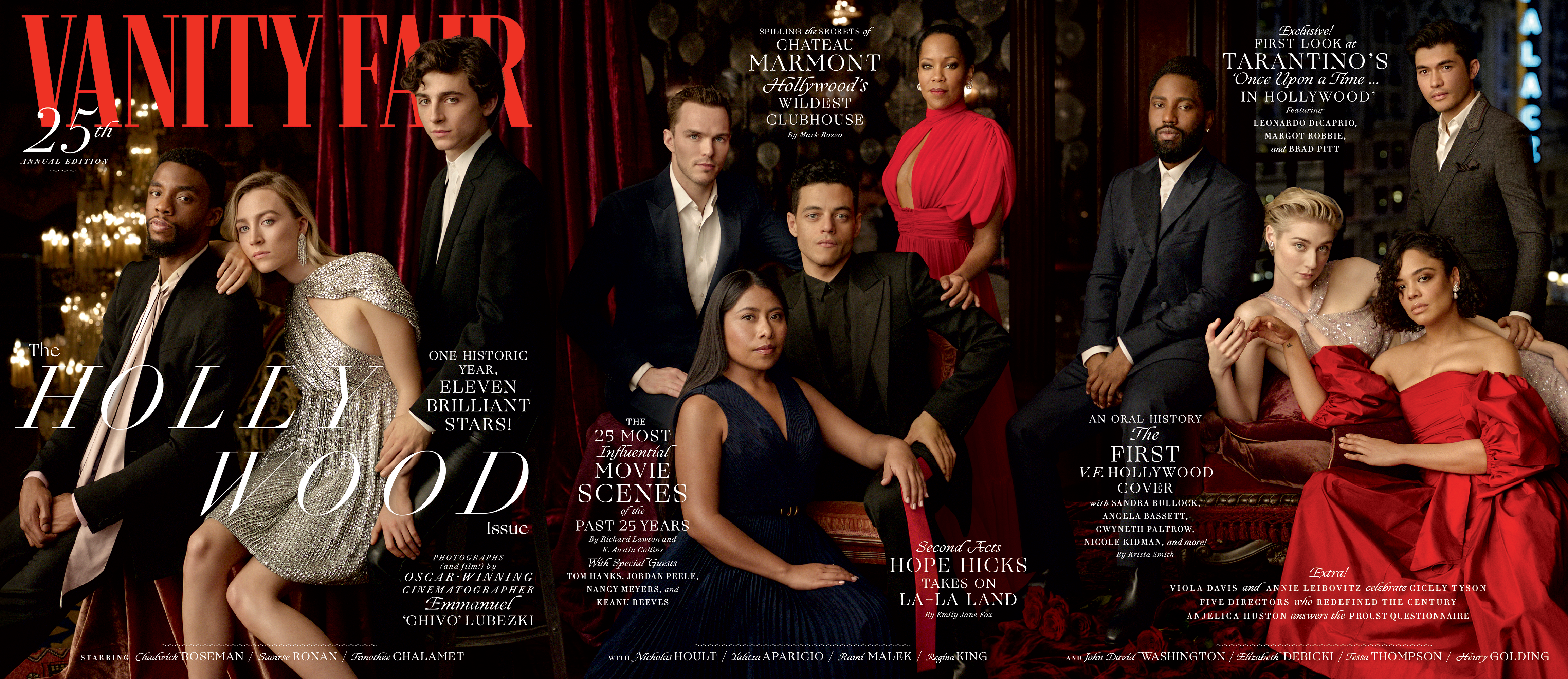 Vanity Fair editor Radhika Jones writes that the magazines' 25th Annual Hollywood Issue aims to celebrate "the brilliance of this moment—the power, glamour, and potential inherent in the movies right now":
This was a record year for U.S. box office, led in part by "Black Panther," which took in more than $700 million of a total $11.9 billion North American gross. It was a landmark year for diversity in casting, as "Crazy Rich Asians" became the first major Hollywood production with an all-Asian cast since "The Joy Luck Club," in 1993.
It was a solid year for black male directors, who helmed 16 of the top 100 films, according to a study by U.S.C. Annenberg. It was not a great year for female directors, the study reports. One year after the founding of Time's Up, equity and equal opportunity in Hollywood still have a long way to go.