August 03, 2018
Happy Friday!
🚀 Situational awareness ... "Bezos throws cash, engineers at rocket program as space race accelerates," Reuters' Eric Johnson reports: "Amazon.com founder Jeff Bezos is racing to pull his private space company out of start-up mode and move into production."
1 big thing: A "pervasive" new worry for campaigns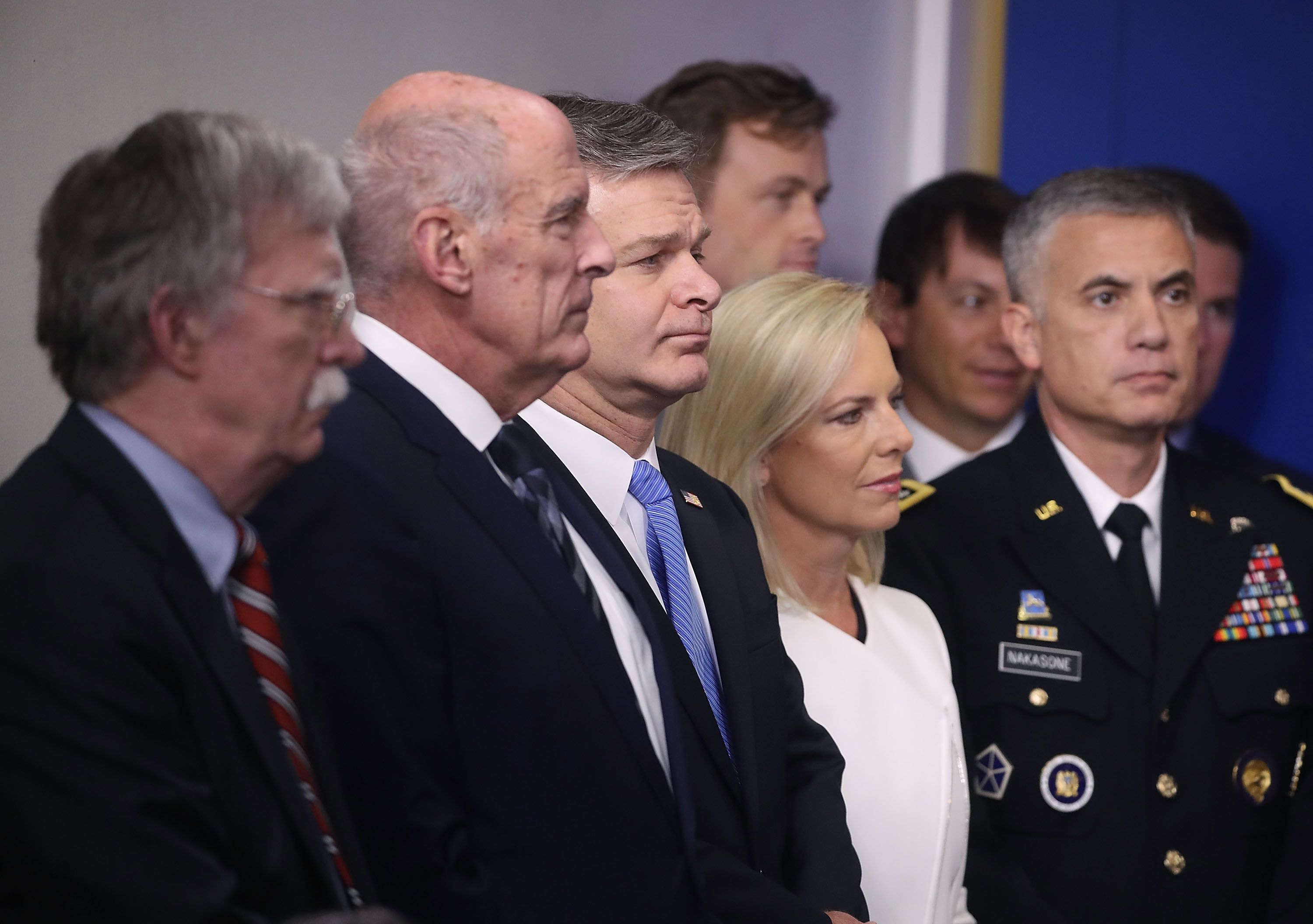 Social media misinformation campaigns are now a permanent fight for candidates and officeholders, and will just get worse with the AI-driven deepfake technologies, which make it easy to phony up images, audio and video.
An aide to Sen. Kamala Harris (D-Calif.) tells AP that every month for the last 18 months, her office has discovered an average of three to five fake Facebook profiles pretending to be hers.
Some of that could just be political opponents or profiteers, but Sen. Claire McCaskill (D-Mo.) last week said Russian hackers tried unsuccessfully to attack her Senate computer network in 2017: "Putin is a thug and a bully."
The takeaway, from AP: "[C]ampaigns are largely on their own in the increasingly challenging task of protecting sensitive information and countering false or misleading content on social media."
Partly because of rising questions from Capitol Hill, the administration is trying to show that it's paying attention, despite contradictory signs and seeming nonchalance by President Trump.
Check out the photo above. Rarely do you publicly see this many national-security officials in one place. And it's even rarer for it to be in the White House briefing room, where most of the daily jousting is over inches.
The officials came together yesterday to warn anew about a hidden war by Russia on U.S. campaigns and elections, and to say that they're on it:
Director of National Intelligence Dan Coats: "In regards to Russian involvement in the midterm elections, we continue to see a pervasive messaging campaign by Russia to try to weaken and divide the United States."
Secretary of Homeland Security Kirstjen Nielsen: "Our democracy itself is in the crosshairs."
FBI Director Christopher Wray: "Just last week, ... we disseminated a list to our state and local law enforcement partners of various foreign influence indicators for them to be on the lookout for — things like malicious cyber activity, social abnormalities, and foreign propaganda activities."
National security adviser John Bolton: "We meet on this constantly, the senior staff here at the White House."
Russia isn't the only threat, Coats added: "We know there are others who have the capability and may be considering influence activities."
I asked a couple of Obama national-security alumni to read between the lines of this remarkable briefing:
Jeremy Bash, former chief of staff at the CIA and Pentagon: "The women and men who work in law enforcement, intelligence and the military expect their leadership to speak 'truth to power,' even if the President doesn't want to hear it. That's what happened today."
Matt Miller, former Justice Department spokesman: "It's pretty clear this press conference happened because the staff realized Trump did deep damage to his presidency in Helsinki and raised real doubts in people's minds about where his loyalties lie, and they convinced him they needed to signal to the American people that he is not actually in bed with the Russians."
Be smart, from Matt Miller: "You can't admit to Russian interference at the same time you are claiming the investigation that is holding Russians accountable is a witch hunt. ... So you will continue to see this dissonance."
2. Apple at $1 trillion
"Now the business founded by Steve Jobs and his pal Steve Wozniak in a Los Altos garage in 1976 truly stands alone," Bloomberg's Brad Stone writes:
"Apple Inc.'s market capitalization was a paltry $3 billion when Jobs returned to the wounded company in 1996, after it had acquired his startup, NeXT."
"Passing the $1 trillion mark a little more than two decades later puts an exclamation point at the end of a remarkable run of success — one that started with Jobs's introduction of the iMac, iPod, iPad, and, especially, the iPhone, and was extended by his successor, Tim Cook, who now presides over the most valuable business in modern history."
"The persnickety might also point out that long-defunct concerns such as the Dutch East India Co. and the South Sea Co. were much more valuable in their times, adjusted for inflation. And the planned initial public offering next year of Saudi Aramco, the state-owned petroleum company, could yield a market capitalization much bigger than Apple's."
"But ... Apple has crossed a psychological threshold as much as a numerical one. Its valuation is on par with the gross domestic product of Indonesia, the 16th-largest economy in the world. Apple operates at a scale that makes it hard for customers or even governments to hold it to account."
"As the lore (and Businessweek's own archives) can attest, Apple almost didn't make it here. 'The Fall of an American Icon' blared a bleak, all-black cover of the magazine in February 1996."
3. Gearing up for peace-plan rollout
"U.S. officials say the Trump administration is staffing up a Middle East policy team at the White House in anticipation of unveiling its long awaited but largely mysterious Israeli-Palestinian peace plan," AP's Matt Lee and Zeke Miller report:
"The National Security Council last week began approaching other agencies seeking volunteers to join the team, which will work for President Donald Trump's Mideast peace pointmen Jared Kushner and Jason Greenblatt."
"The team ... will comprise three units: one concentrating on its political and security details, one on its significant economic focus and one on strategic communications."
"The State Department, Pentagon, intelligence agencies and Congress have been asked to detail personnel to the team for six months to a year."
4. Ivanka Trump at Axios News Shapers event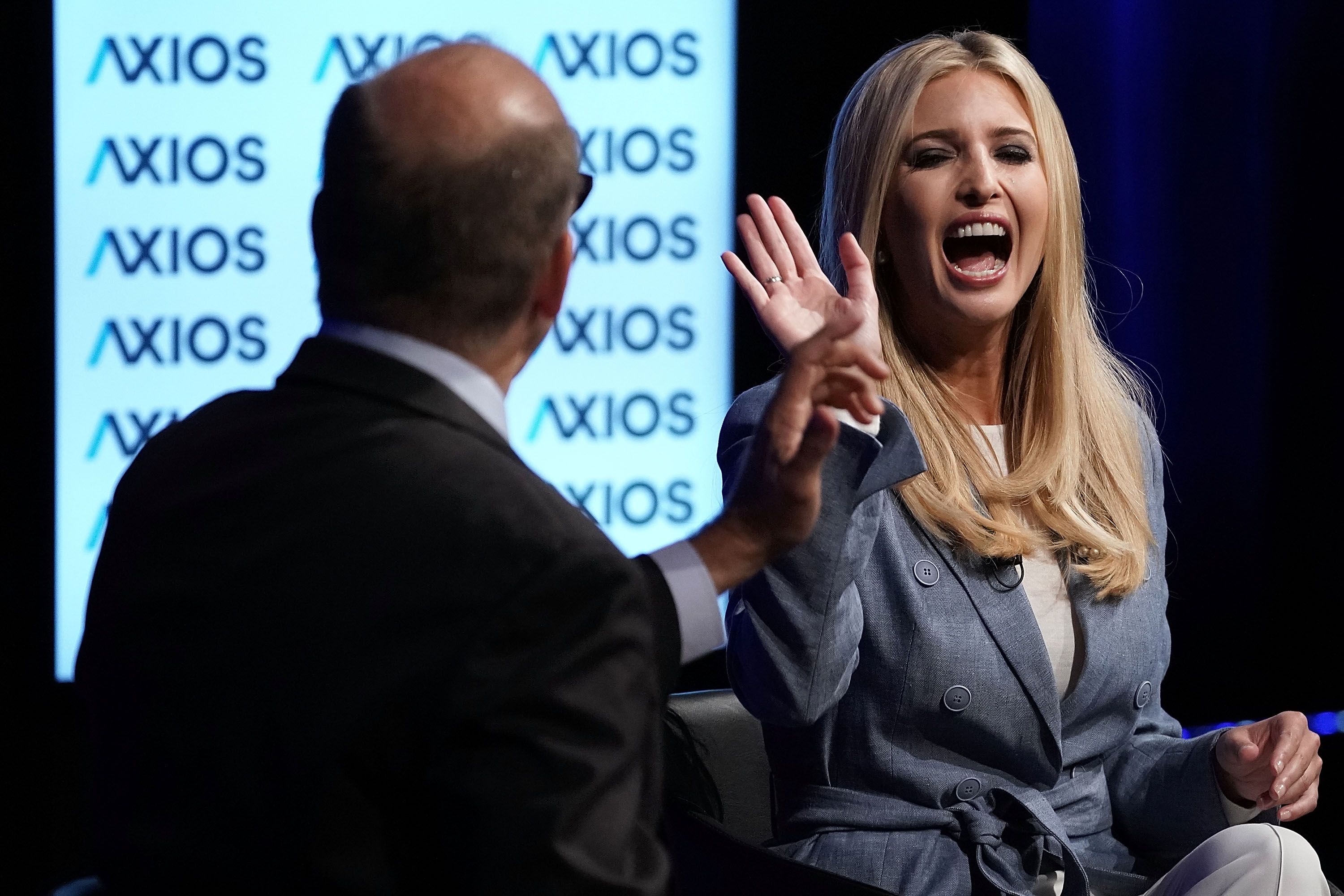 In my 12 years of hosting onstage newsmaker conversations, Ivanka Trump broke all the records yesterday with a standing-room-only crowd in the Newseum's largest theater, including many young women who waited around the block to get in to hear her advice about getting ahead in the new workplace:
"Early in your career is the easiest time to take a risk, to experiment, to find out what it is that you're deeply and truly passionate about. And one of the lessons that I've learned from all the people I have been privileged to know ... is the people who achieve the greatest accomplishments ... are always the ones who strive the hardest, work the hardest ... It's not intelligence. It's not natural aptitude. I've seen a lot of people with natural aptitude who plateau."
Ivanka Trump, on highs and lows in the White House:
"I actually had very little to do with it — Jared and the President were involved with this. But Alice Marie Johnson [the 63-year-old great-grandmother whose sentence for a nonviolent drug offense was commuted with help from Kim Kardashian West] — seeing her leave prison and run into the arms of her family. ... I watched on the internet and then I watched it on television.  ... I was crying."
When I asked her about child separation at the border: "Yes, that was a low point for me ... I feel very strongly about that, and I am very vehemently against family separation and the separation of parents and children. ... I am a daughter of an immigrant. My mother grew up in Communist Czech Republic, but we are a country of laws. ... [S]he came to this country legally, and we have to be very careful about incentivizing behavior that puts children at risk of being trafficked, at risk of entering this country with coyotes or making an incredibly dangerous journey alone."
5. Kavanaugh paper chase
"The National Archives and Records Administration said ... it won't be able to finish reviewing nearly 1 million documents regarding Supreme Court nominee Brett Kavanaugh's time in the George W. Bush White House until the end of October," AP's Lisa Mascaro writes:
That's "a potential roadblock in GOP hopes for confirmation before the November election."
"Republican leaders in the Senate [said they plan] to push forward ... next month, even if the documents are not fully available."
"They stress that the George W. Bush library is providing tens of thousands of pages from those same documents on a rolling, expedited basis."
Why it matters: "The paper chase over Kavanaugh's lengthy public record is emerging as a key battleground" between the parties.
6. Stat du jour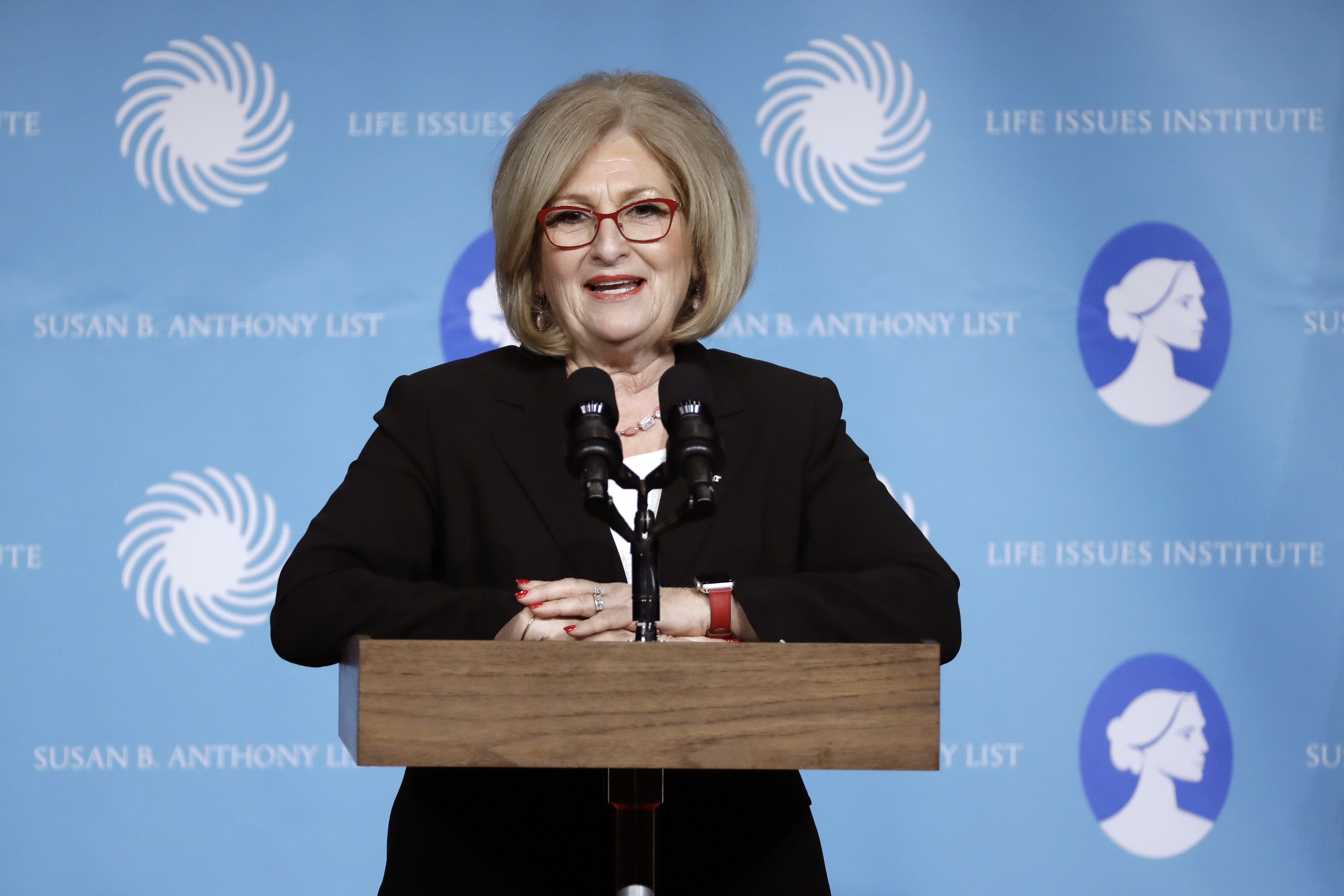 Rep. Diane Black (R-Tenn.), who gave up her seat in Congress to run for governor and was crushed last night by an underdog, became the fifth House GOP member to lose statewide this year, per Axios' Alexi McCammond.
In Republican primary for Tennessee governor, Black came in third behind businessman Bill Lee, described by The (Nashville) Tennessean as "arguably the biggest Cinderella story in Tennessee Republican politics in decades."
7. 🌊 Wave watch: Dems amp up Trump
First look ... "Russia, Immigration and Trade War Sticking to Trump" is the headline of a new polling memo for Priorities USA by Garin-Hart-Yang Research Group and Global Strategy Group:
"Trump's dealings with Vladimir Putin, his handling of immigration and the separation of children from their families, and the impact of his trade war have stuck with voters in a way nothing else has since the beginning of his presidency."
"In response to an open-ended question, voters volunteer in large numbers concerns about these issues."
Why it matters: "This translates into the worst ratings for Trump on his truthfulness, temperament, dealings with Russia, and immigration policies we have not seen in any of our eleven previous national tracking surveys on the Trump presidency."
The Democratic pollsters see opportunity with "the record of Donald Trump and the Republicans in giving large tax cuts to drug companies and health insurance companies while allowing them to raise drug prices and insurance premiums."
"Unlike Russia and immigration, voters won't hear about this as much in the press, meaning Democrats must continue to carry the message in paid media and on the campaign trail."
8. High-flying profits
"Investors came into this earnings season with high expectations. They weren't high enough," AP reports:
"Companies in the S&P 500 are on track to deliver earnings-per-share growth of 24 percent for the second quarter. When the quarter started in April, Wall Street was expecting a 19 percent jump."
The health-care industry, in particular, is on track for massive profits, Axios health care business reporter Bob Herman writes:
Company after company has posted profits that have exceeded Wall Street estimates, and most firms have raised profit estimates for the rest of 2018.
Fatter profits are due in part to growing sales of prescription drugs, medical devices, tests and procedures — that reflects both higher prices and more quantities sold.
But the larger earnings also stemmed from Republicans' massive cut in corporate taxes. The income tax expense for drug giant AbbVie, for example, was 93% lower in the second quarter this year.
9. Bite of the day
Kara Swisher makes her debut as a New York Times contributing opinion writer, "The Expensive Education of Mark Zuckerberg and Silicon Valley":
"[W]hat he never managed to grok then was that the company he created was destined to become a template for all of humanity, the digital reflection of masses of people across the globe. Including — and especially — the bad ones."
"He has ... spent the last month meeting over dinners with a range of academic experts on free speech, propaganda and more to try to understand where to go from here. Call it the education of Mark Zuckerberg and Silicon Valley, but on the world's dime."
10. 1 🏈 thing
A new era for college football: "Losing Is No Longer the Only Sin" ... The N.Y. Times' Marc Tracy points out "an unmistakable shift in big-time college sports":
"In earlier years, teams stomached just about anything from the head coach so long as he kept the victories coming. Losing was the only sin. Not anymore."
The new example is Ohio State head football coach Urban Meyer, who until this "was among the most valuable coaches in college football":
"He has shepherded Heisman Trophy winners and top draft picks, like Tim Tebow and Alex Smith, and has won relentlessly, guiding his teams at Florida and then Ohio State to three national championships since 2006."
"Then, in a matter of hours Wednesday, he became arguably the most radioactive coach in the game. Ohio State placed Meyer, 54, on paid administrative leave while it investigates whether he knew about domestic violence allegations against a longtime assistant.
Why it matters: "The move signaled that Meyer's immaculate on-field performance — and the $7.6 million salary he is slated to receive this year after signing an extension — may not be enough to save his job."
Thank you for reading, and see you all weekend on Axios.com.