January 06, 2022
⚜️ Good Thursday morning. Carnival season begins today in New Orleans. Smart Brevity™ count: 1,484 words ... 5 minutes. Edited by Noah Bressner.
⚡ From Statuary Hall in the Capitol at 9 a.m., President Biden will mark the first anniversary of the 1/6 attack by telling Americans: "The way forward is to recognize the truth and to live by it," Axios' Hans Nichols reports. Go deeper.
1 big thing: Inside the 1/6 conspiracy factory
Conspiracy theories about the Capitol insurrection continue to flood private messaging groups, social networks and even news outlets one year later, Axios' Ashley Gold and Sara Fischer report.
Why it matters: The lasting echo chamber of misinformation shows the long-term impact the event will have on future elections.
What's happening: The alt-right "Oath Keepers" community is active on MeWe, according to a report from the Atlantic Council's Digital Forensic Research Lab. "Proud Boys" leader Enrique Tarrio is active on Parler. "Stop the Steal" founder Ali Alexander frequently posts on Gab.
New posts on platforms like Patriots.win suggest the "undercover FBI" will be "looking to create false narratives" about candlelight vigils that are being promoted on right-wing forums for the people arrested for participating in the riots, whom they refer to as "political prisoners."
How it works: Bad actors and conspiracy theorists seed falsehoods on private messaging apps or conservative social apps. That misinformation is tested and iterated before making it to bigger web platforms.
A new report from NewsGuard, a service that uses journalists to rate news sites, found that the vast majority (81%) of 113 U.S. news websites that spread falsehoods in the aftermath of the 2020 election continue to spread false claims about the election and the Jan. 6 attack.
Rachel Moran, a postdoctoral scholar at the University of Washington's Information School said: "There's a demand for misinformation and so people are always gonna find a way to get it."
2. By the numbers: Jan. 6, one year on
The Justice Department has arrested 725 people, in nearly all 50 states, in connection with the insurrection, Axios' Shawna Chen reports.
The DOJ has "issued over 5,000 subpoenas and search warrants, seized approximately 2,000 devices, pored through over 20,000 hours of video footage, and searched through an estimated 15 terabytes of data," Attorney General Merrick Garland said yesterday.
Go deeper: More 1/6, by the numbers.
3. New testing worry
Here's yet another layer to America's COVID testing chaos:
People may not test positive on rapid nasal tests until after they're infectious. That would make the tests an unreliable measure of whether it's safe to gather, Axios' Caitlin Owens reports.
Why it matters: Rapid tests have been hailed as a way to weather the Omicron surge without mass disruption to everyday life. But they've been in short supply for weeks. Now new research — along with loads of anecdotal evidence — suggests there may be significant limitations to their usefulness with this variant.
What's new: A small preprint study released yesterday found that, among a case study of 30 people who took nasal rapid antigen tests and saliva PCR tests at the same time, four of them transmitted the virus following a false negative rapid antigen test.
The bottom line: The study builds on emerging evidence that saliva swabs may be better for detecting Omicron than nasal swabs.
🤯 Michael Osterholm, director of the Center for Infectious Disease Research and Policy at the University of Minnesota, frames it like so:
A, a shortage of tests. B, they may not be that accurate. C, mass confusion.
4. Our weekly map: COVID cases soar 225%
The number of new COVID cases more than tripled over the past two weeks, shattering records all across the U.S., Axios' Sam Baker and Kavya Beheraj report.
But COVID deaths are holding steady at 1,300 per day.
Why it matters: The Omicron variant appears to be significantly milder than its predecessors, and it's not leading to as much serious illness. But sky-high case counts are still a warning sign, especially in areas where health care systems are already stretched thin.
The U.S. is now averaging nearly 550,000 new cases per day — a 225% increase over the past two weeks, and by far the highest levels of the entire pandemic.
That's likely an undercount, as many people are testing themselves at home.
Between the lines: In previous waves, a sharp increase in cases would translate into a similar increase in hospitalizations, then deaths. Omicron, however, appears to cause severe illness at a much lower rate.
5. Charted: Top-selling U.S. cars
Toyota became the best-selling automaker in the U.S. in 2021, passing GM for the first time with strong sales of hybrid vehicles and SUVs.
6. Axios interview: Georgia Gov. Brian Kemp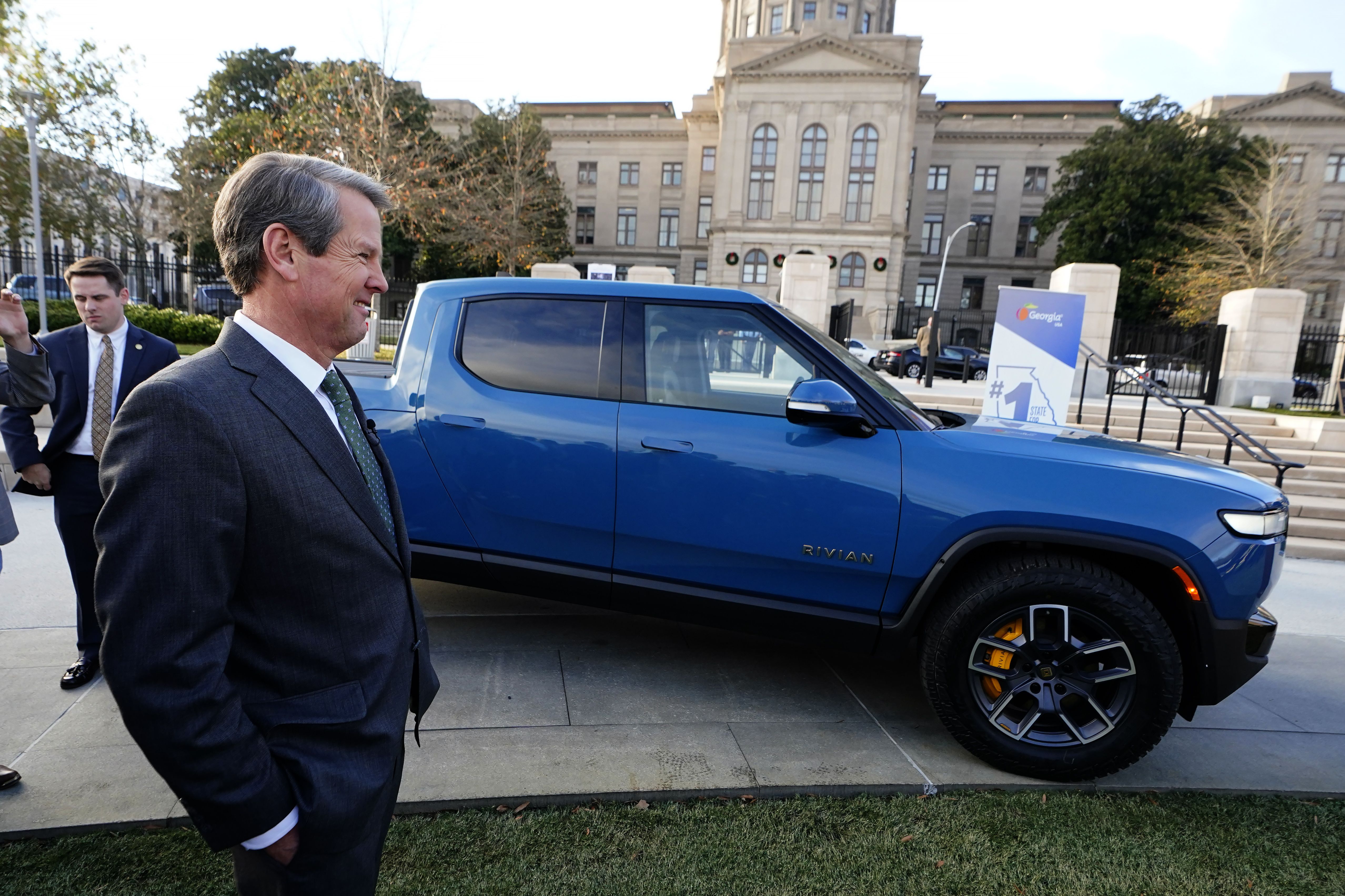 Georgia Gov. Brian Kemp (R) tells Emma Hurt of Axios Atlanta he stands by his condemnation of the 1/6 attack as a "disgrace," as well as his certification of Joe Biden as the election winner.
But Kemp said he has continued to "thank" former President Trump for "all the things that he did to help Georgia. I have never said a bad word about him."
The context: Kemp has been one of Trump's top targets in the wake of the 2020 election, which the governor refused to overturn. Now, he's facing a major primary challenge from former Sen. David Perdue, who's backed by Trump.
What's next: In Georgia's upcoming legislative session, Kemp is prioritizing a major expansion of gun access in Georgia to allow people to carry guns without a permit.
7. Great lives: Oldest U.S. veteran of World War II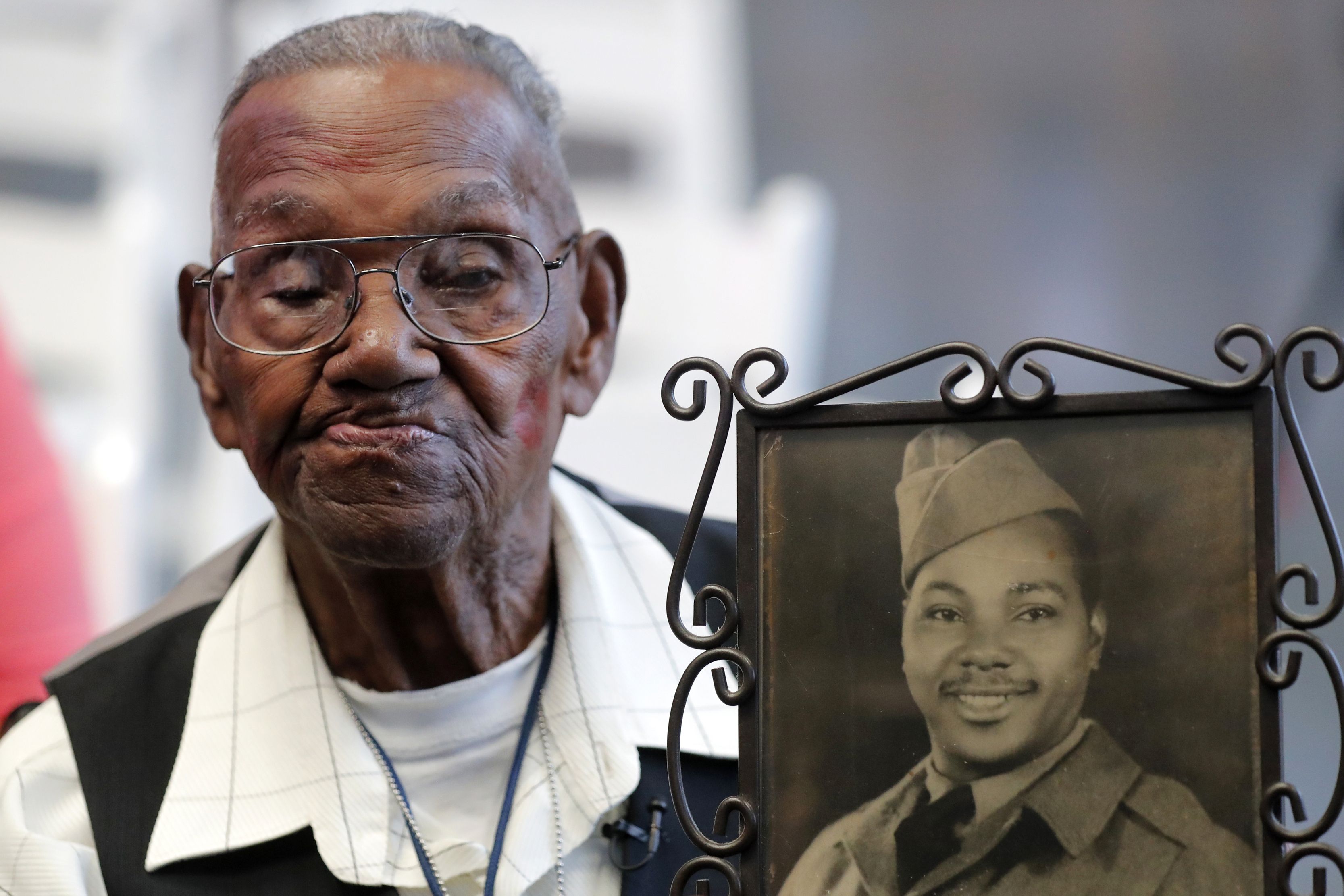 Lawrence N. Brooks, the oldest World War II veteran in the U.S. — and believed to be the oldest man in the country — died in New Orleans yesterday at age 112, AP reports.
Brooks, born on Sept. 12, 1909, was known for his good-natured sense of humor, positivity and kindness. When asked for his secret to a long life, he often said: "serving God and being nice to people."
Brooks was working at a sawmill when he was drafted into the U.S. Army in 1940. After Japan's attack on Pearl Harbor, he was assigned to the mostly Black 91st Engineer General Service Regiment, stationed in Australia.
War story: He often told the story about a time when he was a passenger in a C-47 aircraft delivering a load of barbed wire to the front when one of the transport plane's engines went out.
After they dumped the cargo to conserve weight, he made his way to the cockpit. He told the pilot and co-pilot that since they were the only two with parachutes, if they had to jump for it, he was going to grab on to one of them.
Video: President Biden yesterday tweeted a video of his call to wish Brooks happy Veterans Day last year.
Biden said: "[H]e was truly the best of America."
8. 📷 A photog remembers Jan. 6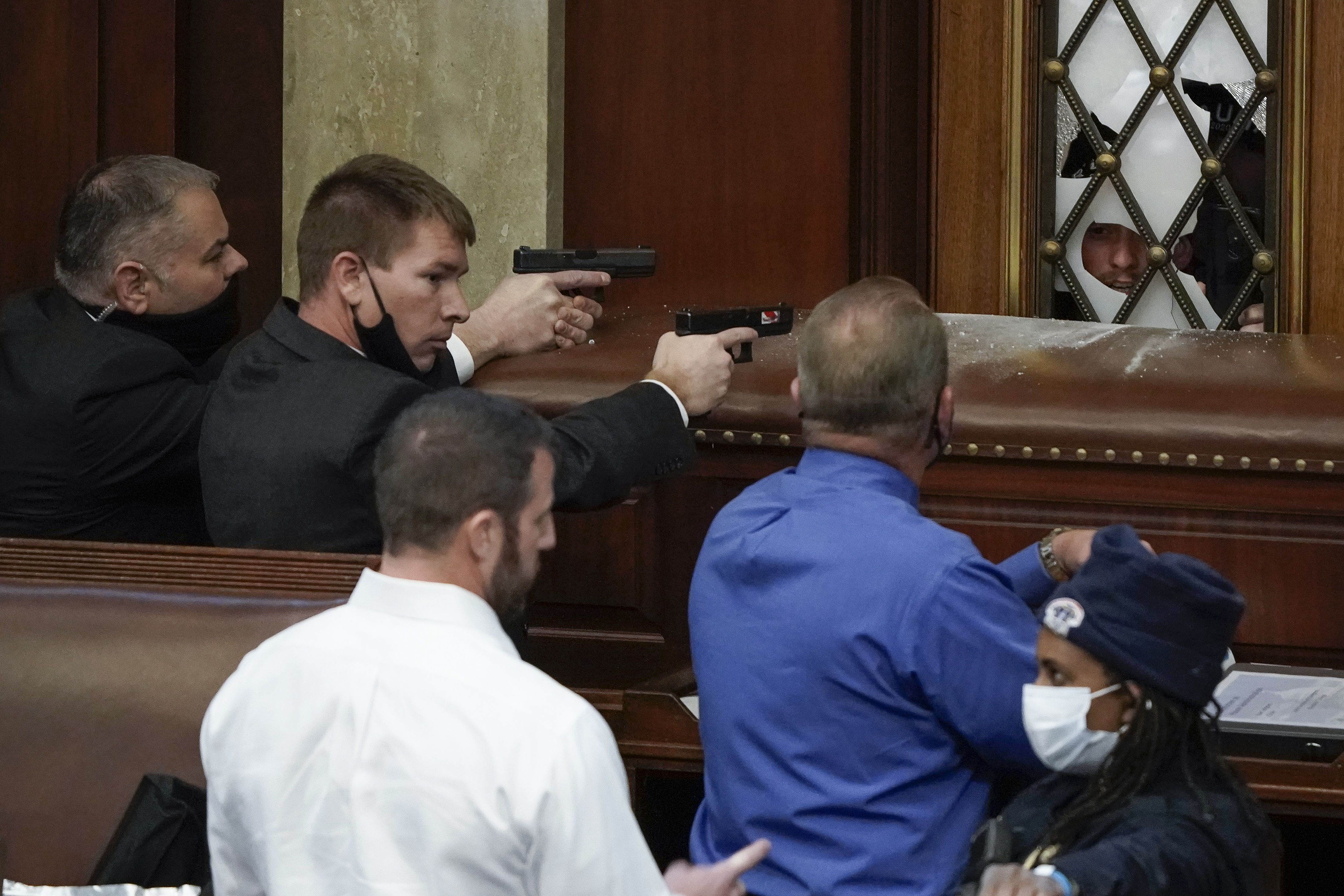 AP photographer J. Scott Applewhite — who has covered seven administrations since 1981, and marked his 40th anniversary with AP the day before the Capitol attack — recalls what it was like, a year ago today:
"Glass was breaking in the main door to the chamber of the House of Representatives — the very door where you see the president enter for the State of the Union address."
"Quickly, the police and a few lawmakers grabbed benches and cabinets and barricaded the door. ... You could hear the growl of the mob just outside."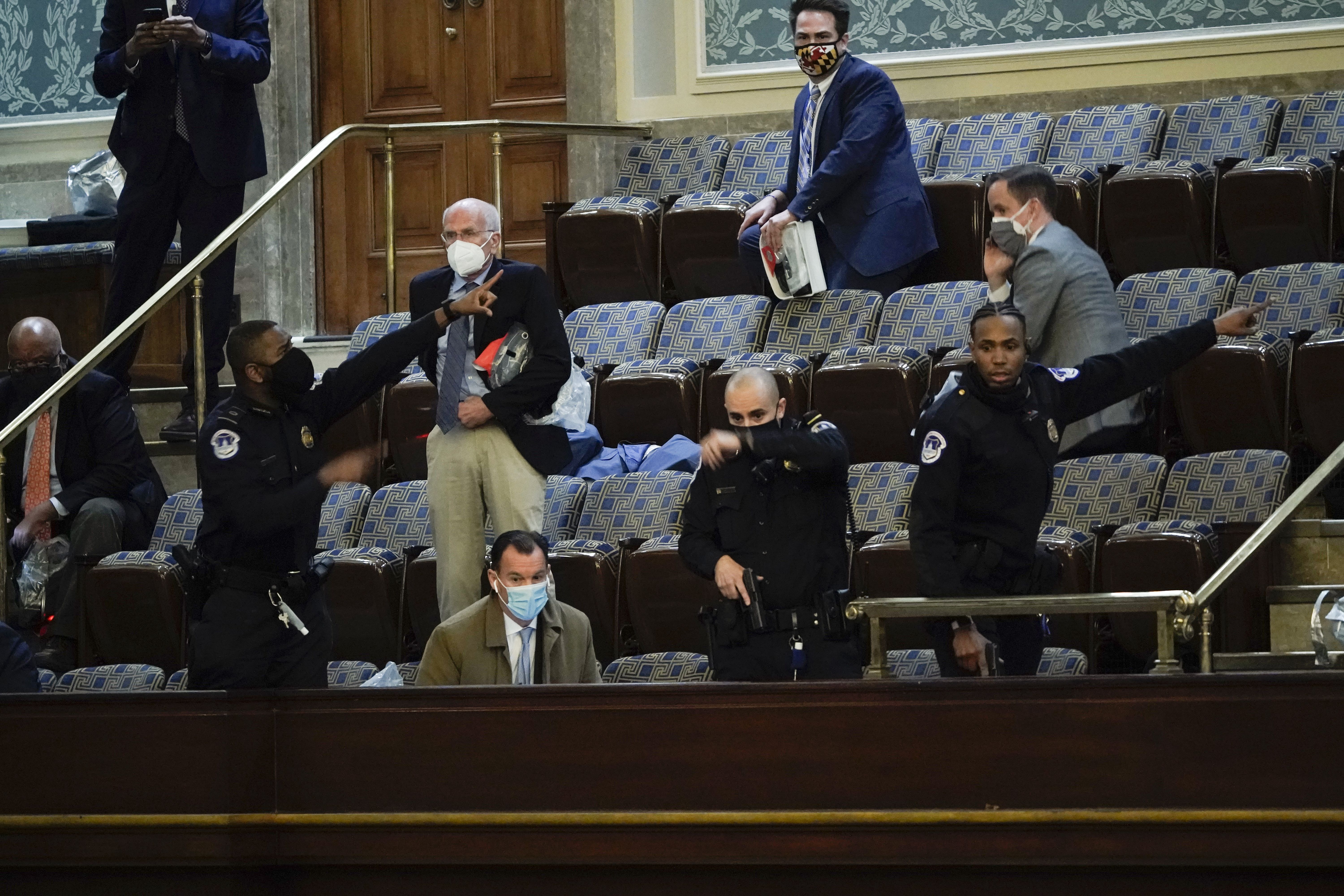 "Eventually, the officers announced that tear gas had been deployed in the nearby Rotunda," Applewhite writes.
"All were instructed to don escape hoods that were stashed under the seats. That was part of the preparedness in the wake of 9/11. I didn't put one on because I needed to see to use my camera."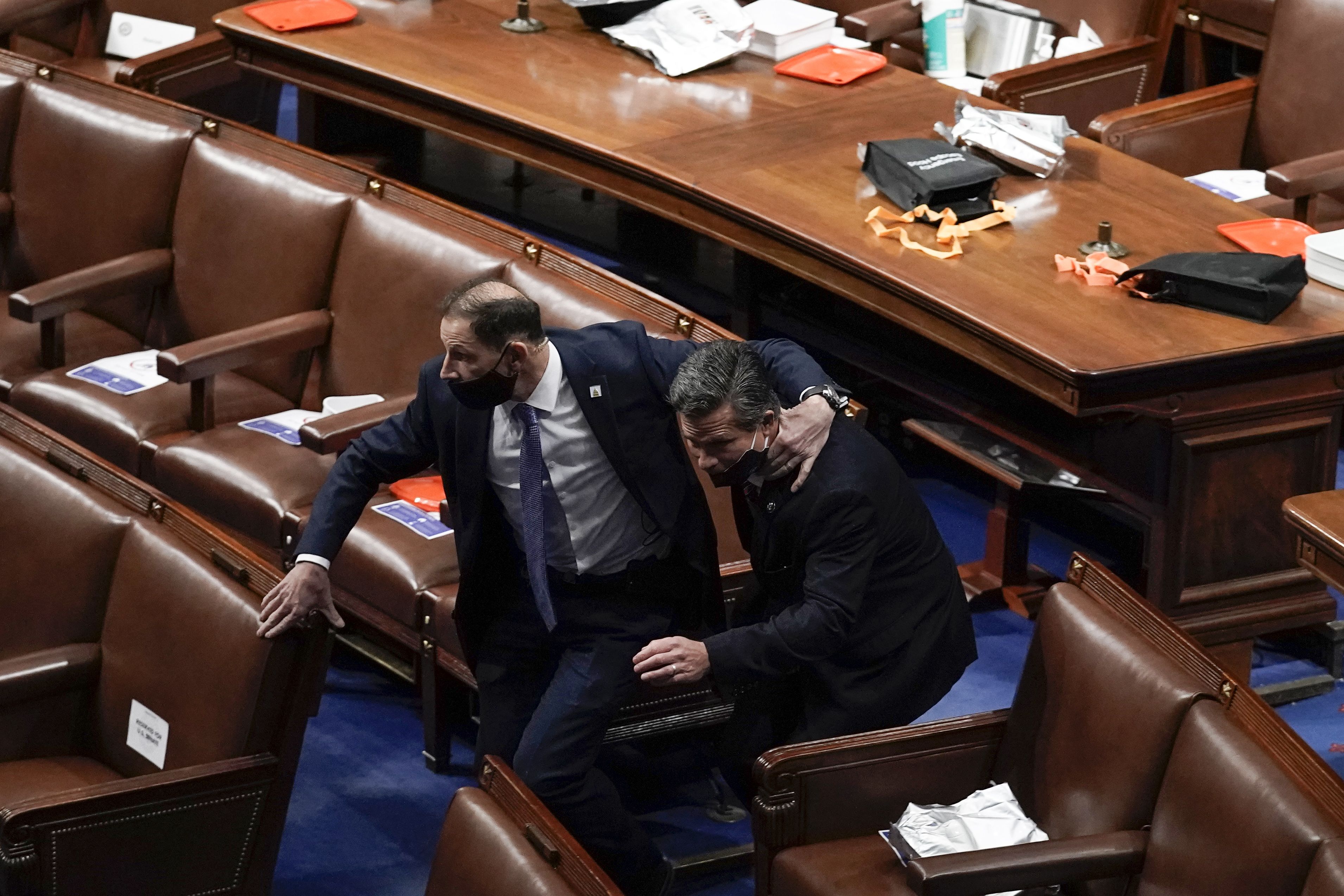 "The Capitol is where I work every day, and I am a familiar face to most police," Applewhite continues. "When those on the chamber floor shouted up at me to get out, I told them I was fine and refused to leave. This is what we do: We stay and report."
"One got more belligerent until another officer, a special agent in the protection division who guards the leadership, intervened. He shouted over: 'Scotty's OK!'"
"From that point on, I was the only journalist and the only person remaining in the balcony to witness the standoff in the House chamber."
"Then an FBI tactical team swept through and threw me out of the building."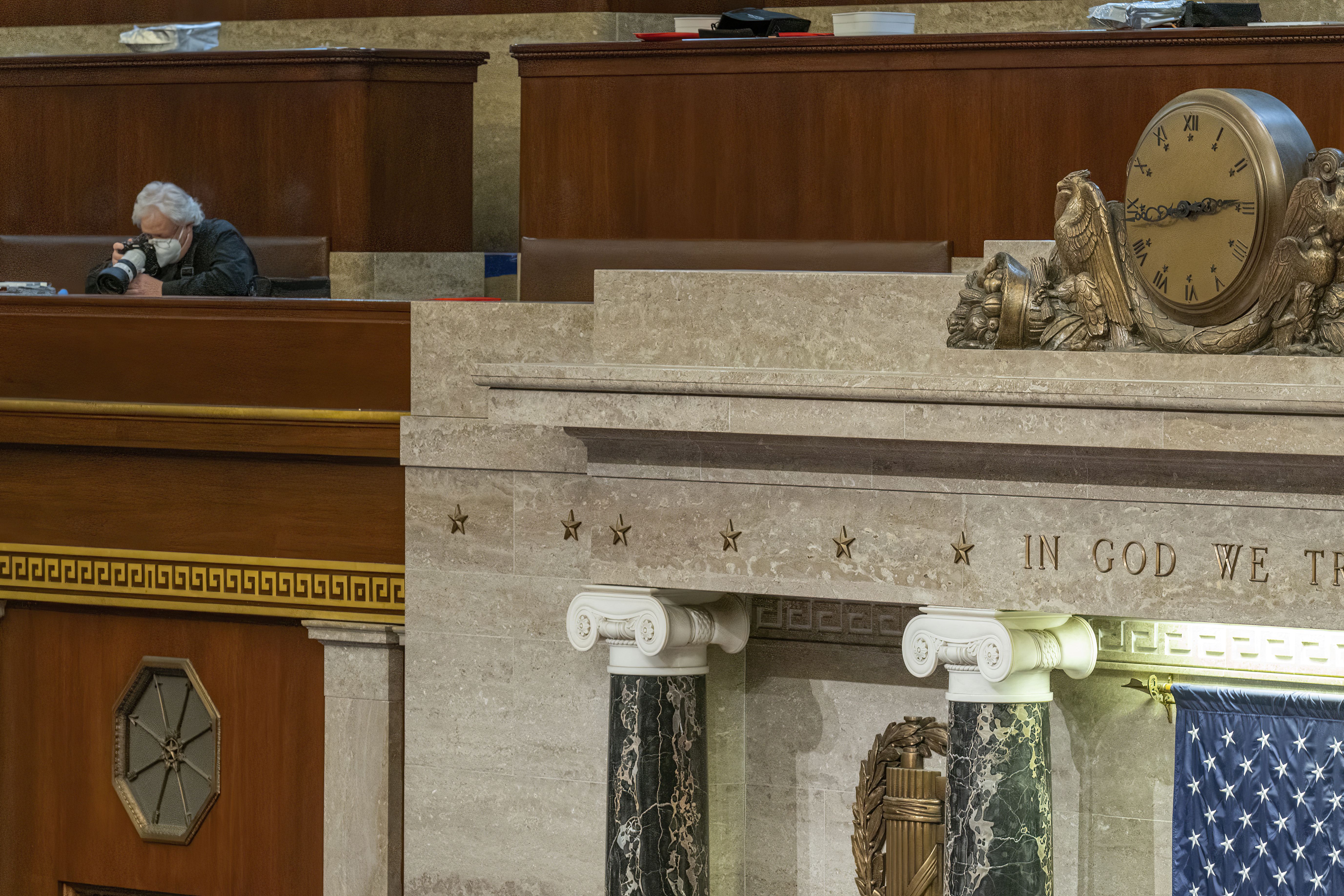 Above, in the House press gallery, Applewhite keeps his telephoto zoom on the door to the chamber.
"I kept my lens focused on that reinforced door," Applewhite recalls. "There was an eye, trying to see inside — the face of one of the rioters wearing a Trump hat. What he did not see were the guns aiming inches from his face."
"I kept steady and held tight on that spot."
📬 Was this email forwarded to you? Sign up here for your own personal copy of Axios AM and Axios PM.