⏰ Happy Saturday from Austin, where South by Southwest means Hulu ads on the MetroRail trains, plugs for upcoming Hollywood movies on the pedicabs, and an HBO tease on the hotel keys.
Behave tonight: Your phone will spring ahead as you sleep.
Tomorrow is college basketball's Selection Sunday, kicking off March Madness (in case this week wasn't mad enough for you).
https://www.axios.com/newsletters/axios-am-95a6013f-3e1a-46b2-a973-ac81aae5ce31.html?chunk=0#story0
1 big thing: The full Trump, unrestrained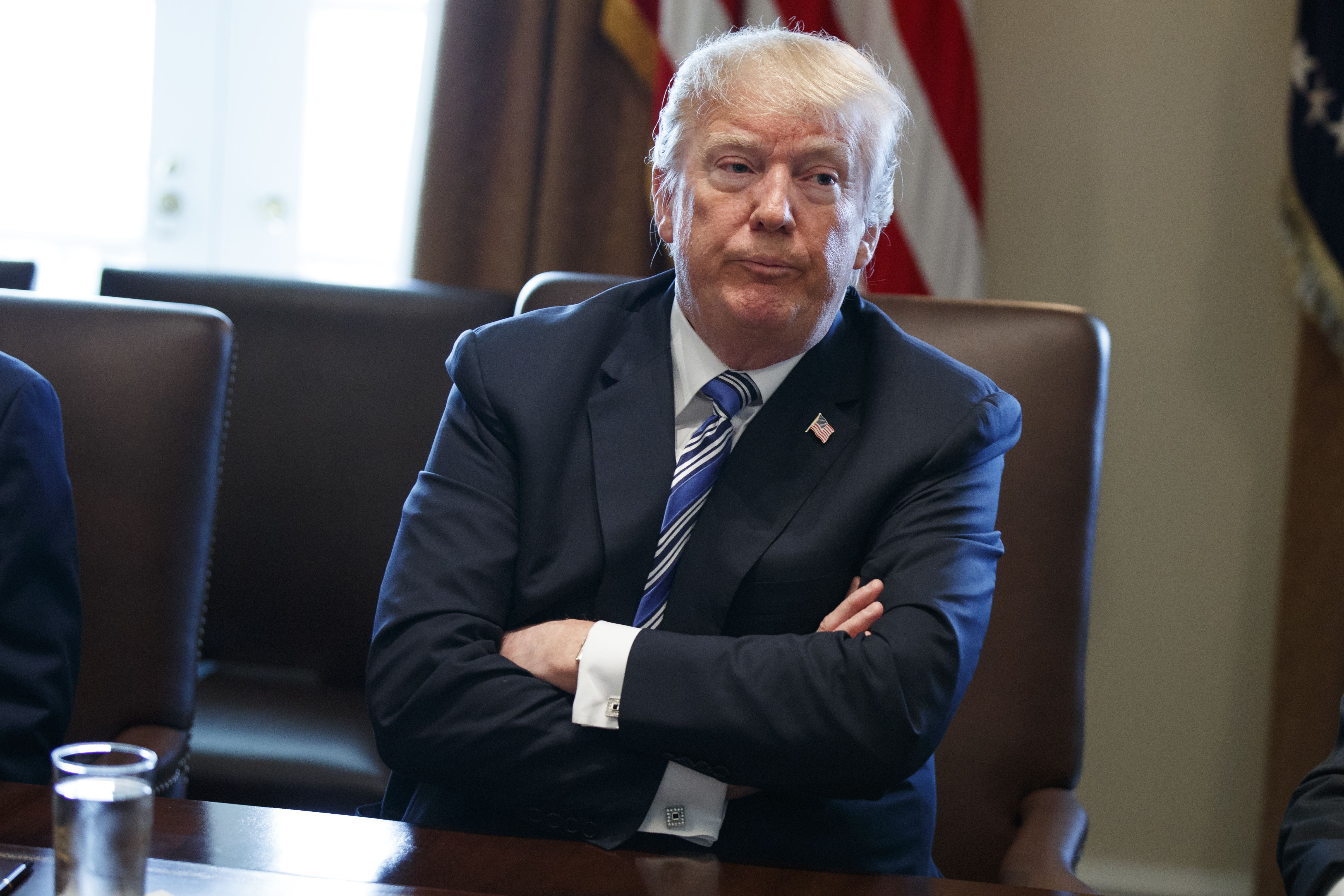 President Trump listens during a cabinet meeting on Thursday. (AP's Evan Vucci)

This week, President Trump ripped the steering wheel out of John Kelly's hands and played chief of staff and communications director, all wrapped into one:
Trump kept his own senior staff on edge, with top officials uncertain from hour to hour what was happening with two globally consequential issues: tariffs and North Korea.
Want to know what it's like to work for this president? A senior administration official, who likes Trump but can't keep up, tells Jonathan Swan:
"No single individual in history has been able to direct an entire news cycle on a whim, and he's using that power at his sole discretion, with the WH policy, press, and comms teams just along for the ride."
"SURPRISE, we're taking major trade actions. WAIT, maybe we're not."
"ACTUALLY, yes we are, and we're going to do it TODAY. "
"SURPRISE, there'll be a big announcement in a few hours. You'll want to watch. *Media gives it hours of breathless attention,* followed by one of the most significant foreign policy announcements in recent memory."
"Both at a policy level (e.g. what trade actions to take, whether or not to accept Kim invitation) or a comms level (when/how to announce these decisions), Trump is doing what he wants, when he wants, how he wants."
"The WH staff I talk to are constantly having to make the decision whether to push back on him, push forward with him, or head for the exits in exasperation."
Be smart: The restraints on Trump are fully removed. Imagine if Trump did publicly what he said privately during the first year-plus. He didn't, in part because Reince Priebus, Gary Cohn, General Mattis, Dina Powell, Rob Porter and others conspired to box him in and occasionally talk him off the ledge. No more. 
Now, what Trump says will likely just happen.
How it's playing:
WashPost A1: "President acts as own diplomat, negotiator"
AP: "In the tough times, Trump goes it alone"
https://www.axios.com/newsletters/axios-am-95a6013f-3e1a-46b2-a973-ac81aae5ce31.html?chunk=1#story1
2. This week in one line
Cable headlines during the 5 p.m. ET hour yesterday:
MSNBC: "COULD THIS BE THE 'TRUMPIEST' WEEK EVER?"
CNBC, after the Dow rose 441 points (1.8%) on strong jobs report (Wall Street Journal lead: "Hiring Boom Draws Workers Back"): "IS EVERYTHING AWESOME AGAIN?"
https://www.axios.com/newsletters/axios-am-95a6013f-3e1a-46b2-a973-ac81aae5ce31.html?chunk=2#story2
3. Happening this morning in Austin
At the South by Southwest festival today, I'm moderating a panel on "Reforming the Vote" (9:30 a.m. CT, Hilton Austin Downtown). Jon Cohen of SurveyMonkey, a great Axios partner, tees up the conversation with this exclusive data:
"People's expressed faith in democracy is tightly coupled with their partisanship in ways that threaten the system itself."
"Concern about voter fraud peaks among Rs, while worry about hacking by foreigners is significantly higher among Ds."
https://www.axios.com/newsletters/axios-am-95a6013f-3e1a-46b2-a973-ac81aae5ce31.html?chunk=3#story3
4. Pic du jour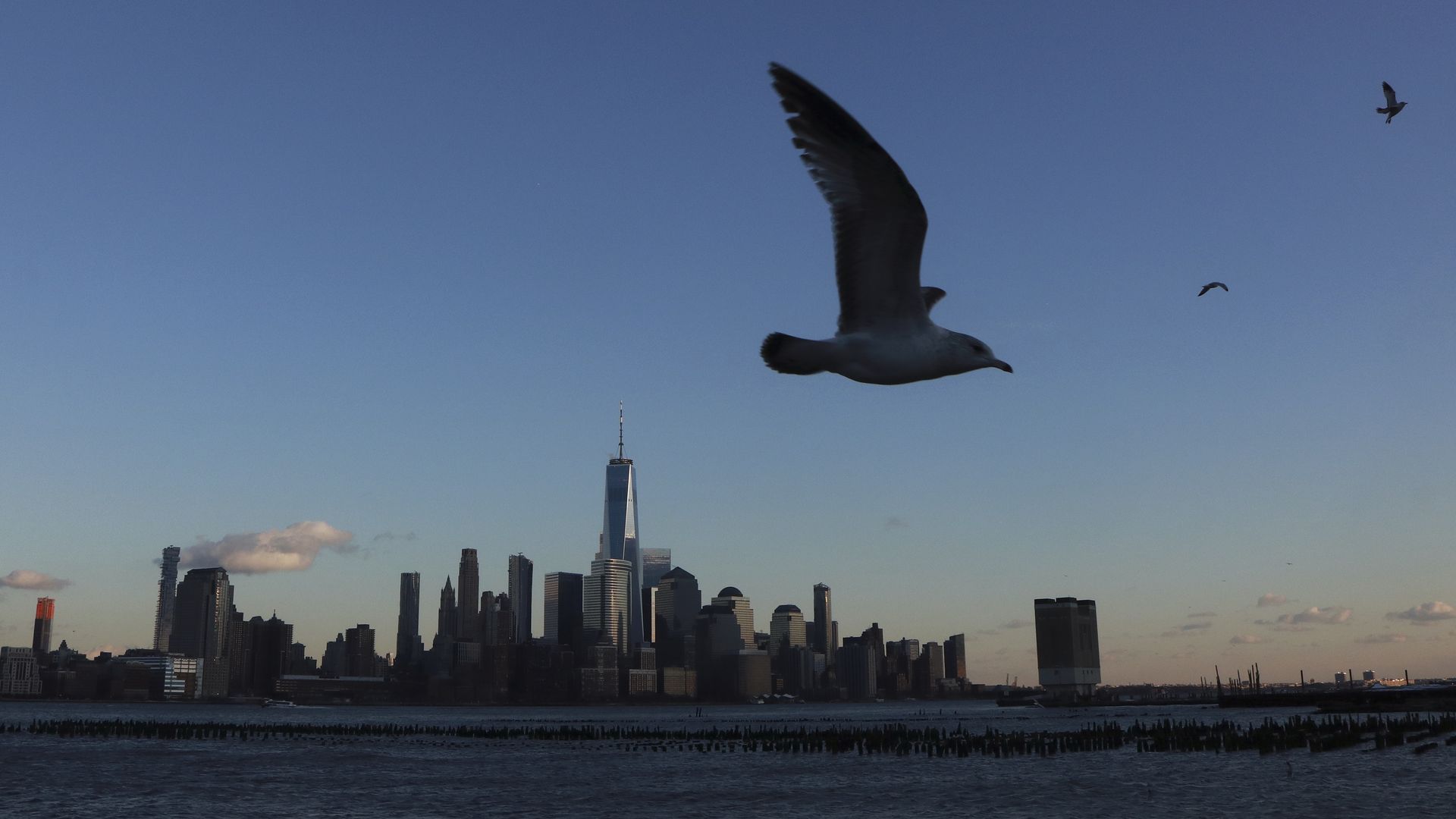 A seagull appears to soar above lower Manhattan and One World Trade Center at sunset yesterday, as seen from Hoboken, N.J.
https://www.axios.com/newsletters/axios-am-95a6013f-3e1a-46b2-a973-ac81aae5ce31.html?chunk=4#story4
5. GOP joins techlash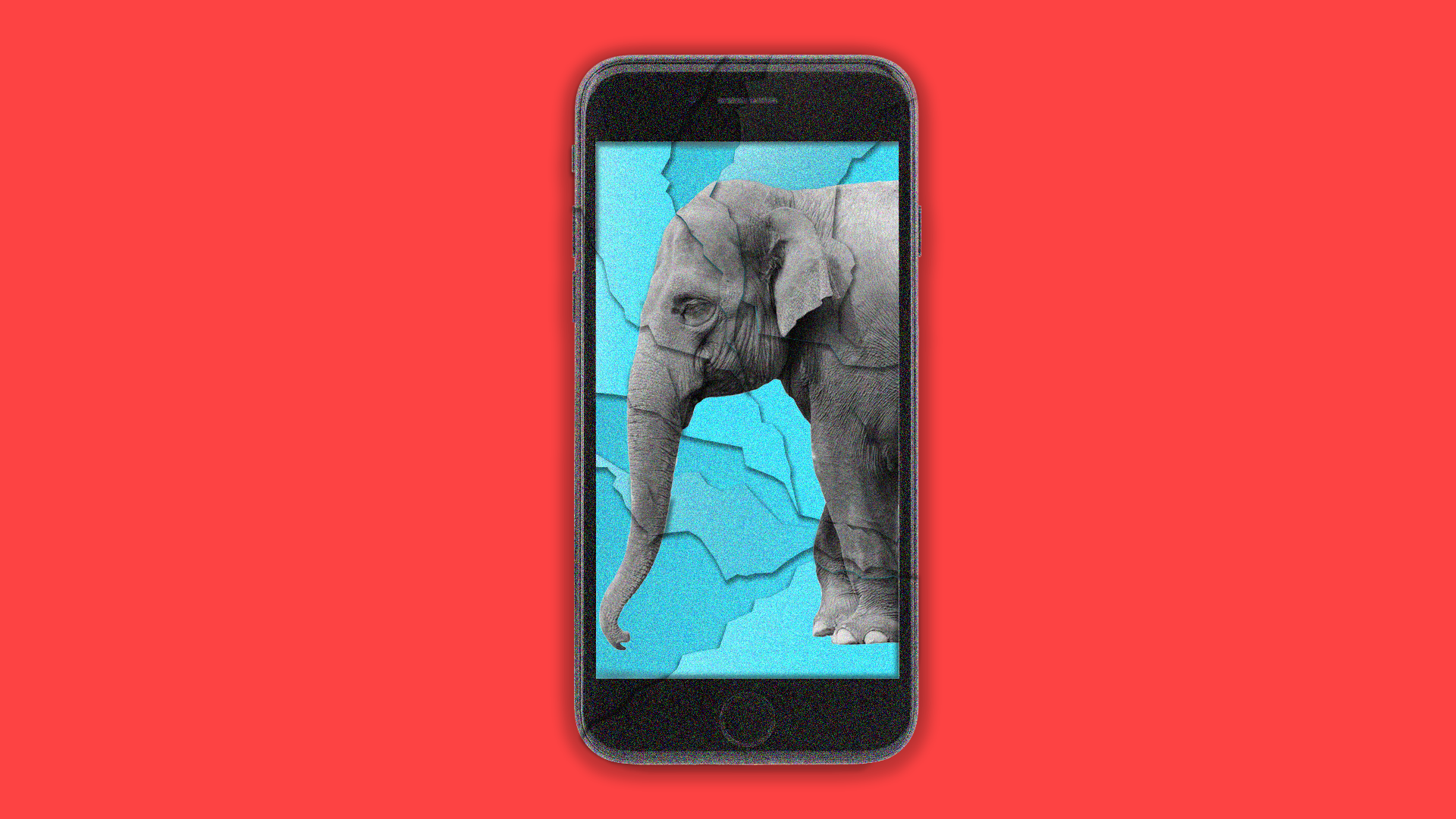 The backlash against Big Tech is testing pro-business tendencies of Republicans, including the chairs of the commerce committees in the House and Senate, and giving conservative activists a new cause, Axios' David McCabe writes:
Why it matters: It's rare for powerful Republicans to pressure corporations that haven't run afoul of the law. But tech is proving an exception to that rule.
Republicans are following concerns from the conservative base that doesn't trust the companies or feels left behind by them.
https://www.axios.com/newsletters/axios-am-95a6013f-3e1a-46b2-a973-ac81aae5ce31.html?chunk=5#story5
6. Blankfein plots exit after long run
"Lloyd Blankfein is preparing to step down as Goldman Sachs Group Inc.'s chief executive as soon as the end of the year, capping a more than 12-year run that has made him one of the longest-serving bosses on Wall Street," the Wall Street Journal reports on A1 (subscription):
"The timing of any moves could still change, and the 63-year-old Mr. Blankfein is firmly in control of his exit, the people said. The current thinking, though, is that he will retire ahead of or early in Goldman's 150th anniversary year in 2019, a fitting send-off for the history buff.
What's next: "Goldman is likely to follow an announcement of Mr. Blankfein's departure with a quick transfer of power and isn't looking beyond Goldman's two co-presidents, Harvey Schwartz and David Solomon, to replace him, people familiar with the matter said."
Why he matters: "The departure would conclude a 36-year Goldman career for Mr. Blankfein, the son of a Brooklyn postal worker who rose to the pinnacle of Wall Street. In 1982, he quit his job as a tax lawyer and joined Goldman's commodities arm as a gold salesman. He rose through the ranks of the firm's trading business and was named CEO in 2006 when Hank Paulson became Treasury secretary."
After the Journal's scoop posted, Blankfein tweeted: "It's the @WSJ's announcement...not mine. I feel like Huck Finn listening to his own eulogy."
https://www.axios.com/newsletters/axios-am-95a6013f-3e1a-46b2-a973-ac81aae5ce31.html?chunk=6#story6
7. Silent Sam?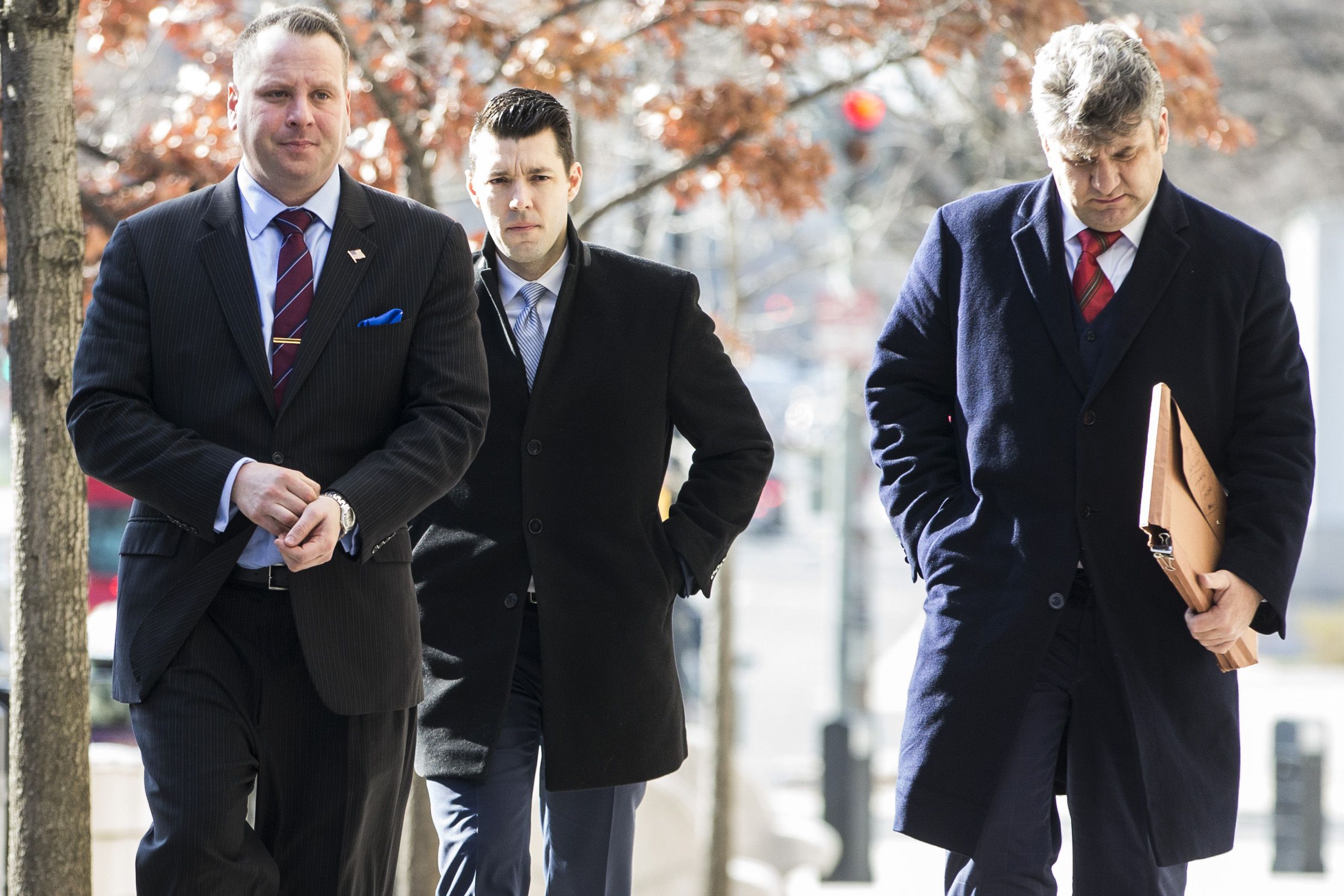 Sam Nunberg arrives yesterday at the U.S. District Courthouse in D.C. (Zach Gibson / Getty Images)
Shot ... Sam Nunberg, the former Trump political aide who testified yesterday before a grand jury as part of the Mueller probe, to CNN's Gloria Borger: "I'm not commenting on anything anymore. I don't want to turn into Anthony Scaramucci."
Chaser ... Anthony Scaramucci told Fox yesterday that Nunberg suffered from "some kind of substance and some kind of stress that were boiled together like a cocktail ... I wish him well. My heart goes out to him. And I want him to get the help that he needs."
https://www.axios.com/newsletters/axios-am-95a6013f-3e1a-46b2-a973-ac81aae5ce31.html?chunk=7#story7
8. Bite of the day
N.Y. Times Quote of the Day ... Benjamin Branfman, lawyer for "pharma bro" Martin Shkreli, arguing yesterday for a shorter sentence, before his client received seven years in prison for fraud (and a forfeiture of $7 million of a $27 million net worth):
"There are times when I want to hug him. There are times I want to punch him in the face."
https://www.axios.com/newsletters/axios-am-95a6013f-3e1a-46b2-a973-ac81aae5ce31.html?chunk=8#story8
9. Dems struggle to curtail superdelegates
Here's a great lead by AP's Bill Barrow: "Bernie Sanders is back in the Senate minority. Hillary Clinton is selling books and playing with grandchildren. And the Democratic Party is still navigating the fallout from their bitter 2016 presidential nominating fight."
At issue: "[P]arty leaders failed to agree on how to reduce the influence of 'superdelegates' in picking Democrats' next White House nominee."
DNC Chair Tom Perez "is promising the party will curtail superdelegates' role at the 2020 presidential nominating convention, but he's been unable to broker a shift he says is needed to avoid charges of favoritism that dogged Clinton."
What's next: "A ... panel this week opted to delay specific action until this summer. ... [T]he full DNC [today] is expected to ratify a generic commitment to reduce superdelegates' 'perceived influence.'"
https://www.axios.com/newsletters/axios-am-95a6013f-3e1a-46b2-a973-ac81aae5ce31.html?chunk=9#story9
10. 1 fun thing: HBO wins South by Southwest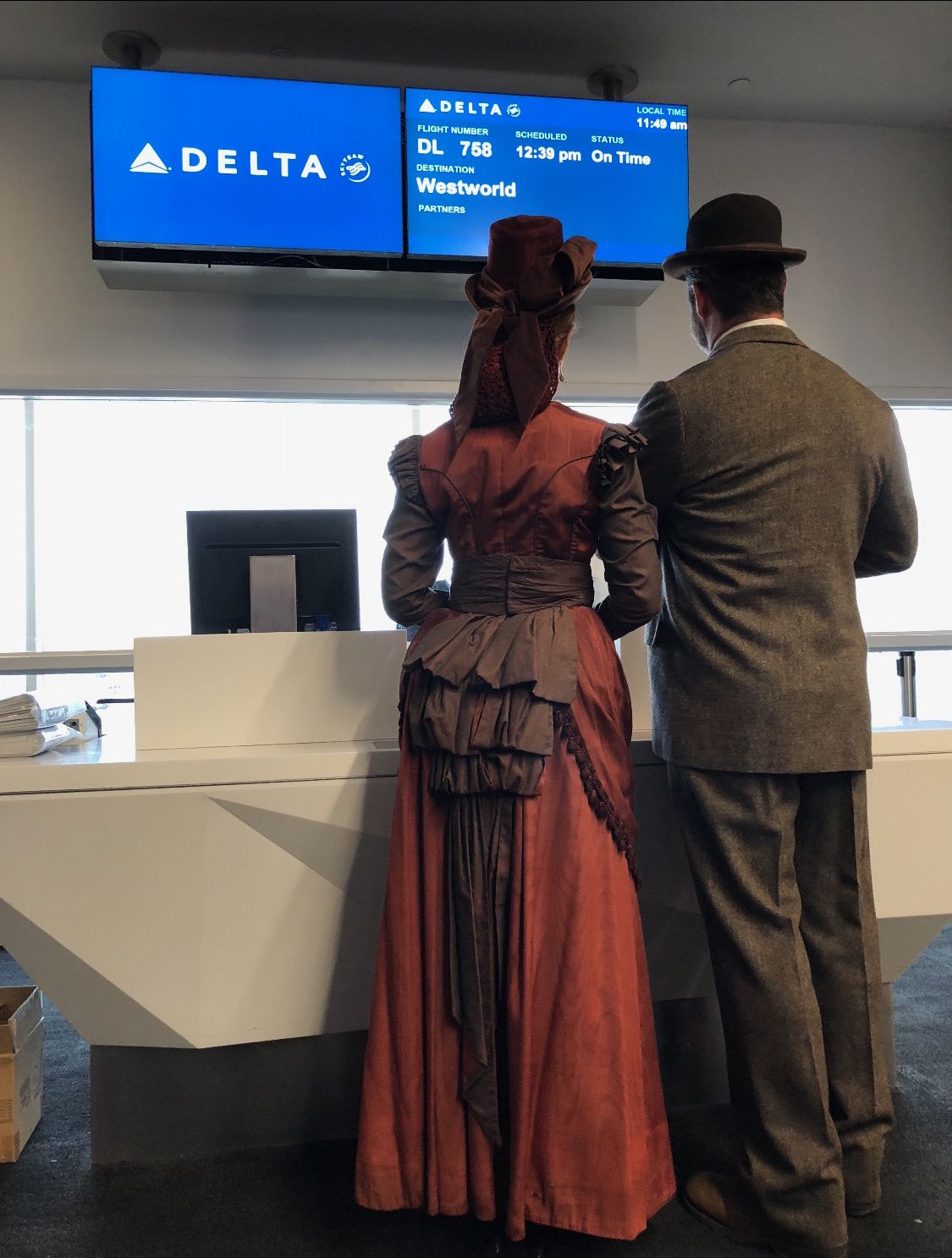 HBO
HBO and ad agency Giant Spoon have SXSW's break-out exhibition — a massive replica of Sweetwater, the town featured in HBO's blockbuster hit Westworld, built 15 miles outside Austin, Axios' Sara Fischer writes:
Why it matters: What began as a startup tech conference has turned into a must-see Hollywood event, with HBO and others going all-in on the Texas festival show off their storytelling and film marketing skills.
HBO sought out Giant Spoon for the exhibition after watching a mega-activation for Blade Runner at Comic-Con last year.
Giant Spoon, which specializes in experiential marketing, flew drones above the space to map it out ahead of time.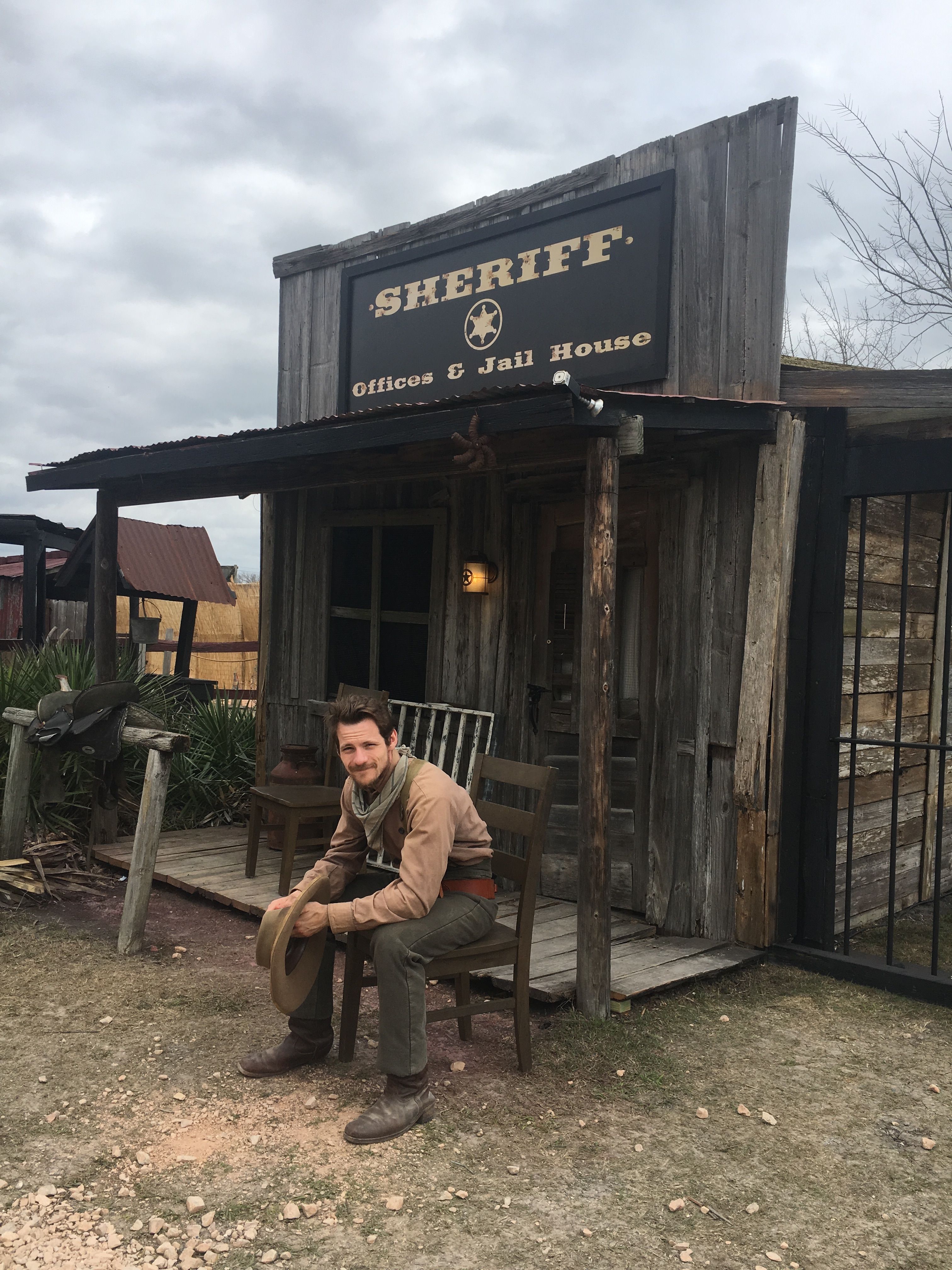 Photo by Sara Fischer
SXSW attendees could be seen wearing cowboy hats they received on the tour:
The tour starts in downtown Austin, where people are told to meet at the EastSide Tavern to board shuttle busses to "Westworld." For some lucky guests, a Delta flight out of LAX was labeled "Westworld" on its way to Austin at the airport.
Upon arrival, visitors are given white or black hats, like the ones featured in the show. They then walk through dozens of installations that recreate the show down to every last detail, including dozens of paid actors dressed in full Westworld garb.
Users stay for hours at the exhibition, experiencing actors play out Westworld scenes in real-time at salons, restaurants, barber shops, cemeteries, etc. All of which actually serve the people walking through, with custom old-fashions, spicy beef jerky, knife throwing lessons and old-school photo booths.
The bottom line: #Westworld was trending on Twitter in Austin leading up to the event.
CNN's Jake Tapper and dozens of journalists contributed to the buzz by posting photos on social media in their Westworld hats. (And Jake was wearing his at CNN's party last night.)
Over 3,500 guests will explore the exhibition by the end of the 3-day event.
An HBO spokesperson: "Tickets have sold out in minutes."
Asked about cost, HBO calls it "an investment worth the price":
It took a 40-person crew five weeks to build the park onsite in Texas.
58 different vendors had a hand in the production, from scenic design and construction to catering, landscaping and electrical.
The final script came in at 444 pages. There are 30 Easter eggs buried in the park for people to find and uncover.
The cast features 60 actors, 6 stunt people and 5 bands, scouted primarily from the local Austin area, in addition to 6 local horses.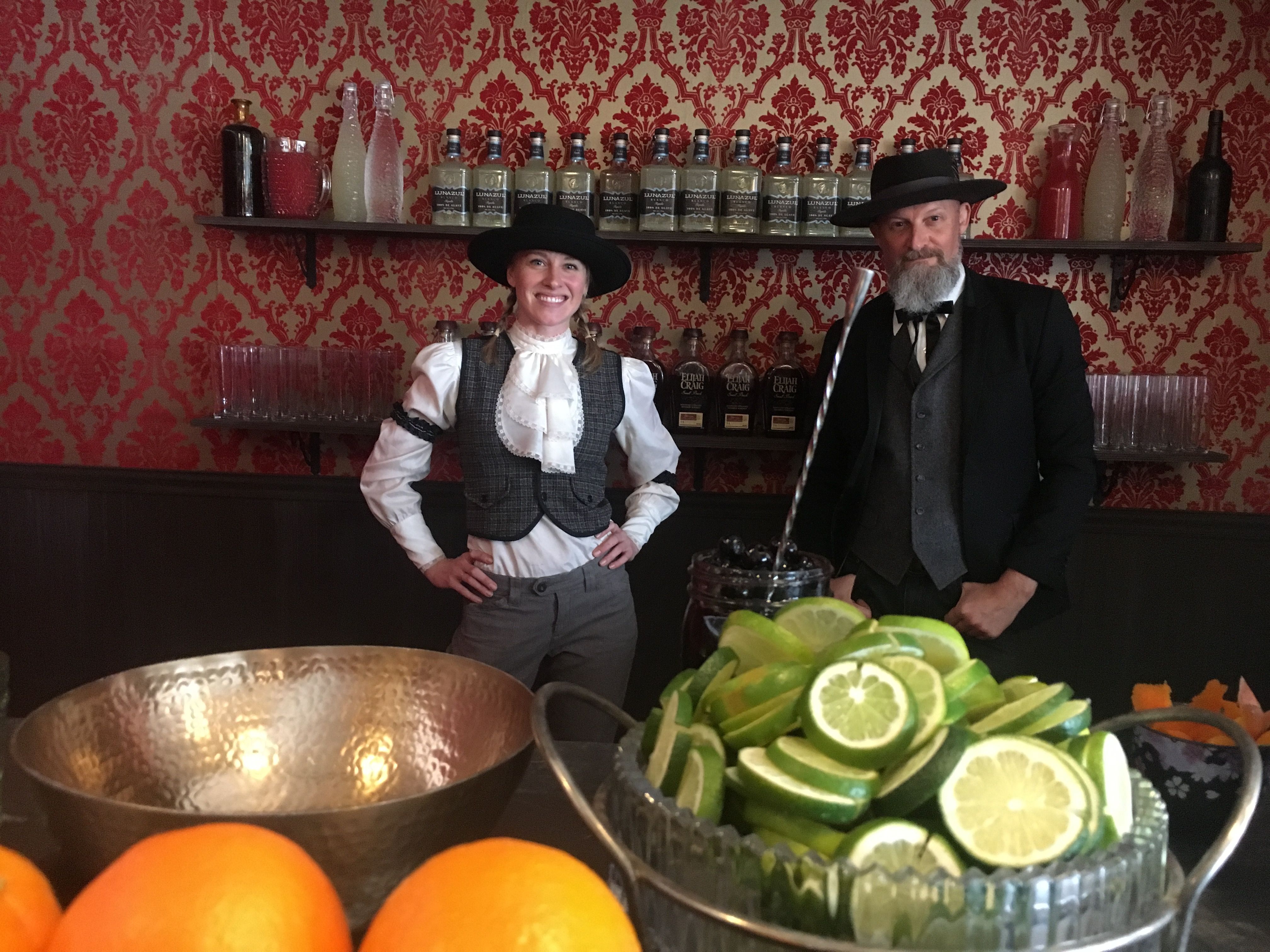 Photo by Sara Fischer