Good Thursday morning. TEDxPennsylvaniaAvenue, with the theme "Within Ten Years," livestreams from the Newseum today, with former Microsoft CEO Steve Ballmer at 11 a.m. and Axios CEO Jim VandeHei at 12:25 p.m.
Get your friends to sign up for Axios AM at this one-click link -- all it asks for is the e-dress. And dip into the Axios stream all day for breaking news and sharp insights on tech, business, media trends and politics.
https://www.axios.com/newsletters/axios-am-94843549-e703-47e6-954d-adbfbf4adb04.html?chunk=0#story0
1 big thing: The resistance persists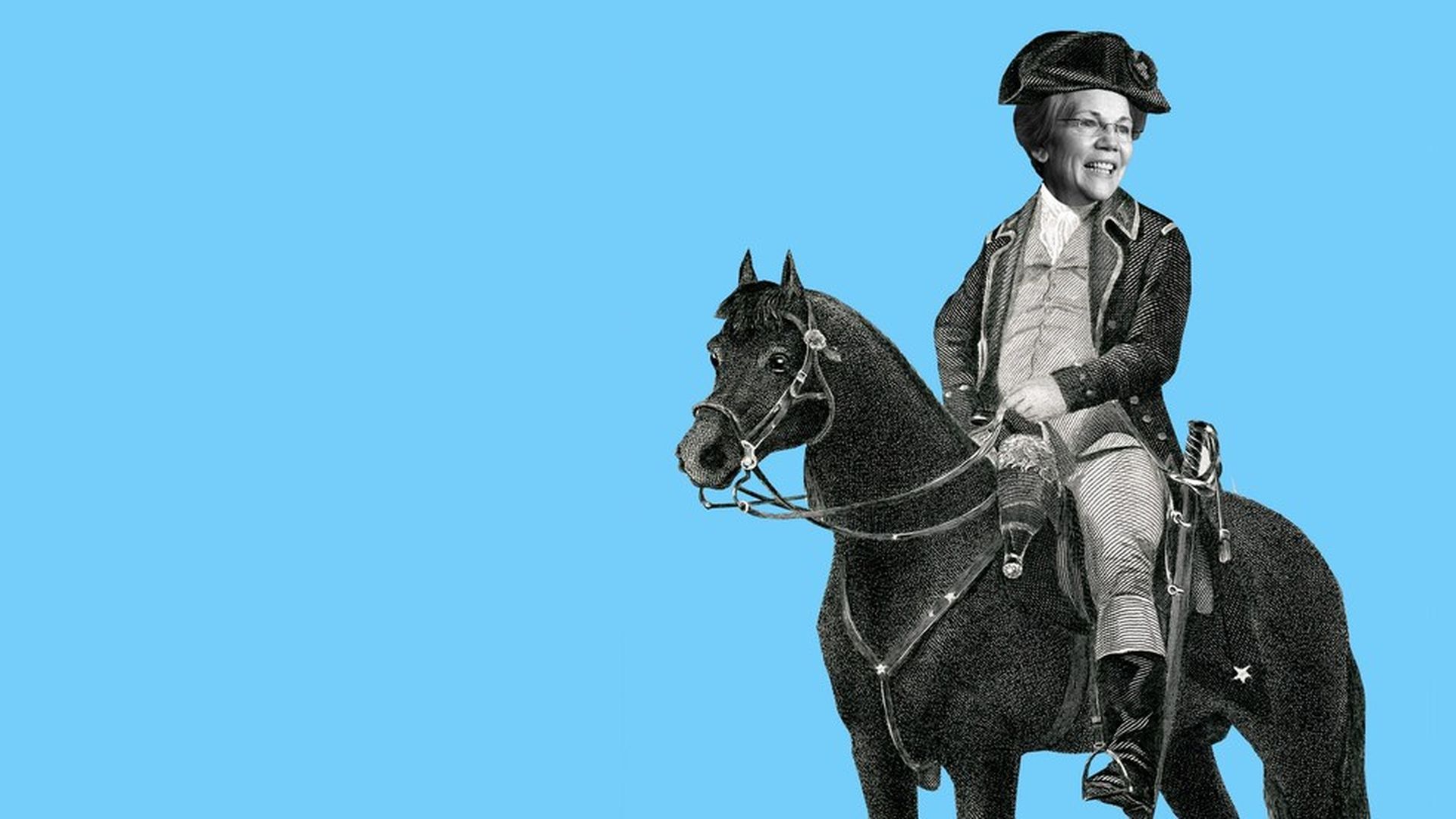 Establishment Democrats have been stunned by the longevity and ferocity of grassroots opposition to President Trump, our Jonathan Swan reports: From the spontaneous airport rallies after his immigration order to the sustained opposition to Education Secretary Betsy DeVos, the left is growing stronger rather than retreating after the historic setback on Election Day:
Centrist Dems were genuinely surprised by the organic backlash to DeVos.
The left is suddenly engaged in a mass civics lesson: More than 100,000 people tuned into the livestream of the appeal court hearing on Trump's immigration order.
Social media is more ferocious: DeVos' stumbles at her hearing went viral immediately. When Mitch McConnell shut down Elizabeth Warren's floor speech, she became an instant meme.
Matt Bennett, co-founder of Third Way, said Trump is the unifier, and Dems learned from the Tea Party: "You can't go to town hall and say 'I demand the following 10 things.' But if you go and say, 'I demand you oppose Obamacare,' it works."
Dems who're seizing the moment:
As the effort to shut up Elizabeth Warren backfired, she headed for TV hits, streamed live video of herself on Facebook, and tweeted: "Consider this MY warning: We won't be silent. We will speak out. And we WILL persist." The Boston Globe headlined: "Silencing by GOP gives Warren a national boost."
Out in California, Obama alumni Jon Favreau, Jon Lovett and Tommy Vietor founded Crooked Media, with the flagship Pod Save America podcast.
Sen. Cory Booker, before driving home to New Jersey, rallied resistance at Dulles on the Saturday that rallies broke out in airport terminals.
McConnell's fateful words: "Senator Warren was giving a lengthy speech. She had appeared to violate the rule. She was warned. She was given an explanation. Nevertheless, she persisted."
What he was thinking: According to Politico, "There was no grand strategy, Republicans said, just a burgeoning anger that Warren was destroying whatever vestige of comity remains in the Senate."
The reaction: McConnell's quote unleashed a flood of internet jokes and pics about badass women. Buzzfeed's collection includes a red cap with the same font as Trump's hats: "NEVERTHELESS SHE PERSISTED."
https://www.axios.com/newsletters/axios-am-94843549-e703-47e6-954d-adbfbf4adb04.html?chunk=1#story1
2. Megatrends
a) A Wall Street Journal front-pager, "The Next American Farm Bust Is Upon Us," has the bleak dateline of Ransom, Kan., and begins on a dire note: "Soon there will be fewer than two million farms in America for the first time since pioneers moved westward after the Louisiana Purchase" of 1803.
The problem: "[A] multiyear slump in prices for corn, wheat and other farm commodities brought on by a glut of grain world-wide is ... raising concerns that the next few years could bring the biggest wave of farm closures since the 1980s. ...
Key stat: American farmers' incomes will drop 9% in 2017, ... extending the steepest slide since the Great Depression into a fourth year."
What it means: This is another sign of a weakening America: "The U.S. share of the global grain market is less than half what it was in the 1970s. ... U.S. farmers sowed the fewest acres of winter wheat this season in more than a century."
b) "Bank tellers are the next blacksmiths ... The new robo-banks that have no people," by WashPost's Tom Heath: "Bank of America is working on voice recognition technology called Erica (as in Bank of Am-ERICA) that will allow people to do virtual banking by voice with a computer, much as people use Amazon Alexa ... or Apple's Siri."
https://www.axios.com/newsletters/axios-am-94843549-e703-47e6-954d-adbfbf4adb04.html?chunk=2#story2
3. The family business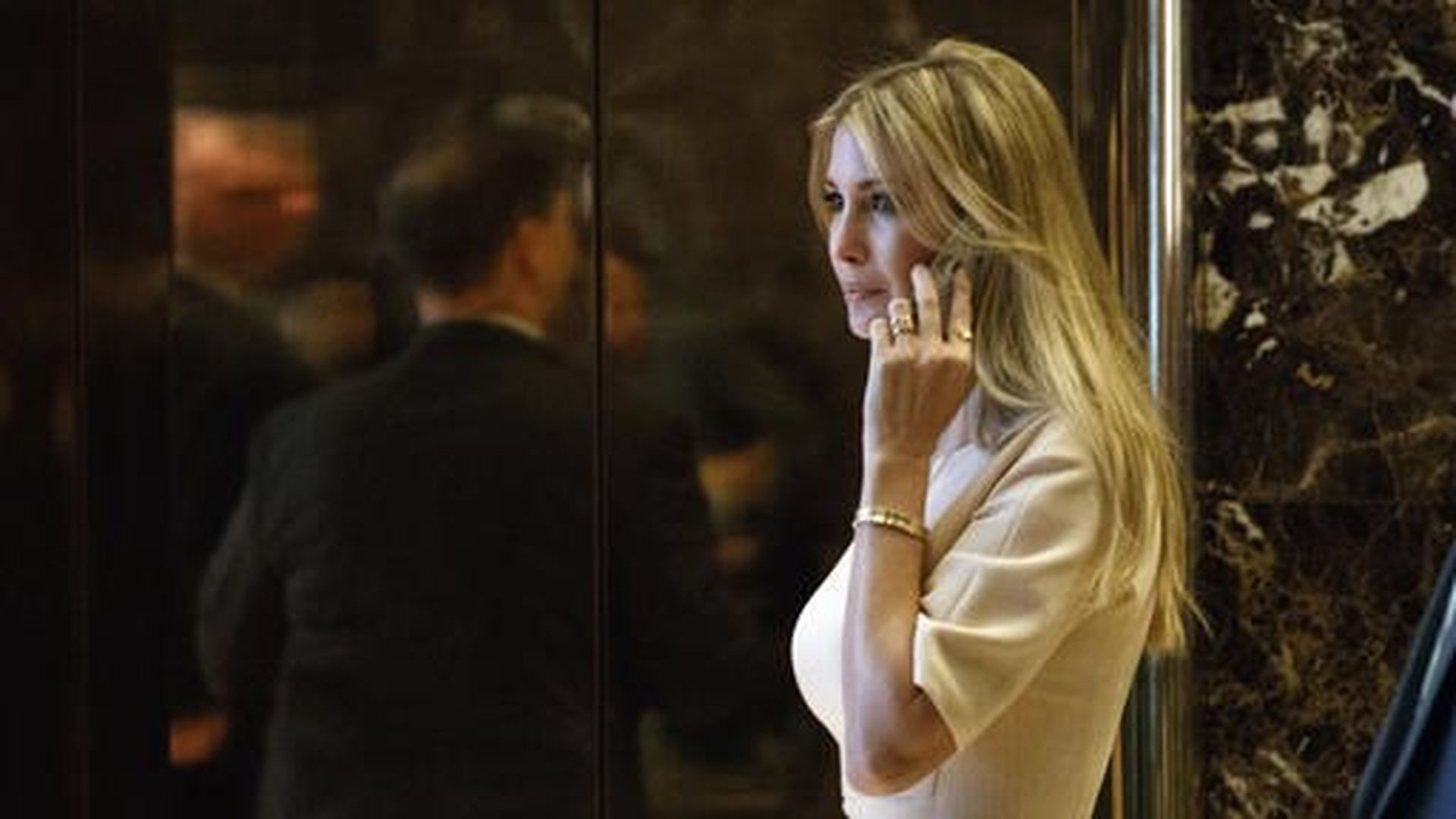 After Trump tweeted "Terrible!" about Nordstrom's dropping Ivanka's clothing and accessory line, Axios' Dan Primack and Shannon Vavra noted: "Other private companies may now be wondering how POTUS would view the "fairness" of ending a relationship with the Trump Organization."
A Democrat and former Justice Department official emails us: "In using the POTUS twitter account [the official White House account, which retweeted @realDonaldTrump] to bully an American company for failing to carry his daughter's ... line of clothing, Trump converted to his use a thing of value of the United States, namely the POTUS twitter account."
The cover story of the WashPost Style section, "MELANIA INC.: The branding of the East Wing," says there's a long history of first ladies using the platform to promote themselves: "During her years in the White House, [Eleanor Roosevelt] became a paid pitchwoman for hot dog buns, mattresses and air travel."
https://www.axios.com/newsletters/axios-am-94843549-e703-47e6-954d-adbfbf4adb04.html?chunk=3#story3
4. Proud of his papers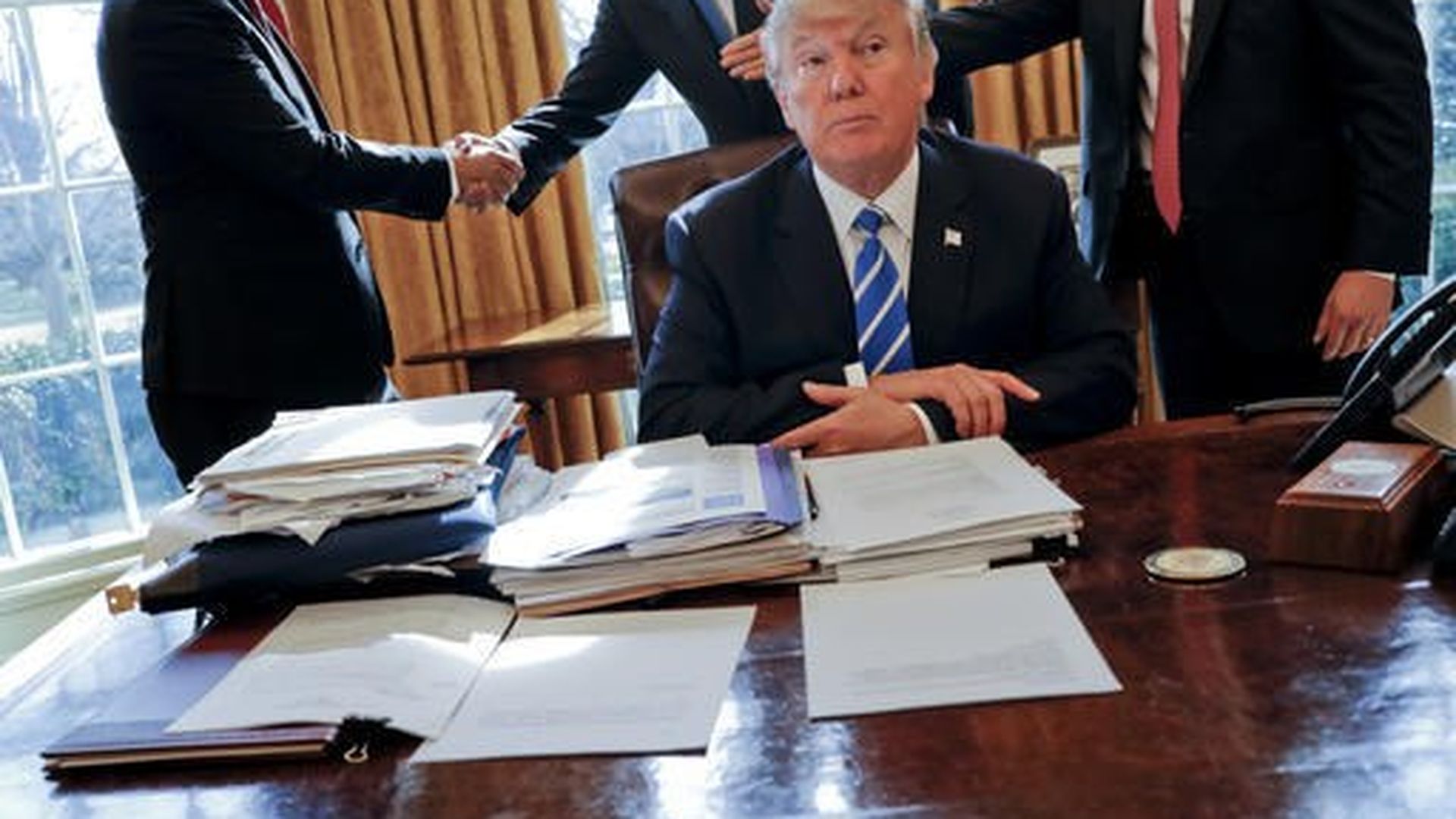 Maureen Dowd will love this ... President Trump, beginning remarks in the Oval Office yesterday with Intel CEO Brian Krzanich: "You've never seen so much paper on a President's desk. (Laughter.) That's because we're negotiating lots of deals for our country, which will be tremendous."
https://www.axios.com/newsletters/axios-am-94843549-e703-47e6-954d-adbfbf4adb04.html?chunk=4#story4
5. Ezra Klein calls this "chilling"
The cover of the March issue of The Atlantic is "How to Build an Autocracy," a dark view of Trumpian America by David Frum, speechwriter for President George W. Bush in 2001 and 2002: "If this were happening in Honduras, we'd know what to call it. It's happening here instead, and so we are baffled." Two key passages:
"The United States may be a nation of laws, but the proper functioning of the law depends upon the competence and integrity of those charged with executing it. A president determined to thwart the law in order to protect himself and those in his circle has many means to do so."
"[L]berty is actually threatened in a modern bureaucratic state ... not by diktat and violence, but by the slow, demoralizing process of corruption and deceit. And the way that liberty must be defended is ... with an unwearying insistence upon the honesty, integrity, and professionalism of American institutions and those who lead them. We are living through the most dangerous challenge to the free government of the United States that anyone alive has encountered."
Ezra Klein writes on Vox that Frum's piece is "a chilling read": "The argument works because its component parts are so plausible. Frum does not imagine a coup or a crisis. He does not lean on the deus ex machina of a terrorist attack or a failed assassination attempt. The picture he paints is not one in which everything is different, but one in which everything is the same."
https://www.axios.com/newsletters/axios-am-94843549-e703-47e6-954d-adbfbf4adb04.html?chunk=5#story5
6. "Playing catch-up"
The Trump team is on par with Obama for nominations, but way behind on winning Senate confirmations, per AP's Ken Thomas: "Trump's team has nominated 35 people to fill 693 high-level positions that require Senate confirmation, according to ... the Partnership for Public Service. At this stage in 2009, ... Obama's administration had nominated 38."
Attorney General Jeff Sessions yesterday became "the eighth member of Trump's administration to be confirmed; at this point eight years ago Obama had 23 officials confirmed, including department heads and deputies. ... [T]ypically about 225 Senate confirmed positions are filled by the annual congressional recess in August."
Not picked yet: Solicitor General ... heads of Transportation Security Administration ... Immigration and Customs Enforcement ... FEMA.
Just 3 ambassadors named: Iowa Gov. Terry Branstad to China ... New York Jets owner Woody Johnson to the U.K. ... attorney David Friedman to Israel.
https://www.axios.com/newsletters/axios-am-94843549-e703-47e6-954d-adbfbf4adb04.html?chunk=6#story6
7. Tops in media trends
Wall Street Journal editor in chief Gerry Baker will host a town hall meeting on Monday where he is expected to address the paper's reporting on the new administration, Politico's Joe Pompeo reports: "Baker has been hesitant to allow Journal reporters to characterize Trump's false assertions as lies and has suggested that media 'elites' are out to get Trump."
https://www.axios.com/newsletters/axios-am-94843549-e703-47e6-954d-adbfbf4adb04.html?chunk=7#story7
8. ​Twitter v. Snapchat
Fair or not, the two companies are increasingly being compared to each other as Snap prepares to go public and Twitter looks for a big bounce in value:
Both rely on convincing people they can massively grow their user.
Both rely on ads alone to make money.
Both are money-losers.
Recode: "Twitter's advantage is that it has a proven business. Sure, Snap is hot and exciting and young. But Twitter likely brought in more than $2.5 billion in revenue last year. The company has survived for a decade, and President Trump's obsession with the product means it has never been more culturally significant."
But then there's the business ... "Even Donald Trump Can't Save Twitter," which reports earnings today, per the Wall Street Journal's "Ahead of the Tape" column: "[A]s has been made clear by Twitter's recent results and its battered stock price, there is a clear distinction between publicity and profitability. Monthly active-user growth continues to slow. Twitter is still losing money ... It has had constant churn in the C-suite."
https://www.axios.com/newsletters/axios-am-94843549-e703-47e6-954d-adbfbf4adb04.html?chunk=8#story8
9. Getting ahead in politics
In 2014, Sean Spicer, then RNC communications director, delivered "17 Rules for Life" at his high-school alma mater -- Portsmouth Abbey, a Catholic Benedictine boarding and day school on the shores of Rhode Island's Narragansett Bay. Here are the Sean Spicer ('89) rules, drawn from a Boston Globe front-pager yesterday, and an article in the school's alumni magazine that was reposted on a blog:
There are no jobs for "anything." [Before a job interview, know what you want to do.]
Think before you tweet, post or upload.
Showing up is half the battle; showing up early and often is the other half.
Take responsibility when you screw up — you will be rewarded.
Never give up.
[Lost to history.]
Have a plan but be flexible.
Trust your gut.
Perception is reality.
Get to know the international students and understand their different perspectives.
Make good friends. Find a mentor.
Remember to say thank you, orally and in writing.
Your mail can always be addressed to "occupant." [According to the alumni magazine, "Here Sean stressed the importance of being the person you truly want to be. Do not be arrogant and pretentious in an enviable position you have attained. With these comments he clearly reflected the Benedictine value of humility."]
Have a relationship with God.
It's true — it is who you know.
Follow your mom's advice: It's not what you say, but how you say it.
Life is short; leave it on the field.
https://www.axios.com/newsletters/axios-am-94843549-e703-47e6-954d-adbfbf4adb04.html?chunk=9#story9
10. 2 fun things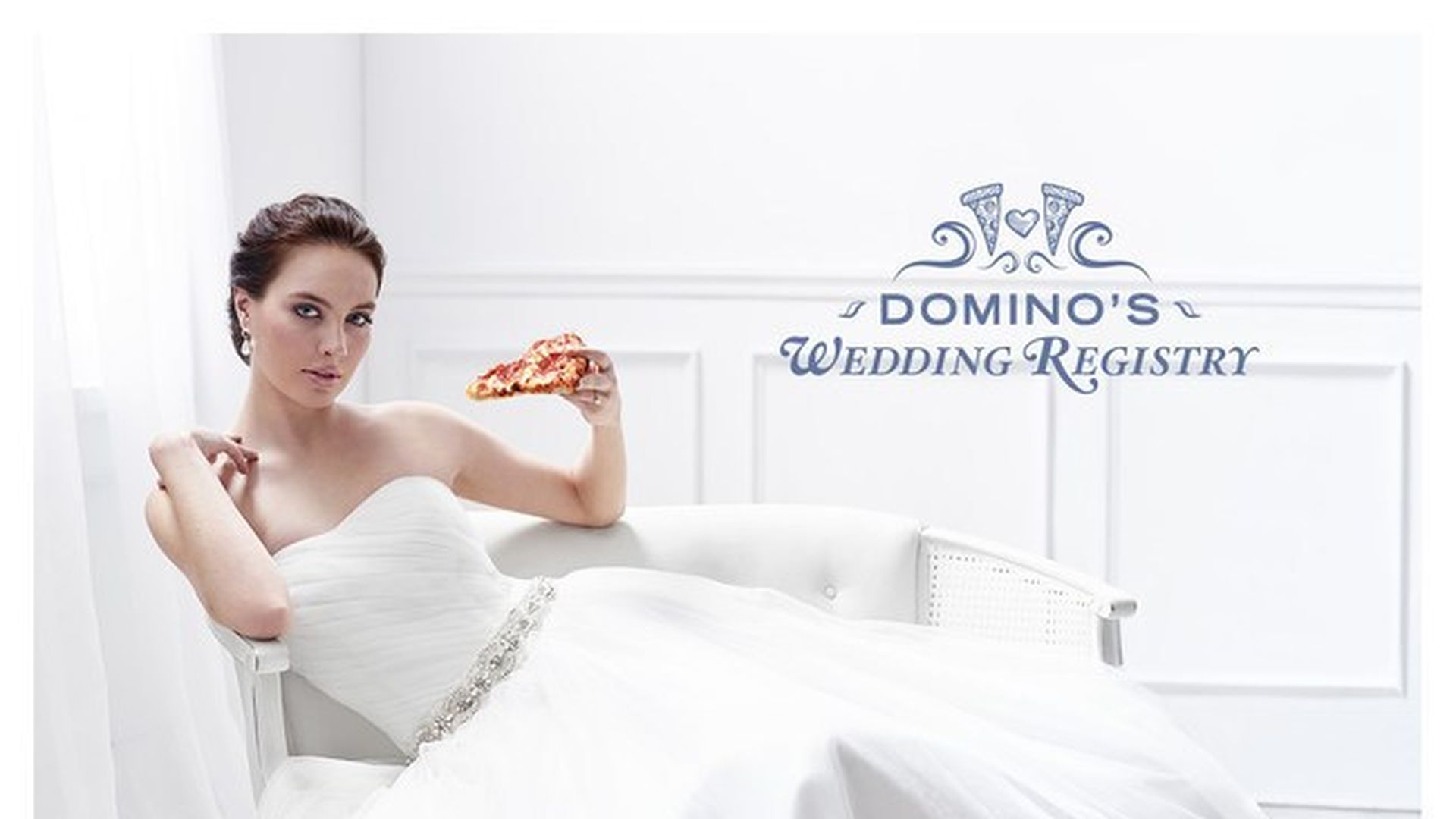 A Domino's Wedding Registry announced yesterday lets you "Cater the Bachelorette Party," treat wedding guests to pizza at the end of the reception, or give a Low-Key Date Night.
A food scientist explains why Doritos are addicting: "That red powder is high in salt and sugar — two major pleasure solutes."
"Your brain is excited by the sensation of biting into a hard substance that quickly dissolves. This is also an example of vanishing caloric density, where food seems to disappear in your mouth, tricking your brain into wanting more."
THANK YOU for reading. To send your suggestions, leaks and thoughts, just reply to this email -- it's my real e-dress, and no one else sees it.