Axios AM
November 03, 2021
🗳️Happy Wednesday! Election Day continues in New Jersey, where the governor's race is uncalled. Smart Brevity™ count: 1,193 words ... 4½ minutes. Edited by Zachary Basu.
1 big thing: Brutal blow for Biden, Dems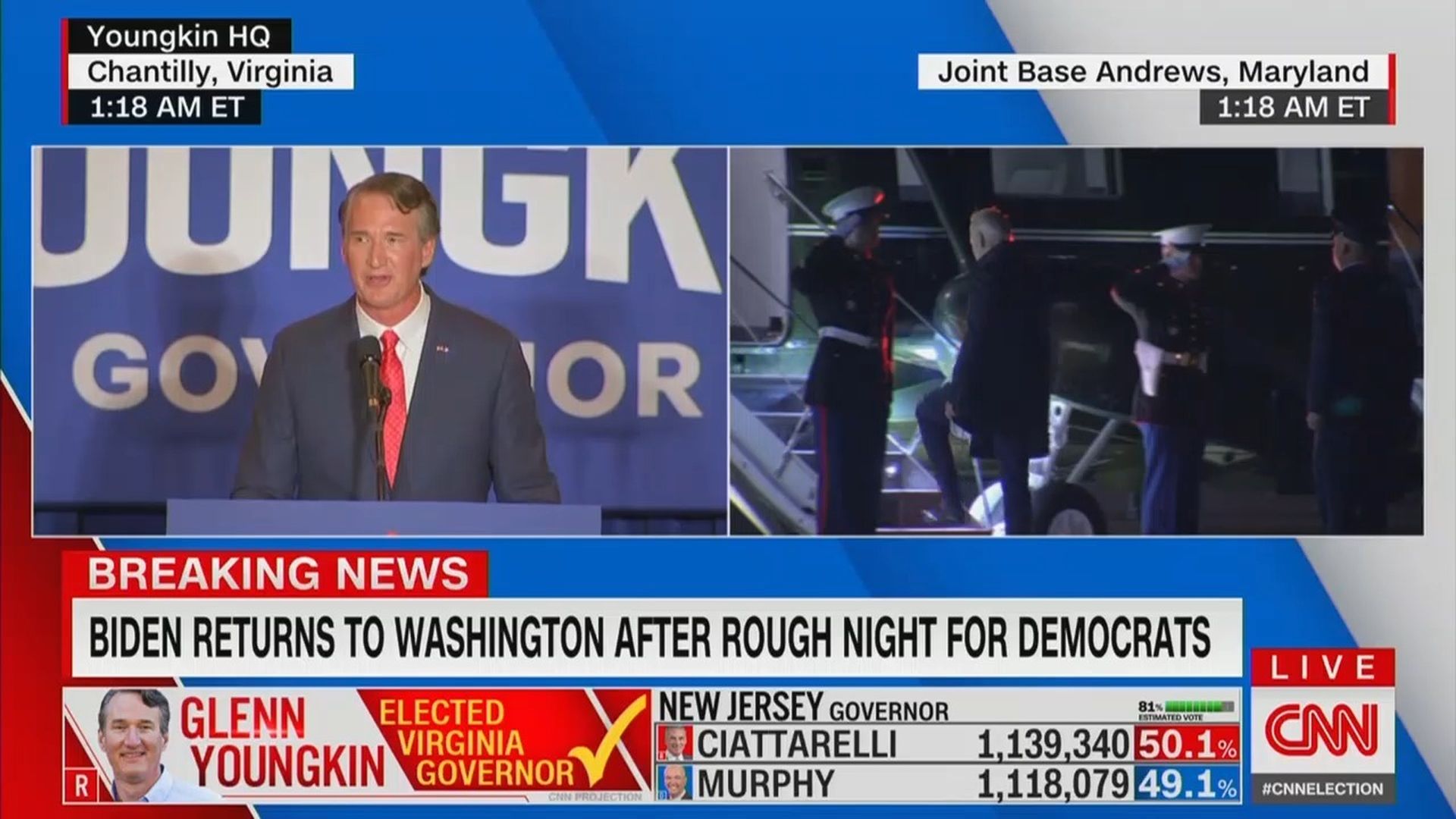 Last night's results sent a grim message to President Biden and Democrats:
Republicans in Virginia and New Jersey ran with stunning strength, as Biden's approval rating tanks and national pessimism rises.
The red wave even swept Long Island.
Voters also sent Democrats a warning for 2022: There could be a massive backlash to perceptions that progressives are pulling the party too far left, Axios managing editor Margaret Talev writes.
White women in Virginia swung to the GOP by 15 points compared to 2020's results, NBC's exit poll found.
What happened: Republicans pulled off a decisive upset in what had been blue-trending Virginia, with cliffhanger results in New Jersey and a rejection of defund-the-police in Minneapolis.
Republican Glenn Youngkin squashed Terry McAuliffe's comeback bid for Virginia governor (51% to 49%), leaning into suburban parents' concerns about culture wars in public schools + frustration with President Biden. Networks called the race at 12:30 a.m. Republicans also won control of the House of Delegates (Richmond Times-Dispatch).
In New Jersey, Gov. Phil Murphy (D), who had been expected to win easily, remains in a tight fight with Republican Jack Ciattarelli (65 votes separate the two, per CNN). In post-midnight appearances before supporters, both said they expect to win.
In Minneapolis, voters rejected a ballot measure to replace the police department with a Department of Public Safety. The result — in the city where George Floyd was murdered — is a significant blow to the police reform movement's momentum in Minneapolis and beyond.
Between the lines: Gallup puts Biden's approval at 42% — the lowest for any president in October of their first year going back to Dwight Eisenhower in 1953 — except Donald Trump, who was at 37%.
Many in Biden's own party don't want him to run again: In an NPR/PBS NewsHour/Marist poll out Monday, "just 36% of Democrats and Democratic-leaning independents thought they would have a better chance in 2024 with Biden on the ballot as opposed to someone else."
What's next: Biden, Speaker Pelosi and Senate Majority Leader Chuck Schumer can be expected to use the wake-up call to try to force a reset, pushing for swift action on Biden's agenda.
"It's time for Democrats to stop f------ around," a senior aide to a House moderate told Axios' Sarah Mucha. "Show the voters we actually can govern."
But the results could make it harder to get Dems from tough districts on board.
David Axelrod said on CNN: "When things go badly, people begin to think of themselves."
2. 📊 The exit-poll question that said it all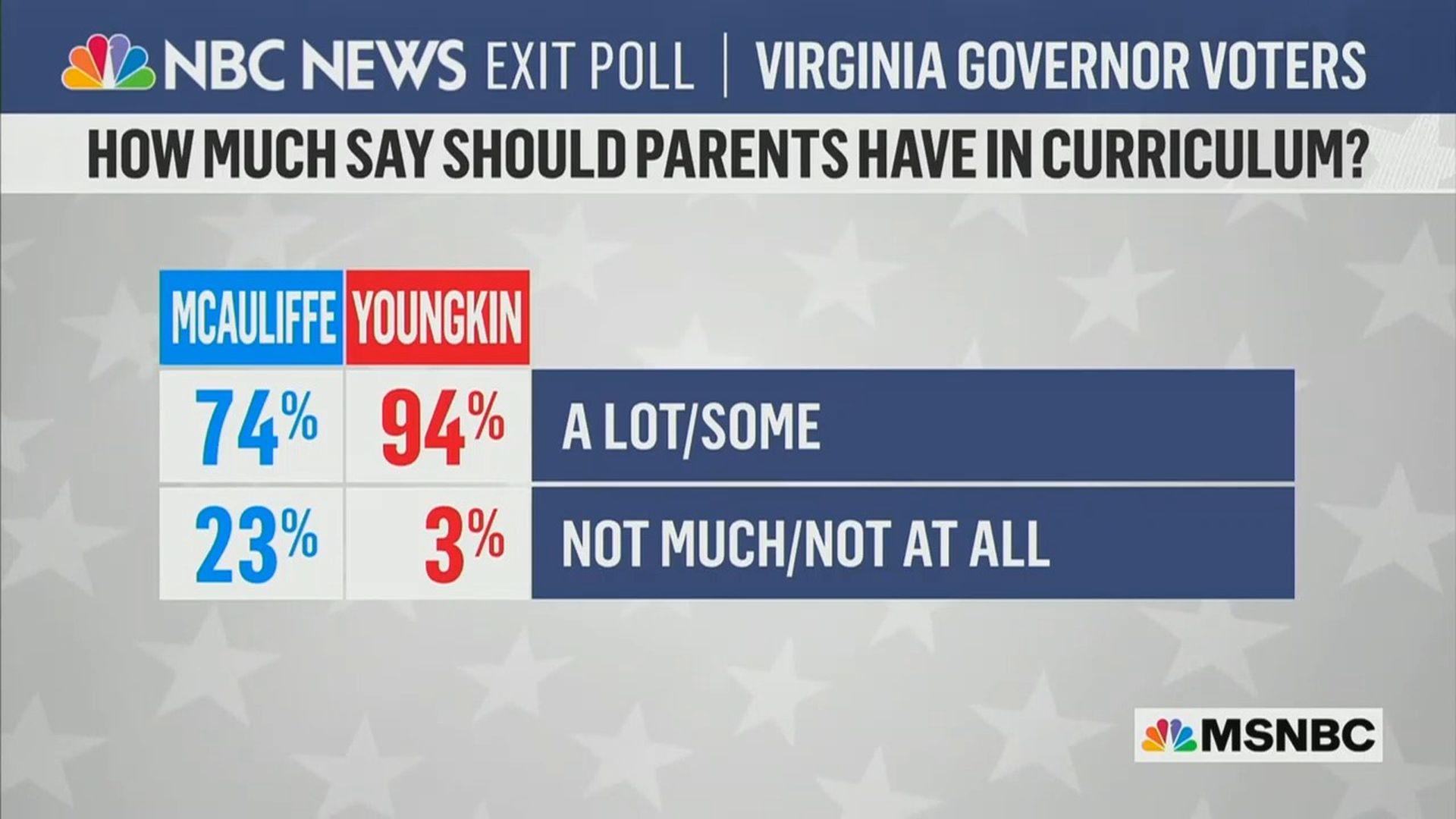 You could tell where the night was headed at 5:25 p.m. ET, when Josh Kraushaar tweeted how Virginia voters had answered the exit-poll question: How much say should parents have in their child's curriculum?
A lot: 53% [Later updated to 51%]
Some: 31% [Later updated to 33%]
Not much: 10%
Not at all: 3%
Go deeper: Explore the exit poll.
3. 🤔 Dems push tax cut for rich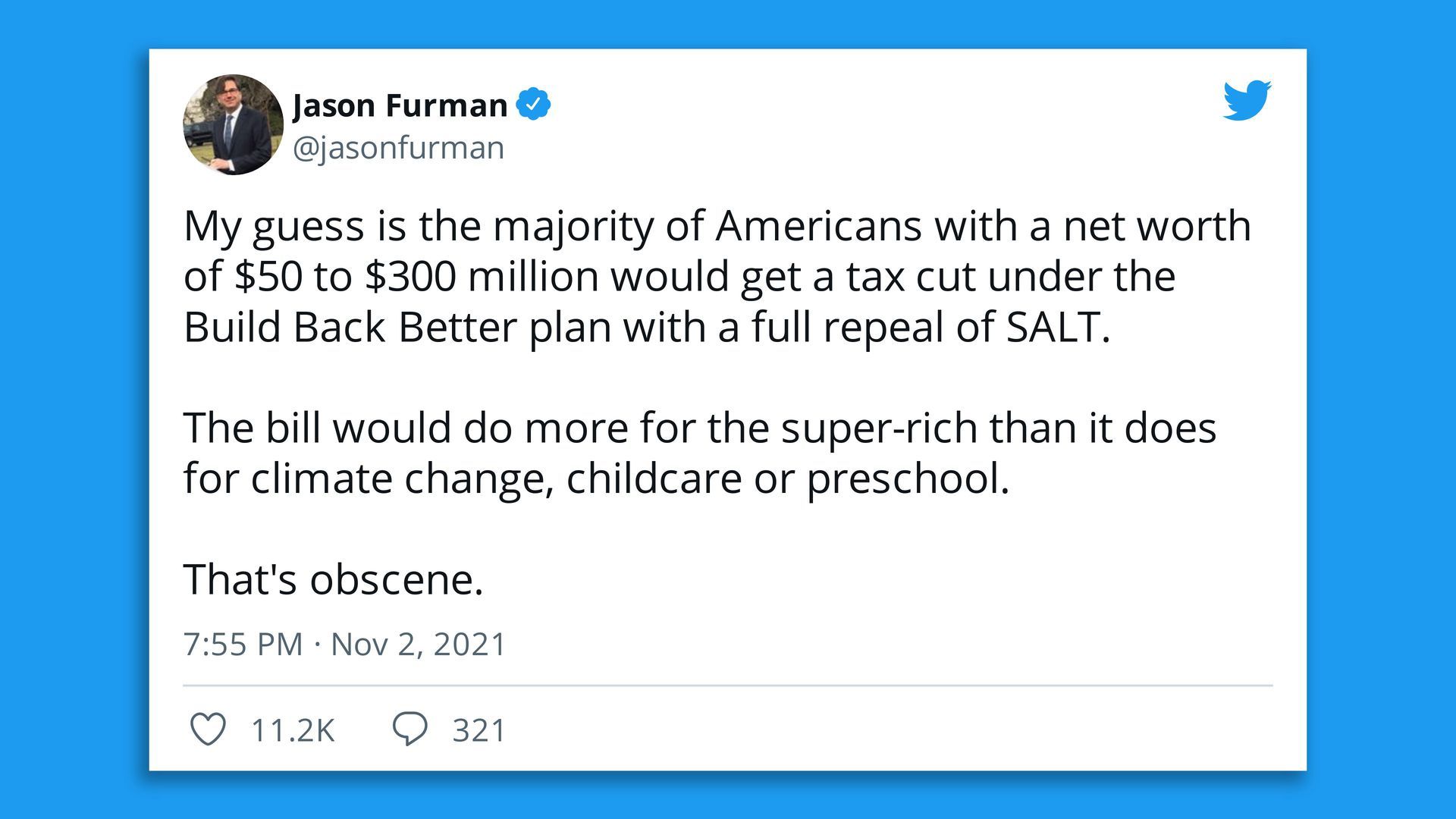 Democrats neared agreement on a plan to do away with the $10,000 limit on state and local tax deductions that particularly hits New York, California and other high-tax states, enacted as part of the Trump-era 2017 tax plan. (AP)
🥊 Here's what Sen. Bernie Sanders told Jonathan Swan on "Axios on HBO" in May, when asked what would happen if Dems reinstate SALT, a tax break for rich people in blue states:
"It sends a terrible, terrible message. ... And you can't be on the side of the wealthy and the powerful if you're gonna really fight for working families."
4. Mayoral milestones for Asian Americans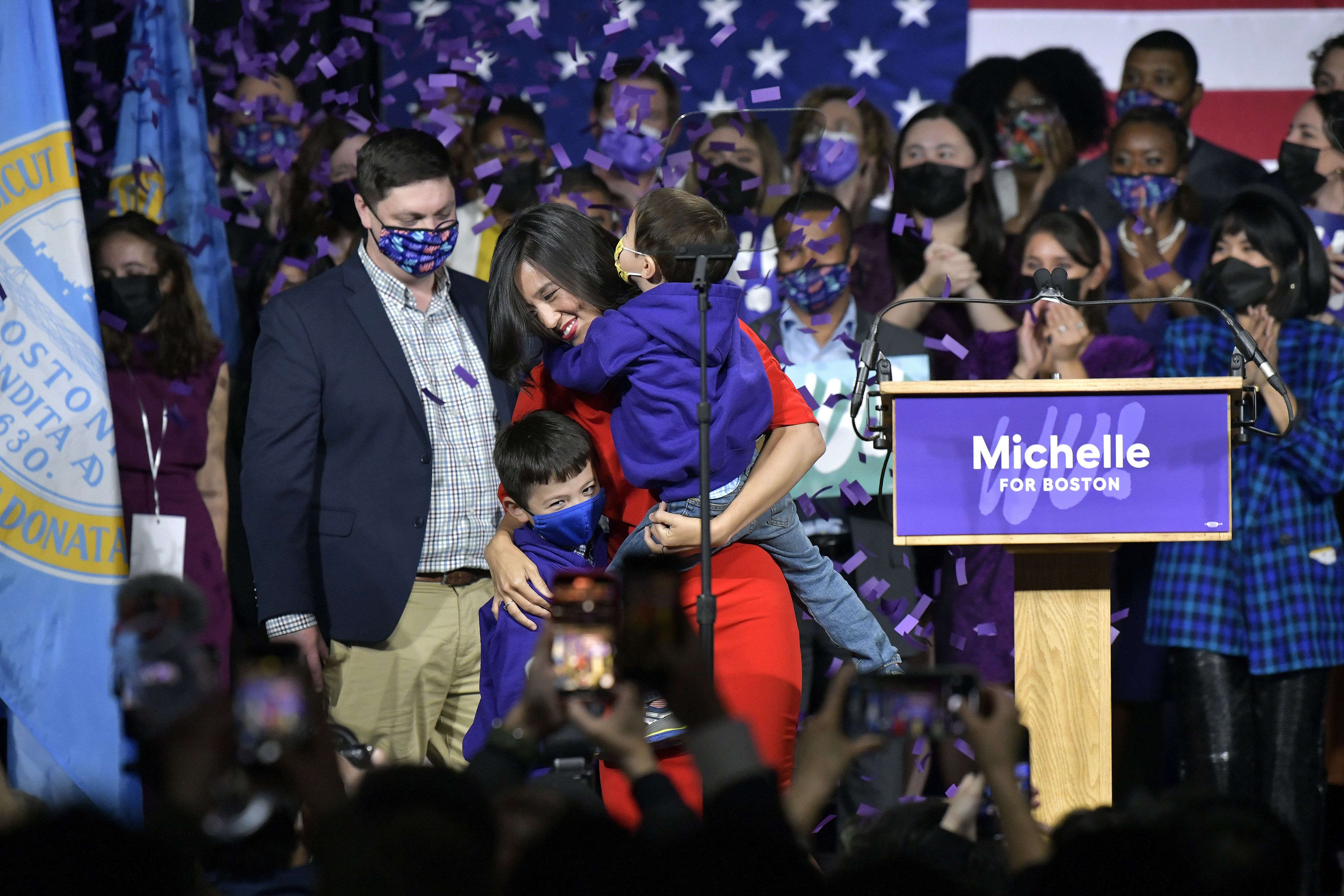 Progressive Michelle Wu, 36, was elected Boston mayor, becoming the first woman and first person of color to hold the office in 199 years.
"Her victory is a triumph of a new Boston over the establishment," the Boston Globe reports.
"Courting a city attached to its traditions, she presented an unapologetic, novel agenda: ... free public transportation, an entirely new approach to downtown development, rent control, and a municipal-level Green New Deal."
In Cincinnati, Aftab Pureval, 39, was elected that city's first Asian American mayor.
"When you see A-f-t-a-b on a yard sign, it doesn't occur to people that's a candidate, not an insurance company," Pureval told AP. "When you're Asian, when you have an ethnic name, it's just harder. You've got to be creative, ... you've got to knock on more doors."
Dearborn, Mich., elected state lawmaker Abdullah Hammoud as the first Arab American mayor.
In New York City, Democrat Eric Adams won the mayor's race — putting a former NYPD officer in charge of America's biggest city.
5. Dow passes 36,000
The Dow closed above 36,000 yesterday for the first time ever.
The Wall Street Journal calls it "a reminder of a Wall Street maxim about market predictions: Forecast a number or a date, never both."
Glassman is 74; Hassett is 59. May you outlive your wildest predictions!
6. Behind Biden's China scolding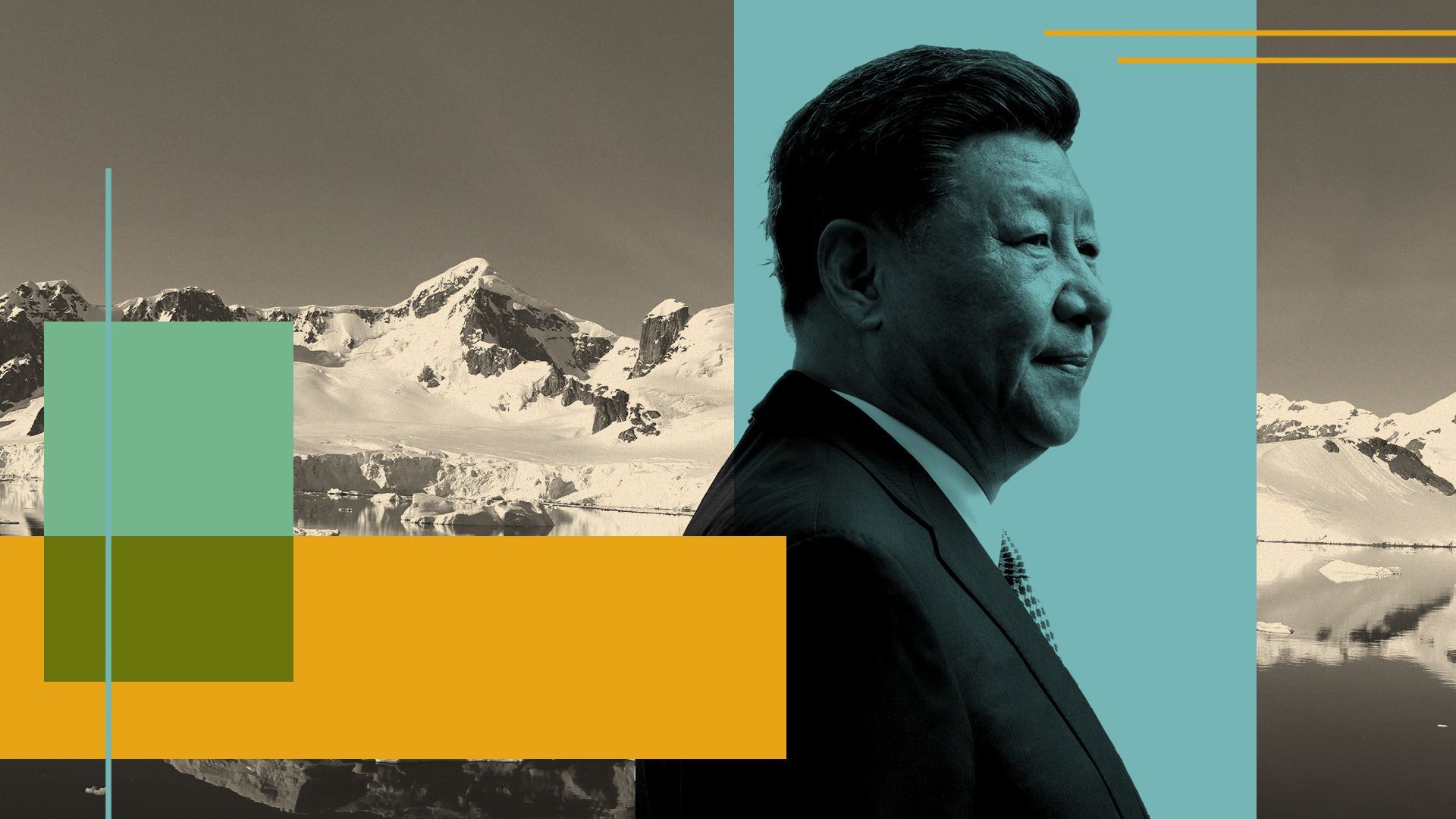 President Biden's declaration that Chinese leader Xi Jinping has "walked away" from an opportunity to help save the planet showed the intensity of the simmering rivalry lingering in the back of the COP26 climate summit, Axios' Dave Lawler writes from Glasgow.
"The single most important thing that's got the attention of the world is climate ... It just is a gigantic issue, and they've walked away," Biden said in his final COP26 press conference yesterday. "How do you do that and claim to be able to have any leadership mantle?"
Why it matters: The U.S. and China combine for nearly 40% of the world's greenhouse gas emissions, meaning that any major climate breakthroughs require both superpowers on board.
Xi opted against both traveling to Scotland and offering new pledges to cut emissions, undermining the summit before it even began.
Biden, meanwhile, offered big initiatives during the world leader portion of COP26 — but the threat to his climate agenda on Capitol Hill reverberated in the halls of the conference.
7. ⚾ Last night's other big winner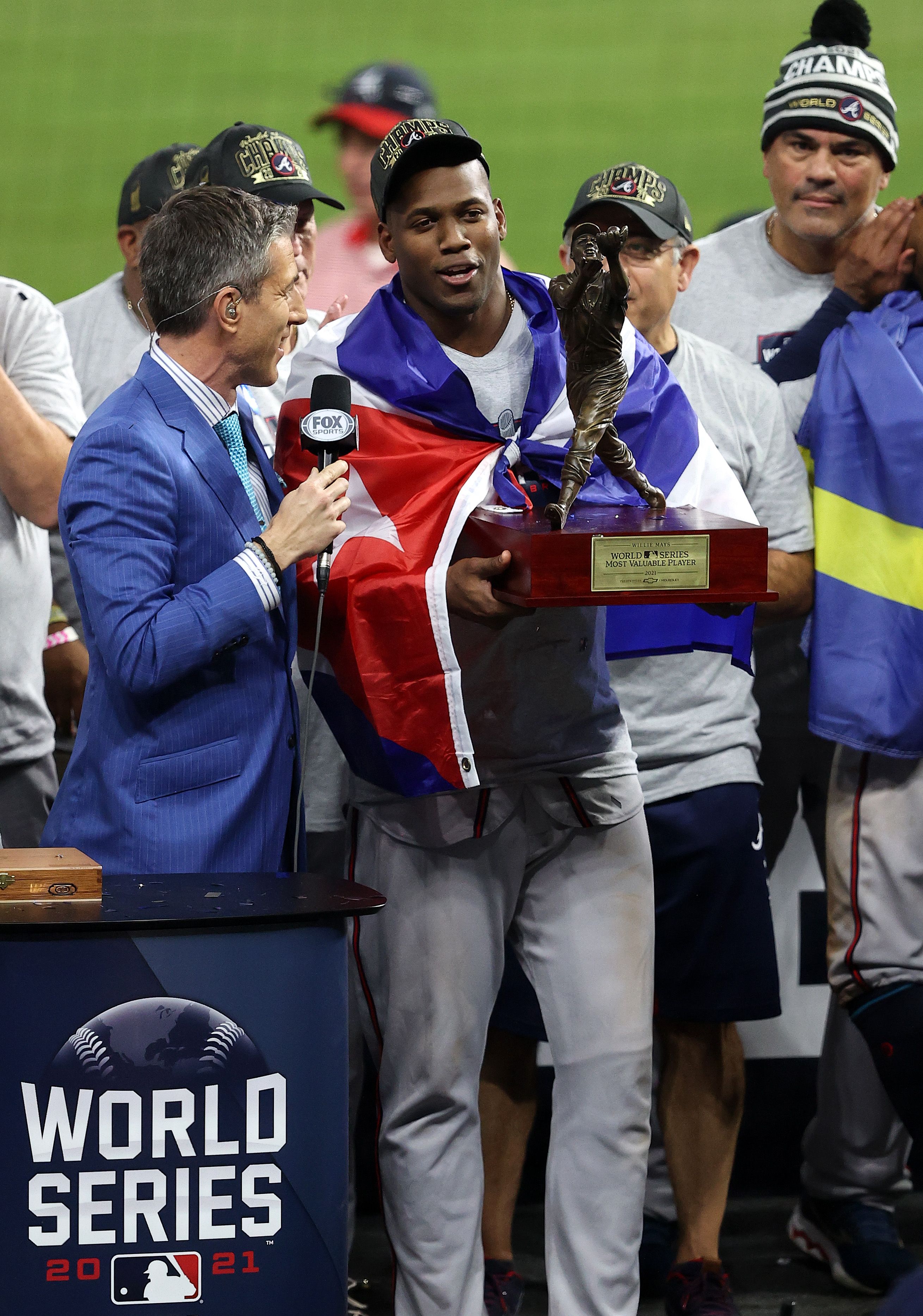 The Braves routed the Houston Astros 7-0 in Game 6, taking home Atlanta's first World Series crown since 1995:
Twenty-six years and 16 postseason appearances since that memorable Oct. 28 day in 1995, the Braves brought Atlanta its second World Series championship Tuesday in Houston. This team's one-of-a-kind story will be shared and referenced across generations with the simplest yet most invaluable lesson: never give up.
—
Atlanta Journal-Constitution
8. 📷 1 smile to go: Dream realized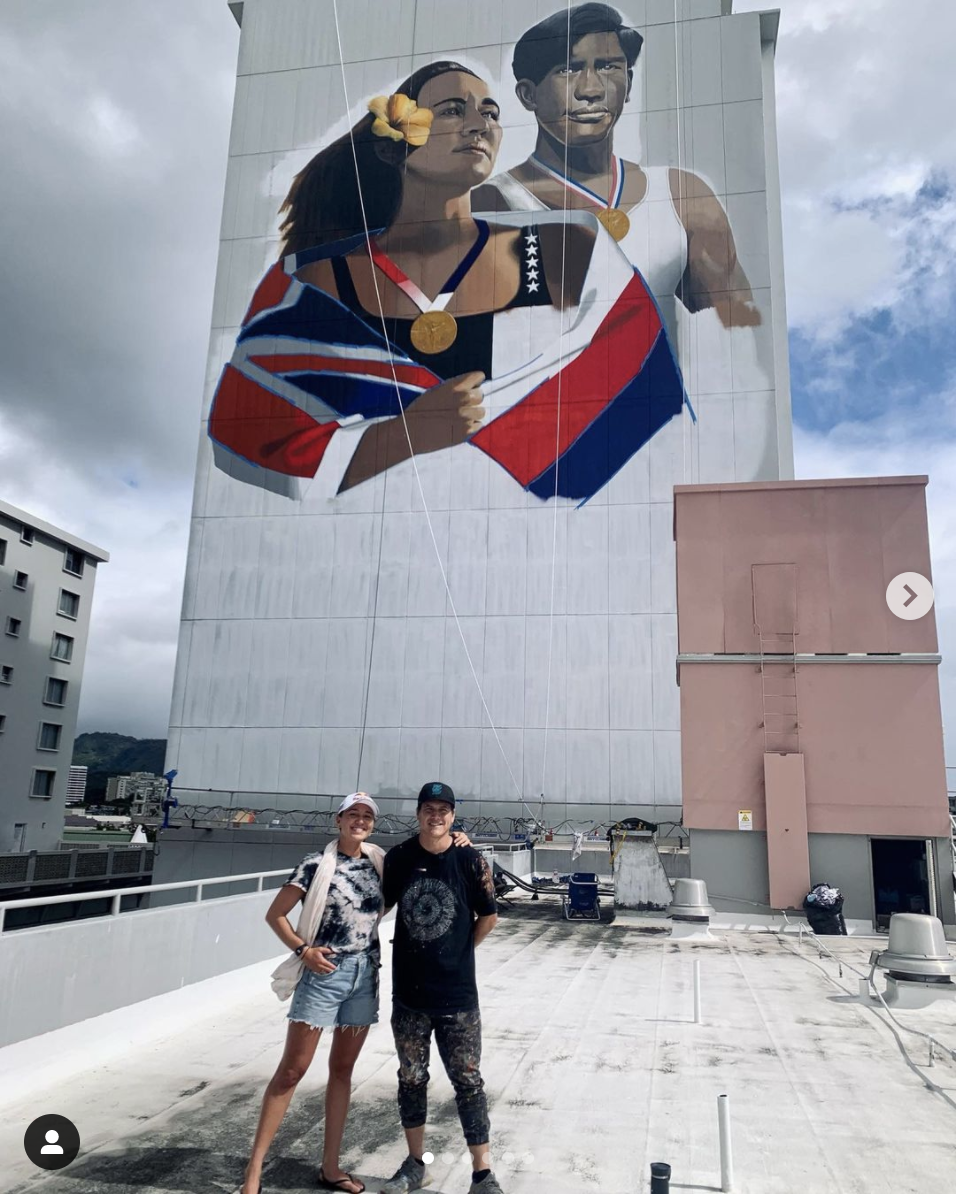 A mural in Honolulu pays tribute to the first U.S. Olympic surfing champion, Carissa Moore, who won gold in Tokyo this summer, Axios editor-in-chief Sara Kehaulani Goo tells me.
The mural depicts her wrapped in the Hawaii state flag, in the foreground of legendary Hawaii surfer Duke Kahanamoku (1890-1968).
Duke dominated the Olympics for swimming in his day, and started pushing for recognition of surfing as an Olympic sport back in 1912.
📬 Was this email forwarded to you? Sign up here for your own copy of Axios AM and Axios PM.