September 09, 2019
☕ You're invited! If you're in D.C. on Thursday, join me at 8 a.m. for breakfast and conversation with Samantha Power, former UN ambassador, who's out tomorrow with a memoir, "The Education of an Idealist" ... Ken Cuccinelli, acting director of U.S. Citizenship and Immigration Services ... and Rep. Adam Kinzinger of Illinois.
1 big thing: New fake-news worry for Instagram
Instagram could become a new platform for sharing disinformation about the 2020 election, because propagandists are relying on images and proxy accounts to create and circulate fake content, Axios' Alexi McCammond writes.
"Disinformation is increasingly based on images as opposed to text," said Paul Barrett, author of an NYU report, "Disinformation and the 2020 Election."
"Instagram is obviously well-suited for that kind of meme-based activity."
Why it matters: This makes it harder for social-media platforms to enforce their rules, remove content and suspend accounts.
Joan Donovan, director of the Technology and Social Change Research Project at the Shorenstein Center, said: "Instagram isn't built for virality in the same way as other platforms. So it does require other kinds of ingenuity to abuse the platform in other ways."
The big picture: Instagram is an engagement powerhouse that attracts far younger users than its parent company, Facebook.
And it drove more engagement with Russian disinformation in 2016 than Facebook, according to the NYU report.
In a statement, Instagram said: "We know that our adversaries are always changing their techniques so we are constantly working to stay ahead."
Experts say the tactics of the people looking to spread disinformation about 2020 have gotten savvier since 2016, so it'll be harder to crack down on it.
Researchers are keeping an eye on activities like accounts that share celebrity gossip to build an audience, then pivot to political content as an election nears.
What to watch: "The more big platforms are cracking down," said Ben Nimmo of Graphika, a social-media analytics company, "the more they're forcing the bad actors to look elsewhere."
2. Afghans fear surge in violence after talks scrapped
"President Trump's decision to break off peace talks with the Taliban ... left Afghanistan bracing for a bloody prelude to national elections" on Sept. 28, the N.Y. Times' David E. Sanger and Mujib Mashal report.
Why it matters: "Now, the Taliban have more of an incentive to ... make clear that after an 18-year war they remain a potent political and military player."
Sentence of the day ... The Times' Peter Baker et al., on Trump's secret plan for a Taliban summit at Camp David:
On display were all of the characteristic traits of the Trump presidency — the yearning ambition for the grand prize, the endless quest to achieve what no other president has achieved, the willingness to defy convention, the volatile mood swings and the tribal infighting.
3. Exclusive: Fundraising by green groups spikes under Trump
Nearly all major environmental groups saw their donations increase, some significantly so, with President Trump in the White House, Axios' Amy Harder writes in her "Harder Line" energy column.
The big picture: When one side is in power, interest groups on the other side thrive — like environmental groups during one of the most aggressive regulatory rollbacks in American history.
4. Pic du jour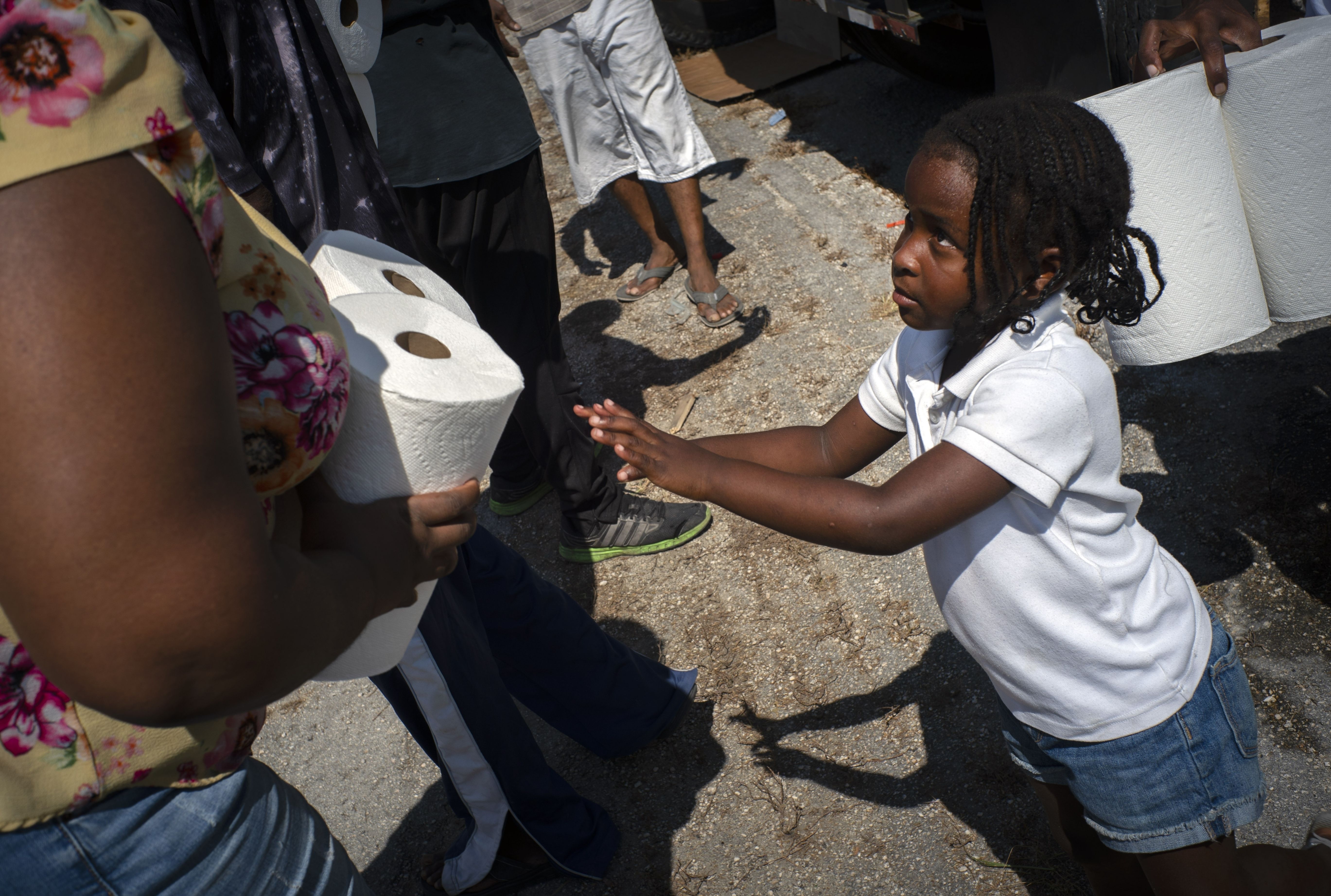 Above, 5-year-old Cattleya Aranha helps distribute paper towels donated to hurricane victims in Freeport, Bahamas.
Places like churches, which opened their doors for neighbors to ride out the storm, now are trying to clear out people who lost homes and need long-term shelter, Reuters reports.
Bahamian officials are looking at "the tent city concept and the container city concept."
5. "Volfefe" index tracks Trump tweets
JPMorgan Chase analysts have created an index to gauge the impact of President Trump's tweets on interest rates, Bloomberg's Tracy Alloway reports.
"The 'Volfefe Index,' named after Trump's mysterious 'covfefe' tweet, suggests that the president's tweets are having a statistically significant impact on Treasury yields."
"The number of market-moving Trump tweets has ballooned in the past month, with ... words such as 'China,' 'billion,' 'products,' 'Democrats' and 'great' most likely to affect prices."
6. New: Mayors pressure White House on background checks
Mayors of both parties will meet with White House officials and senators today, as lawmakers return from recess, to demand action on background checks for gun purchases, Axios' Kim Hart reports.
The state of play: In February, the House passed two bills strengthening the background check system, to bar people who shouldn't have access to firearms from purchasing them. But the Senate hasn't acted.
Bryan Barnett — mayor of Rochester Hills, Mich., and president of the United States Conference of Mayors — told Axios: "I think we are seeing a tipping point."
Barnett, a Republican from a conservative community, said the carnage isn't "just happening in certain areas. It's happening in Baptist churches, synagogues, mosques, gay bars, Home Depots, country concerts. Everyone can picture themselves in a location where a shooting has occurred."
Sign up for Kim Hart's weekly newsletter, Axios Cities.
7. 2020 snapshot: Warren rising ...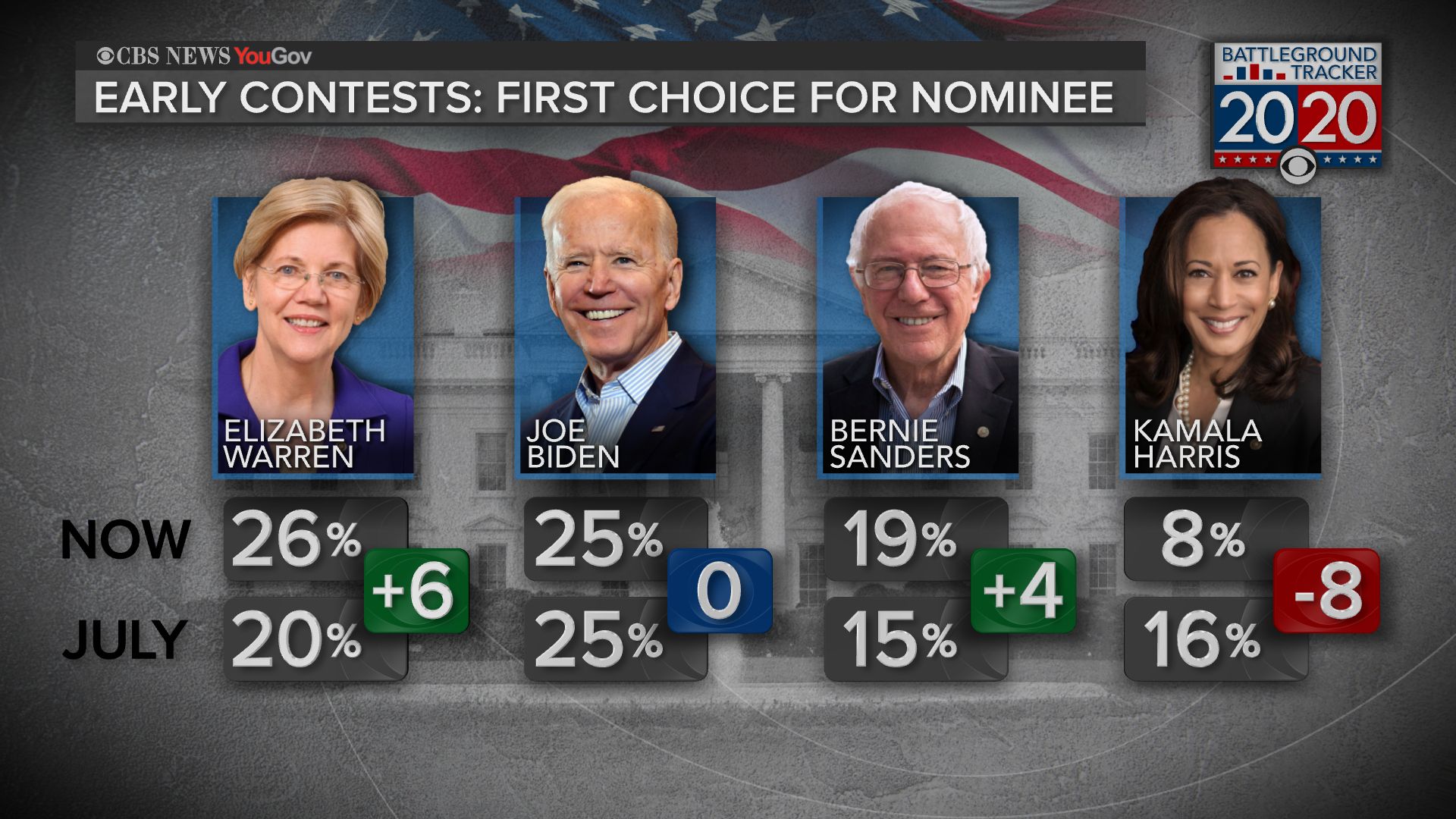 ... but Biden isn't falling. His strong suit continues to be perceived electability. Warren is closing in, though: Among those considering supporting her, the % who think she'd probably beat President Trump has jumped 16 points since June. (CBS News)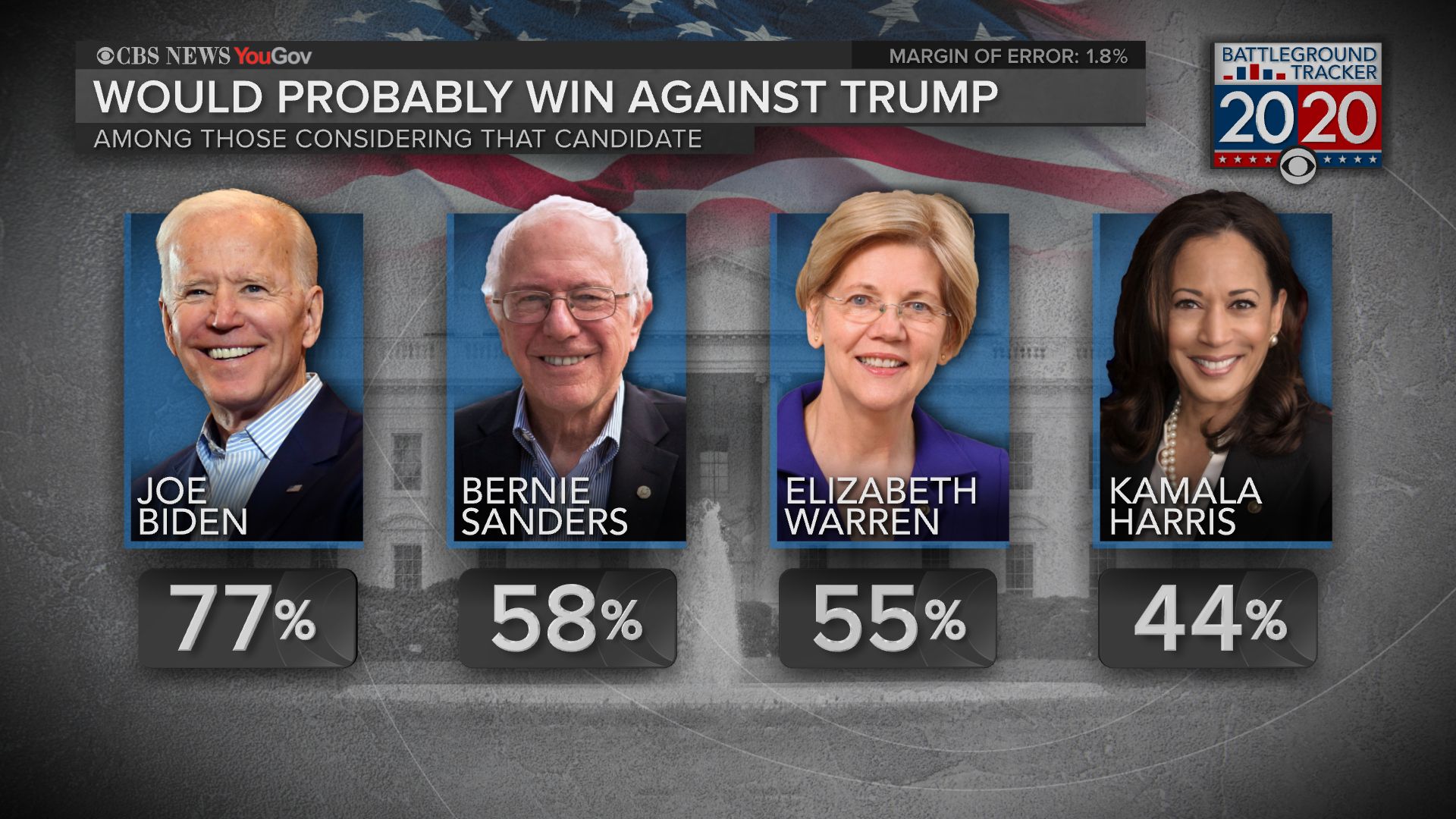 8. 📚 What I'm reading: "A feminist 'All the President's Men'"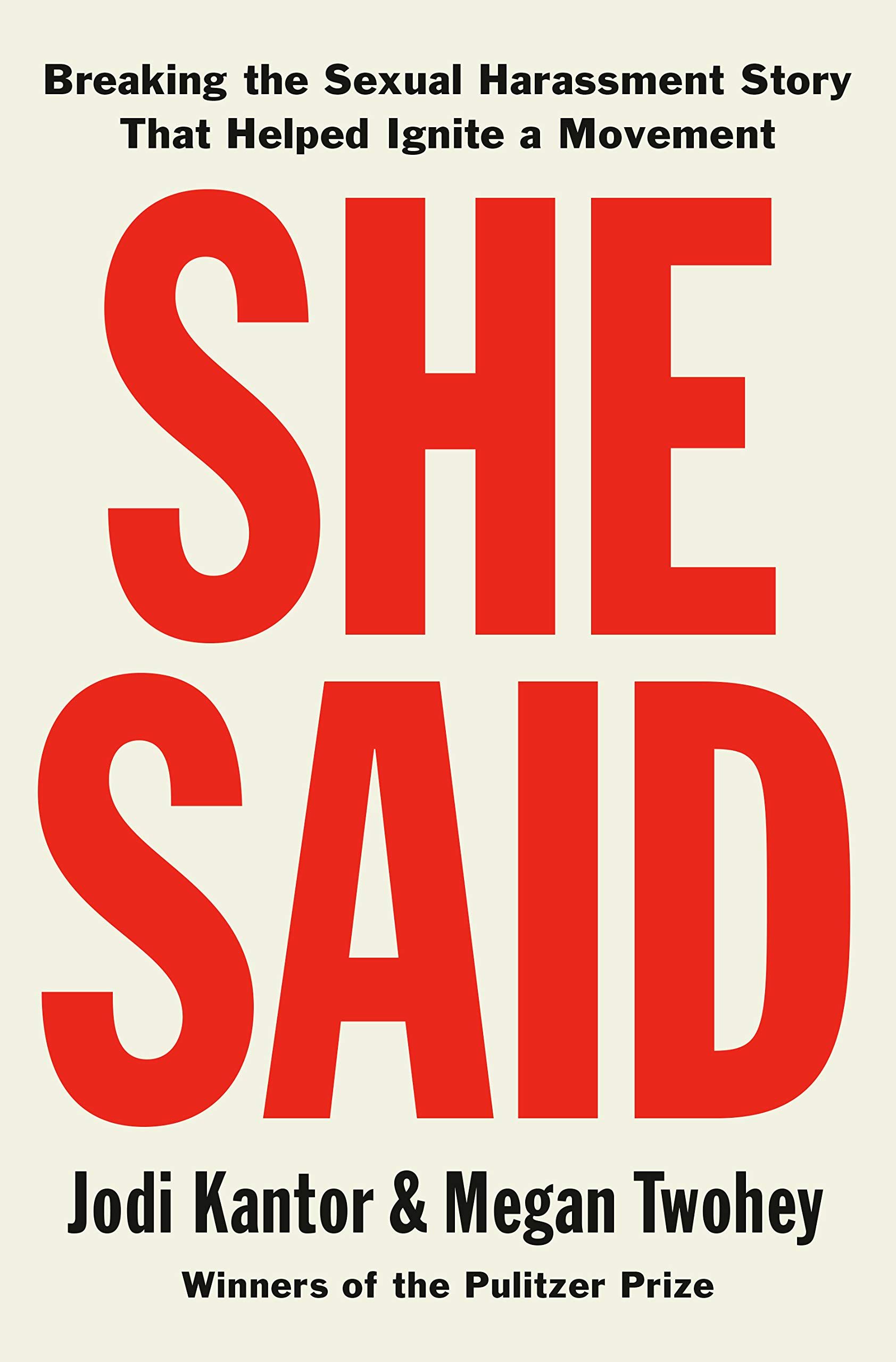 Out tomorrow ... "She Said: Breaking the Sexual Harassment Story That Helped Ignite a Movement," by Jodi Kantor and Megan Twohey, the N.Y. Times reporters who broke the Harvey Weinstein story, helping spark #MeToo.
From the Times review by Susan Faludi:
The authors' new information is less about the man and more about his surround-sound "complicity machine" of board members and lawyers, human resource officers and P.R. flaks, tabloid publishers and entertainment reporters who kept him rampaging with impunity years after his behavior had become an open secret. ...
When they at last confront Weinstein, in a Times conference room and later on speakerphone, he's the mouse that roared, the Great and Powerful Oz turned puny humbug, swerving from incoherent rants to self-pitying whimpers ("I'm already dead") to sycophantic claims of just being one of them. ("If I wasn't making movies, I would've been a journalist.") He's loathsome and self-serving ...
"She Said" contains a second story of what's doable against great odds: how two reporters with no connections in Hollywood and with almost no one willing to go on the record were able to penetrate this omertà and expose what lay behind it to public scrutiny. ... "She Said" reads a bit like a feminist "All the President's Men."
9. Tracking power: From Trump to Teneo
Axios has learned that Treasury Secretary Steven Mnuchin's former spokesperson Tony Sayegh has joined the CEO advisory behemoth Teneo as a managing director.
Why it matters: Sayegh — a key player on the tax cut and ally of Jared and Ivanka — is wired into Larry Kudlow, Gary Cohn, Robert Lighthizer, etc.
Tony will be based at global HQ in NYC, with a regular presence in D.C., working with clients on strategic communications, public affairs and media.
10. 🎬 1 film thing: Eddie Murphy's passion project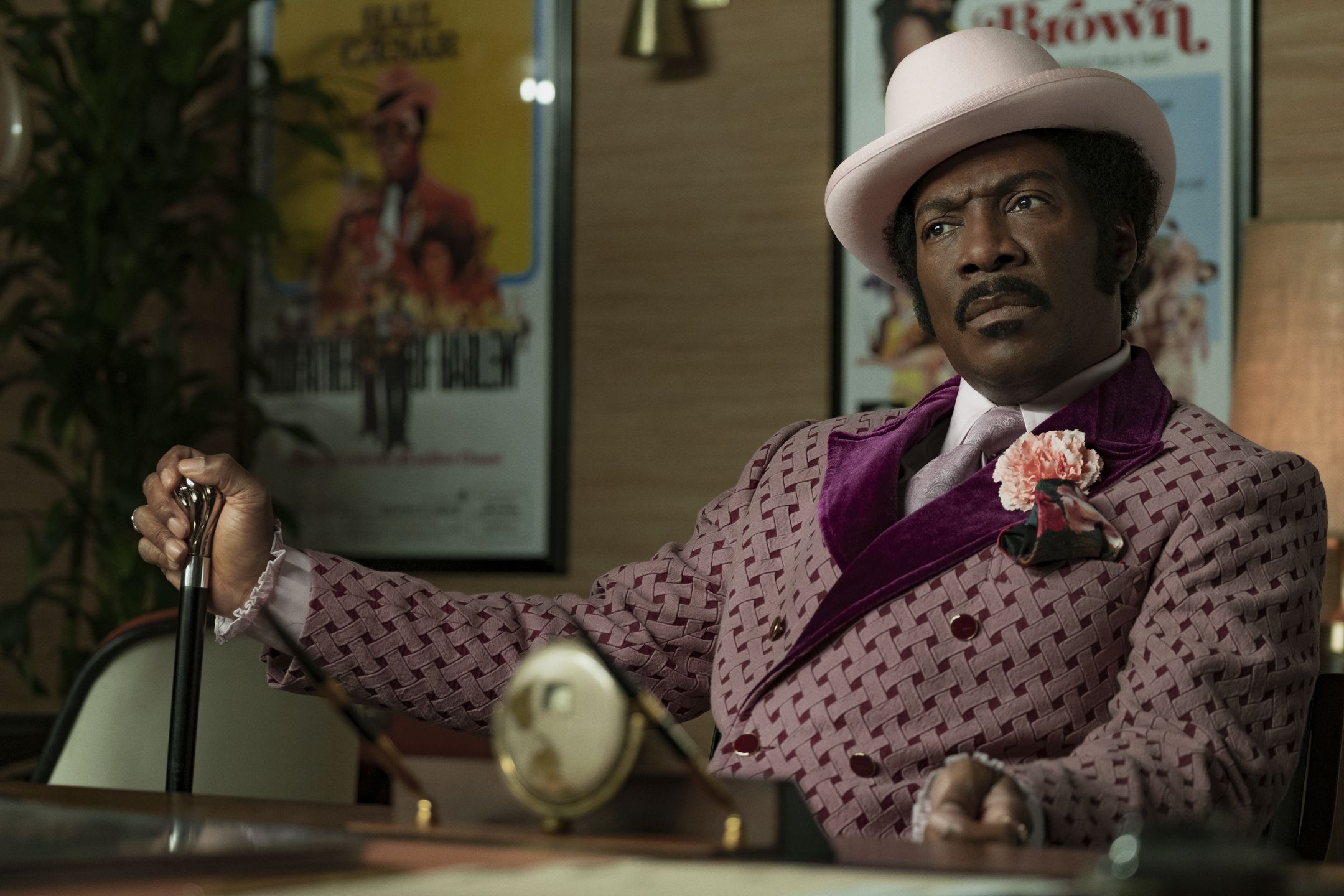 Eddie Murphy worked for more than a decade to get a movie made about the comedian Rudy Ray Moore — and now "Dolemite Is My Name" (in theaters Oct. 4; streaming on Netflix on Oct. 25) looks like a triumphant comeback for Murphy.
"Dolemite Is My Name" drew some of the best reviews of Murphy's career after its premiere this weekend at the Toronto International Film Festival, AP's Jake Coyle writes.
Why it matters: It's a paean to low-budget moviemaking and a celebration of creating something out of nothing, outside a movie system that made scant room for African-American stories.
It had been a while. Murphy's last two leading performances — 2016's "Mr. Church" and 2012's "A Thousand Words" — were little seen and little loved.
Murphy met long ago with Moore, who died in 2008 at the age of 81, to discuss telling his story.
Moore's character — the straight-talking, kung fu-fighting pimp Dolemite — was his stand-up persona and star of the 1975 Blaxploitation classic "Dolemite."
📱 Please invite your friends and co-workers to sign up here for Axios AM and PM.