Good Monday morning. Situational awareness: "Stocks around the world have staged one of the best-ever starts to a year, a synchronized rally that has only gained momentum following 2017's sharp gains," per The Wall Street Journal's lead story.
https://www.axios.com/newsletters/axios-am-8dad83a6-e268-441b-bc2e-8eefe897cff8.html?chunk=0#story0
1 big thing: Tomorrow's Trump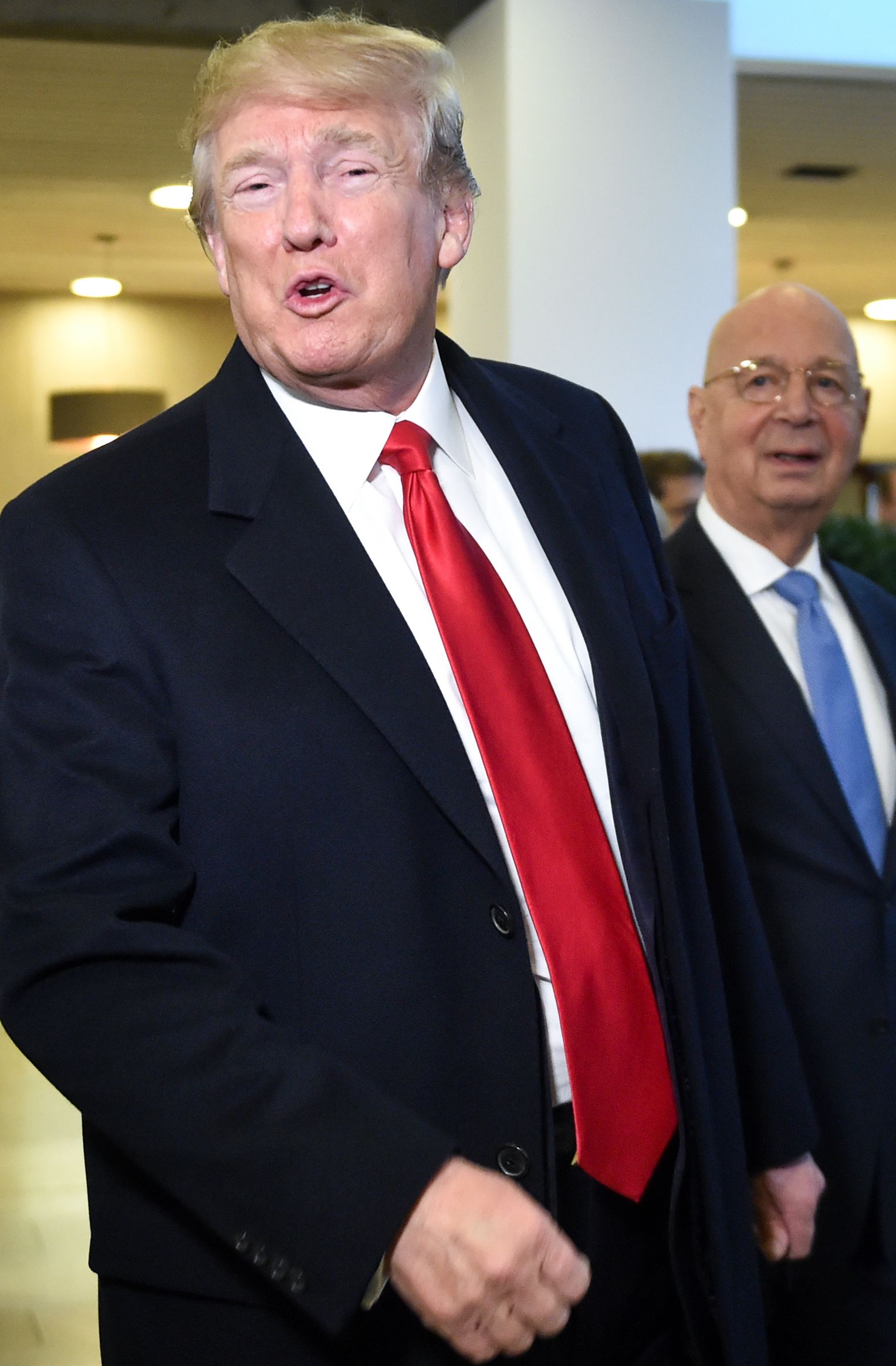 President Trump in Davos with his host, Klaus Schwab, founder of the World Economic Forum (Nicholas Kamm / AFP / Getty Images)
President Trump's aides say to expect a more bipartisan and collaborative tone in tomorrow's State of the Union Address — in contrast to his own record:
"The partisan fights, like Obamacare and tax cuts, are behind," a Trump source told me. "Now everything requires cooperation and agreement."
Reality check: Trump rarely even flicks at real cooperation in big negotiations. 
Trump source: "Time to appear as commander-in-chief and leader of the whole nation. So expect calls to patriotism and national security and national greatness."
Reality check: Trump has offended almost every group in American politics other than straight, white, Trump-supporting men. 
Trump hasn't changed, and won't. But following his unlikely triumph in Davos, and looking ahead to tomorrow's address, we see a clear pattern: For big speeches, he tends to stick to the prompter and is less divisive than usual, and basks in the ensuing reviews.
We saw it in his first address to Congress, just over a month after the inauguration, which fed internal hopes that some semblance of normalcy might lie ahead.
It didn't, of course. But for a president who loves praise, it was a cue for how to get it.
So we saw a well-behaved Davos man. And aides are previewing a State of the Union that's more classic conservative than populist brimstone — although laced with plenty of boasting.
Trump can yell at the world at his campaign rallies, then use his inside voice for big moments like tomorrow:
Don't look for any new policy in this speech. Instead, expect key moments when, drawing on one of Ronald Reagan's most effective plays, Trump brings in the life experience of a gallery guest — a family affected by opioid addiction, or a mother whose daughter was killed by MS-13 gang members.
Swan reminded us in his Sneak Peek newsletter yesterday that the most emotional part of Trump's speech to Congress last year was when he spoke directly to the widow of a fallen Navy SEAL. Look for more of those moments.
For all Trump's triumphalism, the speech comes against a discouraging backdrop that has kept a pall on morale among many in the administration:
Robert Mueller is sending ominous signals.
Democrats are likely to take over the House, with resulting investigations and torment for the West Wing.
An ambitious legislative achievement is unlikely this year. Tomorrow's speech will tout Trump's infrastructure plans. But even close allies see no path to a big win.
The White House faces daunting negotiations on an immigration package that includes both a "Dreamer" solution and a plausible wall.
Be smart: Trump creates his own reality. (The N.Y Times' Maggie Haberman has said it's as if he has a magic Crayon to draw the world as he wishes). And his current reality is dominated by praise for his tax cut, and a peppy stock market that has become his new political poll.
https://www.axios.com/newsletters/axios-am-8dad83a6-e268-441b-bc2e-8eefe897cff8.html?chunk=1#story1
2. Axios scoop: Trump debates nationalizing 5G
Trump national security officials are considering an unprecedented federal takeover of a portion of the nation's mobile network to guard against China, according to sensitive documents obtained by Axios.
Details from the documents, per Axios' Jonathan Swan, Ina Fried, David McCabe and Kim Hart:
The main points: The documents say America needs a centralized nationwide 5G network within three years in order to create a secure pathway for emerging technologies like self-driving cars and virtual reality — and to combat Chinese threats to America's economic and cyber security.
Why it matters: One option proposed by the documents could lead to federal control of a part of the economy that today is largely controlled by private wireless providers.
The best way to do this, the memo argues, is for the government to build a network itself and rent access to carriers like AT&T, Verizon and T-Mobile.
Industry reacts: AT&T told Axios' Ina Fried that "the work to launch 5G service in the United States is already well down the road..."
What could come next, from Bloomberg: "U.S. lawmakers have sounded alarms about the growing power of Huawei, the Chinese network equipment maker... A government-backed plan to accelerate the development of 5G in the U.S. would require support from Huawei's top rivals, such as Nokia Oyj and Ericsson AB."
https://www.axios.com/newsletters/axios-am-8dad83a6-e268-441b-bc2e-8eefe897cff8.html?chunk=2#story2
3. Ken Starr on possible grounds for impeachment
Ken Starr, who prosecuted President Bill Clinton in the Monica Lewinsky case, said on ABC's "This Week," when asked about reports Trump sought to have Mueller fired, despite denials:
"You're now talking about something called lying to the American people, and I think that is something that Bob Mueller should look at."
"Perjury panic" in the West Wing, Axios' Jonathan Swan:
"I can't overstate the level of anxiety among sources close to Trump after the president told the NYT's Maggie Haberman last week he was willing and eager to submit himself to a live interview under oath with Special Counsel Robert Mueller."
N.Y. Times columnist David Leonhardt posts a 10-point "Article of Impeachment Against Donald J. Trump."
https://www.axios.com/newsletters/axios-am-8dad83a6-e268-441b-bc2e-8eefe897cff8.html?chunk=3#story3
Bonus: Instagram du jour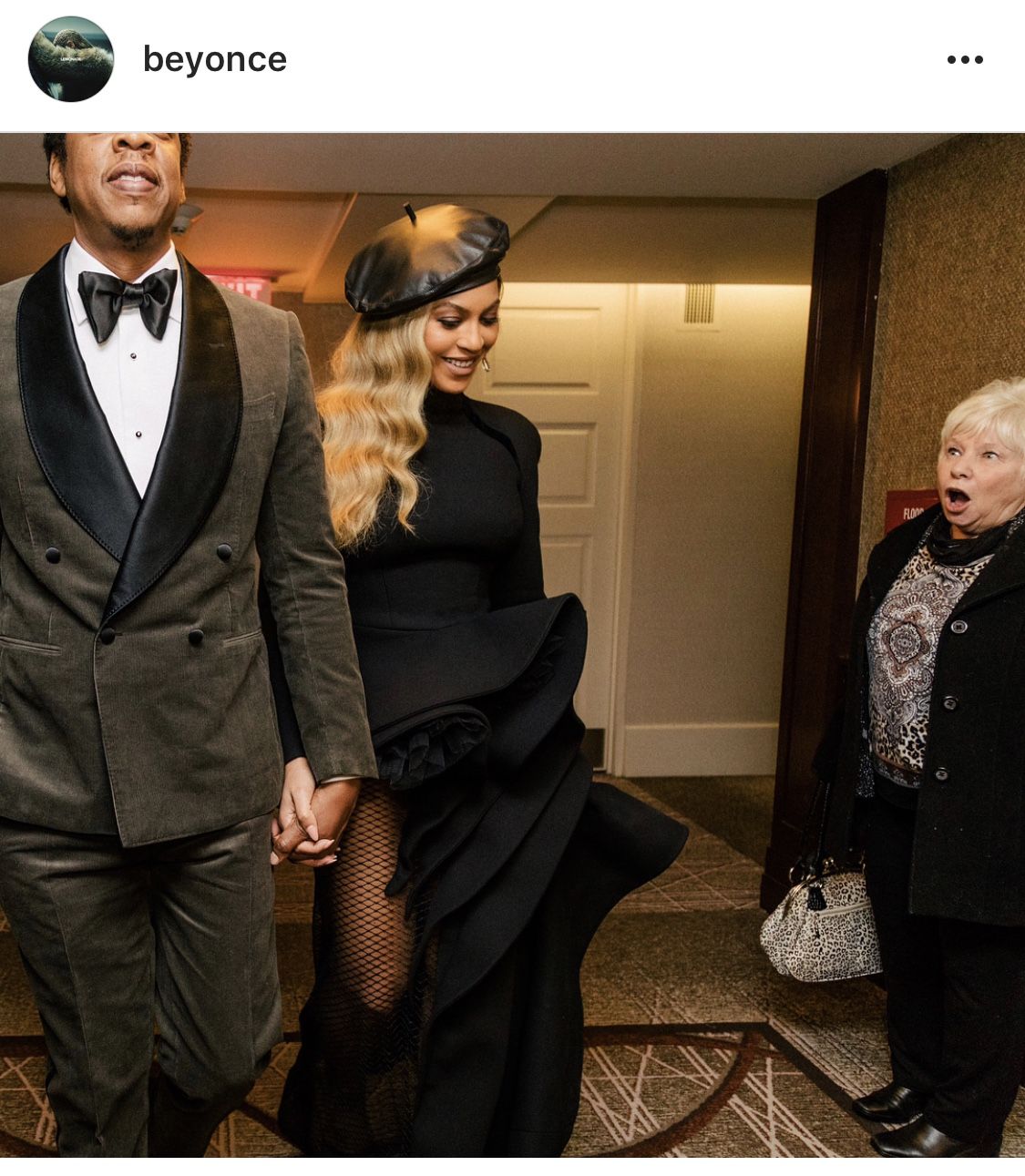 https://www.axios.com/newsletters/axios-am-8dad83a6-e268-441b-bc2e-8eefe897cff8.html?chunk=4#story4
4. How health care could shape '18 campaigns
As midterm campaigns heat up, Democrats have used health care to go on the attack, and the issue is coming up in congressional races in California, Colorado, Michigan, Washington and elsewhere, AP reports:
"Strong [ACA] sign-ups came despite Republican attacks against the law and ... Trump's administration taking several steps to undermine it, including cutting the federal sign-up period in half and slashing advertising."
"Democrats say the level of consumer interest presents a political opportunity."
https://www.axios.com/newsletters/axios-am-8dad83a6-e268-441b-bc2e-8eefe897cff8.html?chunk=5#story5
5. How campaigns will handle #MeToo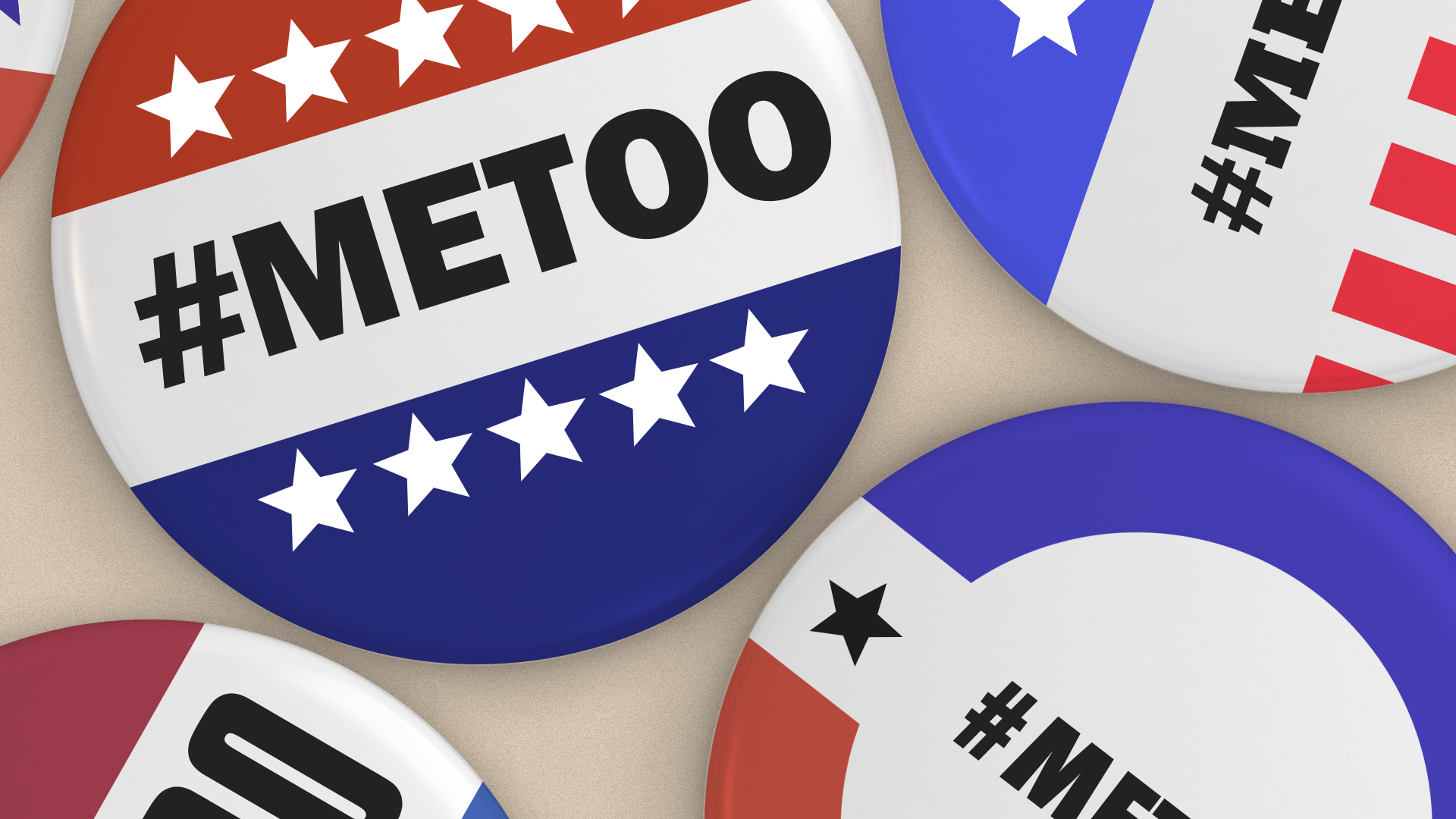 Some former campaign staffers laughed when Axios' Alexi McCammond asked about the presence of H.R. on their campaigns:
The freewheeling culture of campaigns is colliding with America's #MeToo moment.
According to conversations with 14 former staffers, many campaigns — often likened to startups — don't have human resources staff.
Even on those that do, campaign staffers are unaware of what's available to them and how to report an issue if something happens.
https://www.axios.com/newsletters/axios-am-8dad83a6-e268-441b-bc2e-8eefe897cff8.html?chunk=6#story6
6. Early signs point to Dem wave in November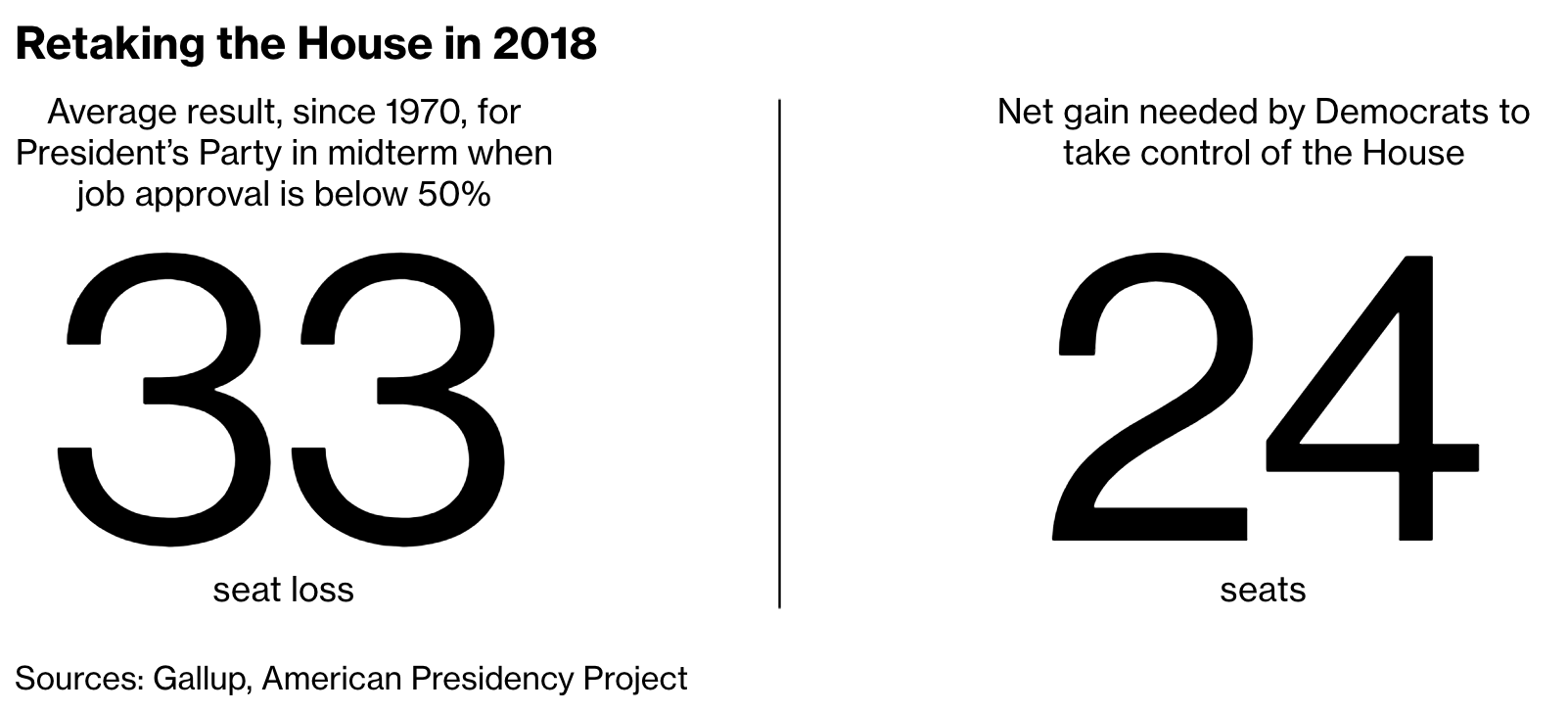 Bloomberg
Per Bloomberg: "Trump's approval rating at this stage of his presidency, 36 percent, is lower than any of his predecessors going back to Harry Truman, according to Gallup polling data. The less popular the president, the more seats his party tends to lose."
https://www.axios.com/newsletters/axios-am-8dad83a6-e268-441b-bc2e-8eefe897cff8.html?chunk=7#story7
7. Fitness trackers revealing too much
"Sensitive information about the location and staffing of military bases and spy outposts around the world has been revealed by a fitness tracking company," the Guardian's Alex Hearn reports.
"The details were released by Strava in a data visualisation map that shows all the activity tracked by users of its app, which allows people to record their exercise and share it with others."
Why it matters: "[T]he map is also detailed enough that it potentially gives away extremely sensitive information about a subset of Strava users: military personnel on active service."
"Nathan Ruser, an analyst with the Institute for United Conflict Analysts, first noted the lapse. The heatmap 'looks very pretty' he wrote, but is 'not amazing for Op-Sec' – short for operational security. 'US Bases are clearly identifiable and mappable.'"
"'In Syria, known coalition (ie US) bases light up the night,' writes analyst Tobias Schneider. 'Some light markers over known Russian positions, no notable colouring for Iranian bases … A lot of people are going to have to sit through lectures come Monday morning.'"
https://www.axios.com/newsletters/axios-am-8dad83a6-e268-441b-bc2e-8eefe897cff8.html?chunk=8#story8
8. First look: "Clinton Cash" sequel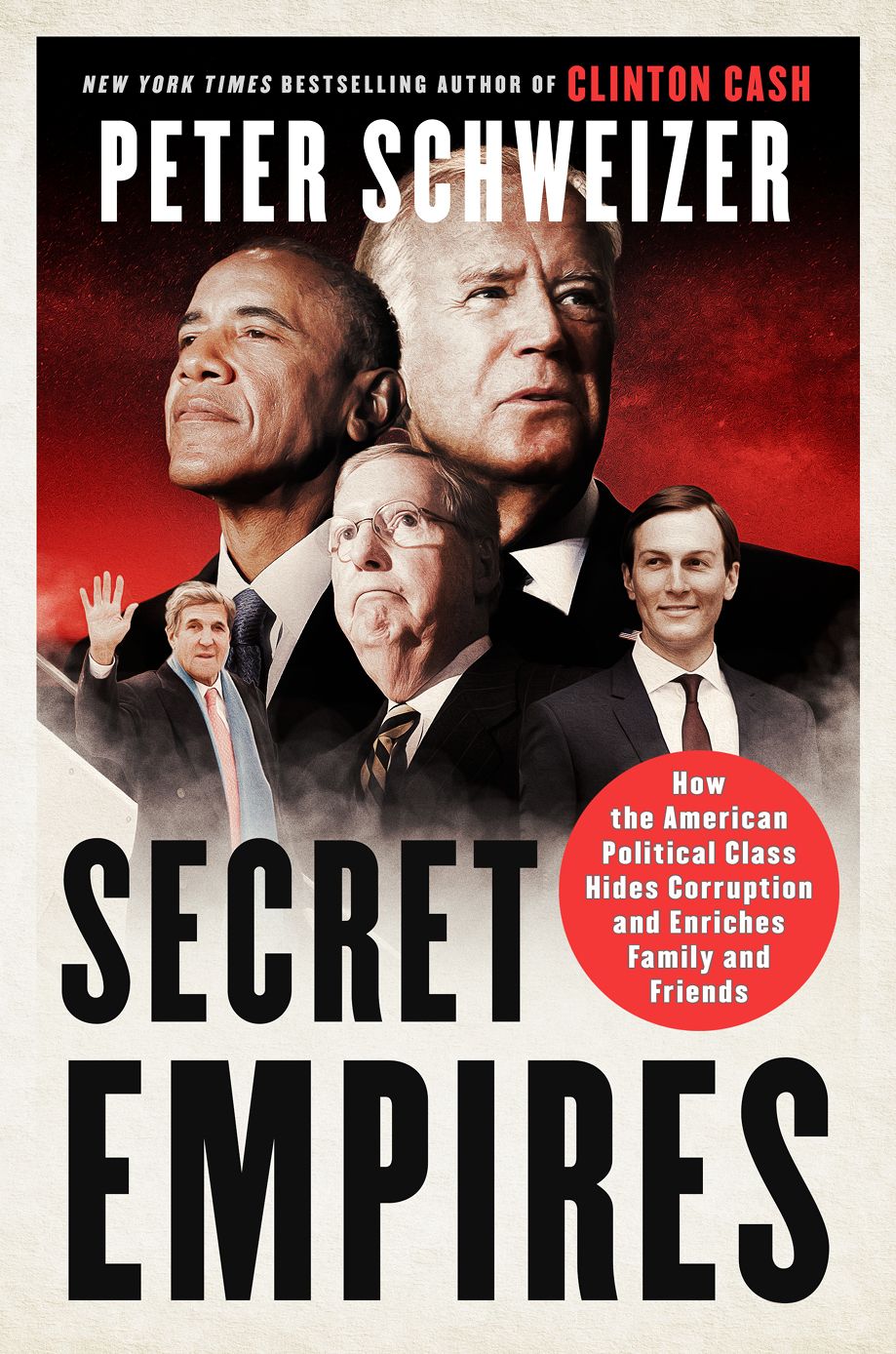 Courtesy HarperCollins
Peter Schweizer, author of the bestselling "Clinton Cash," is headed to Capitol Hill this week to tell senators and House members about his new book, out March 20, "Secret Empires: How Our Politicians Hide Corruption and Enrich Their Families and Friends."
HarperCollins says "Secret Empires" will have a first printing of 150,000.
According to publishing sources:
"The book is under a strict embargo, however sources reveal members of both parties will get a full Schweizer drill-down, including current members of Congress, high-ranking Obama officials, and the Trump family. "
"The book will expose vast corruption by top Washington figures who leverage their political power to enrich their family members and friends, often by helping grease deals with foreign entities. "
https://www.axios.com/newsletters/axios-am-8dad83a6-e268-441b-bc2e-8eefe897cff8.html?chunk=9#story9
9. A fun read
"At 13, He Helped Copy 'Some Papers.' As in the Pentagon Papers" — "Grace Notes" column by N.Y. Times' James Barron:
Robert Ellsberg, recounting how he and his sister, Mary, helped their father, Daniel Ellsberg, photocopy the Pentagon Papers: "He said, 'Here Mary, here are scissors' — playing with scissors was as exciting for her as Xeroxing was for me — and he said, 'Cut off these words.'"
The words Mary cut off? "Top Secret."
https://www.axios.com/newsletters/axios-am-8dad83a6-e268-441b-bc2e-8eefe897cff8.html?chunk=10#story10
10. 1 Grammy thing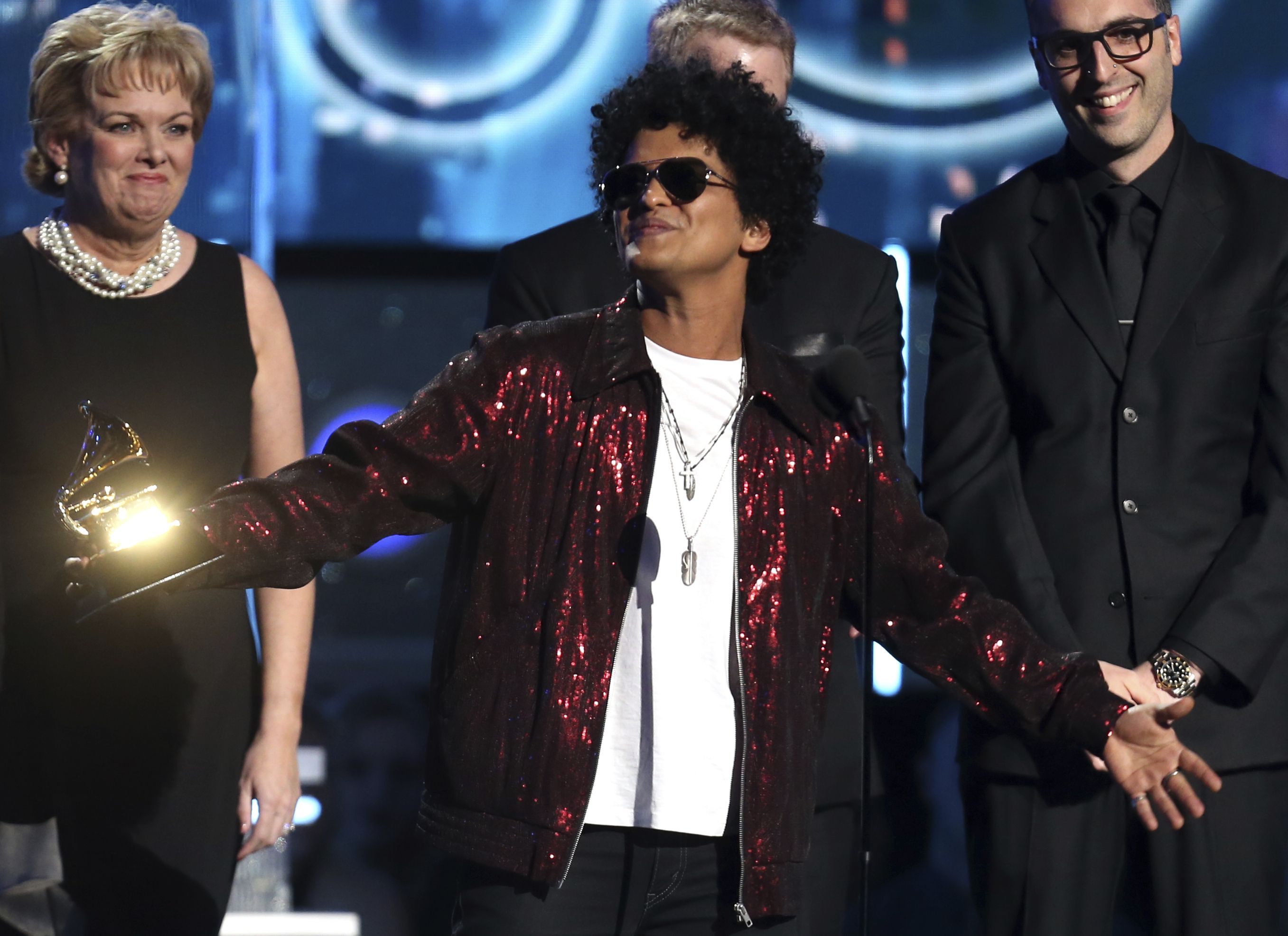 Bruno Mars accepts the award for record of the year for "24K Magic." (Matt Sayles / Invision / AP)
"It was supposed to be a night when political and social issues took center stage and the music industry fully embraced hip-hop," the L.A. Times' Randy Lewis writes. "But when the 60th Grammy Awards were given out ... at Madison Square Garden, ... it was a different tune":
"The Recording Academy gave three of its top trophies — album, record and song of the year — to R&B/pop star Bruno Mars' '24K Magic' album and hit single 'That's What I Like,' an escapist ode to sex by the fire, international travel and other stereotypical 'finer things in life' such as Cadillacs, strawberry Champagne, cool jewelry and silk sheets."
"Mars took home six Grammys."
"That left the year's most nominated artists — rappers Jay-Z and Kendrick Lamar — and hip-hop once again shut out of recognition in the Grammys' most prestigious categories."
"Still, Lamar picked up five of the seven awards for which he was nominated, his song 'Humble' winning for music video as well as rap song and performance, while 'Loyalty,' his track featuring Rihanna, won the rap/sung performance category and 'Damn' collected the rap album award."
"Jay-Z did not win any awards after receiving the most nominations with eight."
List of winners and nominees.