Good Sunday morning. Situational awareness: A week and a day till 🎅 ... "Wall Street Journal/NBC News poll finds 50% prefer Democrats to lead Congress after next year's midterms; 39% prefer Republicans." ... CDC ban on using "fetus," "transgender" and "science-based" in budget documents alarms experts. ... On "60 Minutes" tonight, "Too Big to Prosecute": the story of DEA's biggest case ever against a drug company. WashPost version here.
https://www.axios.com/newsletters/axios-am-8cda3fad-b31a-4851-9e43-01fde5f66035.html?chunk=0#story0
1 big thing: A new email imbroglio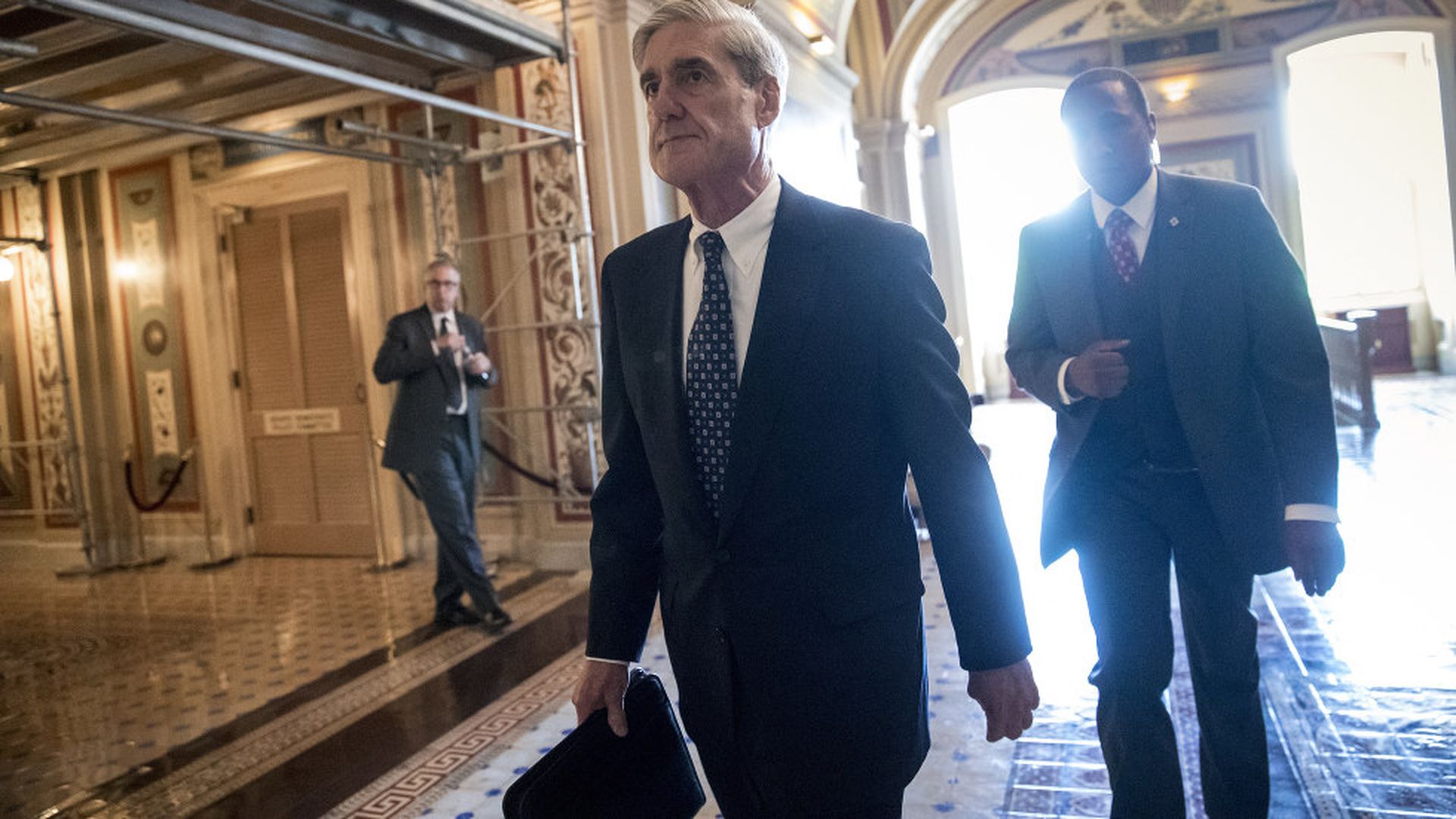 NEW: Officials of President Trump's transition team plan to ask Special Counsel Robert Mueller to return "many tens of thousands" of transition emails they contend were unlawfully provided to him. But the prosecutor's office says emails being used in the investigation were properly obtained.
What's new: A source close to Trump's transition, which still exists as a legal entity so it can shut down what was once a 1,000-person operation, said the transition will send a letter to Mueller informing him that some of the emails are privileged, and asking for their return. The transition says it is willing to provide Mueller with vetted emails.
The source told me: "What they did is totally illegal, and they need to fix it."
But Peter Carr, spokesman for the Special Counsel's Office, told Axios early this morning: "When we have obtained emails in the course of our ongoing criminal investigation, we have secured either the account owner's consent or appropriate criminal process."
Be smart / What's next: Republicans, who have been raising increasing questions about Mueller's office, are prepared to argue that if emails were obtained by questionable means, that could taint or undermine the investigation.
What happened: Axios reported yesterday afternoon that officials of Trump's Presidential Transition Team, his office for the 73 days between the election and the inauguration, discovered that Mueller had obtained huge caches of emails from the General Services Administration, the government agency that hosted the transition's "ptt.gov" emails.
What's at stake: We're told that the fight involves emails from the accounts of 12 officials, including members of the political leadership and foreign-policy team. One of the accounts alone includes 7,000 emails.
Trump officials discovered Mueller had the emails when his prosecutors used them as the basis for questions to witnesses, the sources said.
Why it matters: The transition emails are said to include sensitive exchanges on matters such as potential appointments, gossip about the views of particular senators involved in the confirmation process, speculation about vulnerabilities of Trump nominees, strategizing about press statements, and policy planning on everything from war to taxes.
"Mueller is using the emails to confirm things, and get new leads," a transition source told me.
Taking the fight public: Charging "unlawful conduct," Kory Langhofer, counsel for the transition team, wrote in a letter to congressional committees Saturday that "career staff at the General Services Administration ... have unlawfully produced [transition team] private materials, including privileged communications, to the Special Counsel's Office."
The seven-page letter, obtained by Axios, says: "We understand that the Special Counsel's Office has subsequently made extensive use of the materials it obtained from the GSA, including materials that are susceptible to privilege claims."
The letter says this was a violation of Fourth Amendment protections against unreasonable search and seizure.
"Additionally, certain portions of the [transition] materials the Special Counsel's Office obtained from the GSA, including materials that are susceptible to privilege claims, have been leaked to the press by unknown persons."
Go deeper: 7-page PDF of the letter.
https://www.axios.com/newsletters/axios-am-8cda3fad-b31a-4851-9e43-01fde5f66035.html?chunk=1#story1
2. The empire (of women) strikes back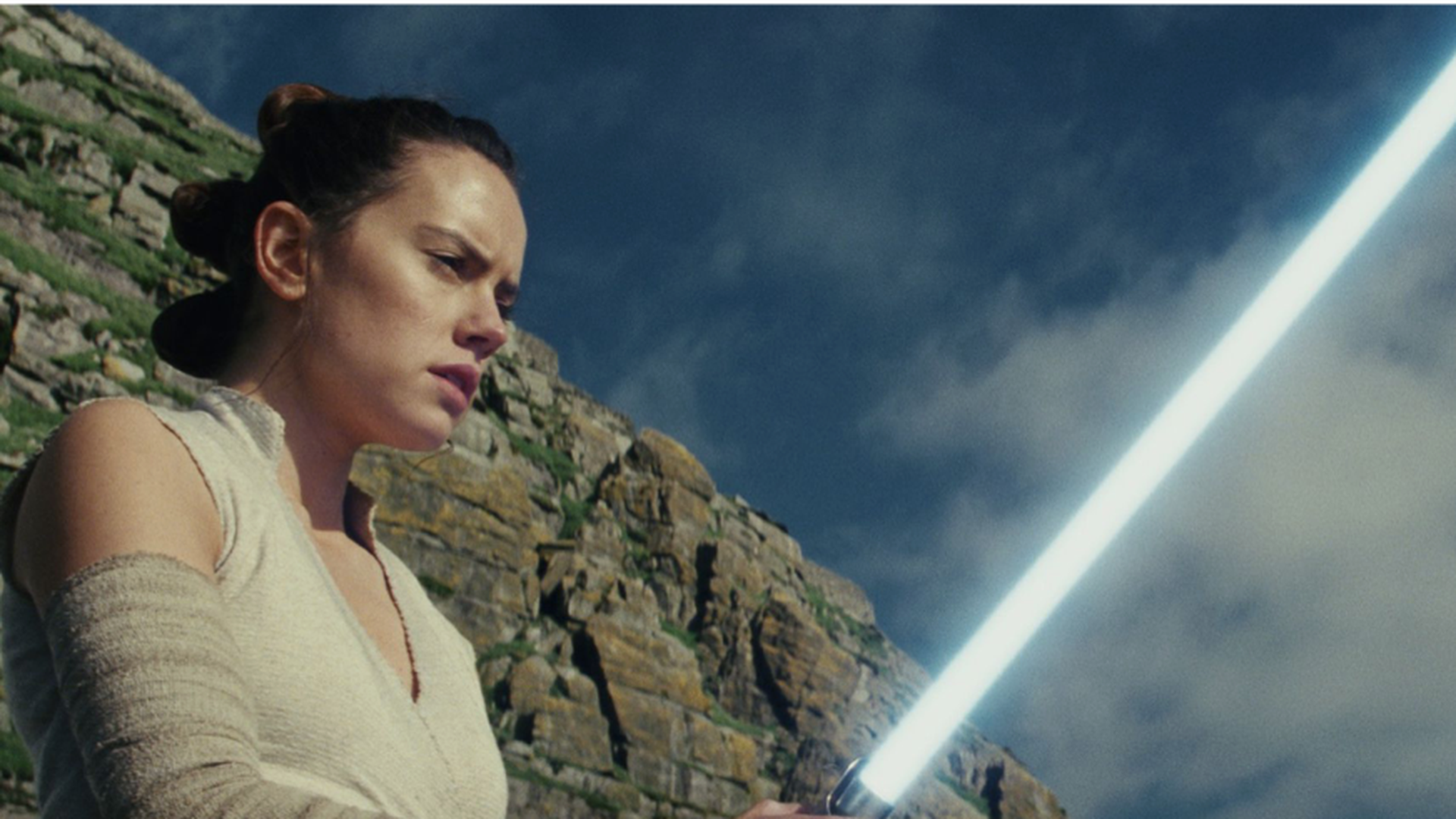 With this weekend's release of Star Wars: The Last Jedi, it's almost assured that the latest entry in the Skywalker saga will become the highest-grossing film of 2017 at the North American box office, jumping over Beauty and the Beast and Wonder Woman, Axios' Shane Savitsky writes:
That will make the top three blockbusters of the year all female-led, even at a time when most starring roles still go to men.
Why it matters: With the #MeToo movement rocking Hollywood, and the opportunities provided to female actors and directors more generally, these are all films with strong women at their core.
Be smart: This really is the year of women striking back, from the #MeToo movement that has toppled notorious harassers, to the dominance of their characters on the big screen to the record number who are considering running for office.
https://www.axios.com/newsletters/axios-am-8cda3fad-b31a-4851-9e43-01fde5f66035.html?chunk=2#story2
3. Glowing auras and "black money"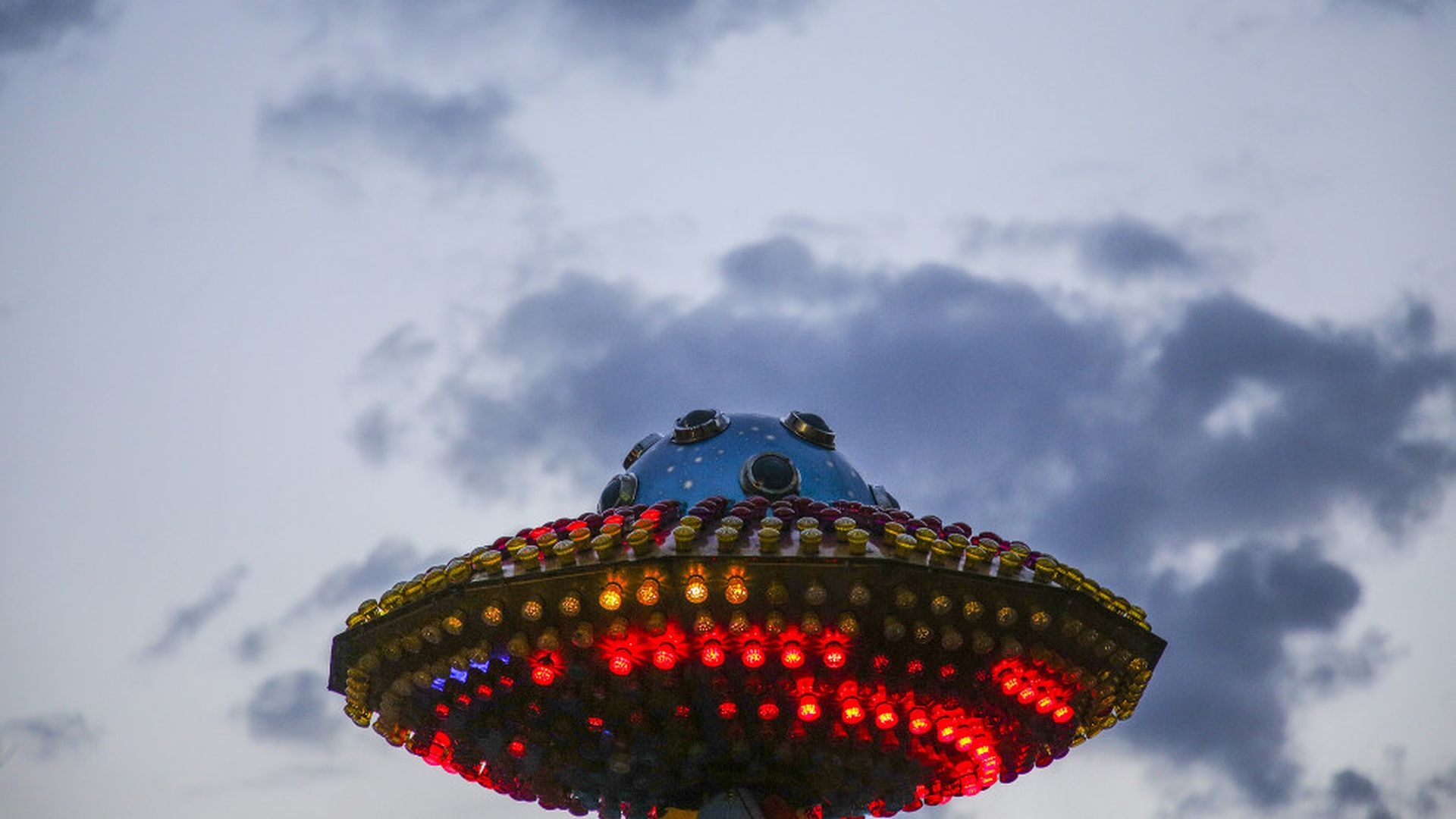 The Pentagon had a UFO office — the "Advanced Aerospace Threat Identification Program" — that still exists informally, the N.Y. Times reveals:
"The Defense Department has never before acknowledged the existence of the program, which it says it shut down in 2012. ... But its backers say that, while the Pentagon ended funding for the effort at that time, the program remains in existence."
"For the past five years, they say, officials with the program have continued to investigate episodes brought to them by service members, while also carrying out their other Defense Department duties."
"It was run by a military intelligence official, Luis Elizondo, on the fifth floor of the Pentagon's C Ring."
"Elizondo said the only thing that had ended was the effort's government funding, which dried up in 2012. From then on, Mr. Elizondo said in an interview, he worked with officials from the Navy and the C.I.A."
"He continued to work out of his Pentagon office until this past October, when he resigned to protest what he characterized as excessive secrecy and internal opposition."
"The shadowy program — parts of it remain classified — began in 2007, and initially it was largely funded at the request of Harry Reid, the Nevada Democrat who was the Senate majority leader at the time and who has long had an interest in space phenomena."
"Most of the money went to an aerospace research company run by a billionaire entrepreneur and longtime friend of Mr. Reid's, Robert Bigelow, who is currently working with NASA."
What's out there:
"Working with Mr. Bigelow's Las Vegas-based company, the program produced documents that describe sightings of aircraft that seemed to move at very high velocities with no visible signs of propulsion, or that hovered with no apparent means of lift."
"Officials with the program have also studied videos of encounters between unknown objects and American military aircraft."
https://www.axios.com/newsletters/axios-am-8cda3fad-b31a-4851-9e43-01fde5f66035.html?chunk=3#story3
4. Pope warns on fake news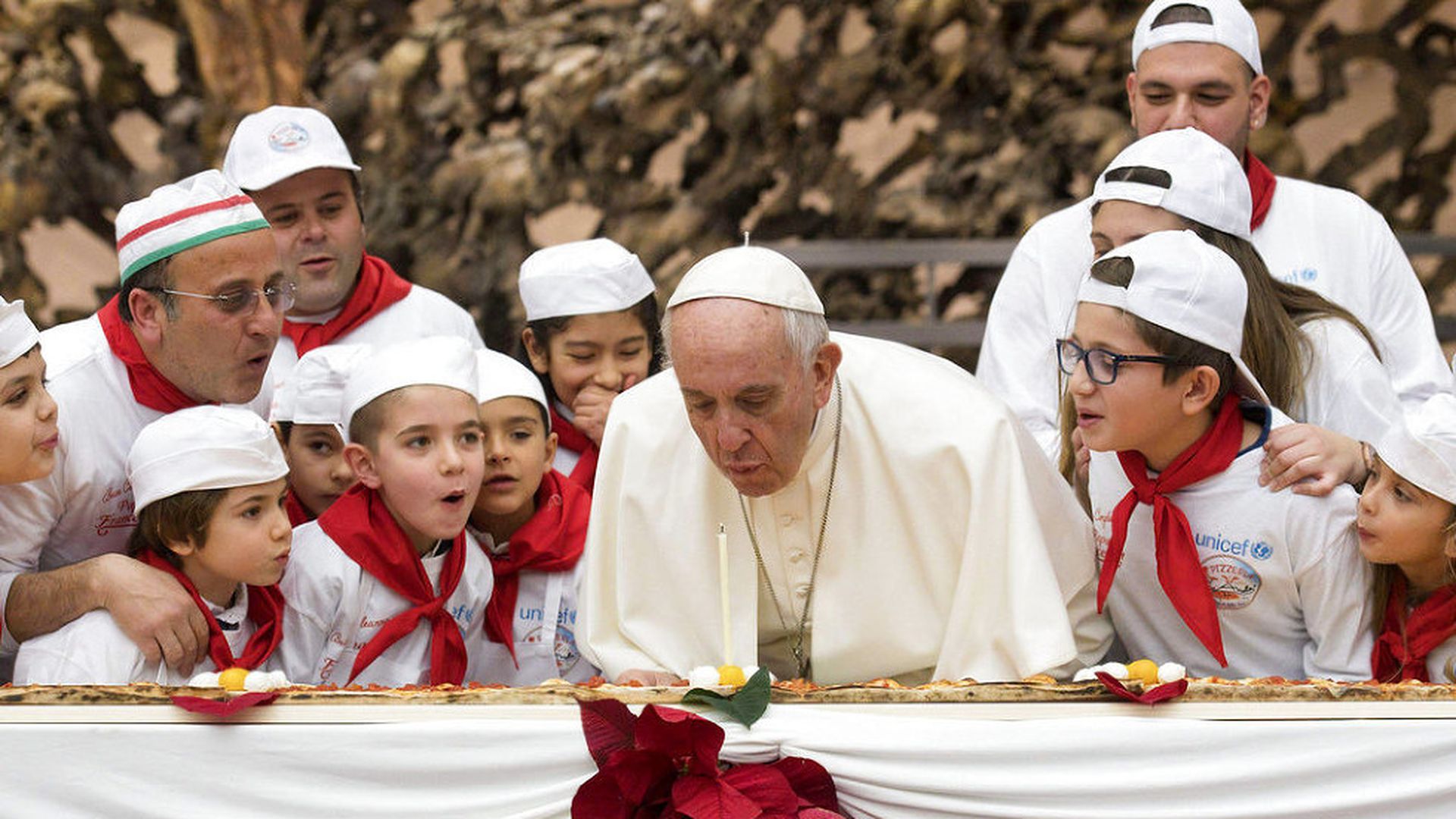 Pope Francis told Catholic media yesterday that dredging up old scandals and sensationalizing the news is a "very serious sin," AP reports:
The pope said: "You shouldn't fall into the 'sins of communication:' disinformation, or giving just one side, calumny that is sensationalized, or defamation, looking for things that are old news and have been dealt with and bringing them to light today."
What's next: Francis plans to dedicate his upcoming annual communications message to "fake news."
https://www.axios.com/newsletters/axios-am-8cda3fad-b31a-4851-9e43-01fde5f66035.html?chunk=4#story4
5. Understanding America, 2017
The Wall Street Journal's great Michael M. Phillips hast the best read of the weekend, "One Nation, Divisible: In a Divided Nation of Big Cities and Small Towns, Caity Cronkhite Thought She Knew Where She Belonged":
"She graduated from high school early to chase opportunity far from Kingman, Ind. A decade later, she starts to see what she left behind ... In the yawning divide between America's urban and rural communities, Ms. Cronkhite struggled with the push and pull of both."
"She found a life in the San Francisco Bay Area, where her friends were sometimes jarringly different from people back home."
"And despite the distance and time away, she couldn't leave Kingman's dramas behind—who was on food stamps, who got arrested, who overdosed. She found herself still admired by some for getting out, and vilified by others who resented her angry exit."
Axios' Amy Harder tweets: "As someone who left (some may say escaped) the tiny rural town where I grew up, a lot of this rings true to me."
https://www.axios.com/newsletters/axios-am-8cda3fad-b31a-4851-9e43-01fde5f66035.html?chunk=5#story5
6. Tax plan could push assembly lines abroad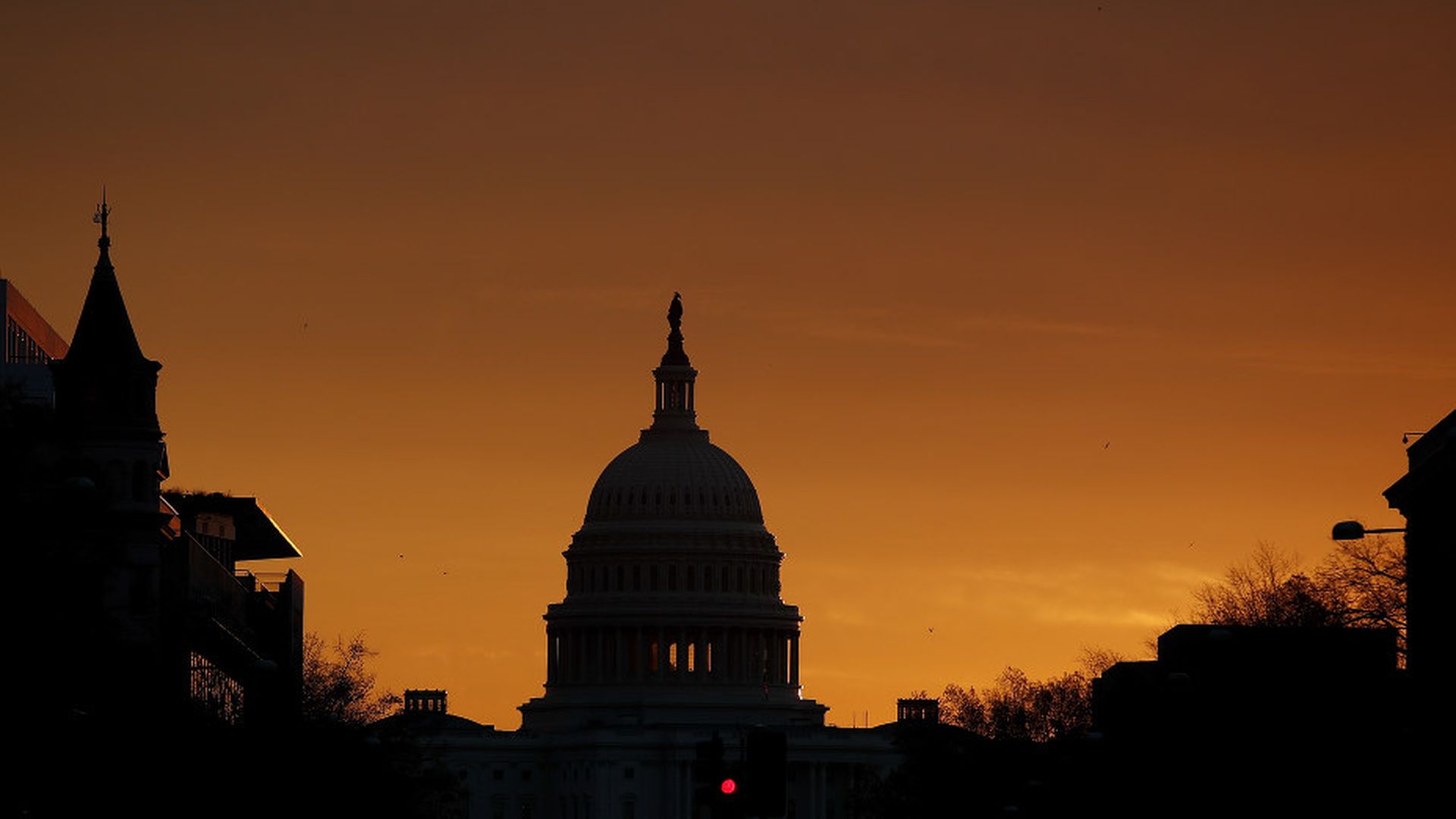 Tax experts say the new legislation "fails to eliminate long-standing incentives for companies to move overseas and, in some cases, may even increase them," the WashPost's David J. Lynch writes in the Business section lead:
Why it matters: "As a candidate, Trump vowed to stop companies from moving offshore ... But presidential jawboning has been no match for the market."
What's changing: "Under current law, the 35% corporate tax is due on profit earned overseas only when it is returned stateside. The legislation ... would permit the estimated $2.6 trillion that corporations have stockpiled outside the country to return to the United States subject to a rate expected to be around 15%."
"In the future, corporations would be required to pay about a 10% minimum tax on overseas income above a certain level. The provision is billed as a way to discourage the movement of jobs and profit overseas."
But the fine print of the new global minimum tax could make the problem worse for three reasons, nonpartisan tax specialists said:
"[A] corporation would pay global minimum tax only on profit above a 'routine' rate of return on the tangible assets — such as factories — it has overseas. So the more equipment a corporation has in other countries, the more tax-free income it can earn."
"[T]he bill sets the 'routine' return at [a generous] 10% ... Such allowances are normally fixed a couple of percentage points above risk-free Treasury yields, ... currently around 2.4%."
"[T]he minimum levy would be calculated on a global average rather than for individual countries where a corporation operates. So a U.S. multinational could lower its tax bill by shifting profit from U.S. locations to tax havens such as the Cayman Islands."
Be smart: The new law will include lots of what you might call unintended consequences — although often they were intended by the hidden hands that put them there.
https://www.axios.com/newsletters/axios-am-8cda3fad-b31a-4851-9e43-01fde5f66035.html?chunk=6#story6
7. Winners, losers in tax bill
Winners, from AP Economics Writer Josh Boak:
The Trump Organization: At least temporarily, companies with profits that double as the owner's personal income would enjoy a substantial tax break. The Trump Organization includes about 500 such "pass-through" entities. The final bill also appears to specifically benefit the real estate sector.
Energy drillers: It's no longer off limits to drill in Alaska's Arctic National Wildlife Refuge for oil and natural gas.
Sports teams: Major sports teams will still be able to build and renovate their stadiums with tax-exempt municipal bonds. The House version had initially scrapped access to this form of debt by sports teams.
Major corporations: The tax rate for most companies would drop to 21% from 35%. This is a permanent rate cut, which, along with a shift to a lower rate on some foreign earnings, could help boost corporate profits.
Tax lawyers: Rather than close loopholes, the tax bill appears to create more.
Losers:
The uninsured: The tax bill removes a penalty that was charged to people without health insurance.
Commuters: Employers would no longer be able to deduct from their taxes the cost of providing parking or transit passes worth up to $255 a month to workers. Bicycle commuters would also lose their benefit from companies. Companies could still offer this benefit. But they will lose the financial incentive. That could reduce ridership on public transit.
Homeowners in high-tax states: The bill imposes a $10,000 cap on people who deduct their state, local and property taxes. Currently, there is no limit.
Taxpayers after 2025: Most Americans would receive tax cuts initially. But the lower rates and a host of other benefits expire after 2025. This effectively sets up an $83 billion tax hike for many millions of Americans in 2027.
Taxpayers, again: People's taxes could continue to creep up because of slower indexing: The plan will adjust the tax brackets at a less generous measure of inflation.
How it's playing ... N.Y. Times lead story, "TAX BILL UPENDS LONGTIME PERKS OF OWNING HOME: DEDUCTIONS PARED BACK — Some Economists Fault Rewards for Buying Instead of Renting." (Online: "Homeowners Have Had It Good. Too Good, Says the Tax Bill.")
https://www.axios.com/newsletters/axios-am-8cda3fad-b31a-4851-9e43-01fde5f66035.html?chunk=7#story7
8. Inside media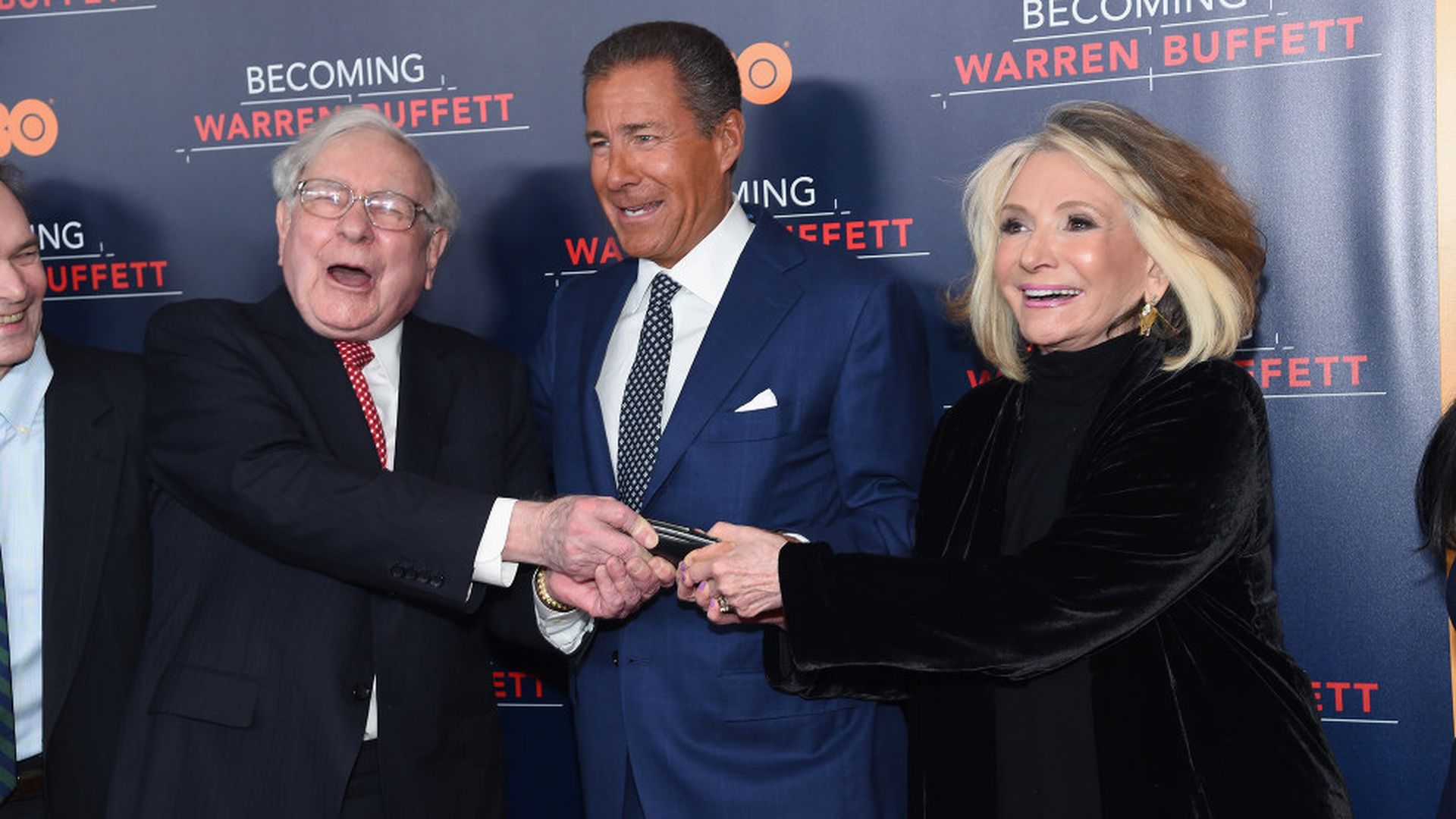 Maureen Dowd reports on the N.Y. Times "Sunday Styles" front ... "The Grande Dame of Documentary Is Leaving Her Home at HBO ... [Sheila Nevins] has reels of memorable film, a pile of awards and plenty of perspective on the current battle of the sexes":
At HBO Documentary Films, she has for 38 years supervised the production of over 1,200 documentaries.
Why she matters: "With a storytelling style that grabs viewers by the throat, Ms. Nevins helped change the image of documentaries from stodgy to provocative."
HBO Chairman and CEO Richard Plepler: "She has taken all the different dimensions of people — the fragility, the struggles, the triumphs — and told the story over three decades of what it means to be a human being."
What's next: "She is taking several projects with her when she leaves that she will finish at home. She is musing about a radio show with Sirius called 'Kicking Ass With Sheila Nevins' and maybe another book."
"A Prairie Home Companion" has a new name — "Live from Here" — after Garrison Keillor was fired by Minnesota Public Radio over alleged workplace misconduct. Chris Thile, the mandolin virtuoso who succeeded Keillor, announced the name last evening, opening a live performance in New York.
https://www.axios.com/newsletters/axios-am-8cda3fad-b31a-4851-9e43-01fde5f66035.html?chunk=8#story8
9. An epic year: 15 of 30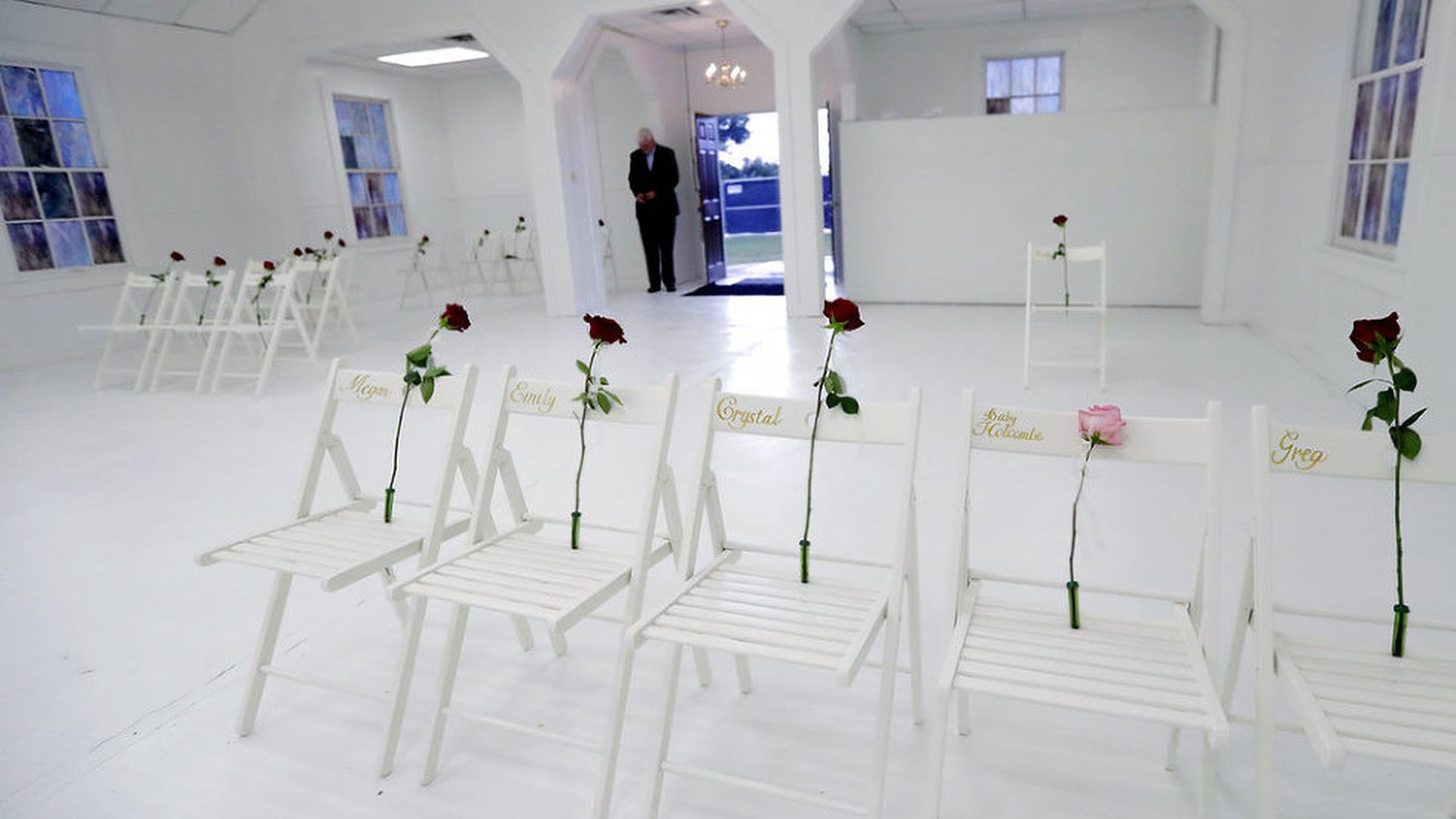 Reliving 2017 in 30 images ... This is a memorial to a year of too much mass violence. At Sutherland Springs First Baptist Church in Texas, each of these 26 white chairs is painted with a cross and and rose, in tribute to the parishioners who were lost when a man opened fire inside the church in November.
https://www.axios.com/newsletters/axios-am-8cda3fad-b31a-4851-9e43-01fde5f66035.html?chunk=9#story9
10. "My 6 big things"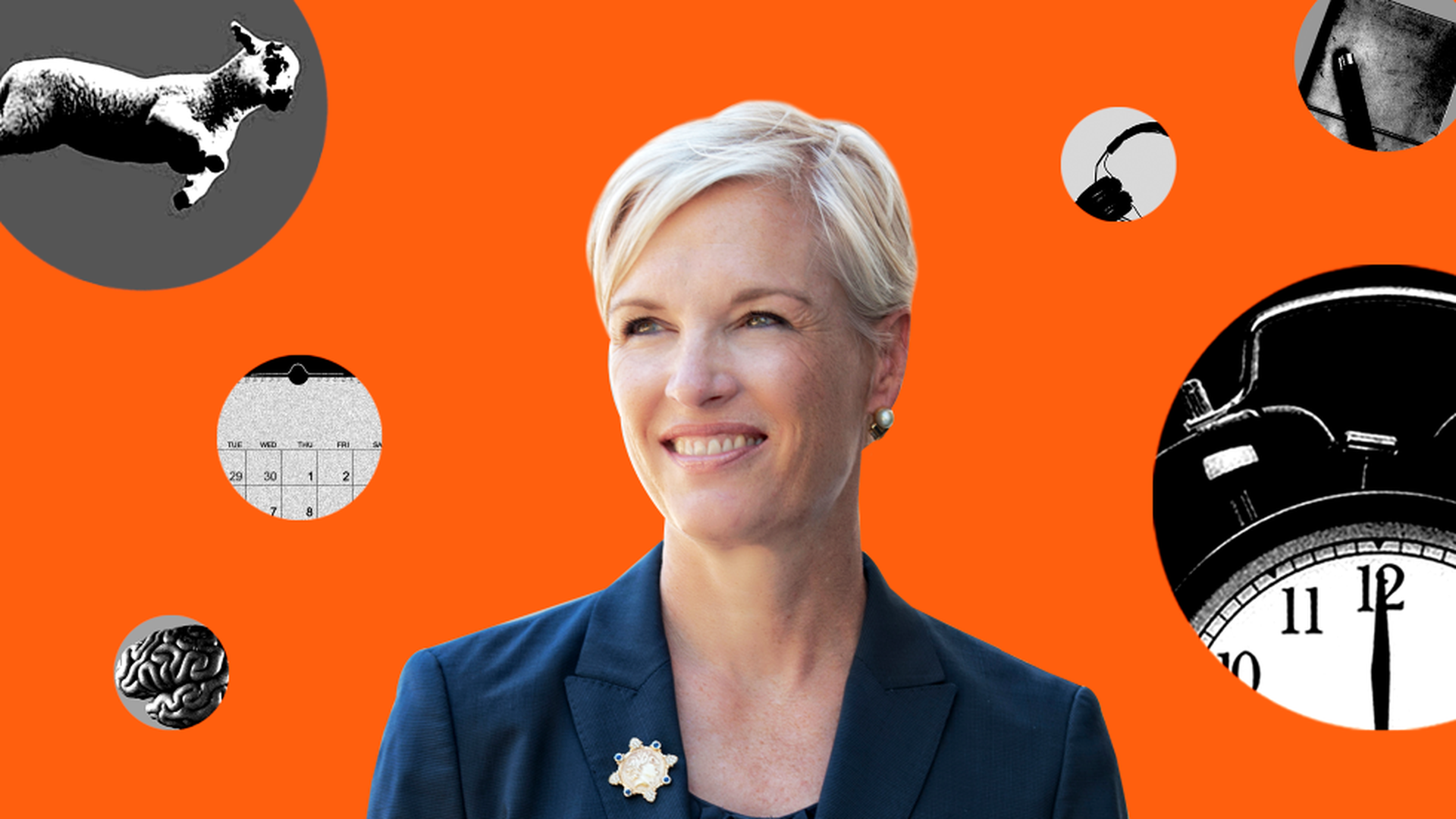 As part of our weekend "My 6 big things" series, Cecile Richards, president of Planned Parenthood Federation of America and Planned Parenthood Action Fund, tells us a worthy part of her morning routine:
"Call at least one of my three kids, regardless of the time zone."
Click here to see what kind of business Cecile would like to start, and something she has done on an iPad that I haven't.