May 31, 2020
🗳️ Situational awareness: President Trump's chance of reelection has eroded during the pandemic, The Washington Post's Dan Balz and Emily Guskin write, with Joe Biden widening his national lead to 53-43 in a new WashPost-ABC News poll.
Why it matters: Of course, it's state polls that matter. (Ask President Hillary Clinton what a national lead does for ya.) This is significant as a signal of the nation's mood.
1 big thing: Black Americans' competing crises
For many black Americans, this moment feels like a crisis within a crisis within a crisis, Axios' Alexi McCammond and Stef Kight write.
Why it matters: It's not just George Floyd's killing by police. Or the deaths of EMT Breonna Taylor and jogger Ahmaud Arbery. Or the demeaning of birdwatcher Christian Cooper and journalist Omar Jimenez. Or the coronavirus pandemic's disproportionate harm to African Americans. It's that it's all happening at once.
We are living in two Americas, one in which the people who are already left behind are now facing even greater (and sometimes fatal) blows to daily life, and there seems to be growing consensus that we can't ignore that reality.
"Everybody's world got made smaller by coronavirus," said Brittany Packnett Cunningham, co-founder of Campaign Zero. "But when you're black, your whole world got a lot smaller."
From voting to demonstrating, there's a constant calculation over whether it's more important to protect your health or express your civic voice — and whether it's possible to do both at once.
If you're living in multi-family or multi-generational housing, you're at greater risk for infection.
But if you leave the house, you open yourself up to new worlds of risk, including from the law enforcement that are supposed to protect you.
Early counts in New York showed the overwhelming majority of people police arrested for violating social distancing rules were black.
If you're a person of color wearing a mask, you may be viewed differently by store clerks or police than a white person.
But if you don't wear a mask, you may jeopardize your own health as well as the health of others — or risk a penalty for violating social distancing rules.
Even going for a jog has different considerations.
By the numbers: Black Americans are twice as likely to be shot and killed by police as white Americans, per a Washington Post database of police-involved shootings.
COVID-19 presents another disproportionately deadly threat to black Americans. Roughly 13,000 African Americans would still be alive today if they had died of coronavirus at the same rate as white Americans, per data compiled by the American Public Media (APM) Research Lab.
2. American outrage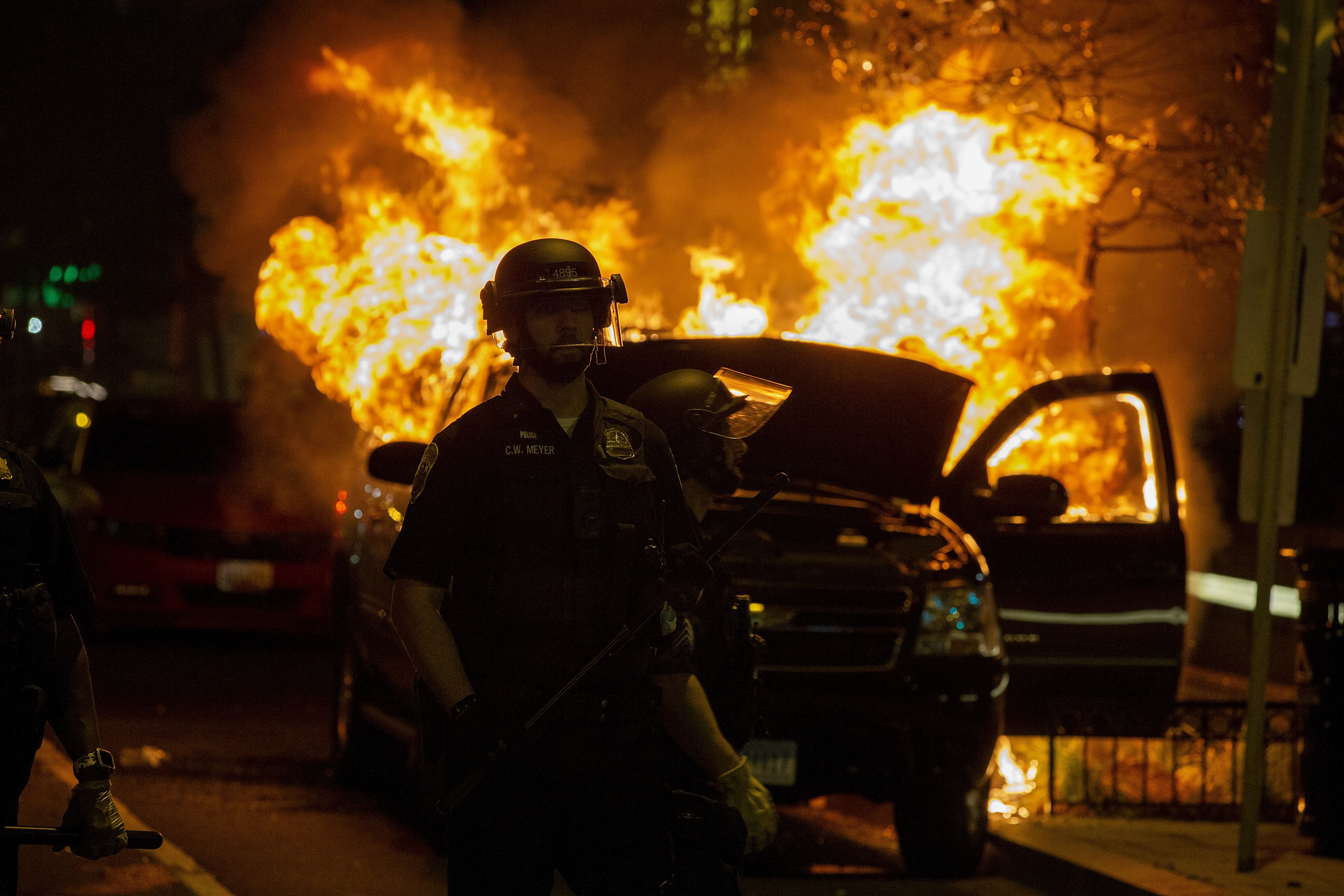 Guess what city that is. Not Minneapolis. Not New York or L.A. or Chicago or Philly, although demonstrators set massive fires in all those places yesterday. It's Washington, D.C. — near Lafayette Park, within sight of the White House.
The chilling killing of George Floyd by a white policeman in Minneapolis ignited so much righteous rage and fear — massive, peaceful "I can't breathe" protests across the American map, then looting and arson by dark.
Continental Wine & Liquor, a few blocks from the White House, was looted live at 12:30 a.m. on WTTG Channel 5 (Fox), with dozens of people boosting cases of wine and beer in full view of the camera.
Scaffolding on the temple-like U.S. Chamber of Commerce was torched.
A fancy downtown office building has the F-word scrawled on it, the windows smashed, a restaurant inside burned.
All day, the focus was on George Floyd, with chants of "Hands up, don't shoot" in city after city.
At night, it was just chaos. In the wee hours, WTTG's Josh Rosenthal stood at Vermont and L, near the White House, and said: "There are no police around."
In L.A., KABC's SkyMap7 helicopter lingered live over vandals breaking into an ATM they had hauled out of a nail salon.
In Raleigh, N.C., more than 1,000 turned out to protest George Floyd's death. As night fell, "police repeatedly used tear gas and smoke bombs; and ... shot rubber bullets at protesters and journalists," The News & Observer reported.
Two banks burned to the ground in the quaint San Diego suburb of La Mesa.
Nike Chicago was ransacked.
"CHAOS AND CRISIS IN AMERICA," the CNN banner said over live split screens of the mayhem, as cities clicked by in tragic pairs.
Now guess what city this is: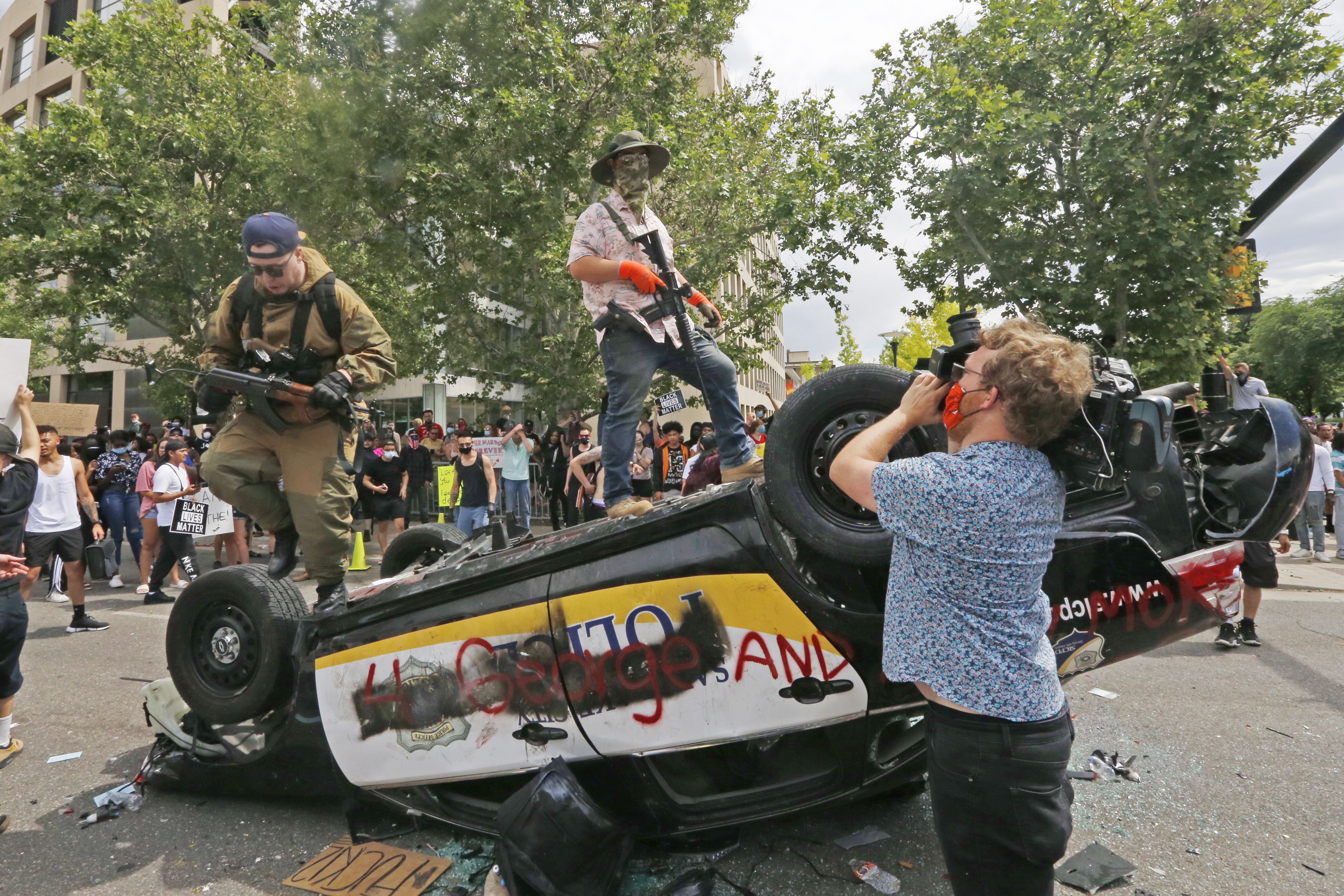 That's Salt Lake City, where armed protesters climbed on a flipped police cruiser as thousands converged on downtown to protest George Floyd's death.
Demonstrators threw eggs and scrawled graffiti on a police station. (Salt Lake Tribune)
AP tallied nearly 1,700 protest-related arrests in 22 cities since Thursday, nearly a third of them in L.A.
14 states activated or planned to activate the National Guard, and at least 25 cities imposed curfews, CNN reports.
And this is L.A. And that used to be a police cruiser.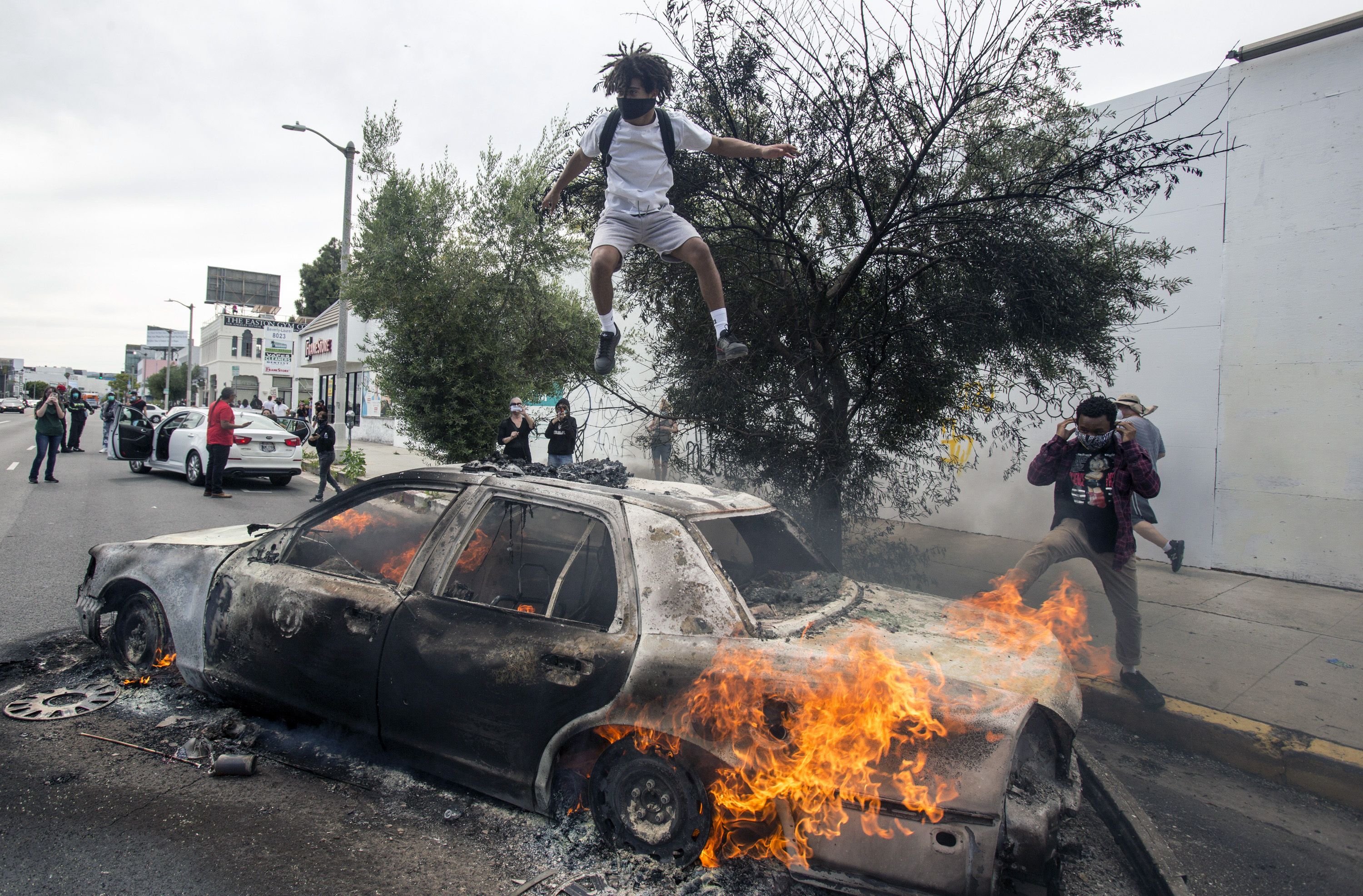 And this is Berlin, at the Brandenburg Gate.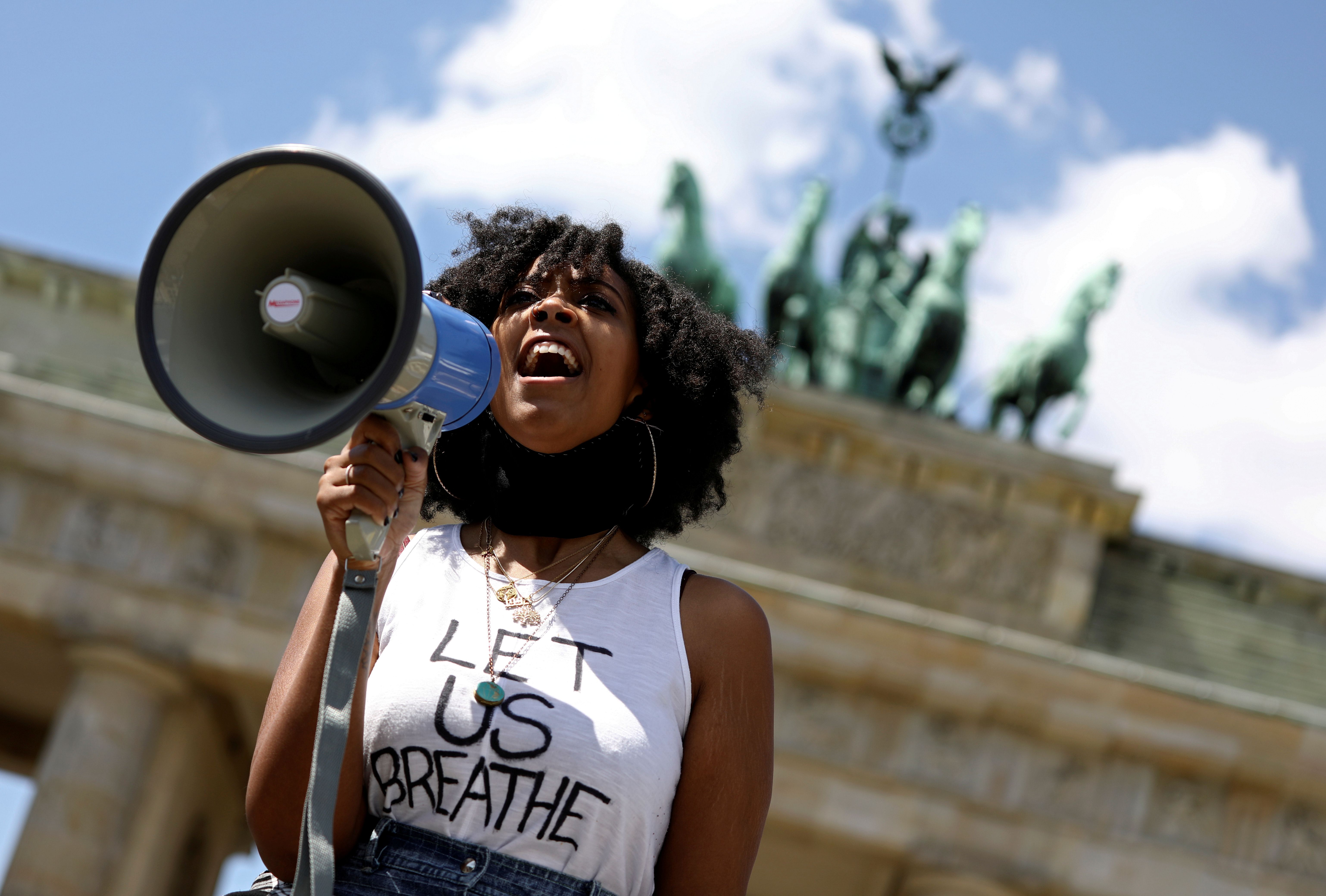 Latest coverage from Axios:
3. Triumph amid darkness: America launches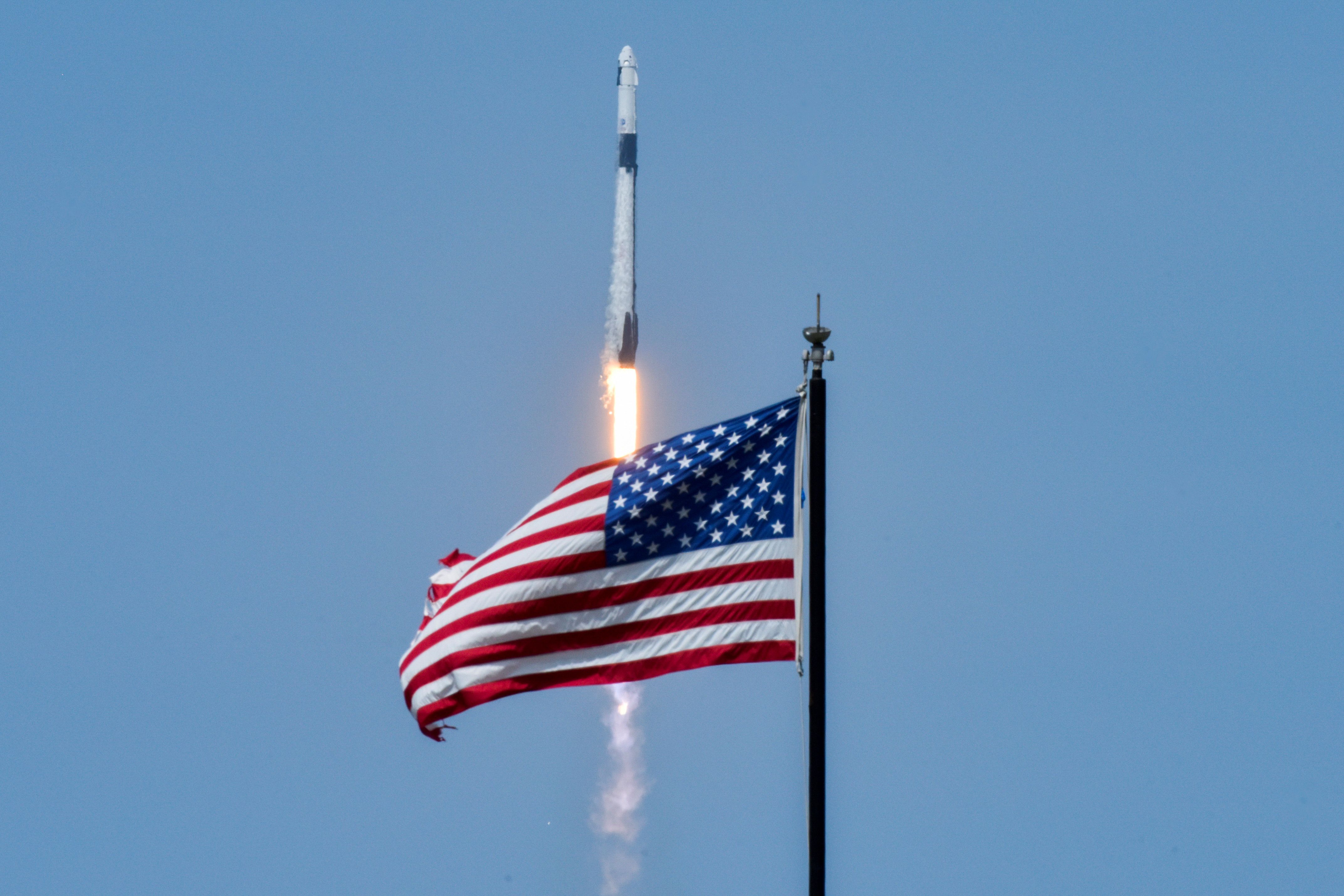 "Dragon is in countdown. ... Dragon SpaceX, go for launch! ... SpaceX Dragon, we're go for launch. Let's light this candle! ... T-minus 30 seconds. ... 10. 9. 8. 7. 6. 5. 4. 3. 2 .1. Zero. Ignition. Liftoff! ... Go NASA! Go SpaceX! Godspeed, Bob and Doug!"
"Bob, Doug: On behalf of the entire launch team, thanks for flying with Falcon 9 today. We hope you enjoyed the ride, and wish you a great mission."
For the first time, a private company has launched people to orbit from U.S. soil, Axios space reporter Miriam Kramer writes.
Why it matters: This SpaceX launch of its Crew Dragon capsule — in the midst of the pandemic — marks the first time NASA astronauts have been sent to the International Space Station from U.S. soil since the end of the space shuttle program in 2011.
The Falcon 9 rocket, carrying astronauts Bob Behnken and Doug Hurley to space, launched from the same pad that was used for the first mission to the Moon and the final space shuttle flight.
Between the lines: The launch signals the beginning of the end of NASA's reliance on Russian rockets and spacecraft to launch its astronauts to orbit.
🚀 Breaking ... At 10:16 am ET this morning, Behnken and Hurley successfully docked to the International Space Station after about 19 hours flying through space.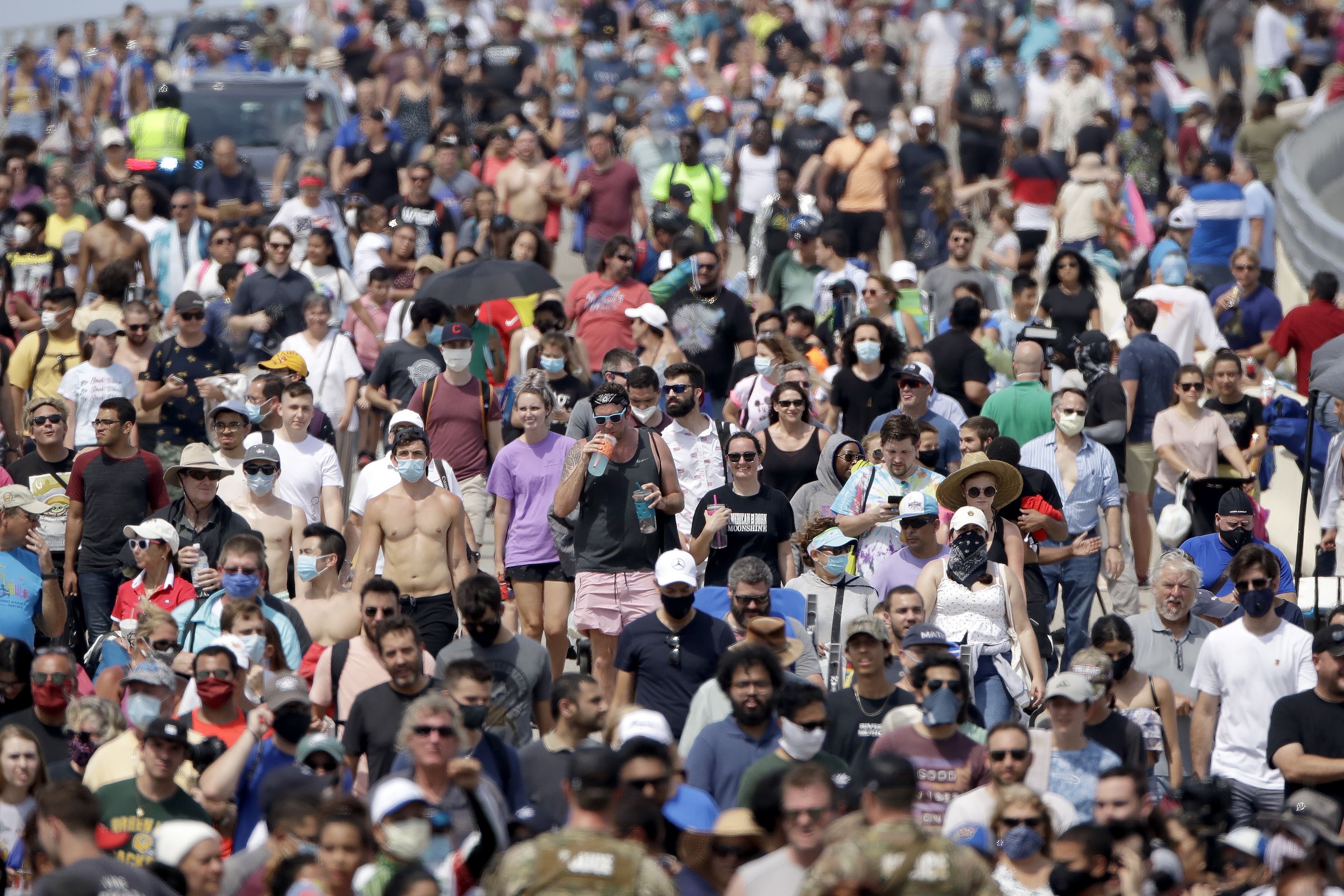 4. In photos: We've seen images like Minneapolis before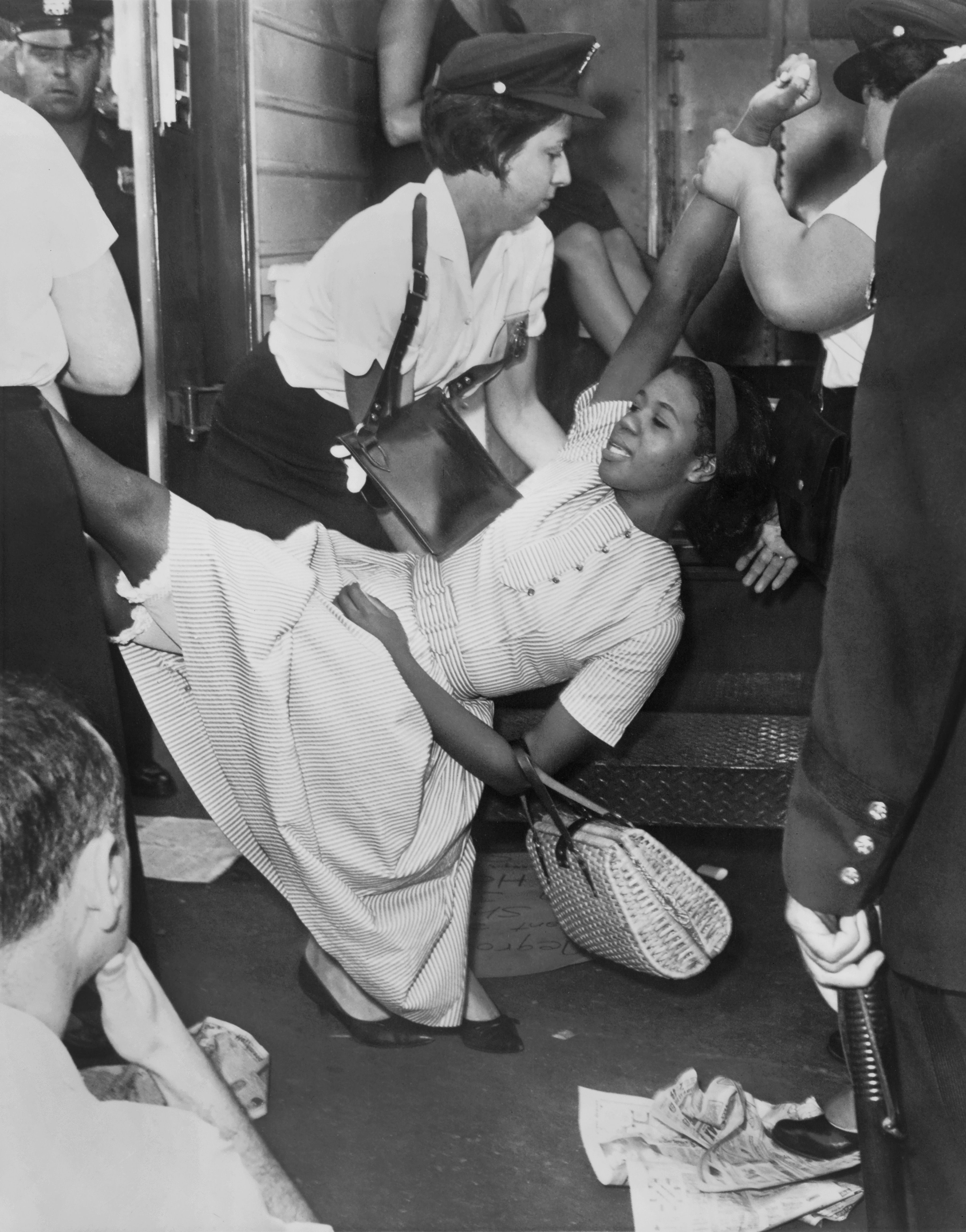 The photos of protests around the country following the death of George Floyd are hauntingly familiar.
We've seen them many times before, going back decades, as illustrated in a package from Axios' Rashaan Ayesh and Sarah Grillo.
Why it matters: They show how little has changed since the modern civil rights movement began in the 1950s.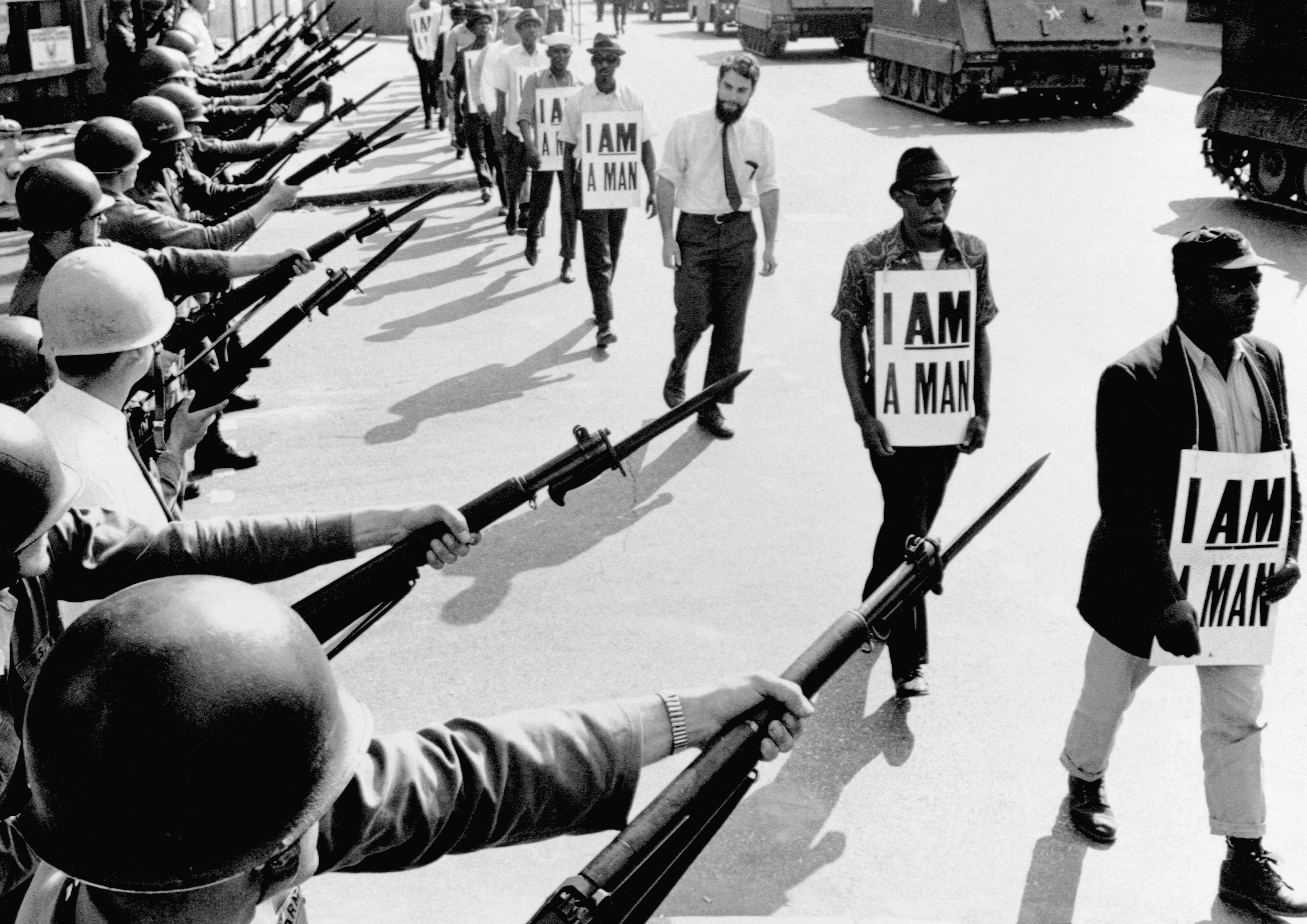 5. The cracks in Trump's GOP shield
President Trump's mockery of coronavirus masks, his false claims about the dangers of voting by mail and his insinuations that a cable TV nemesis was involved in a murder are testing more high-profile Republicans' willingness to look the other way, managing editor David Nather writes.
Why it matters: Republicans learned a long time ago how dangerous it is to alienate Trump's base — which is why any hint of disagreement, even a whisper, is so remarkable when it happens.
How Trump has pushed the limits:
Masks: Trump refuses to wear them at public events and has even turned them into a symbol of a culture war, accusing one White House reporter of being "politically correct" for wearing one.
Reality check: That's basically a middle finger to public health experts.
Joe Scarborough: The MSNBC host and former GOP congressman has gotten under Trump's skin by unleashing extended tirades against him every morning — and now Trump has been insinuating on Twitter that Scarborough was involved in the death of a former congressional staffer in 2001.
Reality check: The medical examiner ruled the death an accident, and concluded that the former staffer, Lori Klausutis, had a heart condition and died when she fell and hit her head on a desk, per FactCheck.org.
She was in Florida; Scarborough was in D.C.
Voting by mail: Trump has been falsely suggesting that voting by mail is a "scam" and will lead to massive voting fraud.
Minneapolis: A Trump tweet warned the Minneapolis protesters that "when the looting starts, the shooting starts."
Senate Majority Leader Mitch McConnell's statement had a different tone: "[O]ur city, our state, and our country have to pull together."
House Minority Leader Kevin McCarthy tweeted that George Floyd's memory should be honored by "rebuilding America into a more perfect union."
6. John Lewis: "Burning is not the way"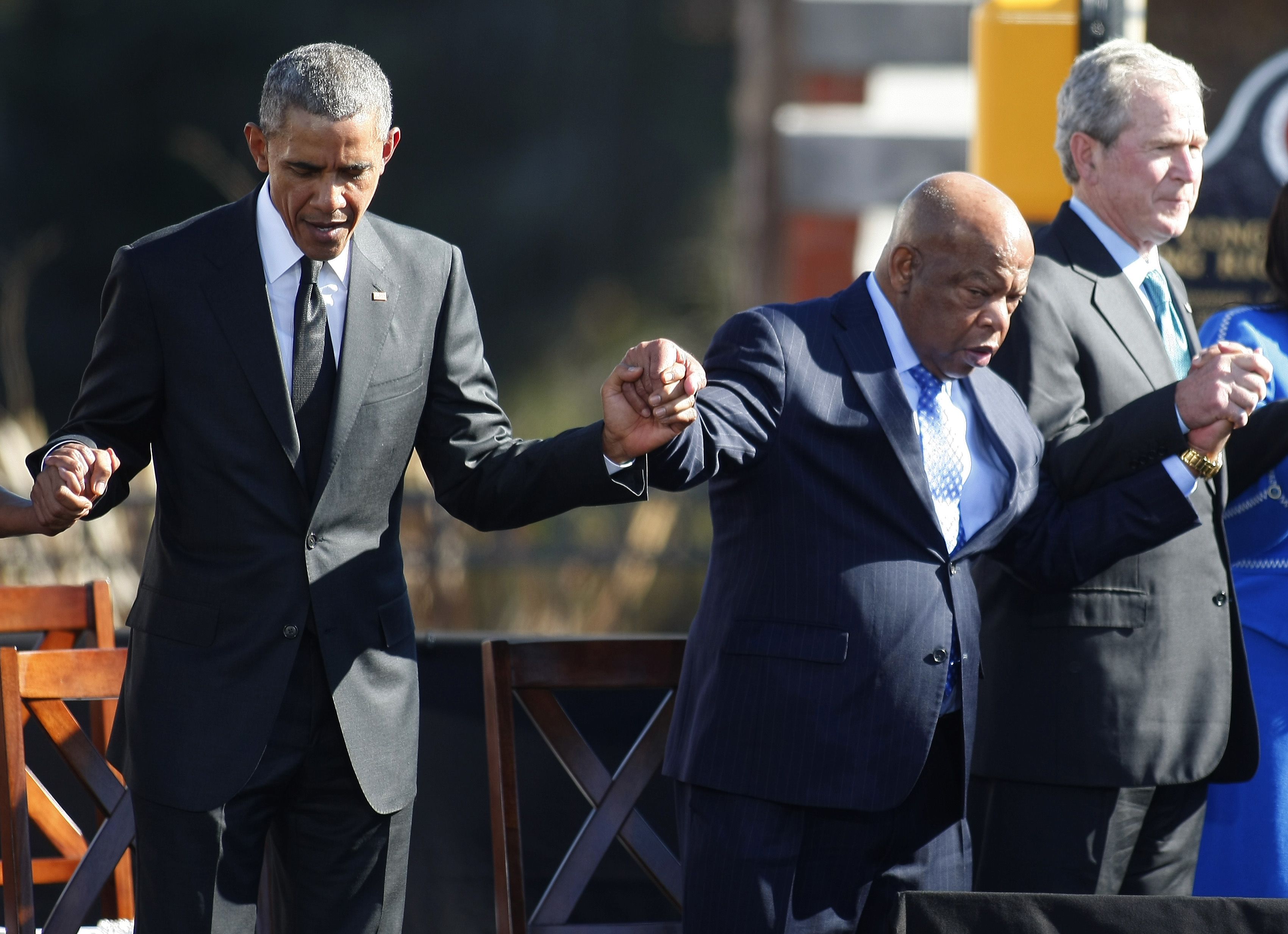 Rep. John Lewis (D-Ga.), age 80 — a civil rights icon who organized sit-ins at segregated lunch counters and risked his life on Freedom Rides, challenging segregation at bus terminals across the South — says in a statement:
Just as people of all faiths and no faiths, and all backgrounds, creeds, and colors banded together decades ago to fight for equality and justice in a peaceful, orderly, non-violent fashion, we must do so again.
To the rioters here in Atlanta and across the country: I see you, and I hear you. I know your pain, your rage, your sense of despair and hopelessness. Justice has, indeed, been denied for far too long. Rioting, looting, and burning is not the way. 
Organize. Demonstrate. Sit-in. Stand-up. Vote. Be constructive, not destructive. History has proven time and again that non-violent, peaceful protest is the way to achieve the justice and equality that we all deserve.
Our work won't be easy — nothing worth having ever is — but I strongly believe, as Dr. King once said, that while the arc of the moral universe is long, it bends toward justice.
7. Time capsule: Headlines across America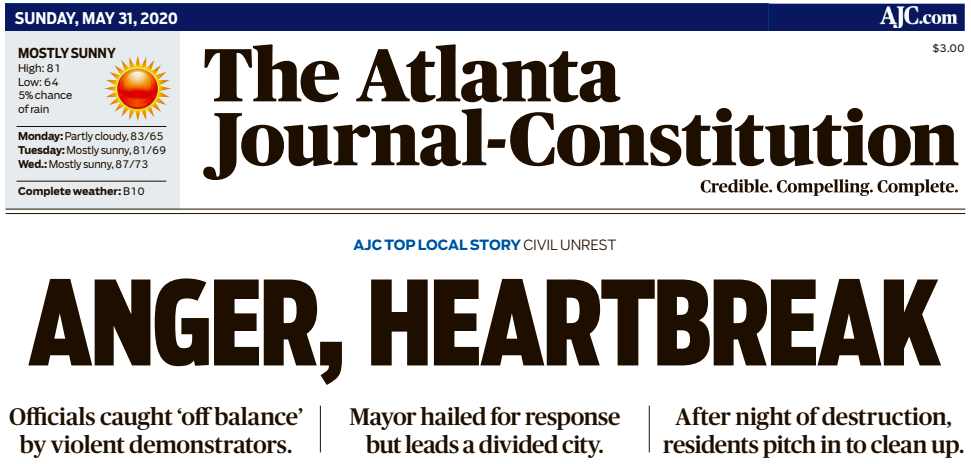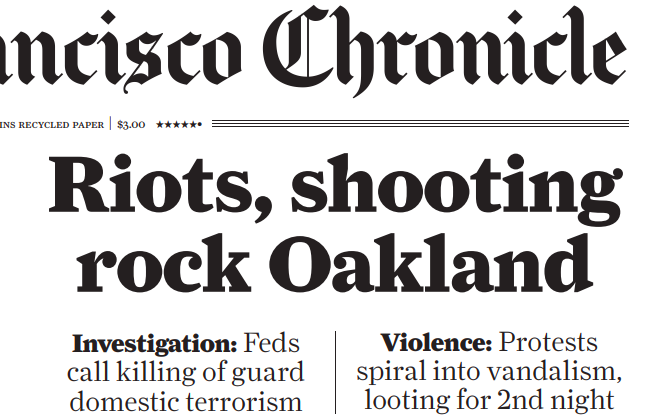 8. 👀 The week's most surprising phone call
In the week that President Trump took on social media, Axios has learned that he had a call Friday with Facebook CEO Mark Zuckerberg that was described by both sides as productive.
With the White House and Twitter at war, Facebook has managed to keep diplomatic relations with the world's most powerful social-media devotee.
Zuckerberg wrote in a Facebook post on Friday:
I've been struggling with how to respond to the President's tweets and posts all day. Personally, I have a visceral negative reaction to this kind of divisive and inflammatory rhetoric. ... But I'm responsible for reacting not just in my personal capacity but as the leader of an institution committed to free expression. ...
I disagree strongly with how the President spoke about this, but I believe people should be able to see this for themselves, because ultimately accountability for those in positions of power can only happen when their speech is scrutinized out in the open.
9. 🦈 First look: A virtual "Shark Tank"
Vintro will launch tomorrow with the aims of giving entrepreneurs access to previously inaccessible potential funders — a virtual "Shark Tank."
How it works, according to the Chicago/London-based company, which promises "Democratizing Access to Funding and Mentorship":
"Vintro's decisionmakers, known as 'reviewers,' are compensated for their time to review new ideas, products or services from entrepreneurs or ventures, the community's 'creators,' via a 90-second video."
"With 65% of reviewers available for between $25 and $300, creators are guaranteed constructive feedback."
Among the Vintro reviewers is Brian Grazer, the Oscar-winning producer and co-founder of Imagine Entertainment: "I am always in a race to find the most talented people but nobody can be everywhere. Vintro is unleashing the power of connecting people and ideas from all over the world."
10. The last word: America mops up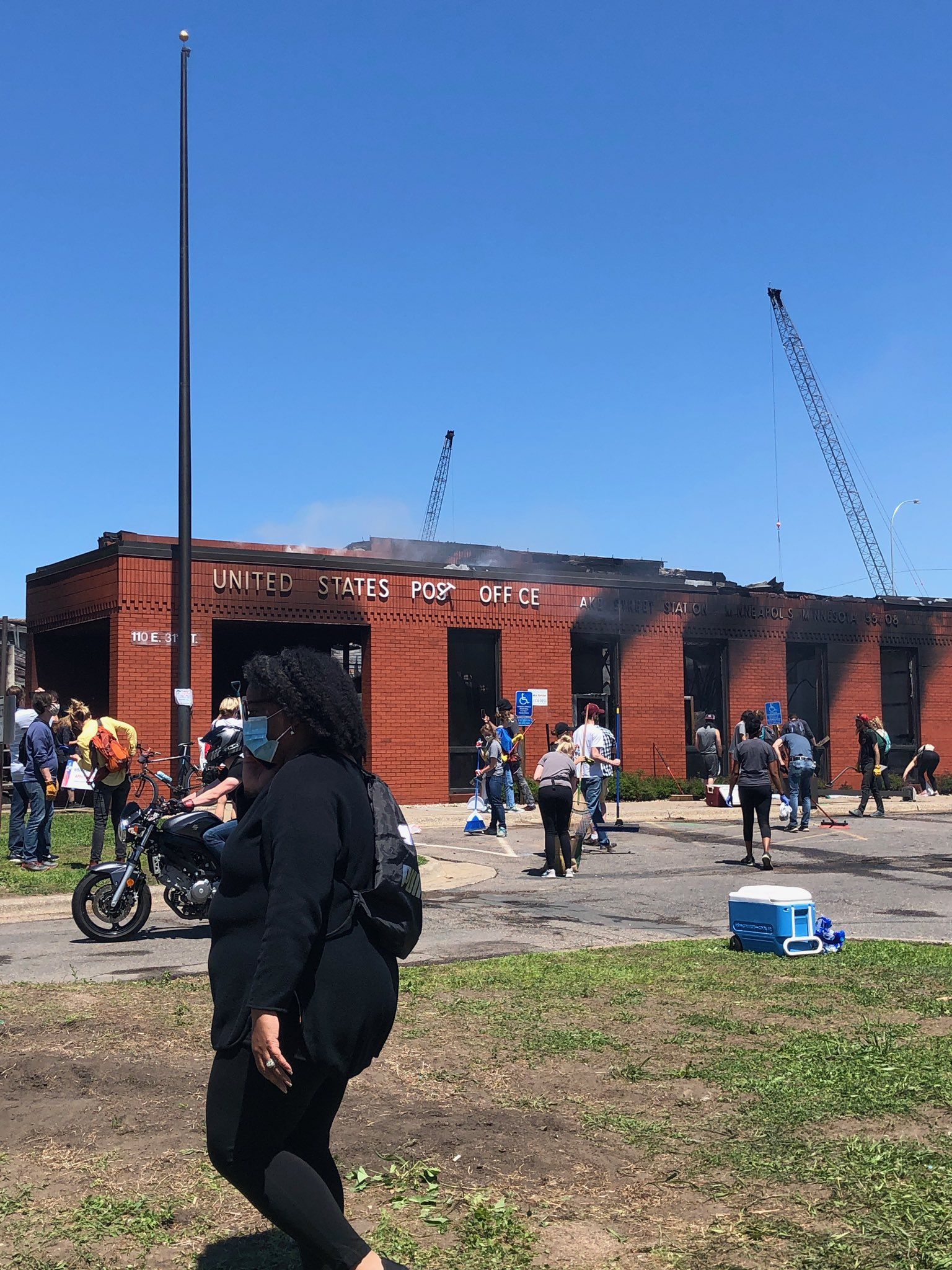 In Minneapolis, Atlanta (shown on "NBC Nightly News") and no doubt all across America, volunteers who had nothing to do with the looting came out this weekend to sweep up the damage.
This photo is from Minneapolis, where Axios AM reader Matt Broberg of St. Louis Park, Minn., tells me:
I spent most of today with a dozen friends cleaning up north Minneapolis. There were 100s to 1,000s of others showing up to clean what we can and show support for those in more pain than we can understand.
📬 Thanks for reading Axios AM. Please invite your friends to sign up here.