January 31, 2021
🏈 Tonight on "Axios on HBO" (6 p.m. ET/PT on all HBO platforms): Jim VandeHei questions Washington Football Team President Jason Wright about systemic racism in the NFL. See a clip.
Jonathan Swan flies to Kyiv to interview Ukrainian President Volodymyr Zelensky. See a clip.
🧤 Situational awareness: The Vermont Teddy Bear Company has partnered with Jen Ellis, who made Sen. Bernie Sanders' viral mittens and has been inundated with requests. Not for sale yet, but you can leave an e-dress.
Today's Smart Brevity™ count: 1,190 words ... 4½ minutes.
1 big thing: Biden flips the script — and reality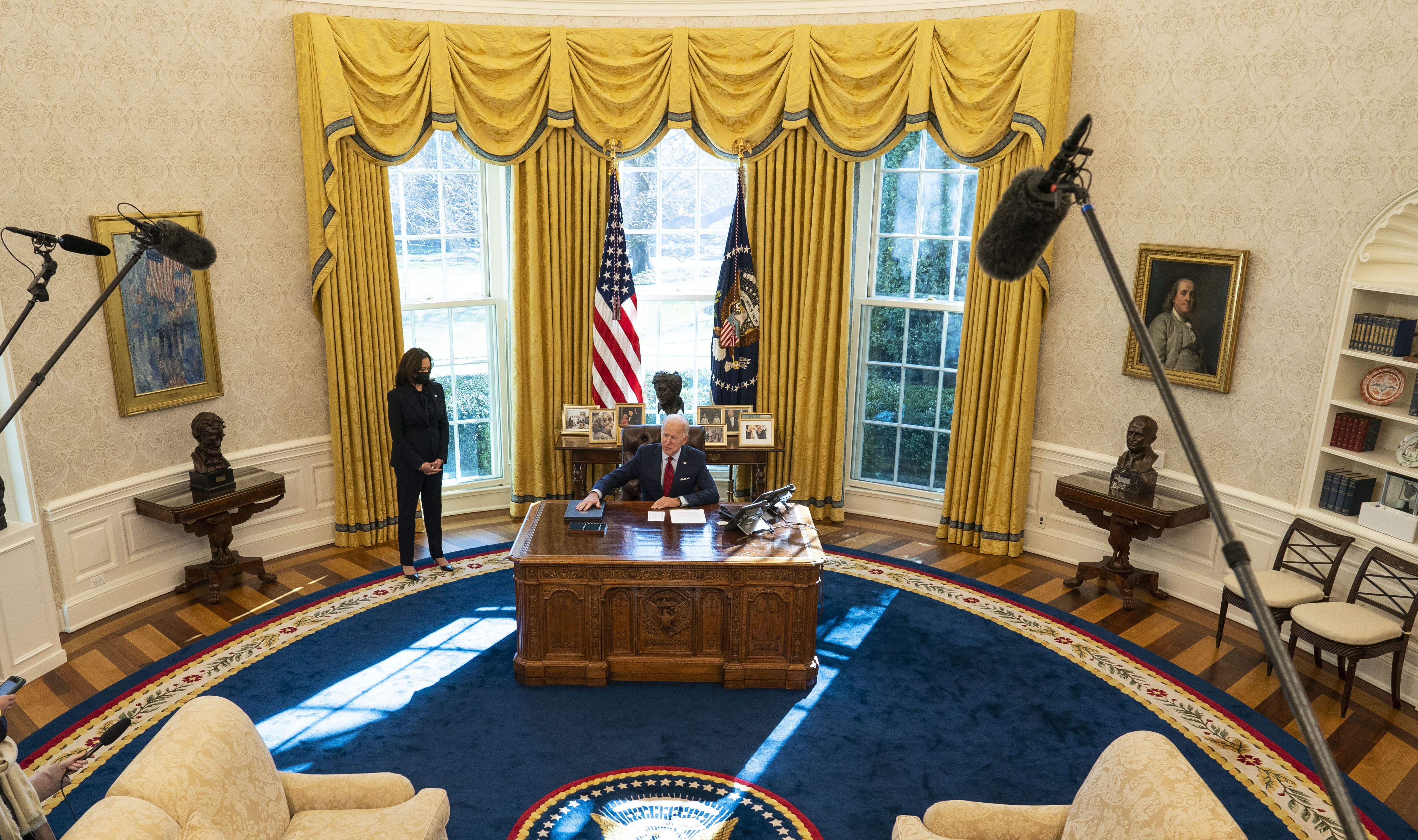 Joe Biden ran as a unifying centrist destined to be in conflict with activist liberals. Turns out, Biden is governing as an activist liberal constrained by centrists. 
Why it matters: Biden has outlined the most liberal agenda in a generation. But centrist Democrats, including Sen. Joe Manchin (D-W.Va.), are potential deal-killers on climate change, spending and immigration reform.  
It's the Manchins of the world who could slow, if not stop, efforts to end the filibuster — the single biggest obstacle to enacting a truly liberal agenda.
On top of Biden's expansive agenda, add Speaker Pelosi — a progressive who always wants to go big, and is thinking about her legacy — and Senate Majority Leader Chuck Schumer, who worries about a primary from his left.
Between the lines: The Biden team sees him as an activist president, but with an agenda that commands broad support.
A FiveThirtyEight polling analysis finds majority support for 13 of 14 Biden executive actions in Week 1. (Canceling the Keystone pipeline got a plurality.)
The country doesn't see it as liberal to fight the pandemic, racism or climate change.
What to watch: Centrist Democratic senators — including Manchin; Kyrsten Sinema and Mark Kelly, both of Arizona; and Michael Bennet of Colorado — hold high cards.
With the Senate split 50-50, and Vice President Harris breaking ties, Biden needs every Democrat, even if the party uses budget reconciliation or ditches the filibuster rule — both mechanisms for passing bills with a simple majority.
And Biden first will try to govern normally, which means 60 votes, and bringing some Republicans on board.
Manchin complained to WSAZ-TV in Huntington, W.Va., about an interview Harris had given the station to push Biden's $1.9 trillion COVID rescue plan: "I couldn't believe it. No one called me. ... That's not a way of working together."
Between the lines: Matt Bennett — a founder of Third Way, which champions center-left ideas — said the way to think about Biden's agenda is that he isn't "a '90s small government centrist and never has been. ... He wants to do big things, but only things that work."
So Biden is pursuing "big ideas on climate, economic opportunity, child poverty, health care," but rejecting "far-left ideas like Medicare for All, the Green New Deal (including banning all fracking), abolish ICE, Defund the Police, universal basic income, etc."
The big picture: It might not happen fast. But many top Democrats believe Biden may eventually embrace eliminating the filibuster, so they can do bigger liberal projects that last much longer. 
2. 💉 New COVID warning: Cat 5 hurricane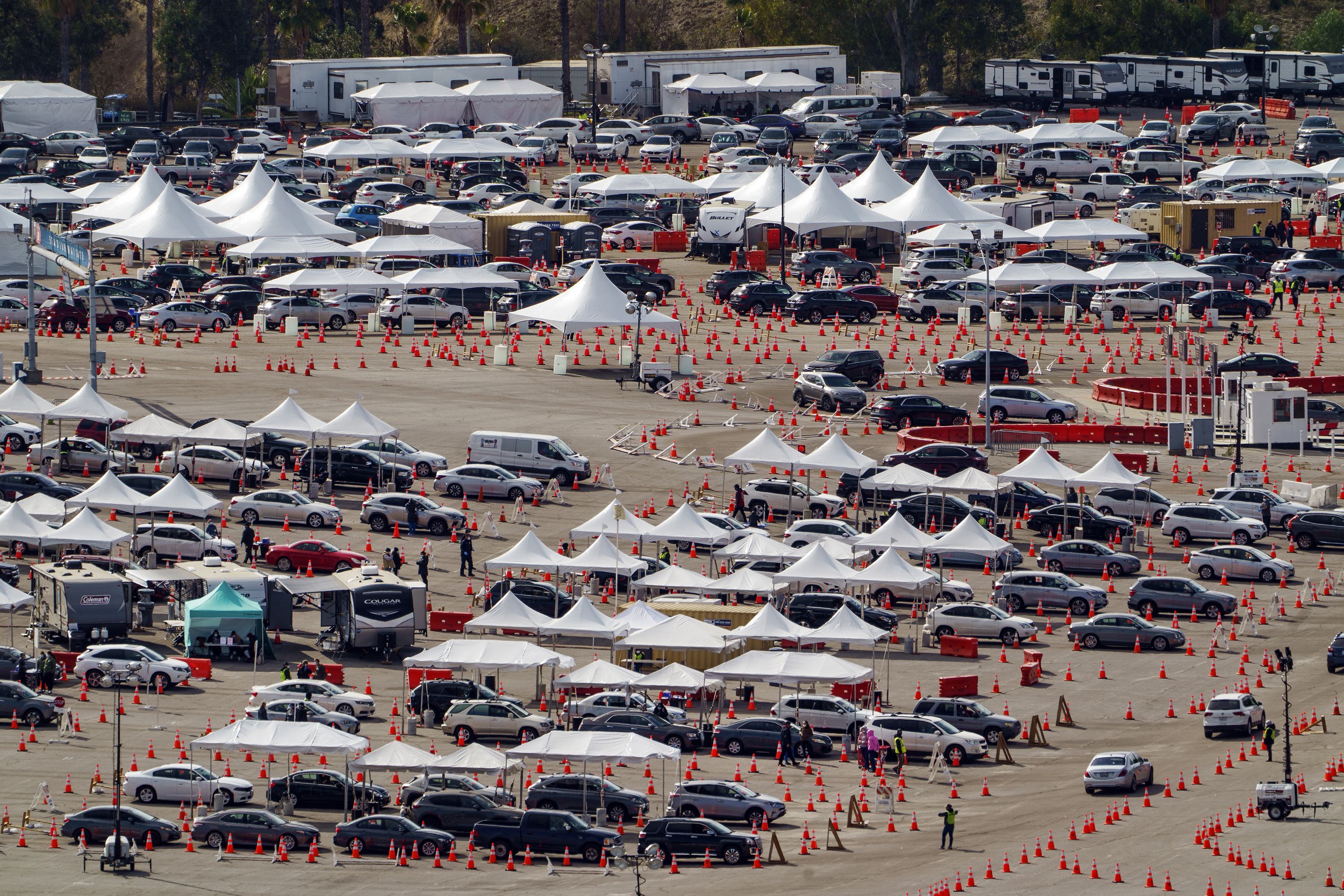 Dr. Michael Osterholm, an infectious disease expert at the University of Minnesota and Biden transition adviser, said on "Meet the Press" that he thinks the deadlier U.K. variant of COVID will become "the dominant strain" in the U.S.
"The surge that is likely to occur with this new variant from England is going to happen in the next six to 14 weeks," Osterholm told Chuck Todd.
"And if we see that happen, ... we are going to see something like we have not seen yet in this country. ... I see that hurricane Category 5 ... 45o miles offshore."
So Osterholm said the U.S. needs to move faster with the Biden plan to get first doses in as many people as possible — especially 65+ — to fend off a bigger crisis from the variants.
But the doctor added: "We're not going to deny anybody their second dose."
3. Rich countries botch pandemic
Some of the richest countries in the world — the ones that had been considered the best prepared to handle a pandemic — turned out to be the ones that suffered the highest death rates, Axios' Felix Salmon writes.
Why it matters: This virus has proven that preparedness needs to be global, and coordinated.
Just before the pandemic, Johns Hopkins University, the Nuclear Threat Initiative, and the Economist Intelligence Unit released a World Health Preparedness Report ranking every country on pandemic preparedness.
The highest-ranked country was the U.S. Now, only eight of the 153 countries in the study have a worse death rate.
The U.K. came in second for preparedness; its death rate is even worse than the U.S.'
The big picture: The virus spread in large part because of two big failures. First, the Chinese government failed to contain it and tried to cover it up. And second, the U.S. failed to take on the global leadership role that most pandemic specialists expected to see.
Once the virus was spreading internationally, it traveled first along the world's densest travel and trade corridors.
What's next: Princeton economist Angus Deaton points out that future deaths may well fall more heavily on poorer countries, if rich countries vaccinate themselves first.
4. Drone pic du jour: Hole in Highway 1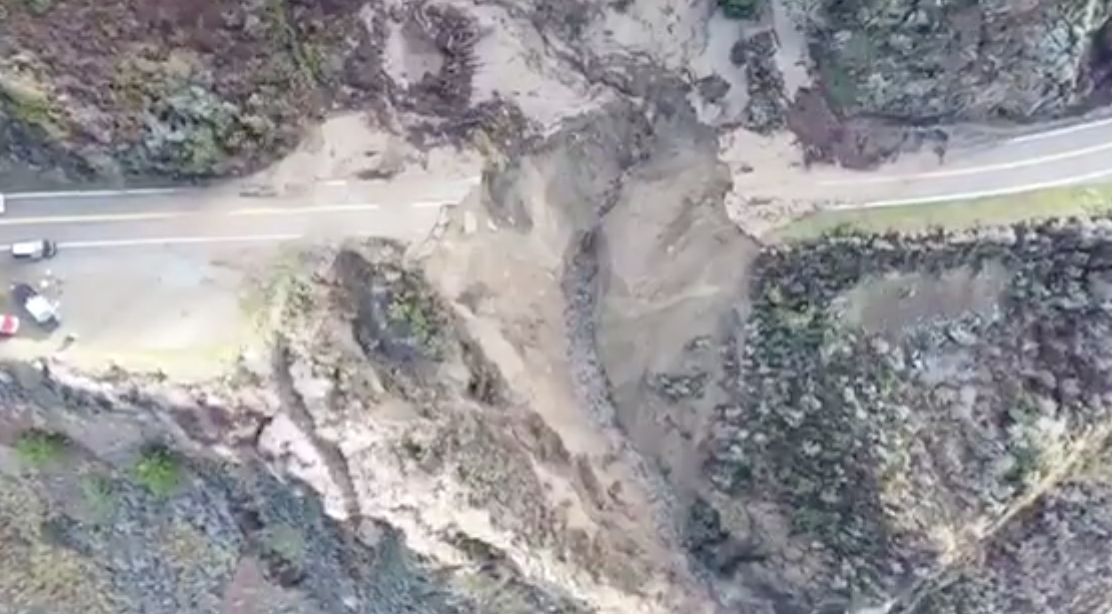 "A chunk of Highway 1, California's curvy, cliff-hugging coastal highway, slipped into the Pacific Ocean ... south of Big Sur, again closing a stretch of the scenic roadway indefinitely." —S.F. Chronicle
5. 💣 Dems marshal video, audio for Trump trial
Senate Majority Leader Chuck Schumer told the Rev. Al Sharpton on MSNBC that at next week's impeachment trial, the House managers "are going to show the American people — vividly, on film — what happened there in the Capitol, what Trump said. … All of America will see it."
"There's a lot of bull going on with these Republicans," Schumer said. "The only healing will come if we take full accountability."
"House Democrats have sought out new cellphone footage of the Capitol siege as well as updated details about injured police officers," the WashPost reports under the headline, "House Democrats building elaborate, emotionally charged case against Trump."
"Video, audio and other visual materials are considered even more pivotal to making the case for conviction in Trump's second impeachment trial."
Trump adviser Jason Miller told me: "'Emotionally charged' is code for 'We know this is unconstitutional, but we're going to try to put on a show anyway.'"
6. Hundreds of thousands expected to flee Hong Kong
Thousands of Hong Kongers have moved to Britain since Beijing's crackdown last summer. That number now is expected to swell to hundreds of thousands.
Nick Kristof writes in a N.Y. Times column, "Biden's Nightmare May Be China" (subscription):
The coming years represent the greatest risks since I began covering U.S.-China relations in the 1980s, partly because Xi is an overconfident, risk-taking bully who believes that the United States is in decline.
7. Tweet du jour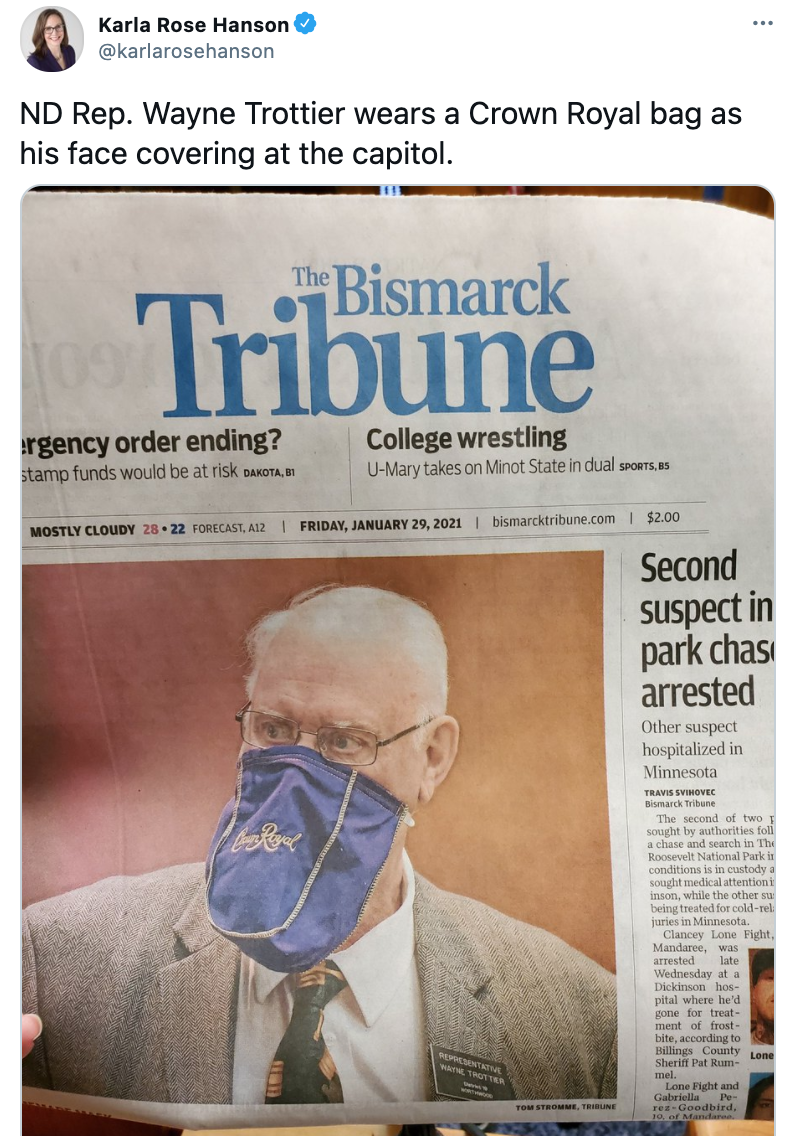 (Mask tip: Jonathan Martin)
8. 1 smile to go: "What Still Works?"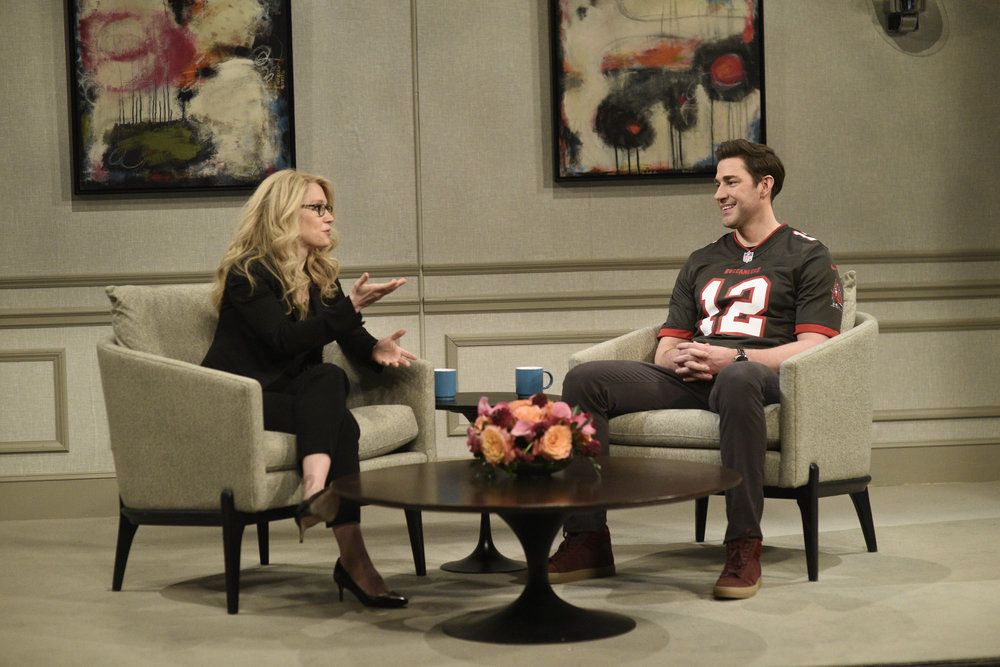 John Krasinski, as Tom Brady, talks to Kate McKinnon, playing herself as host of "What Still Works?" on the "Saturday Night Live" cold open.
After finding that government, the "stonk market," social media and the vaccine rollout are all broken, McKinnon realized Tom Brady "might be the only thing in America that still works."
"So I guess everyone must be rooting for you, right?" she asked.
"Almost no one," he replied.
📬 Thanks for sharing Sunday with us. Please invite your friends to sign up for Axios AM/PM.