Good Thursday morning. Axios is 1 year old today. Jim VandeHei, Roy Schwartz and I started with a blank whiteboard and a theory of the case that became Axios — "worthy" — launching two days before President Trump's inauguration. Yesterday, all 93 of our colleagues were in one room for an all-staff launch of Year 2. Everyone got an Axios Smart Brevity™ jersey, numbered in the order each of us joined the company.
Thank you for reading us, advising us and believing in us. The first principle of the Axios Manifesto will always be: "Reader first."
https://www.axios.com/newsletters/axios-am-8b76a6ef-2637-40ab-8c3a-10d93935c2ce.html?chunk=0#story0
1 big thing: 2018 ripe for global rupture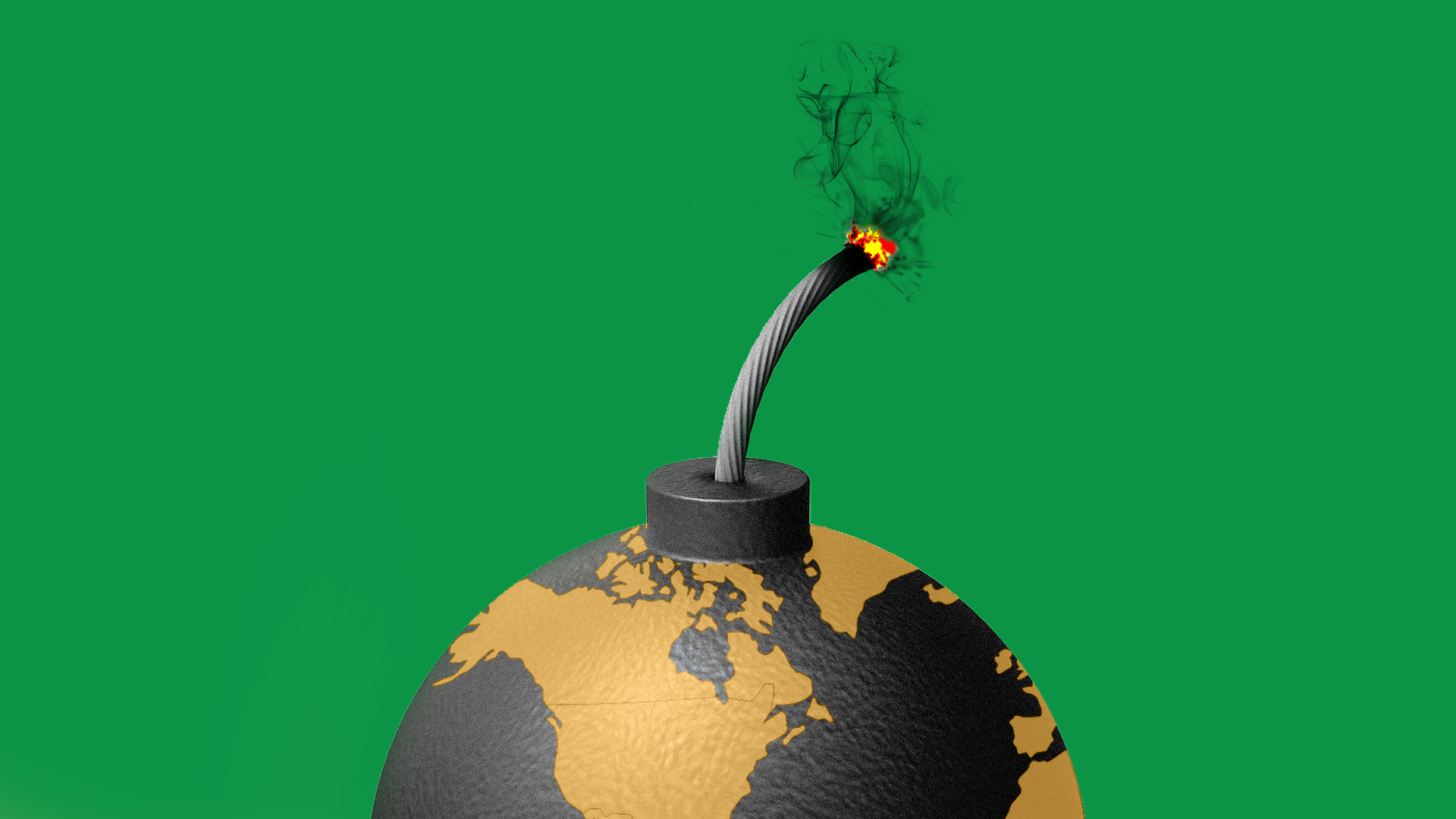 Stock markets are at record highs, and recession is nowhere in sight. Yet, the threat to all this exuberance — rising international tensions and instability — arguably looks greater than any years since last century's great wars, Axios future editor Steve Levine writes in his geopolitical forecast for 2018.
Steve's quick take: What stands out is the brittleness of politics across the planet — in Iran, the Korean peninsula, Russia and Saudi Arabia, to name a few flash points. A wrongly lit match involving any of them could turn disastrous.
Threat level: High. The biggest danger is miscalculation — because the combination of high-stakes politics, willful leaders needling each other, and unpremeditated error might be fateful. Hawaii's mistaken warning shows the potential peril of fast decisions with imperfect intelligence.
This is Steve's sixth year of making these forecasts — first for Quartz, and now for Axios. His mega-trends to watch in 2018:
1. The U.S. will opt to live with a nuclear North Korea
One sign of President Trump's flexibility was a Jan. 4 tweet in which he crowed that his being "firm" had driven the north to the negotiating table with the south. This is a man seeking an exit from conflagration. The main working dynamic here is the Precipice Rule, which says that sides will squawk, shout and threaten but back away before a cataclysm.
Bottom line: As long as Trump feels he can credibly claim to have "won," he's likely to threat but not contront.
Wild card: Trump could still order a limited lightning strike on North Korea. The True Believer Rule — which says events can be determined at the extremes — can overcome the others.
2. The Iran protests will soften the regime.
Iran's supreme leader, Ayatollah Ali Khamenei, is feeling rightly threatened by the breadth and source of last year's popular uprising: not the disdained Tehran elite, but a cross-cut of Iranian society in the conservative hinterlands.
Bottom line: Khamenei wants a virtuous regime that stays in power, with the visible support of the Iranian people. Don't look for changes in Iran's aggressive regional policies. But inside, Khamenei will adopt a softer touch.
3. Elon Musk will have a great year.
Disrupting Detroit: Last July, the Tesla CEO could have averted much personal misery by postponing the release of his game-changing, mainstream Model 3, and instead released a year late. Instead, he had an excruciatingly slow production buildup.
This year, Tesla will fix its factory automation, and churn out Model 3s at promised volume.
4. The Big Tech uprising will go populist.
Look for criticism of the tech giants to be part of the campaign platforms for both parties in numerous elections at the state level.
An early example is Josh Hawley, Missouri's Republican attorney general and U.S. Senate candidate, who launched an anti-trust investigation of Google.
5. Why midterms matter: the future of Trumpism.
If Democrats capture the House, which seems likely, they almost certainly will tie up Trump by blocking his agenda, investigating him, and initiating impeachment proceedings. If they win the Senate, too — not likely, but not far-fetched — the most powerful man in the world will suddenly look weak.
For Democrats, the stakes are also existential: if Republicans keep control of Congress, Trump will spend the next two years continuing to dismantle anything with Obama's name on it, then go after FDR's New Deal legacy.
Bottom line: The Rule of Averages is on Democrats' side. It states that people can embrace wild bouts of extremism, but tend to drift back toward the middle and seek thriving and stable futures for themselves and their children.
https://www.axios.com/newsletters/axios-am-8b76a6ef-2637-40ab-8c3a-10d93935c2ce.html?chunk=1#story1
2. Trump: "The Wall is the Wall"
"President Trump's chief of staff privately told a group of Democratic lawmakers on Wednesday that Mr. Trump had not been 'fully informed' when promising voters a wall along the Mexican border last year," per N.Y. Times:
"John F. Kelly, the retired Marine general credited with

bringing a measure of discipline

to Mr. Trump's chaotic White House

during his six months as chief of staff

, told members of the Congressional Hispanic Caucus that he had educated the president about the issue of immigration, adding that Mr. Trump had 'evolved' on the wall."
Kelly said "he had persuaded the president it was not necessary. He also expressed optimism that a bipartisan immigration deal could eventually be reached."
Why it matters: "The comments were an unusual instance of a White House chief of staff seeming to undercut public statements made by the president."
Be smart: Since this on the front page of The Times, Trump will surely read it in and stew.
Sure enough! After we wrote that, Trump tweets: "The Wall is the Wall, it has never changed or evolved from the first day I conceived of it. Parts will be, of necessity, see through and it was never intended to be built in areas where there is natural protection such as mountains, wastelands or tough rivers or water."
https://www.axios.com/newsletters/axios-am-8b76a6ef-2637-40ab-8c3a-10d93935c2ce.html?chunk=2#story2
3. Bill to prevent shutdown "on cusp of failure"

"Bitter divisions in both parties threatened ... to derail Congress's effort to keep the federal government fully operating past the end of the week," the WashPost reports in its lead story:
"Republican defense hawks in the House said a short-term spending plan the party introduced late Tuesday did not devote enough money to the military."
"Democrats, whose support would be critical for passage in the Senate, began lining up in opposition amid pressure from immigration activists to use the budget talks as leverage to legalize many young immigrants known as 'dreamers.'"
Why it matters: "Absent an accord, federal agencies would cease nonessential activities and furlough hundreds of thousands of employees at midnight Friday evening — the first shutdown since 2013, when GOP opposition to the Affordable Care Act sparked a 16-day standoff."
https://www.axios.com/newsletters/axios-am-8b76a6ef-2637-40ab-8c3a-10d93935c2ce.html?chunk=3#story3
4. Pic du jour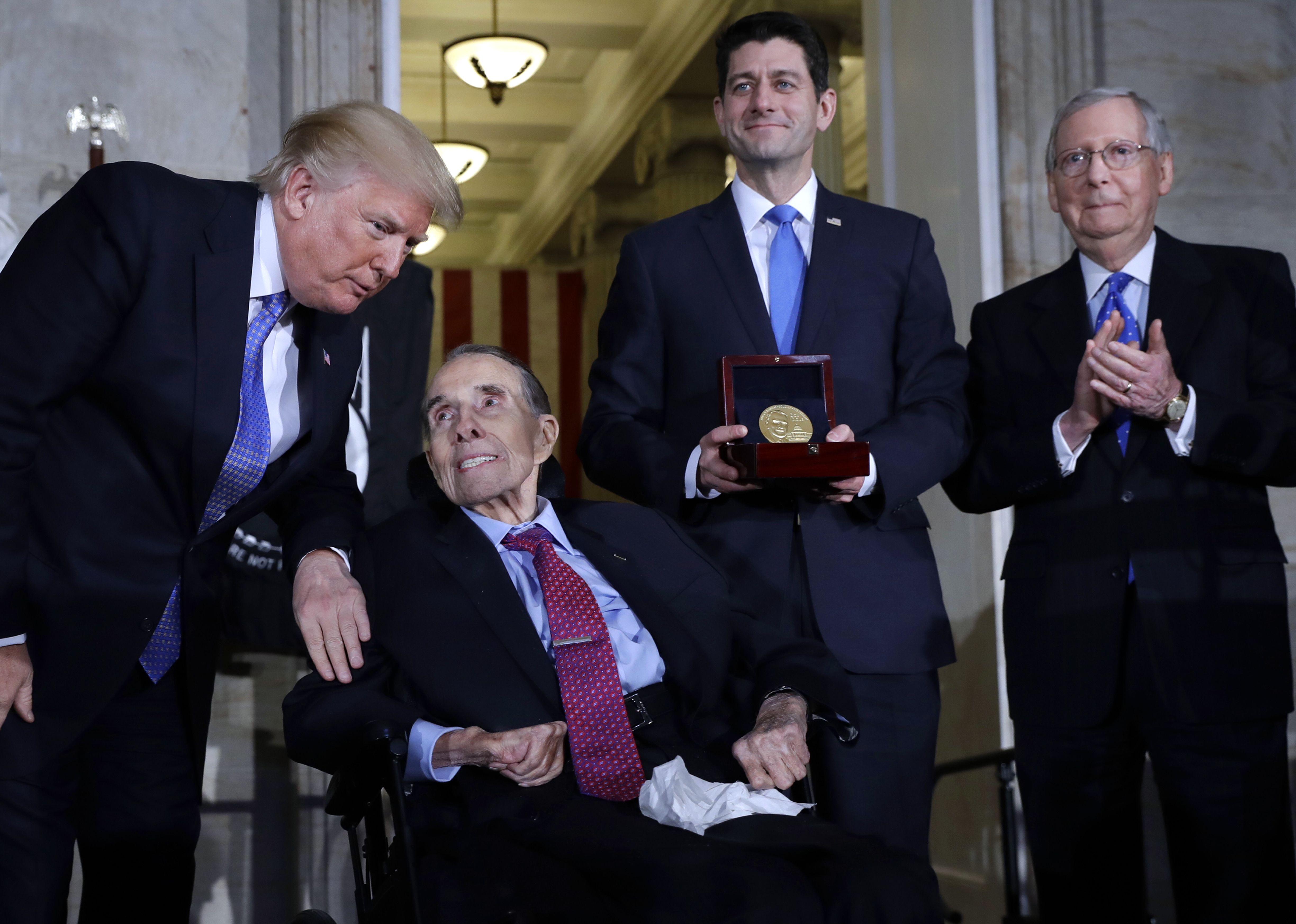 AP's Evan Vucci
Former Senator Bob Dole, 94, of Kansas speaks with President Trump during a Congressional Gold Medal ceremony honoring Dole at the Capitol yesterday, along with House Speaker Ryan and Senate Majority Leader McConnell.
https://www.axios.com/newsletters/axios-am-8b76a6ef-2637-40ab-8c3a-10d93935c2ce.html?chunk=4#story4
5. Huge stakes on Bannon testimony
Shot, via Reuters: "Trump's Chief of Staff John Kelly told Fox News ... the White House did not tell former Trump chief strategist Steve Bannon to invoke executive privilege in closed testimony before Congress on its probe of alleged Russian meddling in the 2016 U.S. election."
Chaser — Bannon's lawyer, Bill Burck, tells Jonathan Swan: "We were told by White House lawyers that Mr. Bannon was not authorized to speak about his time on the transition or in the White House until the Committee and the White House agreed on the proper scope of questioning.  ... Perhaps [Kelly is] saying that the White House did not ask Mr. Bannon to invoke executive privilege in the formal legal sense."
"The White House instructed Mr. Bannon not to talk about the transition and the White House until the President decides what information he will invoke executive privilege over and what information he will not.  That had not happened as of yesterday or today. "
Why it matters, from Axios PM: Bannon instantly becomes Trump's most dangerous man. Other campaign or White House alumni want to preserve access to Trump. But Bannon has already burned every bridge, and now has zero attachments to Trump's inner circle. Bannon saw and knows a lot, and his team has signaled he'll Mueller anything he's asked.
Go deeper: Jonathan Swan, "Inside the room: What Steve Bannon told Congress."
https://www.axios.com/newsletters/axios-am-8b76a6ef-2637-40ab-8c3a-10d93935c2ce.html?chunk=5#story5
6. Apple's big spending in America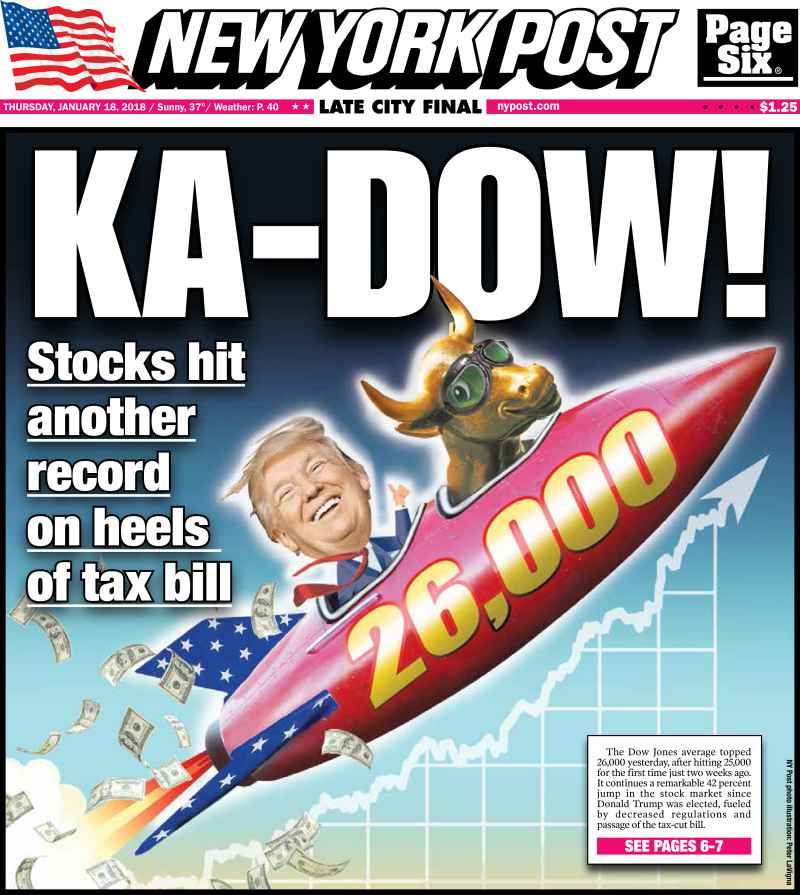 Courtesy N.Y. Post
"Apple Inc. said it would pay a one-time tax of $38 billion on its overseas cash holdings and ramp up spending in the U.S., as it seeks to emphasize its contributions to the American economy after years of taking criticism for outsourcing manufacturing to China," the Wall Street Journal reports (subscription):
"The world's most valuable publicly traded company ... said it would invest $30 billion in capital spending in the U.S. over five years that would create more than 20,000 jobs. The total includes a new campus, which initially will house technical support for customers."
"All told, Apple said it would directly contribute $350 billion to the U.S. economy over the next five years."
Apple CEO Tim Cook: "We have a deep sense of responsibility to give back to our country and the people who help make our success possible."
Why it matters: "Apple has faced criticism over the past decade for overseas manufacturing of its iPhones ... Trump during the presidential campaign blasted the company for outsourcing."
"Apple has responded ... by pointing to its spending on procurement in the U.S. and to the size of the so-called app economy spawned by the iPhone, which the company says has created more than 1.6 million U.S. jobs."
Trump tweeted praise for Apple — and himself: "I promised that my policies would allow companies like Apple to bring massive amounts of money back to the United States. Great to see Apple follow through as a result of TAX CUTS. Huge win for American workers and the USA!"
https://www.axios.com/newsletters/axios-am-8b76a6ef-2637-40ab-8c3a-10d93935c2ce.html?chunk=6#story6
7. Axios World: Richard Haass advice on Iran
CFR President Richard Haass, author of "A World in Disarray," writes for the new Axios World stream, "The Iran deal is bigger than Iran":
Key point: There are reasons to dislike the Iran nuclear deal, which has suspended but in no way resolved the challenges posed by Iran's nuclear program. But since the agreement is widely embraced and Iran has complied with it, one-sided efforts to negotiate away its flaws are likely to come to naught.
What's next: North Korea's nuclear threat is actual and immediate; Iran's is potential and 10 to 15 years off. Rather than force an immediate showdown, Trump should begin talks with the Europeans and then China and Russia about a follow-on pact limiting Iran's nuclear program.
https://www.axios.com/newsletters/axios-am-8b76a6ef-2637-40ab-8c3a-10d93935c2ce.html?chunk=7#story7
8. Bite of the day
N.Y. Times Quote of the Day ... Michael Anton, a spokesman for the National Security Council, on the announcement that North and South Koreans will march under one flag at the Winter Olympics next month:
"North Korean propaganda is in a category all its own. It is not surprising that North Korea is sending more cheerleaders and musicians than athletes."
https://www.axios.com/newsletters/axios-am-8b76a6ef-2637-40ab-8c3a-10d93935c2ce.html?chunk=8#story8
9. A worthy read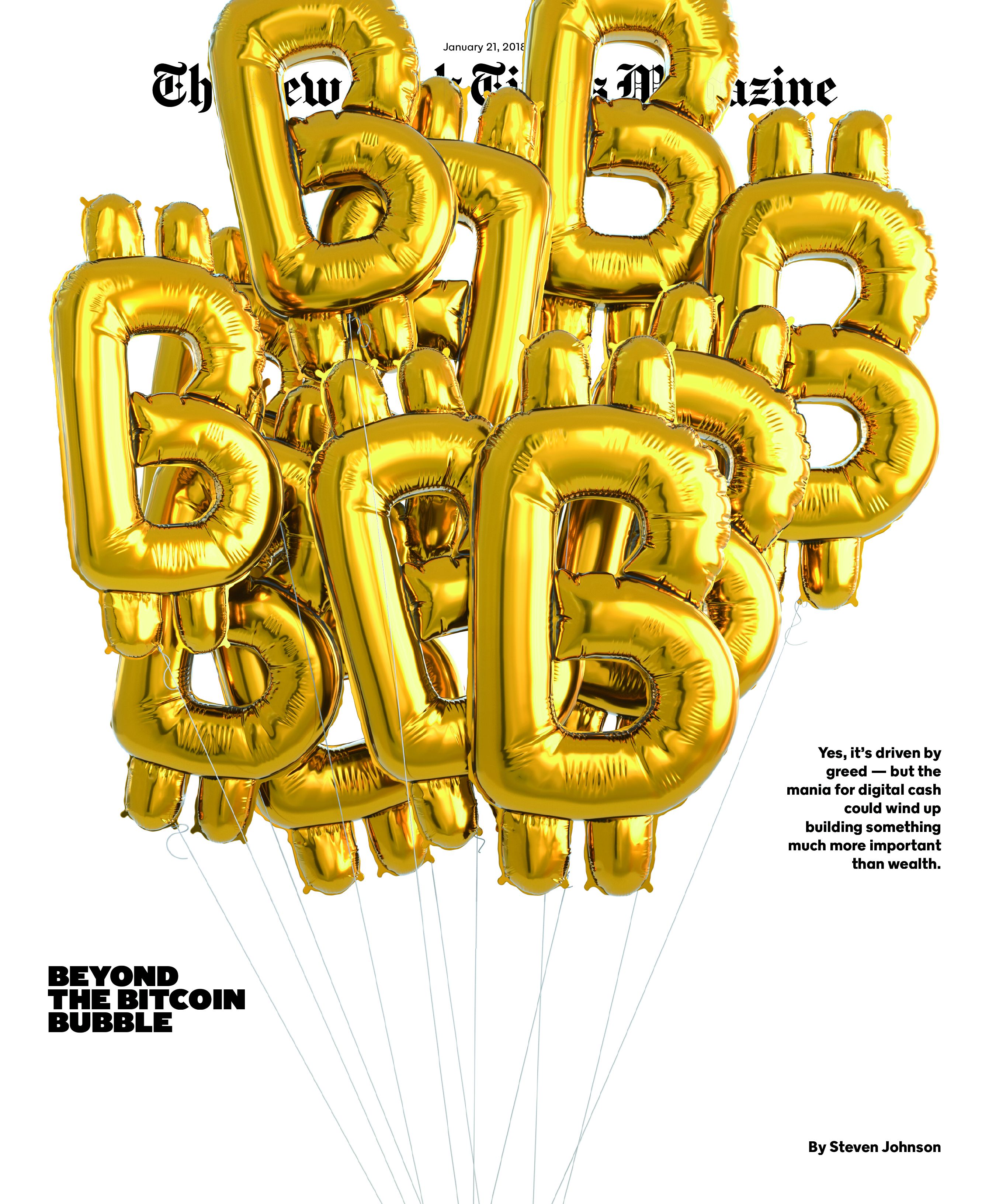 Courtesy N.Y. Times
To reset your mind amid all the crazy Bitcoin coverage, the new N.Y. Times Magazine cover story walks through where the cryptocurrency conversation began, and where it's going ...
"Beyond the Bitcoin Bubble ... Yes, it's driven by greed — but the mania for cryptocurrency could wind up building something much more important than wealth," by Steven Johnson:
"Like the original internet itself, the blockchain is an idea with radical — almost communitarian — possibilities that at the same time has attracted some of the most frivolous and regressive appetites of capitalism."
"We have learned enough from this history to support the hypothesis that open works better than closed, ... But we don't have an easy route back to the open-protocol era."
"Right now, the only real hope for a revival of the open-protocol ethos lies in the blockchain."
https://www.axios.com/newsletters/axios-am-8b76a6ef-2637-40ab-8c3a-10d93935c2ce.html?chunk=9#story9
10. 1 film thing
"Sundance fest, in the moment: Screenings in Utah match an era of tumult and outspokenness ... This year's fest has unusually strong films," per L.A. Times' Mark Olsen:
"[T]he 2018 edition of the preeminent indie film showcase, which kicks off [tonight] in Park City, Utah, ... will be dealing with a moment of tumultuous upheaval and uncertainty in the culture."
"The mechanics of the entertainment industry are in a state of flux; traditional distributors continue to grapple with streaming services such as Netflix, which last year won the festival's top prize, and they are all trying to figure out the best ways to deliver movies to audiences without going broke."
"This year will likely be marked by an air of continued defiance and resistance — including the Respect Rally Park City march scheduled for Saturday morning — as the world enters Trump Year Two."
"But mostly, this festival will be tinged by the ongoing fallout of sexual harassment and abuse scandals."