Axios AM
July 30, 2020
Good Thursday morning! President Obama is expected to speak at today's 11 a.m. ET funeral service for Rep. John Lewis at Ebenezer Baptist Church in Atlanta.
Today's Smart Brevity™ count: 1,140 words ... 4½ minutes.
1 big thing ... Axios Harris Poll 100: Corporate trust soars during pandemic
The public's view of almost every industry has improved since the beginning of the coronavirus pandemic, Sara Fischer writes from a new Axios/Harris poll.
Industries with a prominent role in life under quarantine have seen especially big jumps.
Why it matters: Businesses in America were already undergoing a transformation from being solely focused on profits to also focusing on values.
The poll ranks the 100 most visible brands in America, based on Harris Poll research. Companies were rated by 34,026 U.S. adults, from June 24-July 6.
Leading the index are companies that have focused on solving problems related to the coronavirus:
Grocers, including Publix, Wegmans and Kroger, are among the highest-ranking companies, as are delivery companies — FedEx, Amazon and UPS.
Consumer packaged goods companies that focus on cleaning and kids — Clorox, Hershey's, Disney, Procter & Gamble — ranked in the top 25.
Streaming giants — Netflix, followed by Hulu and Disney — ranked in the top 25 due to their offerings for consumers stuck at home.
Pharmacies, including Walgreens and CVS, also scored well on consumer trust, culture and ethics.
75% of respondents agree that during the shutdown, companies have been "more reliable than the federal government in keeping America running."
What's next: Consumers in the poll overwhelmingly approve of companies that address social and societal issues.
2. Axios Harris Poll 100: Corona companies
Americans really love Clorox right now.
The pandemic has ushered in a new wave of public approval for companies that have helped modernize and digitize the American household, Sara Fischer writes from our new Axios/Harris poll.
Virtual work and school needs are being supported by enterprise technology companies like Apple, IBM, Zoom and Microsoft, while social media technology companies rank last on the list.
Remote health and fitness needs are being supported by companies like Peloton and Doordash.
Home improvement retailers like Lowe's and Home Depot have helped families remodel their living spaces.
3. Trump launches "Embers Strategy"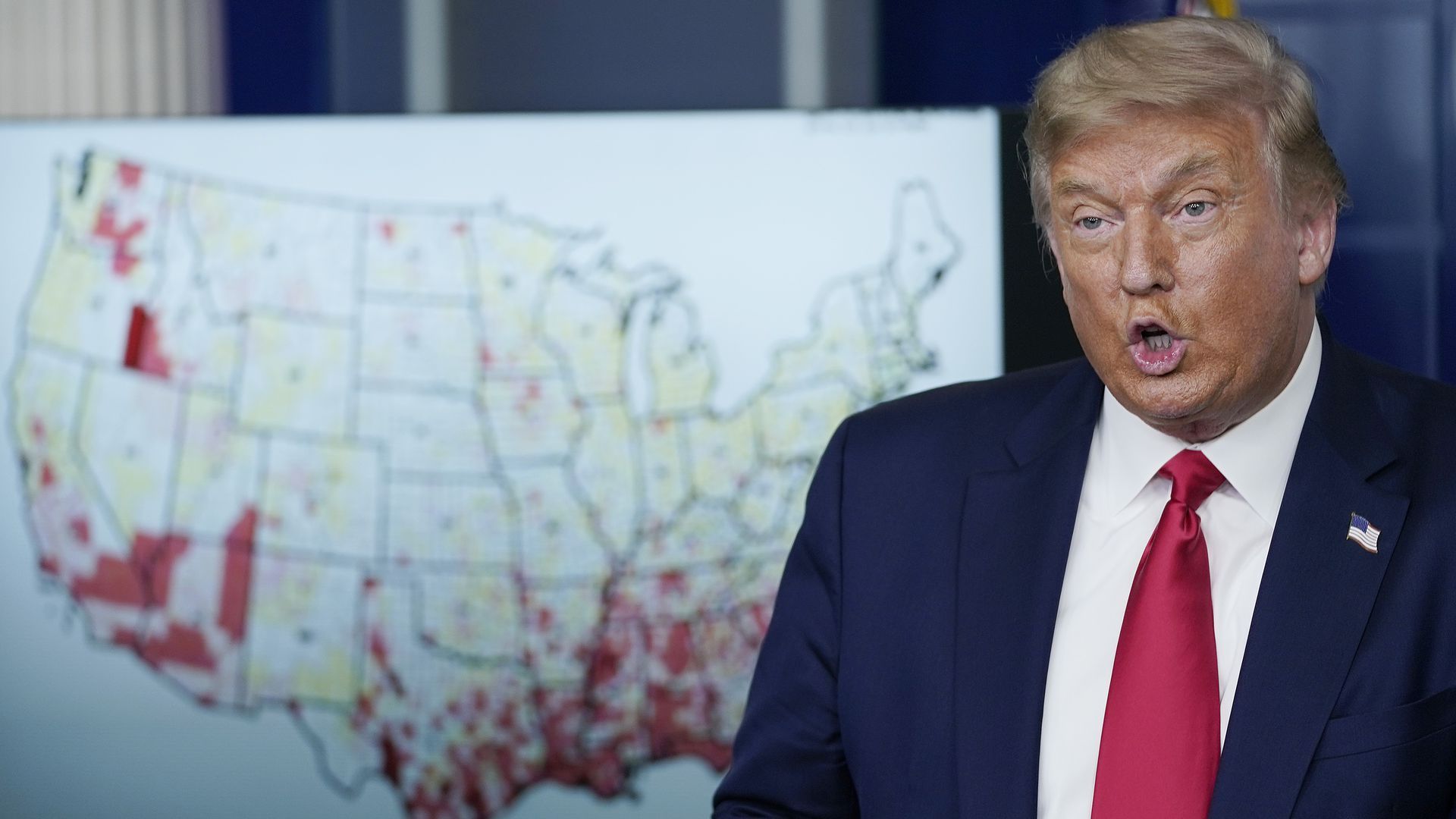 The Trump administration is sending increased PPE, test kits and top health officials like Anthony Fauci and Deborah Birx to coronavirus hotspots as part of a campaign called the "Embers Strategy," White House officials told Axios' Alayna Treene.
The name "Embers Strategy" is meant "to highlight the risk level of 'embers' to decrease the likelihood of 'fires,'" a senior White House official said.
Why it matters: The push is part of a larger effort to show President Trump is taking the pandemic seriously, something White House officials describe as a "renewed focus."
Administration health officials will appear on local and regional television and radio to educate the public on mitigation tactics, including wearing masks, practicing social distancing, frequent hand washing and staying home when ill.
4. Our weekly map: AZ, TX get better, but not CA, FL
Coronavirus infections in the U.S. are beginning to decline, after a summer of sharp increases. Some of the hardest-hit states are improving significantly, Axios' Sam Baker and Andrew Witherspoon report.
But we're at the stage of this most recent outbreak where deaths can spike.
Deaths passed 150,000 in the U.S. yesterday, and are still rising.
This week, the U.S. overall saw a 2.8% drop in new infections — within the range we classify as "holding steady."
5. House throws kitchen sink at tech CEOs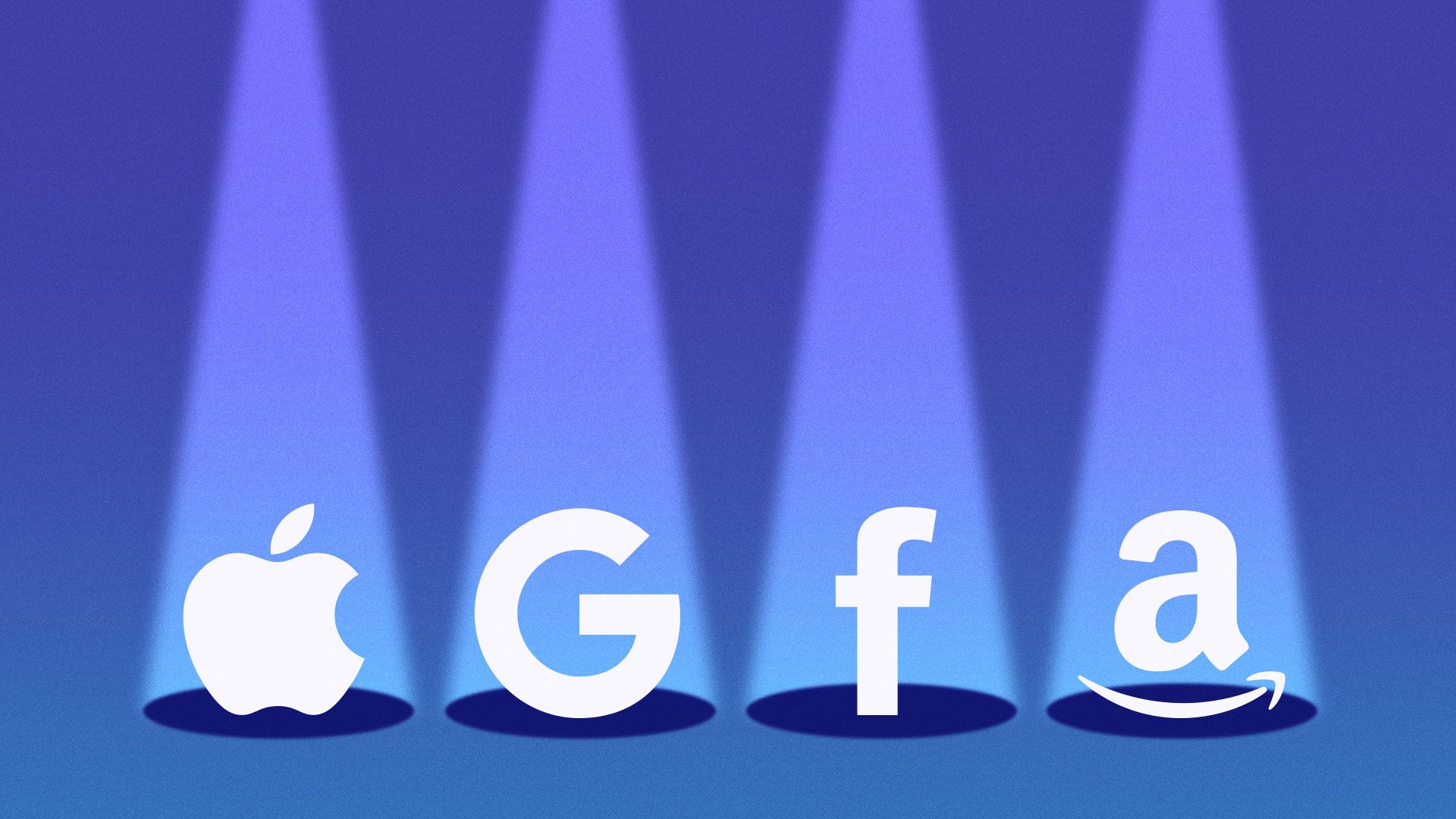 Yesterday's House antitrust hearing didn't nail a case that the Big Tech companies are monopolies. But lawmakers wrung some surprising admissions from the CEOs about how they wield their market power, Axios' Kyle Daly writes.
Why it matters: That could provide ammo for regulators now conducting investigations — and possibly a spur for Congress to strengthen antitrust law for the digital era.
Here's where the House Judiciary antitrust subcommittee pressed each company hardest:
Facebook: Panel Democrats said the social network's acquisitions of Instagram and WhatsApp were plainly anticompetitive — that the company made the deals to stop Instagram from becoming a competitor to its main platform and WhatsApp from becoming a competitor to its messaging service. CEO Mark Zuckerberg said Facebook had no idea the two would become such juggernauts when it bought them.
Google: Lawmakers homed in on the company's acquisition of DoubleClick in 2007 as the watershed moment when its dominance of search combined with power over the levers of online ad targeting.
Amazon faced tough questions about its role as both a massively successful online retailer and the proprietor of the biggest online marketplace for third-party sellers.
Apple took sustained heat for its power over the its App Store, and the cut it takes from developers who sell digital products through their apps.
All the companies, subcommittee chair David Cicilline said, have become bottlenecks for distribution, using their chokehold over data to surveil potential competitors and their control over technologies to extend their power.
The bottom line: The CEOs dodged most of the bullets aimed at them.
🗞️ How it's playing ... N.Y. Times 1-column lead headline: "LAWMAKERS GIVE TECH 'EMPERORS' JABS FROM 2 SIDES ... 5 HOURS OF TESTIMONY — Parrying Questions From House, 4 Chiefs Strike Humble Chord."


6. "Titans of Tech Testify in Their Trust-Me Suits"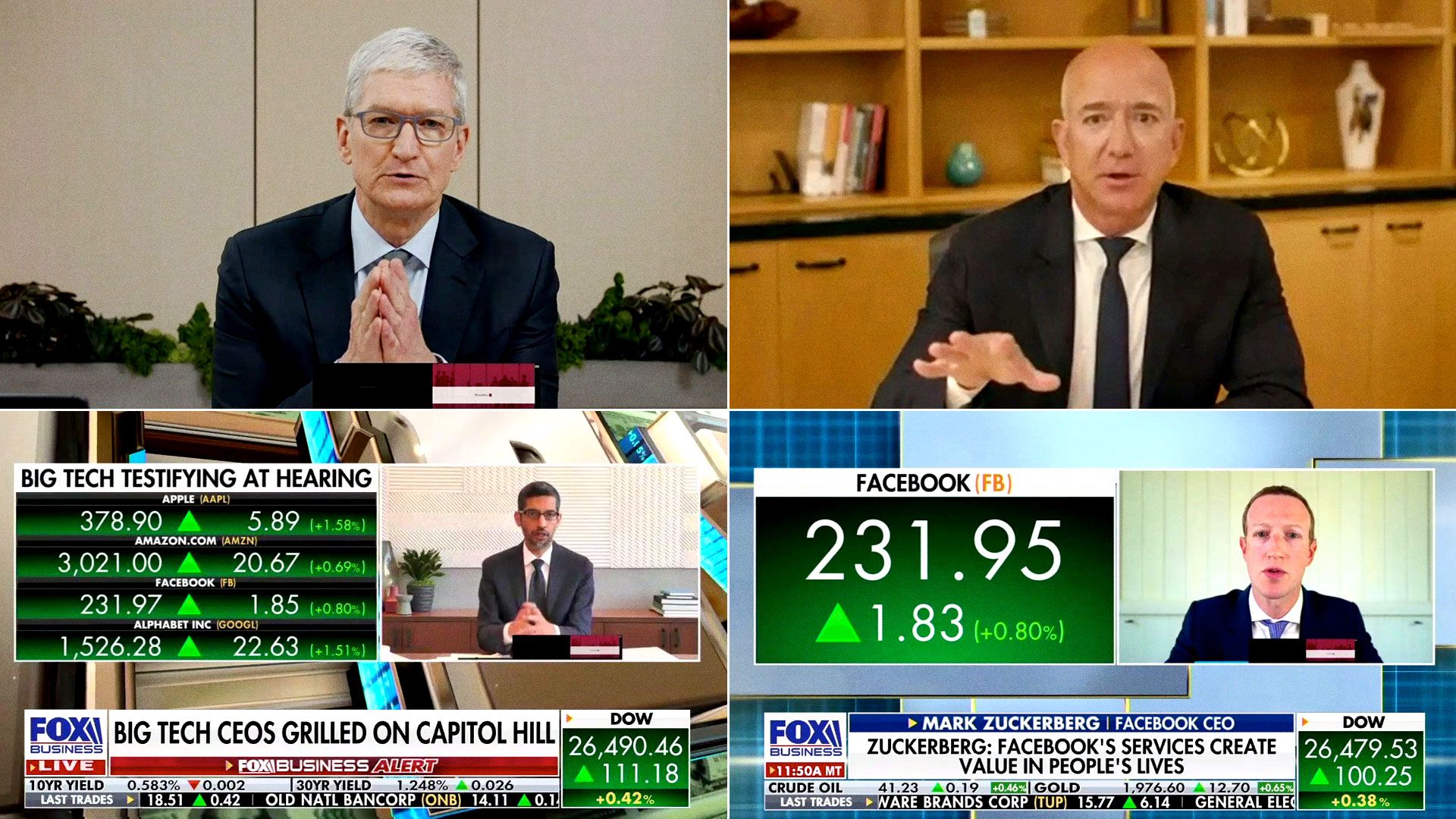 The four tech CEOs, appearing together (remotely) for the hearing, "looked more like four guys dressed up in their first graduation suits — serious, sincere, a little uncomfortable — than the four horsemen of the digital apocalypse," N.Y. Times chief fashion critic Vanessa Friedman writes (subscription).
Apple's Tim Cook, Amazon's Jeff Bezos, Sundar Pichai of Alphabet, Google's parent and Facebook's Mark Zuckerberg "didn't even look all that big," Friedman writes.
Testifying by video "worked in their favor, serving to shrink their presence to human size": "You want to channel Clark Kent of Smallville, rather than Superman."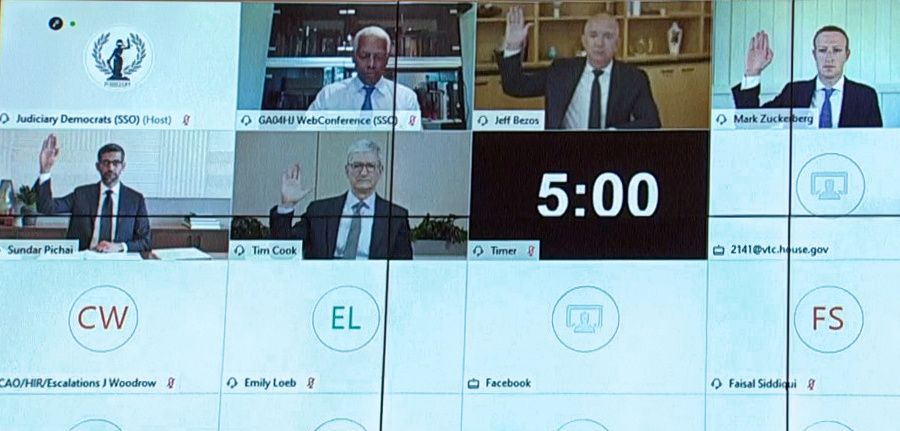 7. College reopening already a mess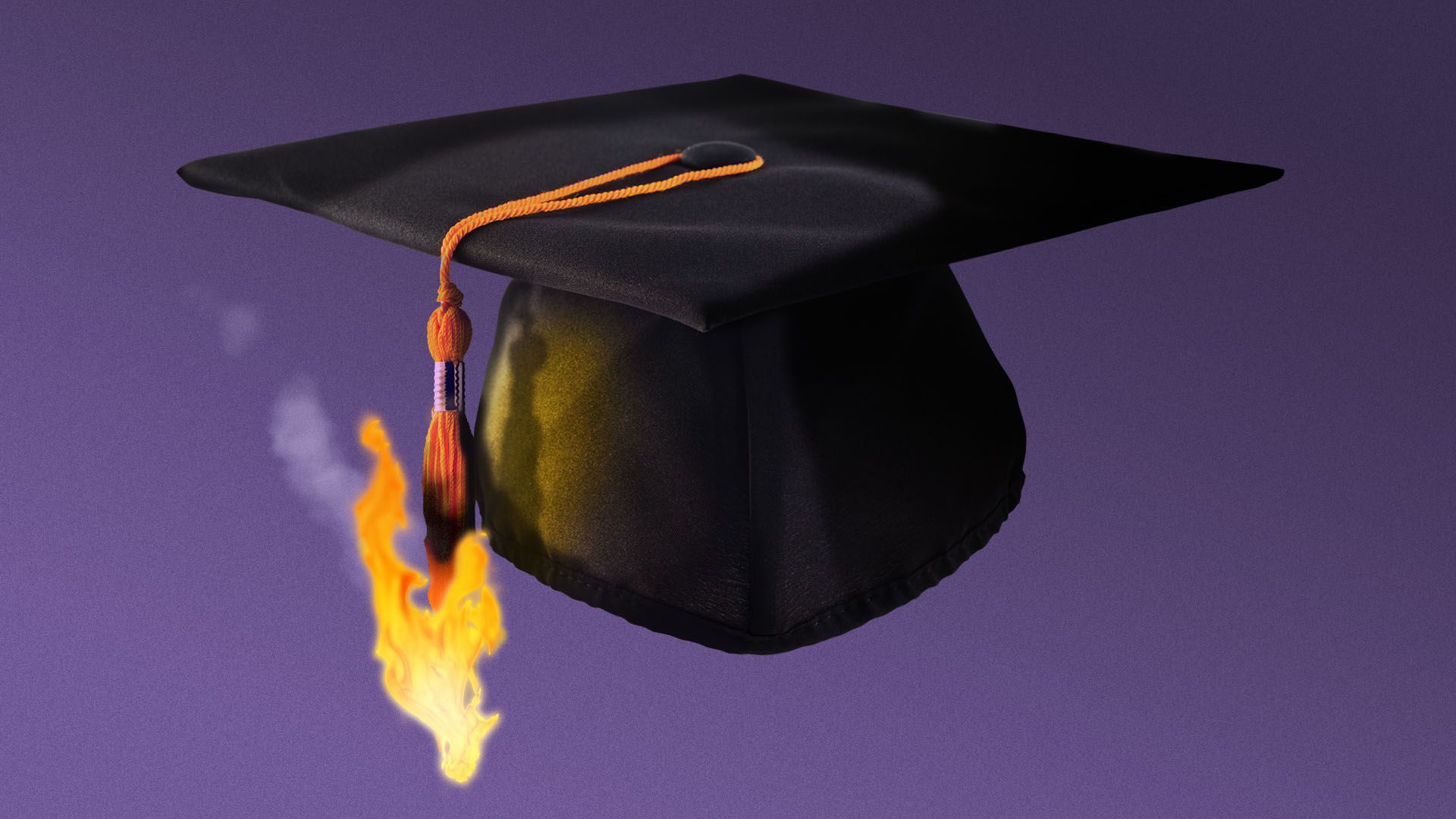 Many colleges' plans to bring students back to campus this fall are almost certain to crash and burn, Axios' Caitlin Owens and Marisa Fernandez write.
Nearly half of schools plan to bring students back for in-person classes. 13% will offer only online instruction, and 35% will offer a mixture of both, according to an analysis by the Chronicle of Higher Education.
Reality check: Before the fall semester has even begun at most schools, colleges' reopening plans are already crumbling.
Some schools are seeing cases spike among sports teams and fraternities.
Outdoor classes: Rice University in Houston plans to take some fall courses outside.
8. 🗳️ China is rising ballot threat
FBI Director Chris Wray and intelligence officials warned about China's increased capability to interfere in U.S. elections in separate classified hearings with the Senate Intelligence Committee this week, Axios' Alayna Treene reports.
Why it matters: China is increasingly becoming a top threat to election security. "Our adversaries learn from one another," a source familiar with one of the hearings told Axios.
What we're hearing: Wray and other officials cited concerns that China is developing the ability to interfere with local election systems and target members of Congress to influence China policy, sources said.
But intelligence officials still view Russia as the leading threat.
9. Bite of the day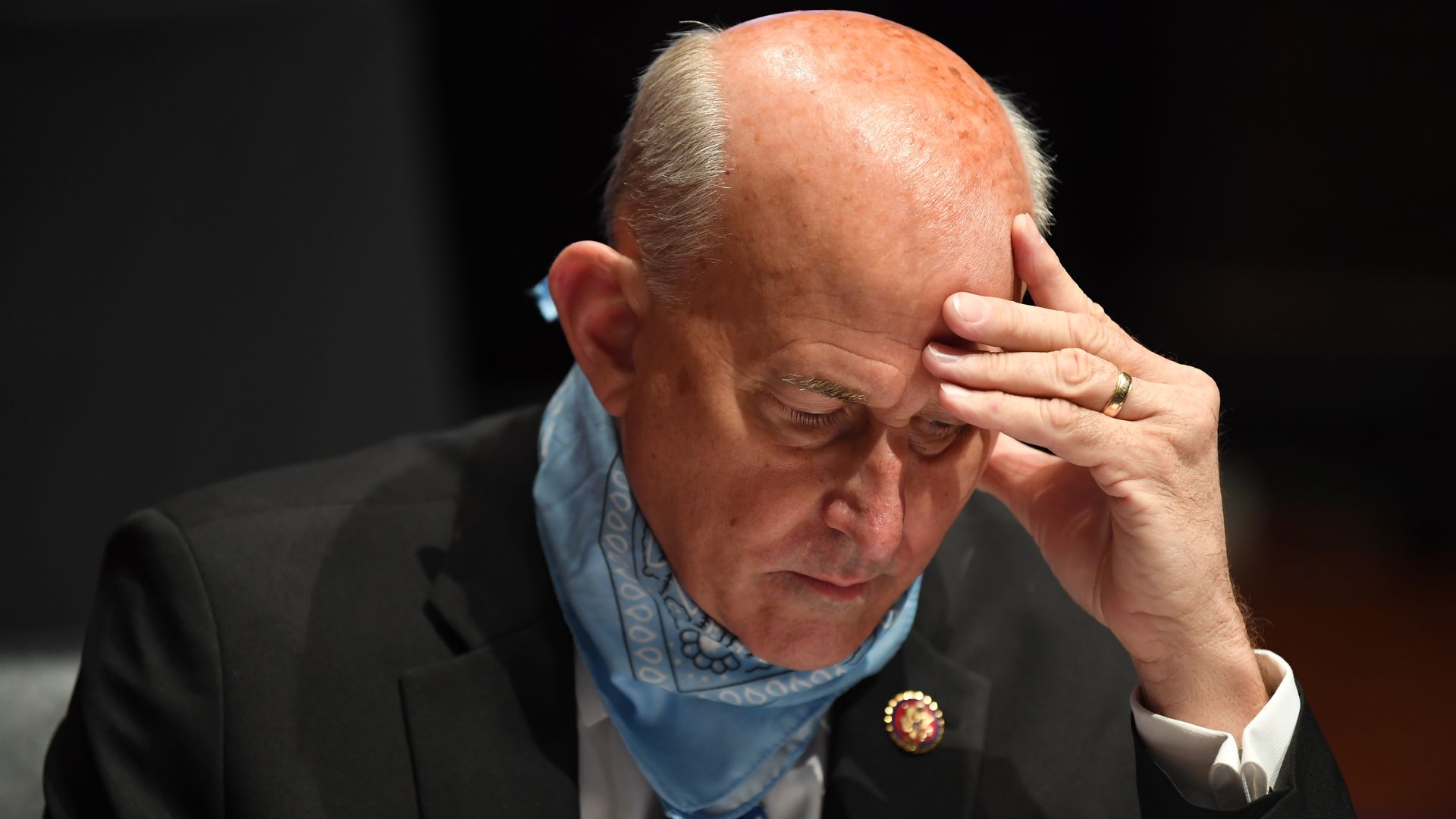 Speaker Nancy Pelosi announced that House members must wear masks when voting, after Rep. Louie Gohmert (R-Texas), who often shunned them and was known to vote without one, tested positive. (AP)
Gohmert told Texas TV station KETK from his D.C. office:
I can't help but wonder if by keeping a mask on, and keeping it in place, ... if I might have put some germs, some of the virus on t0 the mask and breathed it in.
Reality check: That's not how it works, sir.
10. 1 smile to go: This American life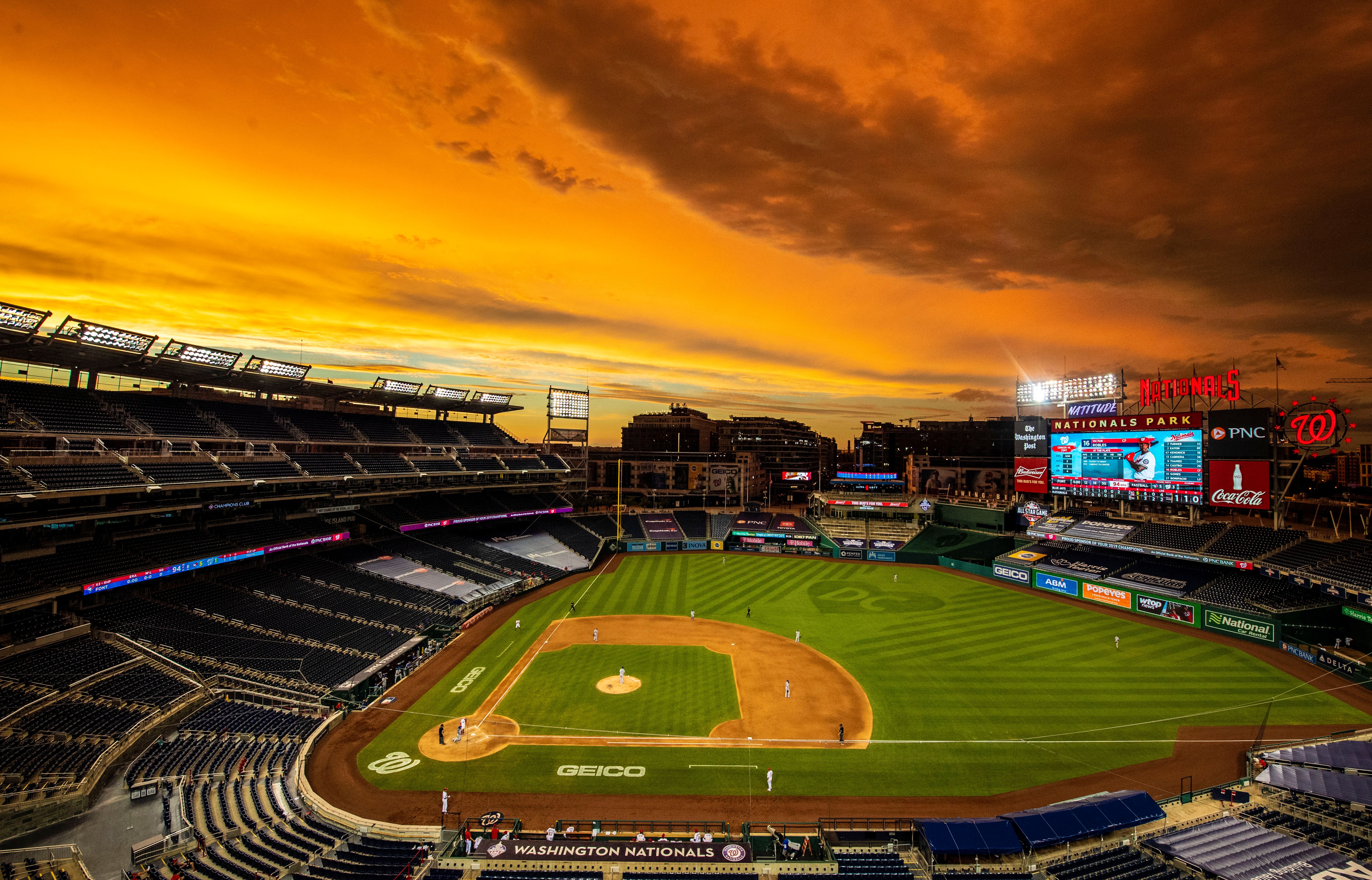 This was Nationals Park in D.C. on Tuesday night, during the seventh inning between the Washington Nationals and the Toronto Blue Jays, who won 5-1.
📱 Thanks for reading Axios AM. Please invite your friends to sign up here.