July 10, 2020
Happy Friday! 🎧 Hope you've tried our 10-minute Smart Brevity™ morning podcast, "Axios Today" with Niala Boodhoo. Hear it here.
1 big thing: John Roberts' long game
Supreme Court Chief Justice John Roberts is not the revolutionary that conservative activists want him to be, Axios' Sam Baker writes:
He moves slower than they want, sides with liberals more than they want, and trims his sails in ways they find maddening.
But he is still deeply and unmistakably conservative, pulling the law to the right — at his own pace and in his own image.
Why it matters: The idiosyncrasies that shape Roberts' approach to high-profile cases are becoming more clear over time. And because the Supreme Court has the final say on almost every political issue of any consequence, those idiosyncrasies often become the law of the land.
Driving the news: Over the past few weeks, Roberts sided with the court's liberal bloc on abortion, LGBTQ discrimination and DACA. And he wrote Thursday's 7-2 ruling that said Manhattan prosecutors can subpoena Trump's taxes and other financial records.
Most of those rulings were foreseeable, and left conservatives with the same bitter aftertaste they've felt before — when Roberts upheld the Affordable Care Act, for example, or blocked a citizenship question from the 2020 census.
The big picture: Roberts is not turning into a liberal. The law either stays put or moves to the right almost every time he is in the majority, even when it's a majority with the more liberal justices.
But he has a lifetime appointment, a strong sense that it's his duty to preserve public trust in the court, and his own ideas about how to do that.
Roberts' position as the court's only real potential swing vote gives him the power to dictate not just bottom-line outcomes, but also how the court gets there.
"He's a conservative minimalist," said Jonathan Adler, a law professor at Case Western Reserve University and a prominent conservative legal expert.
How it's playing:


2. America's default virus strategy: Herd immunity
By letting the coronavirus surge through the population with only minimal social-distancing measures in place, the U.S. has accidentally become the world's largest experiment in herd immunity, Axios' Caitlin Owens writes.
Why it matters: Letting the virus spread while minimizing human loss is doable, in theory. But it requires very strict protections for vulnerable people, almost none of which the U.S. has established.
Separating older, sicker people from younger, healthier ones while the virus burns through the latter group could be a way to achieve herd immunity — assuming immunity exists — without hundreds of thousands of people dying.
But the U.S. hasn't adopted such a strategy with any planning or foresight. Although younger people make up a larger portion of coronavirus cases now than they did earlier in the pandemic, vulnerable people still go to work or live with non-vulnerable people.
3. Virus math
The N.Y. Times' Laz Gamio visualized the percent change in average daily cases since states reopened (7-day rolling average):
Florida: up 1,393%
S.C.: up 999%
Arizona: up 858%
Texas: up 680%
Georgia: up 245%
New York: down 52%
4. Pic du jour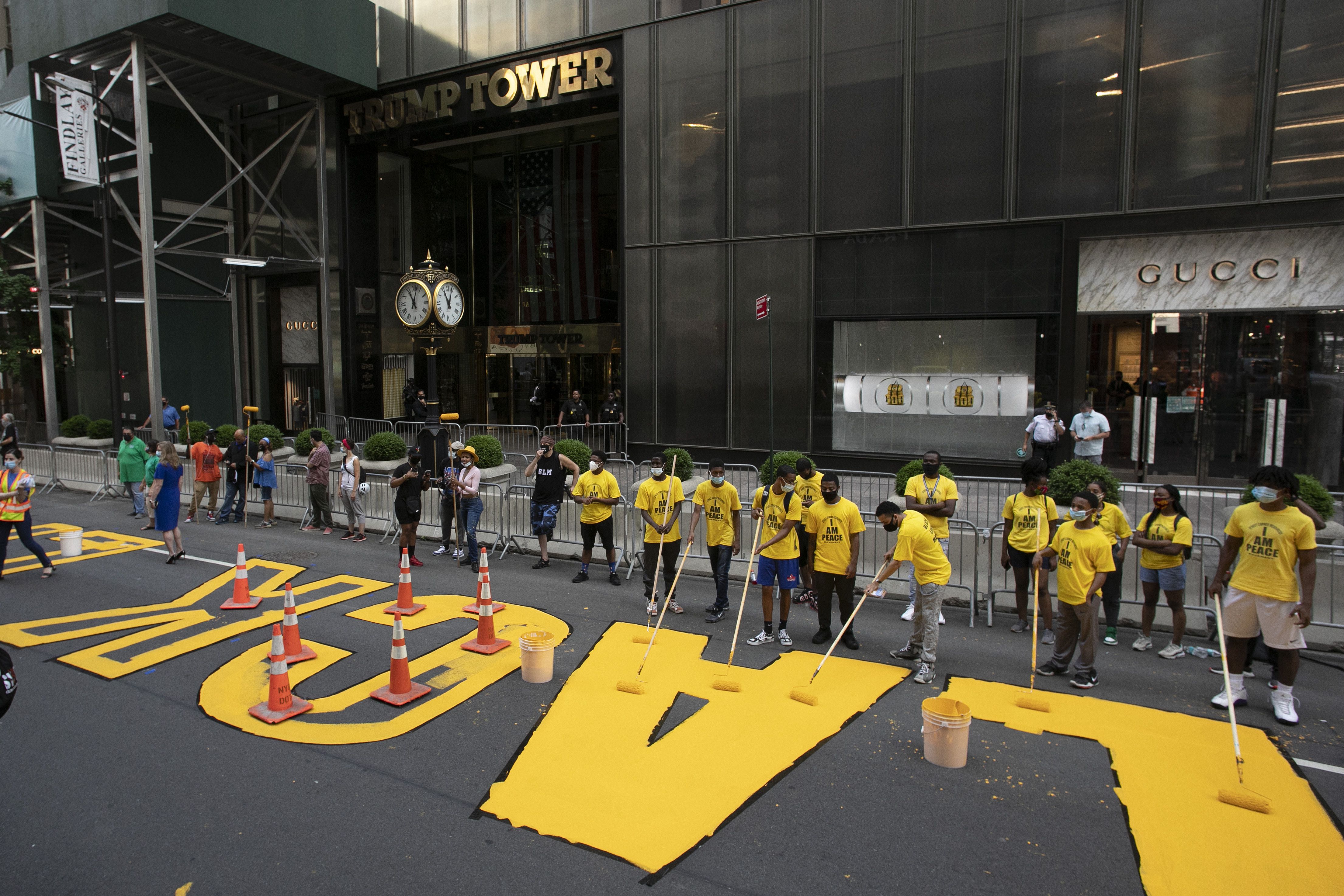 Mayor Bill de Blasio, the Rev. Al Sharpton and others joined in painting "Black Lives Matter" on Fifth Avenue in front of Trump Tower yesterday.
President Trump told Sean Hannity during a phone interview on Fox News last night: "All the merchants along Fifth Avenue are furious. ... New York is not the place that it was. Everyone's leaving — they're moving to Florida."
5. Biden goes big on Trump's former strength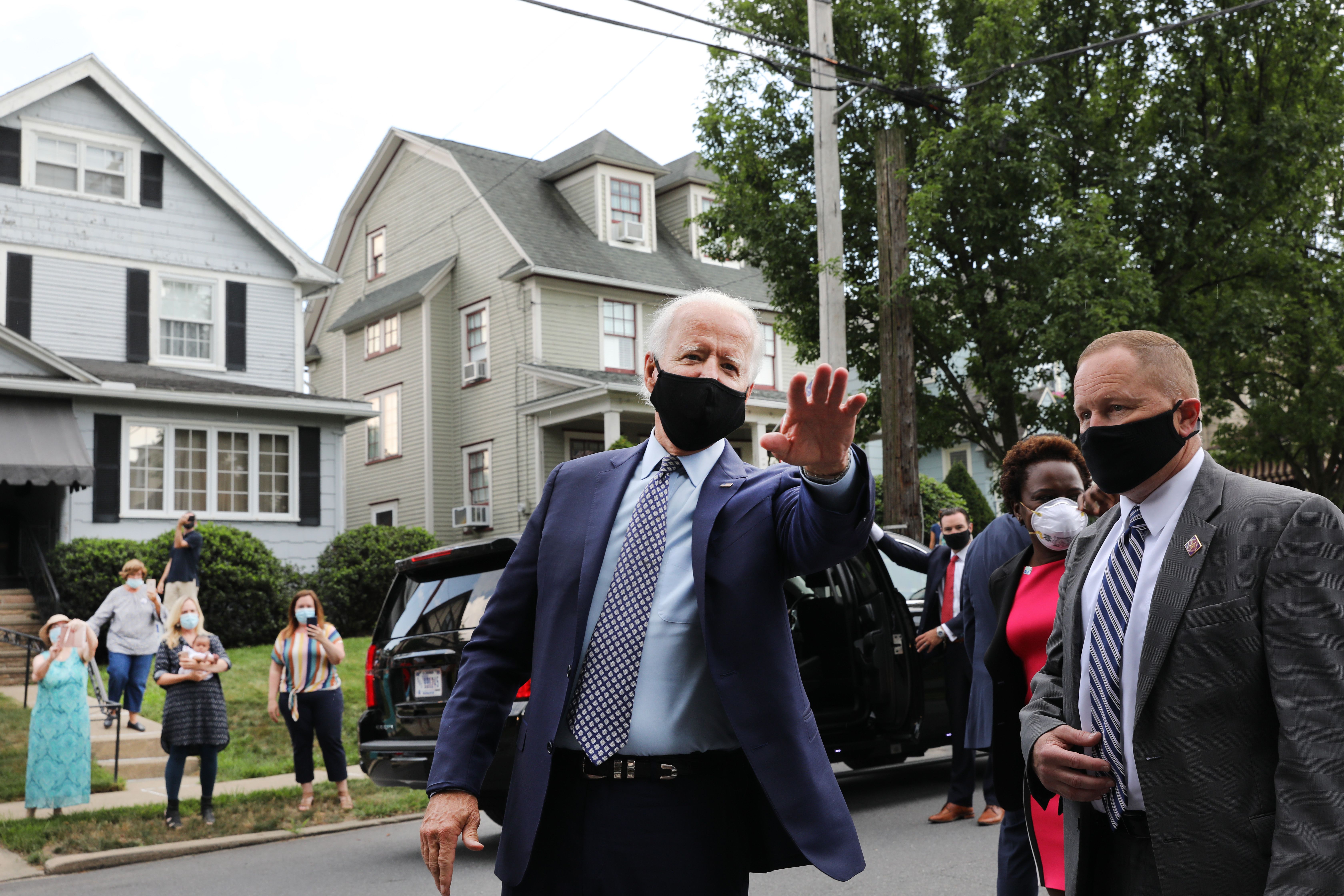 Joe Biden introduced a New Deal-like economic agenda, "Build Back Better," that he touted as the most aggressive government investment in the U.S. economy since World War II, AP writes from Dunmore (get it?), Pa.
Why it matters: Biden's shift to the economy meets Trump on turf the president had seen as his strength before the pandemic.
Now, Biden and his aides believe the issue is an all-encompassing opening that gives Democrats avenues to attack Trump on multiple fronts while explaining their own governing vision for the country.
Biden called for a $400 billion, four-year increase in government purchasing of U.S.-based goods and services, plus $300 billion in new research and development in U.S. technology firms.
He proposed tightening current "Buy American" laws that are intended to benefit U.S. firms but that government agencies can circumvent.
The procurement overhaul is based on ideas Biden has discussed with Sen. Elizabeth Warren, who offered similar proposals during the Democratic primary. Those moves would create 5 million new jobs, Biden said.
🎧 Go inside the Biden plan on Dan Primack's afternoon podcast, "Axios Re:Cap."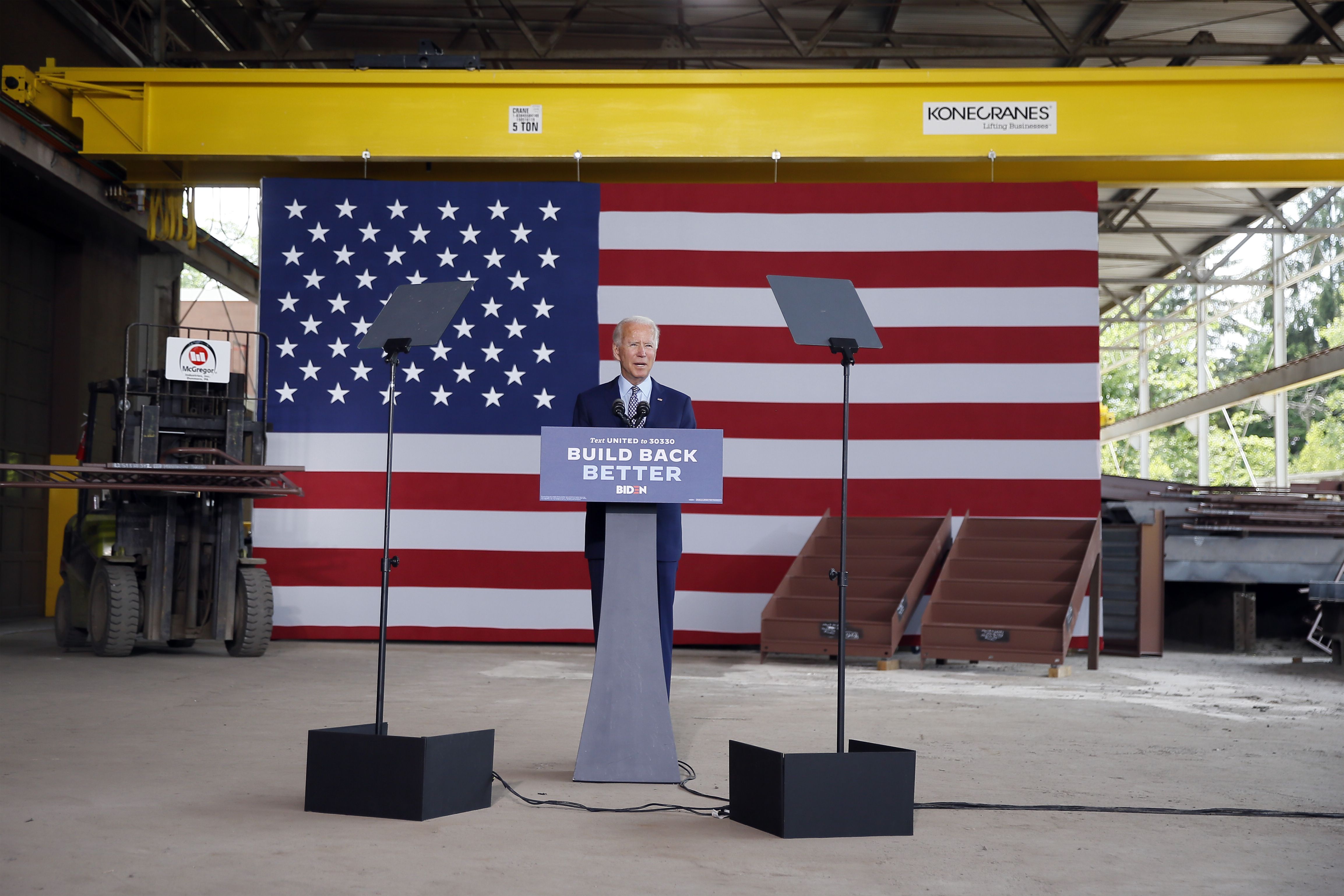 6. Trump threatens Chicago intervention

After Chicago endured one of the deadliest holiday weekends in local memory, President Trump told Fox News' Sean Hannity during a live phone interview last night that the federal government may intervene "sooner rather than later."
"We are looking at it very seriously, because we're going to have to do something," Trump said during the 39-minute interview. "[W]e can solve it."
"We're supposed to be asked. So the mayor or the governor of Illinois should be asking, but they don't want to ask. ... So we're ready to act, and at some point, we may have to act anyway."
P.S. White House press secretary Kayleigh McEnany ended her news briefing yesterday by displaying the faces of eight young victims of gun violence, ages 1 to 14, six of whom died in Chicago this summer. —Chicago Tribune
7. From wine to whine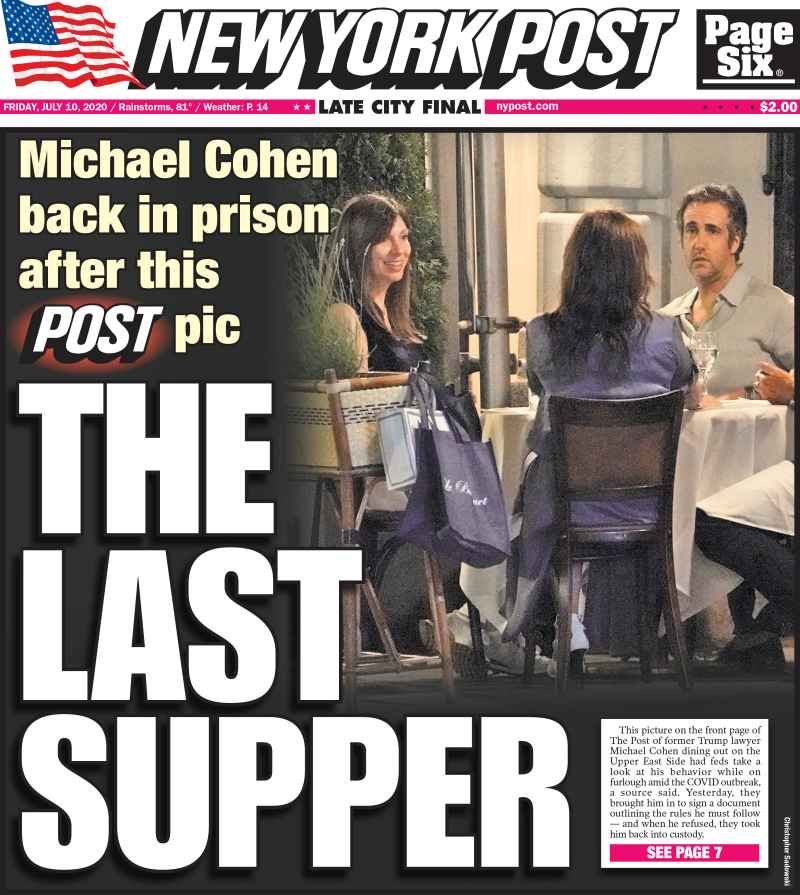 Michael Cohen went back to prison yesterday after the N.Y. Post photographed him dining alfresco last week, and he refused to submit to the terms of his home confinement.
The former Trump fixer pleaded not to be hauled after U.S. marshals broke out the shackles yesterday, the Post reports.
"I'll sign exactly what you want me to sign, so I don't have to go back to jail," Cohen whined to the lawmen who proceeded to chain him and take him into their custody, his former lawyer and friend Lanny Davis told the Post.
8. College football in danger
The Big Ten's decision to play fall sports only in-conference could force all major conferences to follow suit, resulting in what would essentially be a regionalized college sports season, Axios Sports editor Kendall Baker writes.
The Midwest-centered conference cited medical advice in making its decision, and added ominously that the plan would be applied only "if the conference is able to participate in fall sports," AP reports.
More than a dozen schools have reported positive tests for the virus among athletes in the past month. The Ivy League canceled all fall sports this week, and Stanford announced it was cutting 11 varsity sports.
Sign up for Kendall Baker's daily newsletter, Axios Sports.
9. TikTok-tivists target Trump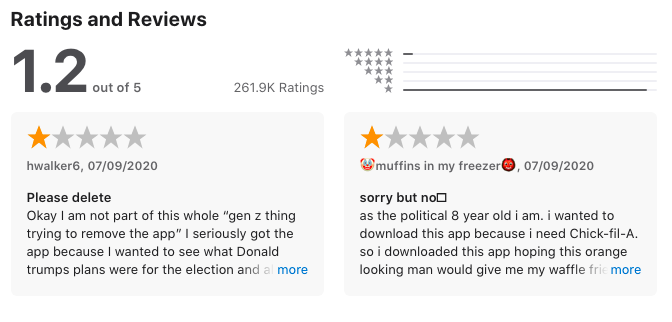 TikTok users have again tried to prank President Trump, flooding his official campaign app with thousands of one-star reviews, Bloomberg's Shelly Banjo and Misyrlena Egkolfopoulou report.
Why it matters: Generation Zers are retaliating against the president after his administration has floated banning the Chinese-owned app — a favorite among their cohort — in recent days over data privacy concerns, which TikTok denies.
The app now has an overall rating of 1.2 stars — and more than 103,000 one-star reviews.
🥊 "TikTok users don't affect anything we do. What we do know is that the Chinese use TikTok to spy on its users," Trump campaign communications director Tim Murtaugh said.
10. 1 smile to go: "Hamilton Mask-Up"
The debate over mask-wearing has received the Hamilton treatment, with YouTube's Holderness Family pitting both sides against each other to the tune of some of the musical's biggest songs.
It ends with a plea echoed by many parents around the country: "I need school to open in the fall / So the one thing I ask / Can we maybe just all agree to wear a tiny flipping mask?"
Hat tip: Axios executive editor Sara Goo
📱 Thanks for reading Axios AM. Please invite your friends to sign up here.