November 19, 2018
🦃 Good Monday morning. Enjoy the short week.
1 big thing: Trump v. Acosta, Round 2
After a federal court ruling on Friday restored the White House press pass of CNN's Jim Acosta, the West Wing moved almost immediately to once again contest his access, sources involved in the negotiations tell me.
The White House sent CNN a letter Friday giving a chance for Acosta to make the case for continued access.
A White House official said a decision will be made after hearing the case.
CNN is fighting back, and is expected back in court as soon as today.
Acosta was blocked after clashes with President Trump, who accused the reporter of hogging the microphone at a post-midterm press conference.
A CNN spokesperson told me: "The White House is continuing to violate the First and Fifth amendments of the Constitution. These actions threaten all journalists and news organizations. Jim Acosta and CNN will continue to report the news about the White House and the President."
White House press secretary Sarah Sanders, speaking on Fox News, accused the correspondent of "grandstanding": "[I]f certain reporters like Jim Acosta can't be adults, then CNN needs to send somebody in there who can be."
Why it matters: This is a high-risk confrontation for both sides. It turns out that press access to the White House is grounded very much in tradition rather than in plain-letter law.
So a court fight could result in a precedent that curtails freedom to cover the most powerful official in the world from the literal front row.
How CNN sees the fight ... Brian Stelter, CNN's chief media correspondent, wrote in his Reliable Sources newsletter last night:
"From the looks of the letter, the W.H. is trying to establish a paper trail that will empower the administration to boot Acosta again at the end of the month."
How the White House sees the fight ... Sanders said Friday in an interview with her father, former Arkansas Gov. Mike Huckabee, filling in for Sean Hannity: "We've laid out in a letter to CNN and their team what we think were some of the missteps that their reporter made at the press conference on November 7th."
"[T]he judge, I think, was actually very clear that the White House has
the ability to say: You can't come in. You don't have — freedom of the
press doesn't mean freedom into the White House. And he said there has to
be due process. And so that's what we're doing and we'll see what happens
from there."
Sanders added that CNN has "50-plus" journalists who hold passes: "So the idea that they aren't able to get information that they need from the White House is frankly laughable."
"[T]radition has been in the past that the White House Correspondents' Association determines who sits in [the press] room and who sits in those individual seats," Sanders continued.
Mike Huckabee interjected: "But that's tradition. It's not law."
Sanders responded: "True."
Asked about bringing in reporters from elsewhere in America, Sanders said: "I think that's certainly an option to explore."
Trump, asked about the Acosta ruling by Chris Wallace on "Fox News Sunday," said: "If he misbehaves, we'll throw him out or we'll stop the news conference."
"I think one of the things we'll do is maybe turn the camera off that faces them [the reporters] because then they don't have any airtime. Although I'll probably be sued for that and maybe, you know, win or lose it — who knows."
2. Exclusive poll: America sours on social media giants
Silicon Valley has a big and growing problem: Americans have rising concerns with its most popular products, and a growing majority wants big social media companies regulated, according to a poll by SurveyMonkey for "Axios on HBO."
Why it matters, from Sara Fischer and Alison Snyder: The public is more aware than ever of some of the negative consequences of the technologies that have changed their lives, which makes Silicon Valley and social media ripe political and regulatory targets.
Between the lines: This is a rare topic uniting Republicans, Democrats and independents.
In the past year, there has been a 15-point spike in the number of people who fear the federal government won't do enough to regulate big tech companies — with 55% now sharing this concern.
In that same period, there was a 14-point increase in those who feel technology has hurt democracy and free speech.
The biggest spike has been among Republicans.
About 40% of Americans still feel that social media is a net positive for society.
65% of people say smartphones have made their quality of life better.
Nearly two-thirds (63%) of respondents said they sleep with their phone in or next to their bed. That jumps to 73% among millennials.
51% said smartphones are the hardest technology for most people to live without. And that jumps to 67% among millennials.
3. How extreme weather is shrinking the planet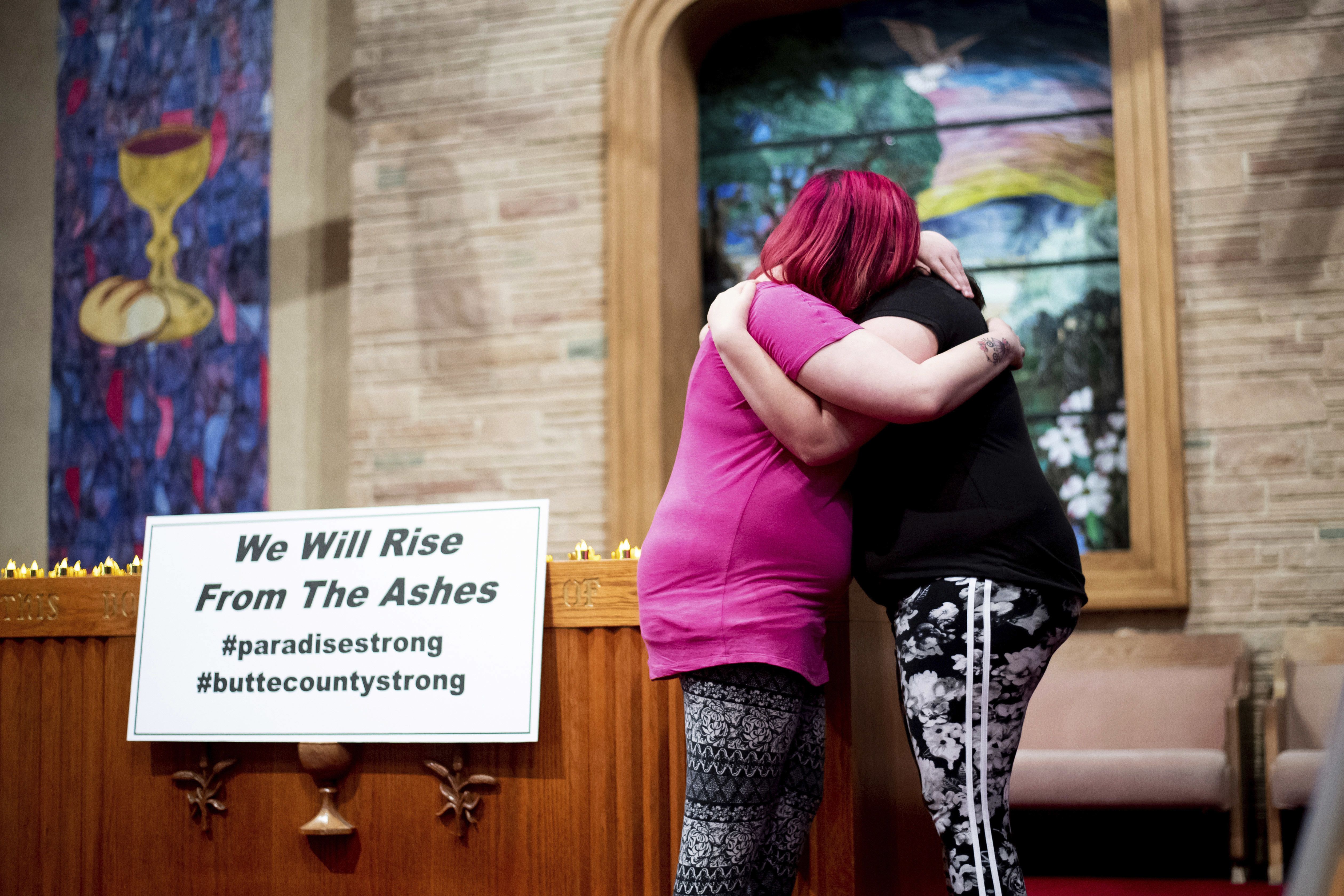 Bill McKibben, who was in his 20s when he wrote "The End of Nature" for The New Yorker in 1989 ("about what we then called the greenhouse effect"), has a show-stopping piece in the magazine's new issue ...
"With wildfires, heat waves, and rising sea levels, large tracts of the earth are at risk of becoming uninhabitable":
"The planet's diameter will remain eight thousand miles, and its surface will still cover two hundred million square miles. But the earth, for humans, has begun to shrink, under our feet and in our minds."
"Until now, human beings have been spreading, from our beginnings in Africa, out across the globe — slowly at first, and then much faster."
"But a period of contraction is setting in as we lose parts of the habitable earth. Sometimes our retreat will be hasty and violent; the effort to evacuate the blazing California towns along narrow roads was so chaotic that many people died in their cars. But most of the pullback will be slower, starting along the world's coastlines."
"All this has played out more or less as scientists warned, albeit faster. What has defied expectations is the slowness of the response."
4. Tweet, quote du jour
Looks like the president has a nickname picked out for Rep. Adam Schiff (D-Calif.), the incoming chairman of the House Intelligence Committee: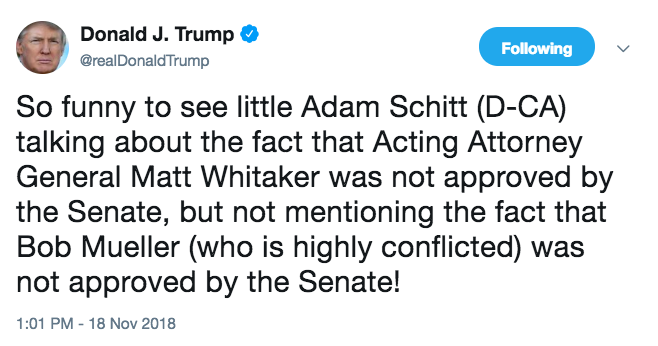 Chris Wallace to President Trump on "Fox News Sunday: "Where do you rank yourself in the pantheon of great presidents?" ...
Trump: "I would give myself, I would — look, I hate to do it, but I will do it: I would give myself an A+. Is that enough? Can I go higher than that?"
5. Zuckerberg at war
Mark Zuckerberg told Facebook leaders the company is at war, requiring him to lead like a wartime general, The Wall Street Journal's Deepa Seetharaman reports (subscription).
Zuckerberg also expressed private frustration with his second-in-command, Sheryl Sandberg, the paper reports. 
Why it matters: "Zuckerberg's new approach is causing unprecedented turmoil atop Facebook, driving several key executives from the company."
"At times, it has created tensions with ... Sandberg. The June meeting and strains with Ms. Sandberg haven't been previously reported."
"This spring, Mr. Zuckerberg told Ms. Sandberg, 49, that he blamed her and her teams for the public fallout over Cambridge Analytica ... Sandberg later confided in friends that the exchange rattled her, and she wondered if she should be worried about her job."
"Zuckerberg also has told Ms. Sandberg she should have been more aggressive in allocating resources to review troublesome content on the site."
"Zuckerberg is pleased with the improvement in recent months."
6. Changing face of Rhodes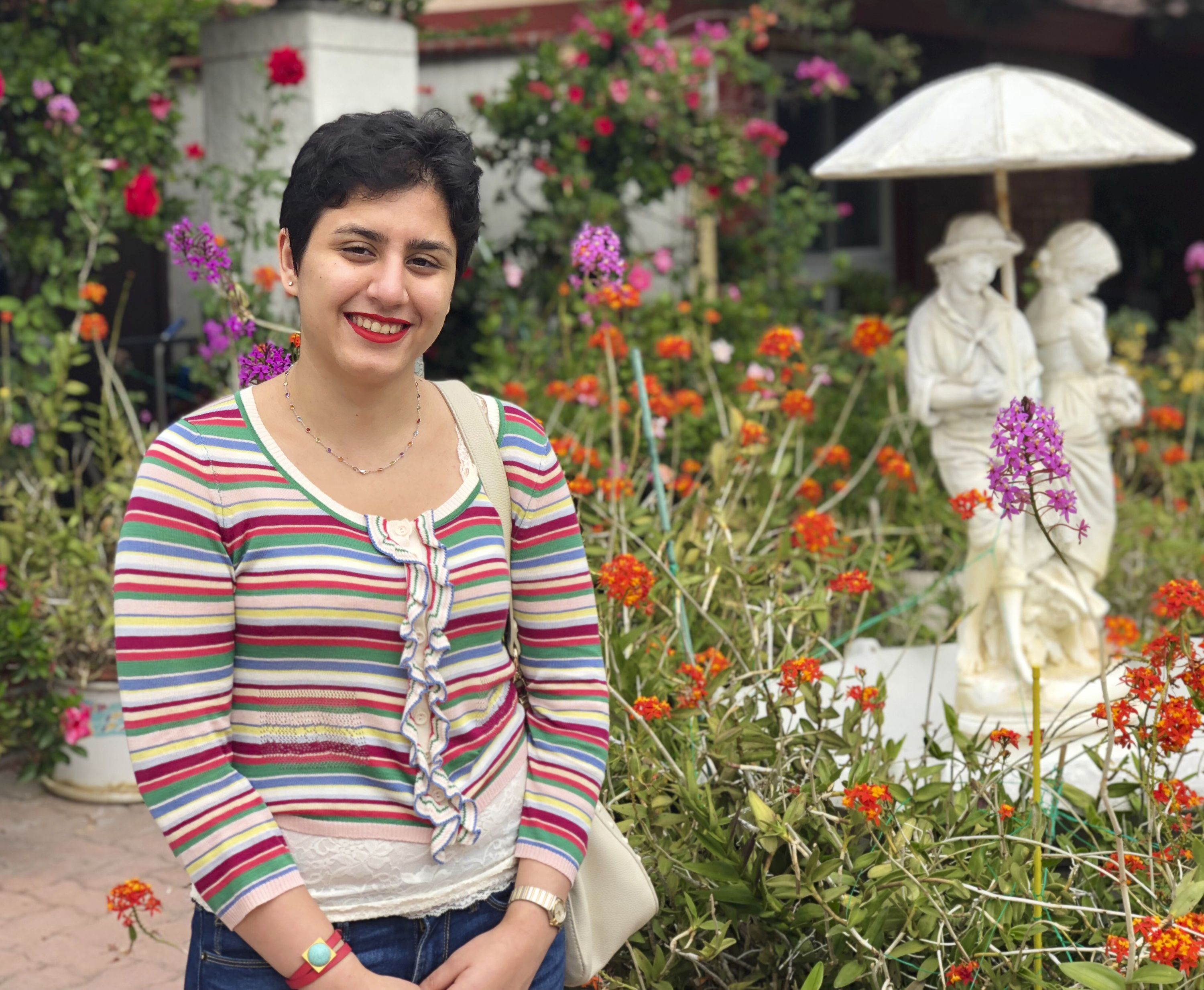 "The latest crop of U.S. Rhodes scholars has more women than any other single class, and almost half of this year's recipients of the prestigious scholarship to Oxford University in England are either immigrants or first-generation Americans, the Rhodes Trust announced." (AP)
Photo above: Alaleh Azhir — a 21-year-old senior at Johns Hopkins University in Baltimore, who emigrated from Iran when she was 14 — is one of 21 female scholars named yesterday. The New York City resident hopes to become a doctor, and will study women's and reproductive health at Oxford.
7. Meet the Obama environmental policies Trump isn't rolling back
Behind President Trump's aggressive rollback of environmental regulations are a small handful of moves that look like they might have come from the Obama administration — and some of them even did. Amy Harder examines a few in her "Harder Line" energy column.
Bird conservation: Ryan Zinke's Interior Department is set to release a plan to protect the sage grouse, a chicken-like bird whose habitat stretches across the West, that looks an awful lot like a 2015 Obama administration deal.
Truck pollution: An EPA plan announced last week to tighten nitrogen-oxide standards for big trucks marks the first time Trump's EPA has moved to make an air-pollution regulation more stringent, not less.
Offshore wind: Interior has prioritized new federal leasing of water for offshore wind power, which was included as part of the Obama administration's climate agenda.
8. First look: The insider with the great memory (and lots of notes)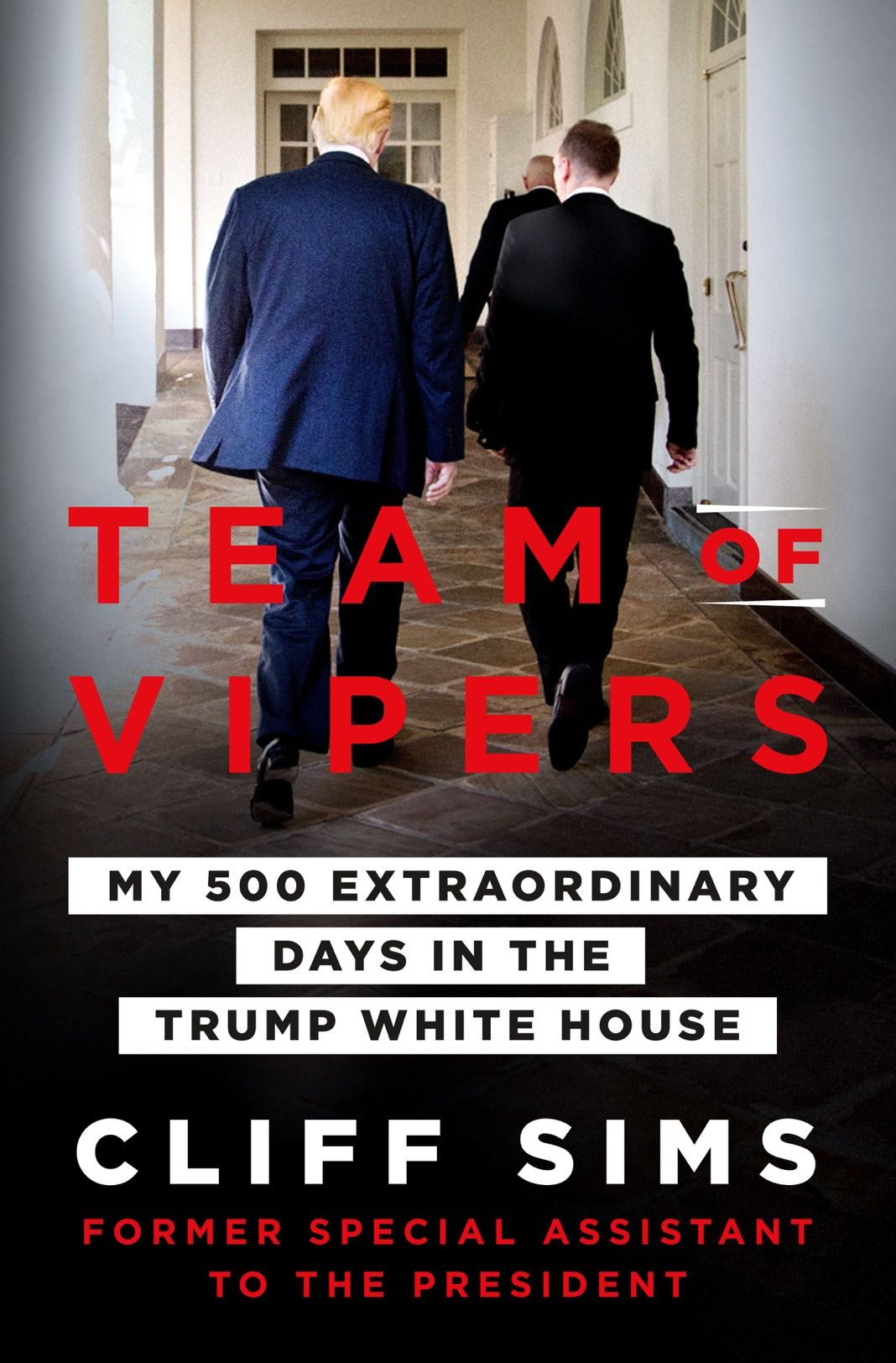 During the book auction, he was simply an "unnamed White House aide."
The book proposal, shared with just a few publishers, had the author's name and identifying details stripped out.
The tale was so fascinating that it immediately attracted a seven-figure offer.
The unnamed aide was Cliff Sims, 33, former special assistant to the president and director of White House message strategy, who had unusual access to Donald Trump during the campaign and as president.
The book is "Team of Vipers: My 500 Extraordinary Days In the Trump White House," to be published Jan. 29 by the Thomas Dunne Books imprint of St. Martin's Press.
Sims has a cinematic eye for detail and a card shark's memory — and had kept notes so detailed that he completed the 140,000-word manuscript in just two months after he left the White House in May.
Sims was represented by Matt Latimer and Keith Urbahn at Javelin.
From a forthcoming news release: "After standing at Donald Trump's side on Election Night, Cliff Sims joined him in the West Wing [and] soon found himself pulled into the President's inner circle as a confidante, an errand boy, an advisor, a punching bag, and a friend. Sometimes all in the same conversation."
"Sims ... witnessed first-hand the infighting and leaking, the anger, joy, and recriminations. ... He gained key, often surprising, and occasionally humorous insights into the players of the Trump West Wing, from Jared Kushner and John Kelly to Steve Bannon and Kellyanne Conway."
"He even helped Trump craft his enemies list, knowing who was loyal and who was not. And he took notes. Hundreds of pages of notes. In real-time."
9. Bloomberg's $2 billion check
"Michael R. Bloomberg, the billionaire businessman and former mayor of New York City, is donating $1.8 billion to his alma mater, Johns Hopkins University, to create a fund that would help low-income and moderate-income students attend without having to worry about the cost, his charitable organization, Bloomberg Philanthropies, announced," per the N.Y. Times' Anemona Hartocollis.
"Bloomberg is not asking that his name be attached to scholarships."
"The former mayor is turning over the money as one lump sum, rather than in annual installments."
Kevin Sheekey, Bloomberg's close adviser, told me:
"Mike has never forgotten that he's kid from a family that never made more than $6,000 year but was able to earn a university degree that led to the American dream. He thinks every qualified kid in American should have the same chance, and he's just guaranteed that the university that took a shot on him will forever to be able to do just that and he hopes to inspire others."
10. 1 film thing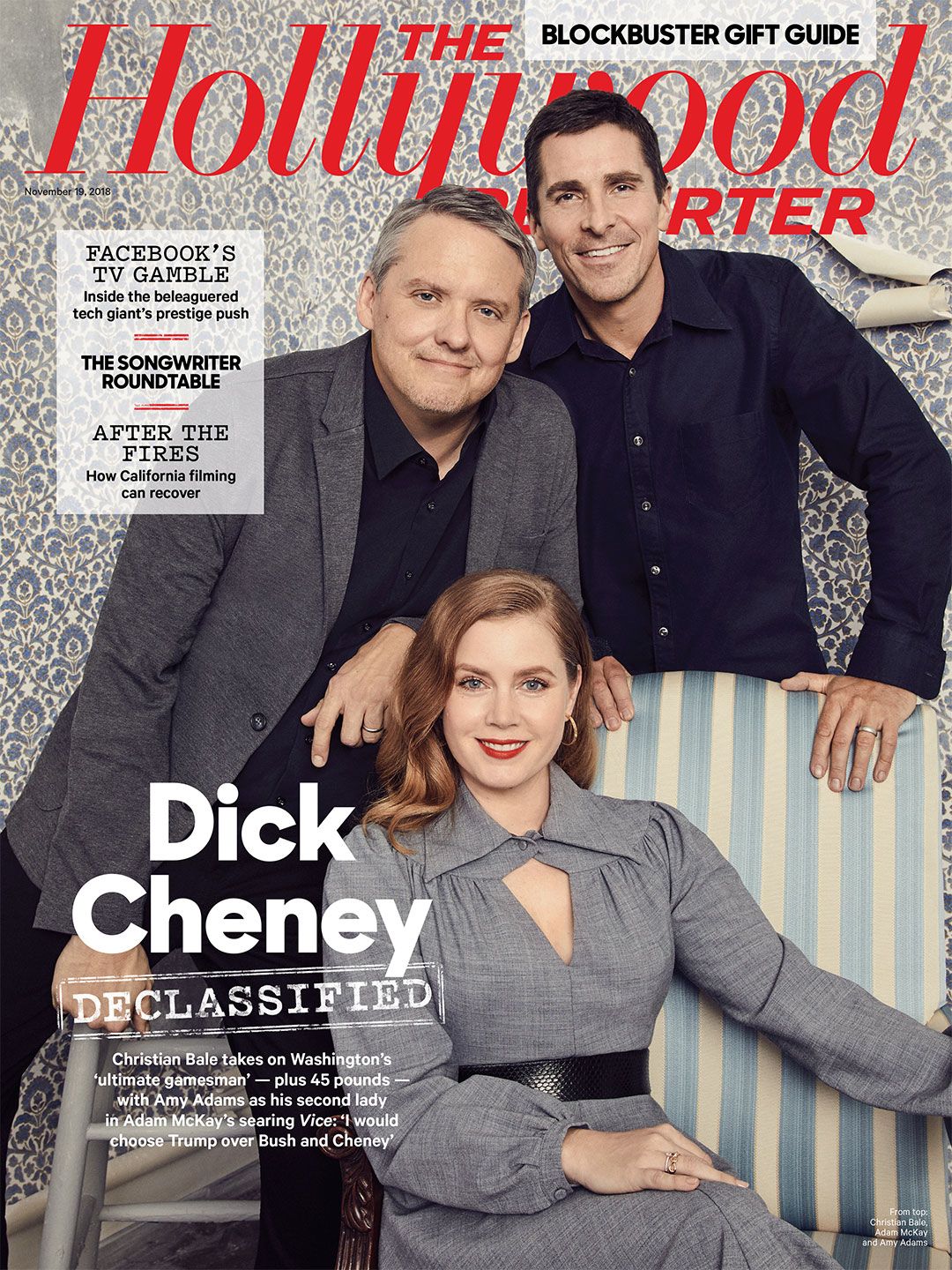 Dick Cheney: The Movie ... "Vice: The Untold True Story That Changed the Course of History," coming at Christmas.
Sneak peek ... The Hollywood Reporter's forthcoming cover story: "Director Adam McKay enlists Christian Bale, Amy Adams and a whole lot of makeup for 'Vice,' his incendiary satire of one of the most secretive and cunning figures in American politics — and opens up about the current climate and why he'd 'choose Trump over Bush and Cheney.'"
"McKay is ready for the backlash. From the left, for humanizing Cheney. From the right, for denigrating him."