Good Saturday morning. Situational awareness: The N.Y. Times Quote of the Day is from Steffan Watkins, an IT security consultant for Janes Intelligence, on the electronic course of the 730-foot freighter that struck an American Navy destroyer off the coast of Japan: "It looks very much like the computer was driving."
https://www.axios.com/newsletters/axios-am-8810c9c8-7e09-4b00-af34-995e7df99210.html?chunk=0#story0
1 big thing: The senators who'll decide healthcare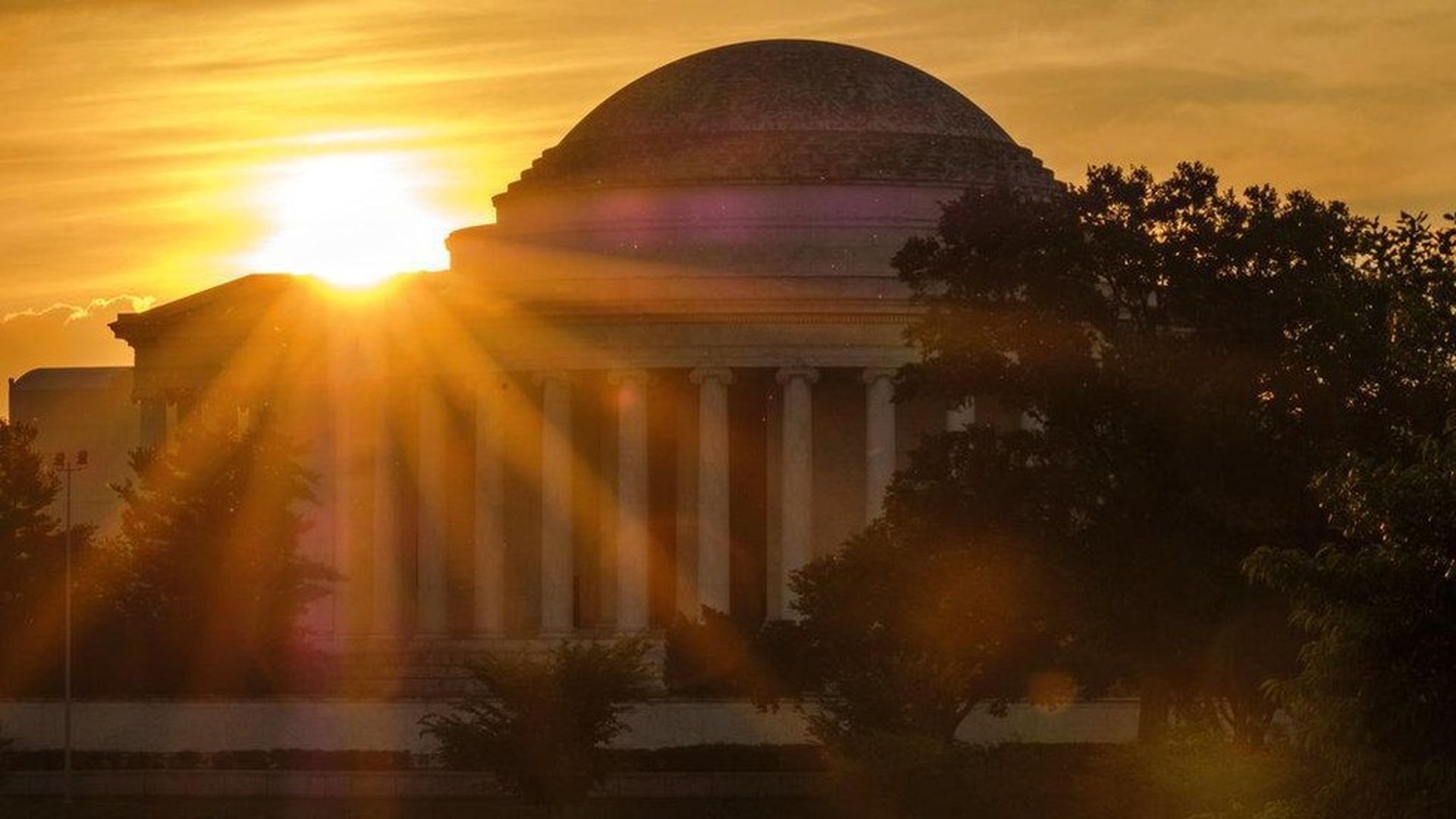 Yesterday's public waffling by Sen. Dean Heller (R-Nev.) put the healthcare bill in sudden danger that almost certainly will mean notable changes.
Assuming Vice President Pence as tie-breaker, the White House and Senate Majority Leader Mitch McConnell can only lose two Republicans, and at least eight have expressed misgivings about the bill as currently written.
We asked a high-level source close to Senate leadership for a danger gradient of who is most at risk of defecting. From the source's texts:
Sen. Susan Collins of Maine: "She wants to remain engaged in negotiations so makes sense not to foreclose the option to vote 'yes.' But there is no way she'll vote for this bill, just on pro-life protections alone."
Sen. Rand Paul of Kentucky: "He's talking about getting a 60-vote threshold revamp of [Obamacare]. ... He wants this bill to fail. In that vacuum, he feels his bill will get more steam. ... The principle instead of outcomes. Which is admirable. But can't really legislate that way."
Sen. Mike Lee of Utah: "I do think he wants to get to 'yes.' I think he realizes that if this fails, it kills the reconciliation vehicle and possibly the chance to repeal major elements of Obamacare. But his vote will come [with] major improvements that may or cannot be accommodated by the budget rules constraining recon."
Sen. Dean Heller of Nevada: "If I were Heller and the possible 50th vote, I'd make damn sure to negotiate a big win for Nevada. He has other priorities beyond healthcare. Yucca [Mountain nuclear dump, which he opposes] is one that could possibly be on the line here if he goes up against the President and fellow Rs."
Sen. Lisa Murkowski of Alaska: "The bill could be improved by amendment to improve Alaska's standing."
Sen. Cory Gardner of Colorado (NRSC chair): "I think Gardner will be OK."
Ditto for Sen. Ron Johnson of Wisconsin, one of the four conservatives — along with Paul, Lee and Ted Cruz — who rained on the bill's introduction with a joint letter saying they were "not ready to vote for this bill."
... And Sen. Ted Cruz of Texas, looking to his party future.
Paragraph of the day ... WashPost A1, "In health-care bill, two prized Republican goals converge," by Damian Paletta: "[L]ong-term conservative goals of cutting taxes and entitlement spending have overtaken Trump's agenda ... The legislation would sharply break with pledges Trump made during the 2016 campaign to block reductions in Medicaid spending and to deliver tax cuts primarily to the middle class."
https://www.axios.com/newsletters/axios-am-8810c9c8-7e09-4b00-af34-995e7df99210.html?chunk=1#story1
2. The political "crime of the century"
Lead story of tomorrow's WashPost Outlook section, "Raw intelligence, 140 characters at a time: President Trump's tweets are a gold mine for foreign spies, says former CIA analyst Nada Bakos":
"CIA operatives have risked their lives to learn about foreign leaders ... With Trump, ... secret operations are not necessary to understand what's on his mind."
"Intelligence agencies try to answer these main questions when looking at a rival head of state: Who is he as a person? What type of leader is he? How does that compare to what he strives to be or presents himself as? What can we expect from him? And how can we use this insight to our advantage?"
"In building a profile of Trump, an analyst would offer suggestions on how foreign nations could instigate stress or deescalate situations, depending on what type of influence they may want to have over the president."
"[T]he platform lets him speak directly to his supporters whenever he chooses. Unfortunately for the rest of us, they aren't the only ones listening."
Worthy of reading the whole thing ... "Hacking Democracy: Obama's secret struggle to punish Russia for Putin's election assault," by WashPost's Greg Miller, Ellen Nakashima and Adam Entous:
Over five months, "the Obama administration secretly debated dozens of options for deterring or punishing Russia, including cyberattacks on Russian infrastructure, the release of CIA-gathered material that might embarrass Putin and sanctions that officials said could 'crater' the Russian economy. But in the end, in late December, Obama approved a modest package."
"In political terms, Russia's interference was the crime of the century, an unprecedented and largely successful destabilizing attack on American democracy. It was a case that took almost no time to solve, traced to the Kremlin through cyber-forensics and intelligence on Putin's involvement.'
"And yet, because of the divergent ways Obama and Trump have handled the matter, Moscow appears unlikely to face proportionate consequences."
https://www.axios.com/newsletters/axios-am-8810c9c8-7e09-4b00-af34-995e7df99210.html?chunk=2#story2
3. Clicker
Today is Day 156 of President Trump, and N.Y. Times columnist David Leonhardt lists 100 "Trump's Lies," from "JAN. 21: 'I wasn't a fan of Iraq. I didn't want to go into Iraq.' (He was for an invasion before he was against it.)" to "JUNE 21: 'Right now, we are one of the highest-taxed nations in the world.' (We're not.)"
From David's "Definitive List," in collaboration with Stuart Thompson, graphics director for the Opinion section:
"The list above uses the conservative standard of demonstrably false statements. ... [B]ased on a broader standard — one that includes his many misleading statements (like exaggerating military spending in the Middle East) — Trump achieved something remarkable: He said something untrue, in public, every day for the first 40 days of his presidency."
"Since then, he has said something untrue on at least 74 of 113 days. On days without an untrue statement, he is often absent from Twitter, vacationing at Mar-a-Lago in Florida, or busy golfing."
Why it matters: "Trump has retained the support of most of his voters as well as the Republican leadership in Congress. But he has still paid some price for his lies. Nearly 60 percent of Americans say the president is not honest, polls show, up from about 53 percent when he took office."
POTUS will enjoy this part: "Correction: ... An earlier version of this graphic included an incorrect total for the number of days Donald Trump told a lie during his first two months as president. It was 20, not 25."
https://www.axios.com/newsletters/axios-am-8810c9c8-7e09-4b00-af34-995e7df99210.html?chunk=3#story3
Bonus: The Art of the Spice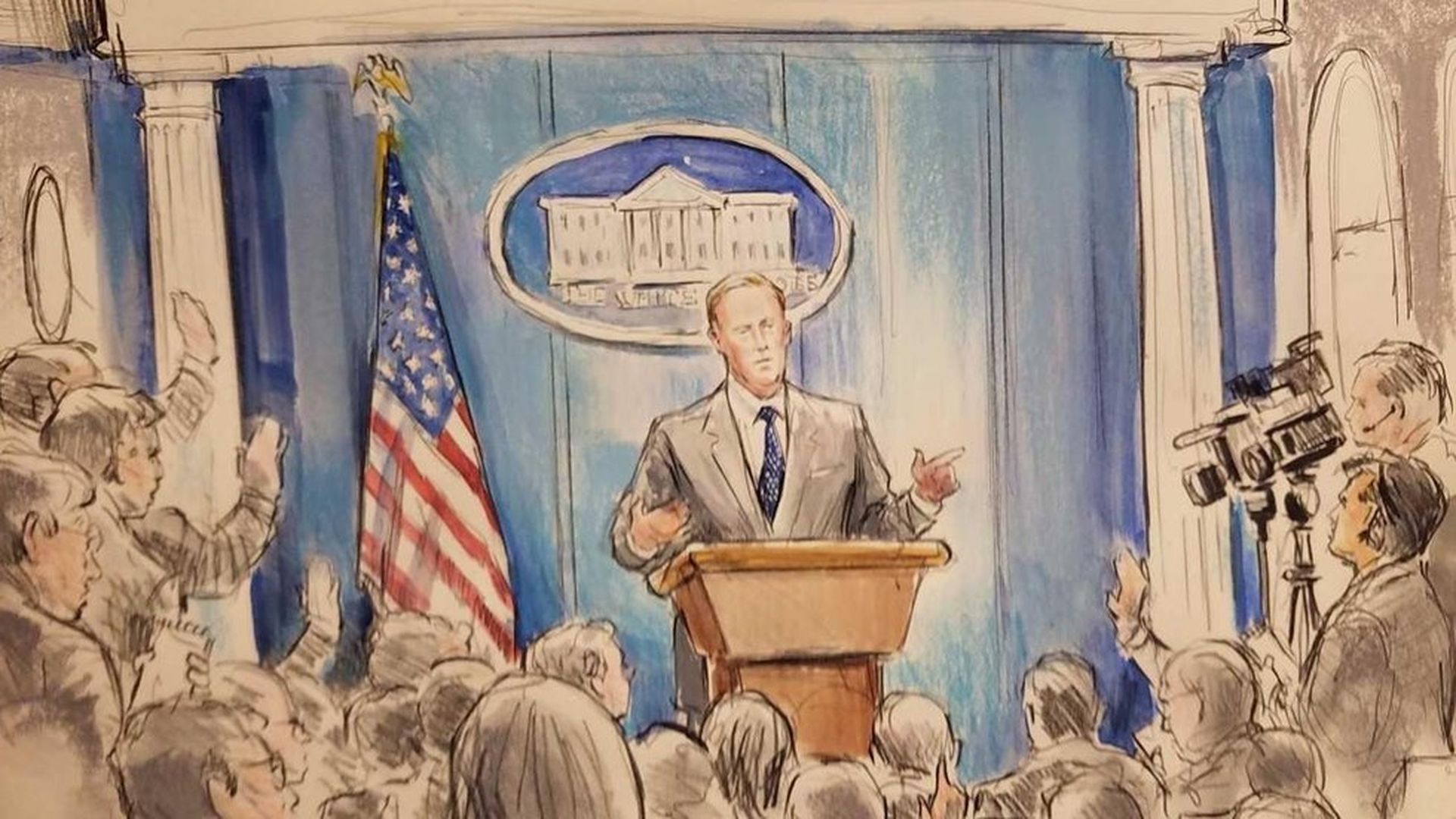 "With cameras banned [on some days], CNN sends sketch artist to White House briefing," by Brian Stelter:
"Bill Hennessy, the network's regular sketch artist for Supreme Court proceedings, headed over to the White House on Friday afternoon and drew Press Secretary Sean Spicer's afternoon briefing. ... Some conservative media voices dismissed it as a stunt, but ... CNN equated the briefing to a Supreme Court argument -- an on-the-record event at which cameras are banned."
https://www.axios.com/newsletters/axios-am-8810c9c8-7e09-4b00-af34-995e7df99210.html?chunk=4#story4
4. The family business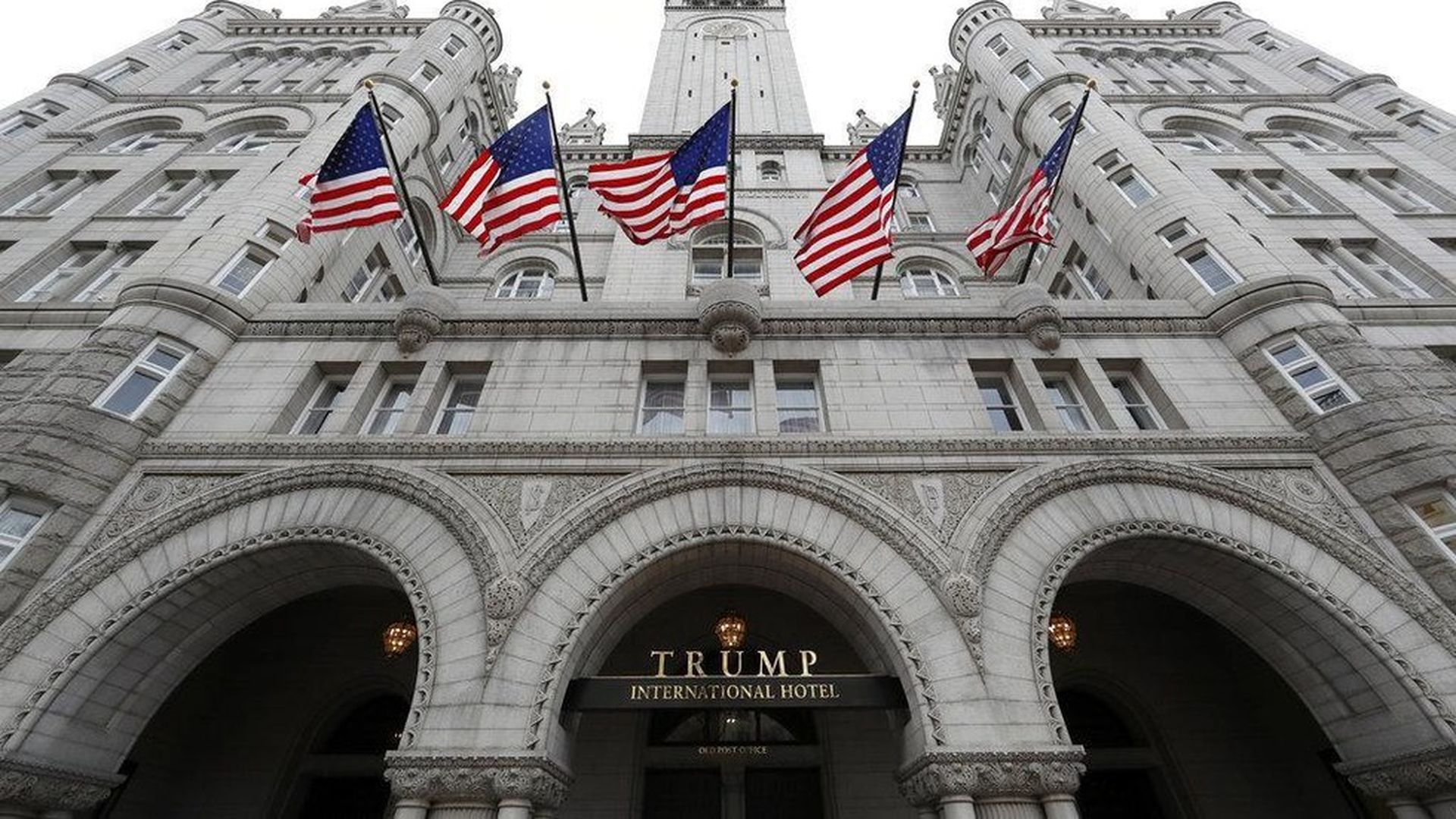 "White House chief ushers have largely been public servants, military personnel or career staff members who worked their way up the usher ladder over several administrations," the N.Y. Times' Katie Rogers writes. "The White House said Friday that Mrs. Trump had chosen Timothy Harleth, the director of rooms at the Trump International Hotel in Washington, to manage about 90 ushers."
Why it matters, from AP: This is "the latest example of intermingling between Donald Trump's presidency and his business world. ... The appointment comes shortly after it was announced that the president will host a major fundraiser at the Trump International Hotel."
https://www.axios.com/newsletters/axios-am-8810c9c8-7e09-4b00-af34-995e7df99210.html?chunk=5#story5
5. The Best Coast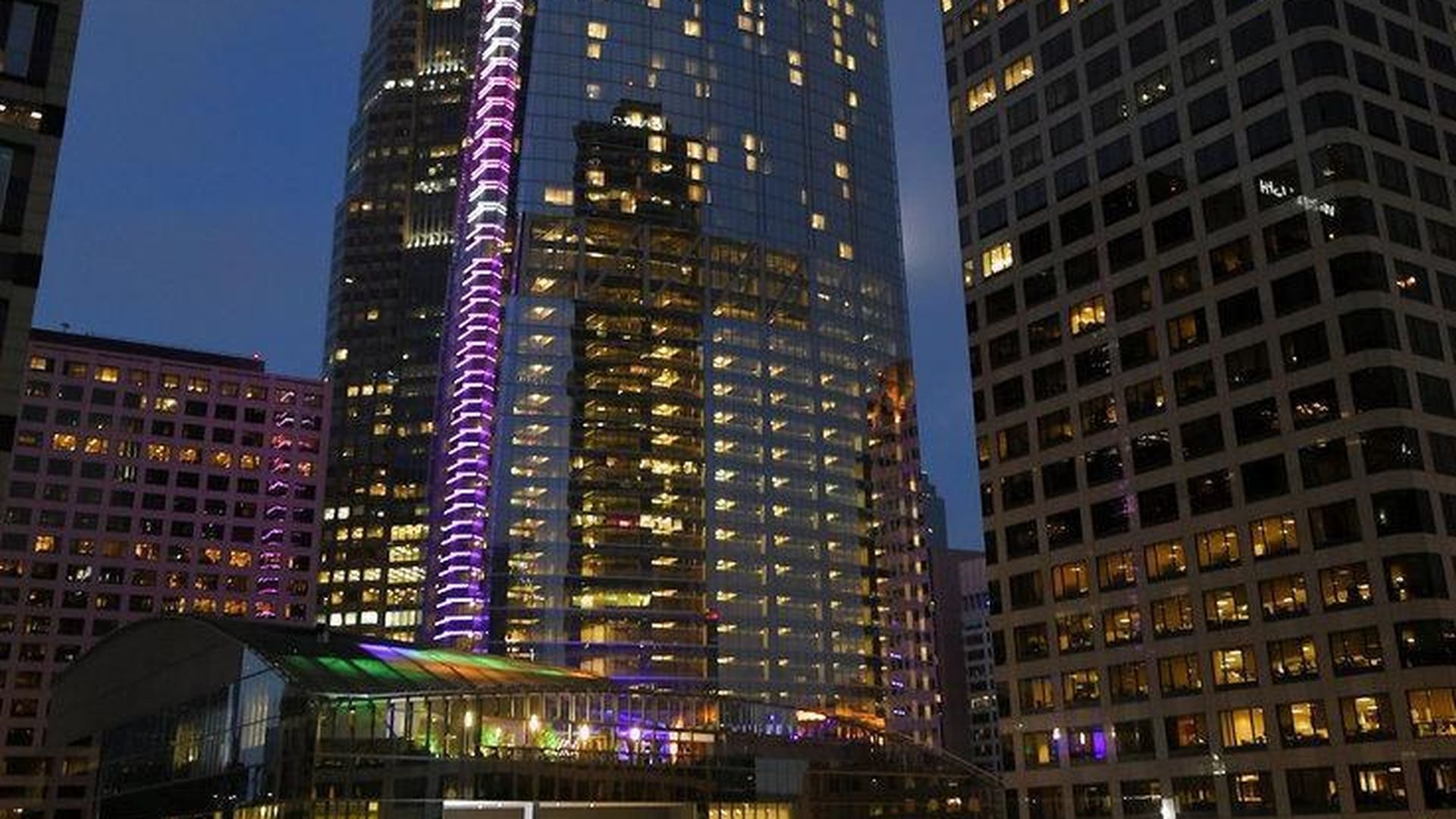 The tallest building west of the Mississippi River opened yesterday in once-stodgy downtown Los Angeles, which is sprouting a crop of new skyscrapers. The $1.2 billion building in the Financial District had been under construction since 2014. AP's "Things to Know" on the Wilshire Grand Center:
The 73-story building has a huge spire that brings its height to 1,100 feet, topping the nearby U.S. Bank Tower by more than 80 feet. The Bank Tower had held the height record since 1989.
Critics might argue that a spire rising nearly 200 feet above the top of the building should not count, but it meets the criteria of the Council on Tall Buildings and Urban Habitat, which lists the world's tallest buildings based on the "architectural top of the building." A 2-foot lightning rod at the very top, however, doesn't count.
The skyscraper is still dwarfed by buildings on the East Coast and overseas. In the United States, One World Trade Center is 1,776 feet tall, making it the sixth-largest completed building in the world. The tallest building, the Burj Khalifa in Dubai, rises 2,717 feet, or more than a half-mile high.
The L.A. building's spine and sail have programmable LEDs that can provide colorful illumination and visuals.
The tower includes an 889-room InterContinental hotel, a shopping mall and an observation deck.
https://www.axios.com/newsletters/axios-am-8810c9c8-7e09-4b00-af34-995e7df99210.html?chunk=6#story6
6. 1 lit jam: What I'm listening to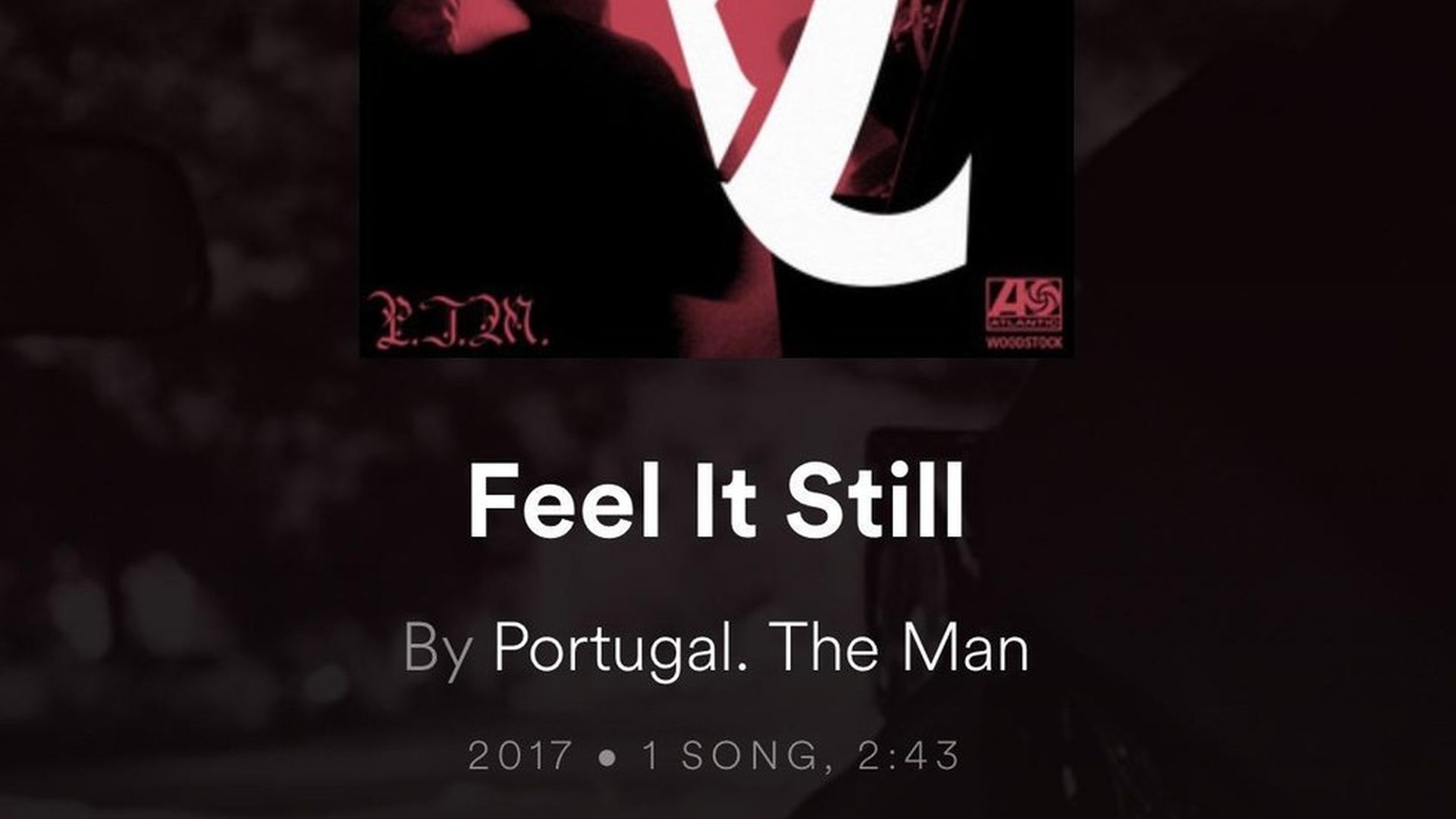 As a kind of missionary project to expand my horizons beyond Alexa "Top Country" (my pre-dawn companion at AM World HQ), the youths of the Axios Newsdesk have offered to spot some tracks worthy of your ears.
Here's the debut tip, from Deputy News Editor Alexi McCammond, who's at the tiller of the Good Ship Axios on Saturdays.
Alexi tells me: "It's a feel-good song to start your Saturday! And I can't help but dance to it. Also, I recently asked my Uber driver to show me one of his current favorite songs, and this was the one he picked, which I thought was cool."
Next week will really stretch you: Shane Savitsky's up. Enjoy the first Saturday of summer!