January 06, 2020
🏂 Good Monday morning, and welcome back.
Today's Smart Brevity™ count: 1,199 words ... 4½ minutes.
1 big thing: Trump's Air Force One bombast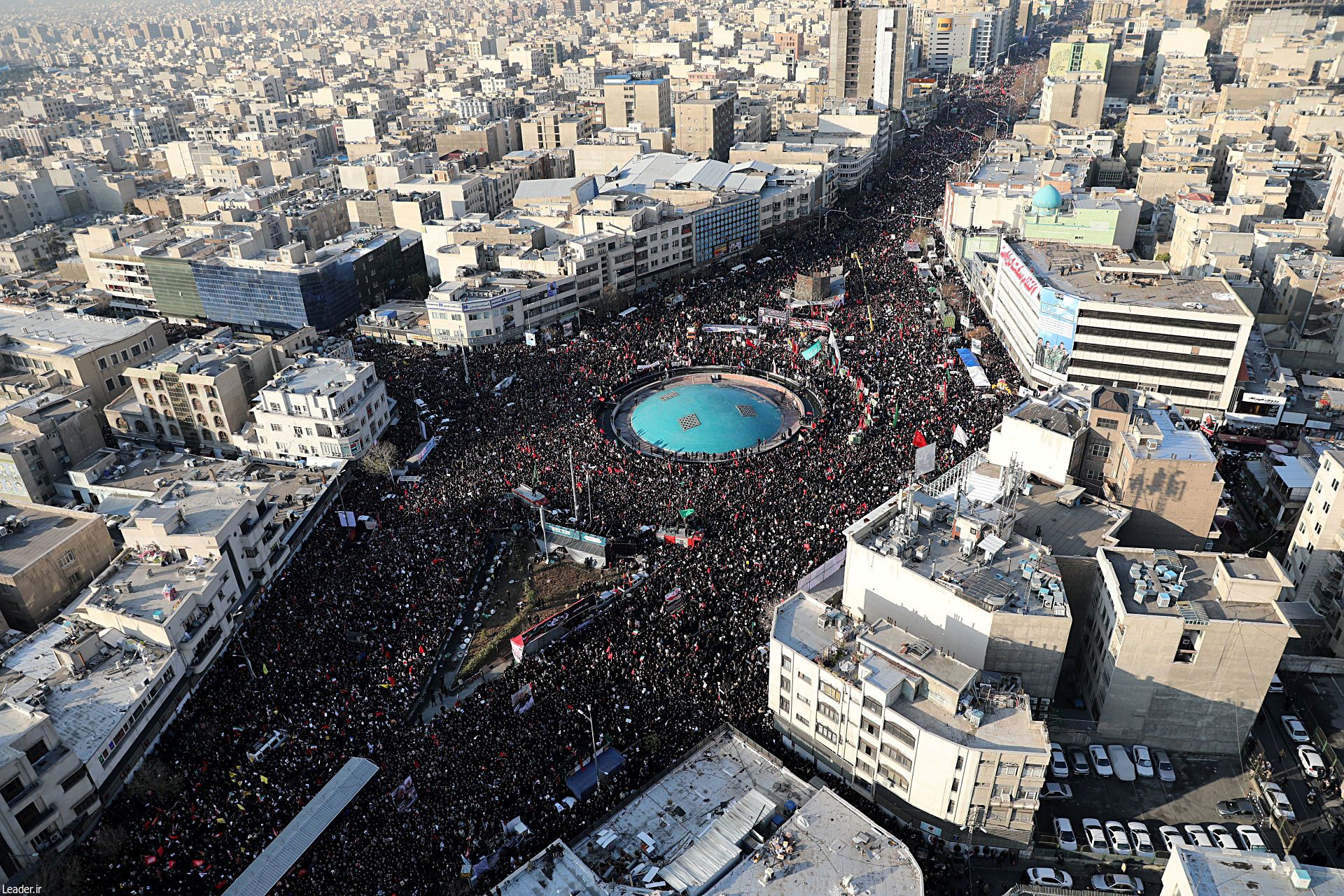 President Trump came in hot during a half-hour conversation with the White House press pool on Air Force One (most of it off the record) as he returned from Mar-a-Lago to Washington (via pooler Maggie Haberman):
He repeated his threat against Iranian cultural sites: "They're allowed to kill our people. They're allowed to torture and maim our people. They're allowed to use roadside bombs and blow up our people. And we're not allowed to touch their cultural site? It doesn't work that way."
On retaliation from Iran: "If it happens, it happens. If they do anything, there will be major retaliation."
On Iraq's move toward expelling U.S. forces: "We have a very extraordinarily expensive air base that's there. It cost billions of dollars to build — long before my time. We're not leaving unless they pay us back for it."
On Iraq, an ally: "If they do ask us to leave," we won't do it on "a very friendly basis. We will charge them sanctions like they've never seen before ever. It'll make Iranian sanctions look somewhat tame."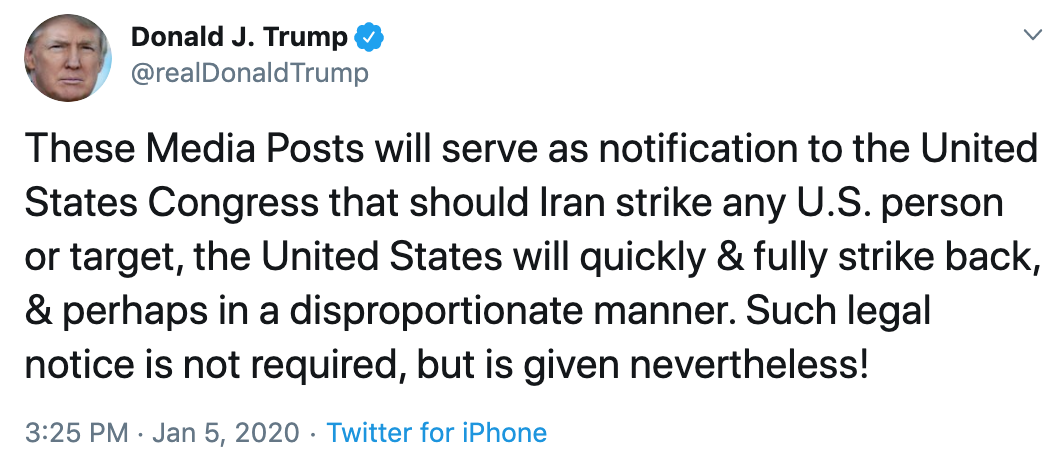 Speaker Pelosi announced in a letter Sunday that the House will this week "introduce and vote on a War Powers Resolution to limit" Trump's "military actions regarding Iran":
"This action endangered our servicemembers, diplomats and others by risking a serious escalation of tensions with Iran."
How it's playing ...

N.Y. Times lead story: "BAGHDAD — The consequences of the American killing of a top Iranian general rippled across the Middle East and beyond on Sunday, with Iran all but abandoning a landmark nuclear agreement and Iraqi lawmakers voting to expel American forces from their country."
2. Elections are tech's 2020 battleground
Some of the top battles Big Tech faces in 2020, narrated by Axios managing editor Scott Rosenberg:
Securing 2020: The U.S. political system has yet to come to terms with Russia's attack, or plan a rigorous defense against a repeat.
Defining the limits of privacy: Privacy battles are being fought against a backdrop of public concern over new forms of data surveillance, from location monitoring to facial recognition.
Defending a global industry in an age of "decoupling": We've entered an era of Trump-led protectionism and a splintering of the global internet into three distinct legal regimes — the U.S., Europe and China.
Flipping tech from harm to "wellness": Overuse of smartphones has left many yearning for less screen time and more control.
3. Megatrend: Deteriorating global environment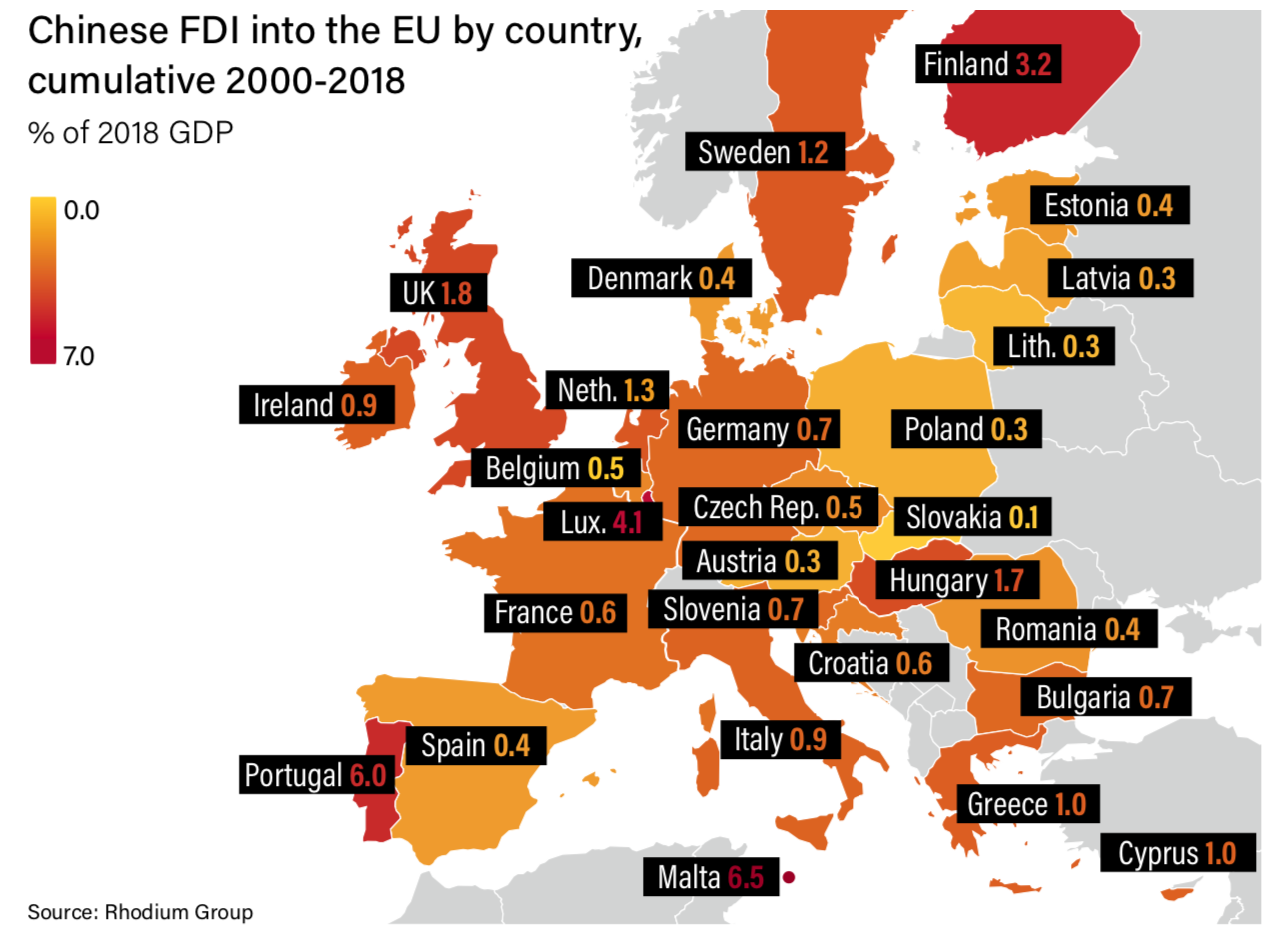 Economic and geopolitical trends are both cycling downward, Eurasia Group President Ian Bremmer and Chairman Cliff Kupchan write in their "Top Risks 2020" report, out today:
The global economy, after emerging from the great recession of 2008 with the longest expansion of the post-war period, is now softening. ...
And the world is now entering a deepening geopolitical recession, with a lack of global leadership as a result of American unilateralism, an erosion of U.S.-led alliances, a Russia in decline that wants to undermine the stability and cohesion of both the U.S. and its allies, and an increasingly empowered China under consolidated leadership that's building a competitive alternative on the global stage.
Why it matters: "This deteriorating environment is much more likely to produce a global crisis."
4. Pic du jour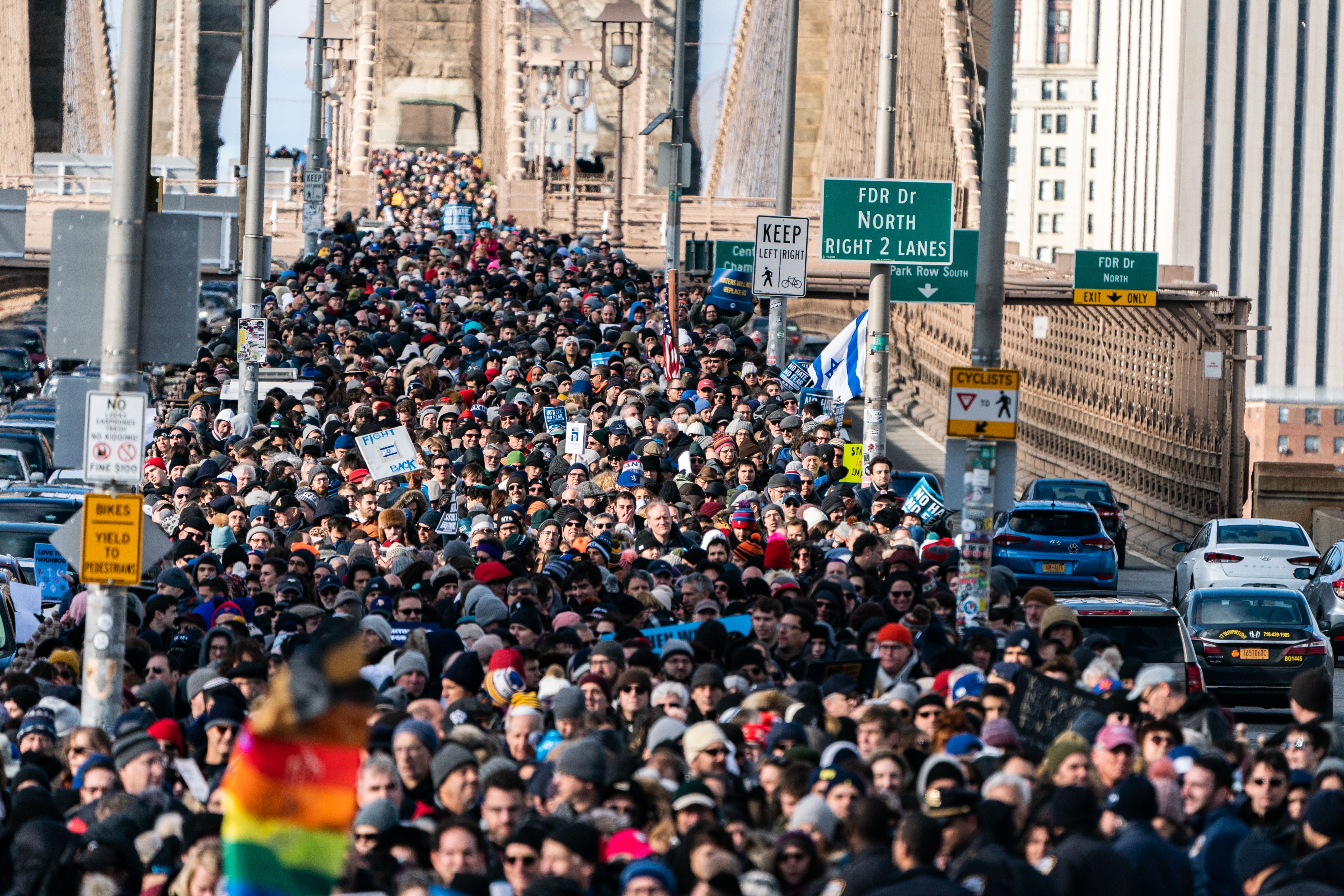 This Jewish solidarity march across the Brooklyn Bridge was held in response to the rise in anti-Semitic crimes in greater New York.
5. Article of the day: "The relationship is in free fall"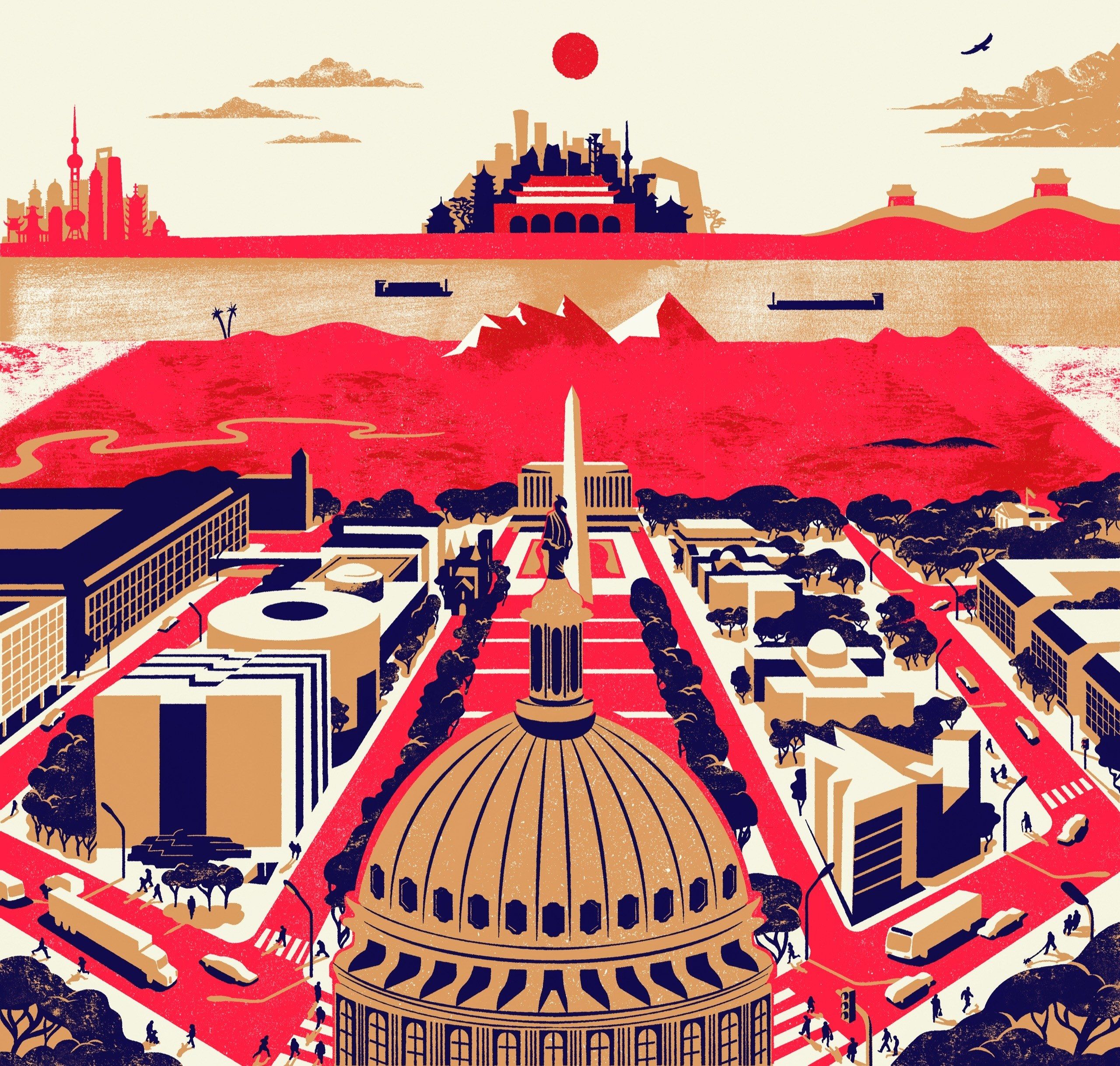 The New Yorker's Evan Osnos, who lived in Beijing for eight years and in Washington for the past six, unleashes his shuttle reporting from the two capitals as they wrestle "to determine who will dominate the twenty-first century":
Judd Apatow, the filmmaker and comedian, told me that Americans intended to introduce freedom to China, but instead traded it for Chinese money. "I think it happened very slowly and insidiously," he said. "You would not see a major film company or studio make a movie that has story lines which are critical of countries with major markets or investors. ... The result is, there are a million or more Muslims in re-education camps in China, and you don't really hear much about it."
My favorite passage:
When I started studying Mandarin, twenty-five years ago, China's economy was smaller than Italy's. It is now twenty-four times the size it was then, ranking second only to America's, and the share of Chinese people in extreme poverty has shrunk to less than one per cent. Growth has slowed sharply, but the country still has legions of citizens vying to enter the middle class. It is estimated that a billion Chinese people have yet to board an airplane.
6. Sneak peek
Sen. Josh Hawley (R-Mo.), a freshman and former state attorney general who's a 2024 presidential prospect, today will file his plan to allow dismissal of the articles of impeachment if House Democrats withhold them from the Senate.
Hawley tweeted last week: "Dems said impeachment was URGENT. Now they don't want to have a trial ... In real world, if prosecution doesn't proceed with case, it gets dismissed. So on Monday, I will introduce measure to dismiss this bogus impeachment for lack of prosecution."
Details: "Senator Hawley's resolution would amend the Senate's impeachment rules to ... protect the Senate's sole power to try impeachment."
"The resolution would allow the Senate to dismiss for lack of prosecution any articles of impeachment that the House of Representatives has delayed transmitting for 25 calendar days or more."
"Under this new rule, any senator would be entitled to move to dismiss once the allotted time period had elapsed. Any motion to dismiss would be voted upon by the full Senate."
What's next: Hawley is a constitutional lawyer who will argue that senators have to take the constitutional structure seriously — not just hope for the best.
7. Amy Harder's energy/climate issues to watch
Two climate change trends are colliding, in real time, Axios' Amy Harder writes in her "Harder Line" column:
Scientists are increasingly conducting what are called attribution studies on extreme weather events to ascertain how much global warming caused specific events.
Meanwhile, extreme weather is happening more and more — and getting covered more in the media. Australia's ongoing bushfires are a prime example. While several factors are feeding that crisis, global warming is a key driver.
8. 📊 Early states: Sanders surges; Warren struggles
9. First look: "The candidate who persists"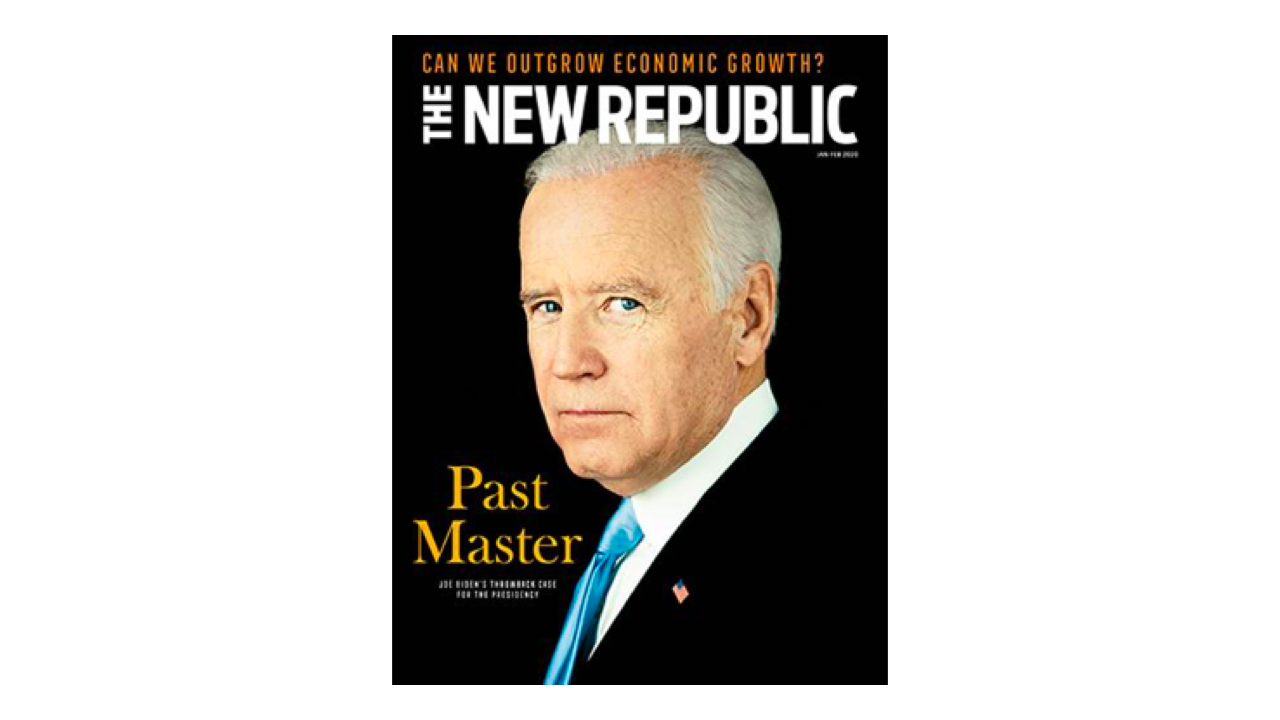 Walter Shapiro, who has covered 11 presidential elections, writes in The New Republic's January/February cover story, "A Man in Full," that a Joe Biden presidency would give the country a "long-overdue interval of national healing rather than a season of dramatic transformation":
"[S]ometimes, more than anything, a democracy needs a chance to exhale."
10. 🎥 1 film thing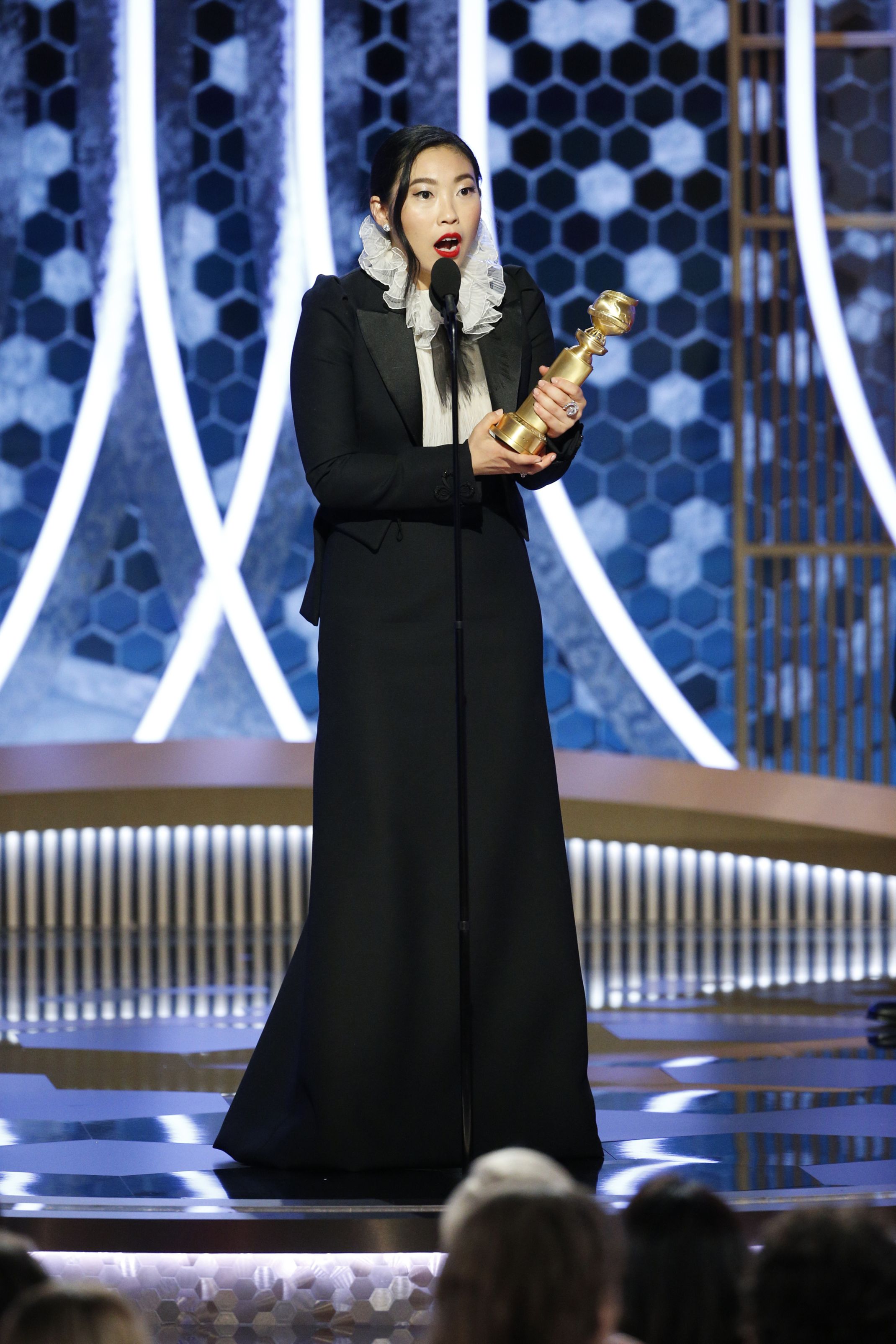 Rapper and actress Awkwafina became the first woman of Asian descent to win a Golden Globe for best actress in a musical or comedy film, for her starring role in "The Farewell," AP's Jonathan Landrum Jr. writes.
She's best known for her comic role in "Crazy Rich Asians."
Awkwafina, 31, shifted course to play a young woman in a Chinese family that is keeping their matriarch's cancer a secret from her in the film from director Lulu Wang. She said it resonated with her personally:
"Immigrants in this country who were raised to feel very American ... and ... we're told that you don't belong here and you go back to where you belong."
"You feel like a stranger ... and this constant feeling of being lost in translation."