Axios AM
April 28, 2022
🎰 Happy Thursday. The three-day NFL draft begins in Vegas at 8 p.m. ET. This draft class faced constant COVID obstacles.
Smart Brevity™ count: 1,498 words ... 5½ mins. Edited by Noah Bressner.
1 big thing: Tech's big dip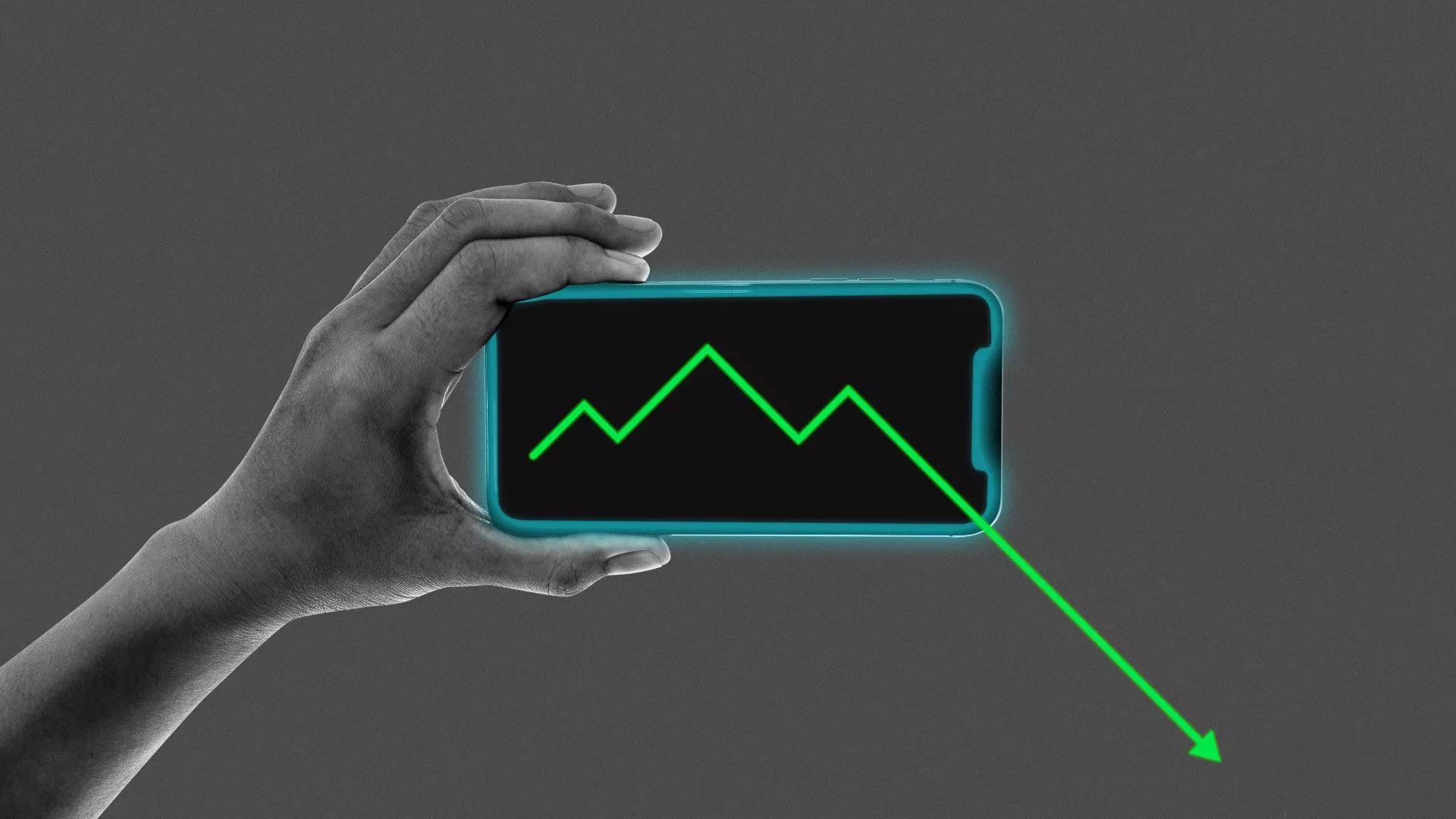 After two years of unprecedented growth in social media and streaming, a post-pandemic reality is hitting Big Tech, Axios Media Trends author Sara Fischer reports.
Why it matters: Huge revenue gains during COVID inspired media and tech titans to take big bets. As growth stalls, Wall Street wants them to pivot from promise to profit.
Meta CEO Mark Zuckerberg yesterday strayed from his typical earnings call remarks about innovation, telling investors that given current growth levels, "we are now planning to slow the pace of some of our investments."
Meta's revenue percentage growth sank to single digits last quarter, marking its slowest period since going public as Facebook nearly a decade ago. The company warned investors that next quarter, growth may continue to dwindle.
Google parent Alphabet saw its shares drop 3% earlier this week after it reported weaker-than-expected advertising revenue growth at YouTube and slowed growth for Google search compared to last year.
Spotify's stock sank to an all-time low yesterday after missing Wall Street estimates on paid user growth. Investors were wary that the audio streamer could hit a Netflix-like ceiling.
The big picture: Slowed growth coming out of the pandemic — in conjunction with wider macroeconomic factors, including inflation and the war in Ukraine — is forcing the biggest companies in media, tech and entertainment to temper expectations.
Netflix executives are vowing to impose more "financial discipline" in response to a massive selloff last week, The Wall Street Journal reports. The company lost more than $200 billion in market value after reporting its first quarterly subscriber loss in a decade.
Warner Bros. Discovery CEO David Zaslav told investors this week: "We will not overspend to drive global subscriber growth." He noted that "durable and sustainable free cash flow generation" was a top priority for the company.
🔮 What to watch: As more companies begin to streamline costs, it may help consumers feel less overwhelmed by options. Netflix will reportedly focus on producing fewer, higher-quality programs, following a year of record-high volume in original scripted series.
2. 💻 Cost of Zoom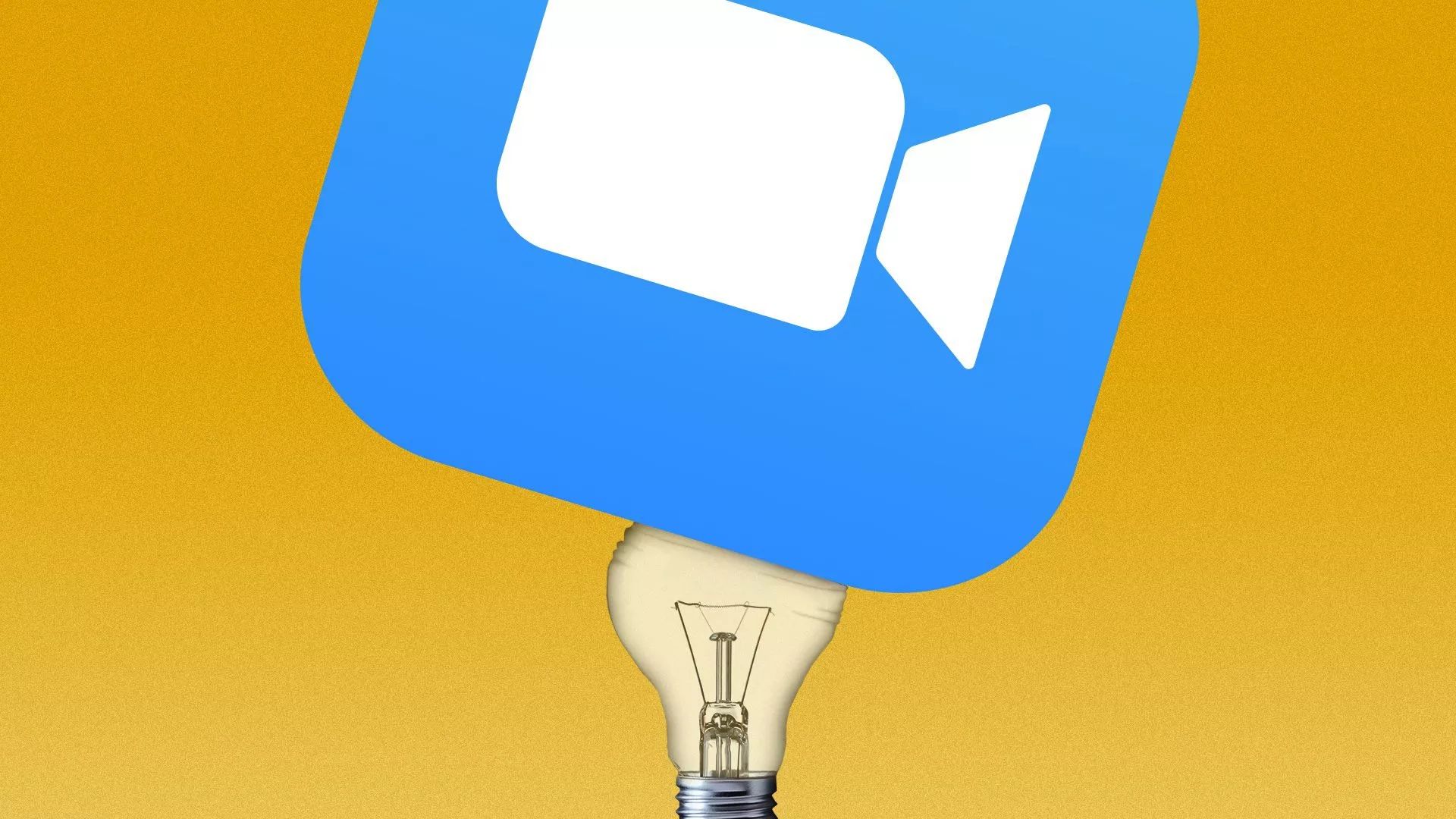 All those Zoom meetings could be stunting innovation:
A new academic study shows in-person meetings generate more ideas — and more creative ones — compared to videoconferencing, Axios' Alison Snyder and Erica Pandey report.
Zoom in: In a laboratory study that started before the pandemic, more than 600 people worked in pairs in person or virtually for five minutes to come up with ideas for how to creatively use bubble wrap or a Frisbee.
Then they had a minute to pick their best idea. Judges scored the creativity of their ideas — based on novelty and value.
Pairs working on Zoom came up with fewer ideas, Melanie Brucks of Columbia Business School and Jonathan Levav of the Stanford Graduate School of Business report in the journal Nature.
What's happening: An oft-overlooked ingredient in the secret sauce of collaboration is that, in person, team members typically share visual cues from their environment — and each other — that can spur ideas.
In a virtual meeting, all eyes are focused on screens and ignore the environment.
In a lab, virtual pairs spent more time looking at their partner and less time looking at the surrounding room.
People also move less when they meet virtually: "Staying still hinders creativity," says Jeremy Bailenson, a professor at Stanford who studies virtual human interaction.
During in-person meetings or even phone calls, we can look around, walk around, multitask and use our hands.
3. 🏠 Homebuyers face mortgage cliff
Not since the housing bubble of 2007 has there been such a big gap between the cost of a new house and the amount a two-earner household can borrow to buy it, Axios Capital author Felix Salmon writes.
Why it matters: Homebuyers are facing a double whammy of higher prices and higher mortgage rates, which reduce the amount of money they can borrow.
By the numbers: The average new single-family home sold for $360,000 in April 2020, according to Census Bureau data. Less than two years later, in March 2022, that number had risen by 45% to $524,000. (The median price rose 41%.)
At the same time, the mortgage available to two people making average hourly earnings has shrunk by $144,000 since August and now stands at a relatively low $469,000 — assuming they limit their mortgage payments to no more than 28% of their combined income.
The bottom line: Houses are still affordable if you're already in one. But now you see why new transactions are slowing dramatically.
4. 📷 1,000 words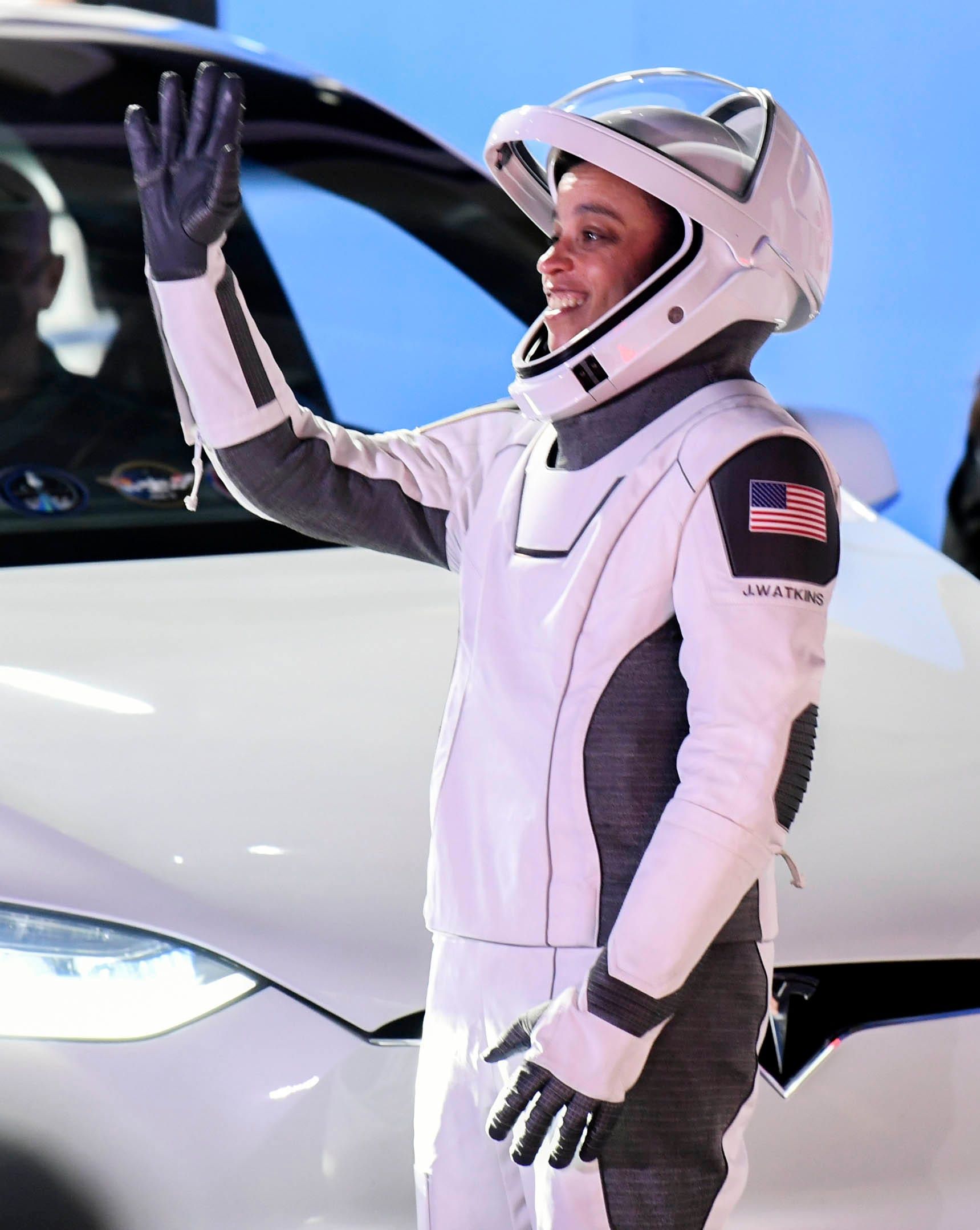 SpaceX launched four astronauts to the International Space Station — including the first Black woman making a long-term spaceflight, Jessica Watkins, a 33-year-old geologist.
Two Black women visited the space station during the shuttle era, but neither had a lengthy stay. Watkins, who is on NASA's short list for a moon-landing mission in the years ahead, sees her mission as "an important milestone ... for the agency and for the country," AP reports.
Watkins credits supportive family and mentors — including Mae Jemison, the first Black woman in space, in 1992.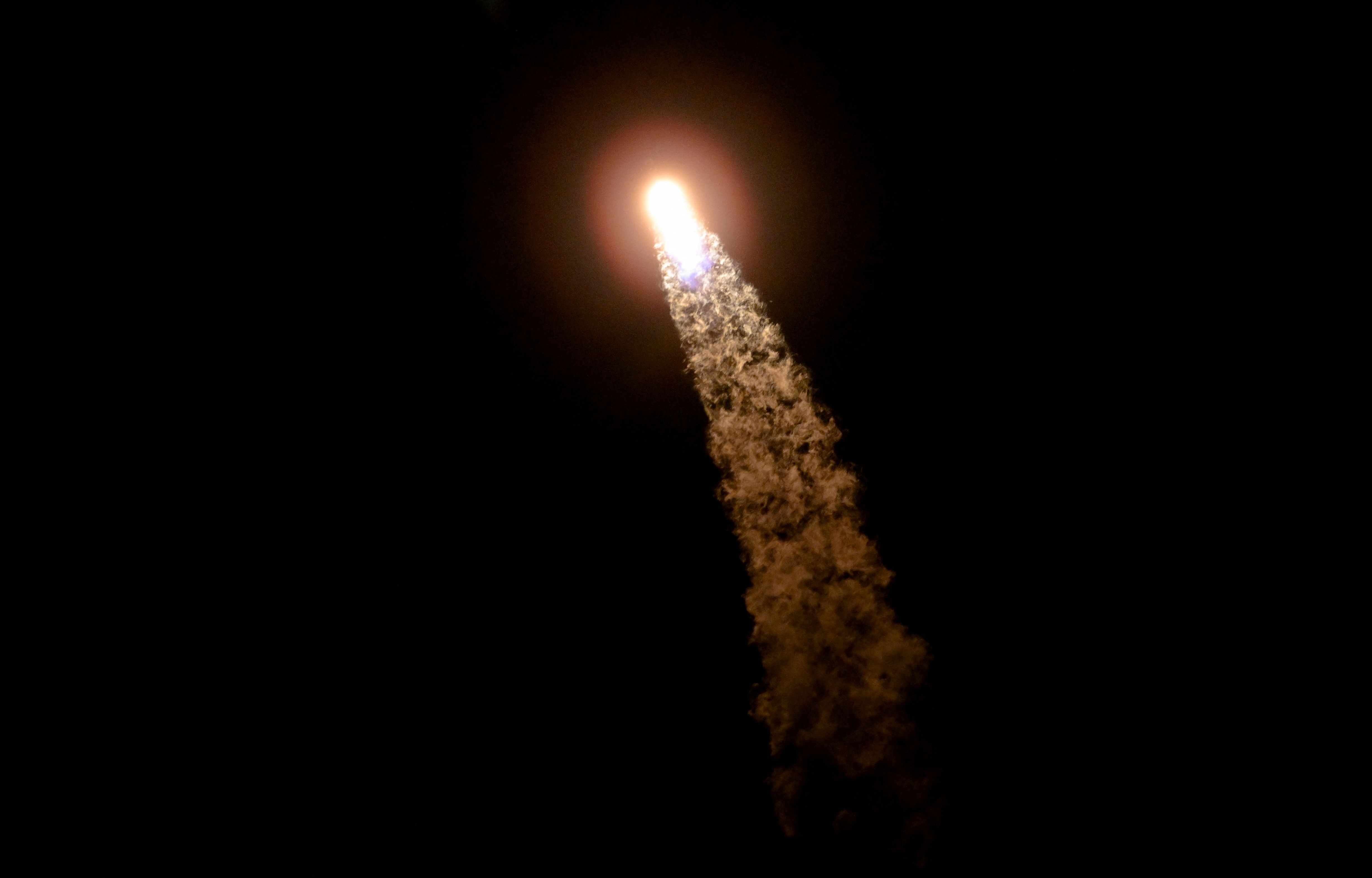 Above: The SpaceX Falcon rocket lifts off from Cape Canaveral, Florida.
Go deeper ... Axios' Russell Contreras, then with AP, in 2020: Space as final frontier in civil rights.
5. 😷 Scoop: Big loophole in WHCA dinner's COVID rule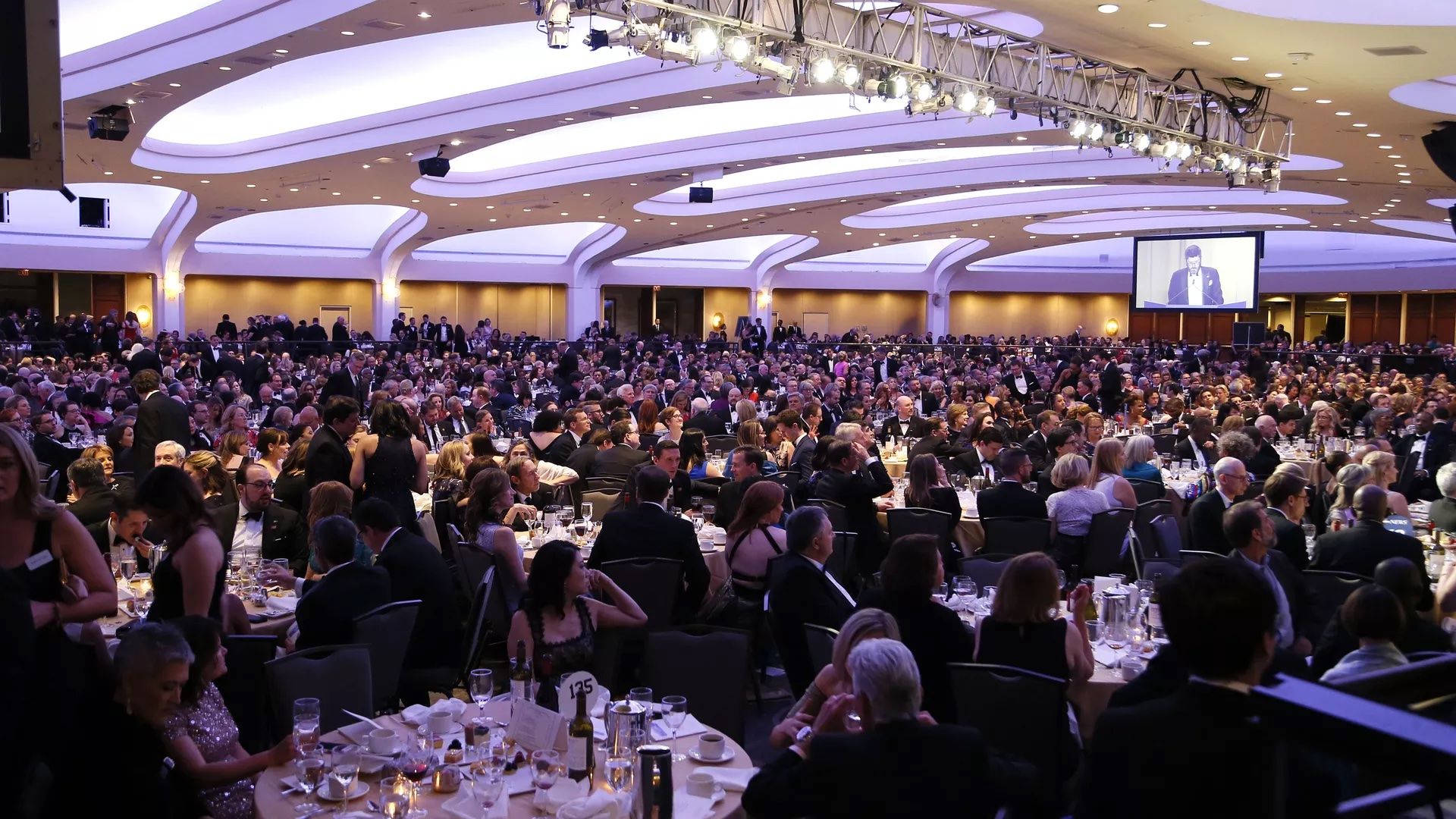 Strict COVID requirements for Saturday's White House Correspondents' Association dinner don't extend to the Washington Hilton's servers, Page Hopkins of Axios D.C. reports.
Why it matters: 2,600 attendees are expected at the dinner — returning for the first time since 2019, with local COVID cases increasing. Official Washington had an outbreak after the white-tie Gridiron dinner on April 2.
Anthony Fauci now says he won't attend the WHCA dinner. President Biden still plans to go.
The correspondents' association bolstered the dinner's entry requirements earlier this month. All guests must show proof of vaccination and a negative same-day test.
But the communications director for UNITE HERE Local 25, the union representing the Washington Hilton's hospitality workers, tells Axios that the hotel hasn't approached the union about testing or vaccination requirements for staff working the event.
Benjy Cannon says if the Hilton asks for those measures, the union could "bargain over the issue." Cannon noted that the union has agreed to one-off COVID work rules with other hotels for specific events.
The union has urged workers to get vaccinated, and supported employer vaccine mandates.
Axios has learned WHCA has been assured that the Hilton will require its staff to be masked.​
A Hilton spokesperson declined to answer questions.
6. 📚 Scoop: Former Manhattan prosecutor strafes Trump, Barr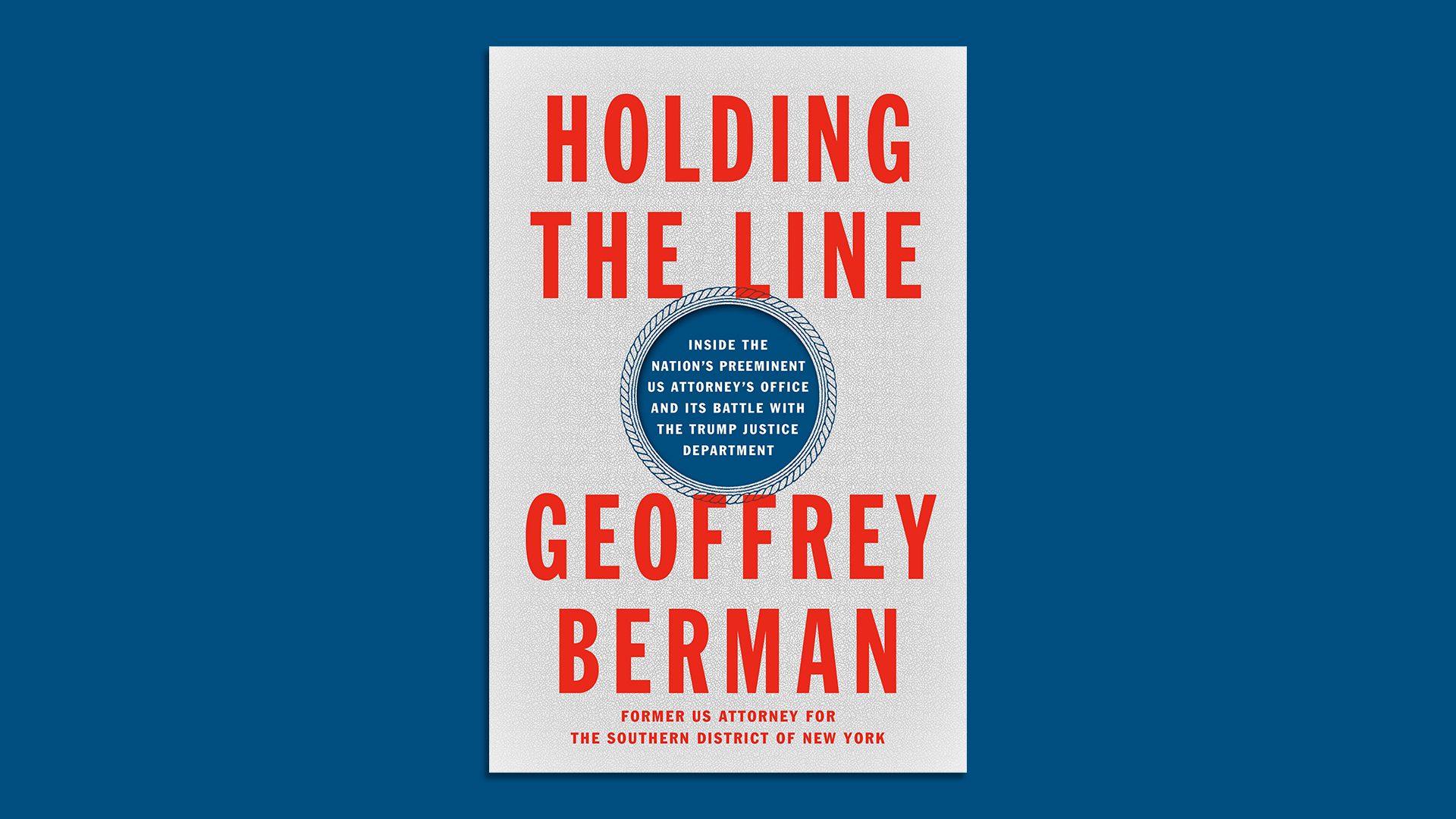 Geoffrey Berman, fired by President Trump as the top Manhattan federal prosecutor, will be out Sept. 13 with a memoir, "Holding the Line," that charges Trump with trying to undermine the office's integrity.
Trump tapped Berman for U.S. Attorney for the Southern District of New York — an office that has historically moved independently of the White House — after firing Preet Bharara.
"Almost immediately, Berman found himself pushing back against the Trump Justice Department's blatant efforts to bring weak cases against political foes and squash worthy cases that threatened to tarnish allies and Trump himself," says Penguin Press, the publisher.
"When Bill Barr became Attorney General, Berman hoped and believed things would get better, but instead they got much worse. The heart of 'Holding the Line' is his never-before-told account of the lengths ... Berman had to go in preserving" the office's independence.
Preorder ... Share this story.
7. Capitol rarity: Bipartisan dinner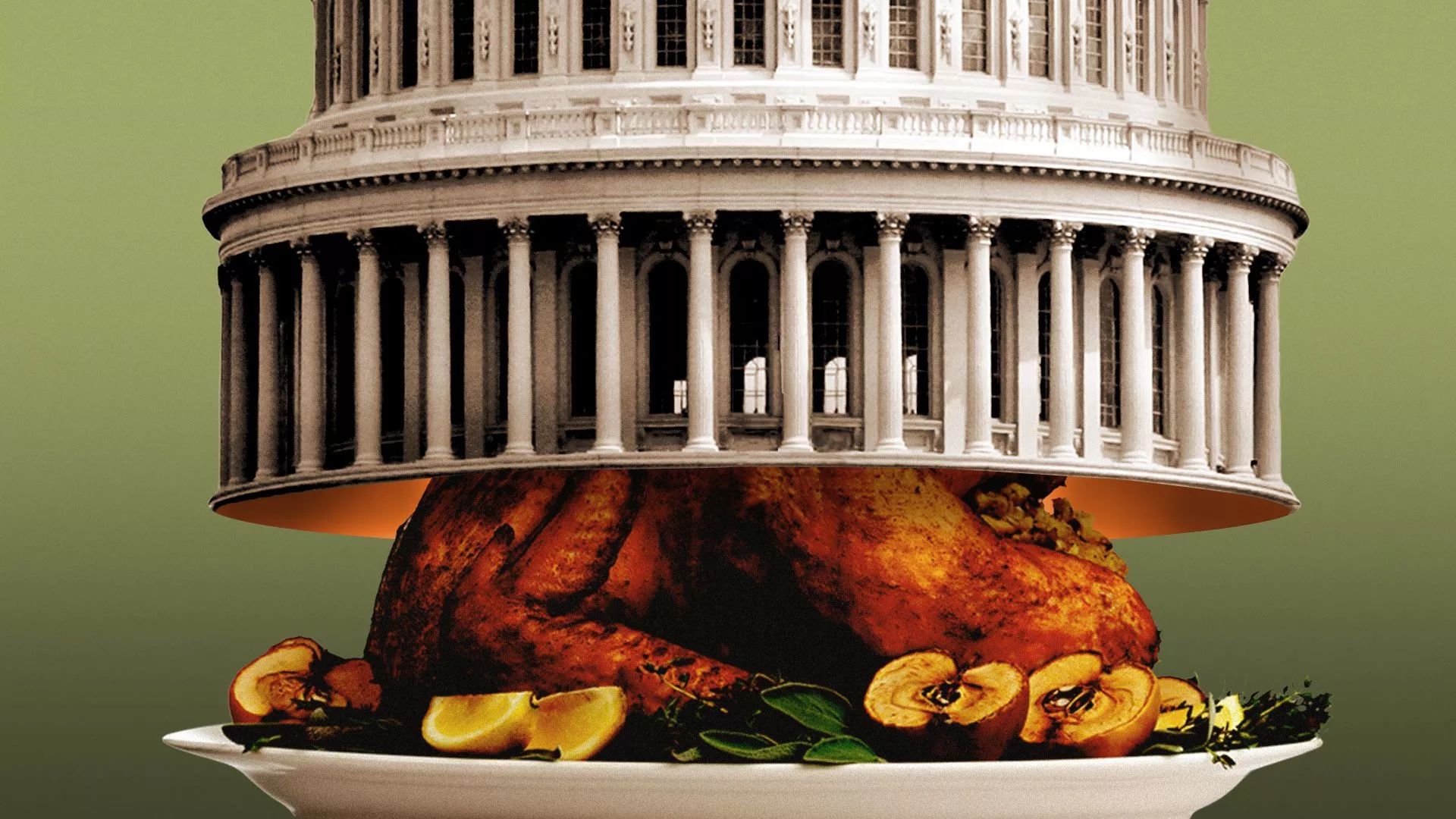 Amid Washington's bitter partisanship, two dozen women senators of both parties dined together for two hours Tuesday night, Axios' Sophia Cai reports.
Why it matters: The chicken dinner in the Capitol — organized by Sens. Dianne Feinstein (D-Calif.) and Susan Collins (R-Maine) — was a throwback to old-school camaraderie.
Feinstein told Axios: "We sat around a big rectangular table with little vases of flowers that went to each woman. It was bipartisan. Politics was not discussed. It was a very pleasant evening."
Feinstein said she hopes to host the dinner every six months.
The group celebrated the fact that, for the first time, four women will be chair and ranking member of the powerful Appropriations committees in both chambers — the so-called "four corners."
In the Senate, Sen. Patty Murray (D-Wash.) and Collins will be the top Democrat and Republican on the Senate Appropriations Committee, following the retirements of Sen. Pat Leahy (D-Vt.) and Sen. Richard Shelby (R-Ala.).
In the House, Reps. Rosa DeLauro (D-Conn.) and Kay Granger (R-Texas) will continue to be the top Democrat and Republican on the House Appropriations Committee.
8. 🥊 Parting shots: Musk tweet spree
Elon Musk has maximum fun with his acquisition (although the deal hasn't closed):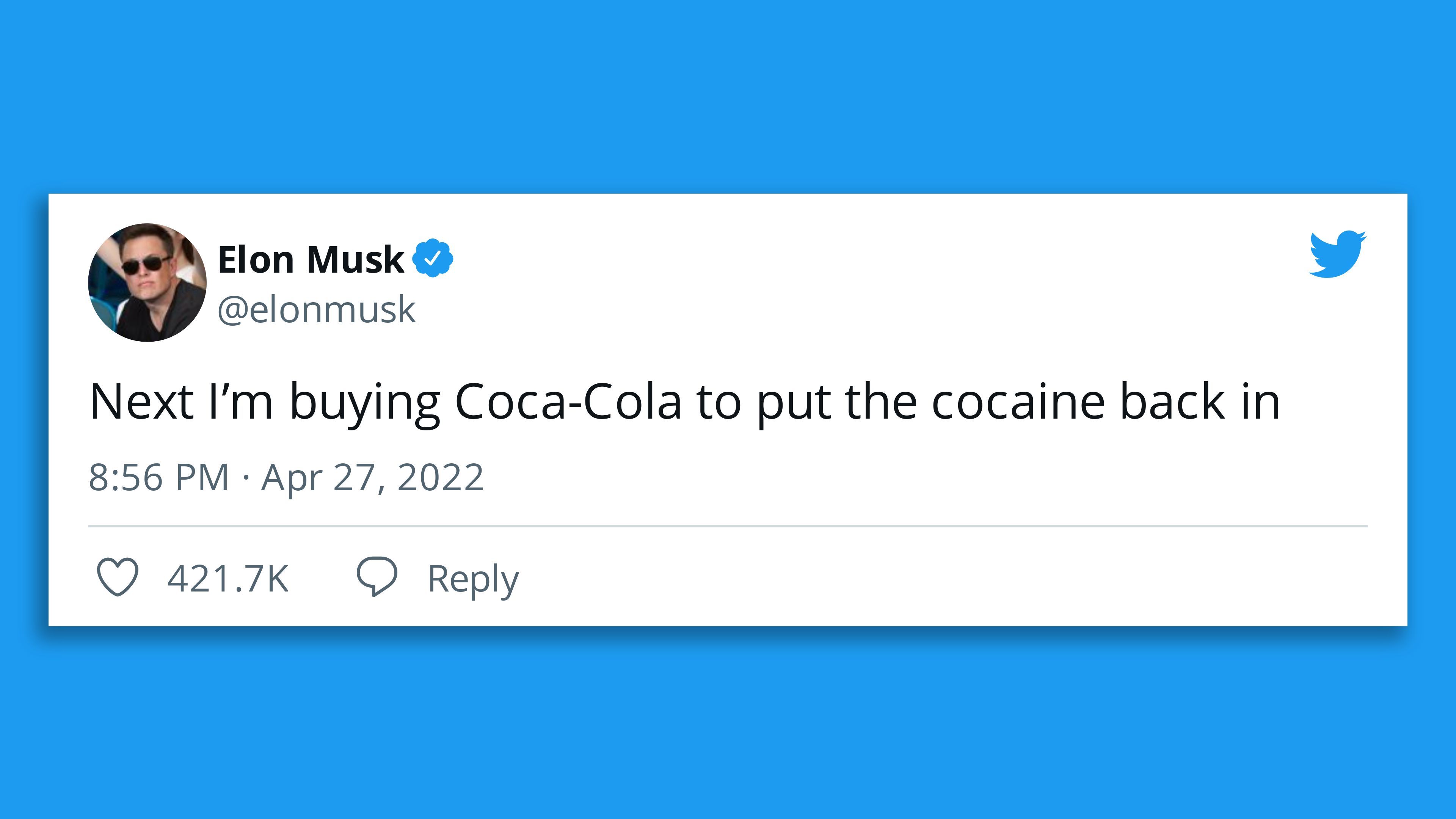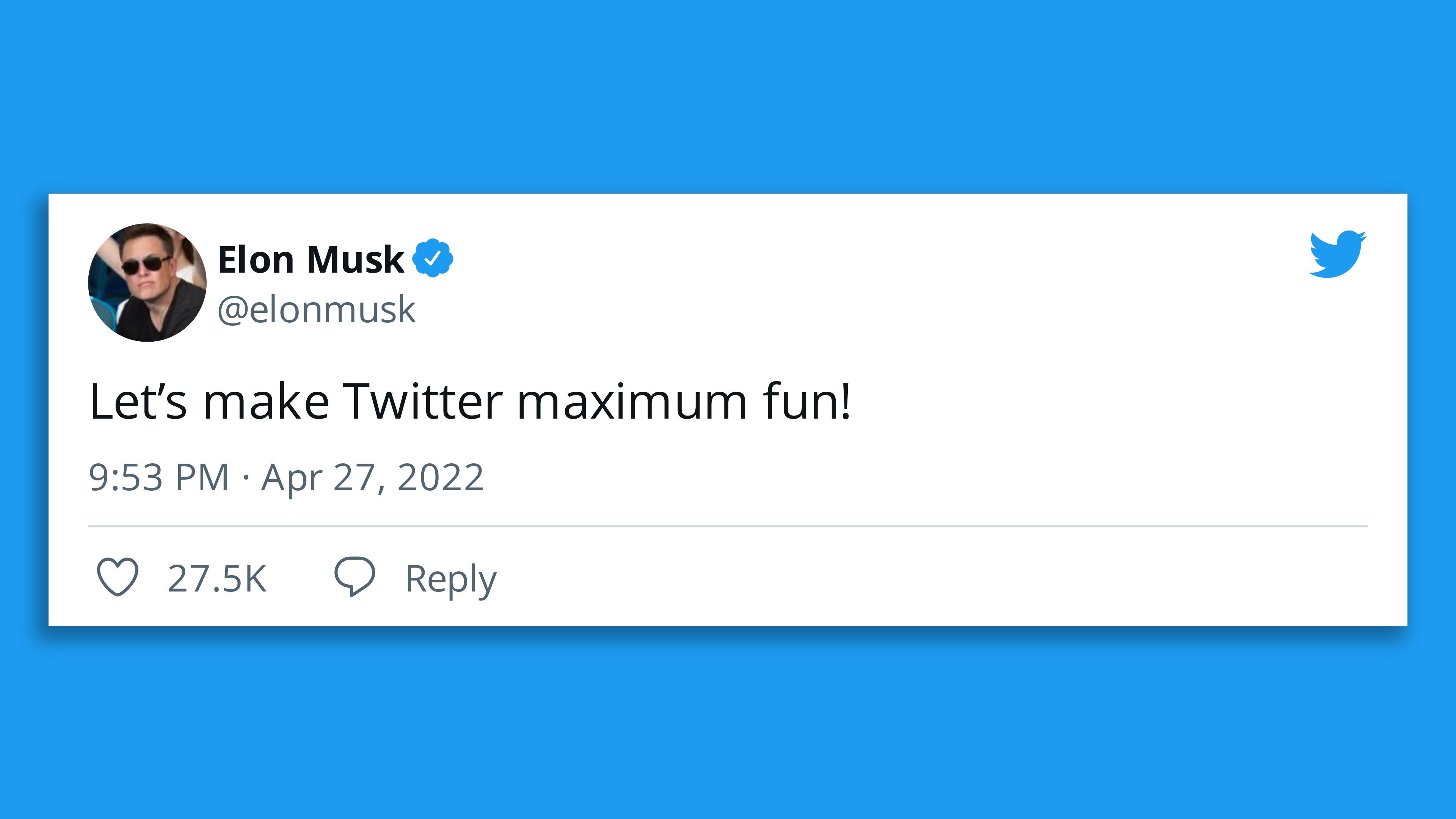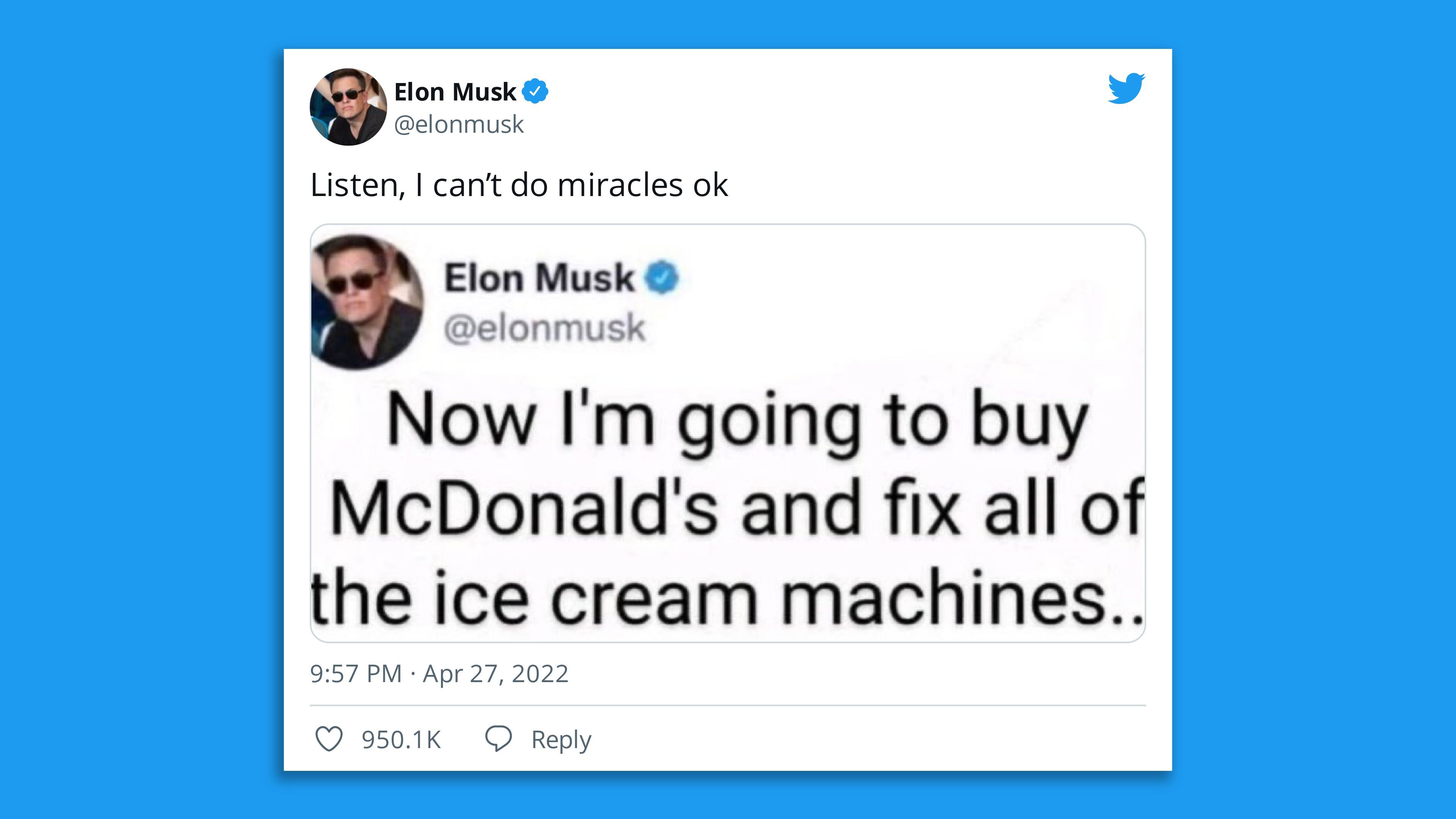 Explainer: What Twitter could do as a privately held company.
📬 Invite your friends to sign up here to get their daily essentials — Axios AM, PM and Finish Line.