https://www.axios.com/newsletters/axios-am-867c3a15-94f6-4755-9772-857a578bdf8e.html?chunk=0#story0
1 big thing: "A brutal education"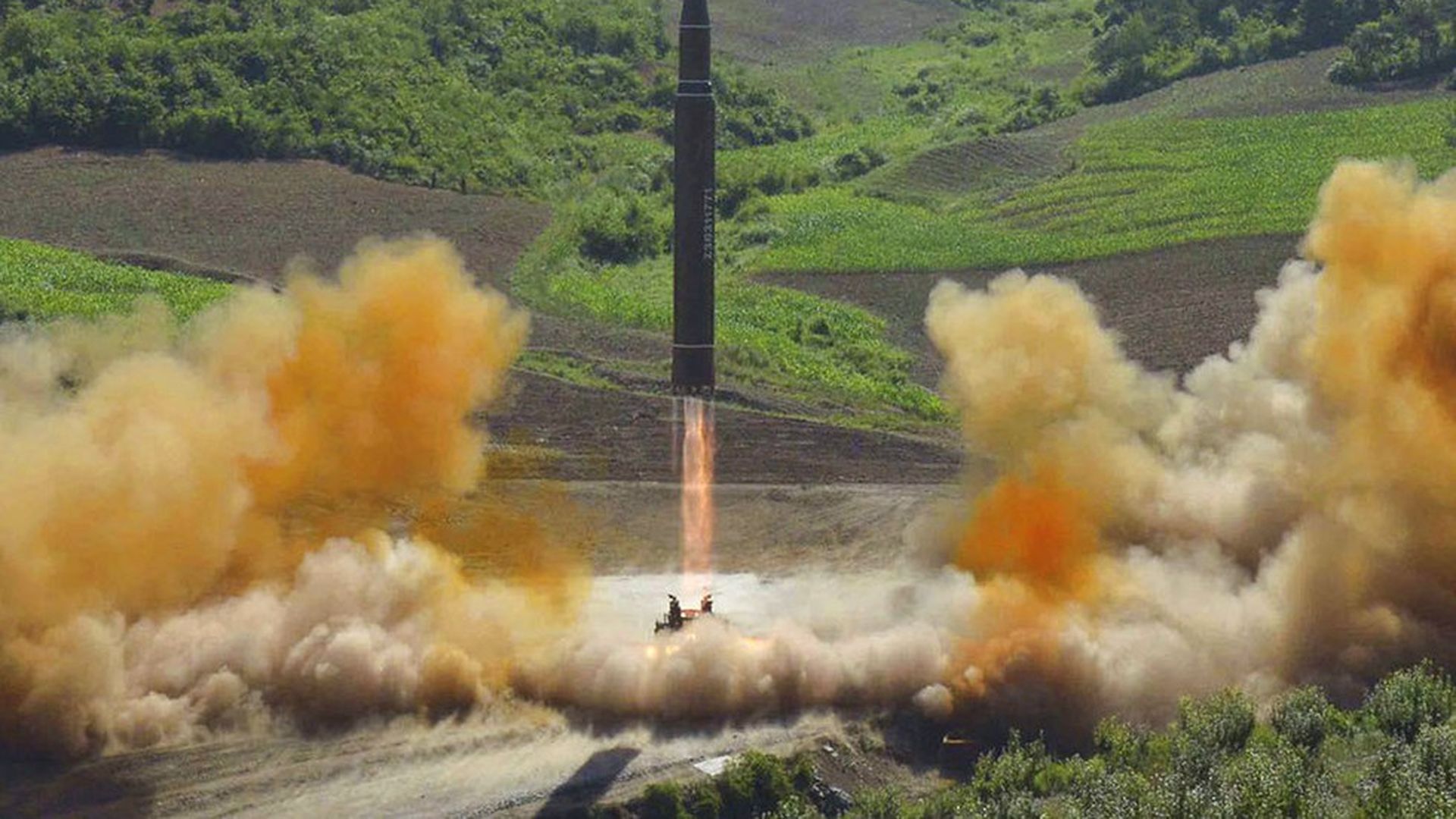 White House officials think they're ready for this. But North Korea's successful ICBM launch came faster than they had hoped. As the N.Y. Times' David Sanger points out, the past six months have been "a brutal education for President Trump."
As Trump leaves the White House this morning en route Europe for his second international swing, he's facing his most immediate global crisis — one where he's a central player, with experts across the spectrum stumped on the wisest steps.
The Wall Street Journal paints the best and worst cases: "Some analysts cautioned that North Korea faces many technical hurdles before it has a fully operational nuclear-armed ICBM. ... Tokyo and Seoul could rely on Washington's nuclear deterrent. But with San Francisco potentially at risk, those allies could start to doubt the U.S.'s commitment."
The latest, from AP: "North Korean leader Kim Jong Un vowed [today] his nation will 'demonstrate its mettle to the U.S.' ... The hard line suggests more tests are being prepared as the country tries to perfect nuclear-armed missiles capable of striking anywhere in the United States."
"[A] successful launch of an ICBM has long been seen as a red line after which it would only be a matter of time if North Korea isn't stopped."
"Worry spread in Washington and at the United Nations, where the United States, Japan and South Korea requested an emergency U.N. Security Council session" today.
"Secretary of State Rex Tillerson confirmed that the missile was an ICBM and said the U.S. response would include 'stronger measures to hold [North Korea] accountable.'"
"Options Are Few and Risky": ... The best look at the options (such as they are) is the two-column lead of the N.Y. Times, "North Korea Crosses a Line, But U.S. Has Few Options: Missile's Alarming New Reach Is Confirmed by Officials Now Facing Strategic Dilemma," a News Analysis by David E. Sanger:
"A North Korean ability to reach the United States, as former Defense Secretary William J. Perry noted recently, 'changes every calculus.' The fear is not that Mr. Kim would launch a pre-emptive attack on the West Coast; that would be suicidal ... But if Mr. Kim has the potential ability to strike back, it will shape every decision Mr. Trump and his successors make about defending America's allies in the region."
Why it matters (Duh!): "[T]his latest test suggests that the United States may already be in range as well, and that, as one former top American intelligence official noted recently, would put enormous pressure on American missile defenses that few trust to work."
https://www.axios.com/newsletters/axios-am-867c3a15-94f6-4755-9772-857a578bdf8e.html?chunk=1#story1
2. Trump's inner Bannon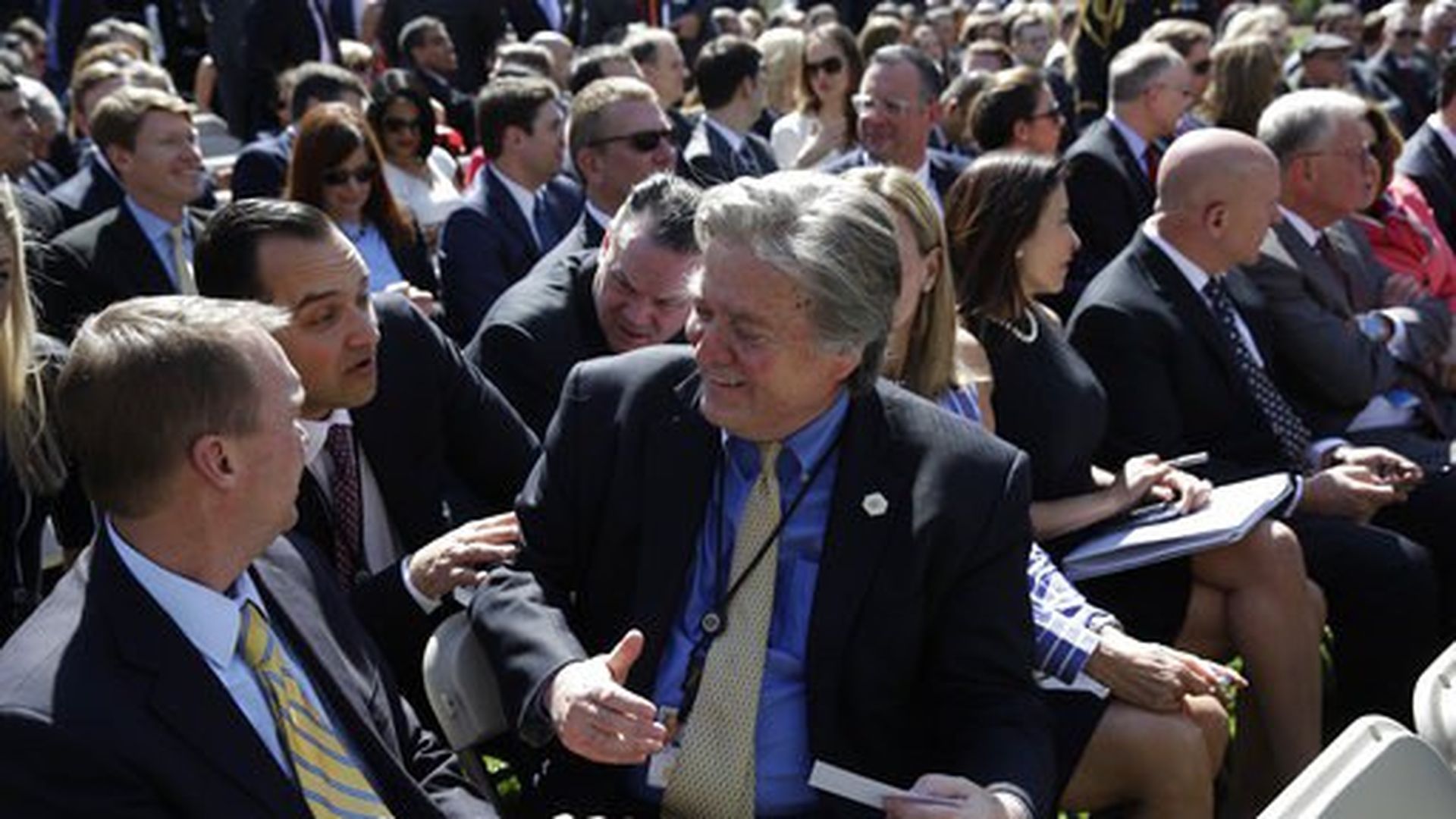 Not a lot of people in the White House are having fun these days. But one top official is having a blast -- inviting friends over for lunch, joking about good times from the campaign, plotting 2018 and even 2020. He was recently spotted in the West Wing carrying the New York Post cover mocking CNN as "THE MOST BUSTED NAME IN NEWS."
Steve Bannon, the proud culture warrior who was briefly and very publicly in the Trump doghouse, is ascendant after what friends call a period of "hibernation."
"He's not cocky -- he's comfortable," said a longtime friend. "And he understands the game."
His ideas are being taken seriously, and his worldview is clearly in Trump's head:
Bannon loves, enables, encourages the smackdowns with the media.
Bannon loves, enables, encourages the middle finger to NATO, and Germany in particular.
Bannon loves, enables, encourages the instincts that led Trump to withdraw from the Paris climate deal.
Bannon loves, enables, encourages tougher tone and trade action against China.
Bannon loves, enables, encourages a hard line on immigration.
Bannon loves, enables, encourages a base-first and often base-only strategy.
"Trump loves the fight, and Bannon loves the fight," another friend said.
In many ways, being cornered and lashing out is Trump's comfort emotion; and his chief strategist is always there to feed it.
Events in this madcap West Wing have conspired to give Bannon back much of his mojo: He's clearly going to stay, after being long rumored to be on the outs. He's no longer in a hot war with Jared Kushner. He played a key role in developing the Russia response. And he's back to pushing ideas the GOP establishment hates, including a tax hike on the rich and trade wars.
Bannon's insurance policy is that he's the keeper of the base. Trump understands he's never going to be broadly popular, so he absolutely has to preserve his 46%.
Axios' Jonathan Swan says that behind closed doors, Trump talks constantly about the base as "my people" and "our people": "What does this mean for my people?"
Be smart: The biggest reason that Bannon is back is that his worldview is Trump's worldview. For the all the ups and downs, in-and-out-of-favor drama, Trump is more Bannon than he is Jared or Ivanka.
https://www.axios.com/newsletters/axios-am-867c3a15-94f6-4755-9772-857a578bdf8e.html?chunk=2#story2
3. The view in Trump Country
The headline ("Only Fox Can Rid Us Of Trump") made me skeptical. But this N.Y. Times Op-Ed from Knoxville, Iowa — by Robert Leonard, news director of radio stations KNIA/KRLS (Knoxville/Pella) — provides worthy insight into Trump's durability with his voters.
It's especially relevant in light of the SurveyMonkey poll we brought you exclusively yesterday, showing 33% of Republicans say they get their news only from Fox, and Republicans trust Trump over CNN by a margin of 80 (not a typo) points.
"Here, conservatives celebrate the successes in Mr. Trump's short time in office: a conservative Supreme Court justice now seated; Mexico and Canada back to the trading table; red tape cut; the E.P.A. hamstrung; climate change nonsense tossed aside. It's exactly what they elected him to do — victory after victory in a bigger battle than just policy, a battle for America's soul. ...
"They bend over backward to justify everything Mr. Trump does, largely because they don't believe what anyone in the news media is telling them, except for maybe Fox News."P.S. "How CNN found the Reddit user behind the Trump wrestling GIF," by CNN's Andrew "KFILE" Kaczynski: "The Reddit user who initially claimed credit for President Donald Trump's tweet that showed Trump tackling CNN issued an apology Tuesday for the video and other offensive content he posted -- one day after CNN identified the man behind the account and attempted to make contact with him."
https://www.axios.com/newsletters/axios-am-867c3a15-94f6-4755-9772-857a578bdf8e.html?chunk=3#story3
Bonus
Coming in Sunday's N.Y. Times Magazine ... "All the President's Lawyers," by Jonathan Mahler:
"[T]here may never be enough Trump Lawyers to get the job done. The work is hard, sometimes even humiliating. In fact, the one irreducible character trait of a Trump Lawyer is that he or she is willing to take on Trump as a client, one who often either doesn't solicit their advice or simply ignores it; who subverts their legal strategy on national television; who requires them to deny facts that he has confirmed and confirm facts that he has denied; who won't stop tweeting inflammatory, threatening and clearly false statements. It's a lot to ask of a professional. ...
"Washington lawyers have defended spies, embezzlers, strongmen, torturers. But the prospect of defending Trump has apparently given them pause. Brendan Sullivan of Williams & Connolly, who represented Oliver North, and Ted Olson of Gibson, Dunn, who represented the Israeli spy Jonathan Pollard, are among the veterans of Washington scandals who have reportedly rejected overtures to join Trump's legal defense team."
https://www.axios.com/newsletters/axios-am-867c3a15-94f6-4755-9772-857a578bdf8e.html?chunk=4#story4
4. Trump-Putin chess match on Friday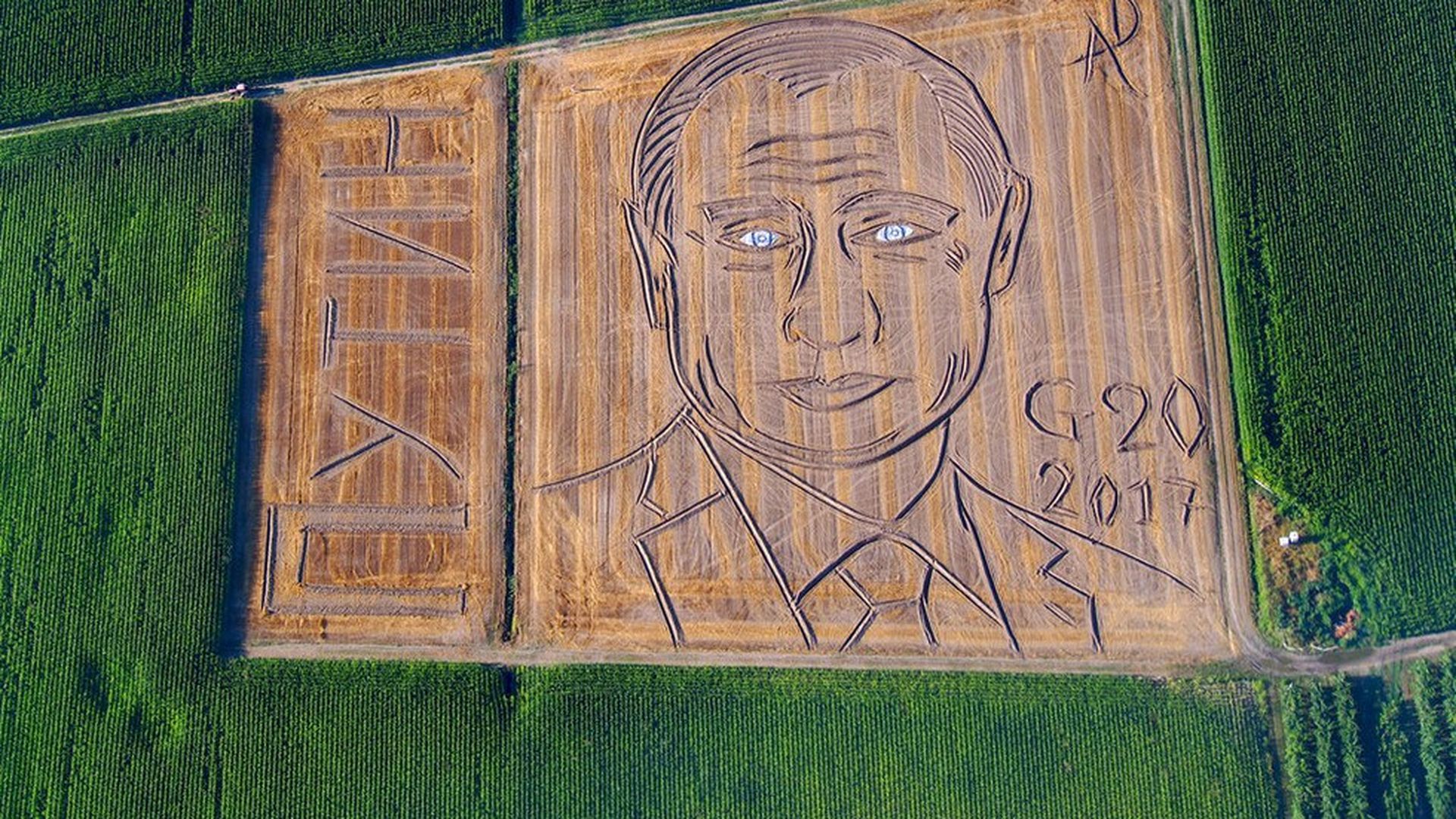 "Trump-Putin Talks Raise Anxiety Ex-Spymaster Will Get Upper Hand," by Bloomberg's Margaret Talev, Henry Meyer and Ilya Arkhipov:
"Trump's encounter with Russian leader Vladimir Putin [at the G-20 in Germany on Friday] ]is raising concerns among veteran American diplomats and analysts about a mismatch between a U.S. president new to global affairs and a wily former Soviet spymaster experienced in the long game of strategy and statecraft."
"Putin ... has used his first face-to-face meetings with prior presidents to try to gain the upper hand."
"Trump is known to shun preparation and instead go with his gut, placing great faith in what he believes to be an ability to read the person sitting across from him."
"In the case of Putin, who is trained in deception, this could be difficult to do — especially if the Russian leader tries to disarm Trump with praise."
https://www.axios.com/newsletters/axios-am-867c3a15-94f6-4755-9772-857a578bdf8e.html?chunk=5#story5
5. Danger signs for GOP
CNN yesterday had live coverage of the health-care debate back home, with the headline: "PARADES UNDERWAY AS LAWMAKERS FACE HEAT OVER BILL."
"Popular as sunburn" ... The N.Y. Times front-pages similar ominous findings for the GOP, "With Voters Riled, G.O.P. Senators Lie Low: Health Care Concerns Intrude on July 4 Festivities," by Campbell Robertson, Dave Philipps, Jess Bidgood and Emily Cochrane:
"It is a tough summer for Senate Republicans ... Protesters have held sit-ins at Senate offices, phone lines have been jammed and editorial writers have blasted their states' congressional delegations....
"Many lawmakers seem to have given up on town hall-style meetings and parades. Others are still braving them, knowing they may get an earful on the health care bills."
https://www.axios.com/newsletters/axios-am-867c3a15-94f6-4755-9772-857a578bdf8e.html?chunk=6#story6
6. A voice from the past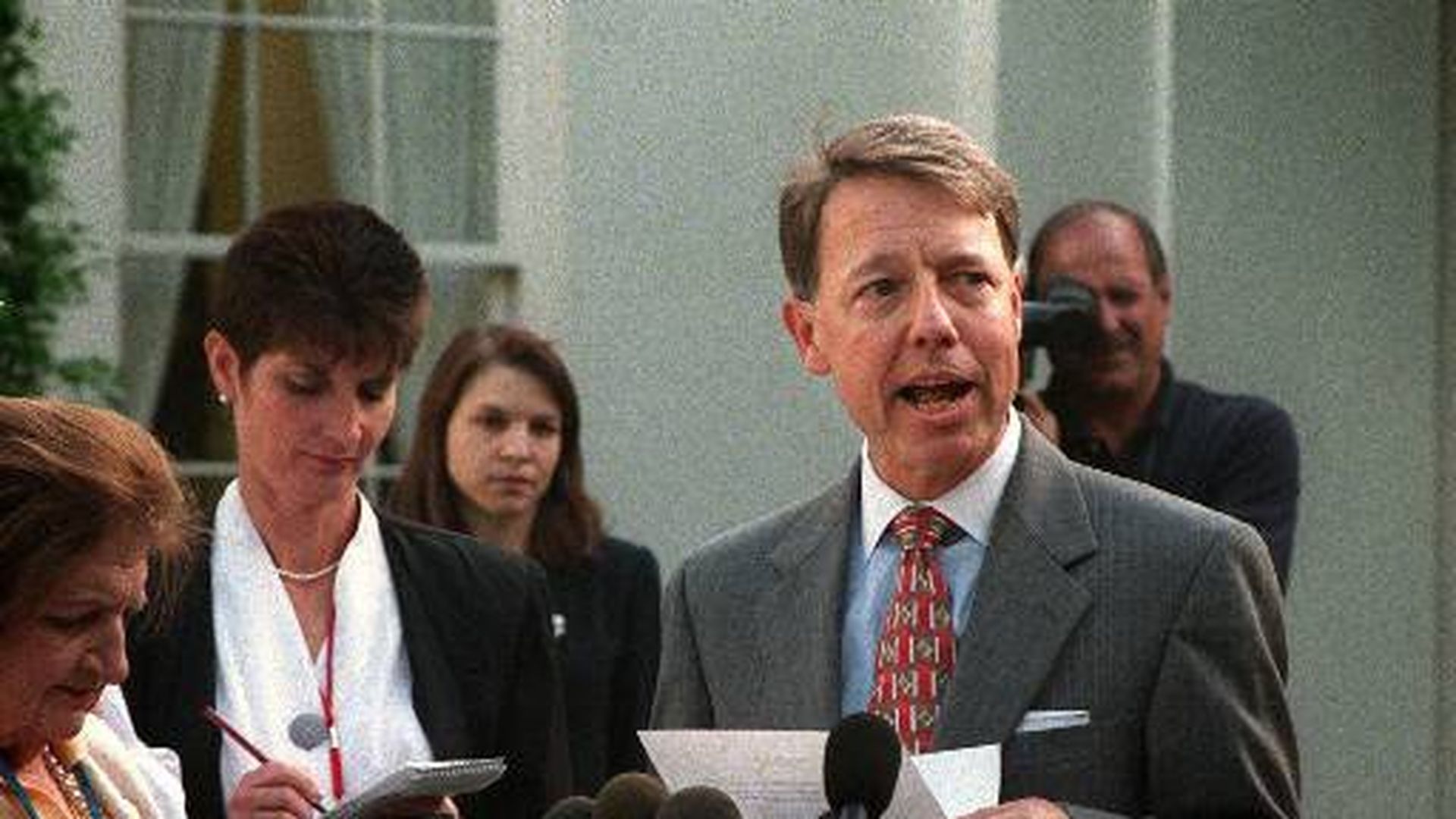 David Kendall, an attorney at Williams & Connolly, where he represents former president Bill Clinton and former secretary of state Hillary Clinton, has a WashPost op-ed, "The Russia probe can't be fired." In an intriguing shot across the bow, Kendall argues that "Justice Department regulations will make it difficult, legally as well as politically," to fire special counsel Bob Mueller:
"Any of those steps would almost certainly result in the resignation of [Deputy Attorney General Rod] Rosenstein, and likely other Justice Department officials, reminiscent of the [1973] 'Saturday Night Massacre,' when President Richard Nixon ordered the firing of Watergate special prosecutor Archibald Cox."
Mr. President, here's the part you should read: "As with the Saturday Night Massacre, any move to fire Mueller would likely not be the end of the matter — or of the criminal investigation. In the uproar that ensued after Cox's firing, the remaining prosecutors in the office continued their work and a new special prosecutor, Leon Jaworski, was selected."
https://www.axios.com/newsletters/axios-am-867c3a15-94f6-4755-9772-857a578bdf8e.html?chunk=7#story7
7. Tanned, rested and done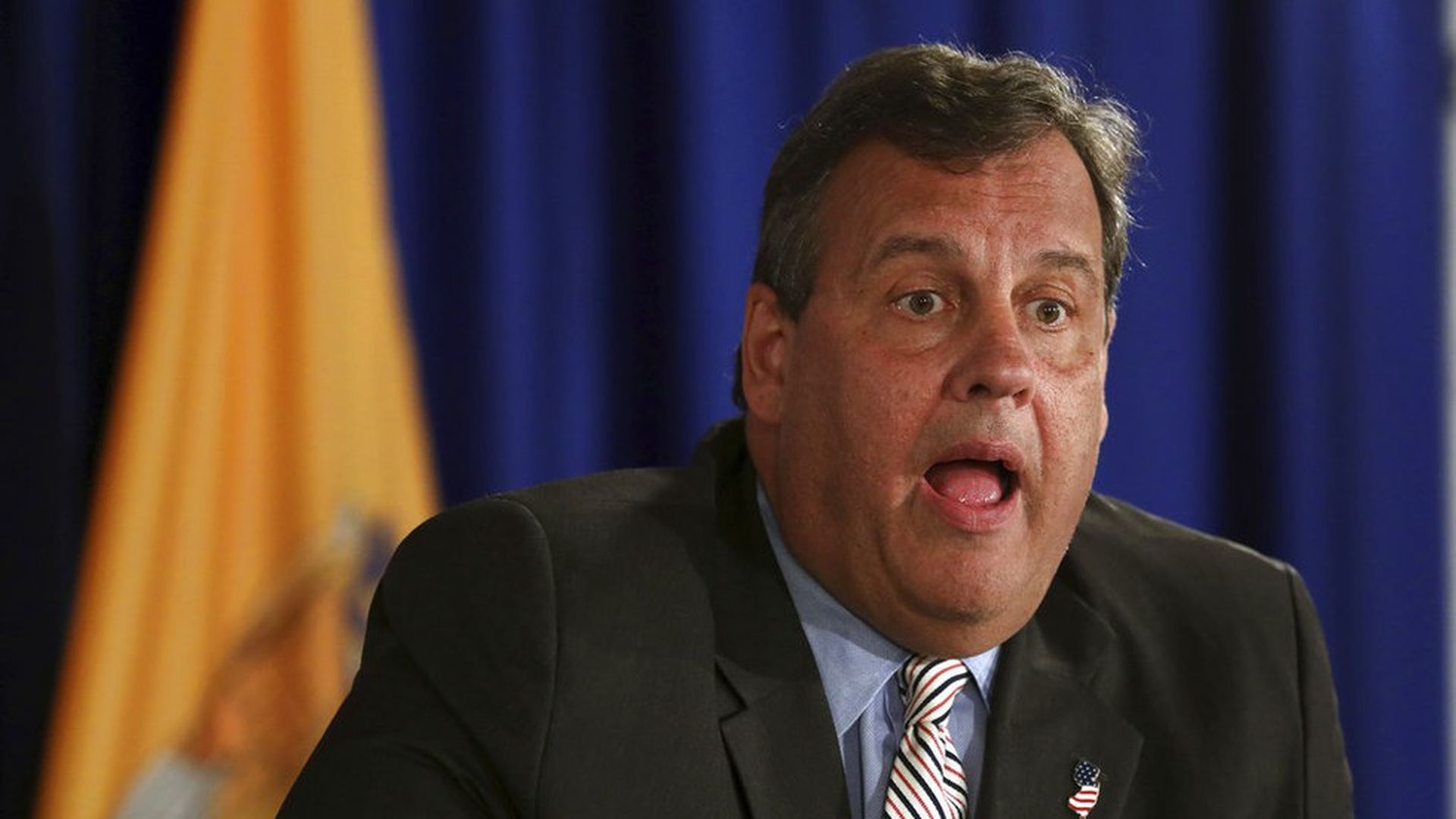 Frank Bruni draws a line between Christie and Trump in his N.Y. Times column, "Chris Christie's Tutorial In Hubris":
"The twins of tantrum, Christie and Trump had almost identical political appeals. They mocked propriety. They broke rules. They assertively peddled the impression that as happy as they were to make friends, they were even happier to make enemies, because that meant that they were fully in the fight. In an era of resentment and anger, many voters thrilled to the spectacle. ...
"[I]f you embrace a politician who talks too frequently and proudly about not caring what anyone thinks, you'll wind up in the clutch of a politician whose last refuge is not caring what anyone thinks. That's a dangerous place to be."
https://www.axios.com/newsletters/axios-am-867c3a15-94f6-4755-9772-857a578bdf8e.html?chunk=8#story8
8. The talk of tech: "the People's Lobby"
"WTF" ... "Mark Pincus and Reid Hoffman are launching a new group to rethink the Democratic Party: It's called Win the Future, and Pincus is even courting potential WTF candidates like the frontman of '90s rock band Third Eye Blind," by Recode's Tony Romm:
"Pincus, the co-founder of Zynga, and Hoffman, the brains behind LinkedIn, want to force Democrats to rewire their philosophical core, from their agenda to the way they choose candidates."
"WTF for short ... aims to be a new movement and force within the Democratic Party, which can act like its own virtual party," said Pincus, its lead architect."
"Its new website will put political topics up for a vote — and the most resonant ideas will form the basis of the organization's orthodoxy."
P.S. "Arianna Huffington emerges as public face of Uber: Board member says her goal is 'to fix the systemic culture in Silicon Valley,'" by Financial Times' Shannon Bond and Leslie Hook: "[H]er skills as a self-marketer are well suited for the task of selling the narrative that Uber can change." (Subscription)
https://www.axios.com/newsletters/axios-am-867c3a15-94f6-4755-9772-857a578bdf8e.html?chunk=9#story9
9. Future of media
"It's not just ESPN" is the to-the-point subhead of this Wall Street Journal front-pager, "Disney's Channels: Children Are Tuning Out ... Ratings have fallen significantly at Disney's biggest television brands, led by Disney Channel and Freeform, which reach children, teens and young adults," by Joe Flint and Ben Fritz:
"Disney Channel and Freeform ... [e]ach ... has lost about four million subscribers over the past three years, bringing them to about 90 million apiece."
Why it matters: "The shift to streaming services such as Netflix Inc. and web-based platforms like Google's YouTube is particularly pronounced among younger viewers."
"According to Nielsen, among people ages 2 through 34, prime-time viewing has dropped by 34% in the past five years."
Lingo: Disney Channel President Gary Marsh has a stiff-upper-lip term for young people dropping cable like a bad habit as they move to mobile: "migration."
Go deeper: From yesterday's Media Trends newsletter (sign up here) by Axios' Sara Fischer, "The skinny revolution": "All five of the largest Pay-TV providers in the U.S. are now experimenting with skinny bundles — a TV streaming package with fewer channels for less money. (The average skinny bundle is roughly $40/month while the average cable package in America is around $103/month.)"
https://www.axios.com/newsletters/axios-am-867c3a15-94f6-4755-9772-857a578bdf8e.html?chunk=10#story10
10. 1 fun day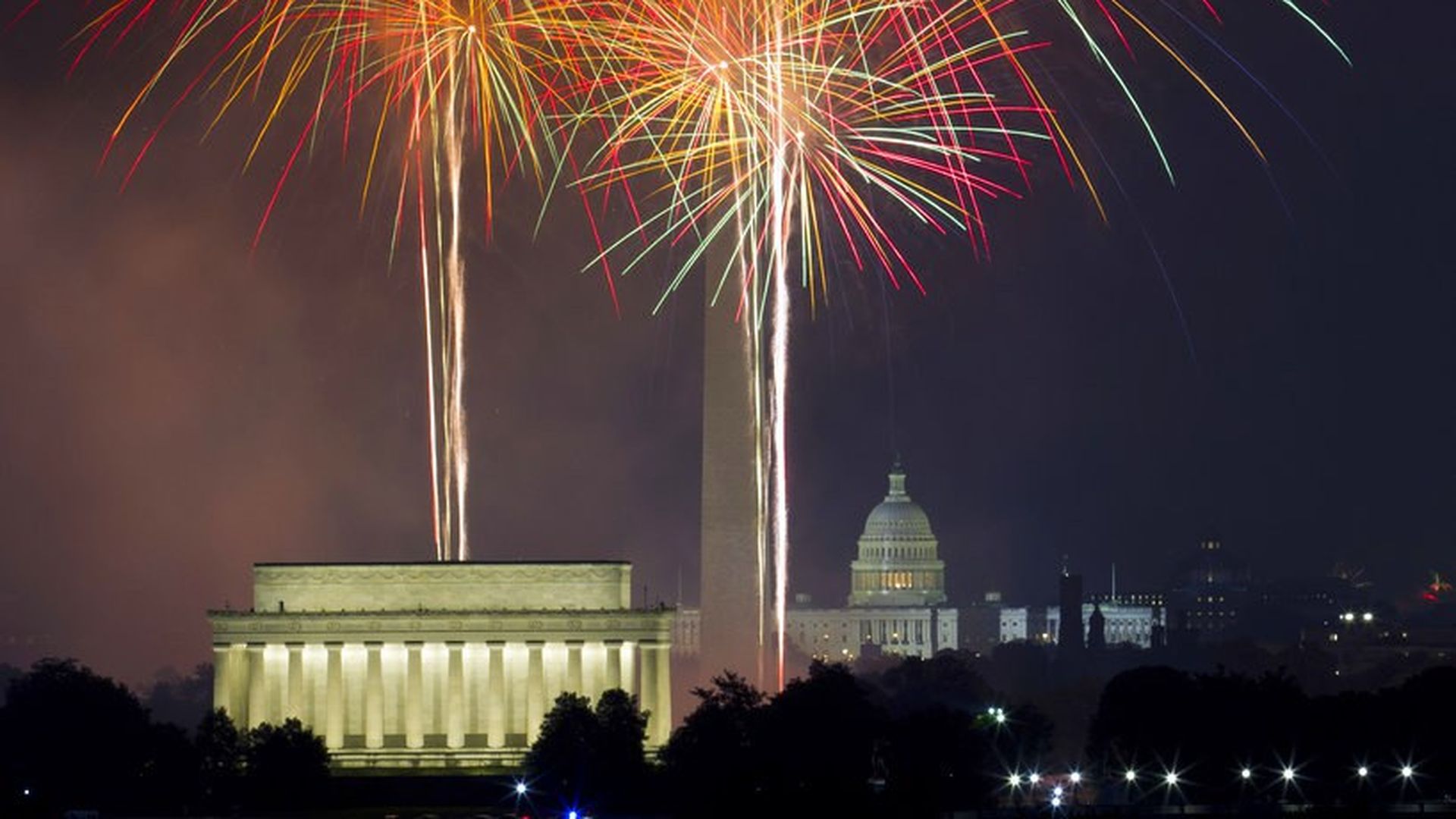 Fireworks explode last night over the Lincoln Memorial, Washington Monument and U.S. Capitol.
If you click only 1 thing ... These 14 shots on one page from the N.Y. Times, "Independence Day Across America," will make you smile: the crowded beach at Coney Island ... fireworks through the pillars of the Lincoln Memorial ... three little girls (Abby, Livy and Sophie) in matching flag dresses ... a stoop party in Brooklyn ... a Ford Mustang draped in an American flag ... 1938 Plymouth Road King on the way to a parade in Montclair, N.J. ... Sikhs of America, marching in a parade.