June 15, 2020
Good Monday morning.
🇷🇺 Situational awareness: American Paul Whelan was sentenced by a Russian court to 16 years in prison on spying charges, which he has long claimed are political. (AP)
And Putin dunked on the U.S. for protest marches, telling Russian state TV: "What has happened is a sign of some deep-seated internal crises." (AFP)
Today's Smart Brevity™ count: 1,198 words, 4½ minutes.
1 big thing: AI bias in time of virus
During the pandemic, businesses have boosted their use of artificial intelligence in some of society's most sensitive areas, Axios chief tech correspondent Ina Fried writes from San Francisco.
The big picture: Experts worry that the economy's sudden halt has driven resource-strapped companies and institutions to increasingly rely on algorithms to make decisions in housing, credit, employment and other areas.
Key areas of accelerating AI adoption:
What's next: Expect a wave of lawsuits from consumers contending that they were discriminated against by AI systems, especially in key areas such as hiring.
2. Local leaders make crisis decisions for nation
The twin crises of coronavirus and systemic racism in policing are forcing local leaders to make many of the most important decisions in the country, reports Kim Hart, author of the weekly newsletter Axios Cities.
Why it matters: Elected city leaders — many of whom do the jobs part-time — certainly weren't prepared to respond to multiple crises at once. But they have no choice.
For years, national narratives dominated and overshadowed local agendas.
Now, though, local governments are calling shots that will have far-reaching ramifications, from reopening their economies amid the coronavirus pandemic, to reforming police departments and responding to protests.
The crises require a detailed, block-by-block understanding of neighborhoods' needs.
3. Airbnb deploys data to thwart discrimination
Airbnb co-founder and CEO Brian Chesky told Axios' Kia Kokalitcheva and me that he's launching a data project to measure discrimination experienced by hosts and users because of perceptions about their race — usually based on photo and name.
"When people deny somebody a home, they don't ask them their background, their nationality, their heritage," Chesky told us via Zoom from his house in San Francisco. "They look at them, they make a snap judgment."
The context: Airbnb users have faced discrimination for years. Subtle and overt racism occasionally surfaces in social media, but customers had little recourse.
Airbnb's Project Lighthouse, in partnership with Color of Change and other advisers, will cover the reservation process, reviews, and interactions with customer support.
Airbnb says it worked with privacy experts to ensure that the data won't be linked with individual Airbnb accounts. Users can opt out.
The company will publish findings and aggregate data.
Color Of Change President Rashad Robinson said: "We get gaslit around whether or not something was racist or not. People say it was something else."
Robinson points out that Airbnb has assigned engineers to work on anti-discrimination efforts — a sign in Silicon Valley that the company takes the problem seriously.
What's next: Chesky said that as a future data-gathering project, he wants to capture in-the-moment data, probably through the Airbnb app, about what he calls "moments of truth" for guests — booking, check-in, settling in (say, the morning after arrival), and checking out.
"How comfortable did you feel?" Chesky said. "These are moments when the most issues happen, and also the most delight happens."
4. Pic du jour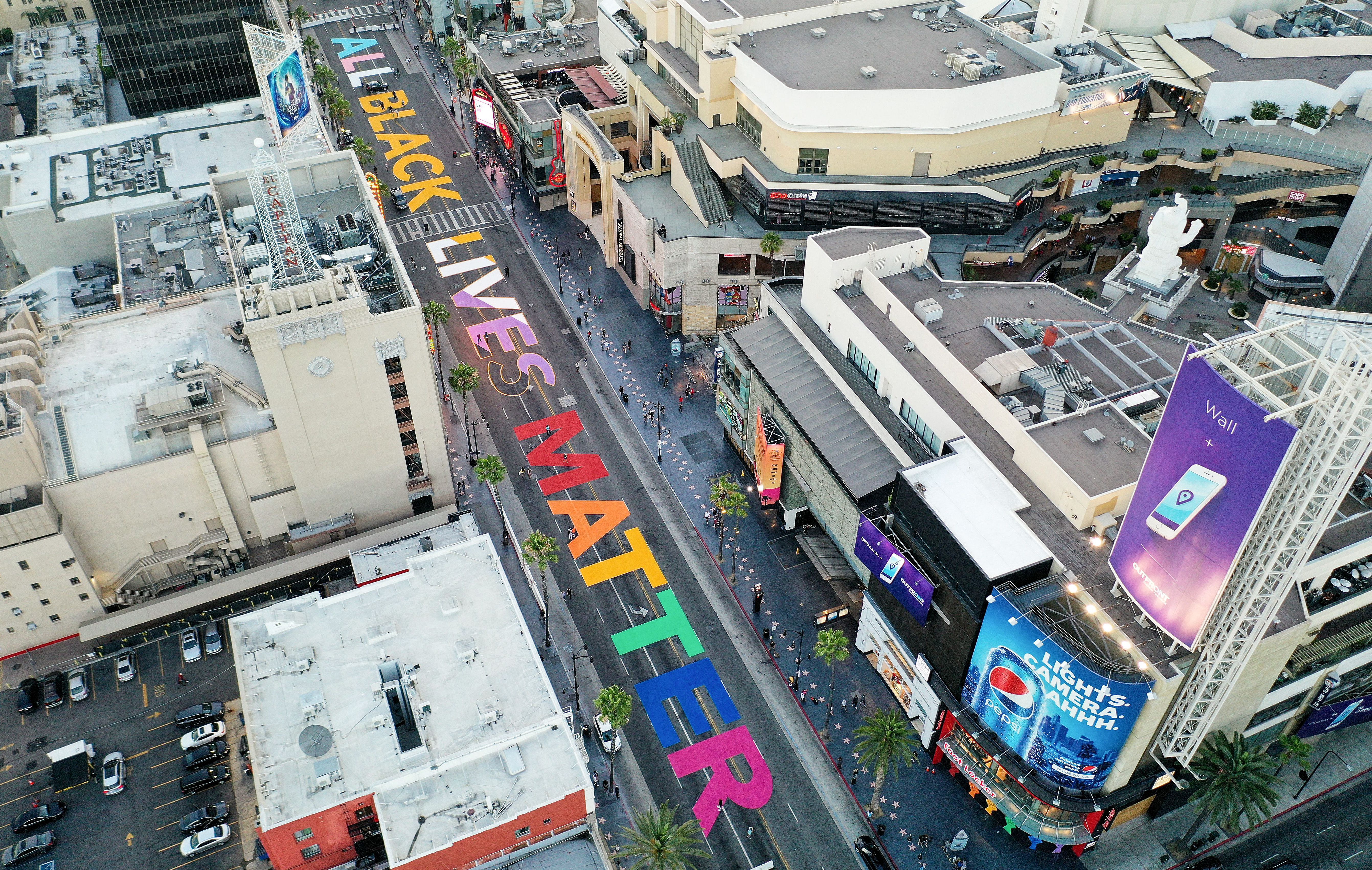 This rainbow-colored message is painted on Hollywood Boulevard, near the famous Grauman's and Dolby theaters.
In Brooklyn yesterday, thousands gathered to support black transgender Americans. Details, photos.
5. Georgians call for police de-escalation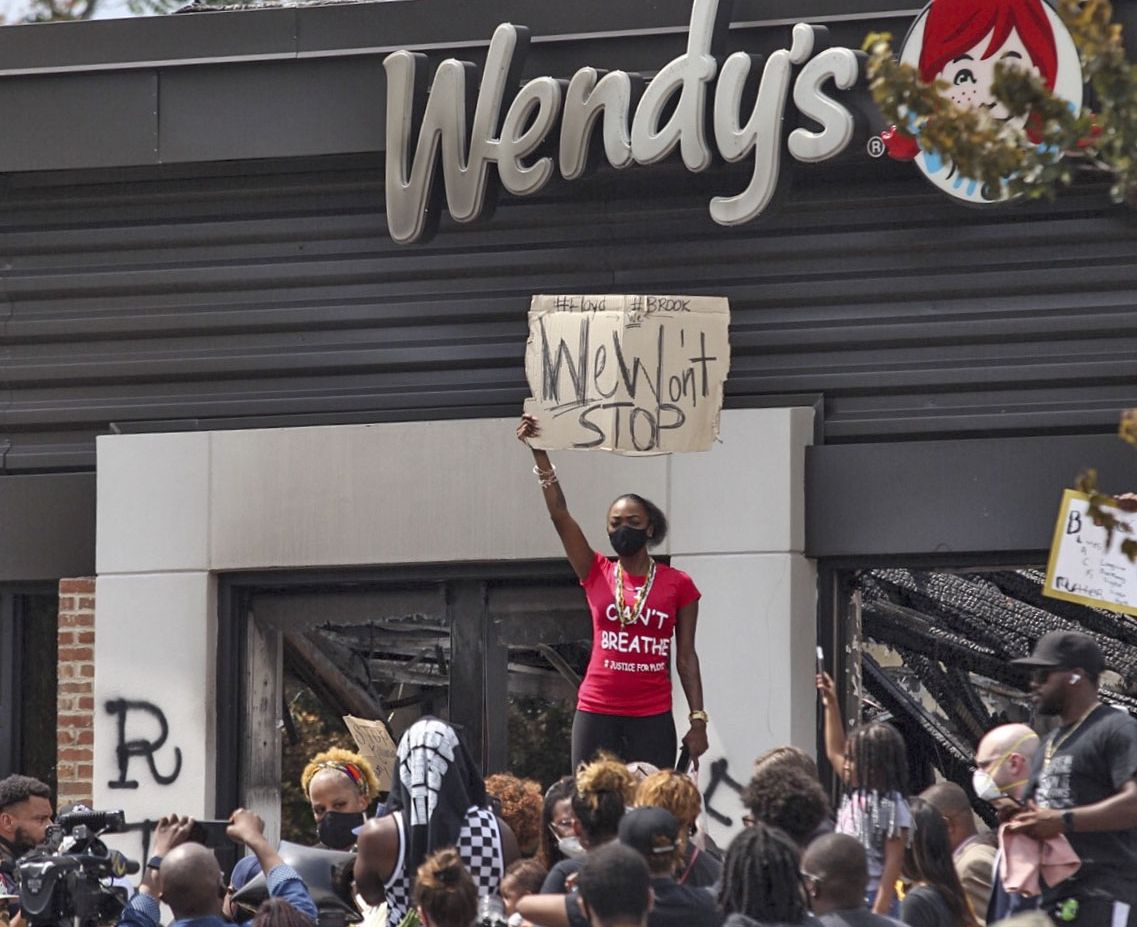 Civil rights groups in Georgia have upped their calls for police reform as protests continued in Atlanta after the death of Rayshard Brooks, a black man who was shot by a white police officer, reports the Atlanta Journal-Constitution.
"I want to be very clear that simple piecemeal solutions and symbolism just will not work," said the Rev. James Woodall, president of the Georgia NAACP
Atlanta's delegation in Georgia's General Assembly will introduce reforms like changes to qualified immunity and requirements to report use of force.
The latest: A Fulton County autopsy found that the cause of death for Rayshard Brooks was gunshot wounds to the back.
6. Biggest companies commit $1.6 billion to fight inequality
The 100 largest U.S. public companies have committed $1.63 billion to organizations fighting racism and inequality, Axios Markets editor Dion Rabouin and visual journalist Andrew Witherspoon report.
Why it matters: The response is a significant departure from years past, when many large companies preferred not to talk about police killings or the role of racism in the U.S.
Brookings' Andre Perry, author of "Know Your Price: Valuing Black Lives and Property in America's Black Cities," said: "I appreciate corporations giving dollars, but we need to have a set metric that says here's what we should be aiming for in terms of correcting for the policy violence of the past."
Just 10 companies make up 88% of the total commitment amount — the largest being Bank of America's four-year, $1 billion pledge.
7. Virus hurts shared cars, bikes, scooters
The coronavirus is creating new health worries and exacerbating economic woes for the whole concept of shared cars, bikes and scooters, Axios' Amy Harder writes in her weekly energy and climate column, Harder Line:
I moved in late March from a city with a robust public transit system (D.C.) to a place with a less robust one (Seattle).
I haven't owned a car since I moved to D.C. in 2008, and I was not planning on getting one any time soon after I moved, despite skepticism among many Seattleites that you can't live in this city without one.
Then COVID-19 hit:
I'm resisting getting a car and clinging to our shared economy despite the pandemic, largely because it's by far the most financially sound choice.
I work remotely from my downtown apartment — eliminating commuting, the biggest need for a vehicle.
But I still need to get around for errands, hiking and socially distant park hangouts.
Keep reading for Amy's personal transportation plan.
8. Trump's Florida flotilla
Hundreds of boats rallied yesterday on the St. Johns River in downtown Jacksonville to celebrate President Trump's 74th birthday, AP reports.
In Palm Beach County, caravans of trucks, motorcycles and boats rode along highways and the Intercoastal Waterway.
In The Villages — a massive, Republican-friendly retirement community northwest of Orlando — Trump supporters held a golf-cart parade.
9. "60 Minutes" for a new generation
Quibi today launches a new short-form series, "60 in 6," produced by CBS News' "60 Minutes."
🥊 Wall Street Journal front page, "Katzenberg, Whitman Clash Amid Quibi's Growing Pains" (subscription):
"The problems for them to tackle are piling up: missed subscriber targets, disappointed advertisers ... and a global pandemic that has made Quibi's main selling point — on-the-go viewing — out of step with the times."
10. 🥤 We're eating less sugar
The pandemic did what years of nagging failed to: The locked-down world is consuming less sugar, Bloomberg reports:
"The global closure of restaurants, sports arenas and cinemas means sugar demand will drop this season for the first time in four decades, according to Czarnikow Group."
Ben Seed, an analyst at Czarnikow in London, said: "If you go to the cinema you would probably quite happily have a liter or maybe more of soda, ... whereas we just don't think people would drink a whole liter of soda while watching Netflix."
📬 Thanks for reading Axios AM. Please invite your friends to sign up here.