June 30, 2018
Good Saturday morning.
Situational awareness: "Liberal activists, parents and first-time protesters motivated by accounts of children separated from their parents at the U.S.-Mexico border plan to rally in hundreds of cities nationwide [today] to press President Trump's administration to reunite the families quickly," per AP.
"More than 600 marches could draw hundreds of thousands of people across the country, from immigrant-friendly cities like Los Angeles and New York City to conservative Appalachia and Wyoming under the banner Families Belong Together."
1 big thing: Top Dems fret about sudden party push to abolish ICE
Top Democrats tell me they're worried that a sudden wave of ambitious party members calling for the abolition of ICE — U.S. Immigration and Customs Enforcement, which is newly controversial because of the caged kids — will make the party look weak on security, a key issue for many swing voters.
These Dems fear the phrase makes them an easy target for conservatives who accuse Democrats of wanting "open borders."
The issue is getting traction after this week's surprise upset by 28-year-old Alexandria Ocasio-Cortez, who made "Abolish ICE" a central tenet of her campaign against Rep. Joe Crowley, who had been the king of Queens.
Sen. Kirsten Gillibrand (D-N.Y.) became the first sitting senator to say the U.S. should "get rid of" ICE: "start over. Build something that actually works."
New York Mayor Bill de Blasio tweeted yesterday: "ICE is broken, it's divisive and it should be abolished."
A few other more progressive Democrat candidates have adopted the anti-ICE messaging, including Cynthia Nixon, running for New York governor, and Matt Haggman, a running for Florida's 27th congressional district.
Axios' Stef Kight and Haley Britzky point out that "Abolish ICE" is the perfect antithesis to Trump's "Build a wall": It represents an entire immigration ideology in one simple phrase that resonates with their base.
The phrase has started spiking on Google Trends, mostly in D.C., New York, and along the West Coast.
But a Trump tweet this morning showed how easy the issue will be to demagogue: "To the great and brave men and women of ICE, do not worry or lose your spirit. You are doing a fantastic job of keeping us safe by eradicating the worst criminal elements. So brave! The radical left Dems want you out. Next it will be all police. Zero chance, It will never happen!"
Celinda Lake, longtime Democratic pollster, told me: "I worry that abolishing ICE tips the issues from humane treatment to security. The Republicans are already trying to move the issue in that direction."
Lake added: "Voters believe we need some enforcement of border security — not just for immigration, but for security. I wish we were pushing this to: 'We need comprehensive immigration reform.'"
Republicans are rejoicing at the notion of a new litmus test for Democrats, especially ones who have presidential ambitions in 2020.
Alex Castellanos, longtime adviser to top Republicans, said Dems are making the mistake his own party made after losing to Barack Obama: "[W]e became so weak, marginalizing ourselves to such an extreme, that an outsider business guy who had never run for office before, extinguished us all."
"That's the danger for the Dems now. They are marginalizing themselves as they race against each other to win the gold medal for anti-Trump extremism. If they are not careful, some Silicon Valley billionaire, outsider — probably a woman — could clean all their clocks and steal their party right out from under them."
Where the debate is going ... A well-known Democratic strategist told me: "'Abolish' alone could be a political disaster, akin to Trump's gutting the [Affordable Care Act] is for Republicans. … It suggests that Dem concern for undocumented immigrants goes beyond compassion and into irresponsibility."
The strategist's prescription: "If Democrats propose to repeal and replace, that could work. ... Replace it with an interior enforcement agency that goes back to cracking down on real criminals and respects civil liberties. That could be a substantive and political winner."
Go deeper: The left's push to #AbolishICE
2. Will Trump talk U.S. into a recession?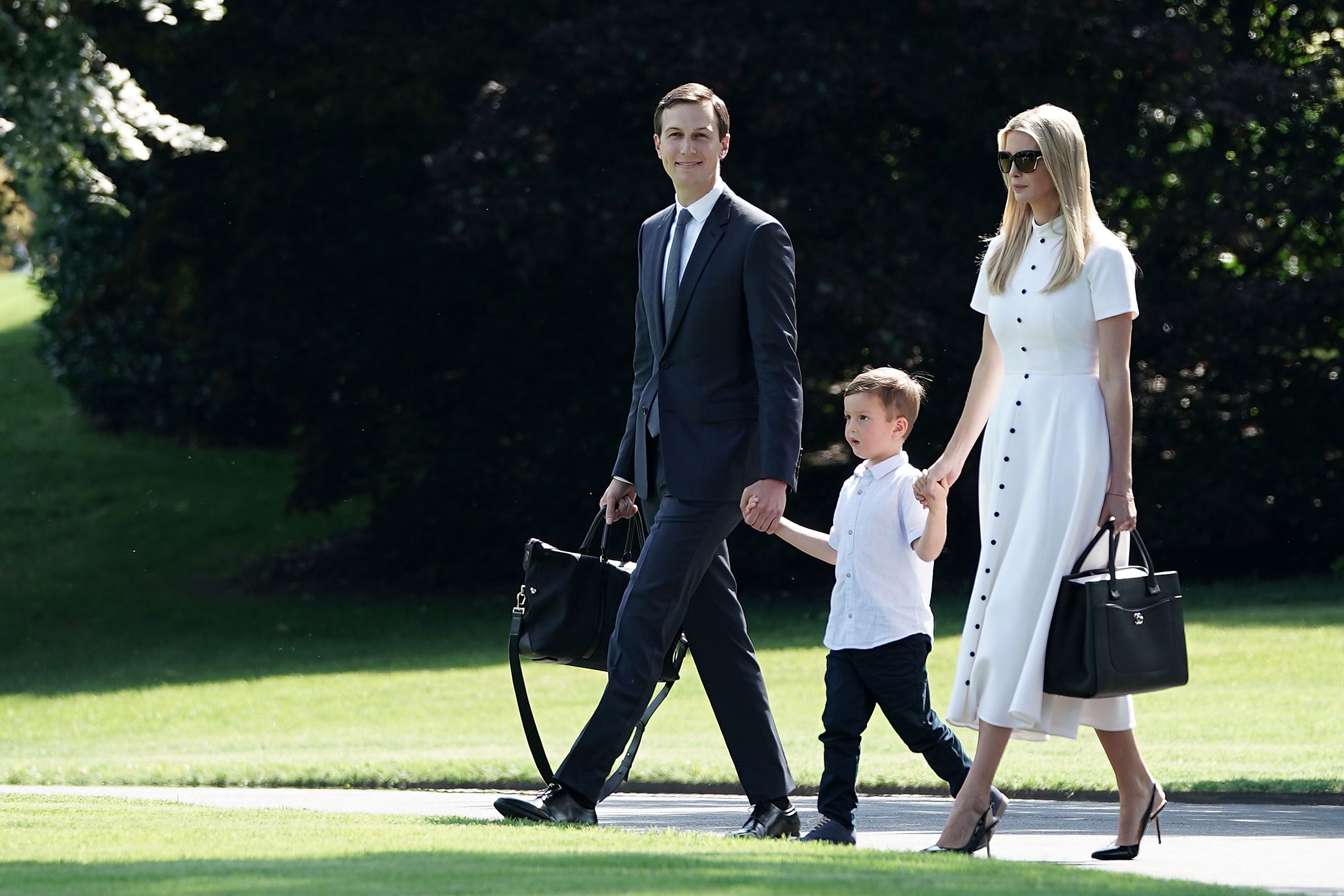 Shot — AP: " Trump's on a hot streak: ... A Supreme Court vacancy just fell in his lap, offering a chance to shape the court for decades. The current court handed him two favorable rulings in a single week. And there's a Russia summit on the horizon, promising headlines for a week or more."
Chaser — N.Y. Times: "General Motors warned ... that if President Trump pushed ahead with another wave of tariffs, the move could backfire, leading to 'less investment, fewer jobs and lower wages' for its employees."
3. Trump might lower U.S. forces in Germany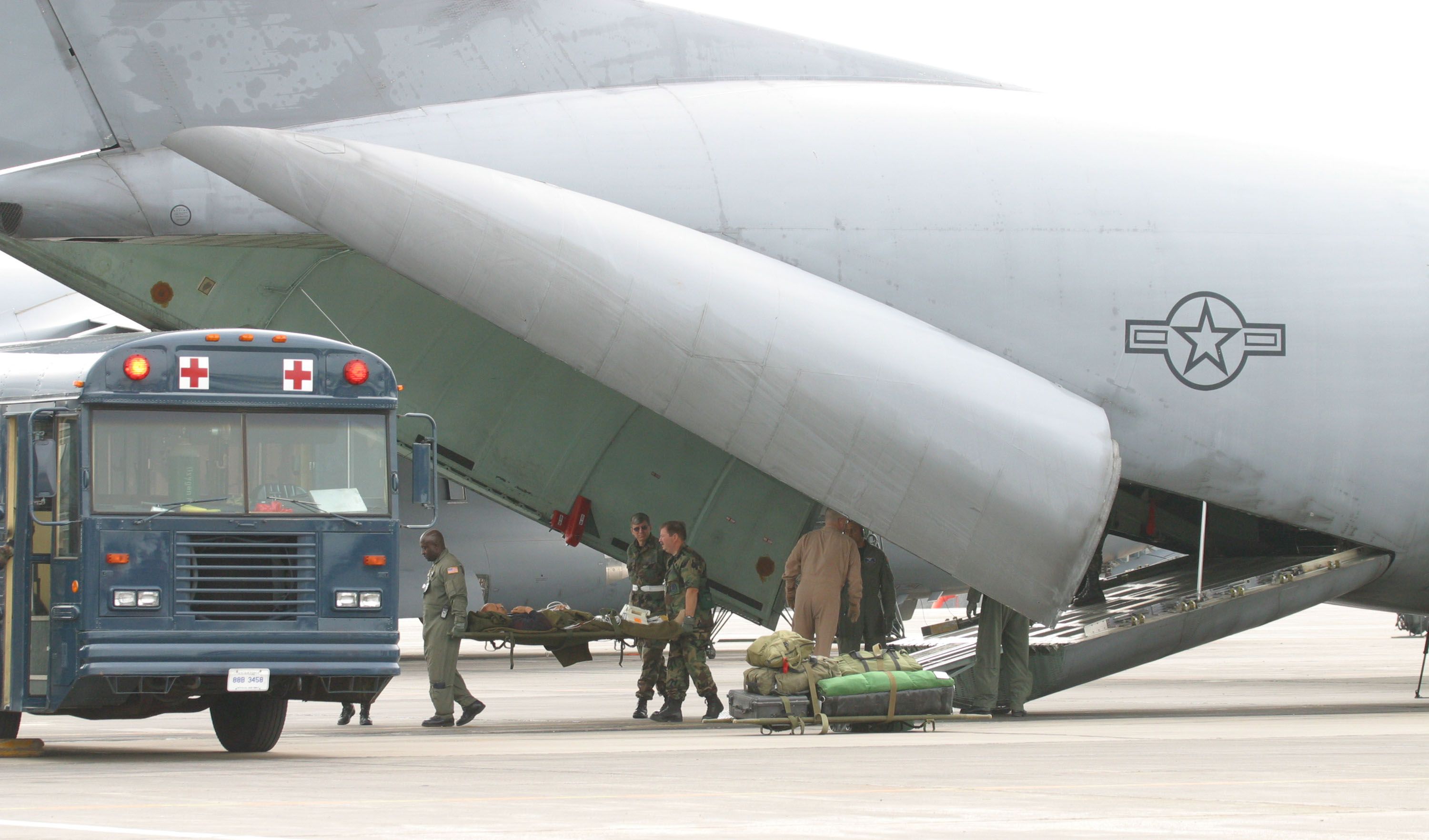 "The Pentagon is analyzing the cost and impact of a large-scale withdrawal or transfer of American troops stationed in Germany, ... [following] Trump's expression of interest in removing the troops, made during a meeting earlier this year with White House and military aides," the WashPost reports:
"Trump was said to have been taken aback by the size of the U.S. presence, which includes about 35,000 active-duty troops, and complained that other countries were not ... paying enough to NATO."
"Word of the assessment has alarmed European officials, who are scrambling to determine whether Trump actually intends to reposition U.S. forces or whether it is merely a negotiating tactic ahead of [a July 11] NATO summit in Brussels."
P.S. Cover of The Times of London, "Trump's war on western world order":
"President Trump has declared that the European Union, Nato and the World Trade Organization are bad for America, according to senior diplomatic sources."
"Donald Tusk, president of the European Council, told

EU leaders

that Mr Trump posed a serious threat to western unity and it would be a mistake to dismiss the US president as stupid."
Tusk: "He has a method and is serious in his mission against an international rules-based order ... He is on a mission against what we stand for."
Bonus: Cover du jour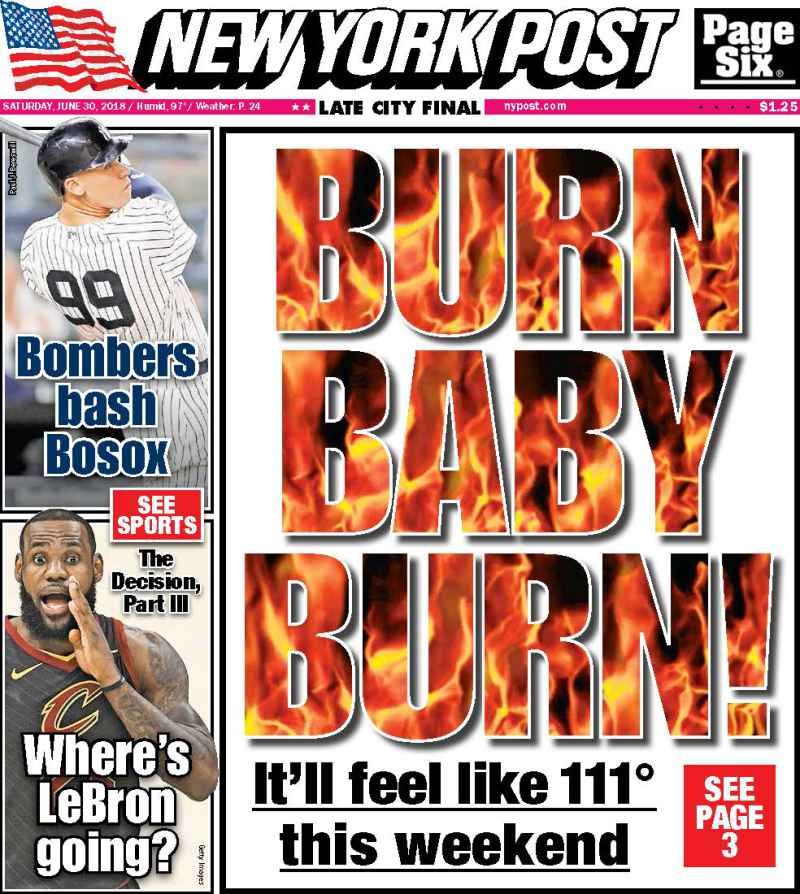 Quick catch-up:
The National Security Agency on May 23 began deleting more than 685 million call records the government obtained since 2015 from telecommunication companies. The NSA is deleting all of the records it collected from the program.
Why it matters, from the AP: "The NSA's bulk collection of call records was initially curtailed by Congress after former NSA contractor Edward Snowden leaked documents revealing extensive government surveillance."
From an NSA statement: "NSA analysts noted technical irregularities in some data received from telecommunications service providers. These irregularities also resulted in the production to NSA of some [call detail records] that NSA was not authorized to receive."
Trump said he'll announce his Supreme Court nominee July 9 (the Monday after July 4) ... has narrowed his list to "about five," including two women, but will "probably interview six or seven."
4. The new sheriffs: Silicon Valley's crisis of trust
"The New Tech Avengers ... An unlikely trio of tech insiders is aiming to reform an industry they say can no longer police itself ... on privacy and addiction," by The Wall Street Journal's Betsy Morris (Subscription):
Who they are: The troika — former Google design ethicist Tristan Harris, 33; maverick investor Roger McNamee, 62; and Bay Area power broker Jim Steyer — "is taking on the industry's most powerful players," including Facebook, Apple and Google parent Alphabet.
What's new: The three have been "cajoling executives and buttonholing lawmakers about the tech industry's at times reckless approach to privacy and its seeming indifference toward its broader impact on society."
Why they matter: "[T]hey are united against a precept that defined Silicon Valley for decades: that technological progress is by definition good for society."
The backdrop: "As scandals rocked technology firms ranging from Facebook to Uber Technologies Inc. through the fall and into this spring, the men pushed their agenda in private meetings with top executives including Alphabet Chief Financial Officer Ruth Porat ; Satya Nadella, chief executive of Microsoft.; Marc Benioff, chief executive of software company Salesforce.com; and senior officials at Apple.
Benioff: "Our entire industry is in a crisis of trust ... All of us are now recognizing they are prophets … They saw it coming."
5. When voters give up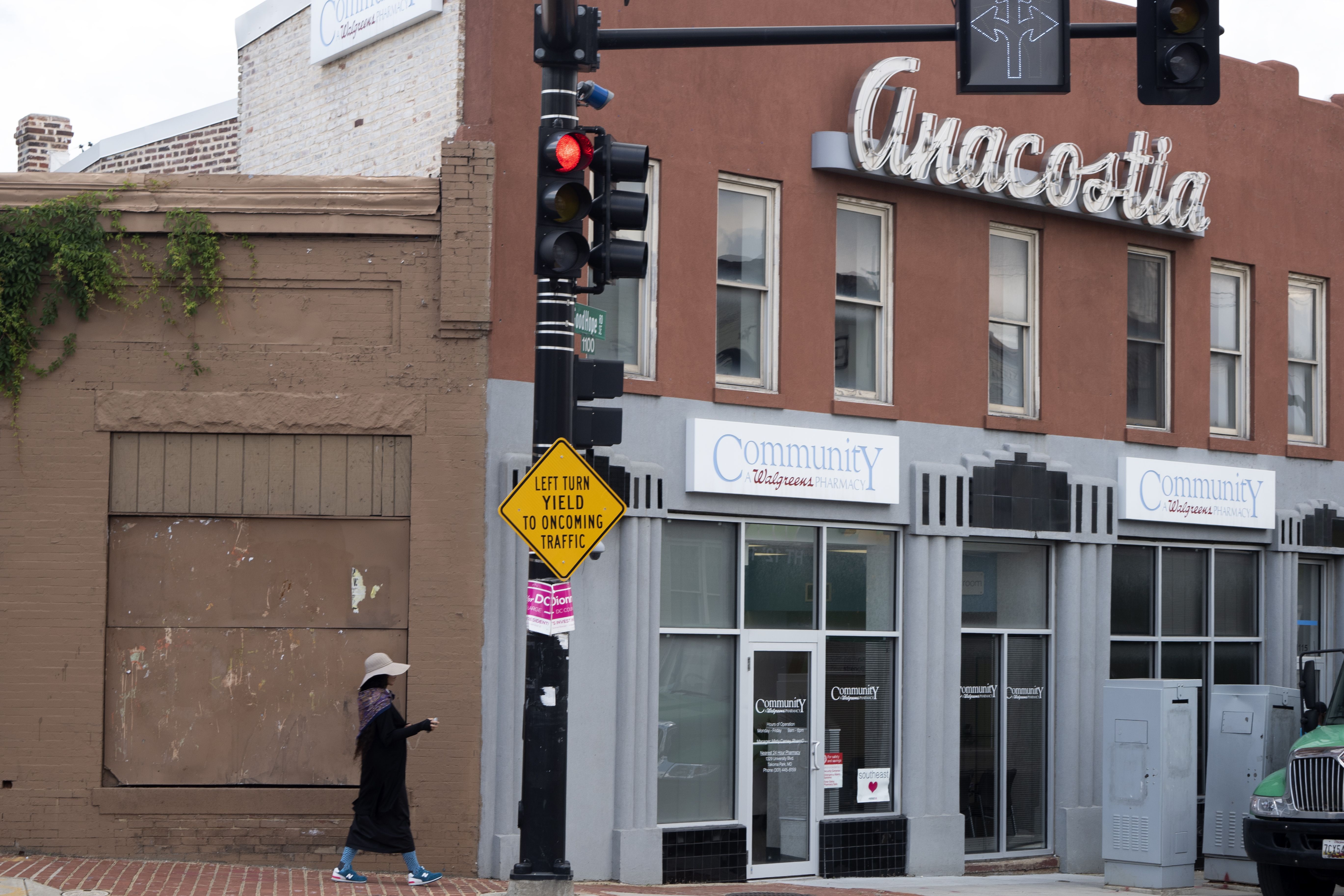 "Are D.C.'s poorest neighborhoods falling off the electoral map?"
If you care about American communities, you should pay attention to a story at the top of column 1 on the Washington Post's front page.
"Voting plunges in District's Southeast ... Leaders say decline signals resignation in poorest neighborhoods," by Peter Jamison and Fenit Nirappil:
"The troubled neighborhoods of Southeast Washington witnessed a historic plunge in turnout during the District's primary election last week, with voters showing up to the polls at less than half the already low rates seen elsewhere in the city."
"Fewer than 8 percent of registered voters in Ward 8 — home to the poorest and most violent sections of the nation's capital — cast a ballot June 19."
"It was the first time any ward's turnout in a mayoral election dropped to single digits in nearly three decades of data available from the D.C. Board of Elections, a Washington Post analysis found."
Why it matters: "The indifference of largely African American voters east of the Anacostia River contrasts with previous decades, when the same voters formed a vocal constituency and a cornerstone in the political coalitions of leaders such as former mayor Marion Barry Jr."
"Some community leaders and elected officials say the decline signals the extent of alienation and resignation among those untouched by Washington's heralded revival."
6. 1 somber page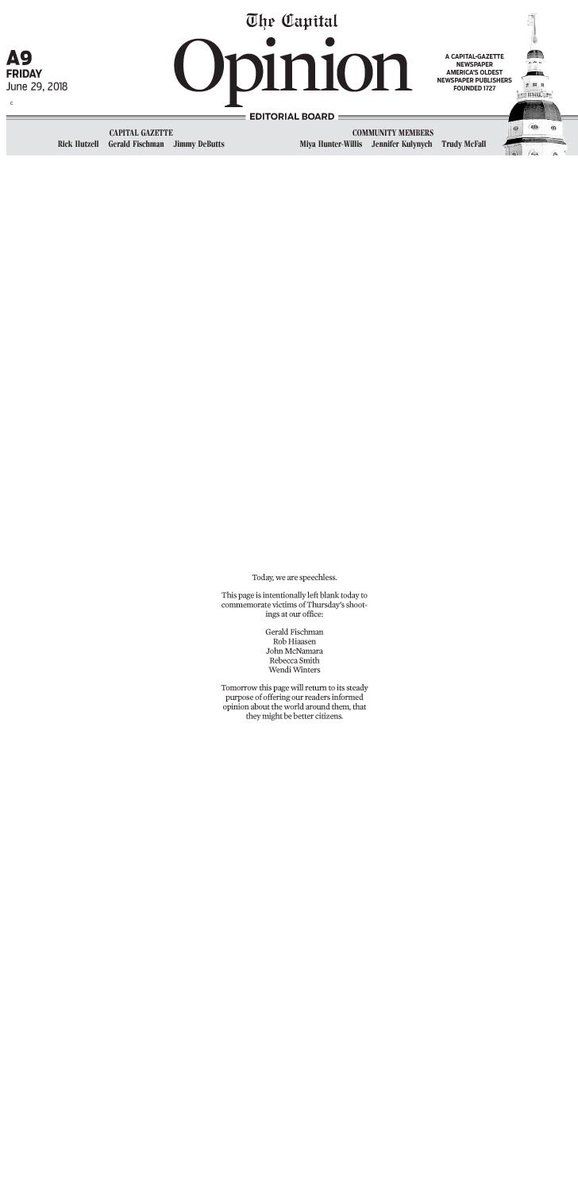 Thanks for reading. Live updates all weekend on Axios.com.