https://www.axios.com/newsletters/axios-am-82168122-0a04-4b08-994d-69a837f6d529.html?chunk=0#story0
1 big thing: The greatest, growing threat to America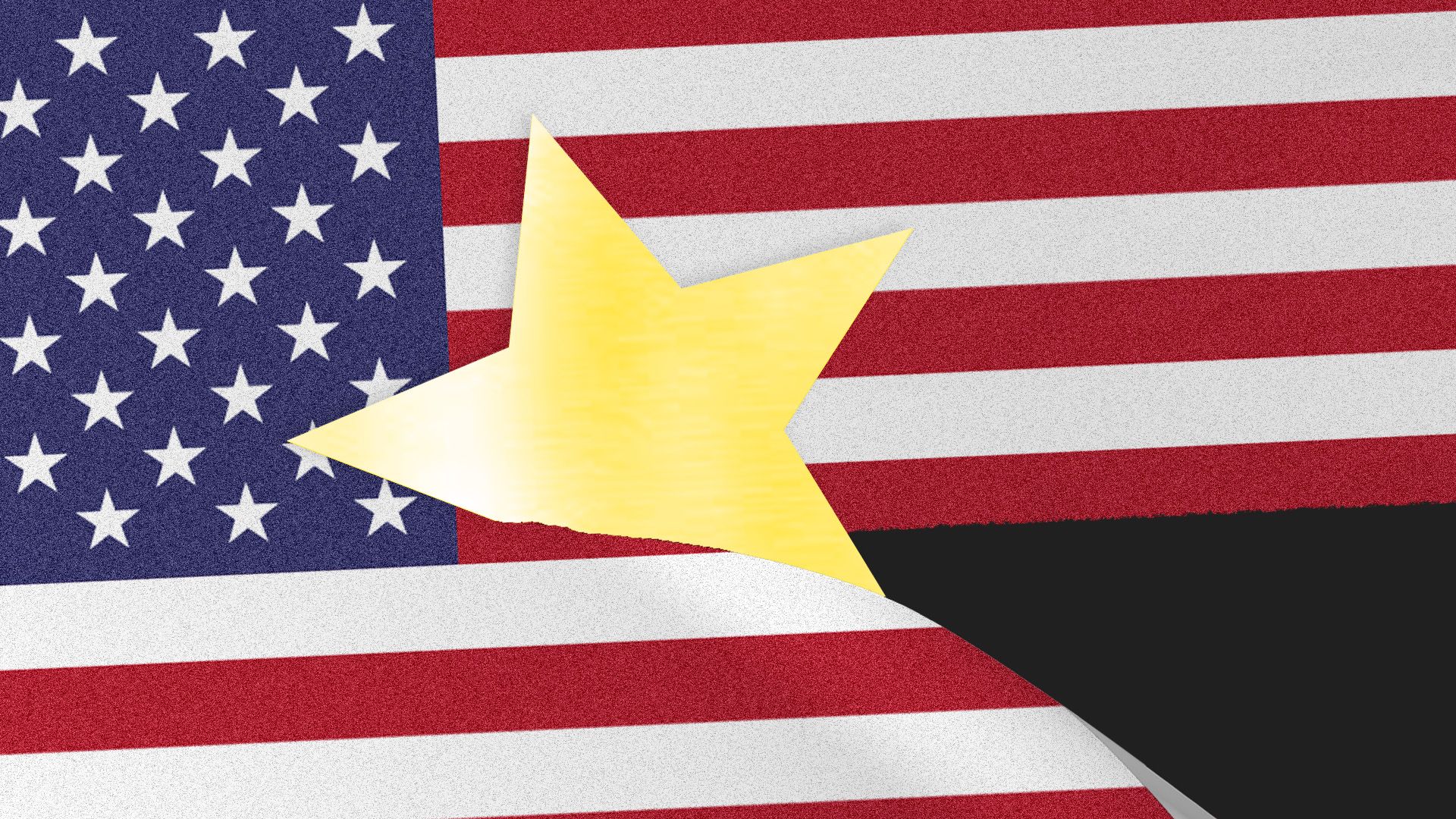 China has outlined strategies for 2018, 2025 and 2050 all designed to displace the United States as the dominant global economic and national security superpower, Axios CEO Jim VandeHei writes:
Why it matters: While America dawdles and bickers, China is thinking long-term — and acting now, everywhere.
There is no U.S. equivalent of a plan for 2025 or 2050 — or really for next year. 
China is pouring time, money, infrastructure and trade into every continent, after promising to fill the global void created by Trump's America First. 
China also has the authoritarian ability to experiment at scale, steal our tech secrets and mobilize capital that no democracy can match. 
How it's happening:
China often forces U.S. companies to create joint ventures to do business there. American business do just that, handing half their company to often-state-controlled Chinese partners. 
China is spending nearly 9% of GDP on infrastructure — three times what America spends.
China has so much capacity to build that it's exporting its materials and labor to other countries to build their infrastructure.
China is building the largest global infrastructure project in history, the Belt and Road Initiative, as antiquated U.S. airports, bridges, roads and electricity systems crumble.
China is growing 3x as fast as the U.S. economy. At current projections, China's GDP will be larger than America's by 2028, Bloomberg reports.
The numbers don't lie: China controlled 4% of the global economy in 2000, and the U.S. controlled 31%. Today, China has 15% and we have 24%.
With money comes power.
But what Republicans and Democrats should be even more concerned about is the long-term ambition of China.
You don't need the CIA, or deep study in Chinese history, to understand the grand design. President Xi Jinping has laid a lot of it out for all to see.
Made in China's 2025: The plan is to dominate all futuristic advanced technologies such as robotics, AI, aviation and space, driverless or new energy vehicles.
In other words, to dominate the world by crushing the United States, Germany and all others in most important industries of the future. 
China's 1.3 billion customers are so appealing that U.S. companies will make huge concessions for a chance to sell to them.
It's super focused on super-intelligence, the brains of what come next: As Axios reported in March, China is already gaining in the AI race.
China's 2050 plan trumpets the grand ambition of it all, because it puts today and Made in China 2025 in blunt context.
Xi wants to transform the communist country into the dominant economic and militarized nation.
The big picture: This shows Xi playing a long game U.S. politicians don't play with a series of small but important moves now to lay the groundwork. 
Xi, 64, gave himself the power to be president for life to carry this out. 
Trump's plan: The president has raised a lot of these issues. But the current obsession with the trade deficit only flicks at the broader and growing problems.
Be smart: Trump showed you can turn China into a villain on trade. But a smart politician could turn China into a unifying villain on virtually every topic — a reason to move fast and together on infrastructure, immigration, regulations, space, robotics, 5G and next-gen education. 
https://www.axios.com/newsletters/axios-am-82168122-0a04-4b08-994d-69a837f6d529.html?chunk=1#story1
2. With trade war "on hold," China looks like winner
The #2 story on the WashPost's homepage argues that based on the joint U.S.-China statement released Saturday, "China looks as if it's winning President Trump's trade skirmish — so far."
Here's the case by economics correspondent Heather Long:
"Notice China didn't agree to a specific amount."
The statement was "brief and lackluster" on intellectual property theft.
Fox Business host Lou Dobbs: "Chinese say 'no deal.'"
"China's 'concessions' are things it planned to do anyway."
"The United States agreed to suspend tariffs."
"Zero curbs on China's high-tech plans."
"Trump's tough-guy persona is taking a beating from China," says a story at the top of the Post's print front page, by David J. Lynch:
"The former business executive, who prides himself on his negotiating savvy, is facing criticism for bending to the Chinese government, ... alarming longtime supporters who had welcomed his call for a more confrontational approach to Beijing."
"Administration officials ... scrambled to cast the Chinese talks as a victory, while some staunch Trump supporters questioned whether Trump had blinked in the first major confrontation with China."
Be smart ... Jonathan Swan tweets: "The bark to bite ratio is currently about 85:1."
Go deeper: Jonathan Swan, "The China bargain emerges."
https://www.axios.com/newsletters/axios-am-82168122-0a04-4b08-994d-69a837f6d529.html?chunk=2#story2
3. Second thoughts about the summit
"President Trump, increasingly concerned that his summit meeting in Singapore next month with North Korea's leader could turn into a political embarrassment, has begun pressing his aides and allies about whether he should take the risk of proceeding," the N.Y. Times David E. Sanger reports:
"Trump was both surprised and angered by a statement issued on Wednesday by the North's chief nuclear negotiator."
"On Thursday and Friday, Mr. Trump peppered aides with questions about the wisdom of proceeding."
Why it matters: 'Trump's aides have grown concerned that the president — who has said that 'everyone thinks' he deserves a Nobel Peace Prize for his efforts — has signaled that he wants the summit meeting too much."
"The aides also worry that [Kim Jong-un], sensing the president's eagerness, is prepared to offer assurances that will fade over time."
Behind the curtain: "[A]ides who have recently left the administration say Mr. Trump has resisted the kind of detailed briefings about enrichment capabilities, plutonium reprocessing, nuclear weapons production and missile programs that [President] Obama and President George W. Bush regularly sat through."
https://www.axios.com/newsletters/axios-am-82168122-0a04-4b08-994d-69a837f6d529.html?chunk=3#story3
4. Santa Fe strong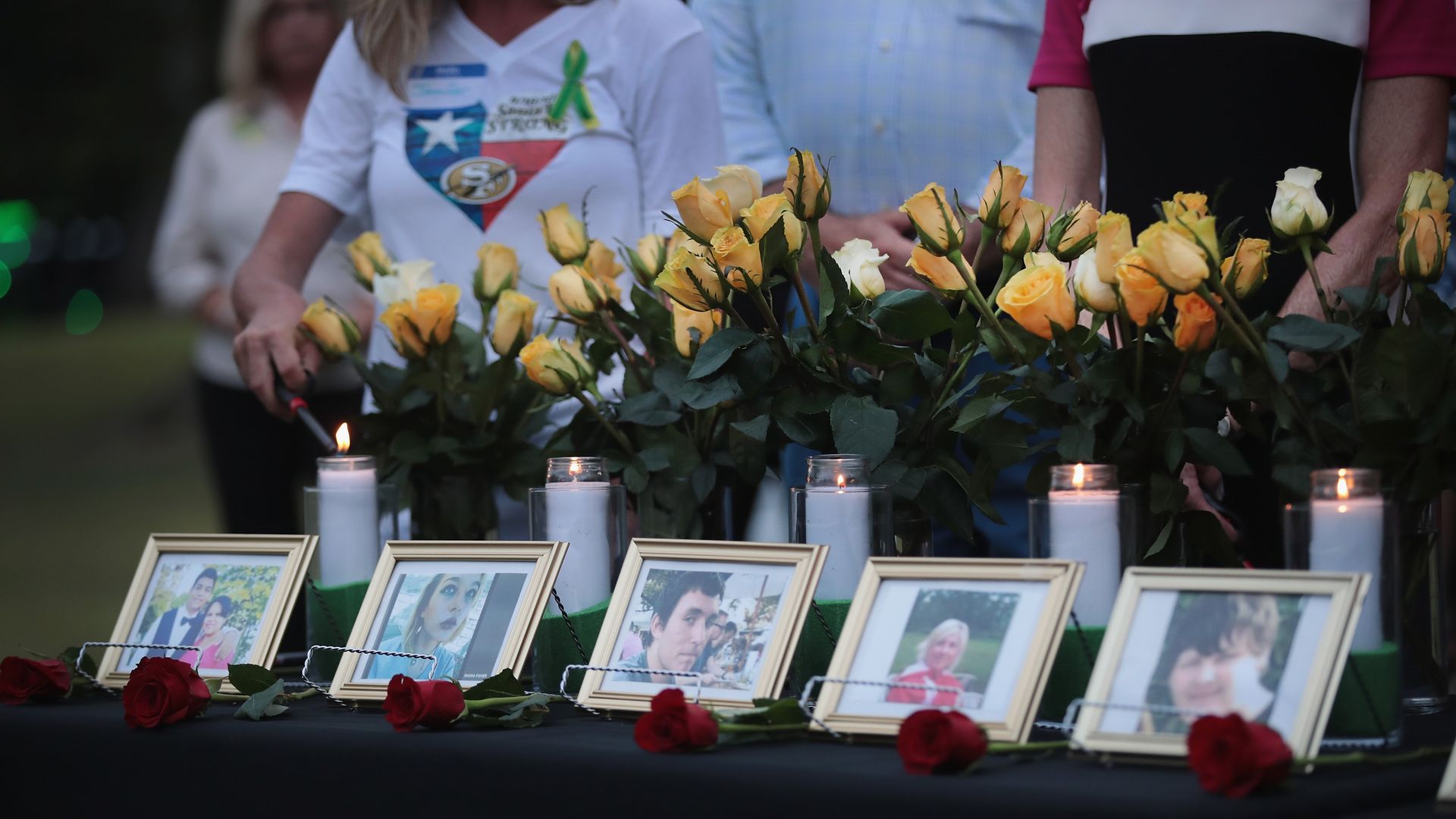 "Sabika Sheikh wanted to be a diplomat when she grew up. The 17-year-old [exchange student from Pakistan] dreamed of bringing cultures together," the Houston Chronicle's Alyson Ward writes:
Sabika was one of 10 shot down by a gunman, "just a month before her scheduled return to her home in Karachi."
"[M]ore than 2,000 people crowded together ... for funeral prayers at the Masjid Al-Sabireen mosque" in Stafford, between Houston and Santa Fe.
"Families from Santa Fe blended with locals in a packed crowd of Muslims, Christians and people of other faiths."
"When the mosque's indoor spaces filled up, people shed their shoes and kneeled in the grass and on the mosque's cement walkways, even though a steamy rain had started to fall."
https://www.axios.com/newsletters/axios-am-82168122-0a04-4b08-994d-69a837f6d529.html?chunk=4#story4
5. Trump tweets, Rosenstein leaps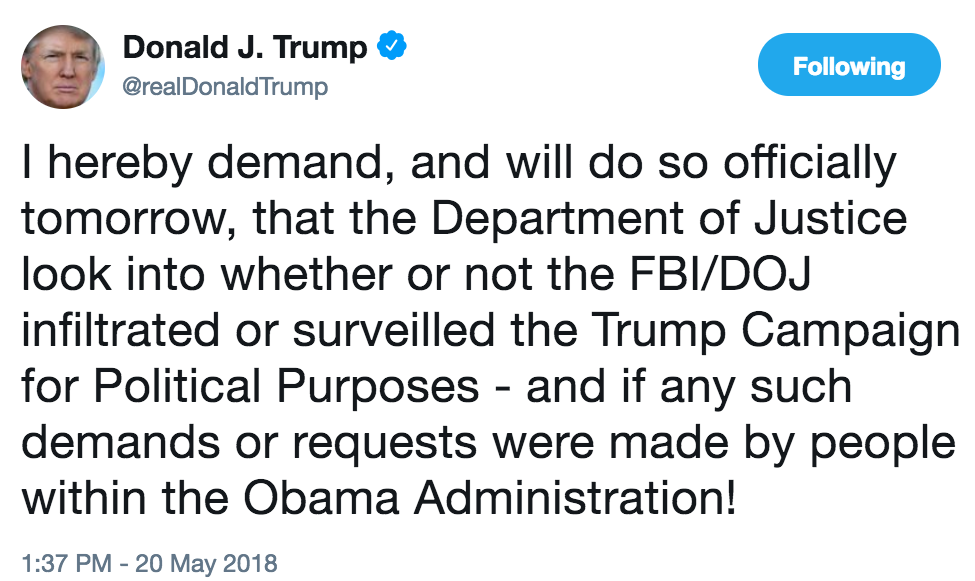 Four hours after that tweet, the Justice Department said: "The Department has asked the Inspector General to expand the ongoing review of the FISA application process to include determining whether there was any impropriety or political motivation in how the FBI conducted its counterintelligence investigation of persons suspected of involvement with the Russian agents who interfered in the 2016 presidential election."
Deputy Attorney General Rod Rosenstein said: "If anyone did infiltrate or surveil participants in a presidential campaign for inappropriate purposes, we need to know about it and take appropriate action."
Why it matters, from N.Y. Times: "Trump went beyond his usual tactics of suggesting wrongdoing and political bias by those investigating him, and crossed over into applying overt presidential pressure on the Justice Department to do his bidding, an extraordinary realm where past presidents have hesitated to tread."
Between the lines, from The Wall Street Journal (subscription): "Trump was referring to a man who approached at least two Trump campaign aides in 2016 in connection with the counterintelligence investigation into the campaign."
P.S. Jeffrey Toobin in The New Yorker, "Will the Fervor for Impeachment Start a Democratic Civil War? A push to remove Donald Trump from office may lead to disaster in the midterms":
"Christopher Ruddy, the chief executive of the Newsmax Web site, who sees the President regularly at Mar-a-Lago, in Palm Beach, told me, 'The guy loves a fight and will see this one as easily winnable.'"
"Opposition to impeachment seems to be a rare point of agreement between Trump's followers and the leadership of the Democratic Party."
"Nancy Pelosi ... told me, 'I don't like to talk about impeachment. ... When I was Speaker, people wanted me to impeach George Bush for the war in Iraq ... but you can't just go from one impeachment to the next. When we are in the majority, we are going to try to be unifying, and there is no way to do impeachment in a bipartisan way right now."
https://www.axios.com/newsletters/axios-am-82168122-0a04-4b08-994d-69a837f6d529.html?chunk=5#story5
6. Shot / chaser
Shot ... N.Y. Times: "The special counsel hopes to finish by Sept. 1 the investigation into whether President Trump obstructed the Russia inquiry, according to the president's lawyer Rudolph W. Giuliani, who said ... that waiting any longer would risk improperly influencing voters in November's midterm elections."
Chaser ... WashPost: "Giuliani ... said that Mueller, in pressing for [an] interview [with Trump], told him in a late April meeting that the investigation into the president's conduct and possible obstruction of justice could be completed by Sept. 1 if Trump agreed to sit down with investigators. Giuliani said Mueller 'put it out there as an incentive that if we do the interview, we can have more control over the termination date.'"
Be smart: Even if this timeline holds, it's much longer than the White House hoped or expected — and means that Mueller fallout could last right into the heart of this fall's midterm campaigns.
https://www.axios.com/newsletters/axios-am-82168122-0a04-4b08-994d-69a837f6d529.html?chunk=6#story6
7. Sneak peek: The 64th annual Fortune 500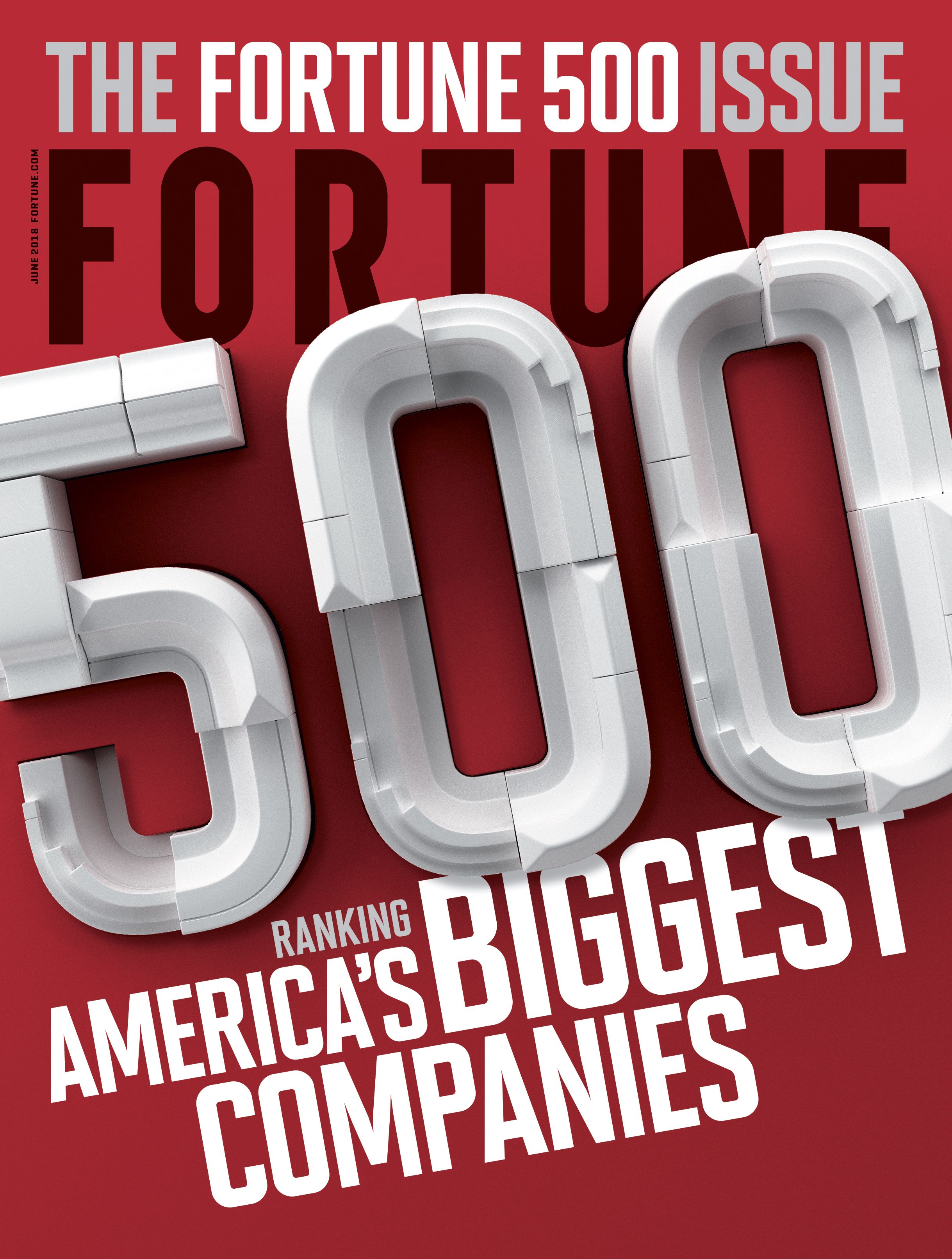 Courtesy Fortune
#Fortune500 (largest U.S. corporations, ranked by revenue for 2017 fiscal year):
Walmart
Exxon Mobil
Berkshire Hathaway
Apple
UnitedHealth Group
McKesson
CVS Health
Amazon
AT&T
GM
Inside the list:
"Walmart claimed the top spot in the 500 for a sixth straight year and became the first company in history to generate $500 billion in annual sales."
"No. 2 Exxon Mobil: Crude prices rebounded in 2017."
"Apple took a small step back, from No. 3 to No. 4, despite a 6% gain in annual sales, but it led the way in profits with more than $48 billion in net income."
"Amazon cracked the top 10 for the first time, continuing its remarkable growth run: Sales have jumped some $70 billion in two years."
"Elon Musk's electric-car company, Tesla (No. 260), made the biggest leap [from last year] ... moving up 123 spots."
"Netflix (No. 261) led all Fortune 500 companies in annual ten-year total return to shareholders through 2017."
"A gaming-giant-turned-A.I.-authority, chipmaker Nvidia (No. 306) rocketed up more than 80 spots on this year's list and led all Fortune 500 companies in annual five-year return to shareholders through 2017."
See the full 64th annual list, posting shortly.
https://www.axios.com/newsletters/axios-am-82168122-0a04-4b08-994d-69a837f6d529.html?chunk=7#story7
8. Scoop on a new lobbying push by Big Oil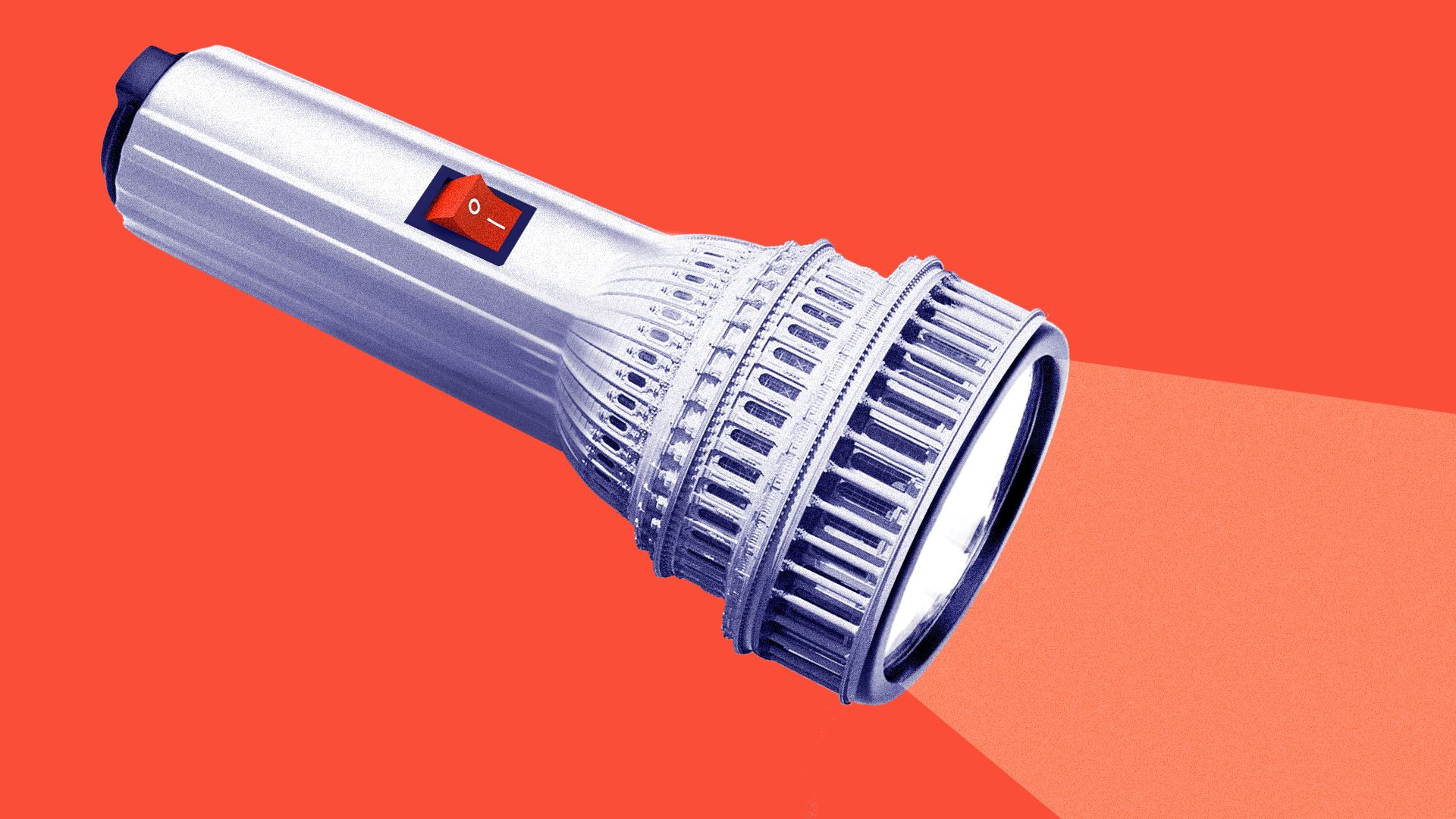 Some of America's biggest energy companies are lobbying Washington to change — critics say weaken — oversight of a federal tax credit going to facilities capturing carbon emissions, Axios' Amy Harder scoops in her weekly "Harder Line" energy column:
Why it matters: The scramble shows the challenge of tackling climate change piecemeal through the nation's tax laws in the absence of overarching policy.
Driving the news: A new industry coalition, the Energy Advance Center, is pushing legislation allowing companies to receive the tax credit without submitting a monitoring plan to the EPA.
https://www.axios.com/newsletters/axios-am-82168122-0a04-4b08-994d-69a837f6d529.html?chunk=8#story8
9. "How the Math Men Overthrew the Mad Men"
The New Yorker has an adaptation from Ken Auletta's book, "Frenemies: The Epic Disruption of the Ad Business (and Everything Else)," coming June 5:
"Once, Mad Men ruled advertising. They've now been eclipsed by Math Men — the engineers and data scientists whose province is machines, algorithms, pureed data, and artificial intelligence."
"Yet Math Men are beleaguered, as Mark Zuckerberg demonstrated when he humbled himself before Congress, in April. Math Men's adoration of data — coupled with their truculence and an arrogant conviction that their 'science' is nearly flawless — has aroused government anger, much as Microsoft did two decades ago."
"The politics of Silicon Valley is left of center, but its disdain for government regulation has been right of center. This is changing. A Who's Who of Silicon notables — Tim Berners-Lee, Tim Cook, Ev Williams, Sean Parker, and Tony Fadell, among others — have harshly criticized the social harm imposed by the digital giants."
https://www.axios.com/newsletters/axios-am-82168122-0a04-4b08-994d-69a837f6d529.html?chunk=9#story9
10. 1 fun thing: Hot Wheels tries to stay relevant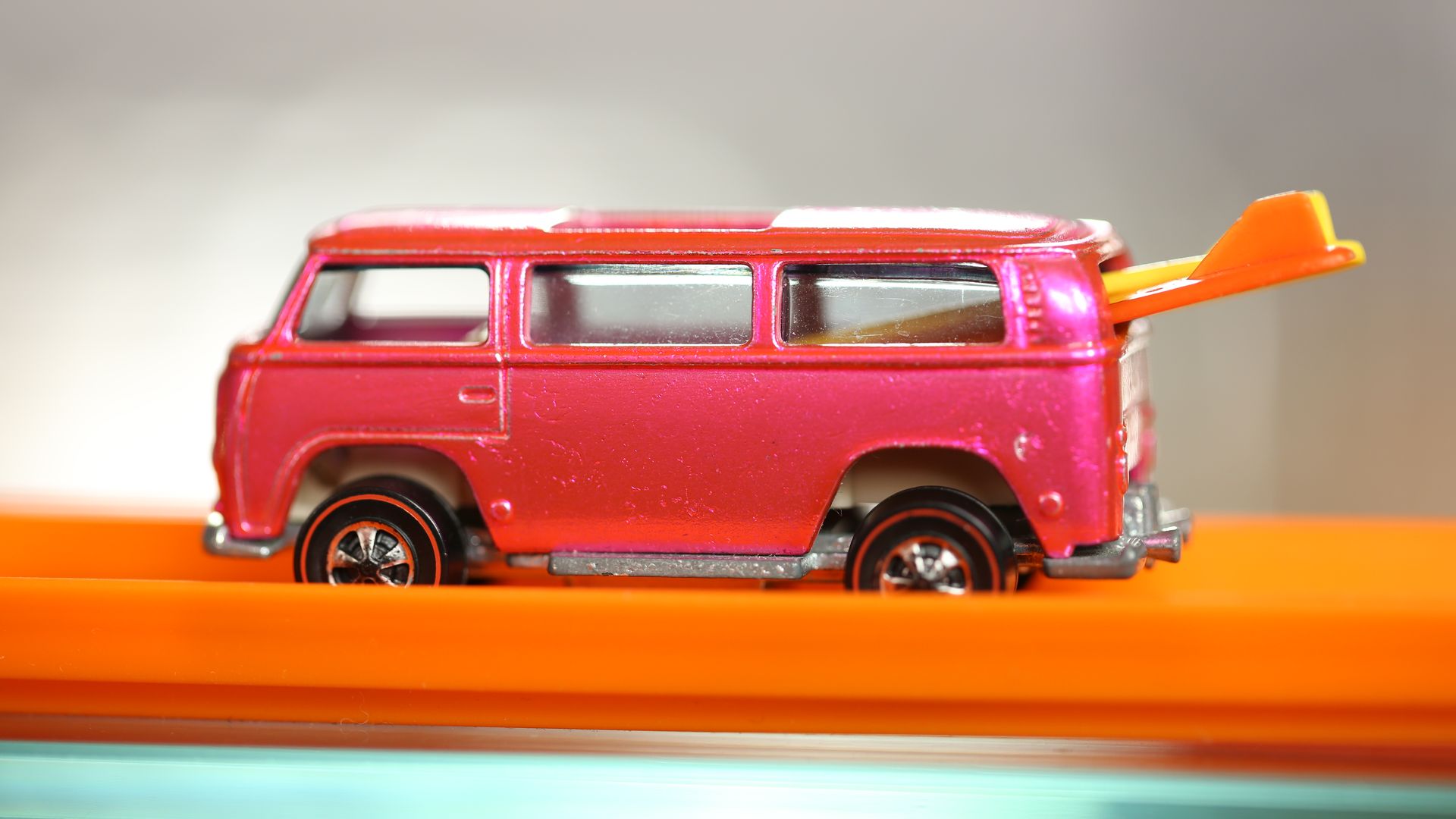 "After six billion vehicles sold, Hot Wheels is looking for one more car to race down those plastic orange tracks," writes the N.Y. Times' Gregory Schmidt (whose Twitter bio describes him as a "toy nerd"):
"Mattel ... is searching for the best custom car in the United States. The chosen vehicle will be made into a miniature die-cast car to celebrate the 50th anniversary of Hot Wheels," which officially was Friday.
"The search, called the Legends Tour, is part of Mattel's effort to stay connected with Hot Wheels fans at a time when children are gravitating more toward mobile devices and away from traditional toys."
Why it matters: "Hot Wheels is the No. 1 selling toy in the world, but Mattel's sales have been in a prolonged slump as the company struggles to adapt to the rise of technological competitors for children's attention and the decision by Toys 'R' Us, one of its biggest customers, to

close or sell all of its stores

in the United States."
See the 50th anniversary press release.