Good Thursday morning.
Situational awareness ... West weighs Syria attack: "British ministers gather [today] to discuss whether to join the U.S. and France in a possible military attack on Syria that threatens to bring Western and Russian forces into direct confrontation." (Reuters)
https://www.axios.com/newsletters/axios-am-7eed5e1f-9ddd-4b97-bde5-a16c4baa9751.html?chunk=0#story0
1 big thing: The greatest non-Trump show in politics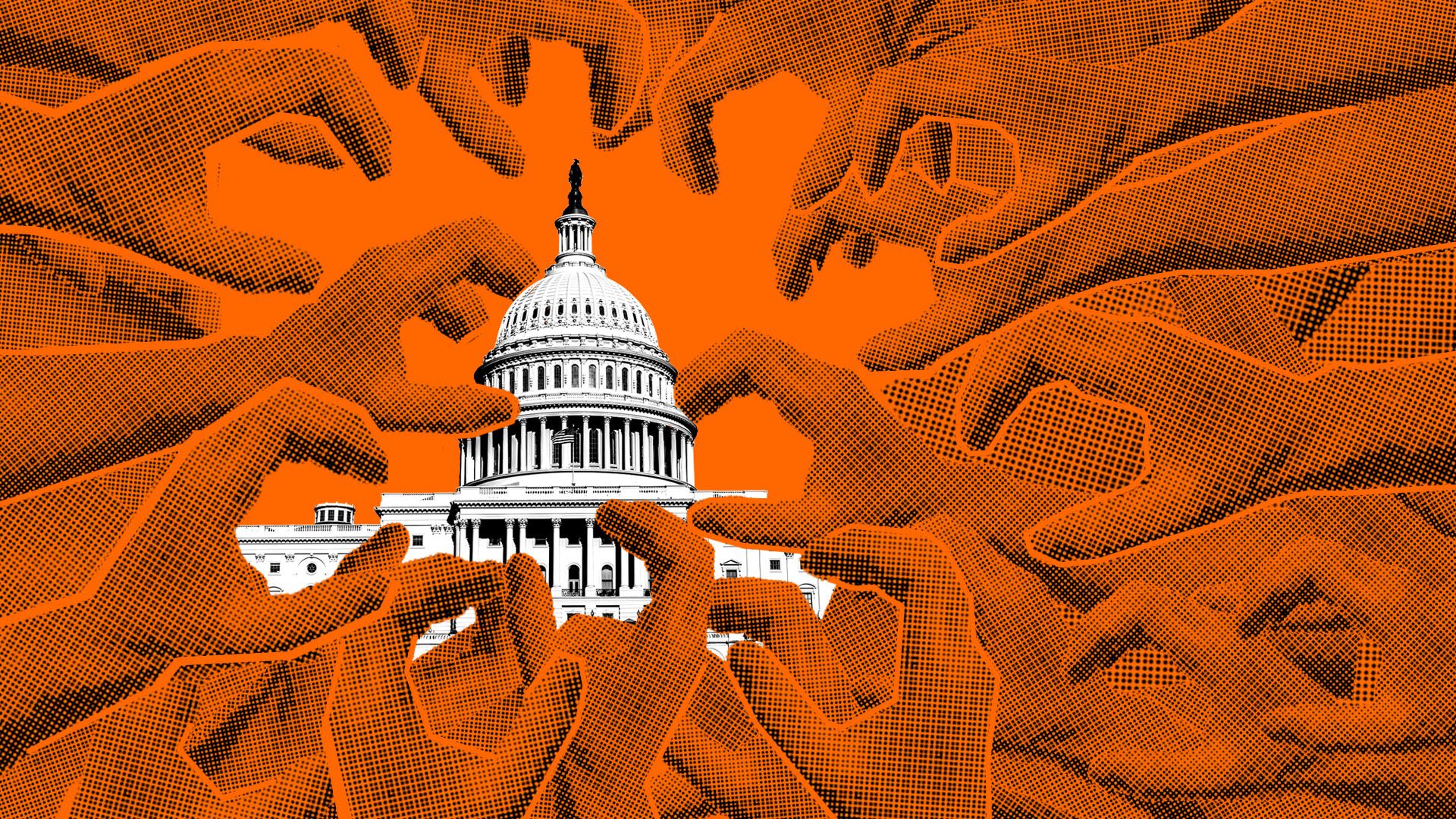 The most raw, captivating and consequential drama in American politics will unfold on Capitol Hill this summer: the race among both Democrats and Republicans to be party boss — and king or queen of Congress. 
Jim VandeHei and I have been covering politics for 20-plus years, and nothing exposes the ambition, game-playing, back-scratching and winner-take-lots of politics than congressional leadership races. 
There's scheming, lying and the naked display of human nature. You're running against your ostensible friends — and finding out who your real ones are.
And thanks to Paul Ryan's retirement and Nancy Pelosi's polarization, the leadership of both parties is now in play. Just as control of the entire House is in play.
The latest palace intrigue among House Rs, per reporting by Jonathan Swan and me ... The current #2 is Majority Leader Kevin McCarthy (Calif.), the favorite to succeed Ryan — despite being denied the office once before — especially because he's so close to President Trump.
If McCarthy can't get enough votes — possible, given opposition among the conservative Freedom Caucus — then the most likely pick would be the current #3, House Republican Whip Steve Scalise (La.).
Scalise won't (directly) challenge McCarthy for the top job, but will step into the void if McCarthy falls short — or thinks he will fall short because Scalise allies tell him so. Scalise is viewed as more conservative and ideological.
McCarthy is a political animal and massive fundraiser.
President Trump, who has mused about making McCarthy his chief of staff, could pick the winner. McCarthy's weakness is hard-right Rs, so Trump's endorsement could prove decisive if it ever came. 
Another possible behind-the-scenes drama: Ryan said he plans to remain in office through the election, but will members let or want him?
A former top Republican aide on the Hill tells us: "Donors won't give him another penny. Members won't take a tough vote because he asks. The idea that he would lead us into the most difficult midterm election while looking for another job is alarming."
And among the Ds ... House Minority Leader Nancy Pelosi should be a sho0-in to keep leading Democrats if she were not so radioactive in swing districts.
Rep. Joe Crowley of Queens is viewed by Dems as a plausible alternative because a growing number of Democrats in swing districts are pledging to oppose her to prove they are not super liberal. If enough swear off Pelosi, she might be forced to step aside even if Democrats win the House. 
Be smart: With a record number of women voting, after a record number of women ran, after a presidential election that saw the first woman win the popular vote but lose the White House, it will be very hard for Democrats to deny Pelosi the speakership.
Be even smarter: Being speaker is a much better thing to say you do, than to actually do. The power of leaders has been drained by the rise of social media, outside money and polarization. That's why the last two — Ryan and John Boehner — quit with relief.
https://www.axios.com/newsletters/axios-am-7eed5e1f-9ddd-4b97-bde5-a16c4baa9751.html?chunk=1#story1
2. Ryan may be forced to leave speakership by summer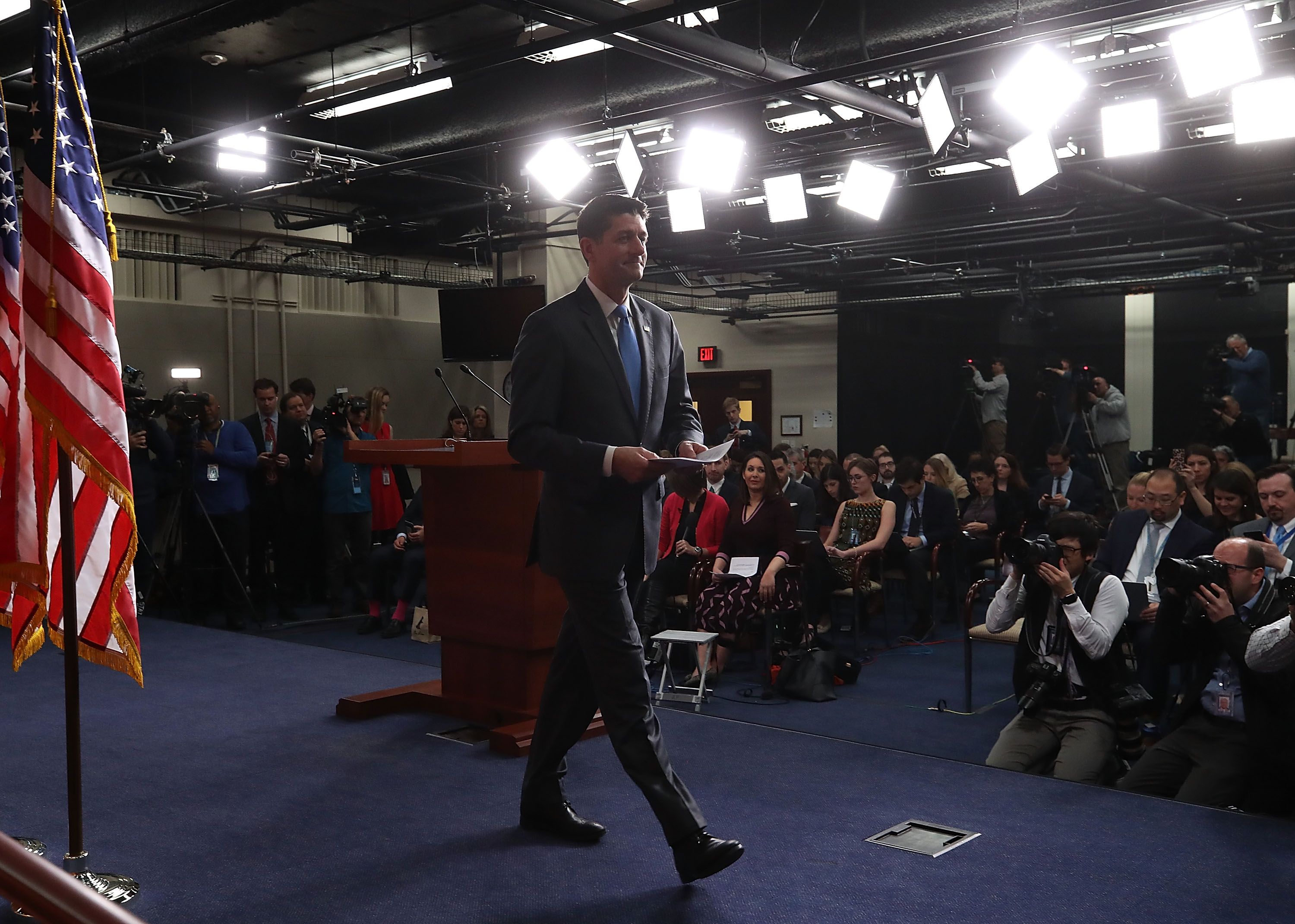 Speaker Ryan walks away after announcing he won't seek reelection. (Mark Wilson/Getty Images)
Paul Ryan said he plans to remain as speaker and not call an early leadership election, but well-wired Republicans tell Jonathan Swan and me that Ryan may be forced out sooner:
A senior GOP House member predicted this about Ryan's future: "He will be gone by the end of July."
One source close to leadership told us: "Scuttlebutt is that Paul will have to step down from speakership soon. Members won't follow a lame duck, he'll have no leverage to cut deals, and the last thing they need in this environment is 6 months of palace intrigue and everyone stabbing everyone else in the back."
Some big donors, who have given millions to Ryan this cycle, may not want him to stay on as speaker if the entire party is taking on water.
This is not because he'll struggle to raise money. Enough donors from the old Romney-Ryan world will write checks to Ryan to try to save the majority.
It's more about certainty and stability. Members need certainty and they don't want to operate until November in a climate where every move from every member of leadership is viewed through the prism of jostling for the speakership.
Our sources say that could pull an already divided conference even further apart.
So we wouldn't be surprised if Ryan reverses himself before August, setting an early election for the next speaker:
The question then will be: Does Trump weigh in? Sources close to him say he'll instinctively want to back the current #2, House Majority Leader Kevin McCarthy.
Trump loves McCarthy, and consults him frequently for advice — but it's likely that some of Trump's advisers will caution him to stay out of the race. If he backs McCarthy, he owns him. And the conservative Freedom Caucus will hold that over Trump. 
At this point, at least, Trump would be happy with either McCarthy or the other likely option, the current #3, House Majority Whip Steve Scalise, according to a source familiar with his thinking.
Trump likes Scalise and thinks he's tough, and he loves McCarthy.
Remember: All paths to being Republican speaker run through the Freedom Caucus. To get the job, McCarthy or Scalise would have to vie to offer them the best deal, which would likely include chairmanships of top committees for Freedom Caucus members.
P.S. McCarthy feels he's in a very good place, after a day of talking to members and the White House. He's ready to go if/when Ryan steps aside. 

https://www.axios.com/newsletters/axios-am-7eed5e1f-9ddd-4b97-bde5-a16c4baa9751.html?chunk=2#story2
3. Facebook hearings didn't move needle on regulation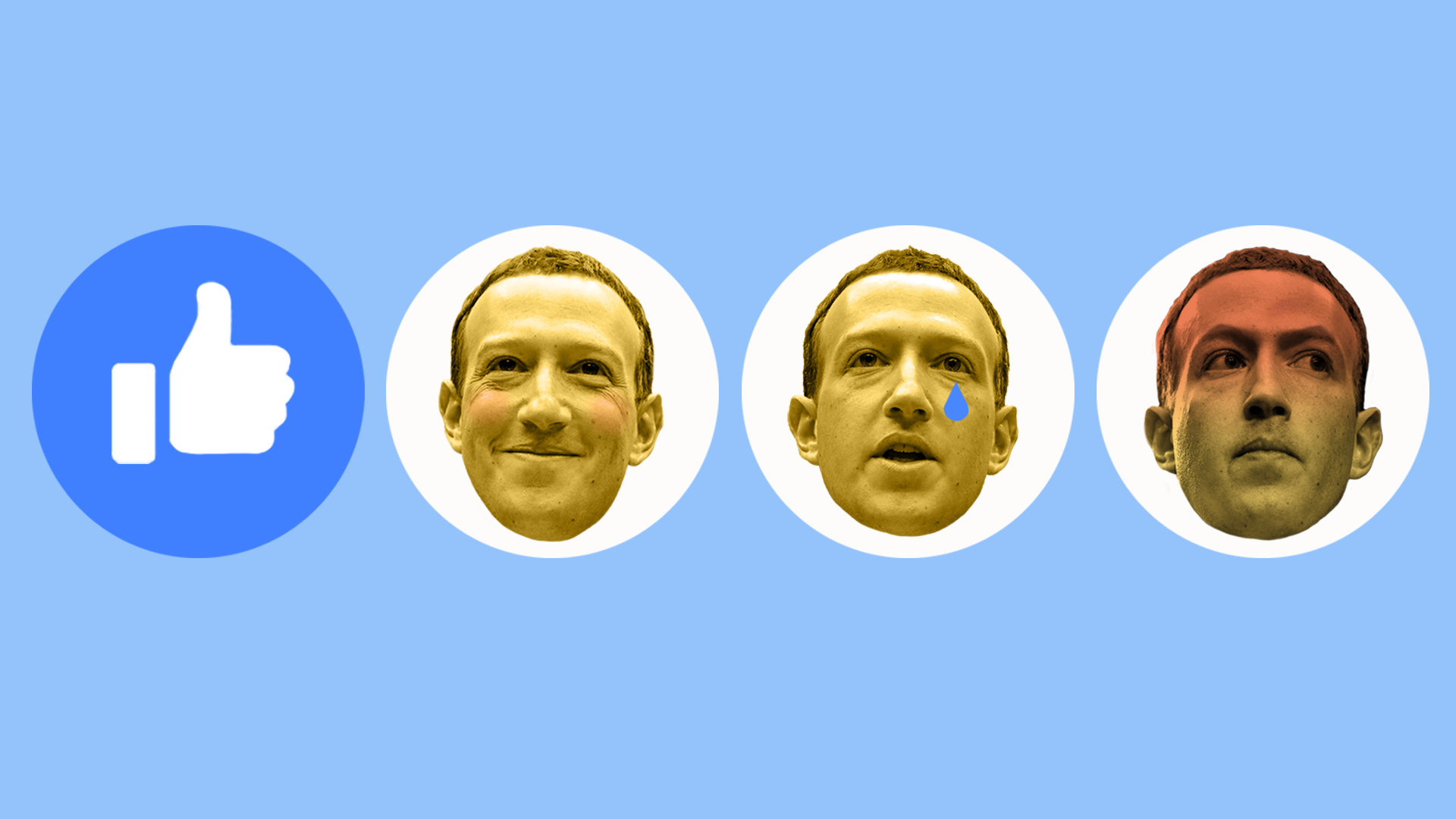 After more than 10 hours of grilling Facebook CEO Mark Zuckerberg, Congress is no closer to regulating the platform's privacy practices than it was when the hearings started, Axios' Kim Hart and David McCabe report:
The bottom line: It's clear that lawmakers haven't coalesced around a regulatory end-goal, even though the threat remains.
As House Energy and Commerce Committee Chairman Greg Walden put it after the hearing: "I don't want to rush into legislation minutes after having the first hearing of this magnitude, but certainly if they can't clean up their act we'll clean it up for them."
Regulation remains a long shot, even if we're hearing more about it. There were plenty of regulatory skeptics among Republicans at the hearings — and no single proposal emerged from the sessions as the go-to way to regulate Facebook.
Some Democrats, however, are making tougher privacy enforcement a big part of their message. "Well, the Republicans aren't going to address it," said Rep. Frank Pallone, the top Democrat on the House Energy and Commerce Committee. "But I think the Democrats were clear that we want comprehensive legislation."
Saul Loeb/AFP/Getty Images
The big themes:
Confusion over the digital ads ecosystem.
Censorship of conservatives.
Californians were aggressive: Lawmakers representing Facebook's home state — like Sen. Kamala Harris and Rep. Anna Eshoo — had more aggressive and pointed lines of questioning than most of their colleagues, as if they were trying to avoid any appearance that they were giving Zuckerberg a free pass.
The trust gap: Zuckerberg kept apologizing for the "breach of trust" and said the company would be more responsible.
Be smart: Zuckerberg had a better-than-expected performance.
He confidently answered questions, patiently explained the same thing over and over, and was deferential yet decisive with critics.
What's next: Walden indicated that he's interested in bringing other tech CEOs to testify on Capitol Hill.
https://www.axios.com/newsletters/axios-am-7eed5e1f-9ddd-4b97-bde5-a16c4baa9751.html?chunk=3#story3
Bonus: Trump from both sides of the pond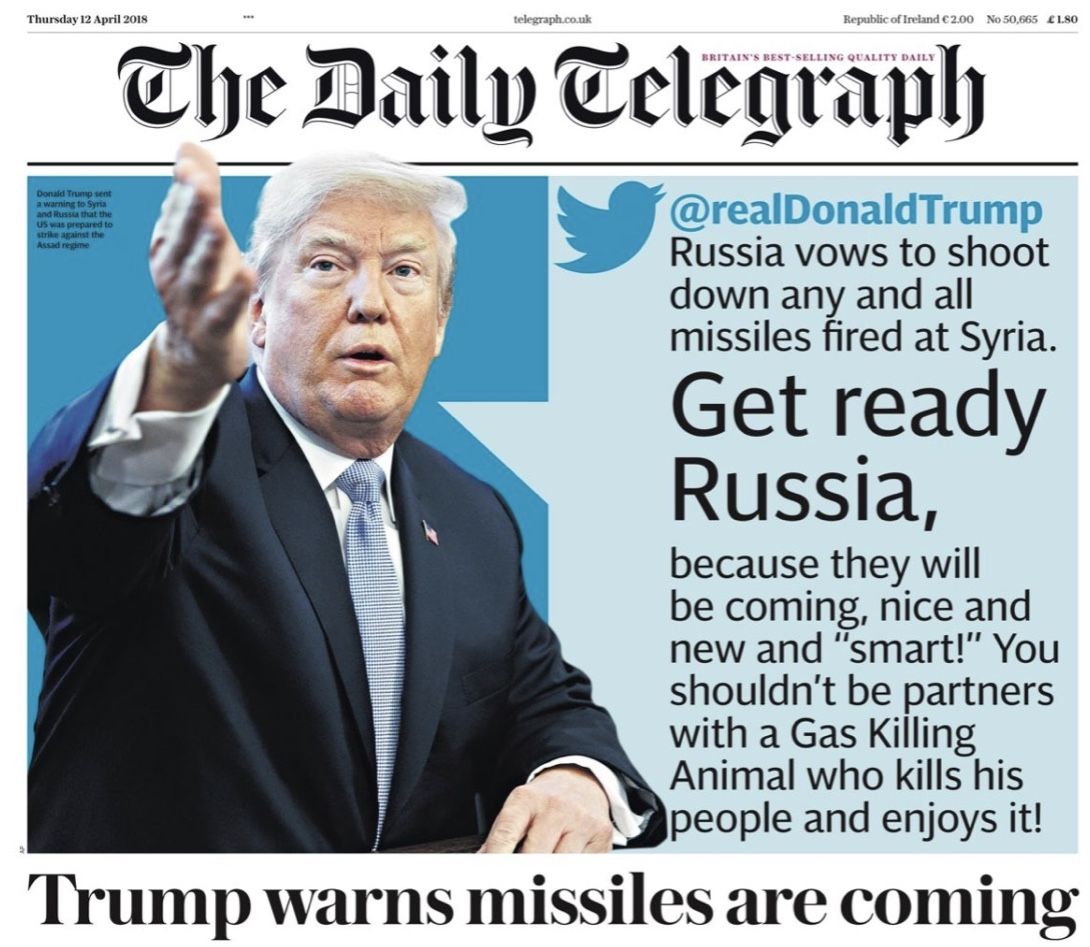 A London front page this morning.
P.S. USA Today lead story: "U.S. military officials are probably planning for a larger, more robust strike than the one U.S. warships launched April 7, 2017, in response to the Syrian regime's use of chemical weapons, said a former senior Defense official."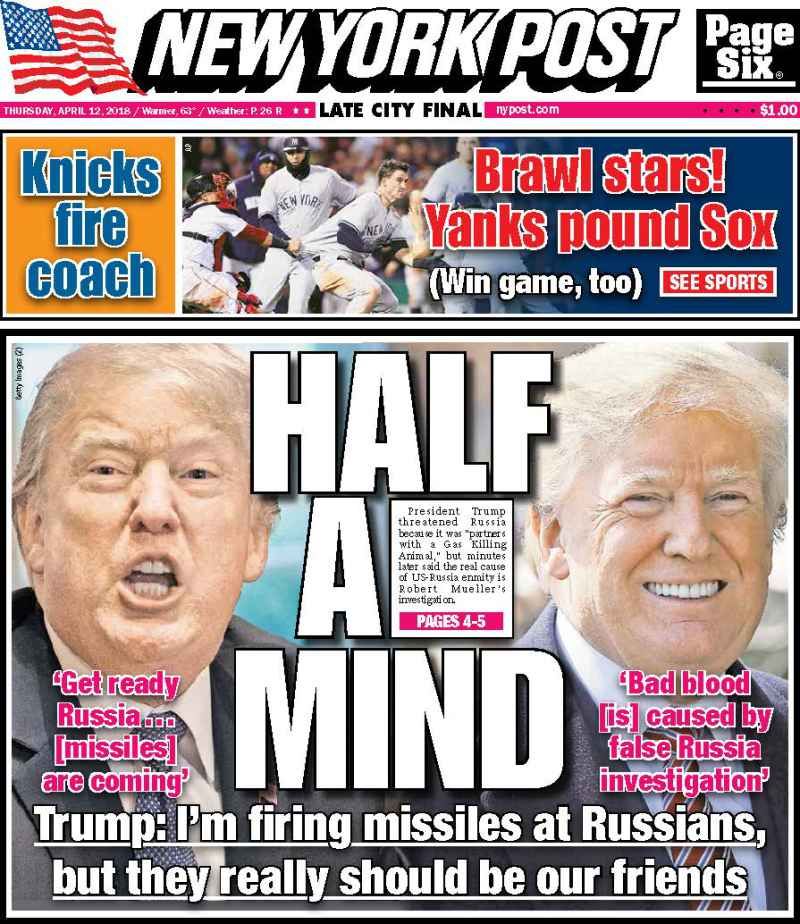 Courtesy N.Y. Post
https://www.axios.com/newsletters/axios-am-7eed5e1f-9ddd-4b97-bde5-a16c4baa9751.html?chunk=4#story4
4. Happening today
CIA Director Mike Pompeo, in prepared testimony for his SecState confirmation hearing at 9:30 a.m., before the Senate Foreign Relations Committee:
"Russia continues to act aggressively, enabled by years of soft policy toward that aggression. That's now over."
"I pledge to work with each of you to strengthen our State Department, to champion the patriots who serve there, and to deliver on our shared diplomatic objectives — on behalf of every American."
https://www.axios.com/newsletters/axios-am-7eed5e1f-9ddd-4b97-bde5-a16c4baa9751.html?chunk=5#story5
5. "Perfect storm: Trump faces escalating crises of his own making"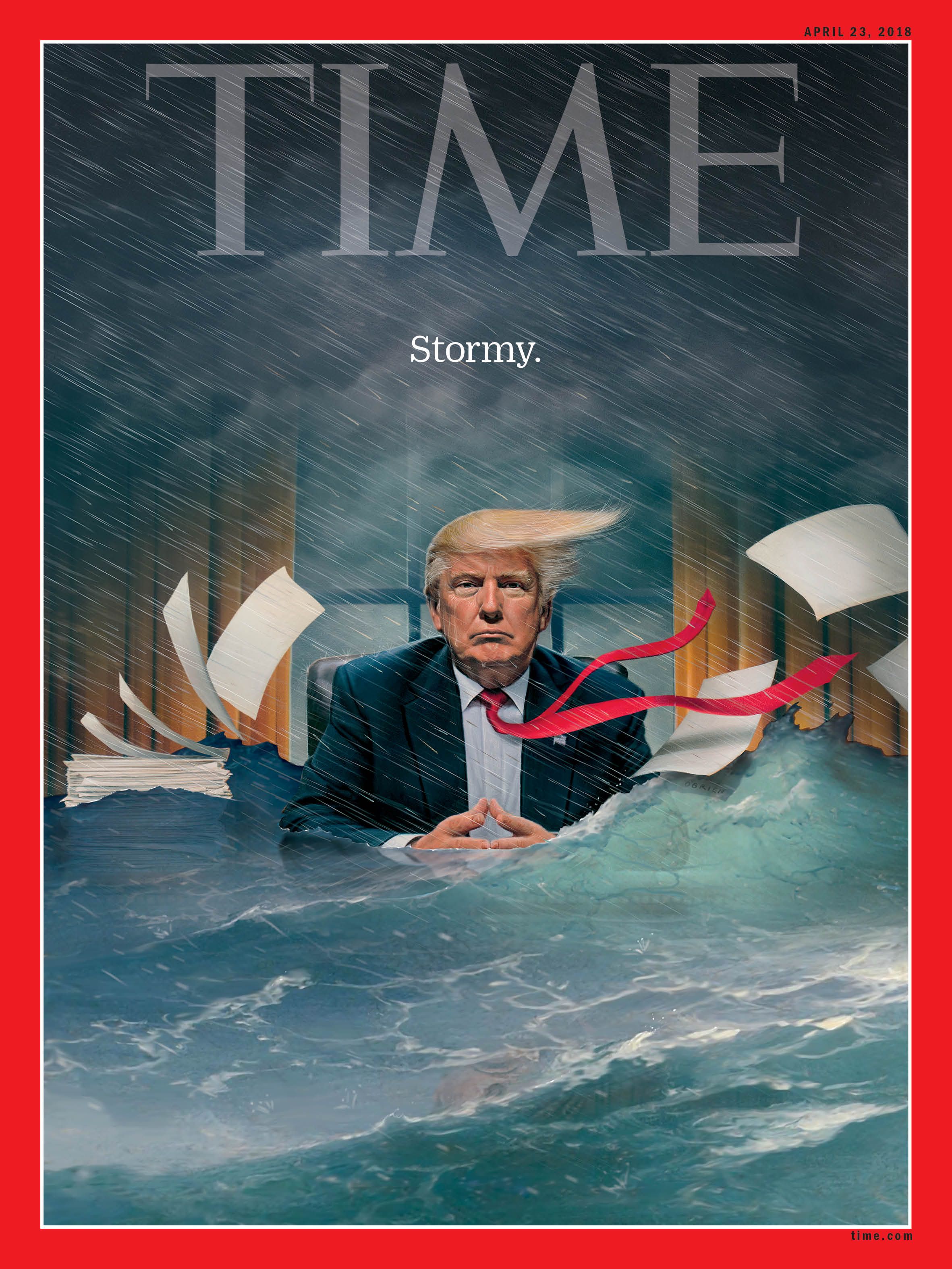 Courtesy TIME
TIME's Brian Bennett: "Much as ... Paula Jones' harassment case against Bill Clinton helped drive his impeachment and the seizure of Anthony Weiner's laptop led the FBI to reopen its probe of Hillary Clinton, Trump's personal history now may threaten his presidency."
P.S. Steve Bannon "is pitching a plan to West Wing aides and congressional allies to cripple" Mueller's probe, per WashPost's Bob Costa:
"The first step ... would be for Trump to fire Deputy Attorney General Rod J. Rosenstein."
"Bannon is also recommending the White House cease its cooperation with Mueller, reversing the policy of Trump's legal team."
https://www.axios.com/newsletters/axios-am-7eed5e1f-9ddd-4b97-bde5-a16c4baa9751.html?chunk=6#story6
6. Bite of the day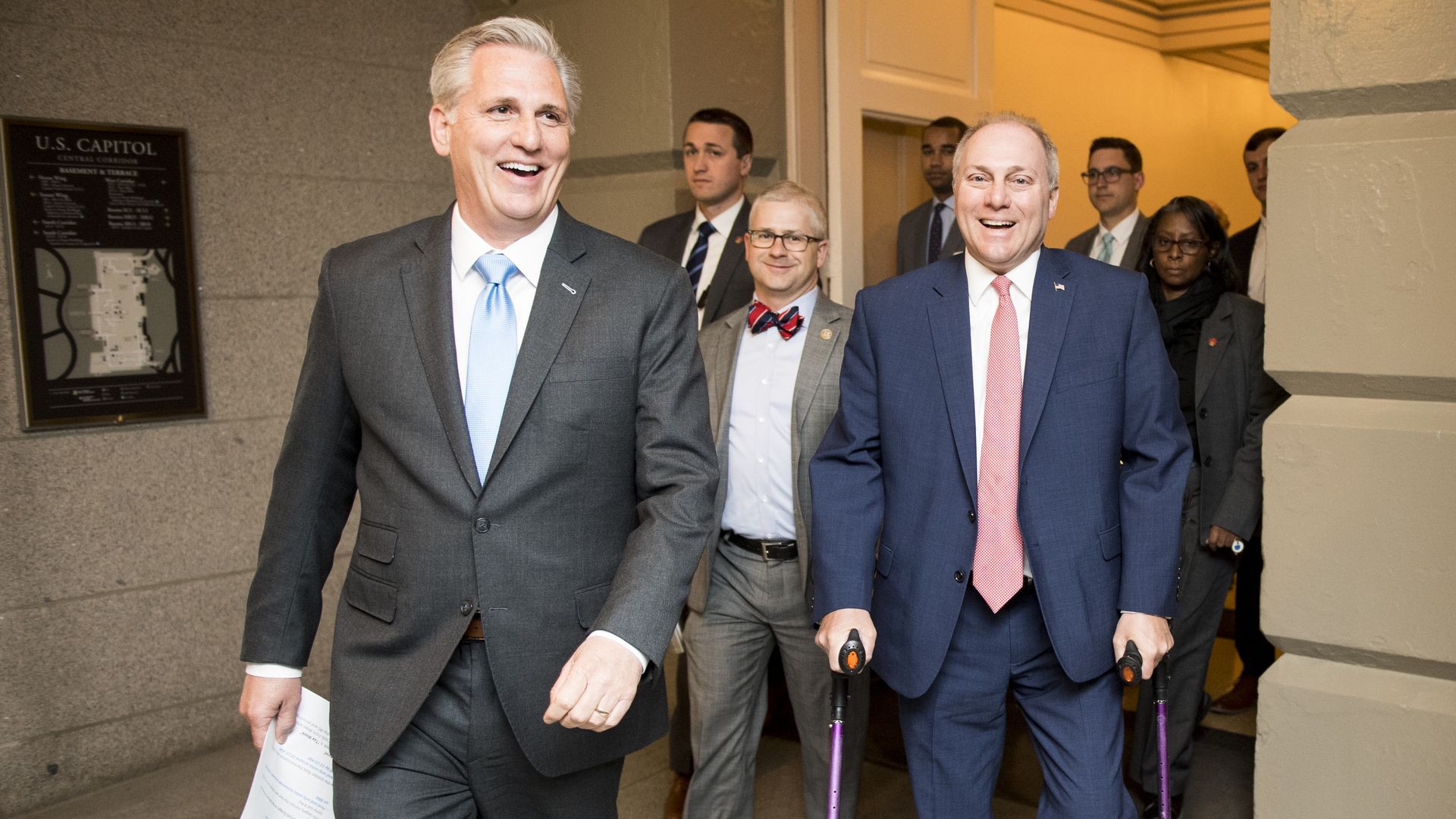 N.Y. Times Quote of the Day ... Tom Davis, a former Republican representative from Virginia, on the fallout from Speaker Ryan's surprise announcement that he won't seek re-election to Congress this fall:
"This is the nightmare scenario. Everybody figured he'd just hang in there till after the election."
https://www.axios.com/newsletters/axios-am-7eed5e1f-9ddd-4b97-bde5-a16c4baa9751.html?chunk=7#story7
7. Stat du jour
The percentage of black Major League Baseball players on opening-day active rosters (750 players) rose to 8.4%, its highest level since at least 2012, per AP:
"As the 71st anniversary of Jackie Robinson breaking the major league color barrier approaches Sunday, MLB said the percentage was up from 7.7 last year and 8.27 the previous two seasons."
"The percentage peaked at 19 in 1986."
"Major League Baseball attributed the increase at least partly to its efforts to increase baseball youth participation with programs that include Urban Youth Academies and Reviving Baseball in Inner Cities (RBI)."
https://www.axios.com/newsletters/axios-am-7eed5e1f-9ddd-4b97-bde5-a16c4baa9751.html?chunk=8#story8
8. Next for Parkland students: Town halls, midterms vote
"New Jersey, Colorado, Los Angeles, Raleigh-Durham — the Marjory Stoneman Douglas High School students reel off their upcoming travel schedule at a dizzying pace," AP's Kelli Kennedy writes:
'This is their new life, traveling the country advocating for gun control, all while trying to keep up with their studies."
"They are also trying to register as many teenagers as they can before November's midterm elections."
Why it matters: "Some of the students said they're struggling to find balance as grassroots leaders and students with homework, Advanced Placement exams and college applications."
"They've outgrown an office donated by a Stoneman Douglas parent and are moving to a new, secret location after their past address was leaked to the press. Most of their engagements are now handled by a professional booking agent and a public relations firm."
P.S. "Bank of America Corp. plans to stop lending to companies that make assault-style guns used for non-military purposes," per Bloomberg:
Bank of America Vice Chairman Anne Finucane told Bloomberg TV: "It's our intention not to finance these military-style firearms for civilian use."
https://www.axios.com/newsletters/axios-am-7eed5e1f-9ddd-4b97-bde5-a16c4baa9751.html?chunk=9#story9
9. Pope acknowledges "grave mistakes"
"Pope Francis acknowledged [yesterday in an extraordinary letter in Spanish to Chilean bishops] that he had made 'grave mistakes' in the handling of a sexual abuse crisis in Chile, saying he felt shame and inviting victims he had once doubted to Rome to seek their forgiveness personally." (Reuters)
https://www.axios.com/newsletters/axios-am-7eed5e1f-9ddd-4b97-bde5-a16c4baa9751.html?chunk=10#story10
10. 1 fun thing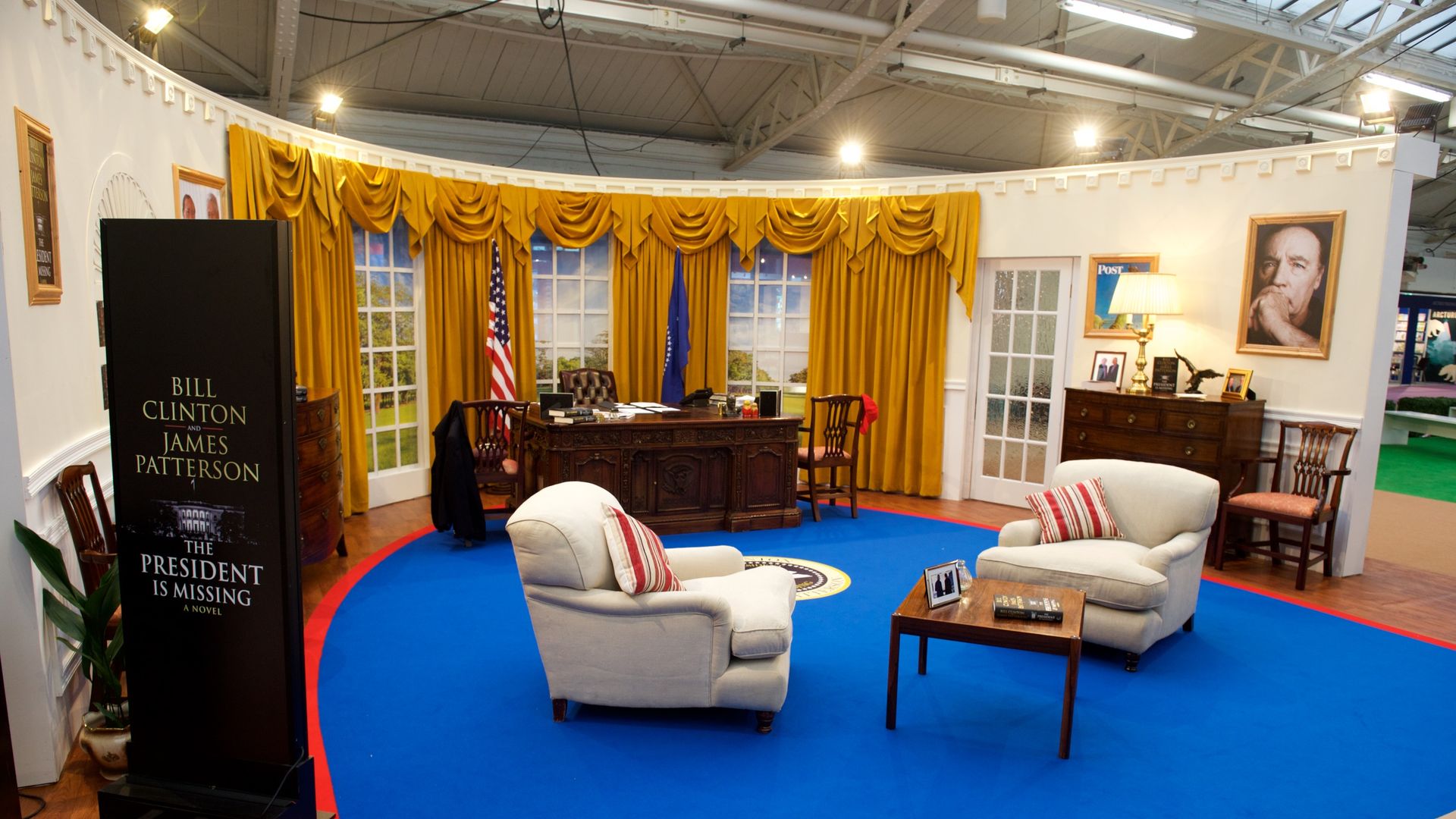 Ahead of the June 4 U.S. publication of the "The President Is Missing," a joint novel by President Bill Clinton and the prolific, bestselling thriller writer James Patterson, the U.K. publisher built an Oval Office replica at this week's London Book Fair.
Susan Sandon, the book's U.K. publisher at Penguin Random House:
"Penguin Random House UK built an Oval Office replica at London Book Fair for the launch of our pre order campaign for the book. We hosted all the international publishers on the stand and have activity running across all three days of the fair."
The plot: A sitting U.S. president is missing. (Preorder here.)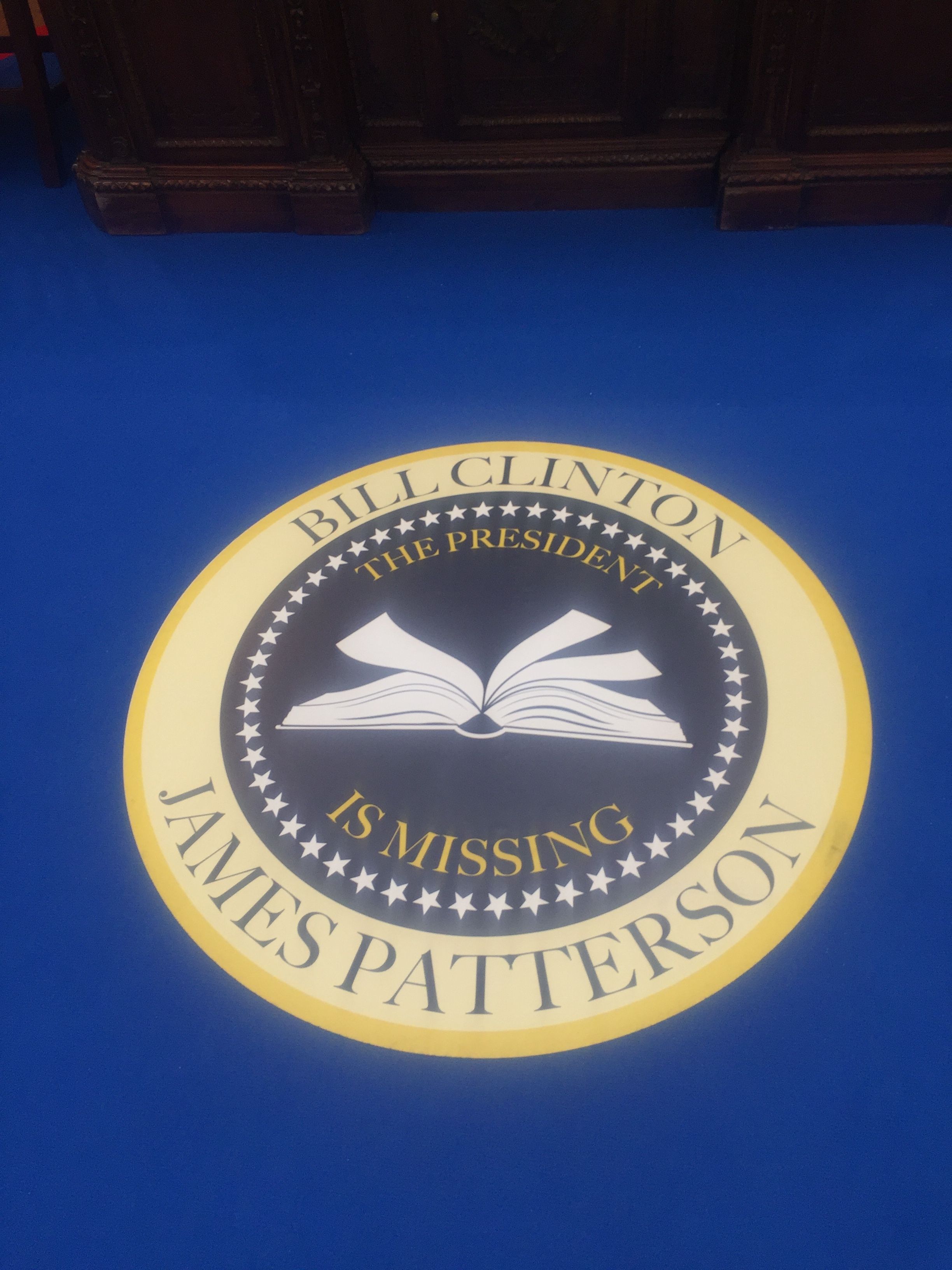 Courtesy Penguin Random House