Axios AM
January 07, 2022
Happy Friday! Smart Brevity™ count: 1,497 words ... 5 minutes. Edited by Zachary Basu.
⚡ Breaking: Kazakhstan's president has ordered security forces to "shoot to kill without warning" in an effort to quash a nationwide uprising. Go deeper.
1 big thing: Supreme Court takes up vax mandates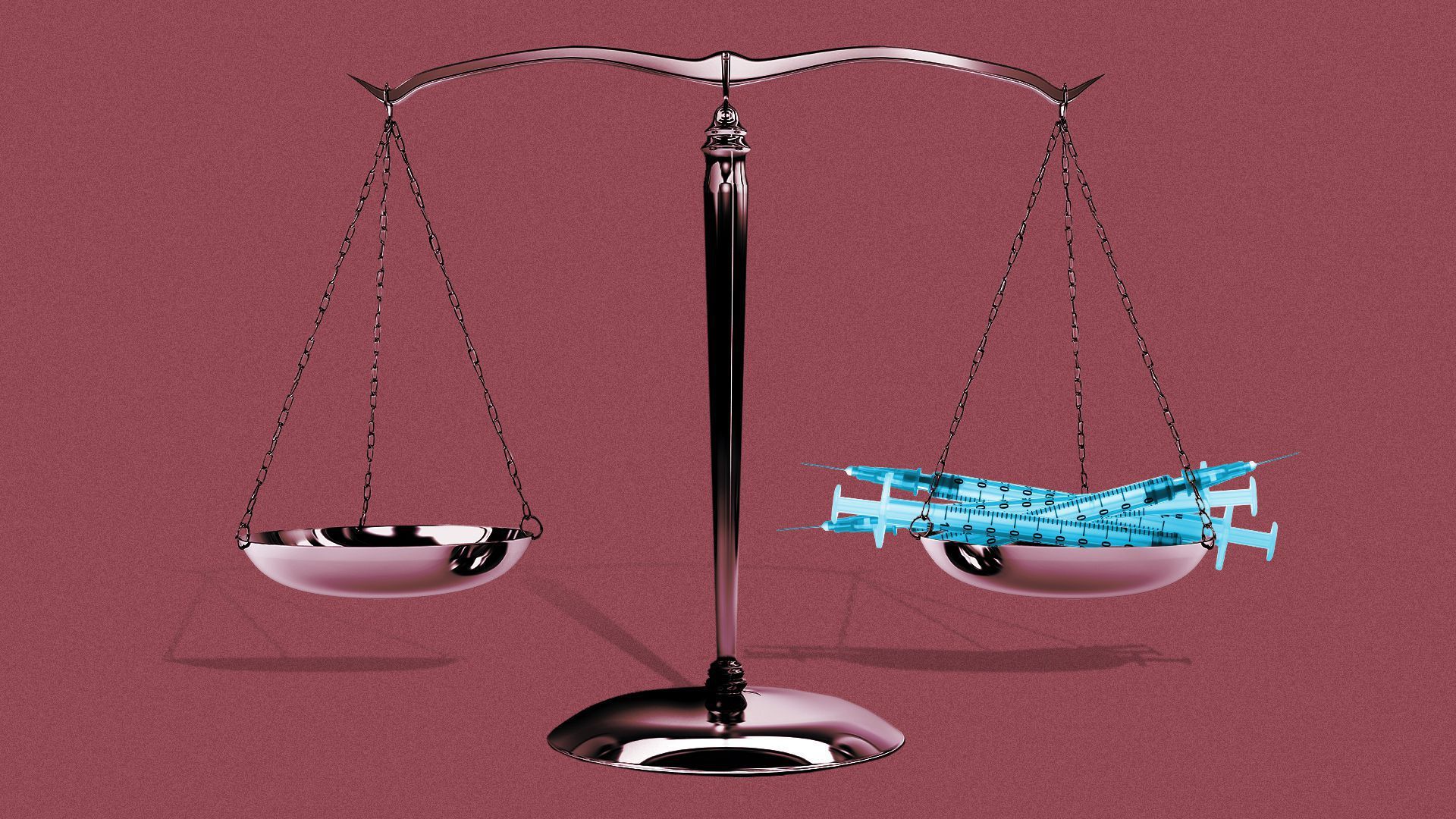 Most American businesses are holding back on requiring vaccines or testing for employees. Now the Supreme Court will decide whether the Biden administration can force their hands, Axios' Emily Peck writes.
The Supreme Court will hear arguments this morning over two of the Biden administration's flagship COVID policies:
An emergency vaccinate-or-test rule covering an estimated 80 million employees at large companies, issued by OSHA.
A vaccine mandate for health care workers at facilities that receive Medicare or Medicaid funds.
Where it stands: Only about 18% of businesses require vaccinations, according to a November survey from Willis Towers Watson.
The recent rise in cases, and looming mandates, have pushed some to act: Starbucks this week announced all employees must either be vaccinated or submit to regular testing.
The Mayo Clinic fired 700 of its employees (about 1% of staff) who refused to be vaccinated.
Plenty of others are waiting on the Court, said Jeff Levin-Sherz, a population health leader at Willis Towers Watson: 32% of companies said they'd only require vaccination if it was a federal rule.
Zoom out: This case is a key front in the Republican war against Biden's vaccine requirements. 183 GOP members of Congress, including 47 senators, filed an amicus brief at the Court arguing against the vaccine mandates.
One side: Mandate opponents say the requirements are executive overreach.
They claim COVID is not a workplace hazard, per se, but something that's all around us.
Another argument is that mandates would push workers to quit, exacerbating labor shortages.
The other side: The administration, public health experts and former OSHA staff say the agency is explicitly authorized to take emergency measures to protect workplace safety.
Requiring masks, testing or vaccination is less intrusive than some other OSHA rules, they say.
What's next: The Court is expected to move relatively fast — possibly issuing a ruling by month's end.
2. Mortgage rates hit 20-month high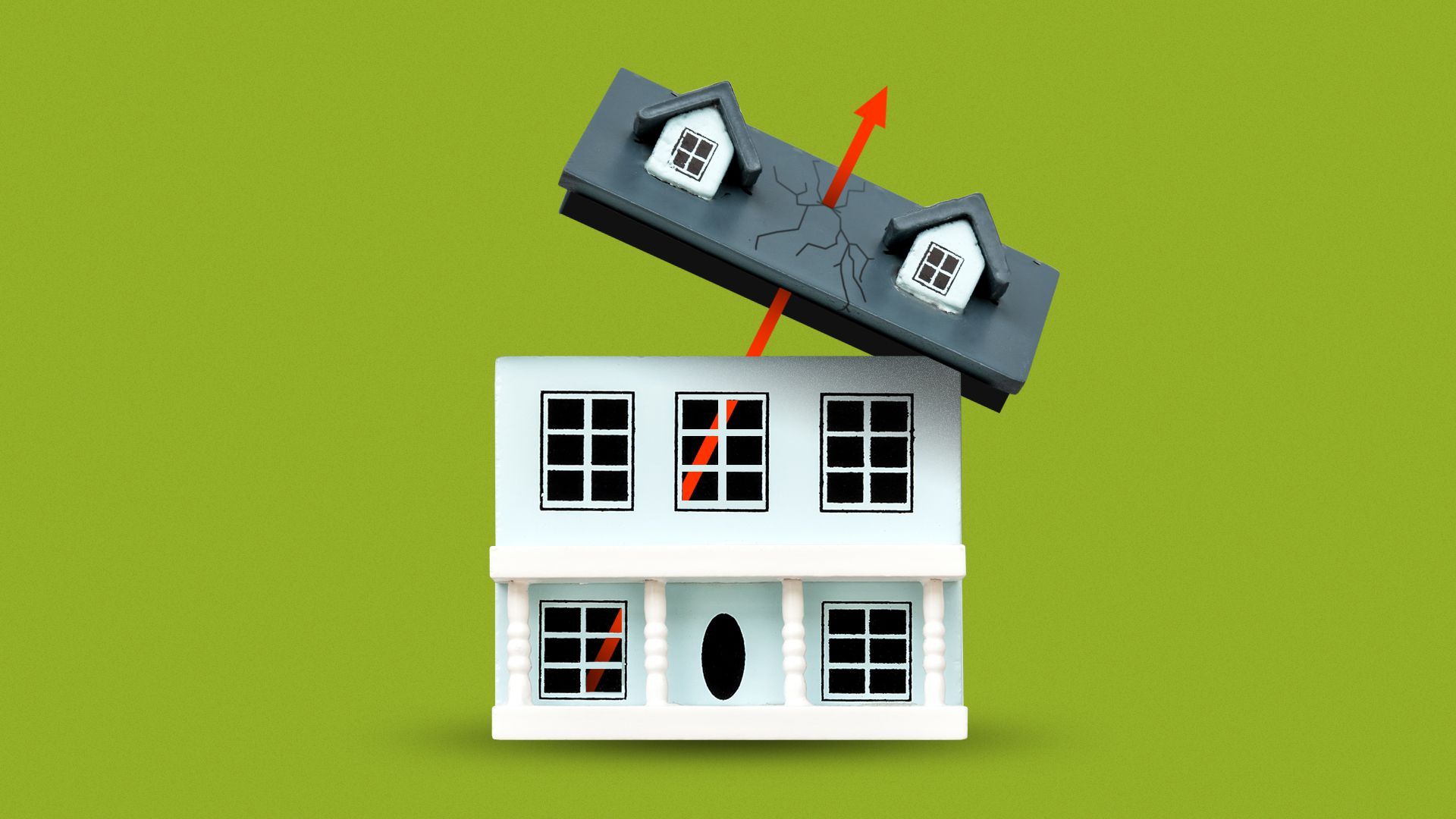 U.S. mortgage rates rose this week to the highest level since May 2020, Freddie Mac said:
A 30-year fixed-rate mortgage averaged 3.22%, with an average 0.7 point. That's up from 3.11% last week.
A year ago, it was 2.65%. That was the low in data going back 50 years.
Why it matters: "Ultralow interest rates have been a major force in the housing boom of the last two years," The Wall Street Journal notes.
3. ⚖️ Jan. 6 committee looks at whether Trump committed a crime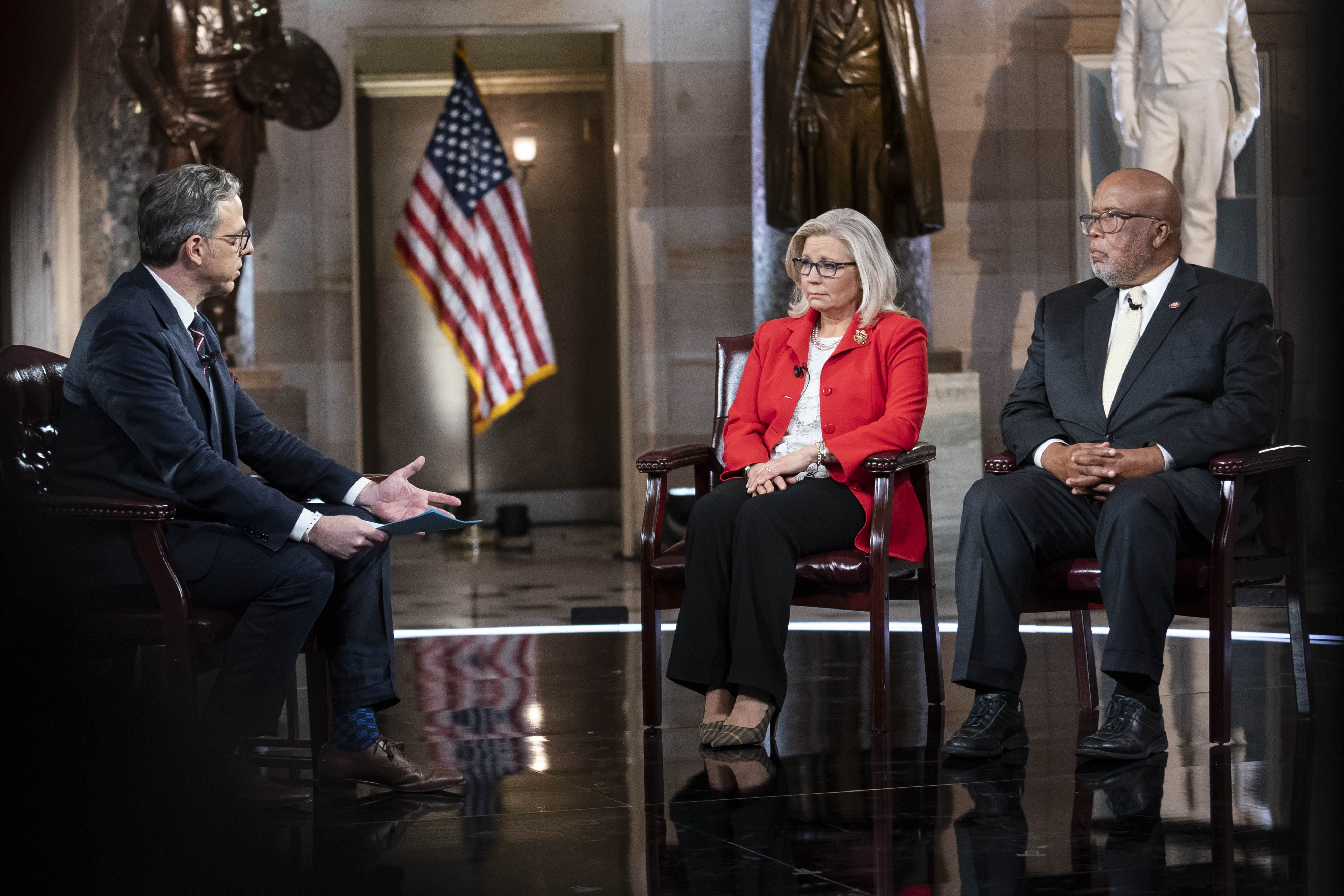 Rep. Liz Cheney (R-Wyo.), vice chair of the House committee investigating Jan. 6, told CNN's Jake Tapper last night that the committee is looking at whether former President Trump committed a crime during the riot:
"[W]e know from firsthand testimony that he watched television while the attack was underway. ... We know that he did not walk the very few steps to the White House briefing room, get on camera immediately, and tell the people to stop and go home."
"The president of the United States is responsible for ensuring that the laws are faithfully executed. He's responsible for the security of other branches," Cheney continued.
"So, for a president to — through either his action or his inaction, for example, attempt to impede or obstruct the counting of electoral votes, which is an official proceeding of Congress ... — the committee is ... looking at whether what he did constitutes that kind of a crime."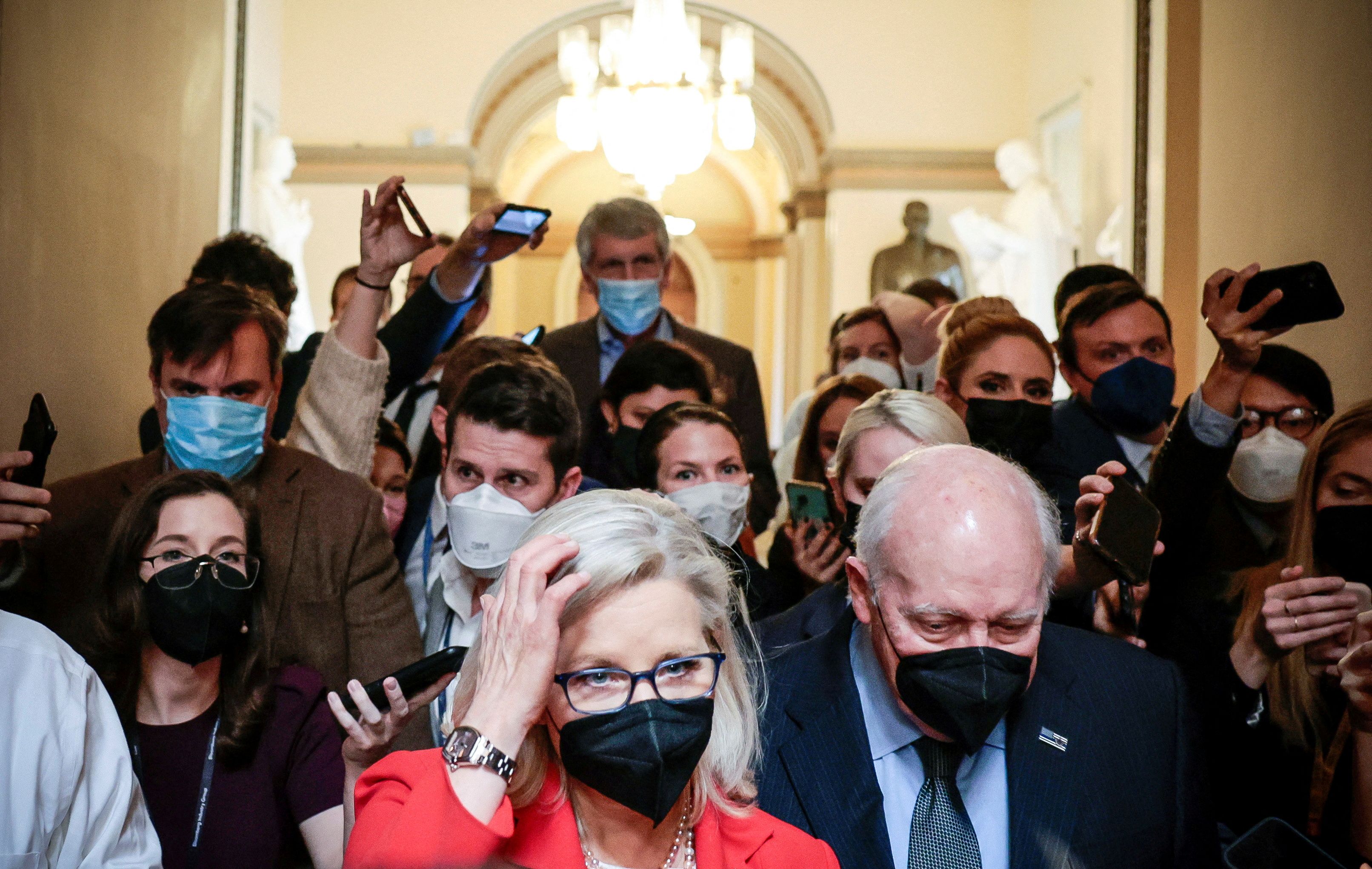 Earlier in the day, Rep. Liz Cheney joined her father, former V.P. Dick Cheney, as the only Republicans for a moment of silence at the Capitol.
4. America remembers 1/6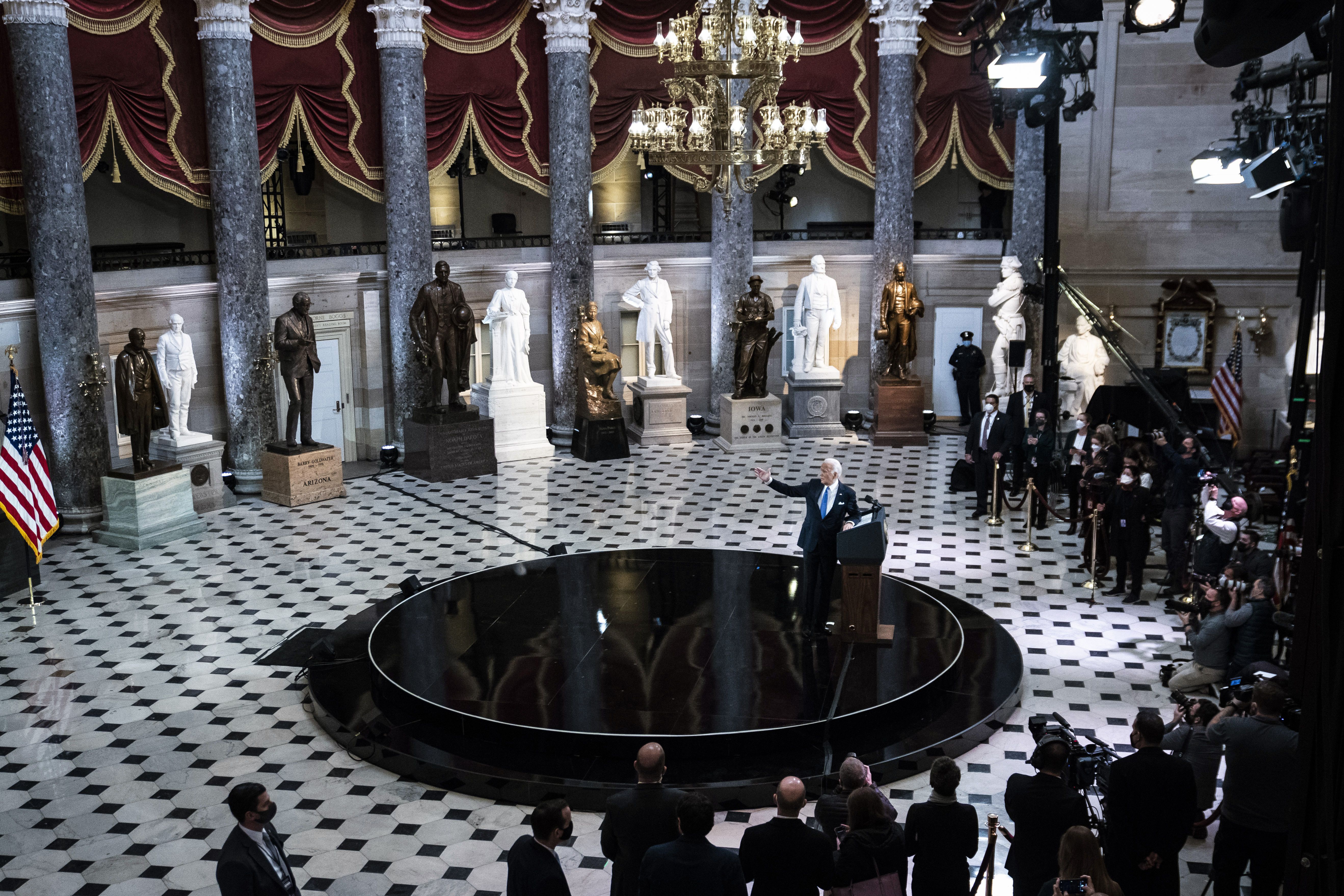 President Biden's speech yesterday in the Capitol's Statuary Hall, hailed as perhaps the best of his presidency, included these keeper lines:
"You can't love your country only when you win. You can't obey the law only when it's convenient. You can't be patriotic when you embrace and enable lies."
"I will stand in this breach. I will defend this nation. And I will allow no one to place a dagger at the throat of our democracy." Read the speech.
🗞️ How it's playing ...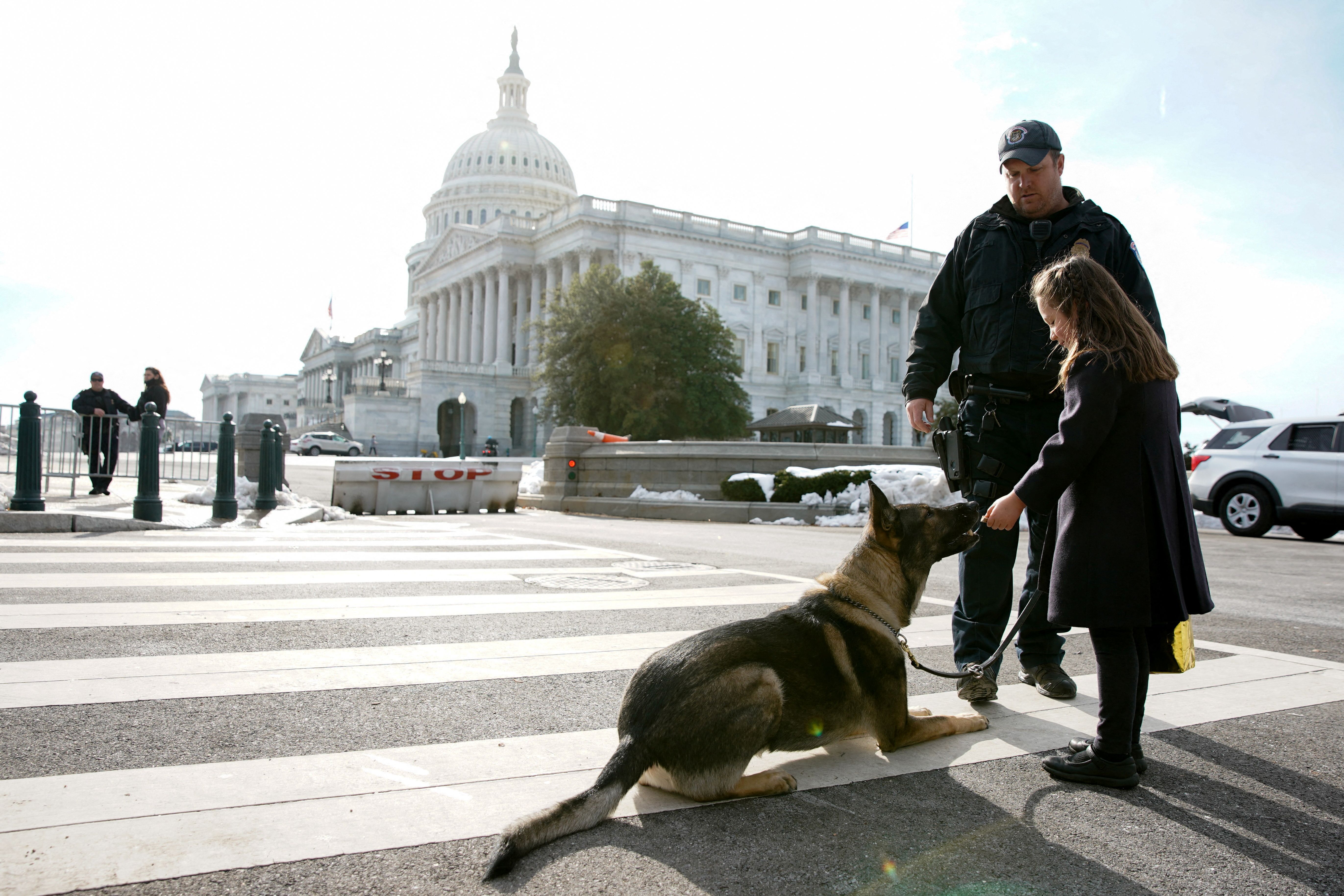 Above: Chloe Chen, 5, of Fairfax, Va., meets a security dog named Dante while offering snacks to a Capitol Police officer yesterday.
5. At CES, metaverse emerges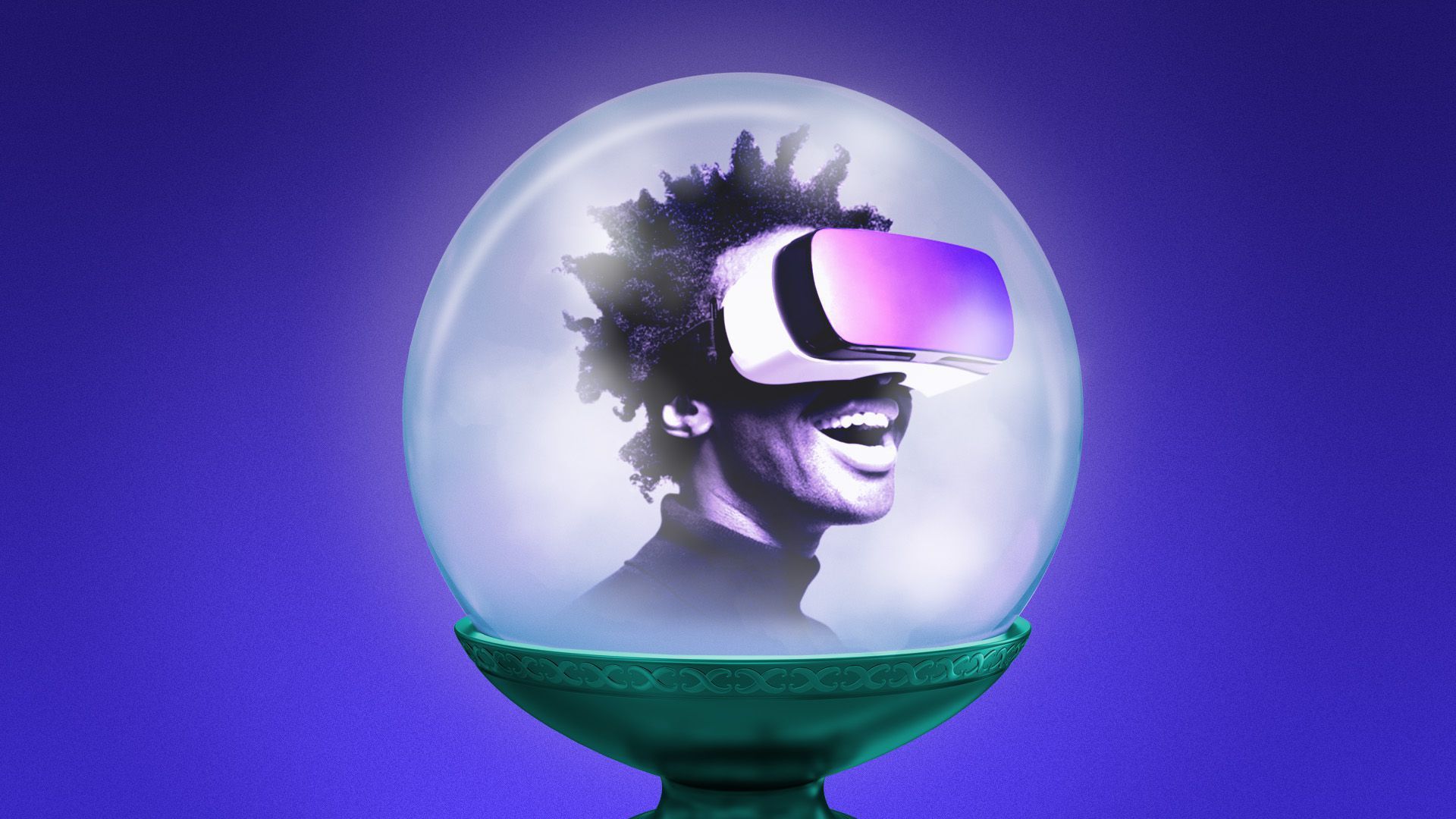 This week's Consumer Electronics Show in Vegas is showing off a few building blocks of the still-distant metaverse, Axios' Ina Fried writes in her weekly "Signal Boost" column.
Why it matters: The full vision of a shared, 3D digital dimension à la "Ready Player One" is probably still a decade away. But it won't arrive in one piece: Instead, it will show up in bits and chunks before coalescing into something functional and useful.
A few examples of CES' steps toward a metaverse:
Panasonic subsidiary Shiftall introduced a $270 body-tracking suit, due this spring, that helps bring legs into the metaverse. Most people traveling around today's VR experiences are only a head and torso.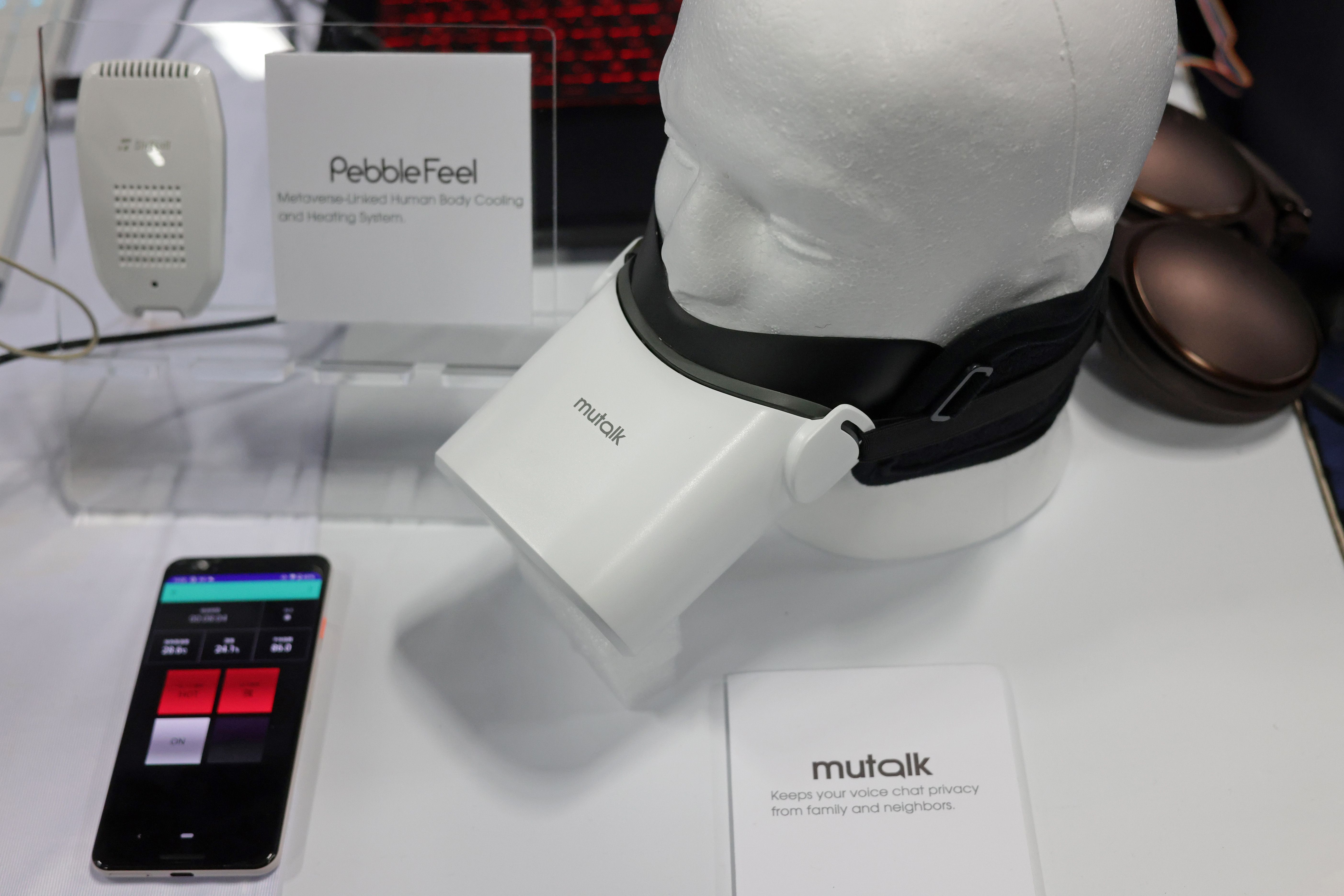 Pebble Feel (above) is a body-worn accessory that recreates heat and cold to make virtual reality a little more like the real world. As a bonus, it can also act as both a personal AC and heater for those times when people have to contend with non-virtual weather.
Samsung announced TVs that can display NFTs. With many metaverse boosters touting a crypto/Web3 dimension to the world-building project, anything that makes virtual objects more visible in multiple places could speed their adoption.
🐦 Go deeper: This Twitter thread collected photos chronicling CES abuses of the metaverse label.
6. N.Y. Times sees The Athletic as a bet on subs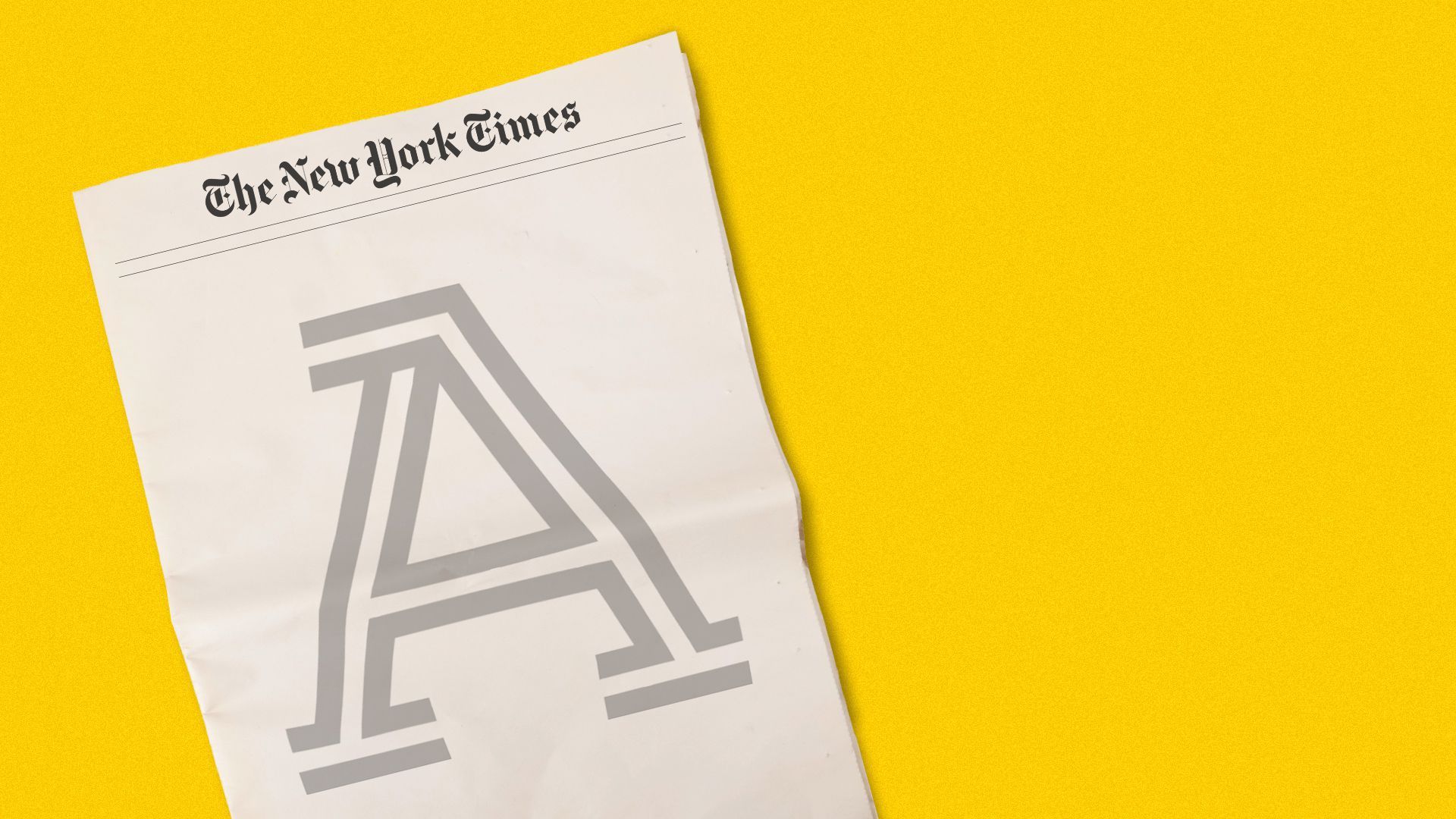 The New York Times said yesterday it's using more than half of the whopping $1 billion in cash on its balance sheet to buy The Athletic — a sports media startup that currently loses a lot of money, Axios Media Trends author Sara Fischer writes.
Why it matters: "It's about accelerating our long-term strategy," Times CEO Meredith Kopit Levien told Axios.
The Athletic has 1.2 million subscribers, making it "the fifth-largest English-language digital journalism provider by subscribers," Levien told investors. With nearly 8 million digital subscribers, The Times is the largest on that list.
The Athletic is one of the largest sports journalism companies in the world, with 450 journalists. By comparison, there are roughly 45 sports journalists at The Times. Executives say there's little audience overlap between the two firms.
Reality check: The Athletic lost $55 million in 2021 — on revenue of $65 million.
Levien doesn't anticipate The Athletic turning a profit for another three years.
The Athletic's Series D investors valued the company at roughly $500 million two years ago. It sold for $550 million Thursday.
Zoom out: The Times has had an extraordinary run over the past few years. It's well on track to meet its 10 million paid digital subscriber goal years ahead of schedule.
Levien said the Times has now adjusted that goal to a "meaningfully larger" number.
7. 🍽️ Mayors press Hill for restaurant relief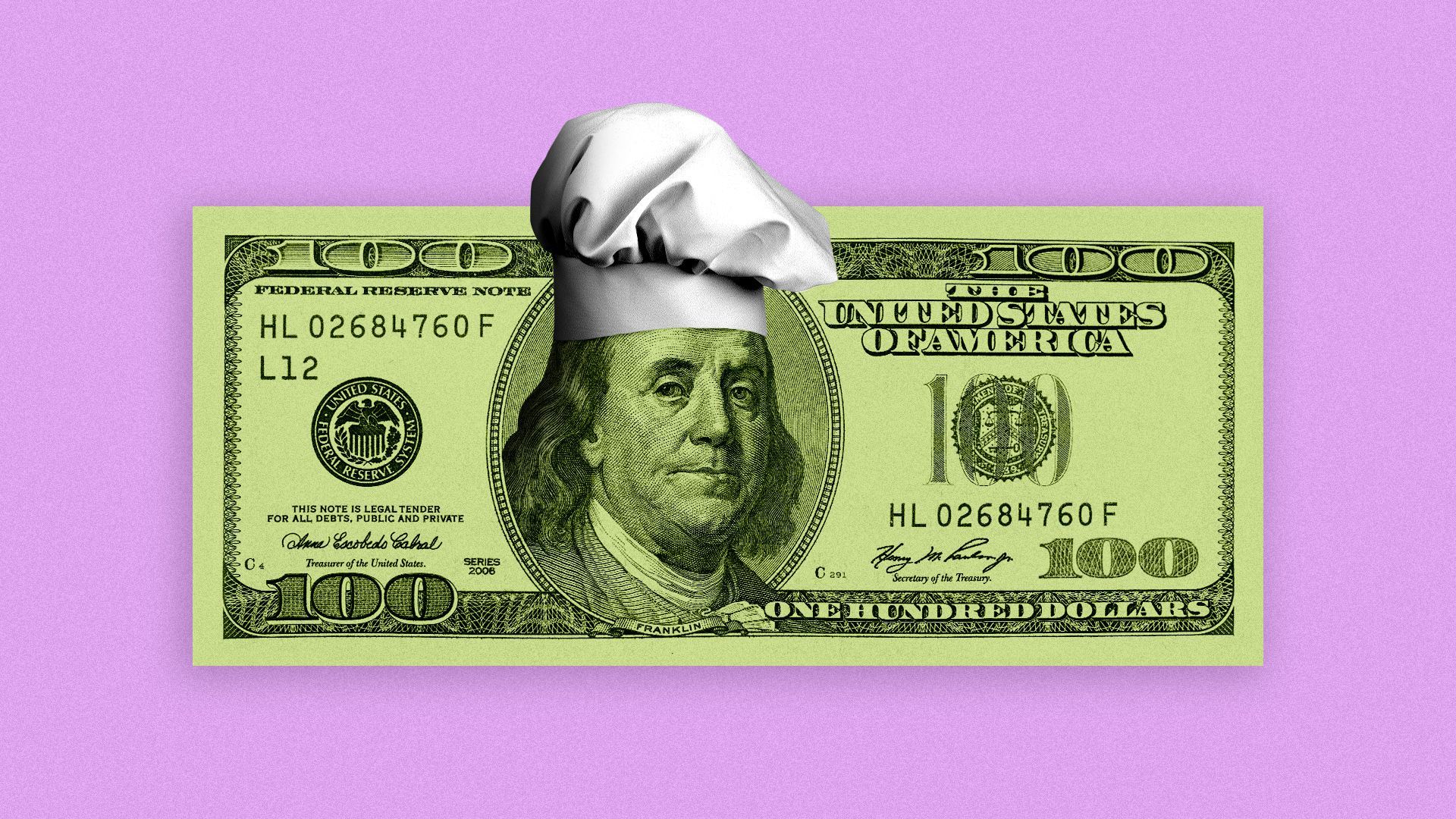 Top mayors around the country are pressing congressional leadership to add funding to the Restaurant Revitalization Fund (RRF):
"Restaurants ... are hurting, and if they do not receive help soon the impact on our local economies will be catastrophic," 20+ mayors wrote in a letter, organized by the Independent Restaurant Coalition.
"Restaurants and bars are months beyond struggling, they are dying in plain sight."
Between the lines: By appealing to congressional leaders, the industry is hoping to bring pressure on the White House.
Erika Polmar, the group's executive director, said: "The IRC has been making the case for relief with senior White House officials for months and hope they understand the gravity of the situation."
Among the mayors who signed: Eric Adams of New York, Lori Lightfoot of Chicago, London Breed of San Francisco, Eric Garcetti of L.A., Jacob Frey of Minneapolis, Michelle Wu of Boston, Jim Kenney of Philadelphia, Michael Hancock of Denver and John Cooper of Nashville.
8. 🎊 Dick Clark's show still rules New Year's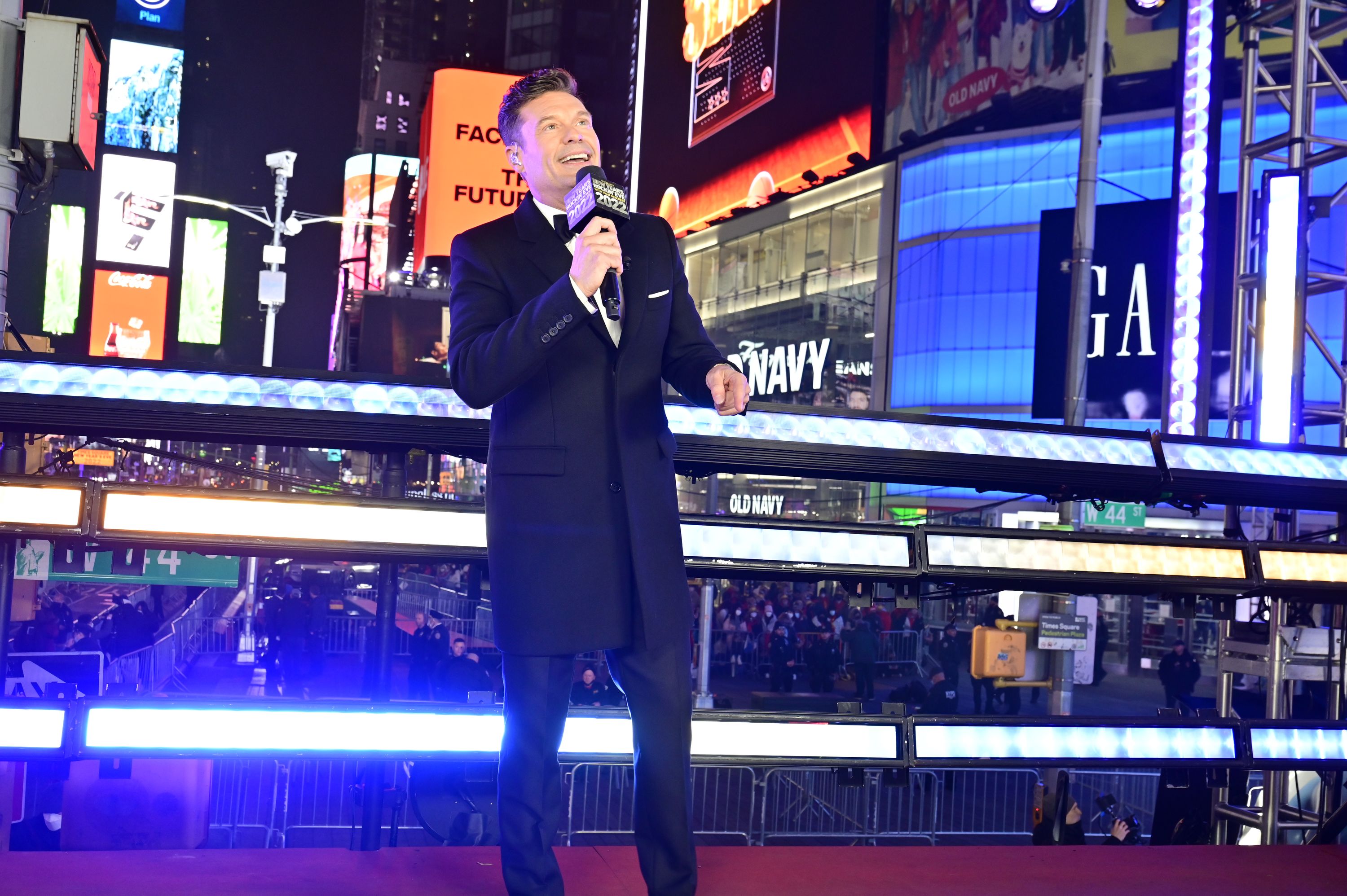 49-year-old "Dick Clark's New Year's Rockin' Eve" — now with Ryan Seacrest — still owns New Year's, nine years after Clark's death, AP reports from Nielsen figures:
The ABC show reached 19.6 million viewers between 11:30 p.m. and 12:30 a.m. During the 15 minutes around the Times Square ball drop, Seacrest's audience jumped to 24.2 million.
NBC, which tried a new show with Miley Cyrus and Pete Davidson, reached 6.3 million.
CBS' "Nashville's Big Bash" had 5.2 million viewers.
CNN's shot-filled celebration with Andy Cohen (who drunkenly joked on air about "Ryan Seacrest's group of losers") and Anderson Cooper reached 3.3 million viewers between 11 p.m. and 12:30 a.m.
Fox News Channel's Nashville-based show drew 2.1 million.
🥊 Omicron had us all trapped at home: The ABC show had its biggest audience in four years.
📬 Was this email forwarded to you? Sign up here for your own personal copy of Axios AM and Axios PM.