Happy Saturday. Bulletin: "The Trump administration acknowledged ... for the first time that it is in direct communication with the government of North Korea over its missile and nuclear tests," the N.Y. Times' David E. Sanger reports.
SecState's Rex Tillerson's comments to reporters in Beijing "marked the first sign that the Trump administration has been trying its own version of what the Obama administration did with Iran: using a series of backchannel, largely secret communications that, after years of negotiation, resulted in a nuclear accord."
https://www.axios.com/newsletters/axios-am-7dacca24-64b3-4885-ba17-a195e0bdcb46.html?chunk=0#story0
1 big thing: Trump's new feud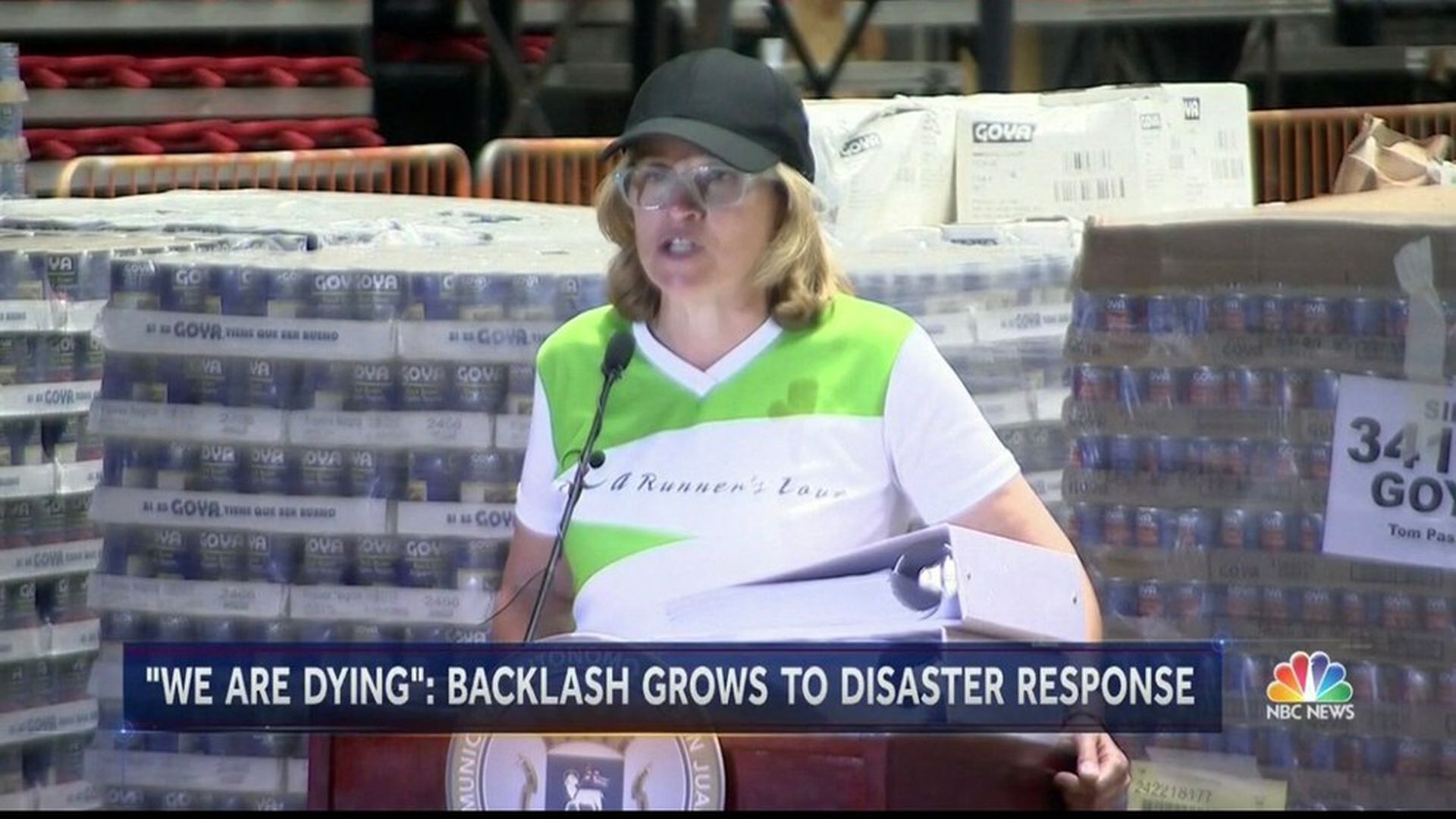 Three days before flying to Puerto Rico, President Trump this morning attacked the mayor of San Juan, the capital. Yesterday, the mayor took to TV to lash out at the administration for a disaster response that she said could come "close to a genocide" if logistics aren't figured out.
Trump tweeted: "The Mayor of San Juan, who was very complimentary only a few days ago, has now been told by the Democrats that you must be nasty to Trump."
"Such poor leadership ability by the Mayor of San Juan, and others in Puerto Rico, who are not able to get their workers to help. They ... .want everything to be done for them when it should be a community effort. 10,000 Federal workers now on Island doing a fantastic job."
The mayor, Carmen Yulín Cruz, led "NBC Nightly News" with her emotional plea at a news conference, then did several one-on-one interviews with prime-time cable anchors:
"We are dying. And you are killing us with the inefficiency."
"I am done being polite. I am done being politically correct. I am mad as hell."
To Trump: "I beg you to take charge and save lives. ... I cannot fathom the thought that the greatest nation in the world cannot figure out the logistics for a small island."
"If we don't get the food and the water into people's hands, what we are going to see is something close to a genocide."
Be smart: Long after people have finished talking about Tom Price's flights or tax reform or NFL protests, they'll remember how Trump handled Puerto Rico. So the stakes are massive for the hours ahead.
As you'll see in the eye-opening tick-tock in the next item, the White House — after getting good marks for its Texas hurricane response — was slow on Puerto Rico. And the sunny rhetoric contrasts brutally with on-the-ground reporting and video.
https://www.axios.com/newsletters/axios-am-7dacca24-64b3-4885-ba17-a195e0bdcb46.html?chunk=1#story1
2. "Lost weekend": Amazing backstory
"Amid Puerto Rico's disaster, a disconnect ... How Trump's time at his golf club hurt the response to Maria," atop WashPost front page:
"[A]s storm-ravaged Puerto Rico struggled for food and water amid the darkness of power outages[,] Trump and his top aides effectively went dark themselves."
"Trump jetted to New Jersey that Thursday night [9 days ago] to spend a long weekend at his private golf club there, save for a quick trip to Alabama for a political rally. Neither Trump nor any of his senior White House aides said a word publicly about the unfolding crisis."
"Administration officials would not say whether the president spoke with any other top officials involved in the storm response while in Bedminster, N.J. He spent much of his time over those four days fixated on his escalating public feuds with North Korean leader Kim Jong Un, with fellow Republicans in Congress and with the National Football League."
Why it matters: "Even though local officials had said publicly as early as Sept. 20, the day of the storm, that the island was 'destroyed,' the sense of urgency didn't begin to penetrate the White House until Monday, when images of the utter destruction and desperation — and criticism of the administration's response — began to appear on television."
"Trump's public schedule Monday was devoid of any meetings related to the storm, but he was becoming frustrated by the coverage he was seeing on TV."
"At a dinner Monday evening with conservative leaders at the White House, Trump opened the gathering by briefly lamenting the tragedy unfolding in Puerto Rico before launching into a lengthy diatribe against Sen. John McCain."
"Trump's rosy assessment of the federal response has ... contrasted sharply with the comments of federal officials on the ground."
https://www.axios.com/newsletters/axios-am-7dacca24-64b3-4885-ba17-a195e0bdcb46.html?chunk=2#story2
3. Price pays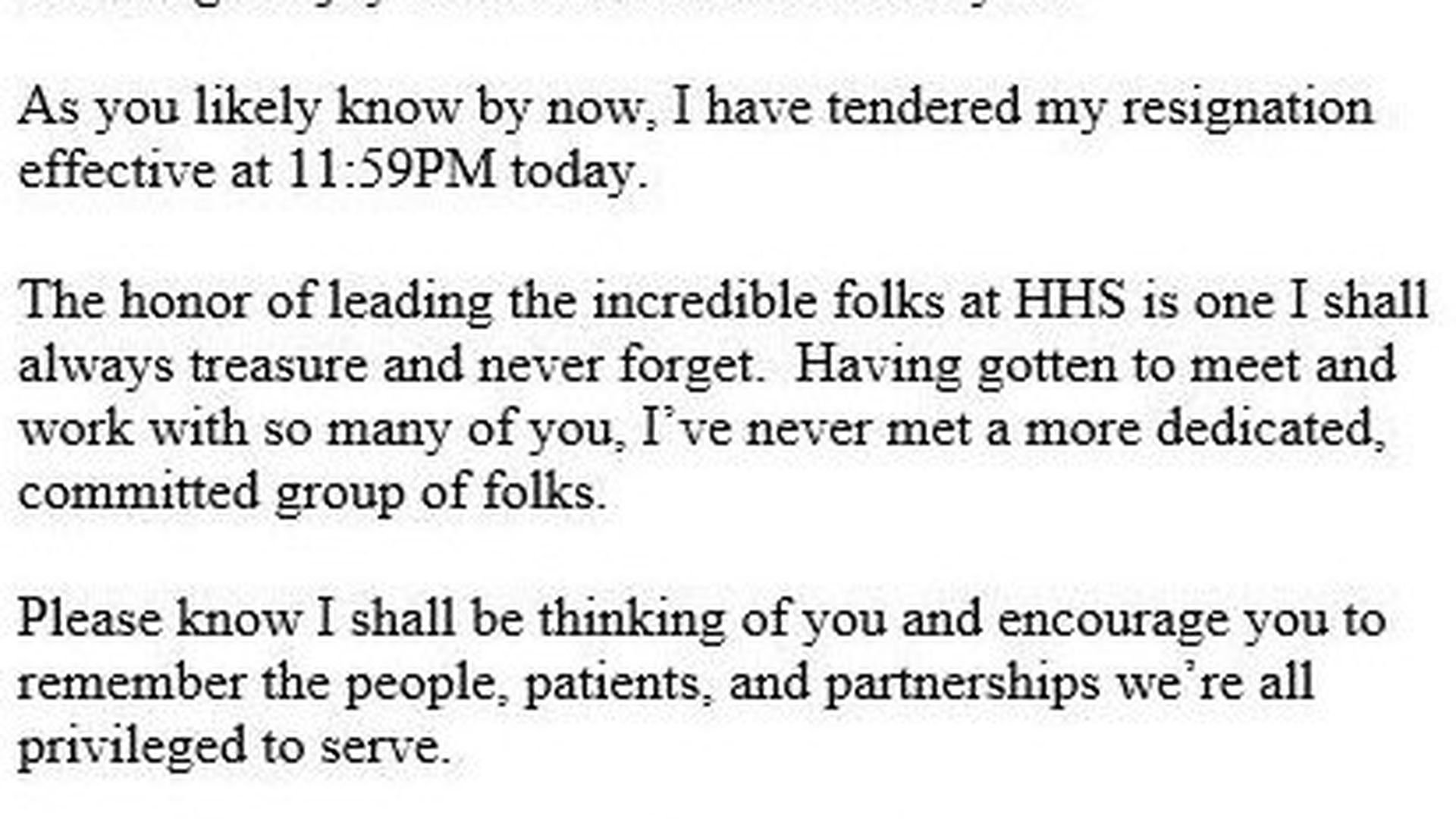 When Health and Human Services Secretary Tom Price became a certified swamp creature, he was dead to Trump:
Trump was scratchy with Price anyway because of his questionable advice and atrocious results on health-care repeal.
Now POTUS had an easy excuse to boot the orthopedic surgeon and former U.S. House member from Georgia, making him Trump's first Cabinet secretary to depart.
The coverage was at least as lethal to Price as the reality.
N.Y. Times: "Trump berated Mr. Price in the Oval Office on Friday afternoon for about two hours before heading out to meet with reporters."
Trump told reporters on the South Lawn as he left for New Jersey, shortly before Price's resignation was announced: "Look, I think he's a very fine person. I certainly don't like the optics."
A veteran Republican tells me the White House shares the blame for the spate of Price-y plane flights that were uncovered by Politico's Dan Diamond and Rachana Pradhan: Such spending would have been less likely to occur in a West Wing with more normal controls and organization.
But the high-flying habits could have rankled Trump voters who seem impervious to most other excesses. So Price had to go.
White House budget director Mick Mulvaney later told heads of Executive Branch departments and agencies that White House chief of staff John Kelly must sign off on use of government-owned, rented, leased or chartered aircraft.
The memo's keeper line — call it the Price Rule: "[J]ust because something is legal doesn't make it right."
https://www.axios.com/newsletters/axios-am-7dacca24-64b3-4885-ba17-a195e0bdcb46.html?chunk=3#story3
4. It's Yom Kippur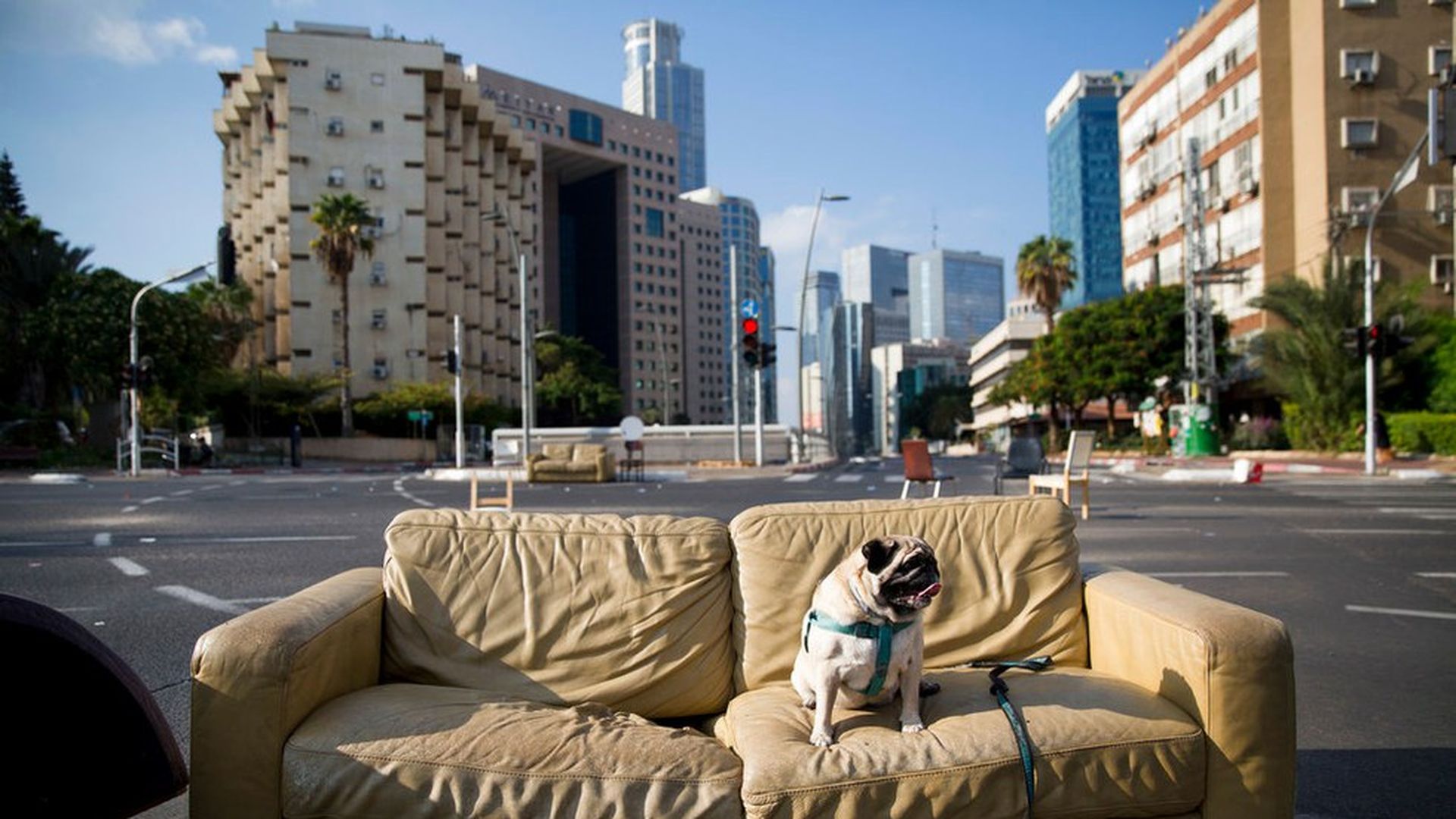 A pug sits on a sofa that has been placed on a car-free street during Yom Kippur in Ramat Gan, Israel, today. Jews atone for sins of the past year on this Day of Atonement, the holiest of Jewish holidays, which ends at sundown today.
Israel comes to almost a complete standstill, AP reports. Businesses and airports close; radio and TV stations go silent. Roads are eerily quiet and devoid of traffic. Some secular, mostly young, Israelis take advantage of near-empty roads and highways with bicycle and skateboard rides.
https://www.axios.com/newsletters/axios-am-7dacca24-64b3-4885-ba17-a195e0bdcb46.html?chunk=4#story4
5. Good news: 10 things humanity is getting right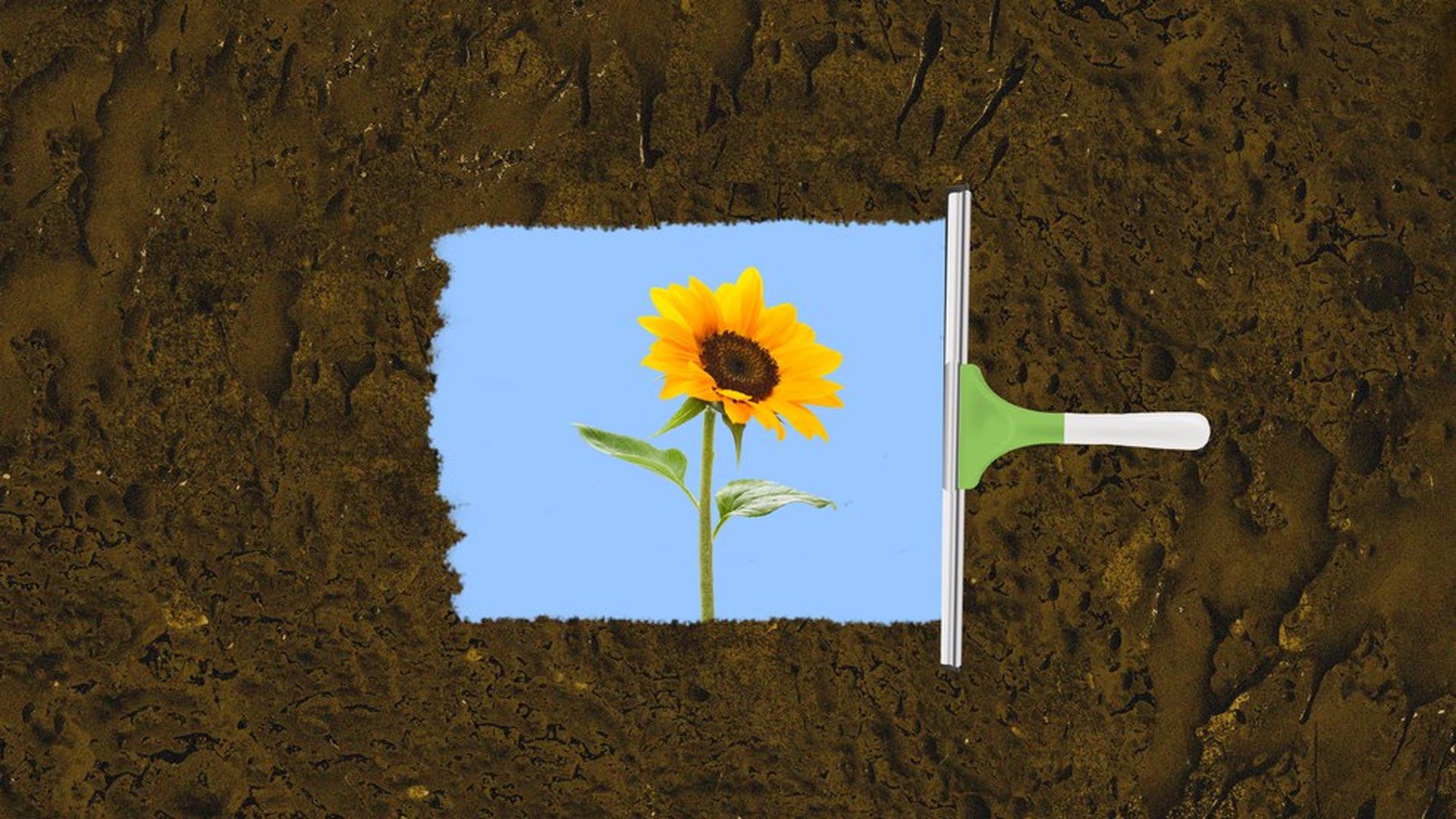 Devastating hurricanes, Nazi parades, melting ice sheets, ISIS, threats of nuclear war. From news coverage, sometimes it's hard to believe Barack Obama's claim that "now is the greatest time to be alive."
So Axios' Stef Kight mustered 10 reasons we as humans are getting at least a few things right:
We're wealthier than ever before. Despite growing income inequality and the persistent gender and race gaps in our society, Americans overall are wealthier than they ever have been, including African Americans and Hispanics. There are more rich people and fewer poor people.
We're beating cancer. Researchers have reported a continued decline in overall cancer death rates due to screening, prevention and new treatments.
Teen pregnancies are down 51% from 10 years ago, an extraordinarily fast social change compared to adult smoking, which took 40 years to cut by half. Experts attribute the phenomenon to better use of birth control.
Oil independence: U.S. dependence on foreign oil continues to decrease, with 2016 setting a 30-year low.
The hole in the earth's ozone layer is on the mend with the help of the 1987 Montreal Protocol, which helped phase out ozone-destroying chemicals.
In galaxies far, far away, astronomers say we are entering a new era where we can both see with optical telescopes and hear events occurring deep in space.
Women in Saudi Arabia will be allowed to drive cars for the first time, in June 2018.
In Houston, we witnessed citizens taking boats and jetskis to rescue those stuck in floods after Hurricane Harvey.
The five living presidents, Barack Obama, George W. Bush, Bill Clinton, George H. W. Bush and Jimmy Carter banded together to raise money to aid Hurricane relief efforts in Texas, Florida, Puerto Rico and the U.S. Virgin Islands. You can follow their lead to address the suffering in Puerto Rico. Donate here, here or here.
A sunny forecast: To top it all off, most Americans will get to enjoy beautiful weather this weekend with only a few expected showers.
See Stef's full post, with all the links.
https://www.axios.com/newsletters/axios-am-7dacca24-64b3-4885-ba17-a195e0bdcb46.html?chunk=5#story5
6. Google on Hill hot seat
"Google has become the latest Silicon Valley giant to become entangled in a widening investigation into how online social networks and technology products may have played a role in Russian interference in the 2016 election," per the N.Y. Times' Daisuke Wakabayashi:
"Google said it would cooperate with congressional inquiries ... Google was called to testify at a Senate Intelligence Committee hearing on Nov. 1."
"Google is the only company that sells more digital advertising than Facebook, and its YouTube service is the go-to place for videos on the internet."
And the Wall Street Journal reported that Google "is conducting a broad internal investigation to determine whether Russian-linked entities used its ads or services to try to manipulate voters":
"Google sells ads above its search results, before YouTube videos and on third-party websites and apps. Google even offers a specific ad tool for political campaigns that it says will help advertisers 'win the moments that win elections.'"
Why it matters: "The site is a hotbed for highly partisan political videos, including misleading and false content. And it is a primary way Russian media with direct links to the Russian government reach viewers, particularly in the Western world."
https://www.axios.com/newsletters/axios-am-7dacca24-64b3-4885-ba17-a195e0bdcb46.html?chunk=6#story6
7. "Tech Giants Play the Game of Thrones"
"NYU marketing professor Scott Galloway ... has racked up millions of [YouTube] views talking about brands, big tech, and who's disrupting whom. ... Barron's [Jack Hough] recently sat down with Galloway to discuss the rising power of America's tech giants, which he writes about in a new book, The Four: The Hidden DNA of Amazon, Apple, Facebook, and Google":
What's next for Amazon: "Going right after Netflix ... There is talk of their acquiring some television networks to get scale and content quickly and fill in some niches, because those assets have been beaten down from a valuation standpoint and Amazon has the ability to monetize them."
On Facebook: "It is bigger than communism, capitalism, the Kardashians. It is the most successful thing in the history of mankind if you look at the intensity of the relationship across Facebook and Facebook-owned properties."
On Facebook and the 2016 election: "This could be, if they handle it poorly, the moment Facebook goes into structural decline."
"I believe Google is a modern man's god. Our species throughout time has needed a superbeing to fill in gaps around huge questions we are unable to answer."
"Apple draws on the second most powerful instinct behind survival — procreation. ... Apple is the new signal of wealth, of creativity, and that you're part of the innovation class."
Free link for Axios readers.
https://www.axios.com/newsletters/axios-am-7dacca24-64b3-4885-ba17-a195e0bdcb46.html?chunk=7#story7
8. Uber escalation
Travis Kalanick said he's appointing to Uber's board Ursula Burns, former CEO of Xerox, and John Thain, former CEO of CIT Group, Merrill Lynch, and the NYSE, Axios' Dan Primack and Shannon Vavra report:
Then Uber issued this shock statement: "The appointments of Ms. Burns and Mr. Thain to Uber's Board of Directors came as a complete surprise to Uber and its Board. That is precisely why we are working to put in place world-class governance to ensure that we are building a company every employee and shareholder can be proud of."
Why it matters: This is a major escalation in a power struggle that has been going on behind closed doors.
Primack emails me this backstory: "New CEO Dara Khosrowshahi was given heads up by Travis that this was coming, but only barely. TK was apparently concerned about leaks. Charitable view is Dara should be pleased to have two new quality board members. Less charitable view is that he wants governance changes, and this makes it much harder."
https://www.axios.com/newsletters/axios-am-7dacca24-64b3-4885-ba17-a195e0bdcb46.html?chunk=8#story8
9. You should be aware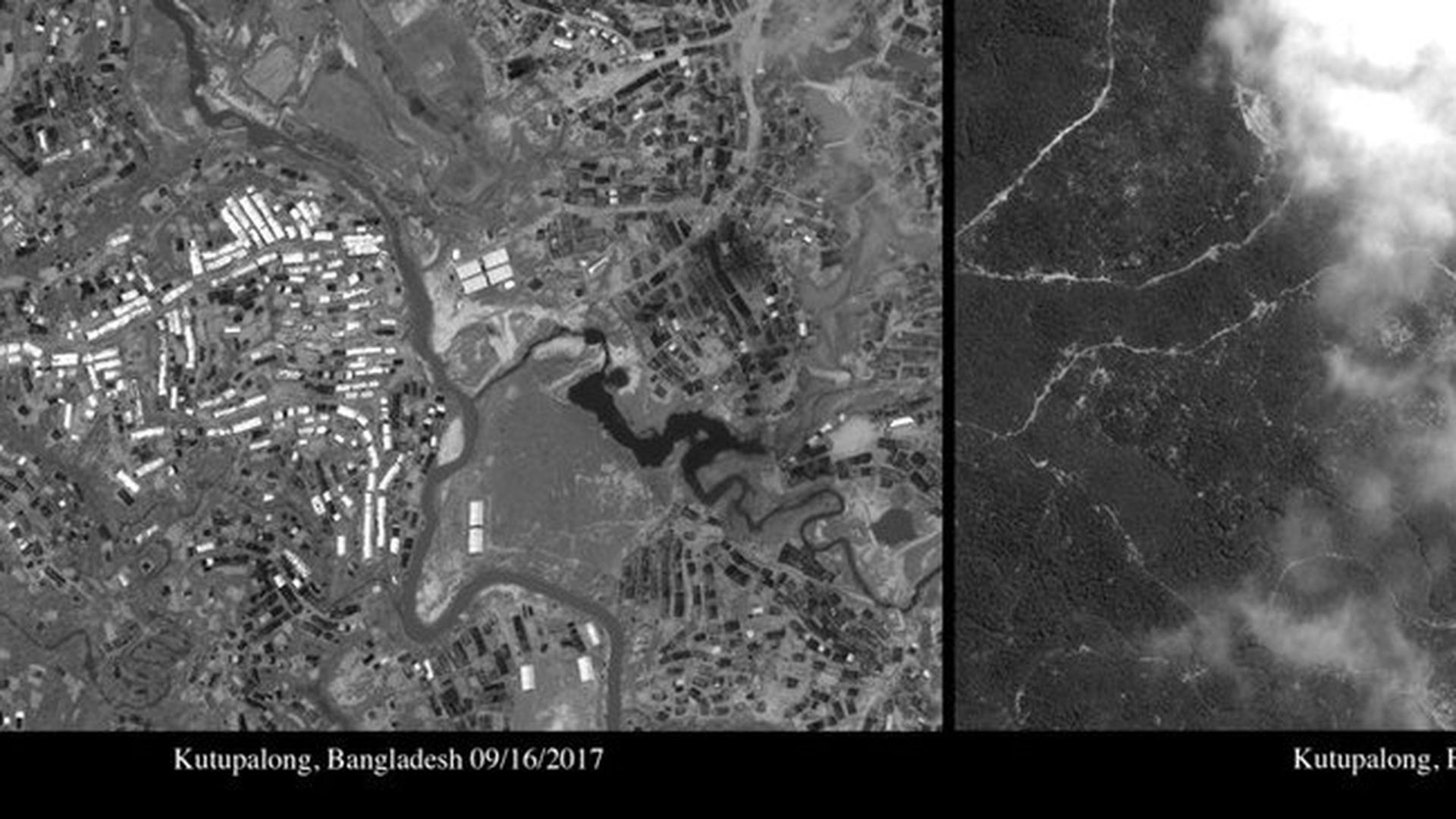 "Myanmar refugee exodus tops 500,000 as more Rohingya flee," by AP's Todd Pitman in Teknaf, Bangladesh:
"The crisis began when a Rohingya insurgent group launched attacks with rifles and machetes on a series of security posts in Myanmar on Aug. 25, prompting the military to launch a brutal round of 'clearance operations' in response. Those fleeing have described indiscriminate attacks by security forces and Buddhist mobs, including monks, as well as killings and rapes.'"
"On Friday, dramatic scenes played out over and over as hordes of Rohingya who had crossed into Bangladesh overnight tried to make their way further inland. They trudged out of boats and through mud that in some places was knee deep. Men carried babies and old women on their backs. Everyone was exhausted."
"Sonabanu Chemmon was among those too weak to walk. Her son-in-law had carried her to one of Bangladeshi's inland creeks, near Shah Porir Dip. But he then abandoned her along with several of her adult daughters."
"Asked why, Chemmon covered her eyes as tears fell down her cheeks. 'He said he had carried me far enough, that he couldn't carry me anymore ... He told me, "You can make it from here. I have to look after my own children."'"
"Myanmar's government, led by Nobel Peace Prize winner Aung San Suu Kyi, and its still powerful military do not allow independent media free access to northern Rakhine state, from where the Rohingya are fleeing.
"While fires are no longer visible from the Bangladeshi border, some refugees told The Associated Press that their homes had been burned as recently as two days ago."
https://www.axios.com/newsletters/axios-am-7dacca24-64b3-4885-ba17-a195e0bdcb46.html?chunk=9#story9
10. 1 pod thing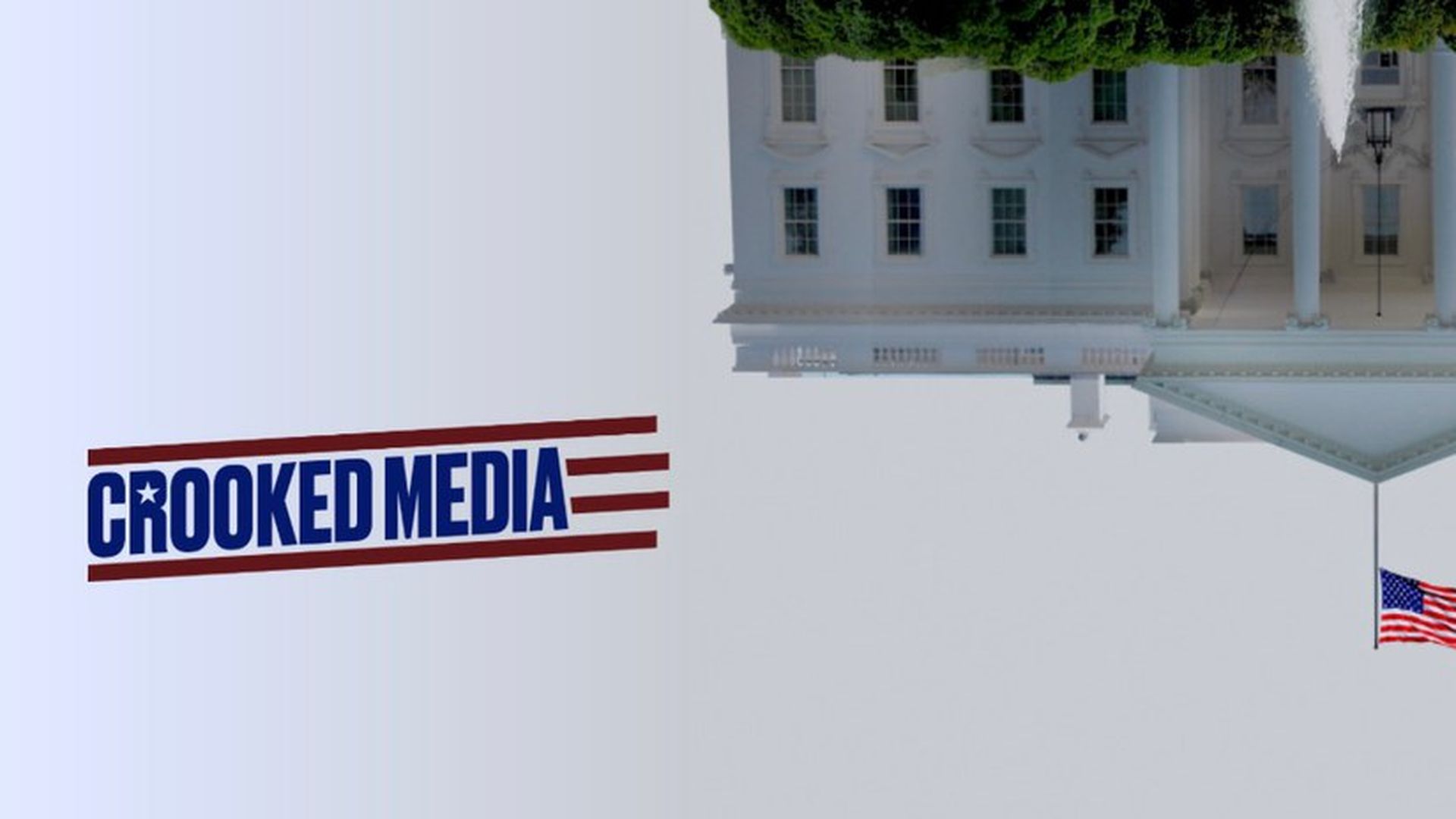 There was a terrific Twitter debate this week about reporting in the Trump era, provoked by a lively and at times tense interview of Axios CEO Jim VandeHei by Pod Save America's Jon Favreau, Jon Lovett and Tommy Vietor.
Worthy of a listen to the "Stick to sports" episode: iTunes ... GooglePlay ... Stitcher (just click to instantly listen) ... Spotify.
Spoilers:
VandeHei, on whether to say "AxiOHS" or "AxiUS": "As long as they're talking about Axios, that's all I really care about. And actually, we love the name because in Greek it means 'worthy,' and we really do set out to try to be worth your time."
On whether there's pressure on news organizations to balance Trump coverage with administration spin: "I'd say, if anything, there's pressure to pile on the president, if you just look at the dynamics on Twitter and look at the dynamics at most media companies. We really try our darndest to explain him ... why is he doing what he's doing. Even if the world thinks it's insane, at least get inside his head, his staff's head and try to walk people through what are they doing, why are they doing it."
"The complication is ... that he's a rolling ball of improvisation ... He operates on his own, after hours, and does things that make his own staff cringe."
On White House aides: "One of the darndest things about this White House, ... very few people ... really try to defend him or even say that they're passionately pro-Trump. Most of them would say, 'Geez, I'm in there because I'm doing this for the good of the country.'"
"Words can't explain how weird this dynamic is compared to every other White House ... The only time you get in trouble is if you do what Bannon did, and make yourself bigger than the big guy. When that happens, you get kneecapped and you end up back at Breitbart."