Happy Friday! The bull market is 9 years old: The S&P 500 hit its financial-crisis low on March 9, 2009, having dropped 57% from its record in 2007.
We spring ahead on Sunday. 100 years ago, in March 1918, Congress enacted — and President Woodrow Wilson signed — the first daylight saving law, the Standard Time Act, during World War I as a way to save coal.
https://www.axios.com/newsletters/axios-am-796a603f-0160-45d4-b752-3a3cb625c5e8.html?chunk=0#story0
1 big thing: Trump's highest stakes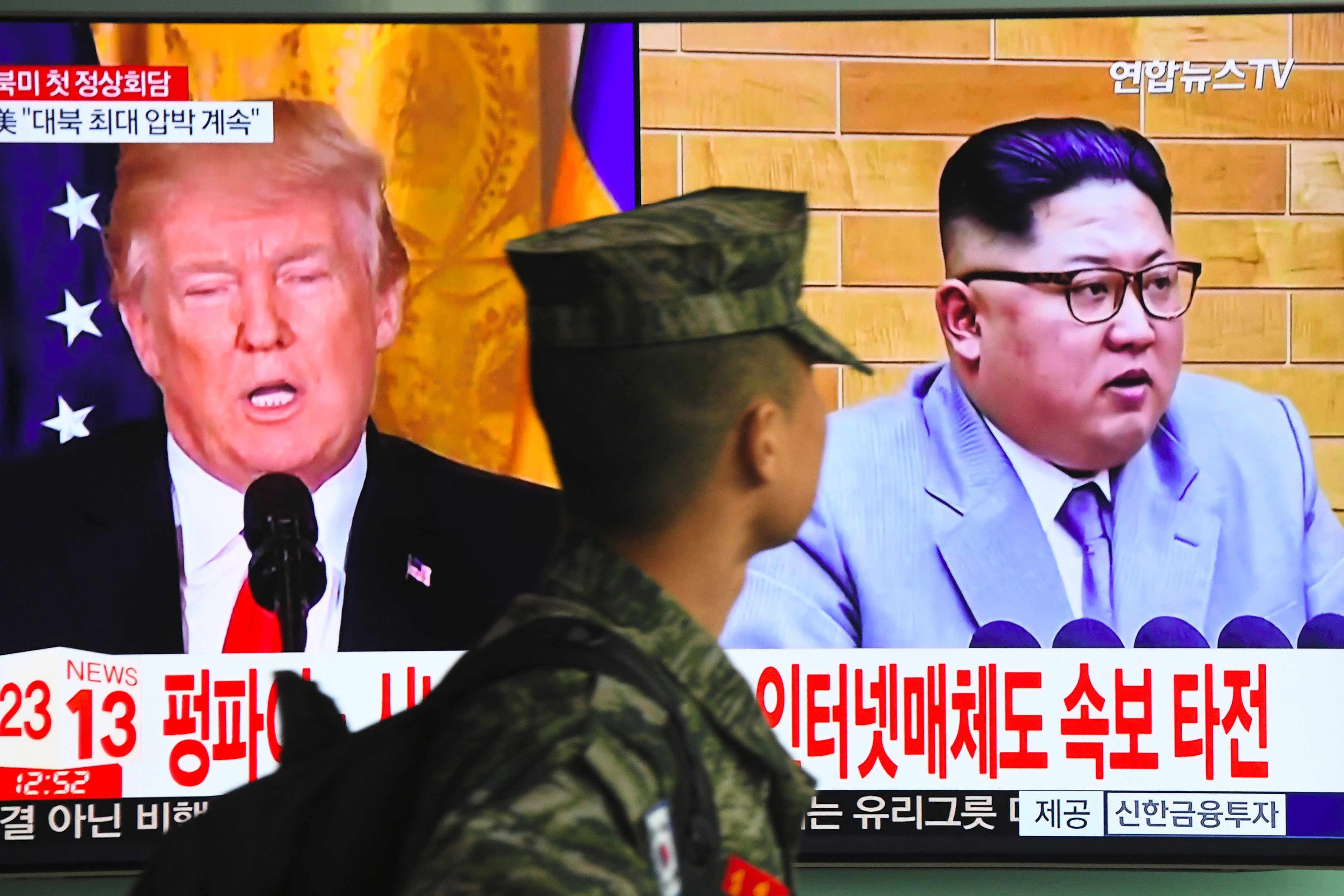 A South Korean soldier walks past a TV screen at a railway station in Seoul today. (Jung Yeon-je / AFP / Getty Images)
President Trump's "breathtaking gamble" (as the N.Y. Times calls it) in agreeing to meet with North Korean dictator Kim Jong-un reflects the winging-it approach he has always taken to life, business and politics:
Jonathan Swan points out that Trump is totally improvisational: He spent his days at Trump Tower with effectively no calendar and no agenda.
He'd sit at his desk taking and making phone calls, open to any offer, any idea.
Why it matters: Trump has an eye for the grand, cinematic moment, and surely sees this as the ultimate made-for-TV moment.
Perhaps more than any modern president he believes in the Great Man theory of history: He believes to his core that his singular charisma and "talent" (a word he uses so often) can solve the world's most intractable problems. 
Swan remembers a senior White House official telling him there are three ways to get Trump to do something, all of which we're seeing this week (with his tariffs announcement as well):
Tell him it's never been done before.
Tell him the lawyers would never allow it.
Tell him the establishment would go crazy.
The skeptics ... Tommy Vietor — former Obama national-security spokesman, and now co-founder of Crooked Media, co-host of Pod Save America and host of Pod Save the World— tweeted:
"Why would the Trump administration announce this like it's an accomplishment? It's a conversation with a homicidal dictator not an invitation to the Met Gala."
Some prominent Democrats praised the North Korean engagement, while warning of pitfalls that could await Trump:
Leon Panetta — former CIA director, Secretary of Defense and White House Chief of Staff — told CNN's Anderson Cooper that Trump will love the attention: "His primary problem is sticking to talking points and really laying the kind of groundwork that has to be laid."
More Panetta: "I think this is a positive step. I think the world is breathing a sigh of relief as a result of having these kind of negotiations ... But in order for the United States not to repeat the mistakes of the past, in terms of how we deal with North Korea, ... a lot of preparation has to be done."
But, but, but ... A senior GOP foreign policy official (whose cynicism is built on a couple of decades of watching North Korea lie and cheat every step of the way), articulated the risks in a series of emails to Swan:
"Kim Jong-un remains a murderous dictator ruling over brutal regime with death camps. Not someone who's looking  for peace."
"Trump will probably fall victim to the same conceit that most American presidents do in the sense that they [think they] personally, in their interactions with foreign leaders, can work their magic, away from the plodding diplomats."
"Thus, Roosevelt and Stalin, Carter and Mideast peace, Bush with Putin, Obama with whomever.  It's incredibly naive, it doesn't work."
"Trump's ego may lead him to believe that he can succeed where no one else can because of who he is and who he has out-negotiated in the past."
"[T]here is such a desperate desire for a magic solution to this otherwise insoluble problem that people lose touch with reality."
https://www.axios.com/newsletters/axios-am-796a603f-0160-45d4-b752-3a3cb625c5e8.html?chunk=1#story1
2. Governing without seatbelts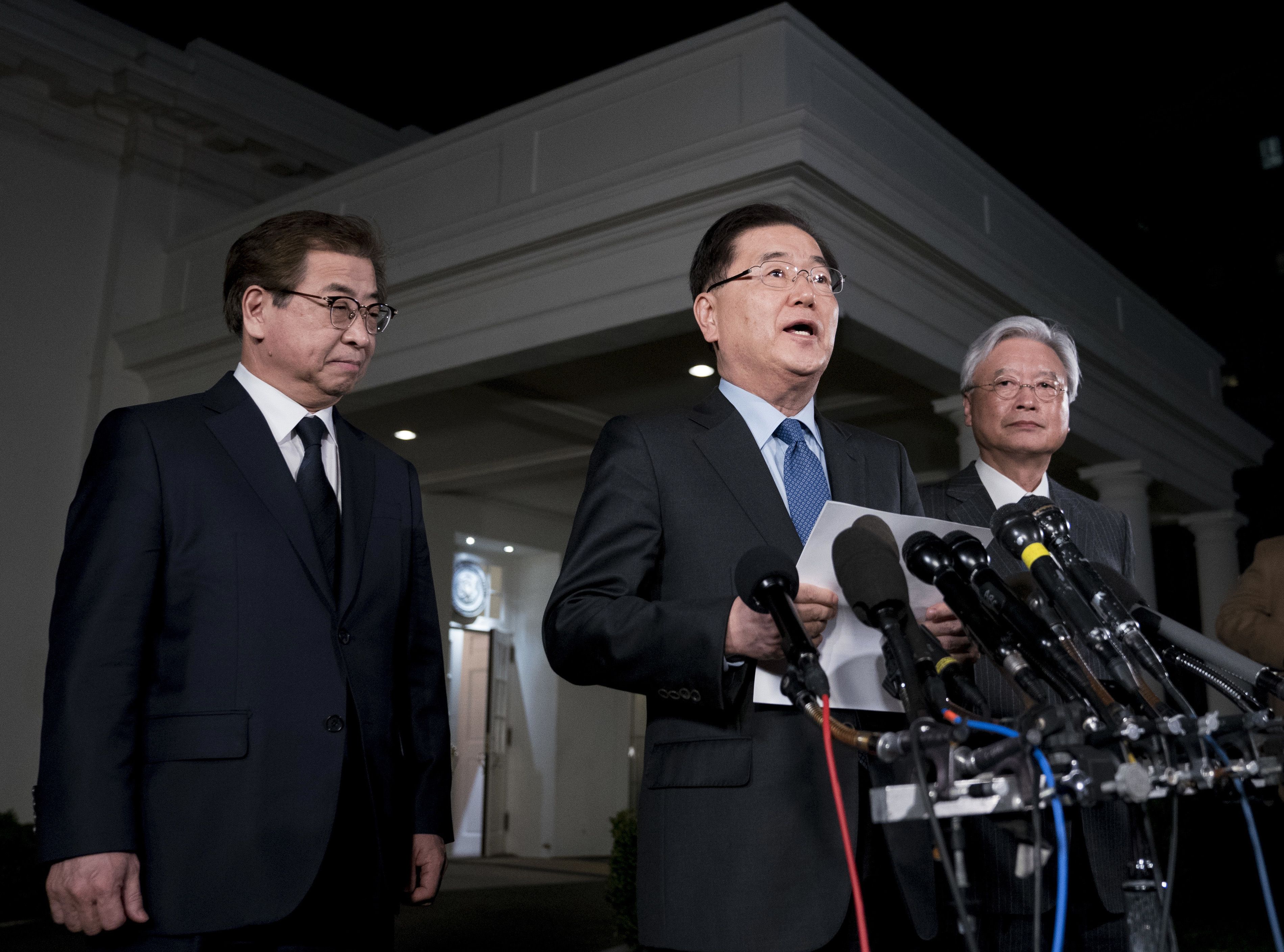 South Korean national security director Chung Eui-yong (center) makes the epic announcement in the White House driveway just after 7 p.m., along with intelligence chief Suh Hoon (left) and Cho Yoon-je, the South Korea ambassador to United States. (AP's Andrew Harnik)
"It's not normal" has become so inadequate to what's unfolding. The N.Y. Times' Mark Landler wins the day with these two paragraphs:
"By day's end, dazed White House officials were discussing whether Mr. Trump would invite Mr. Kim to come to the United States. That seemed entirely likely, the senior administration official said, though American officials doubt the North Korean leader would accept."
"The announcement capped another day of swirling drama at the White House, in which the president defied his own party by

announcing sweeping tariffs

on steel and aluminum imports and sought to ignore a

mushrooming scandal over a pornographic film actress

who claims to have had an affair with him."
https://www.axios.com/newsletters/axios-am-796a603f-0160-45d4-b752-3a3cb625c5e8.html?chunk=2#story2
3. Remember tariffs?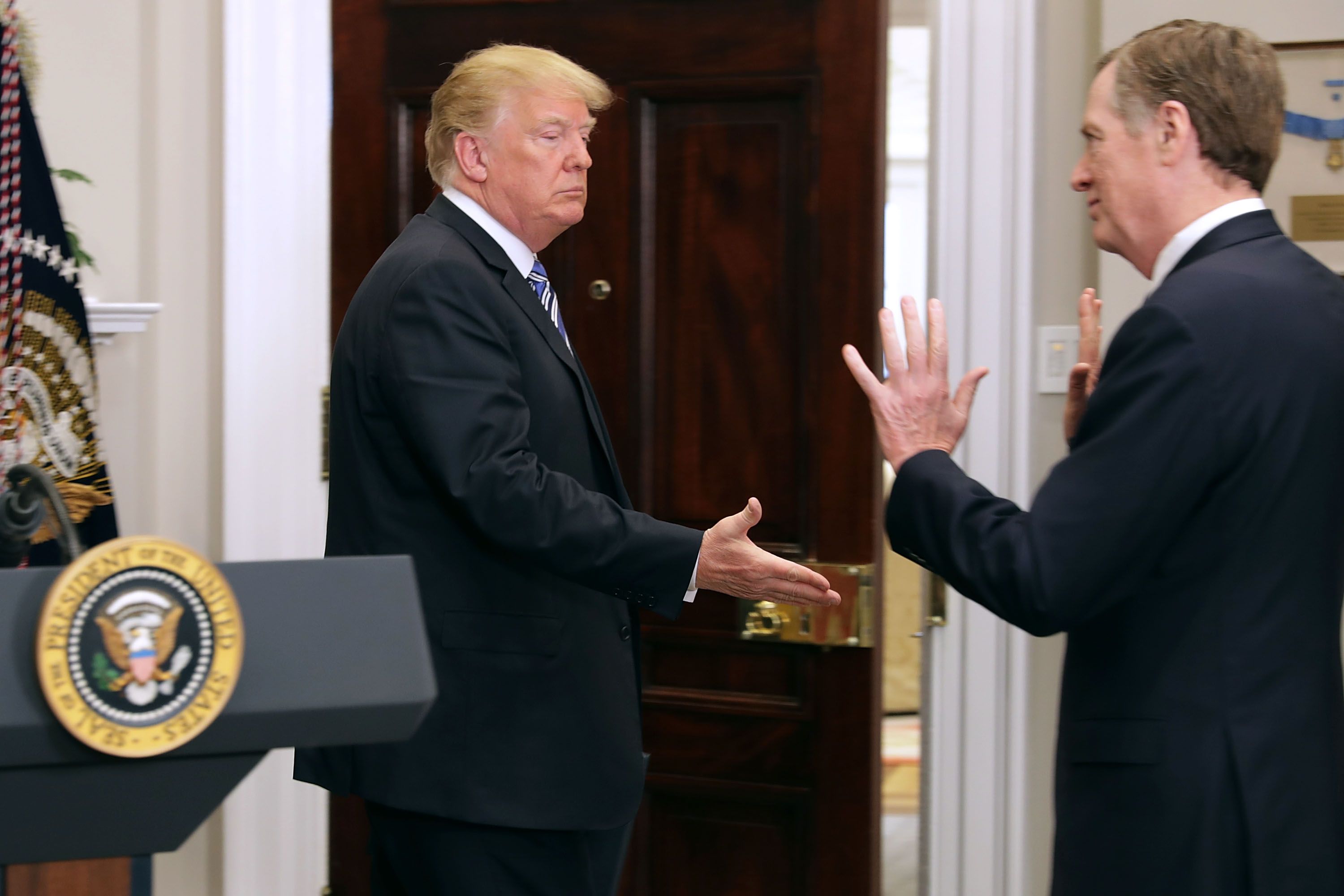 In the Roosevelt Room, President Trump attempts to shake hands with U.S. Trade Representative Robert Lighthizer after signing the Section 232 proclamation on steel and aluminum imports. (Chip Somodevilla / Getty Images)
"Across corporate America, the race is on to dodge the tariff," Bloomberg reports:
"Just as ... Trump left the door open for countries to apply for exemptions to the 25 percent levy on steel and 10 percent on aluminum, his official proclamations ... also offer some workarounds for companies."
What happened: "Under the new rules, an importer can ask the Commerce Department for a waiver if there's a limited supply of the product in the U.S. or if national security is at stake."
Why it matters: "How that'll be interpreted is anyone's guess, but aluminum can makers, pipeline builders and car companies are now building their cases for why the tariffs shouldn't apply to them."
The 411: "In a surprise move, Trump excluded Mexico and Canada, ... allowing for the possibility that other countries could be spared for national security reasons. The tariffs will take effect in 15 days."
Bite of the day ... Gary Shapiro, president and CEO, Consumer Technology Association: "Today's action could ultimately cost far more American jobs than it would create, and raise costs on consumer products."
N.Y. Times Quote of the Day ... Mario Draghi, president of the European Central Bank:
"If you put tariffs against your allies, one wonders who the enemies are."
https://www.axios.com/newsletters/axios-am-796a603f-0160-45d4-b752-3a3cb625c5e8.html?chunk=3#story3
4. The front page POTUS is reading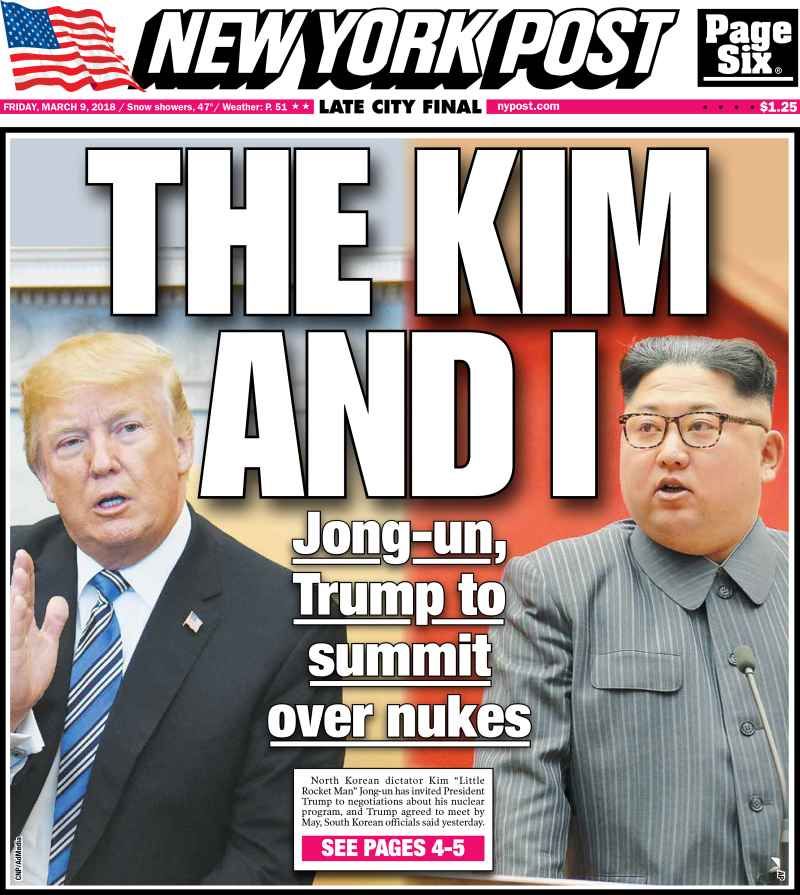 Courtesy New York Post
https://www.axios.com/newsletters/axios-am-796a603f-0160-45d4-b752-3a3cb625c5e8.html?chunk=4#story4
5. New peril for moderate Dems: Voters happy with Trump economy
Half of all voters in the 10 states that voted for Trump but have Democratic senators say the economy is better off now than it was a year ago, according to new Axios/SurveyMonkey polls.
And in nine of the states, majorities approve of the GOP tax law.
Go deeper, with story by Alexi McCammond.
https://www.axios.com/newsletters/axios-am-796a603f-0160-45d4-b752-3a3cb625c5e8.html?chunk=5#story5
6. SXSW agenda: politics, crypto, Facebook
This year's South by Southwest conference, which starts in Austin today, will be packed with events on digital currencies, health data, and artificial intelligence, Axios' Kia Kokalitcheva and Sara Fischer write:
Why it matters: That's a sign of how quickly these have become the biggest topics in future trends. But there's also a recognition of a dark side: lots of panels about how social media is reshaping news and information, and not always for the better.
Watch for panels on tech industry trends like cryptocurrencies and voice assistants, the growing presence of lawmakers, a particular interest in media, and especially Facebook's growing influence. You can also catch a panel on "innovation superpowers." Oh yeah, and Ethan Hawke will be there.
Catch Axios at these events:
Go deeper: Lookahead list of trends.
https://www.axios.com/newsletters/axios-am-796a603f-0160-45d4-b752-3a3cb625c5e8.html?chunk=6#story6
7. Data du jour: China can retaliate on tariffs
China's capability to retaliate against Trump's tariffs now rivals that of the entire EU, and with Beijing's economic clout continuing to grow these tariffs may be the last time the U.S. gets to set the terms of engagement with China.
Go deeper, with story by Axios' Erica Pandey.
https://www.axios.com/newsletters/axios-am-796a603f-0160-45d4-b752-3a3cb625c5e8.html?chunk=7#story7
8. Macker 2020
Terry McAuliffe — governor of Virginia until January, and former DNC chairman — has a New York Times opinion piece that reflects his soundings on a presidential race, "Democrats Should Embrace an Open Economy":
"President Trump's decision to announce tariffs ... serves as a moment for Democrats to stand up for an open America that confidently competes globally."
"In my 2013 campaign for governor, I won endorsements from many moderate Republicans because I campaigned on a welcoming Virginia economy."
"Democrats will win with an optimistic vision of an America [and] pro-jobs message."
https://www.axios.com/newsletters/axios-am-796a603f-0160-45d4-b752-3a3cb625c5e8.html?chunk=8#story8
9. Expert voices: Mark Brzezinski, Dave Burke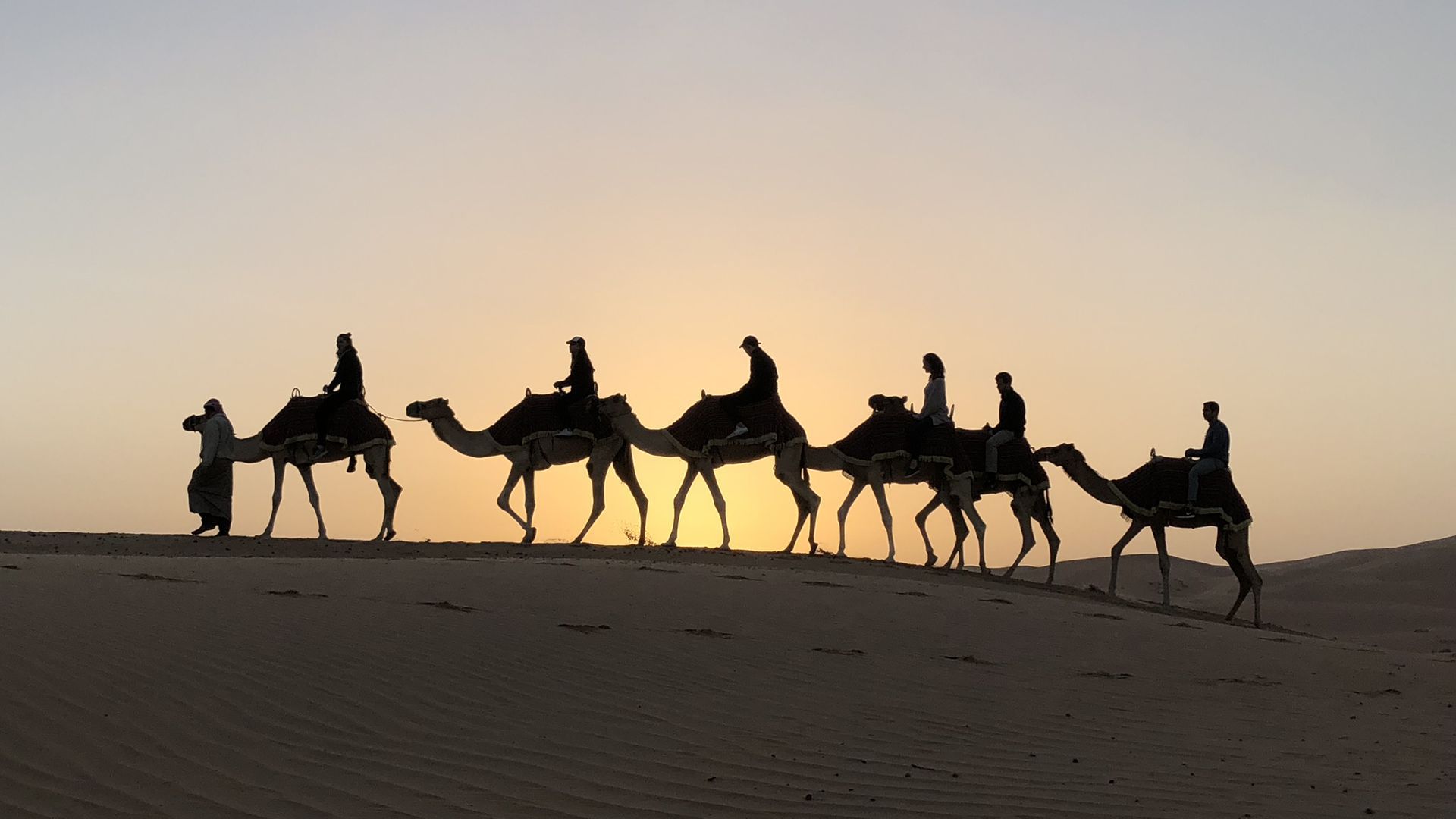 "Hands-on learning, out of the classroom and around the world," by Mark Brzezinski, a managing director at Makena Capital, and former U.S. ambassador to Sweden; and Dave Burke, CEO and cofounder of Makena Capital:
"Experiential learning is not new — apprenticeships and "secondee" systems have been practiced for centuries — but this valuable approach still has much to offer, especially once reimagined for the workplaces of today and tomorrow."
"As a pilot project, one of us (Dave Burke) organized scholarship funds for a 15-day course on investing and entrepreneurship that took 12 undergraduate student at the University of Virginia to 'classrooms' around the world: family investment firms in South Africa, sovereign wealth funds in the United Arab Emirates and financial management offices in Hong Kong."
What's next: "Plans are underway for a second course next year: a trip to Nepal that will focus on development assistance, disaster recovery (from the massive earthquake two years ago) and the role of microfinance and grassroots entrepreneurship in job creation and women's empowerment."
See their "Stops along the way."
https://www.axios.com/newsletters/axios-am-796a603f-0160-45d4-b752-3a3cb625c5e8.html?chunk=9#story9
10. 1 tune thing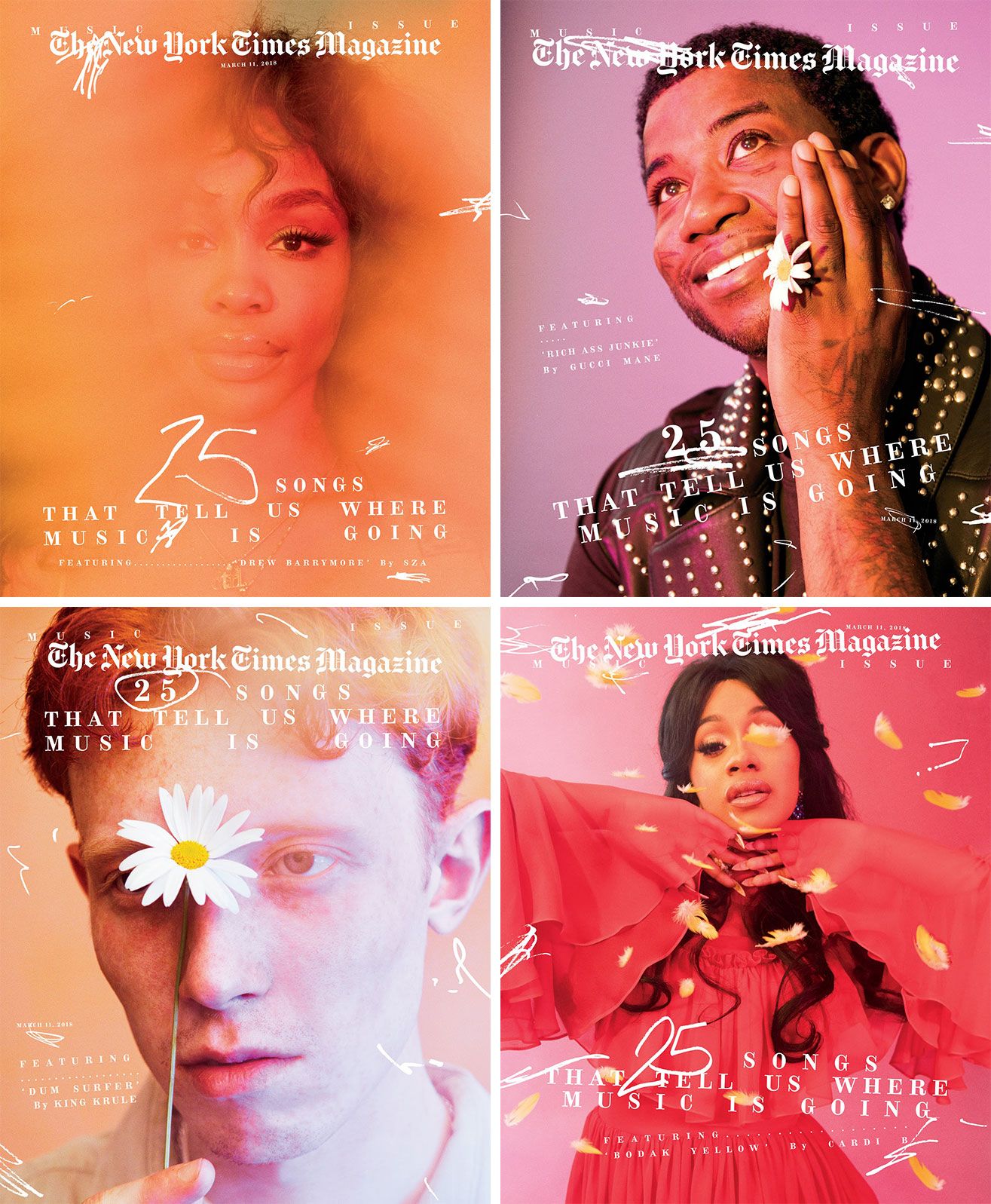 Courtesy N.Y. Times
For The New York Times Magazine's third annual Music Issue, 25 writers choose significant songs to dissect, resulting in a far-ranging playlist designed to tell us where music is going.
Nitsuh Abebe, story editor for the Magazine, writes in an intro: "If the last version of pop was driven by people who desperately wanted everyone to care and everything to matter, it's only natural for the next wave to be interested in what it looks like when you don't care, and nothing matters."
The issue has four covers, featuring the artists SZA, Gucci Mane, Cardi B and King Krule.