Axios AM
October 28, 2022
Happy Friday. Smart Brevity™ count: 1,486 words ... 5½ minutes. Edited by Noah Bressner.
1 big thing: Musk's surreal deal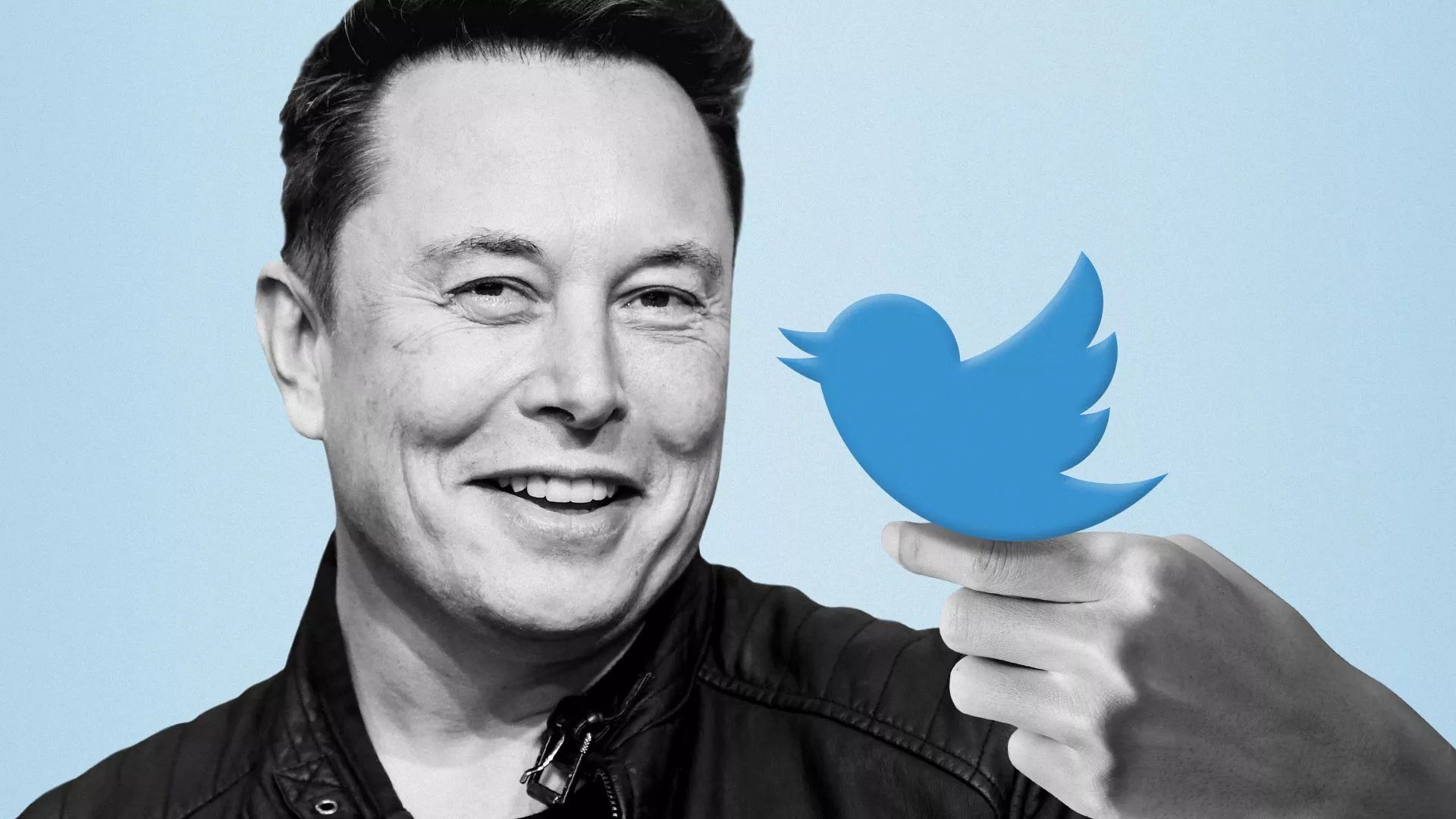 Twitter employees — including people in senior roles and those with lots of stock at stake — were left in the dark last night as Elon Musk closed his deal to take over the company.
They got the news on Twitter, Axios' Sara Fischer and Dan Primack report.
Why it matters: The deal gives Musk sole control of one of the most important global platforms for political speech and social discourse.
🔎 Between the lines: The deal will make some of those same employees rich.
Musk closed the deal at a whopping $54.20 per share. One source inside Twitter noted they wouldn't be surprised if Twitter's stock would have been trading at $15 sans the deal drama — a figure similar to some of its competitors like Snap and Pinterest.
"Saved by hubris," one source quipped about the stock silver lining.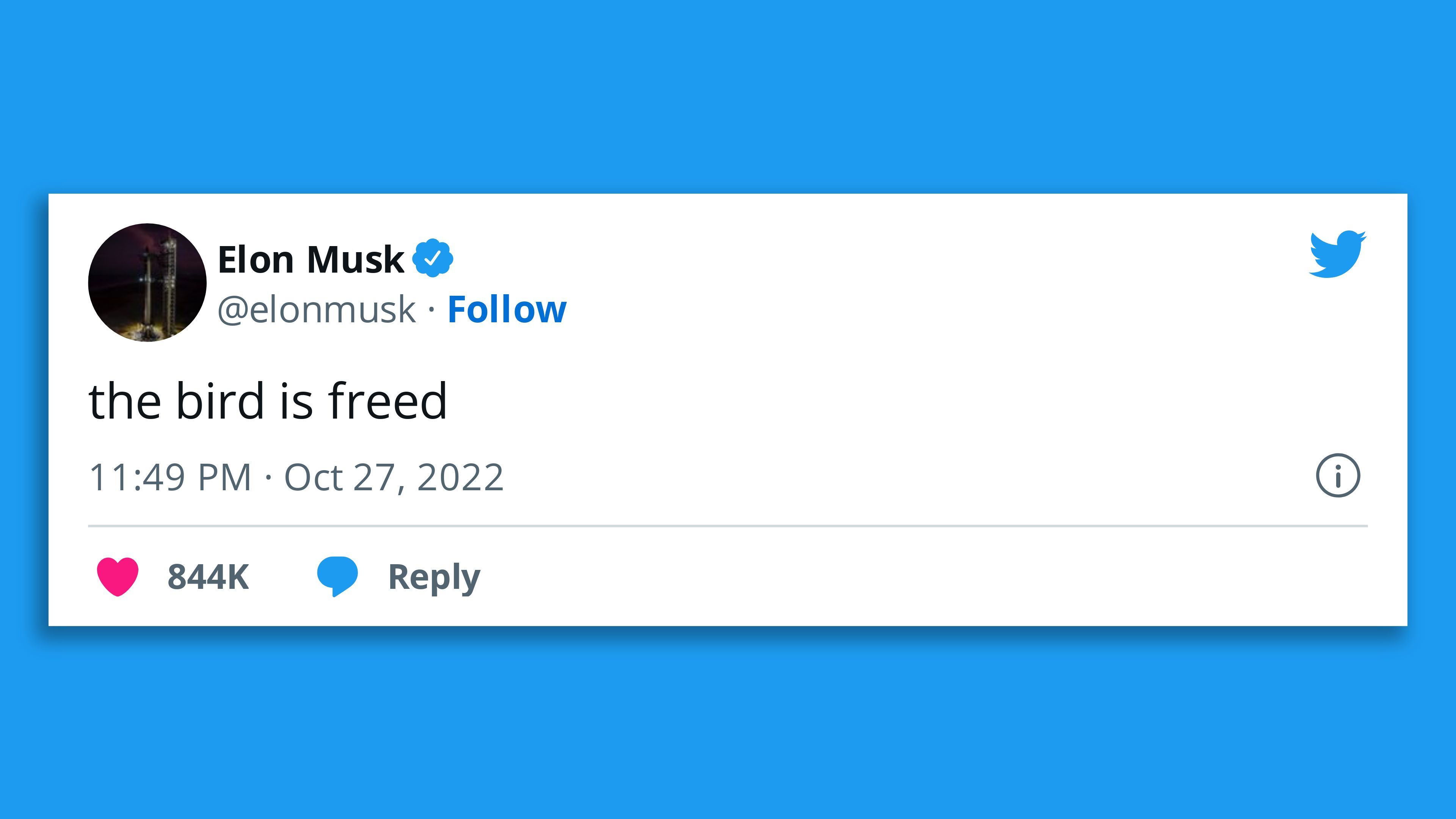 CEO Parag Agrawal, CFO Ned Segal, and general counsel Sean Edgett all were fired last night.
Also removed was Vijaya Gadde, Twitter's longtime head of legal, policy and trust. The prior CEO, Jack Dorsey, had put her in charge of major user account decisions — including the one to permanently ban former President Trump. (His account remains suspended this morning.)
👀 What we're watching: It's unclear whether other top executives will remain, including Twitter's chief customer officer Sarah Personette — who got Musk to assure advertisers in a tweet:
"Twitter obviously cannot become a free-for-all hellscape ... Fundamentally, Twitter aspires to be the most respected advertising platform in the world."
Share this story ... Musk statement to advertisers.
2. Tech shock: Splurge before stress
In just the past year, Microsoft, Meta and Google parent Alphabet have each seen their headcounts rise by upwards of 20%.
As Big Tech companies shift from growth to belt tightening, they'll have to reckon with just how many employees they've hired since the pandemic began, Axios chief tech correspondent Ina Fried writes.
Why it matters: Hiring freezes may not do enough to cut costs — Big Tech payrolls are rising significantly just due to all the employees hired in the last year.
Big Tech stocks tanked this week after weak revenue reports.
Nearly all large tech companies say they expect to slow hiring this year, with many turning to partial or complete hiring freezes.
Microsoft has already conducted a small number of layoffs, Snap is cutting 20% of staff and other tech companies have indicated layoffs could be coming.
Meta has said most departments outside of a few priorities will see lower budgets in the coming year. "So that means some teams will grow meaningfully, but most other teams will stay flat or shrink over the next year," CEO Mark Zuckerberg said on the earnings conference call this week. "In aggregate, we expect to end 2023 as either roughly the same size, or even a slightly smaller organization than we are today."
Microsoft CFO Amy Hood told analysts that any growth above current levels "should be minimal" this quarter.
Alphabet CEO Sundar Pichai said any headcount growth this quarter will "be significantly lower" than the past quarter. "And as we plan for 2023, we'll continue to make important trade-offs where needed, and are focused on moderating operating expense growth," Pichai said.
3. 🗳️ Axios Local: Ballot threats across U.S.
Safety fears are making it hard to recruit election workers in some states, John Frank and Monica Eng write from Axios Local reports from across the map.
In Colorado, Pennsylvania and other states, officials report that election deniers are signing on as poll watchers, which could create tense situations at polling places.
Why it matters: Efforts to intimidate voters and spread misinformation can erode the public's trust in democracy.
🔭 Zoom out: As early voting began earlier this month, the FBI and Department of Homeland Security issued two warnings about voter intimidation and threats to election workers.
Most of the threats have come in seven states that experienced public disputes, recounts or audits in 2020 — Arizona, Colorado, Georgia, Michigan, Pennsylvania, Nevada and Wisconsin, the FBI reports.
What's happening: Election officials are boosting security measures and training poll workers in de-escalation techniques.
In Chicago, officials recruited 400 active and retired law enforcement officers to work as "election investigators" and visit polling places to "maintain a secure and orderly election process," Max Bever of the Chicago Board of Elections tells Axios.
Minnesota's election chief expanded an existing cybersecurity position to also focus on physical election security.
Georgia's secretary of state created a text-message system for poll workers and other election employees to report threats or safety concerns in real time.
Other jurisdictions — including Colorado and cities like Columbus, Ohio — increased penalties for election tampering, equipment breaches and harassing poll workers.
🥊 Reality check: Some local officials and voting advocates fear the response could overwhelm voters — and make elections seem less secure than they are.
🔮 What's next: More than 100 lawsuits have already been filed, largely by Republicans, to challenge aspects of the 2022 process, including states' handling of absentee ballots, AP reports.
Reporting was contributed by Lindsey Erdody, Keldy Ortiz, Alissa Widman Neese, Thomas Wheatley, Torey Van Oot and Isaac Avilucea.
🏡 Get Axios Local — now with morning newsletters in 24 cities.
4. 📷 1,000 words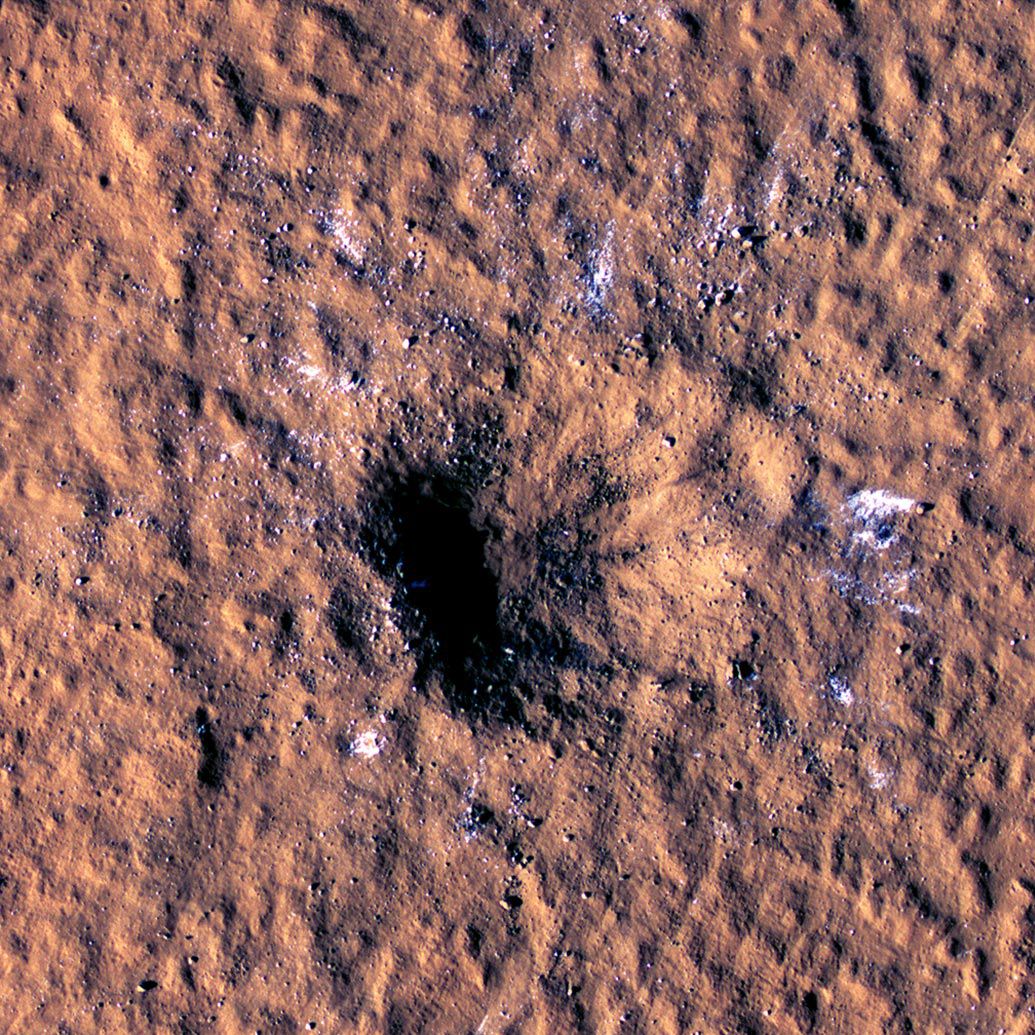 Mars image released by NASA yesterday: Boulder-size blocks of ice surround the impact crater from a 2021 meteor strike, as viewed by the High-Resolution Imaging Science Experiment (HiRISE camera).
Go deeper: Spacecraft feel, see major meteor impact on Mars, by Axios' Miriam Kramer.
5. 🎒 Stunning stat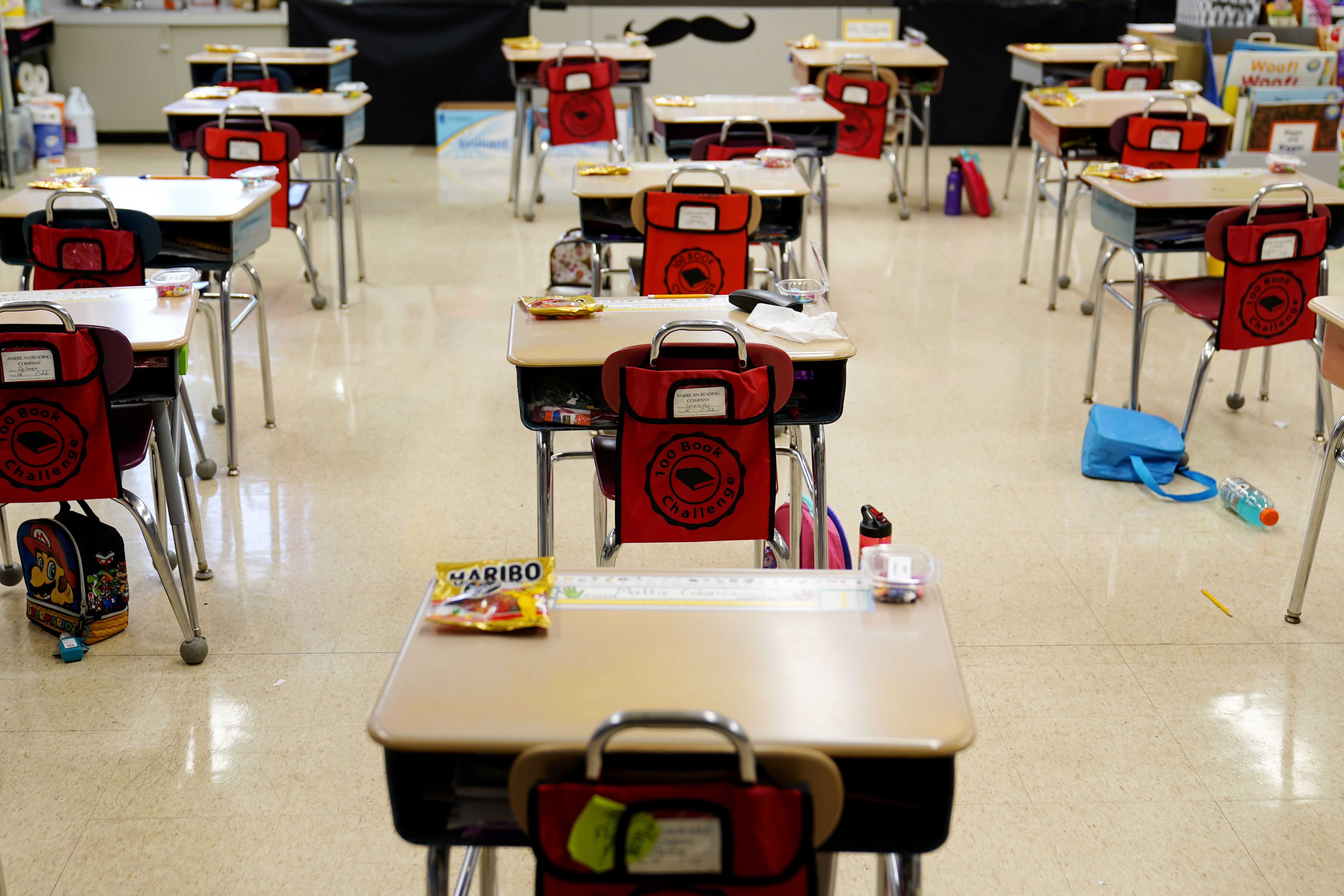 The average U.S. elementary-school student lost more than half a school year of learning in math — and nearly a quarter of a school year in reading — during the pandemic.
Some district averages slipped by more than double those amounts, or worse, AP reports.
The averages were calculated by Stanford's Sean Reardon and Harvard economist Thomas Kane — using this week's Nation's Report Card, which compared fourth- and eighth-grade scores from 2019 and 2022.
6. Covering America: Carjacking stickers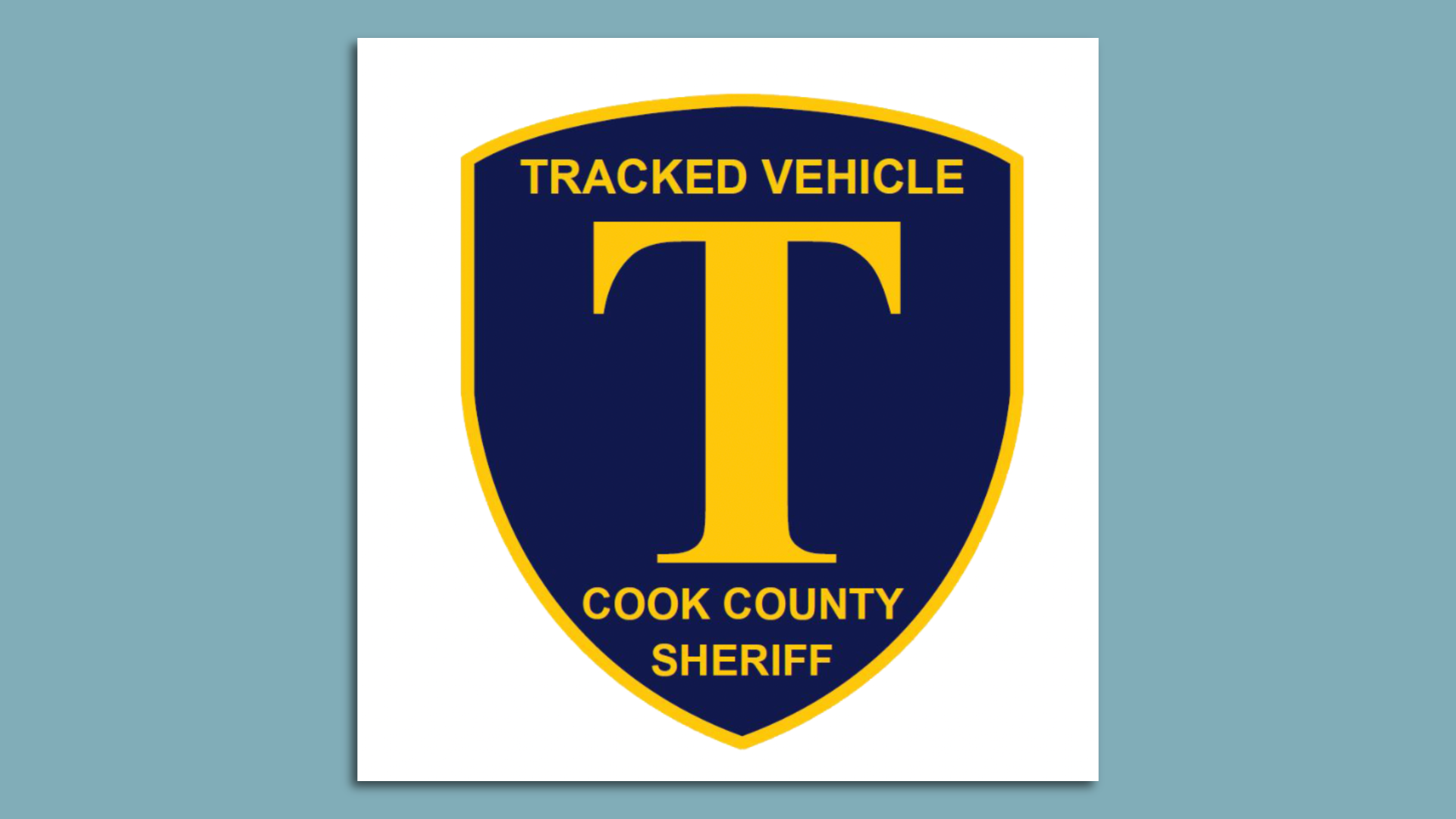 Cook County Sheriff Tom Dart thinks car-tracking stickers could deter carjackings and help his department find stolen vehicles, Monica Eng writes for Axios Chicago.
Even as other types of violent crime have fallen in the last two decades, city data shows carjackings have risen — especially during the pandemic.
At the same time, local carjacking arrest rates have fallen to their lowest levels in 20 years.
The intrigue: When Dart's staff asked suspected carjackers what they'd do if they knew a car was being tracked, the answer "was quite unanimous," he said: "They'd just go to another car."
7. 🚒 Tracking power: A 157-year first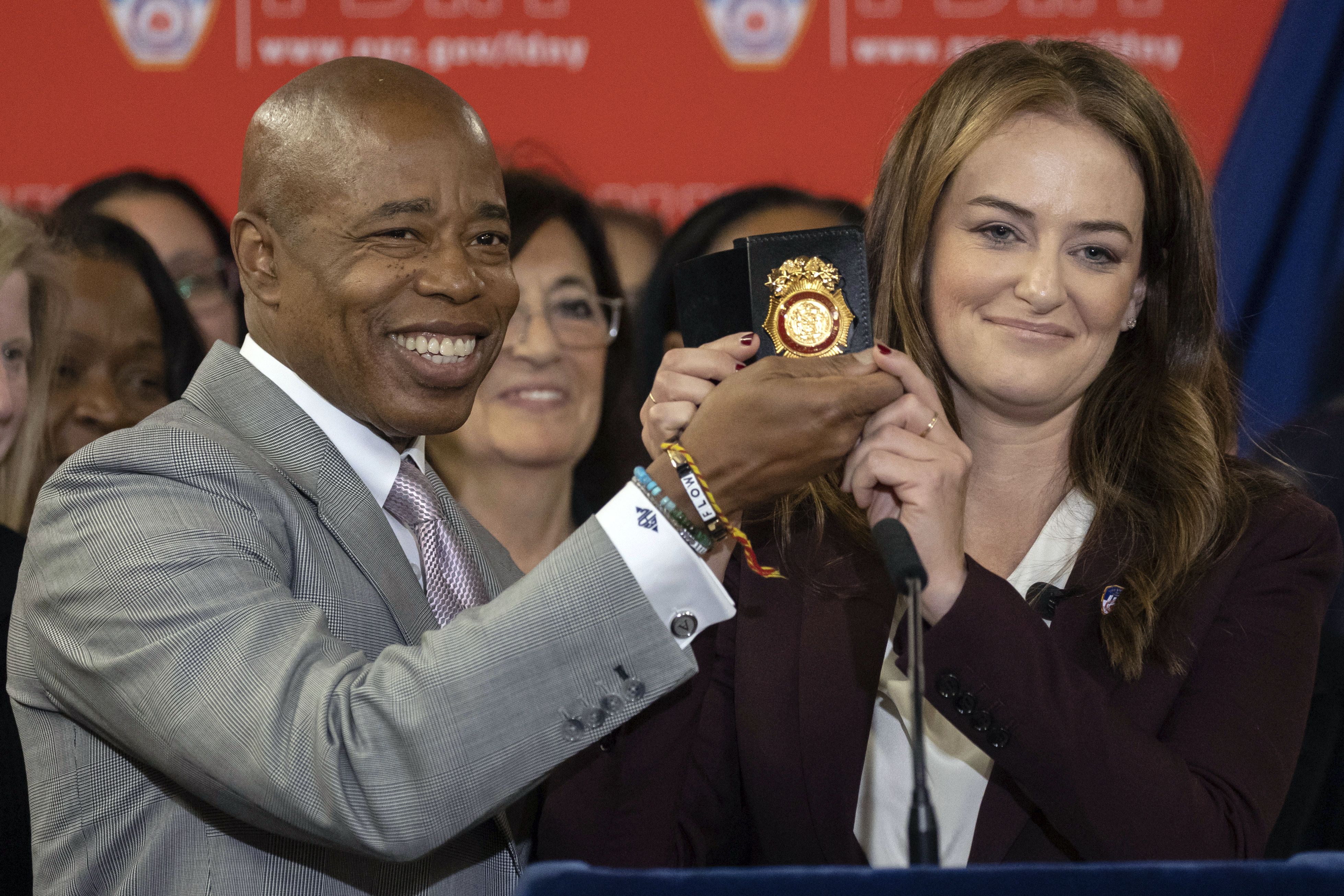 New York Mayor Eric Adams yesterday swore in Laura Kavanagh as fire commissioner at FDNY Engine 33/Ladder 9 in Manhattan — the first woman to hold the job in the department's 157-year history.
FDNY, known as the "Bravest," is the country's largest fire department, with 17,000 employees and a $2 billion budget.
Kavanagh, 40, has a master's in public administration from Columbia. She had been first deputy commissioner, then acting commissioner, and previously worked at City Hall for Mayor Bill de Blasio.
8. ⚾ 1 fun thing: World Series mascots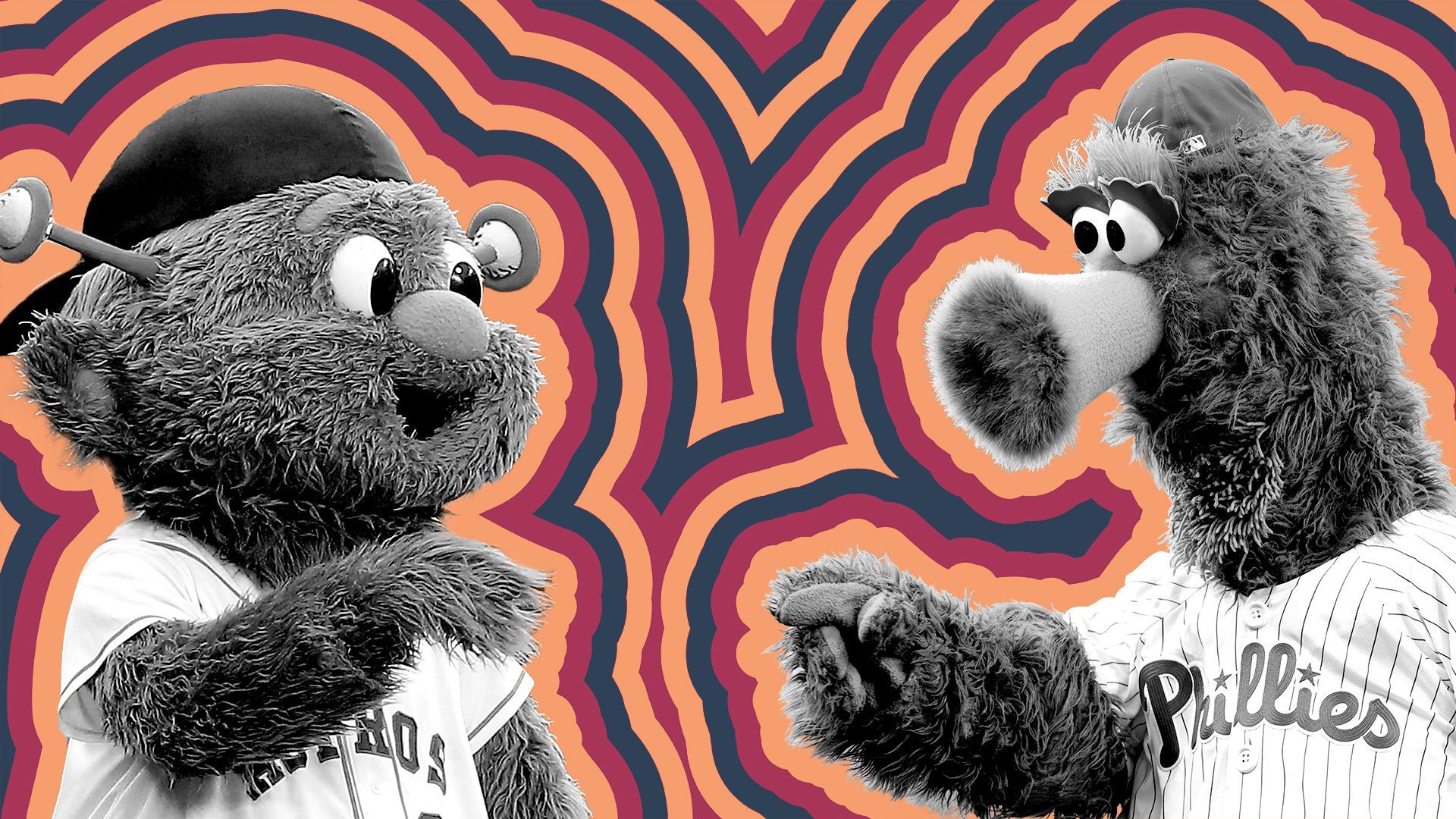 For all their differences, you'll notice one big, green and furry similarity when the Philadelphia Phillies and Houston Astros matchup for Game 1 tonight (8 p.m. ET on Fox): Their mascots look irritatingly related.
Axios Philly wanted to know more about the Astros' doppelgänger, so it traded mascot origin stories with Axios Houston.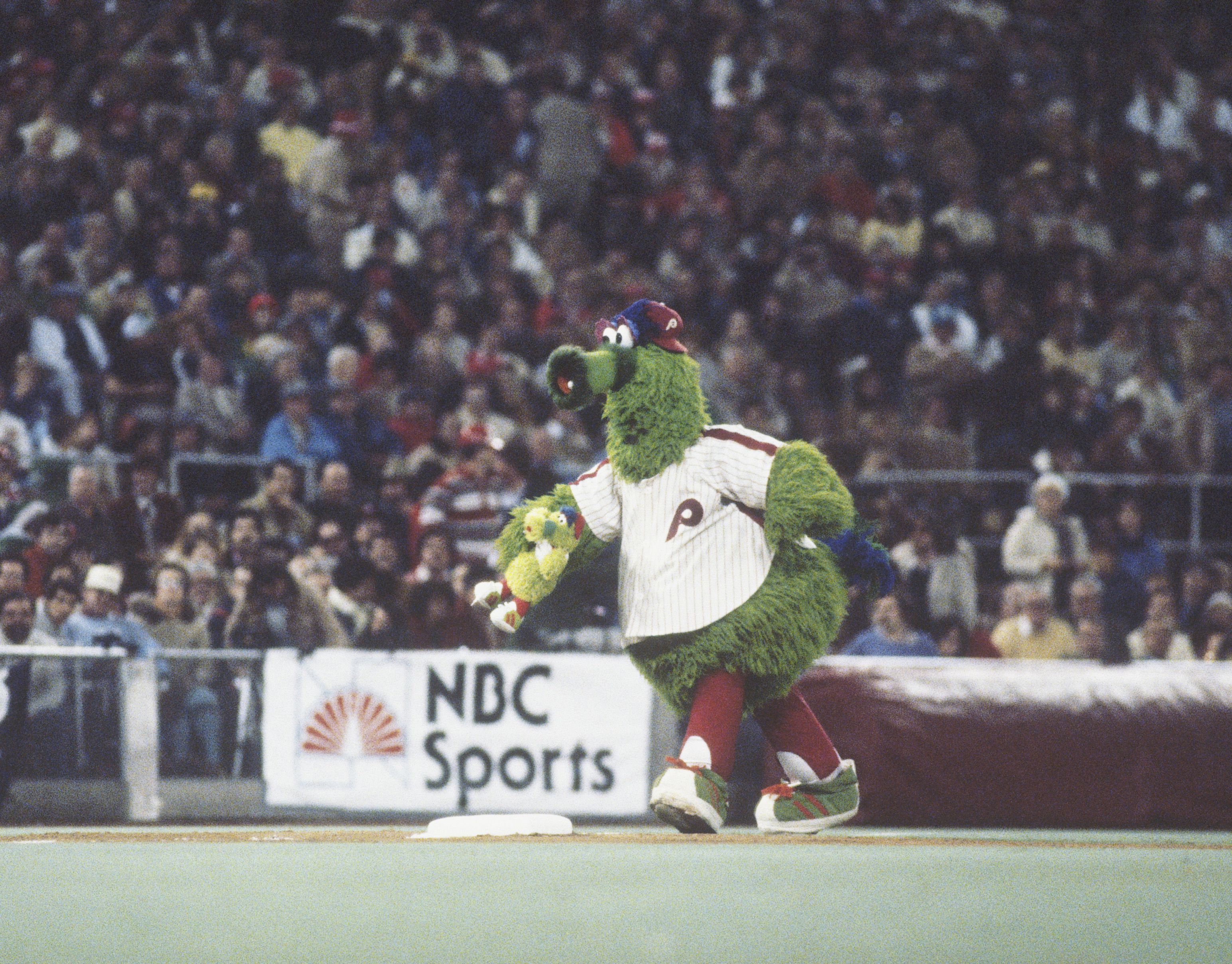 In the late 1970s, the Phillies were ready to say goodbye to their revolutionary past and colonial mascots Phil and Phillis. So they reached out to master puppeteer Jim Henson for help.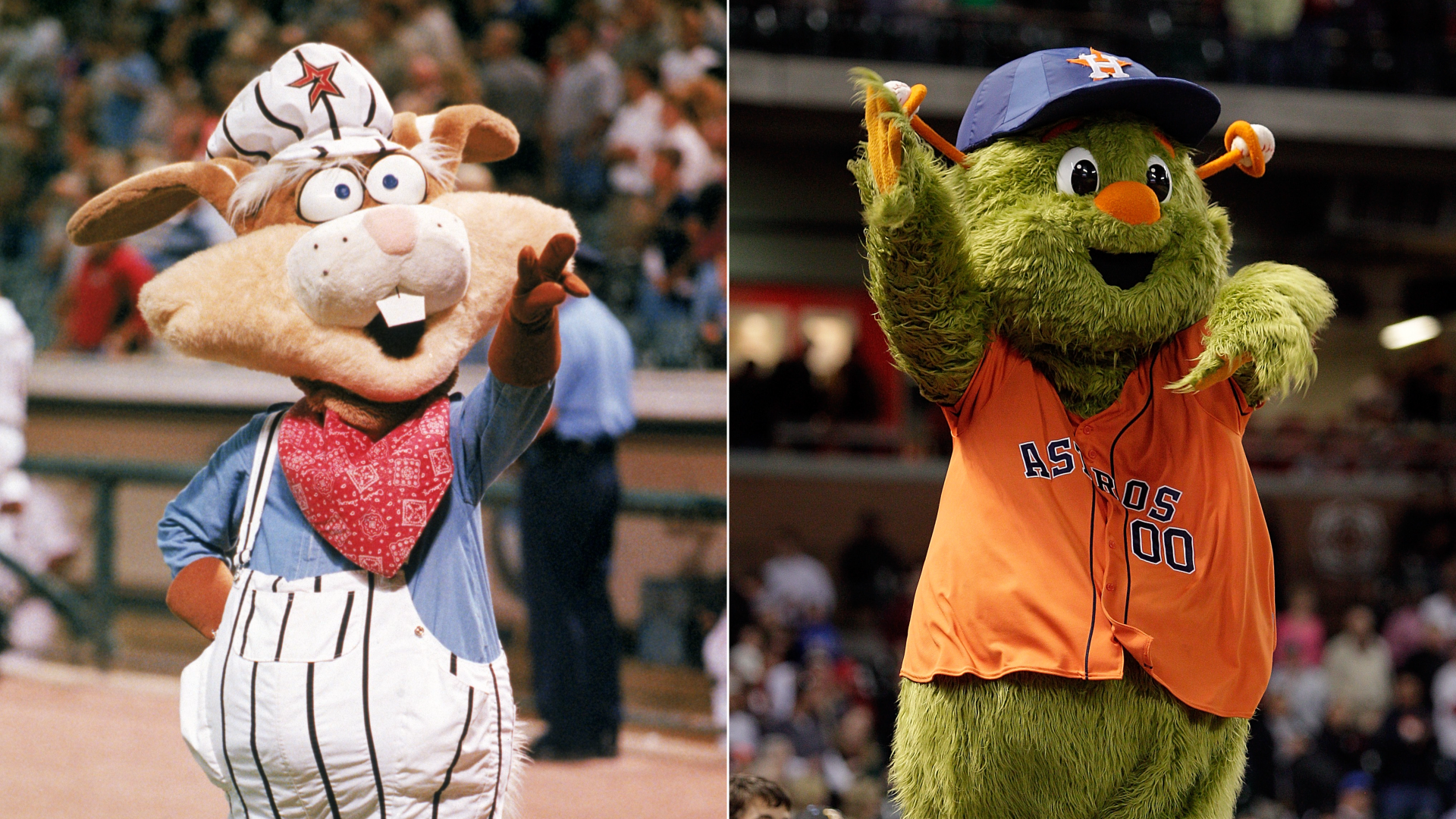 The Astros, meanwhile, were under the guard of Chester Charge, a Texas cavalry soldier, in the '70s.
The intrigue: Orbit was temporarily ousted by a Texas jackrabbit named Junction Jack when the team left the Astrodome in 2000.
📬 Please invite your friends to sign up to get their daily essentials — Axios AM, PM and Finish Line.