Good Tuesday morning. It's Day 271. Situational awareness: President Trump "will meet Japanese Emperor Akihito when he visits Japan in November as part of an Asia trip that will also take him to China, Vietnam, South Korea and the Philippines," the Financial Times reports. "Trump will meet the Japanese Emperor Nov. 6 after seeing Japanese Prime Minister Shinzo Abe."
https://www.axios.com/newsletters/axios-am-763e5890-4ceb-4b9f-9405-0274c018c7d6.html?chunk=0#story0
1 big thing: Trump's alternative reality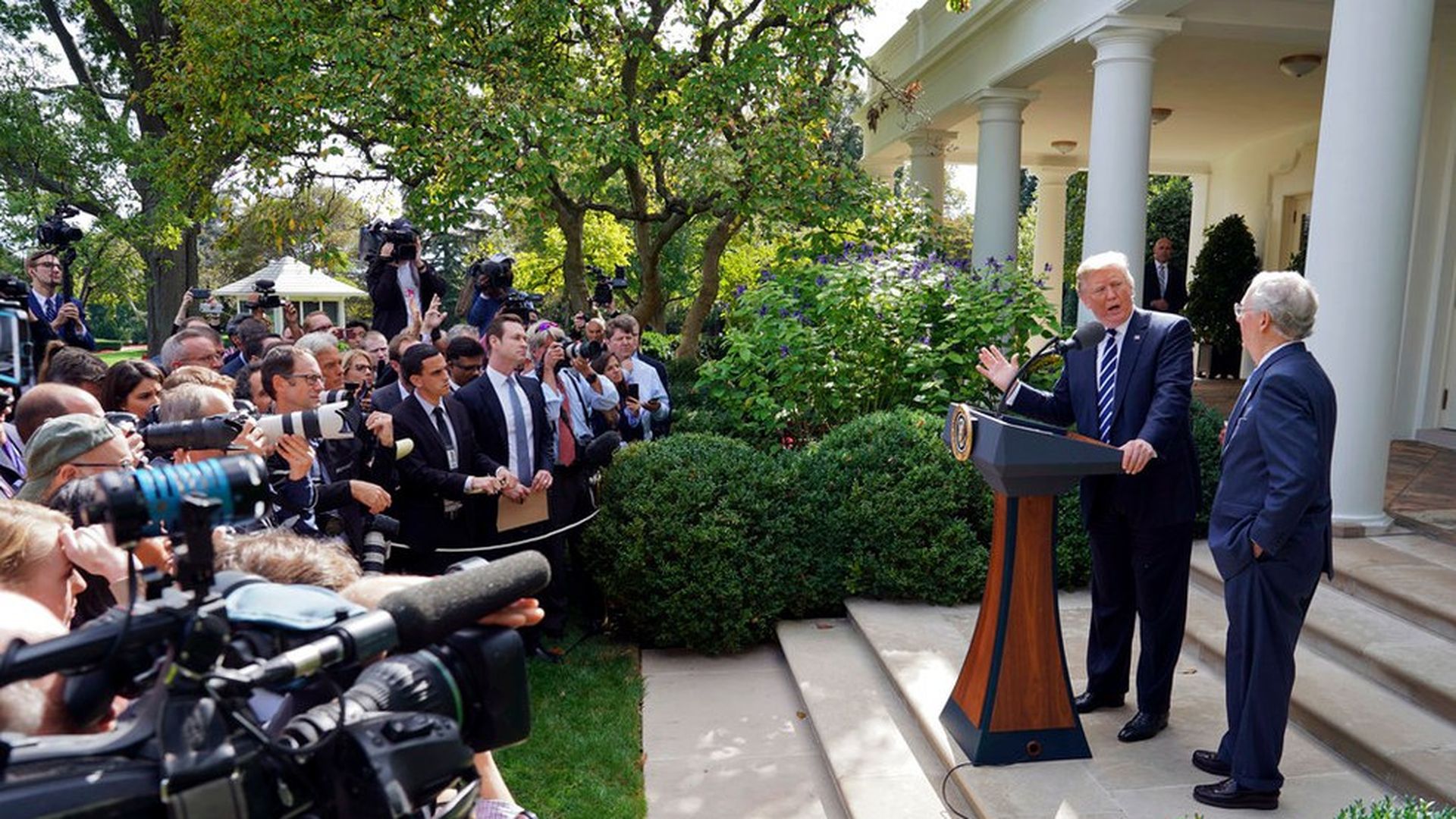 President Trump "goes there, on just about every topic imaginable," as NBC's Brian Williams put it, during a pair of Q&As, two hours apart yesterday — in the Cabinet Room, and with Senate Majority Leader Mitch McConnell in the Rose Garden:
Trump says he and McConnell are "closer than ever before." Both men and their staffs have been trashing each other in public and private for months.
Trump says other presidents "didn't make calls" to families of soldiers killed in duty. They did.
Trump says Obamacare is "dead." His repeated efforts to repeal it failed.
Trump says it's been established that "no collusion" took place with the Russians. Bob Mueller is interrogating the president's associates and advisers on this very point in real time.
Trump says he "already" has "the votes right now" for a bipartisan health care fix. He doesn't.
Sound smart: The damnedest thing is that not a single bullet point I just wrote is disputable. While every one of those things the President said was.
Why it matters: It's almost impossible for the media to cover these press conferences — or for Republicans to discern what he wants and how he plans to get it — because Trump spreads fake news while calling real news fake. This isn't new. And, yes, 35% of voters don't seem to care. But that doesn't make it any less dangerous.
Yesterday's keepers:
On GOP senators: "I'm not going to blame myself, I'll be honest. They are not getting the job done."
"Obamacare is finished. It's dead. It's gone. It's no longer — you shouldn't even mention. It's gone. There is no such thing as Obamacare anymore."
On Steve Bannon's war on McConnell and the Republican establishment: "Steve is ... a friend of mine ... I can understand where Steve Bannon is coming from. ... I know how he feels. ... There are some Republicans, frankly, that should be ashamed of themselves."
On whether he's considering firing Mueller: "No, not at all."
"Oh, I hope Hillary runs. Is she going to run? I hope. Hillary, please run again."
P.S. Bannon tells me by email: "McConnell and the GOP Establishment have sown the wind — now be prepared the reap the whirlwind."
https://www.axios.com/newsletters/axios-am-763e5890-4ceb-4b9f-9405-0274c018c7d6.html?chunk=1#story1
2. Return of the nuclear era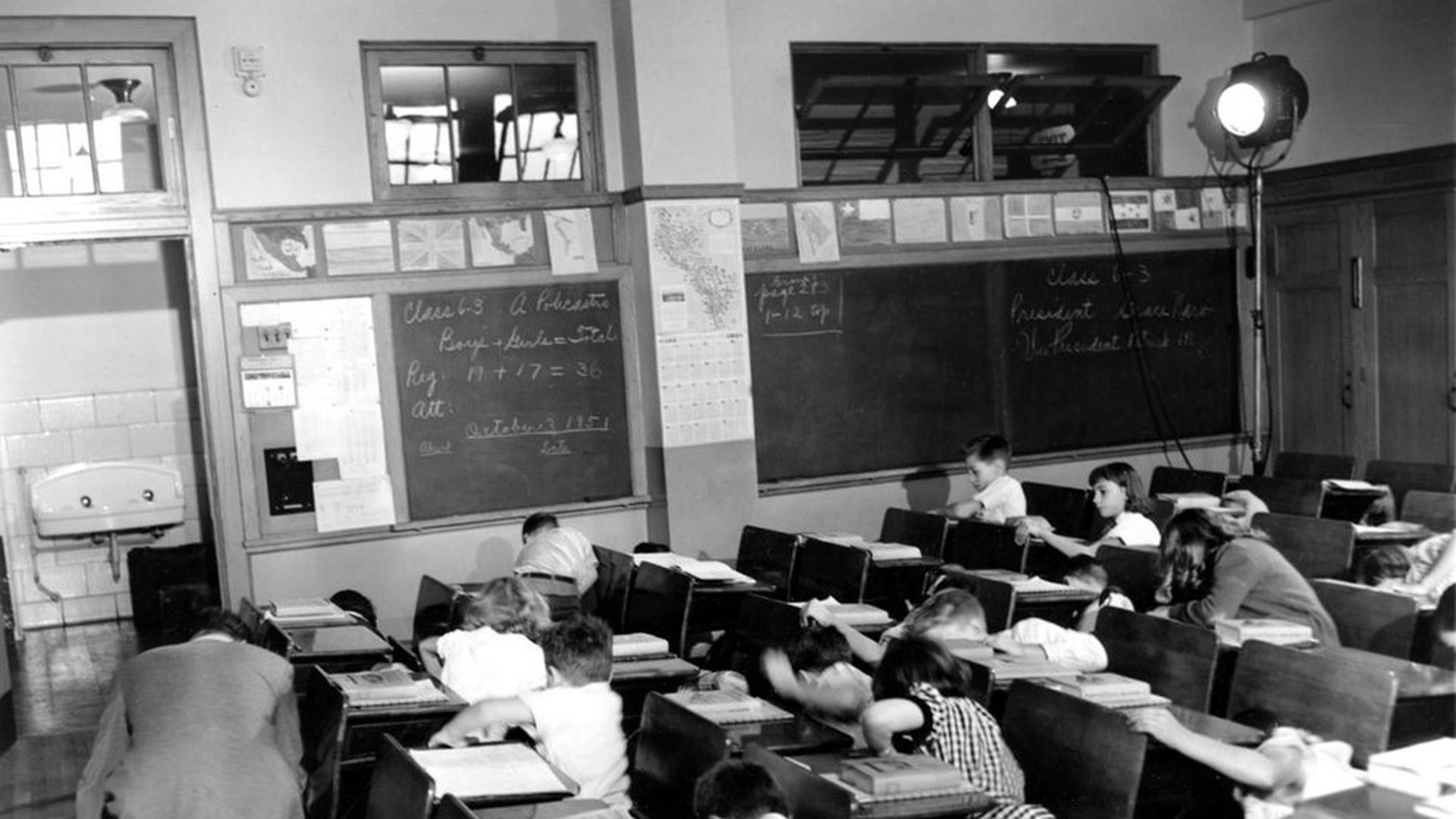 In this photo from Nov. 21, 1951, sixth-grade students crouch under or beside their desks — along with their teacher, Vincent M. Bohan — as they act out a scene from the Federal Civil Defense Administration film "Duck and Cover" at Public School 152 in Queens, New York.
Why it matters: For some baby boomers, North Korea's nuclear advances and Trump's response have prompted flashbacks to a time when they were young, and when they prayed each night that they might awaken the next morning, AP pointed out this summer. For their children, the North Korean crisis was a taste of what the Cold War was like.
Save this tape: "North Korea's deputy U.N. ambassador warned ... that the situation on the Korean peninsula 'has reached the touch-and-go point and a nuclear war may break out any moment.'" (AP)
N.Y. Times, from Seoul: "The United States military said ... that it would practice evacuating noncombatant Americans out of South Korea ... It has conducted similar evacuation exercises for decades."
"But with fears rising in the South that the United States might be preparing for military action against the North, the American military issued a rare news release ... stressing that [it] was a 'routinely scheduled' drill. The drill, known as Courageous Channel, is scheduled from next Monday through Friday."
https://www.axios.com/newsletters/axios-am-763e5890-4ceb-4b9f-9405-0274c018c7d6.html?chunk=2#story2
3. Backlash over drug czar
Trump said "that he will declare a national emergency next week to address the opioid epidemic and declined to express confidence in Rep. Tom Marino (R-Pa.), his nominee for drug czar, in the wake of revelations [joint WashPost/'60 Minutes'] that the lawmaker helped steer legislation making it harder to act against giant drug companies," reports the Post lead story:
"The president ... said he had not yet spoken with Marino about the ... report, but if he determines that Marino's work was detrimental to the administration's goal of combating opioid addiction, 'I will make a change.'"
Why it matters: The report "detailed how a targeted lobbying effort helped weaken the Drug Enforcement Administration's ability to go after drug distributors, even as opioid-related deaths continue to rise."
"Rep. Marsha Blackburn (R-Tenn.), who is running for the Senate in a state that has been hit hard by the opioid crisis, is ... fielding attacks for being a lead sponsor of Marino's bill."
Stat du jour: "The CBS Evening News" said nearly 13 million people saw the "60 Minutes" segment. Trump has been a longtime "60 Minutes" watcher, and he said yesterday that he "saw the report."
https://www.axios.com/newsletters/axios-am-763e5890-4ceb-4b9f-9405-0274c018c7d6.html?chunk=3#story3
Bonus: Pic, bite of the day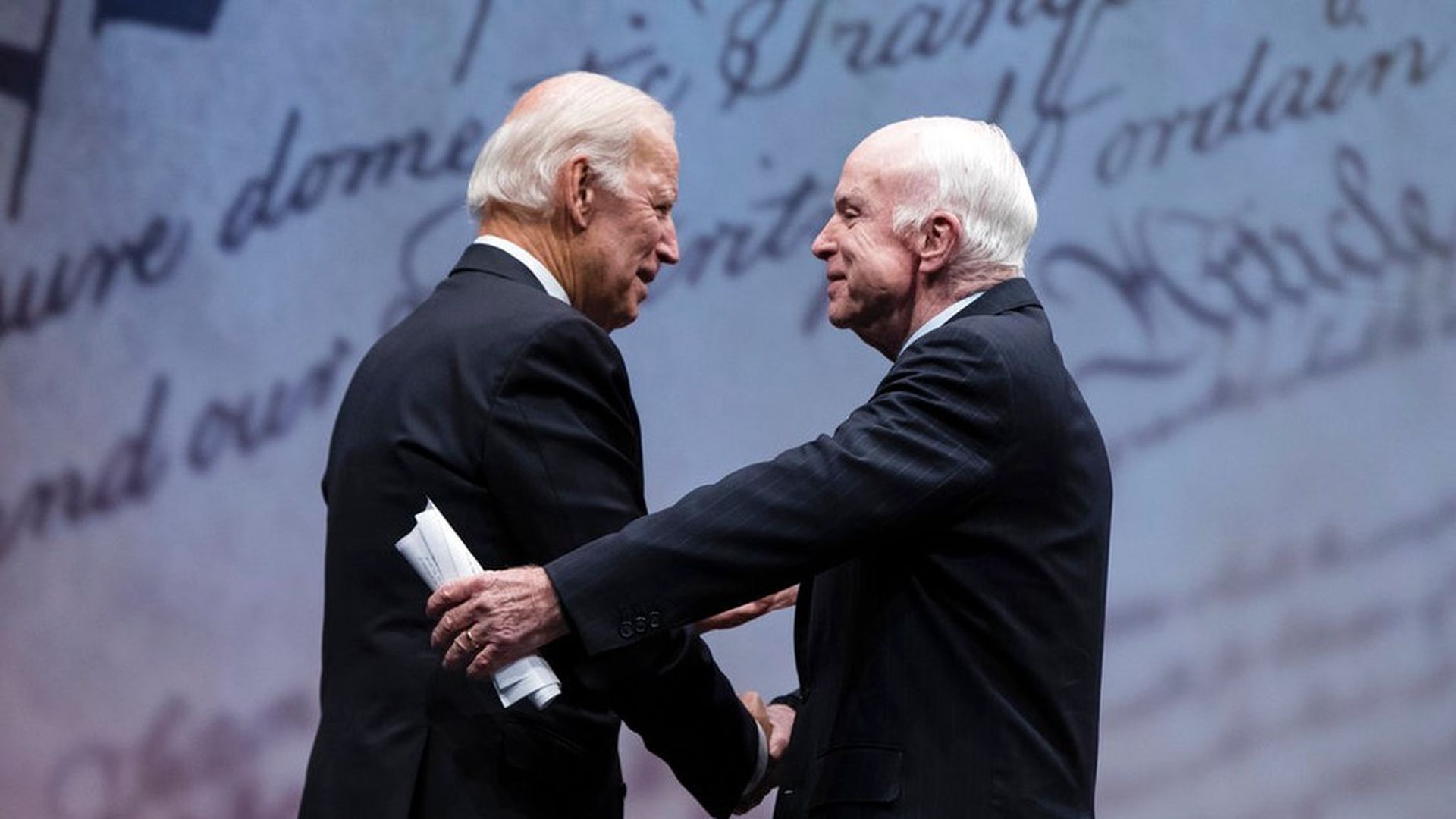 Sen. John McCain (R-Ariz.) , shakes hands with former Vice President Biden, chair of the National Constitution Center's Board of Trustees, after receiving the Liberty Medal for "courage and conviction" last night in Philadelphia.
McCain knows he's facing the sunset, giving his words extra power:
"To fear the world we have organized and led for three quarters of a century ... for the sake of some half-baked, spurious nationalism cooked up by people who would rather find scapegoats than solve problems [applause], it's as unpatriotic as an attachment to any other tired dogma of the past that Americans consigned to the ash heap of history."
"We live in a land made of ideals, not blood and soil," a white nationalist chant in Charlottesville.
On aging "from young men to the fossils who appear before you this evening" (laughter): "We didn't always agree on the issues — we often argued, sometimes passionately."
"But we believed in each other's patriotism, and the sincerity of each other's convictions. We believed in the institution we were privileged to serve in. We believed in our mutual responsibility to help make the place work, and to cooperate in finding solutions to our country's problems."
https://www.axios.com/newsletters/axios-am-763e5890-4ceb-4b9f-9405-0274c018c7d6.html?chunk=4#story4
4. Trump hates fake news, loves big media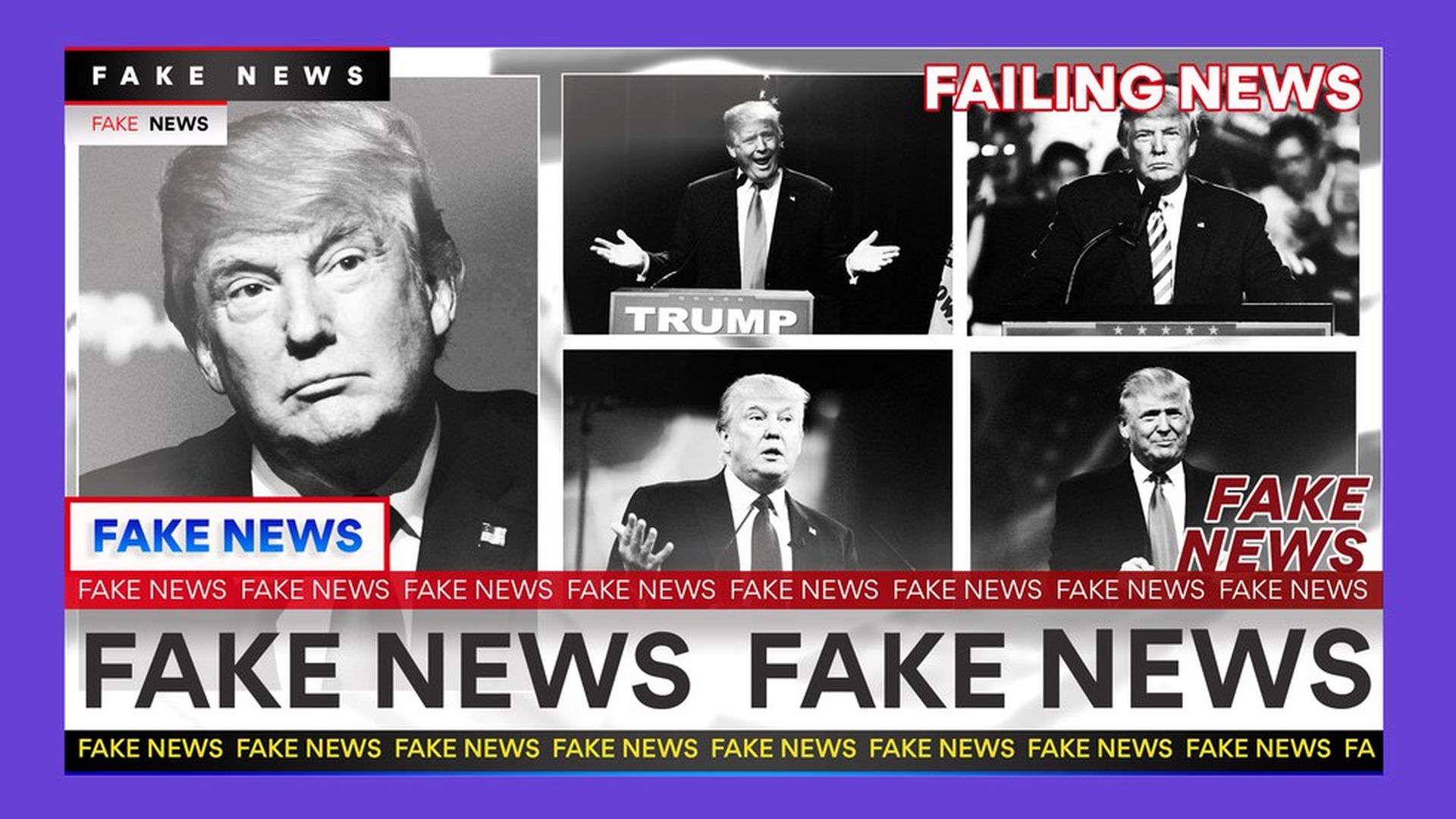 The "administration's moves are a boon to big media companies," Axios' David McCabe and Sara Fischer report. "Telecom and technology companies are being deregulated while smaller media companies worry about their ability to survive."
Why it matters: On the campaign trail, populist Candidate Trump vowed to "break up the new media conglomerate oligopolies" and to shut down the biggest media deal of the year. But President Trump's administration has actually encouraged consolidation as part of its deregulatory blitz.
https://www.axios.com/newsletters/axios-am-763e5890-4ceb-4b9f-9405-0274c018c7d6.html?chunk=5#story5
5. The conversation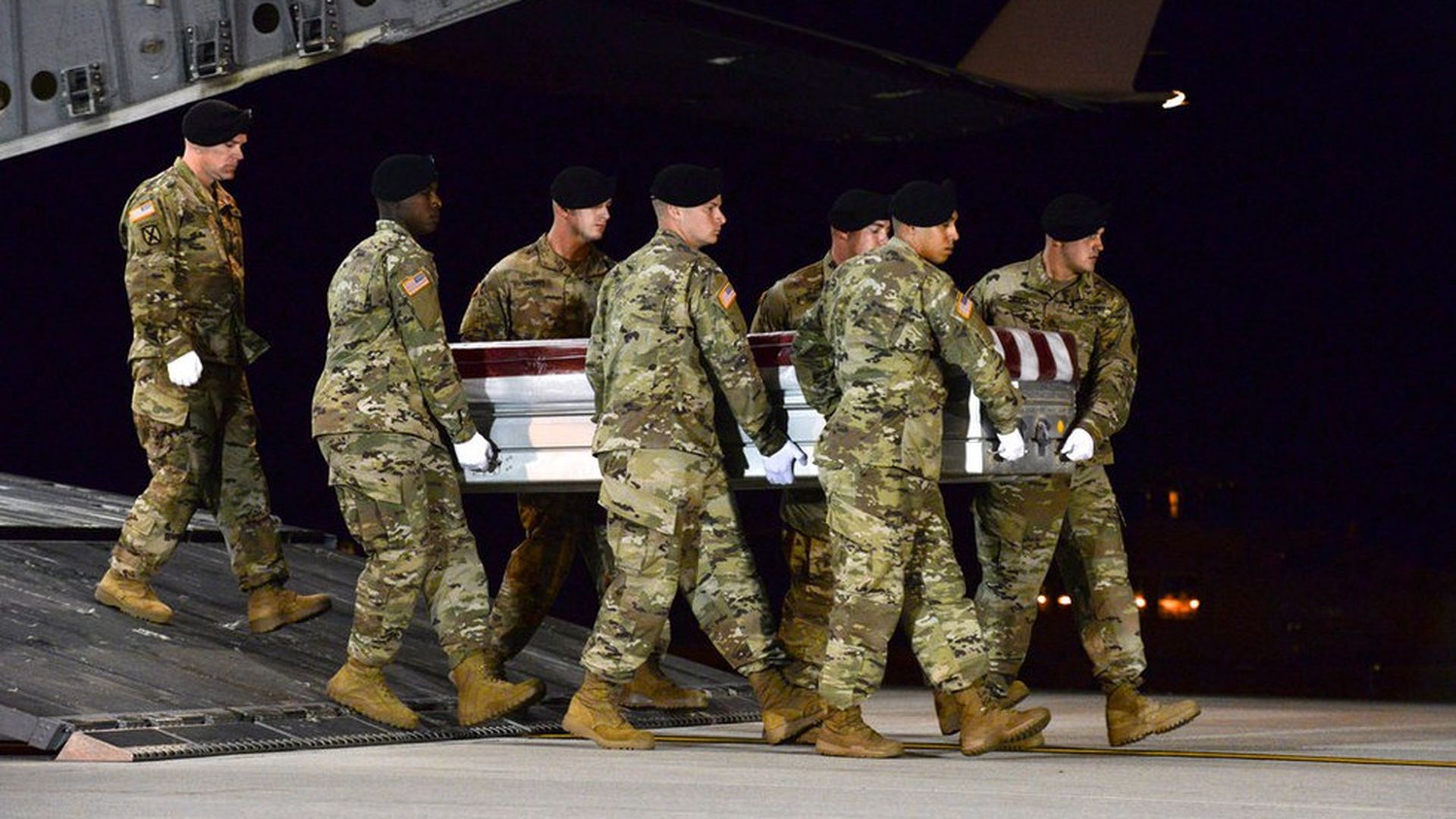 An assertion Trump made in the Rose Garden about the ex-presidents was quickly refuted:
Asked why he hadn't spoken about the Green Berets killed in Niger 12 days earlier, Trump said: "I've written [the families] personal letters. They've been sent, or they're going out tonight, but they were written during the weekend. I will, at some point during the period of time, call the parents and the families."
"[I]f you look at President Obama and other Presidents, most of them didn't make calls, a lot of them didn't make calls."
Challenged in real time by NBC's Peter Alexander on how he could say Obama never called the families of fallen soldiers, Trump backtracked: "I don't know if he did. ... I was told that he didn't often. And a lot of Presidents don't; they write letters. ... I do a combination of both. ... [S]ome Presidents didn't do anything."
ABC's Jon Karl, on "World News Tonight," had rebuttals from aides to the last three presidents:
"An aide to President Clinton said that President Clinton did place calls to the fallen."
"A spokesperson for George W. Bush said President Bush wrote all the families of the fallen, and called or met privately with hundreds, if not thousands."
"A spokesperson ... said that President Obama engaged the families of the fallen and wounded warriors throughout his presidency through calls, letters, visits to Section 60 at Arlington, visits to Walter Reed, visits to Dover, and regular meetings with Gold Star families at the White House and across the country."
https://www.axios.com/newsletters/axios-am-763e5890-4ceb-4b9f-9405-0274c018c7d6.html?chunk=6#story6
6. Top-ed
"There are moments when society goes into decline. But there are many, many more transitional moments when some people just think society is in decline, when it's really in a bumpy pivot. This is such a moment. It gets better."
https://www.axios.com/newsletters/axios-am-763e5890-4ceb-4b9f-9405-0274c018c7d6.html?chunk=7#story7
7. "Discovery of a lifetime"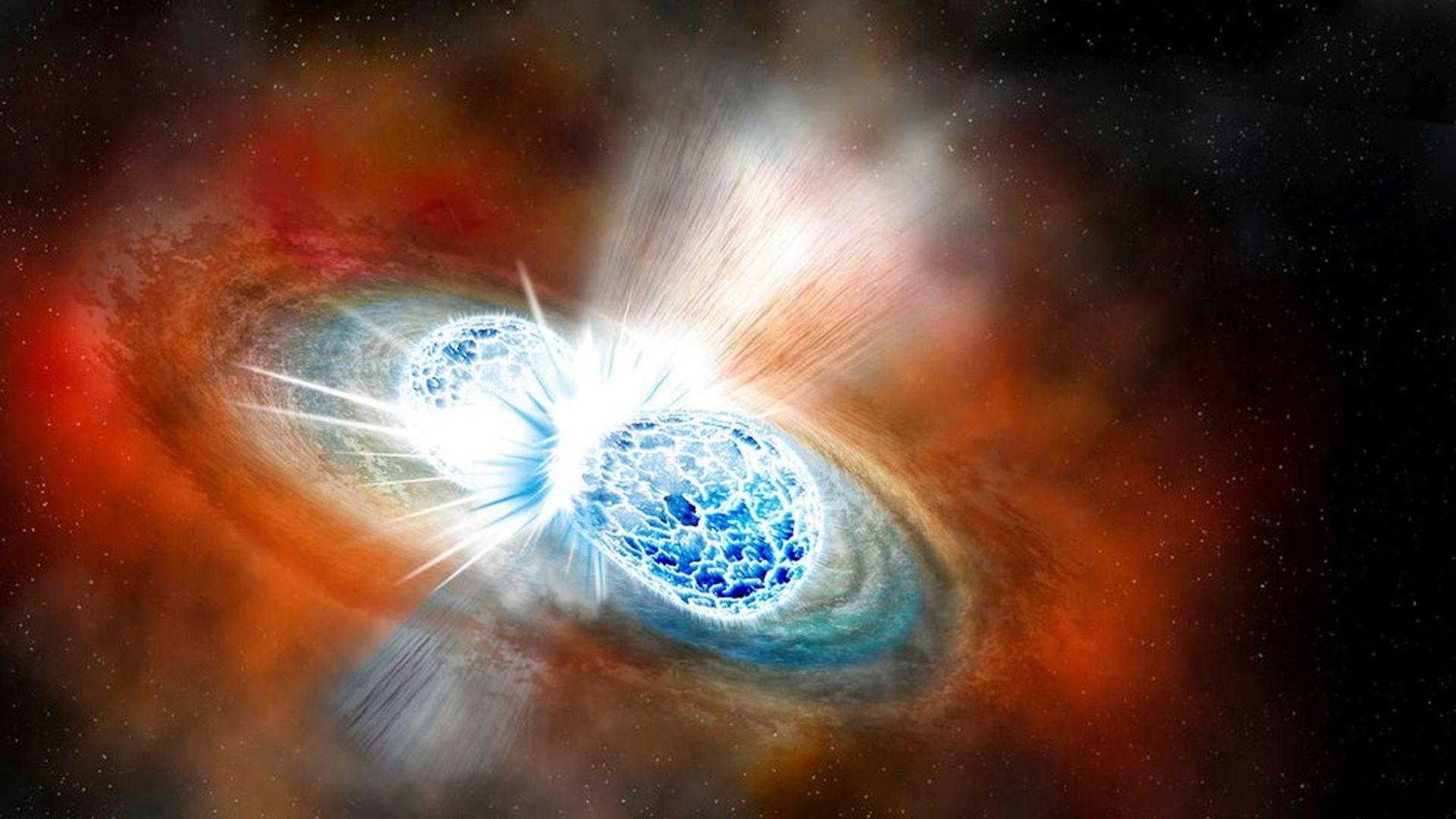 Clues to the universe ... "Neutron star smashup seen for first time, 'transforms' understanding of Universe," via Phys.org:
"For the first time, scientists have witnessed the cataclysmic crash of two ultra-dense neutron stars in a galaxy far away, and concluded that such impacts forged at least half the gold in the Universe.""Shockwaves and light flashes from the collision travelled some 130 million light-years to be captured by Earthly detectors on August 17, excited teams revealed at press conferences held around the globe on Monday as a dozen related science papers were published in top academic journals."Why it matters: "[T]he data finally revealed where much of the gold, platinum, uranium, mercury and other heavy elements in the Universe came from.Telescopes saw evidence of newly-forged material in the fallout, the teams said — a source long suspected, now confirmed."Solved physics riddles.
https://www.axios.com/newsletters/axios-am-763e5890-4ceb-4b9f-9405-0274c018c7d6.html?chunk=8#story8
8. Self-driving cars could feed sprawl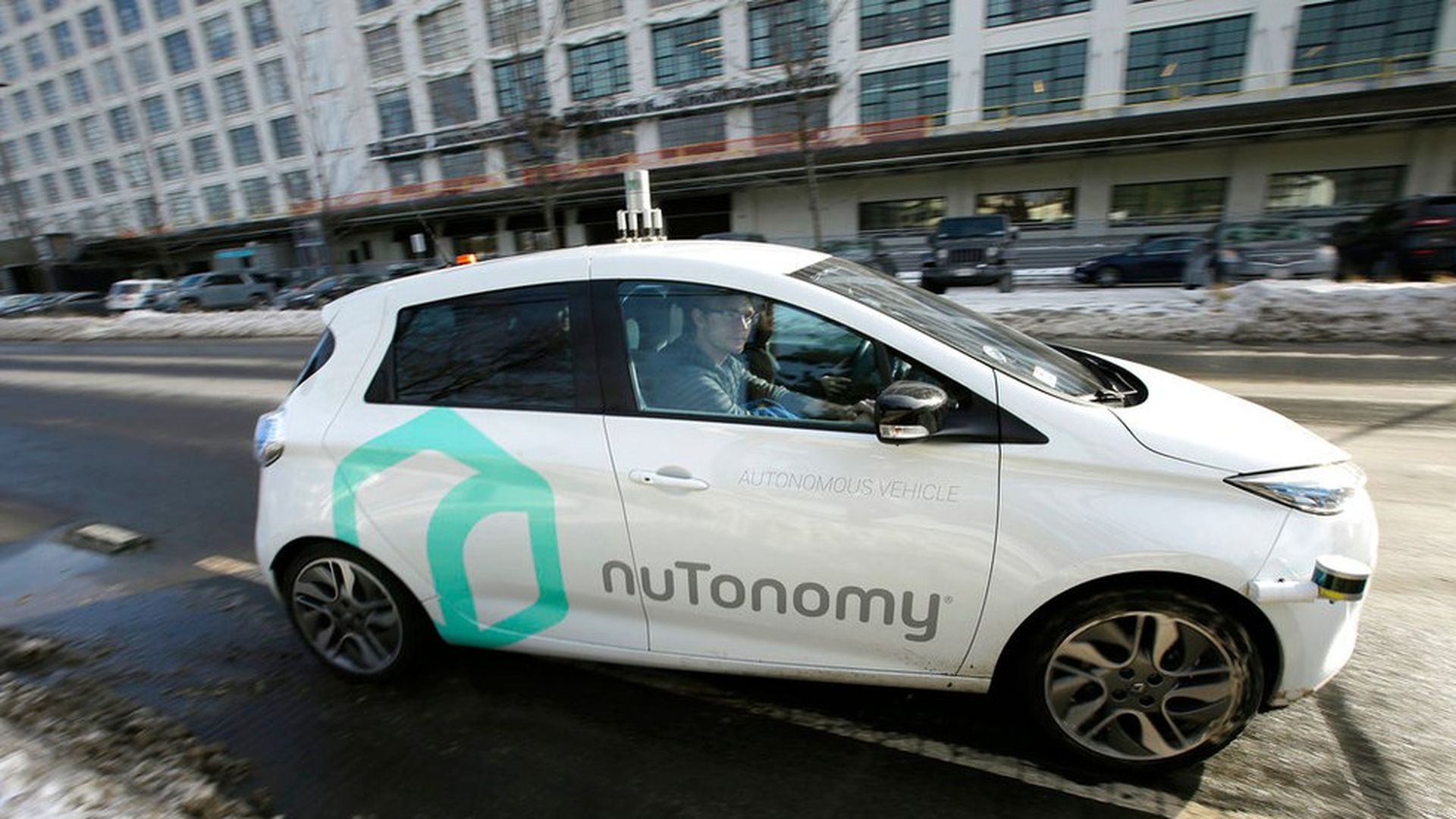 Self-driving cars could ease traffic but increase urban sprawl because commutes are less painful, AP reports:
Computer simulations, released today by the Boston Consulting Group and the World Economic Forum, find the technology "would likely add vehicles to roads while simultaneously reducing traffic time."
"Three companies are now testing self-driving cars in Boston's Seaport District. One of them, NuTonomy, has ... partnered with ... Lyft to research how passengers book and route a self-driving car."
Go deeper: The view that autonomous vehicles will create "super-commutes" and "a new class of exurbs" is disputed, in part because younger generations prefer walkability and urban accessibility, and therefore might not choose to endure longer commutes.
Valley talk ... An Axios scoop from Dan Primack: "Peter Thiel got married in Vienna this past weekend ... Guests came expecting to celebrate the billionaire venture capitalist's 50th birthday, but instead were surprised by a wedding to longtime boyfriend Matt Danzeisen."
https://www.axios.com/newsletters/axios-am-763e5890-4ceb-4b9f-9405-0274c018c7d6.html?chunk=9#story9
9. What we're watching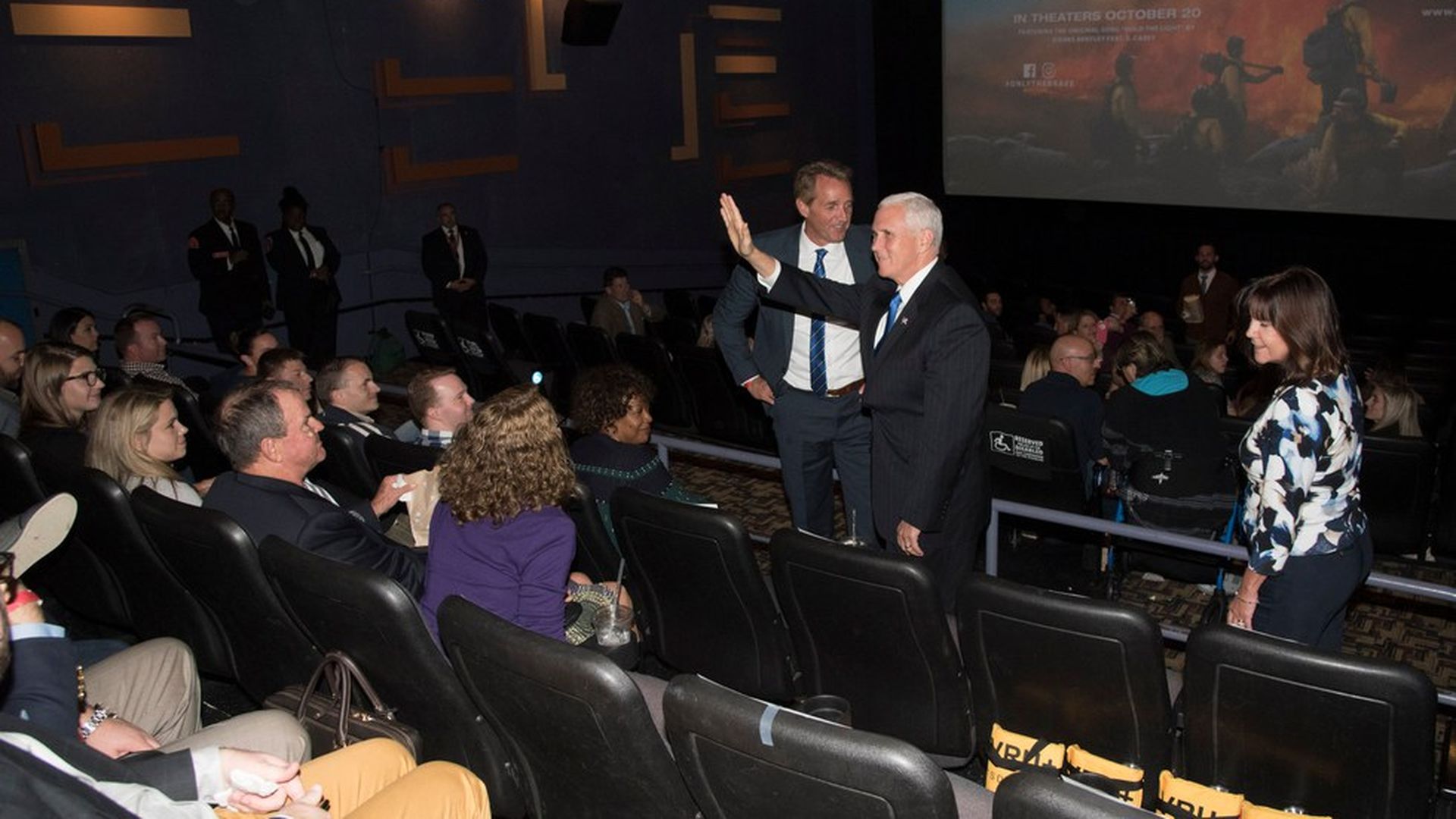 At last night's D.C. screening of "Only the Brave" — hero story of "hotshots," wild-land forest firefighters, starring Josh Brolin, Miles Teller and Jeff Bridges (in theaters Friday) — producer Molly Smith, sister-in-law of Axios' Bubba Atkinson, told me:
"I didn't realize how young a lot of these guys are — a lot of them are 21-, 22-year-olds. These are guys that walk into fire. They don't have masks, they don't have hoses. They walk in with axes and chainsaws, and they're corralling the fire in really scientific ways."
Go deeper: The 2013 GQ article that inspired the movie.
P.S. "A bone shard, a molar, an artificial hip — the grim task of finding victims of the California fires ... On a street devoid of life, the searchers press ahead," by L.A. Times "California Journal" columnist Robin Abcarian:
"All are community volunteers: bankers, teachers, professors, insurance agents, basketball coaches. ... And yet, given that temperatures had soared as high as 1,500 degrees, what could even the most tenacious searcher hope to find?"
https://www.axios.com/newsletters/axios-am-763e5890-4ceb-4b9f-9405-0274c018c7d6.html?chunk=10#story10
10. 1 joe thing: The $55 cup
"To justify eye-popping prices, high-end java spots use rare beans, fancy machines, elaborate preparations and heaps of hyperbole" — Wall Street Journal A-hed by Charles Passy:
"Eleven Madison Park, the Michelin-starred dining spot [in New York] ... just began offering a $24 cup of joe. Maya Albert, the restaurant's coffee director, spends about 10 minutes preparing the beverage tableside."
"She uses her Silverton 'dripper,' a brewing apparatus that resembles something out of a chemistry lab. She carefully times each of the three stages of the process, including the all-important 'bloom' period when the ground beans first make contact with the hot water."
"In Southern California, $55 ... will ... get a special cup at Klatch Coffee, which plans to roll out ... Esmeralda Geisha 601 [next month]. The '601' refers to the price per pound that the coffee sold for at auction."