December 31, 2019
🎊 Happy New Year's Eve! Thank you for starting your busy life with Axios AM.
If you love Axios AM/PM, please get your friends to sign up here.
⚡ 1 big thing: U.S. embassy in Baghdad attacked, evacuated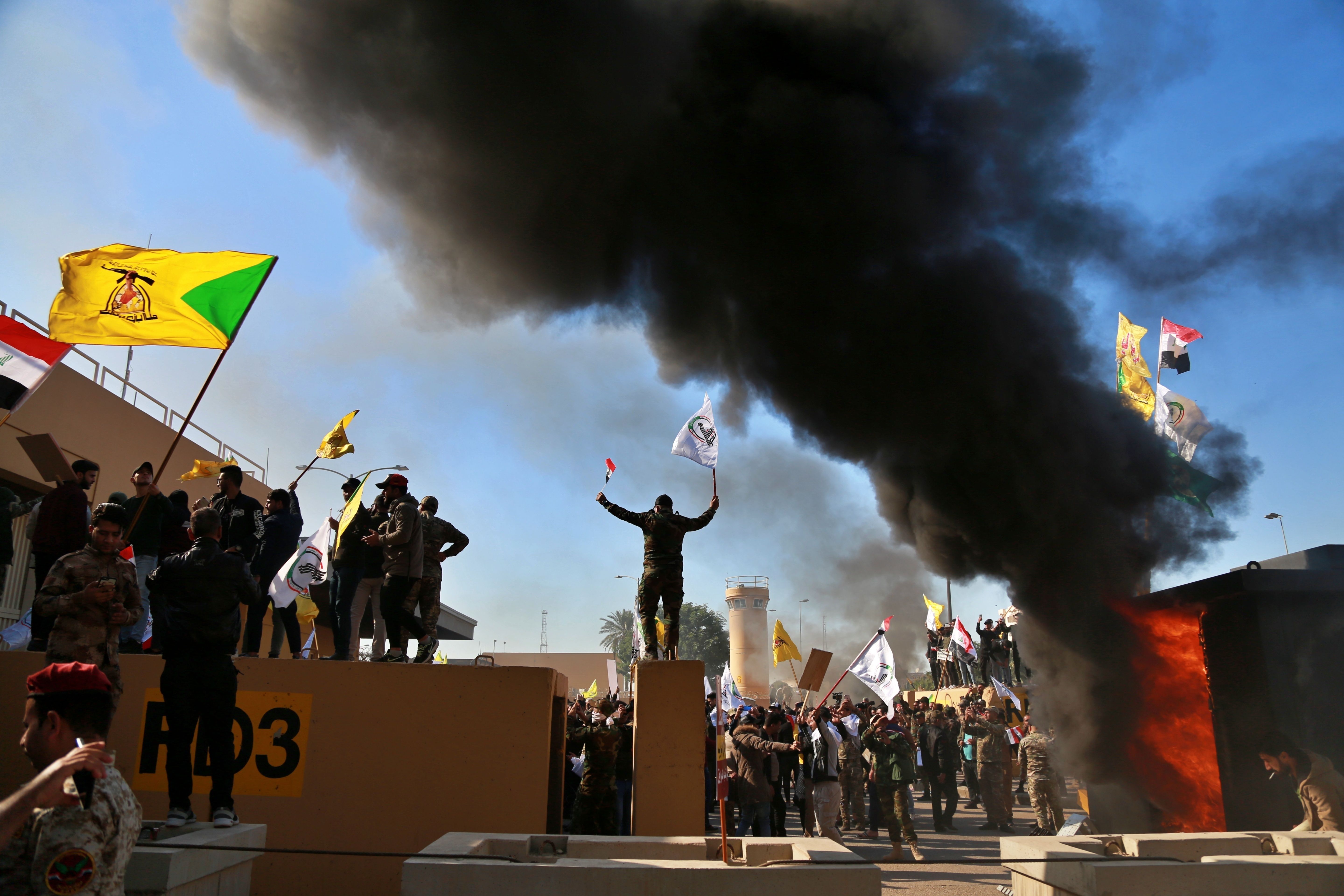 The U.S. ambassador to Iraq and other staff were evacuated from the Baghdad embassy for their safety, Iraqi officials said, as thousands of protesters and militia fighters thronged the gates in fury at U.S. airstrikes in Iraq, Reuters reports.
A few embassy protection staff remained.
"Outside the embassy, protesters threw stones at the gate while others chanted, 'No, no, America! ... No, no, Trump!'"
An AP reporter at the scene saw flames rising from inside the compound and at least three U.S. soldiers on the roof of the main embassy building.
There was a fire at the reception area near the parking lot of the compound.
A man on a loudspeaker urged the mob not to enter the compound, saying: "The message was delivered."
"Iraqi special forces were deployed around the main gate to prevent [protesters] entering the embassy," Reuters added.
"A few hours into the protest, tear gas was fired in an attempt to disperse the crowd."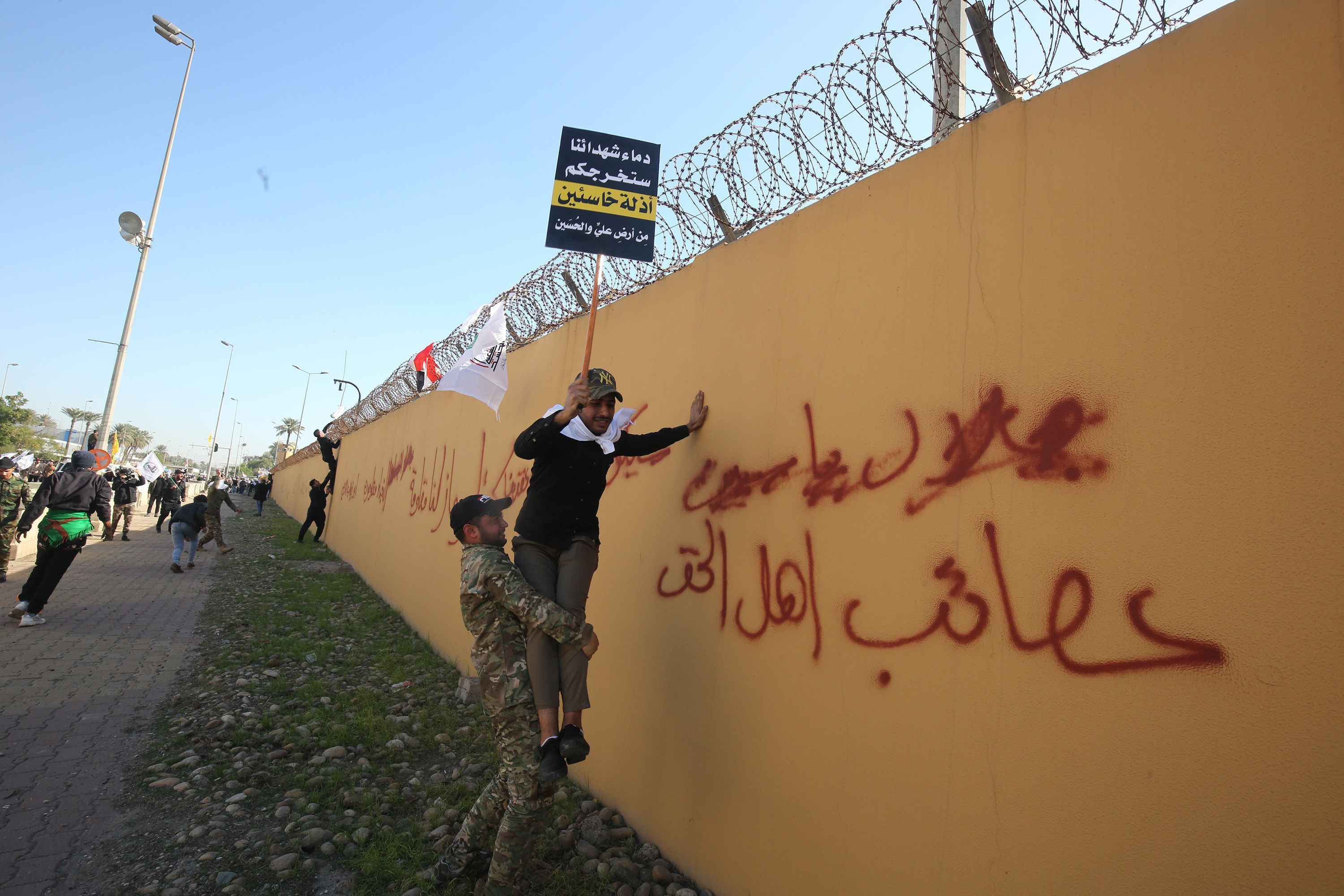 The context: The embassy attack follows deadly airstrikes Sunday that killed 25 fighters of the Iran-backed militia in Iraq, the Kataeb Hezbollah, per AP.
The U.S. military said the airstrikes were in retaliation for last week's killing of an American contractor in a rocket attack on an Iraqi military base that it had blamed on the militia.
Why it matters: The developments represent a major downturn in Iraq-U.S. relations that could further undermine U.S. influence in the region and also weaken Washington's hand in its maximum pressure campaign against Iran.
🐦 President Trump tweeted: "Iran killed an American contractor, wounding many. We strongly responded, and always will. Now Iran is orchestrating an attack on the U.S. Embassy in Iraq. They will be held fully responsible. In addition, we expect Iraq to use its forces to protect the Embassy, and so notified!"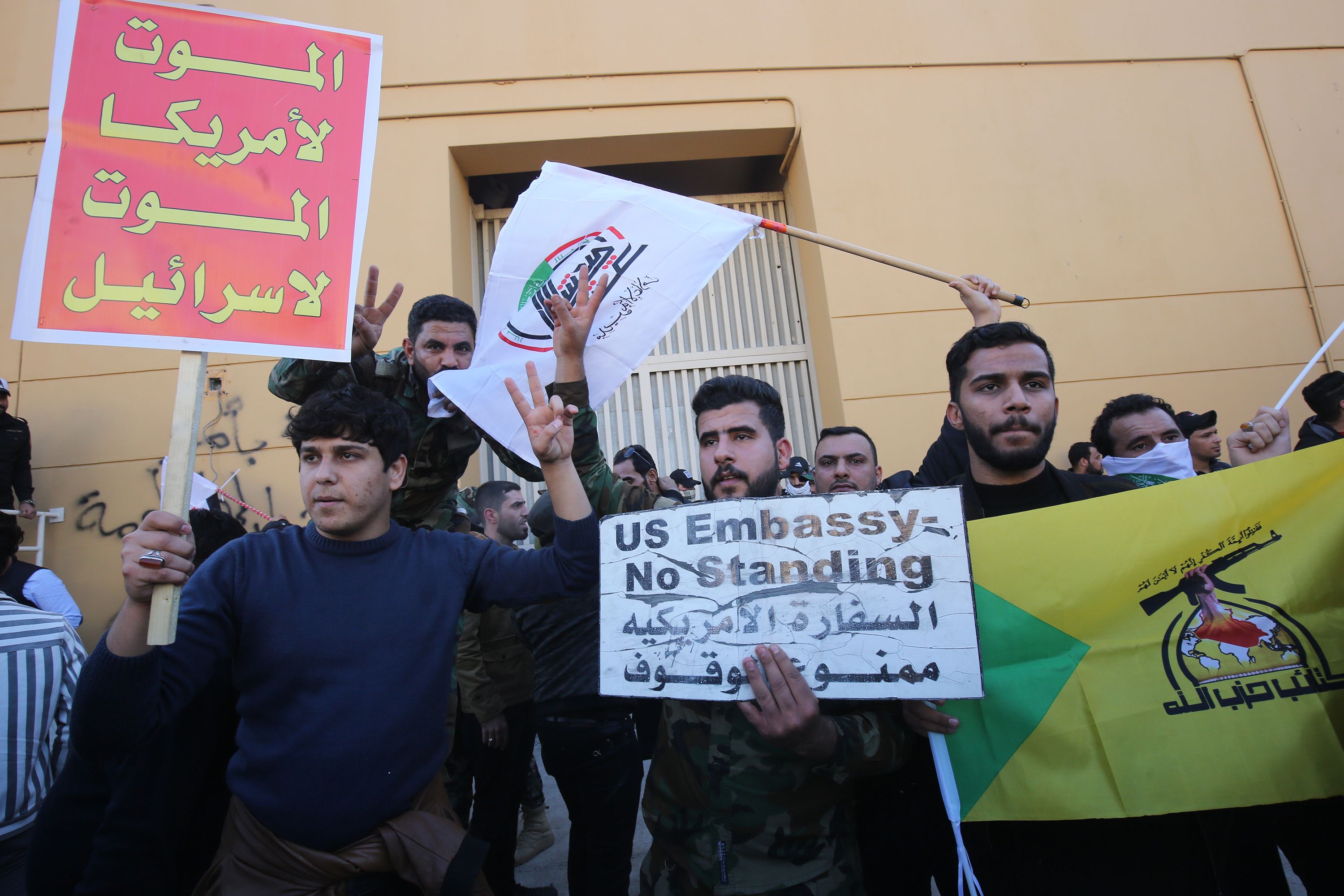 2. We're moving less
Fewer than 10% of Americans moved to new places in the 2018-2019 year, the lowest rate since the Census Bureau began tracking domestic relocations in 1947, writes Kim Hart, mayor of Axios Cities.
Why it matters: Despite a strong economy, more people are feeling locked in place.
Young adults, who have historically been the most mobile, are staying put these days thanks to housing and job limitations.
So are aging adults who are reluctant to (or can't afford to) make a move.
The share of Americans who moved in the past year is about half the number in the 1950s, when about one-fifth of the population moved each year. That number is now 9.8%, the first time it's dipped below 10%.
Only 20% of people aged 20-24 moved this past year, down from 29% in 2005-2006.
Of those in their late 60s, only 4% moved in the past year.
💭 William Frey, a Brookings demographer, said: "[T]he continued decline since the Great Recession and the housing crunch is driven by the millennial population."
The big picture: Decades ago, job markets were more interchangeable and diverse, so it was easier for people with most occupations, from factory workers to bankers, to find jobs in a variety of places that were relatively affordable.
Now, though, industries are clustered in specific regions, middle-class jobs have declined, and housing prices are rising in many prosperous areas.
What's next: Immigrants are contributing significantly to population growth.
Frey predicts first- and second-generation immigrants may drive a future increase in mobility.
Get Axios Cities, Kim Hart's weekly newsletter.
3. "Markets in 2019: You Couldn't Lose Money If You Tried"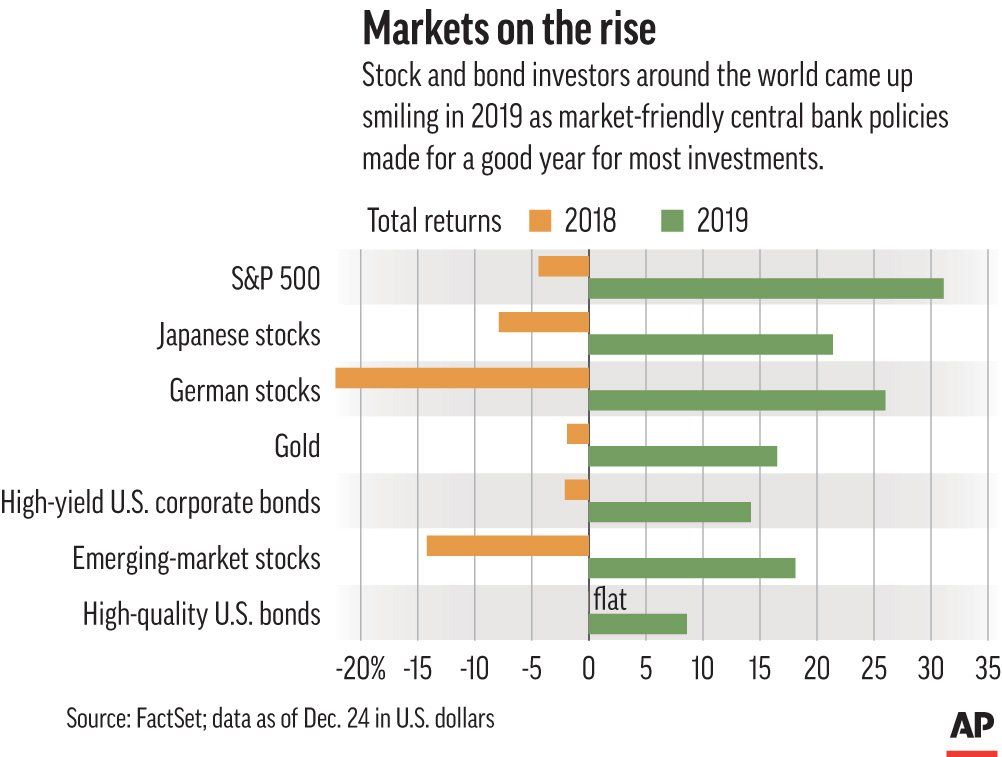 This was the rare year when a simple investing strategy would have worked: Buy almost anything, the N.Y. Times' Matt Phillips points out (subscription).
"The S&P 500 index was up 28.5 percent, through [yesterday], its best performance since 2013 and one of the best in decades."
"Broad indexes of the American bond markets are up nearly 9 percent."
"Gold jumped 18.5 percent and silver nearly 16 percent, and other commodities were also up. (Futures prices for hogs, in case that had been your pick, gained about 18 percent.)"
4. Pics du jour: Before the drop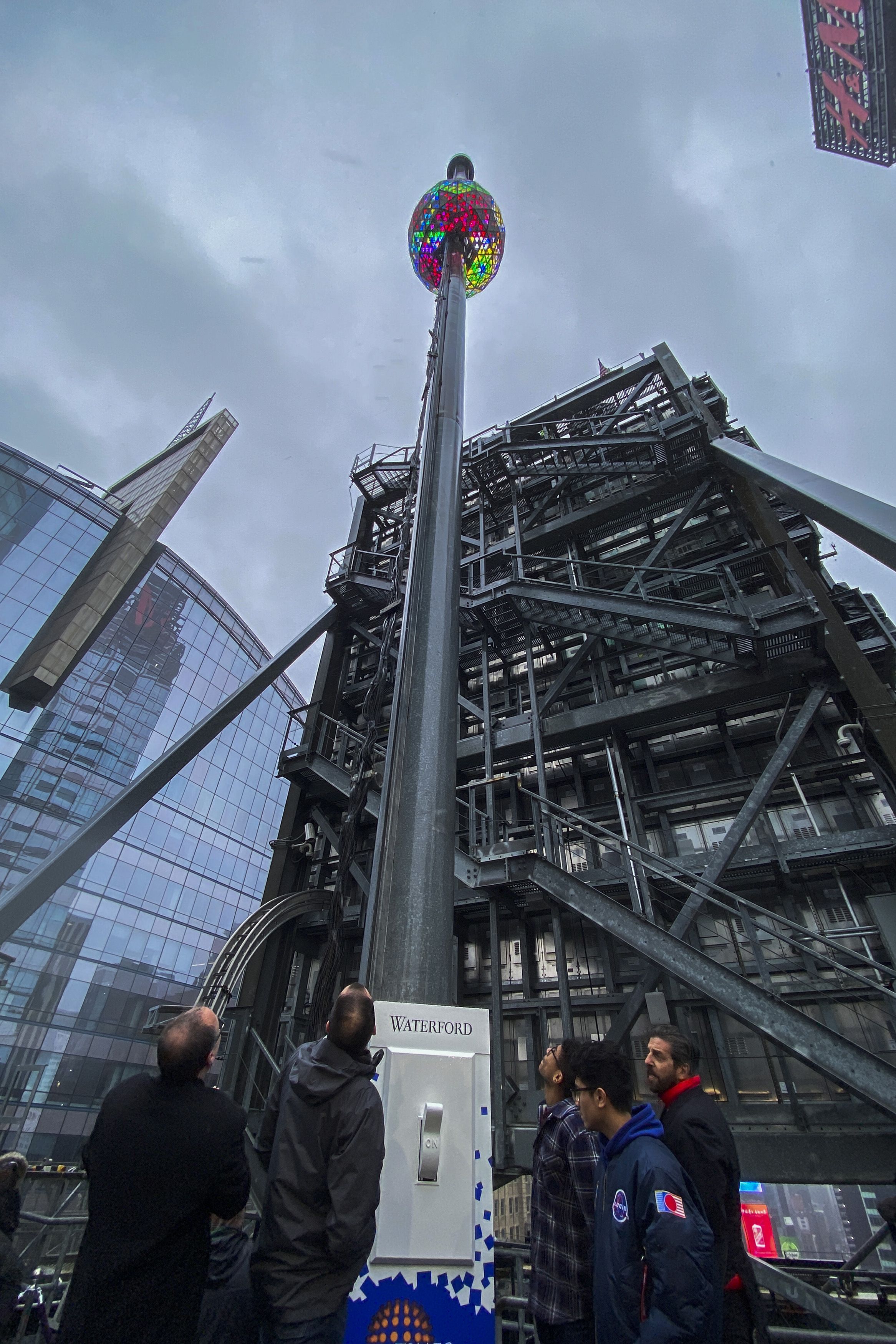 Times Square, on New Year's Eve eve.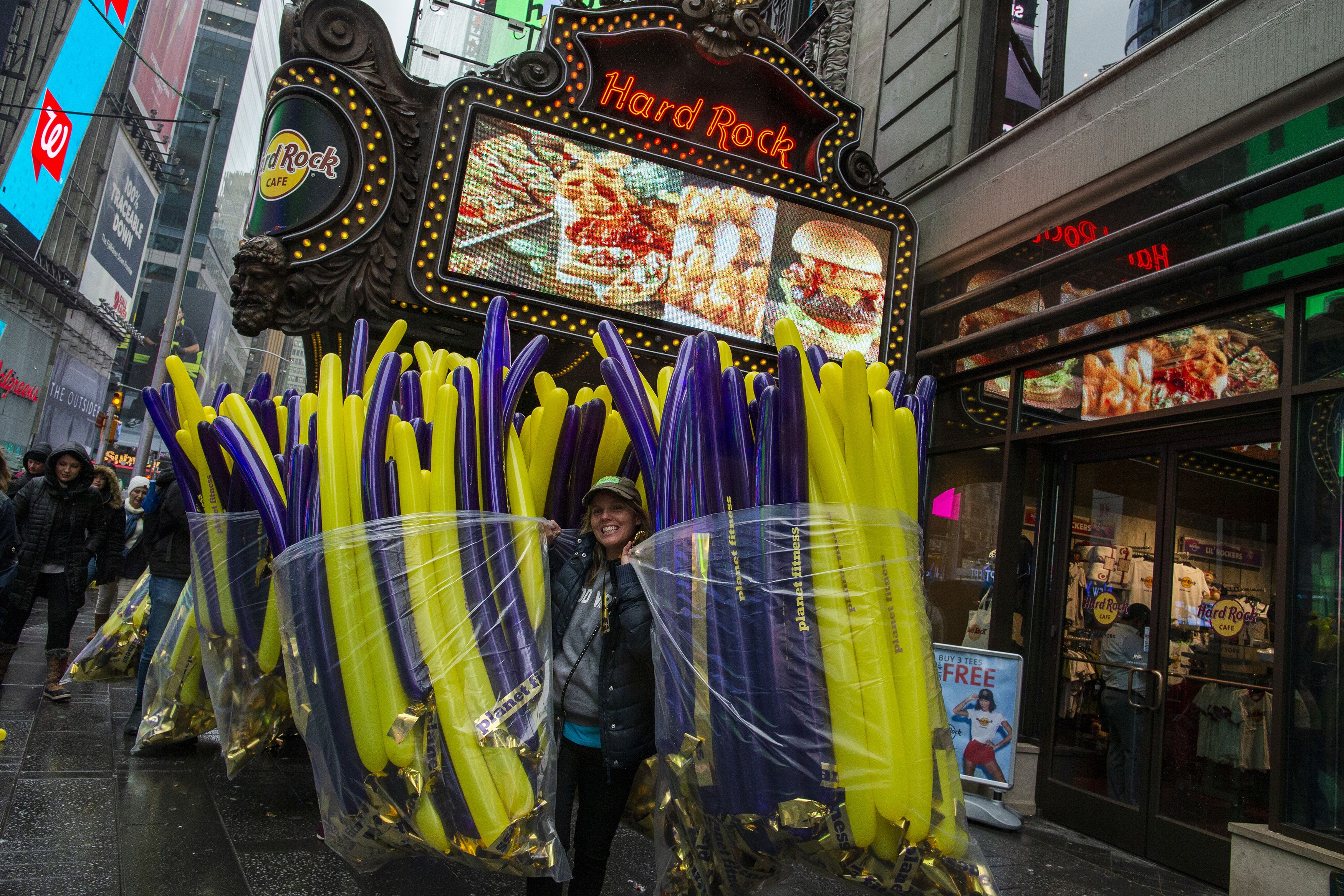 🚨 5. Ballooning tax cut to foster crippling deficits
Following a lobbying blitz that kept Treasury officials in constant meetings, the "tax bills of many big companies have ended up even smaller" than expected when President Trump signed the tax cut, the N.Y. Times' Jesse Drucker and Jim Tankersley report (subscription).
Why it matters: "[T]he federal government may collect hundreds of billions of dollars less over the coming decade than previously projected."
The context: "The budget deficit has jumped more than 50 percent since Mr. Trump took office and is expected to top $1 trillion in 2020, partly as a result of the tax law."
6. Trail quote of the day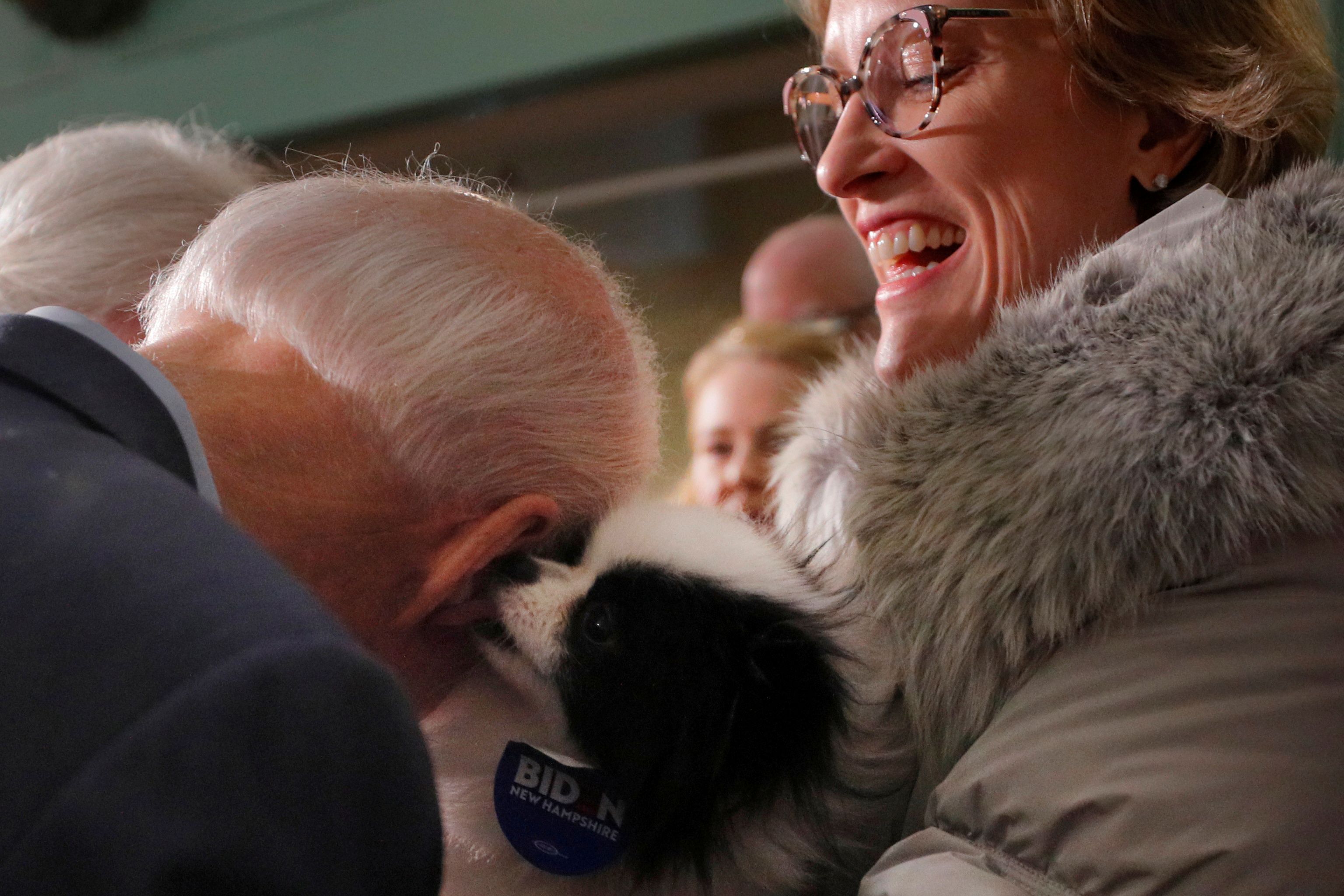 Joe Biden, asked by a voter in Exeter, N.H., if he'd consider a Republican as a running mate:
"The answer is, I would, but I can't think of one now."
7. Trump counterprograms Dem debate
President Trump will hold a campaign rally in Milwaukee on Jan. 14, countering a Democratic presidential debate set for the same night in Iowa, per AP.
CNN and The Des Moines Register are sponsoring the first Democratic presidential debate of 2020 that night at Drake University in Des Moines.
The rally at UW-Milwaukee Panther Arena will be Trump's second in less than a week. His first 2020 rally is in Toledo, Ohio, on Jan. 9.
The context: All three events could unfold against the backdrop of Trump's impeachment trial in the Senate.
8. Satellite eye: Houston flooding, before and after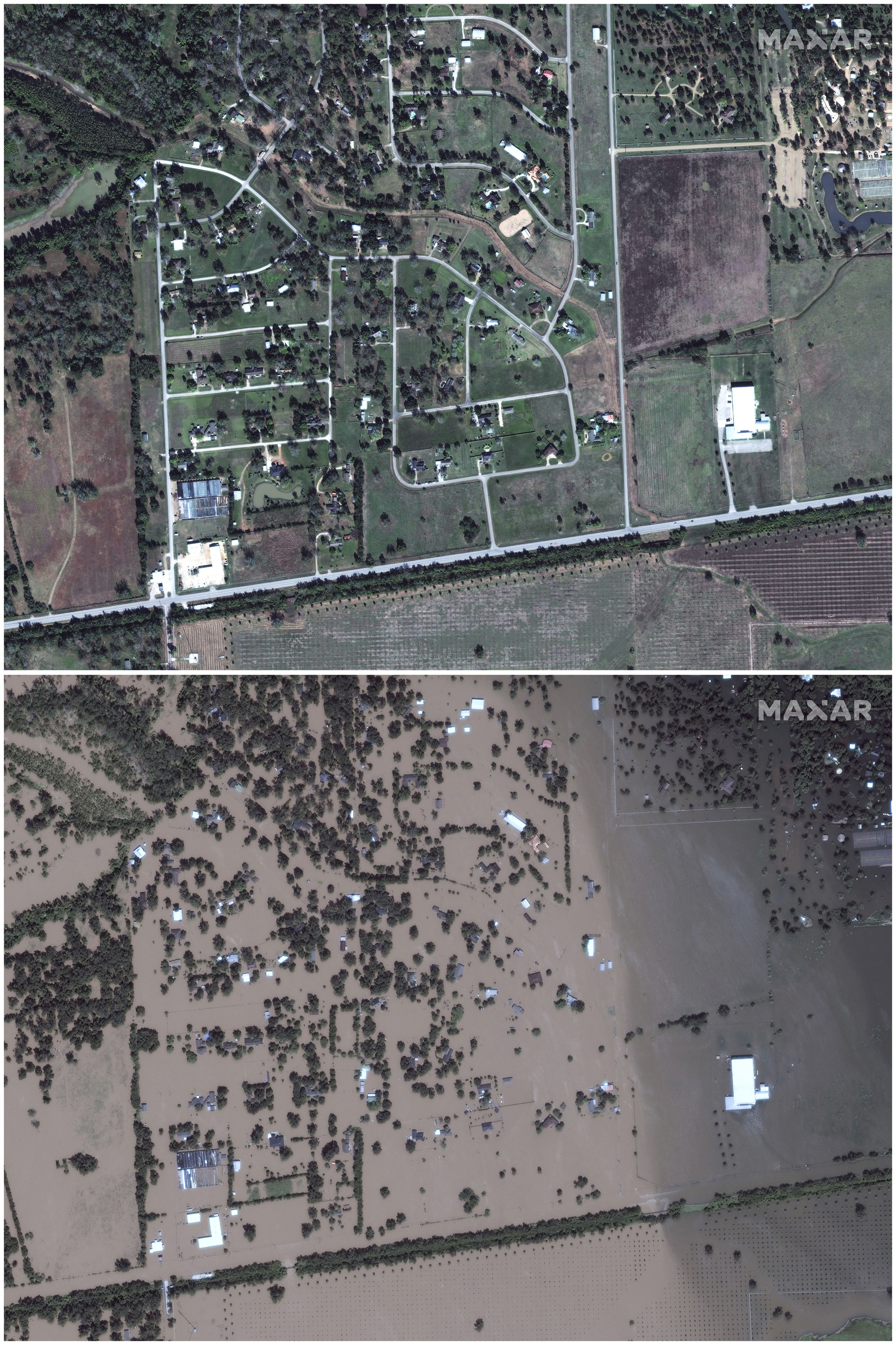 A new view of one of the decade's top U.S. events: Here's Simonton, Texas (west of Houston), on Nov. 20, 2016, and on Aug. 30, 2017, after Hurricane Harvey's landfall, as seen in satellite images provided by AP.
Harvey killed 68 people and set a U.S. record for amount of rain recorded from a storm: 60.58 inches.
Harvey's $120 billion in damages ranks as the second-costliest U.S. storm behind only Katrina in 2005.
Worthy of your time: Check out an AP satellite package showing the aftermath of wildfires, earthquakes, oil spills and glacial melting — plus God's-eye views of the Rohingya exodus, Arab Spring protests and Islamic State territory loss.
9. Data du jour: U.S. growth slowing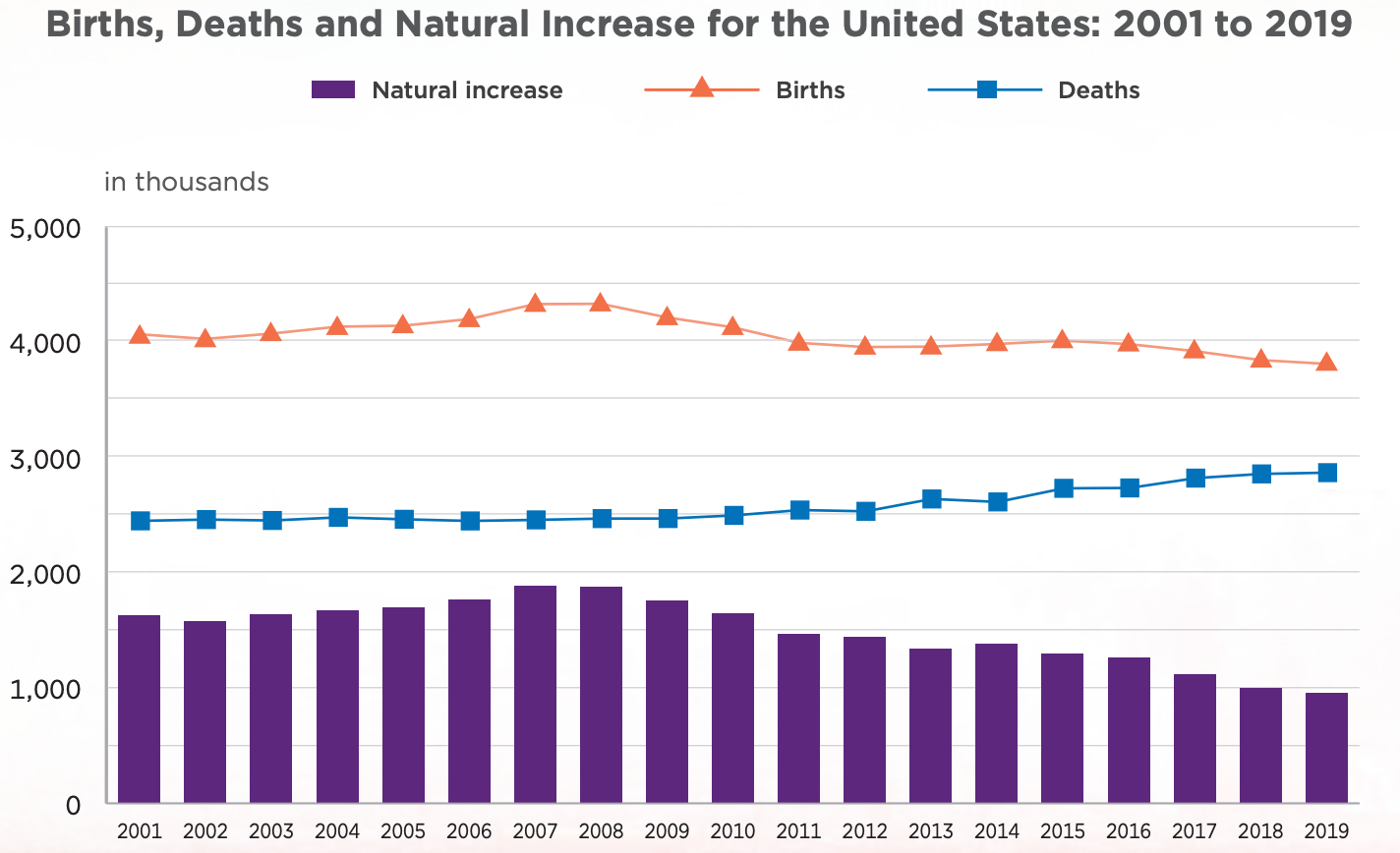 42 states and D.C. had fewer births in 2019 than 2018, the Census Bureau reported yesterday, with a steady decline in U.S. births over deaths for the past decade.
The nation's population was 328 million in 2019, growing by 0.5% between 2018 and 2019, or 1.5 million people.
Go deeper: See Stef Kight's great lead of yesterday's Axios PM (with Axios graphic), "Census data projects shift in states' congressional power."
10. 🎥 1 fun thing: Netflix most popular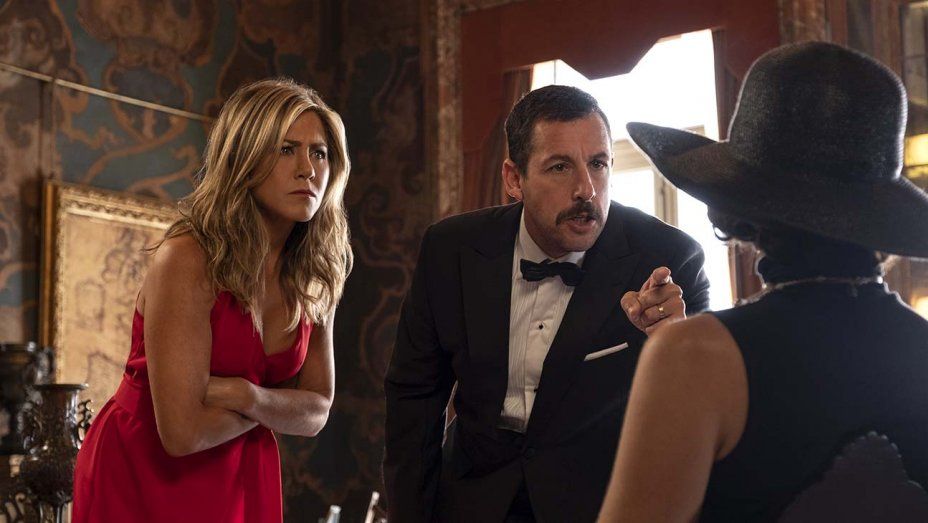 "Taking the No. 1 spot on Netflix's [2019] overall 'most popular' list — which includes film and TV — is 'Murder Mystery,' the feature comedy that stars Adam Sandler and Jennifer Aniston as unwitting tourists who get wrapped up in a complicated murder plot," per The Hollywood Reporter.
"After the movie's June release, Netflix reported 30,869,863 accounts viewed 'Murder Mystery' in its first three days, ... the biggest opening weekend ever for a Netflix film."
Here are the Netflix top 10 most popular releases of 2019:
"Murder Mystery"
"Stranger Things 3"
"6 Underground"
"The Incredibles 2"
"The Irishman"
"The Witcher"
"Triple Frontier"
"Extremely Wicked, Shockingly Evil and Vile"
"The Umbrella Academy"
"The Highwaymen"
🧠 Netflix measures "popularity" as the number of subscribers who watched at least two minutes in the first 28 days of release.