Good Friday morning. It's Good Friday.
To my Buckeye readers ... Jim VandeHei and I will be at The Ohio State University on Monday for the fifth stop of our Smarter Faster Revolution campus tour. We'll discuss the future of work with entrepreneur Mark Cuban and Gov. John Kasich. RSVP here.  
https://www.axios.com/newsletters/axios-am-75928656-59e6-43ce-b73e-ccba931c26ec.html?chunk=0#story0
1 big thing: Trump's volatility problem
Until now, markets looked at President Trump, and at the tech sector, and saw good times. Now, markets are looking at Trump and tech and seeing risk.
With stock markets closed today for Good Friday, the first quarter of 2018 is in the books, with the Dow Jones Industrial Average and S&P 500 in the red for the quarter, and Facebook and Google down.
Be smart: Wall Streeters tell me that Trump's impulsive crashing around on issues has started to affect market psychology. The economy's fundamentals, and corporate performance, are strong. But he is the x factor.   
A tweet by Neil Irwin of the N.Y. Times Upshot captures the Street zeitgeist: "It seems like markets are settling into a new groove in which modest news creates outsized swings in prices, whether for tech stocks or companies vulnerable to a trade war. The baseline assumption that 'it will all be OK' isn't there anymore."
Even before this week's swing by Amazon, The Economist was warning: "'Fasten your seat belts. It's going to be a bumpy night.' Those famous lines of Bette Davis in 'All About Eve' may turn out to be the motto for the markets in 2018."
And The Wall Street Journal's Greg Ip sees a volatile new normal: "Since early February inflation, interest rates, Facebook problems, White House turnover and trade have all been blamed for investor anxiety. It may simply be that years of preternatural calm, induced by rock-bottom interest rates and symbolized by the market's low 'fear gauge' (VIX), are over."
When the stock market was booming, Trump obsessed about it as a kind of applause meter for his policies. And Treasury Secretary Steve Mnuchin has referred to the markets as an economic report card for the administration. Axios business editor Dan Primack writes:
If so, I guess we'd call Q1 a gentleman's C.
Big stock takeaway from the quarter is that volatility is back, after having been absent for almost all of 2017.
Why it matters: Trump tweets or actual White House policy decisions seem to have much more potential to carry (at least short-term) Wall Street consequences than they did last year, when almost everything was met with a shrug and a buy. 
The bottom line: There just isn't a factor on the horizon that experts see as likely to move the needle positively, as there was at this time last year with tax cuts. No one ever really bought into the viability of Trump's infrastructure plan.
https://www.axios.com/newsletters/axios-am-75928656-59e6-43ce-b73e-ccba931c26ec.html?chunk=1#story1
2. Uber's new priority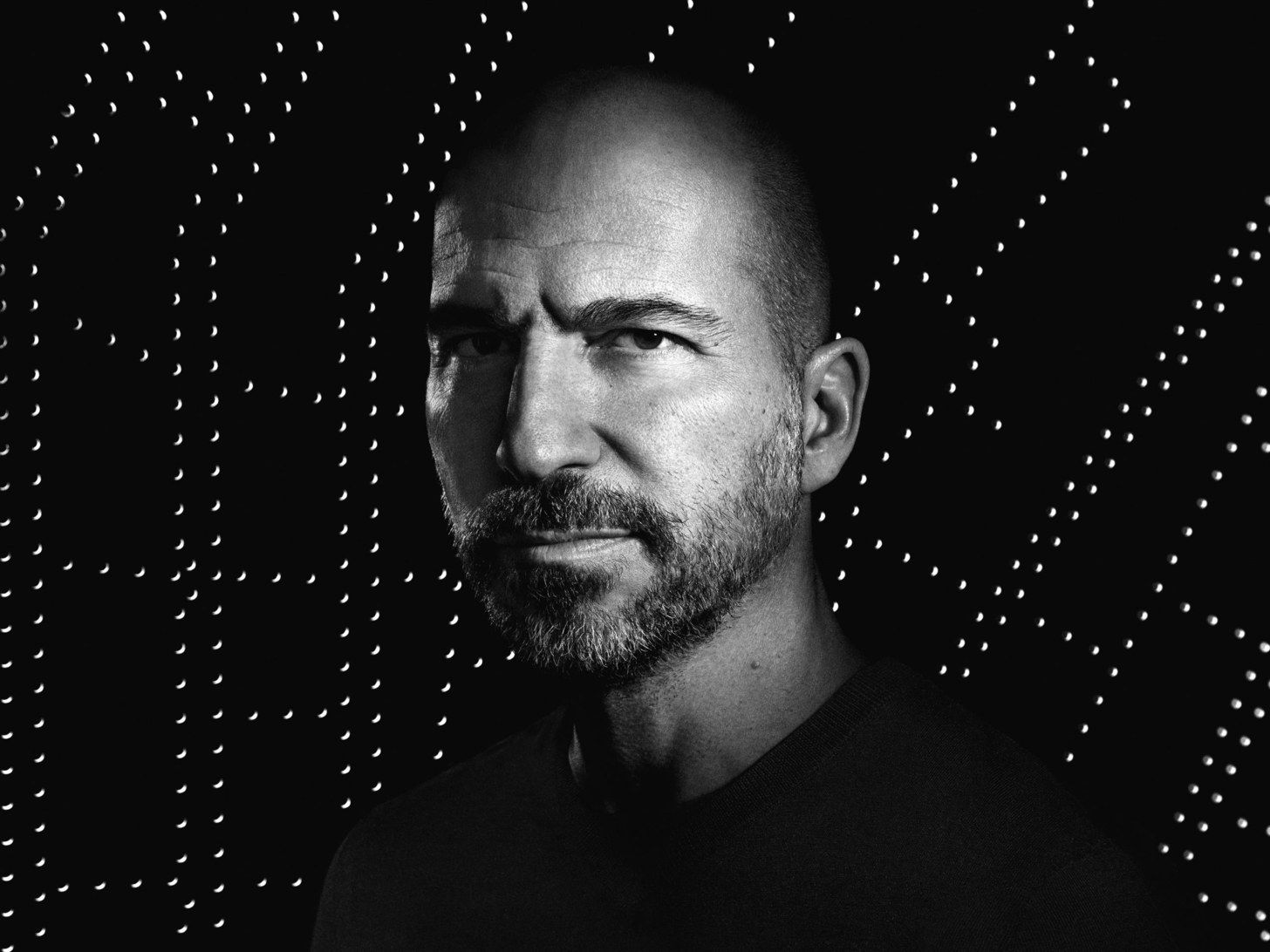 Photograph by Pari Dukovic for The New Yorker
From next week's issue of The New Yorker ... "Letter from Silicon Valley: At Uber, a New C.E.O. Shifts Gears: Dara Khosrowshahi is charged with turning the scandal-plagued startup into a traditional company — without sacrificing what made it successful," by Sheelah Kolhatkar:
"In August, 2017, when Khosrowshahi called [Barry] Diller to tell him that he was pursuing the Uber job, Diller tried to talk him out of it. Diller and his wife, Diane von Fürstenberg, were friends with [Travis] Kalanick, and Diller knew that the situation at Uber was fraught. 'I said, "Oh, my God, Dara, you must be out of your mind,"' Diller told me. '"That's a very dangerous place."' In the end, he advised Khosrowshahi during the three weeks of negotiations."
"Khosrowshahi has been commuting every week to San Francisco from the family's primary home, in Seattle, and admits that it's been a challenge."
"Uber has been criticized for taking advantage of its drivers, who work without job security or benefits, and whose commissions the company has reduced more than once. Shortly before Kalanick's departure, Uber realized that this was a strategic mistake — the company needed to attract drivers ... if it wanted to continue to grow. Many riders, meanwhile, felt increasingly uncomfortable using the app, which had come to symbolize gig-economy exploitation. Courting drivers is now a priority at the company."
https://www.axios.com/newsletters/axios-am-75928656-59e6-43ce-b73e-ccba931c26ec.html?chunk=2#story2
3. EPA ready to roll back fuel targets for autos
"The Trump administration is poised to abandon America's pioneering fuel economy targets for cars and SUVs, a move that would undermine one of the world's most aggressive programs to confront climate change," the L.A. Times' Evan Halper writes:
The EPA is expected to announce soon "that it will scrap mileage targets the Obama administration ... that aim to boost average fuel economy for passenger cars and SUVs to 55 miles per gallon by 2025."
"The agency plans to replace those targets with a weaker standard."
Why it matters: "The ambitious Obama-era program is geared toward moving drivers into vehicles that by 2025 release, on average, half the greenhouse gases of vehicles built in 2010. The EPA called it the 'the most significant federal action ever taken to reduce [greenhouse gas] emissions.'"
https://www.axios.com/newsletters/axios-am-75928656-59e6-43ce-b73e-ccba931c26ec.html?chunk=3#story3
Bonus: Pic du jour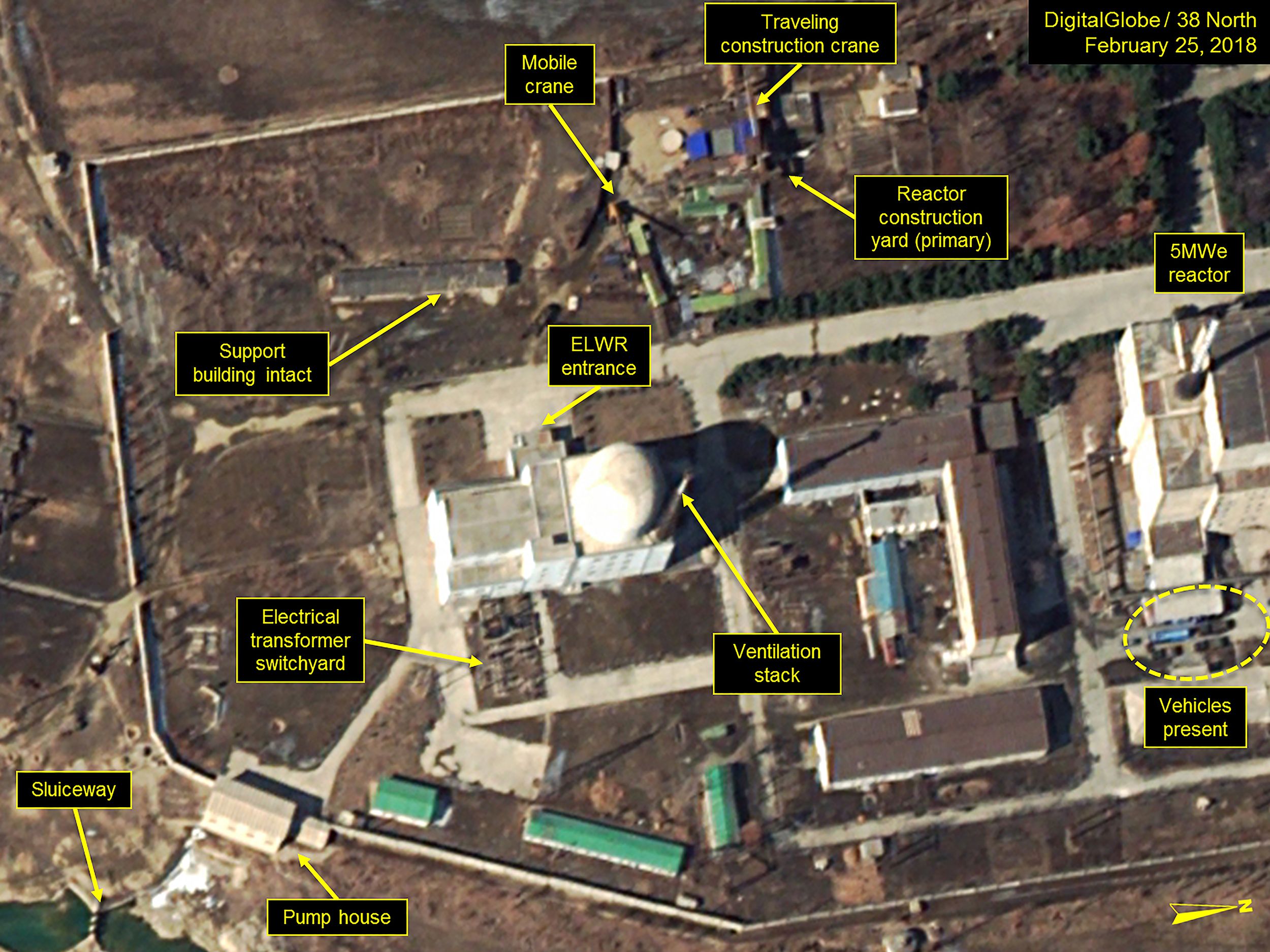 DigitalGlobe / 38 North via Getty Images
Here's a rare satellite view of North Korea's Yongbyon Nuclear Research Center, where increased activity has renewed the concern of analysts ahead of a proposed summit between President Trump and Kim Jong-un, per AP:
"Satellite imagery ... suggests the North has begun preliminary testing of an experimental light water reactor and possibly brought another reactor online."
"Both could be used to produce fissile materials needed for nuclear bombs."
https://www.axios.com/newsletters/axios-am-75928656-59e6-43ce-b73e-ccba931c26ec.html?chunk=4#story4
4. Trump's most trusted aide says good-bye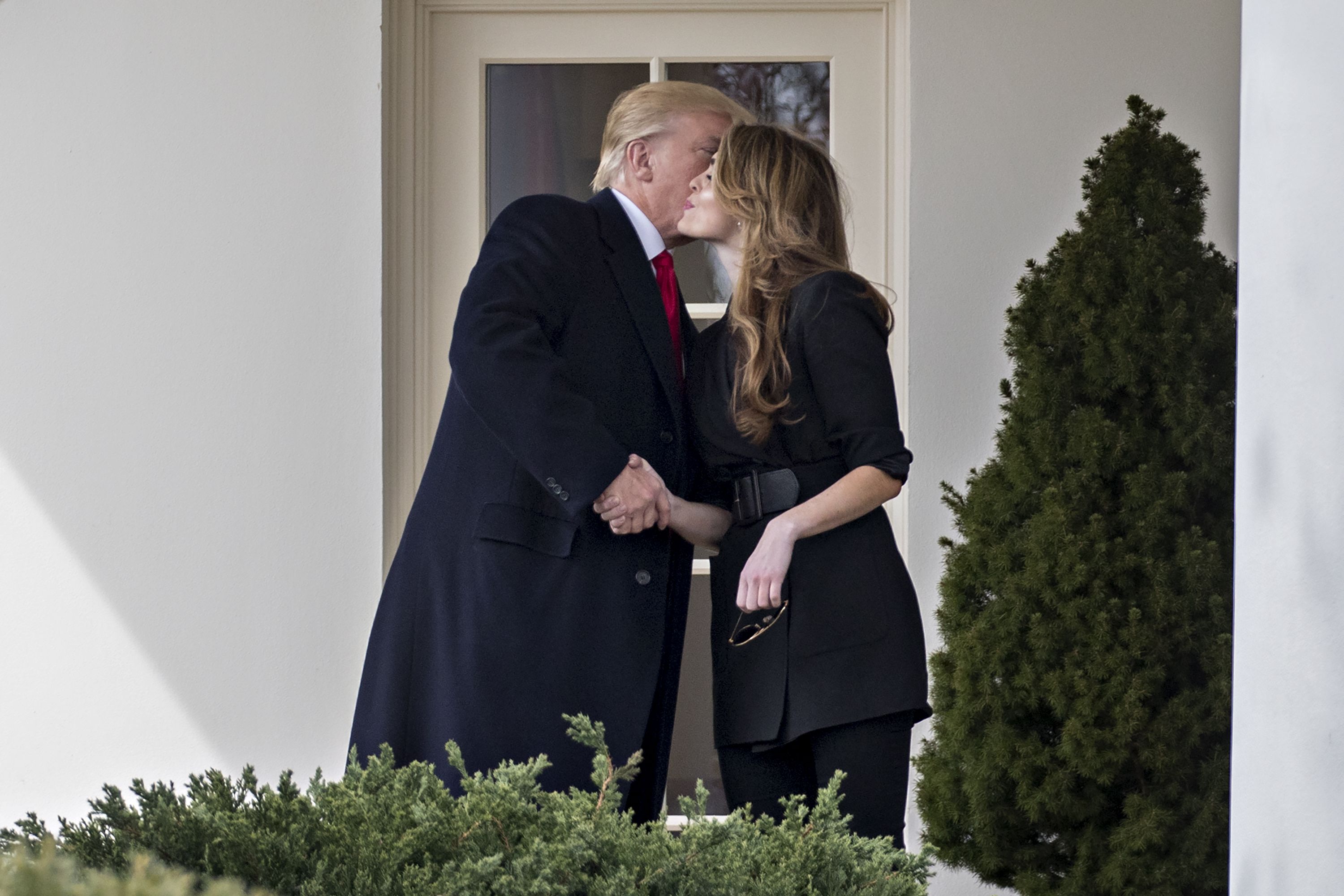 Andrew Harrer / Bloomberg via Getty Images
"Hope Hicks, the White House communications director who worked behind the scenes to direct the president through multiple professional crises — and decided to resign after she found herself exhausted by them — has left the building," the N.Y. Times' Katie Rogers and Maggie Haberman report:
"Thursday was the last day at the White House for Ms. Hicks, a 29-year-old from Connecticut, whose unlikely career trajectory from corporate public relations hand to White House communications director kept pace with President Trump's own unorthodox rise to the Oval Office."
Why she matters: "Over three and a half years, from the early trenches of the presidential campaign to desks within earshot of each other in the West Wing, Ms. Hicks had become Mr. Trump's most trusted aide — and, perhaps most important, his unofficial translator to the rest of the staff."
Amazing fact: "Hicks never gave a single on-camera interview during her time in the White House."
P.S. WashPost lead story, "VA pick draws wide skepticism":
"The White House was thrown on the defensive ... over President Trump's choice to lead the Department of Veterans ­Affairs, forcing officials to fend off mounting skepticism that Ronny L. Jackson has the experience to run the government's second-largest agency."
https://www.axios.com/newsletters/axios-am-75928656-59e6-43ce-b73e-ccba931c26ec.html?chunk=5#story5
5. Majoring in "changing the world"
"[S]ome of the most vocal Parkland seniors ... are rethinking their college plans, hoping ... to capitalize on the momentum" from their post-shooting public advocacy, the N.Y. Times' Audra D.S. Burch writes from Miami:
"The Parkland students are a case study in civic engagement. They are among the leaders of the

#NeverAgain movement

, collectively delivering fiery speeches that demand change, promoting their message on social media and organizing the March for Our Lives rally held last weekend."
"Samantha Fuentes, who was wounded by a bullet and shrapnel in the Parkland attack, is contemplating sitting out the first semester or even the full year to continue the campaign to promote more rigorous gun safety laws."
Fuentes: "The truth is, us kids, we just want to be the voice for the people we lost, or for people who don't think they have a voice ... I am prioritizing this over college right now, I am prioritizing people's lives over my education."
https://www.axios.com/newsletters/axios-am-75928656-59e6-43ce-b73e-ccba931c26ec.html?chunk=6#story6
6. Red-state teacher rebellion hits Arizona, Oklahoma
"A teacher rebellion that started in the hills of West Virginia spread like a prairie fire to Oklahoma this week and now threatens to reach the desert in Arizona," AP's Sean Murphy reports from Oklahoma City:
"In the deep red state of Oklahoma, the Republican-led Legislature approved money for teacher raises and more school funding, even [reversing a tax cut and] hiking taxes on the vaunted oil and gas industry to do it."
"Oklahoma teachers were inspired by West Virginia, another red state where a 9-day strike led to 5-percent teacher raises."
"Now, teachers in Arizona thronged their GOP-run Capitol this week, demanding a 20 percent teacher pay hike."
Why it matters: "Many GOP-led states are feeling the pushback after years of tax cuts that have slashed funding for core government services."
https://www.axios.com/newsletters/axios-am-75928656-59e6-43ce-b73e-ccba931c26ec.html?chunk=7#story7
7. California judge orders cancer warning on coffee
Starbucks "and other coffee sellers must put a cancer warning on coffee sold in California, a Los Angeles judge has ruled, possibly exposing the companies to millions of dollars in fines," per Reuters:
"Starbucks lost the first phase of the trial in which it failed to show the level of acrylamide in coffee was below that which would pose a significant risk of cancer."
Starbucks referred Axios to a statement by the National Coffee Association:
"The industry is currently considering all of its options, including potential appeals and further legal actions."
"Study after study has provided evidence of the health benefits of drinking coffee, including longevity."
https://www.axios.com/newsletters/axios-am-75928656-59e6-43ce-b73e-ccba931c26ec.html?chunk=8#story8
8. Facebook to fact-check political pics, videos
"Facebook ... has started fact-checking [political] photos and videos, part of an update of efforts to increase election security," per Bloomberg:
The fact-checking will start in France with Agence France-Presse and roll out to other countries soon.
"The social network also said its planned public archive for election ads will be unveiled this summer. And in the news feed, political ads will get a special label and will list who paid for the spot"
Facebook said it will use a combination of technology and human review to detect and demote false news stories:
"We use signals, including feedback from people on Facebook, to predict potentially false stories for fact-checkers to review."
"When fact-checkers rate a story as false, we significantly reduce its distribution in News Feed — dropping future views on average by more than 80%."
"We notify people who've shared the story in the past and warn people who try to share it going forward."
"We use the information from fact-checkers to train our machine learning model, so that we can catch more potentially false news stories and do so faster."
Go deeper: Facebook's announcement ... Video explainer.
https://www.axios.com/newsletters/axios-am-75928656-59e6-43ce-b73e-ccba931c26ec.html?chunk=9#story9
9. Stat du jour
The average Major League Baseball salary is $4.41 million, down 0.9 percent from last year's starting figure of $4.45 million, AP calculates.
https://www.axios.com/newsletters/axios-am-75928656-59e6-43ce-b73e-ccba931c26ec.html?chunk=10#story10
10. 1 fun thing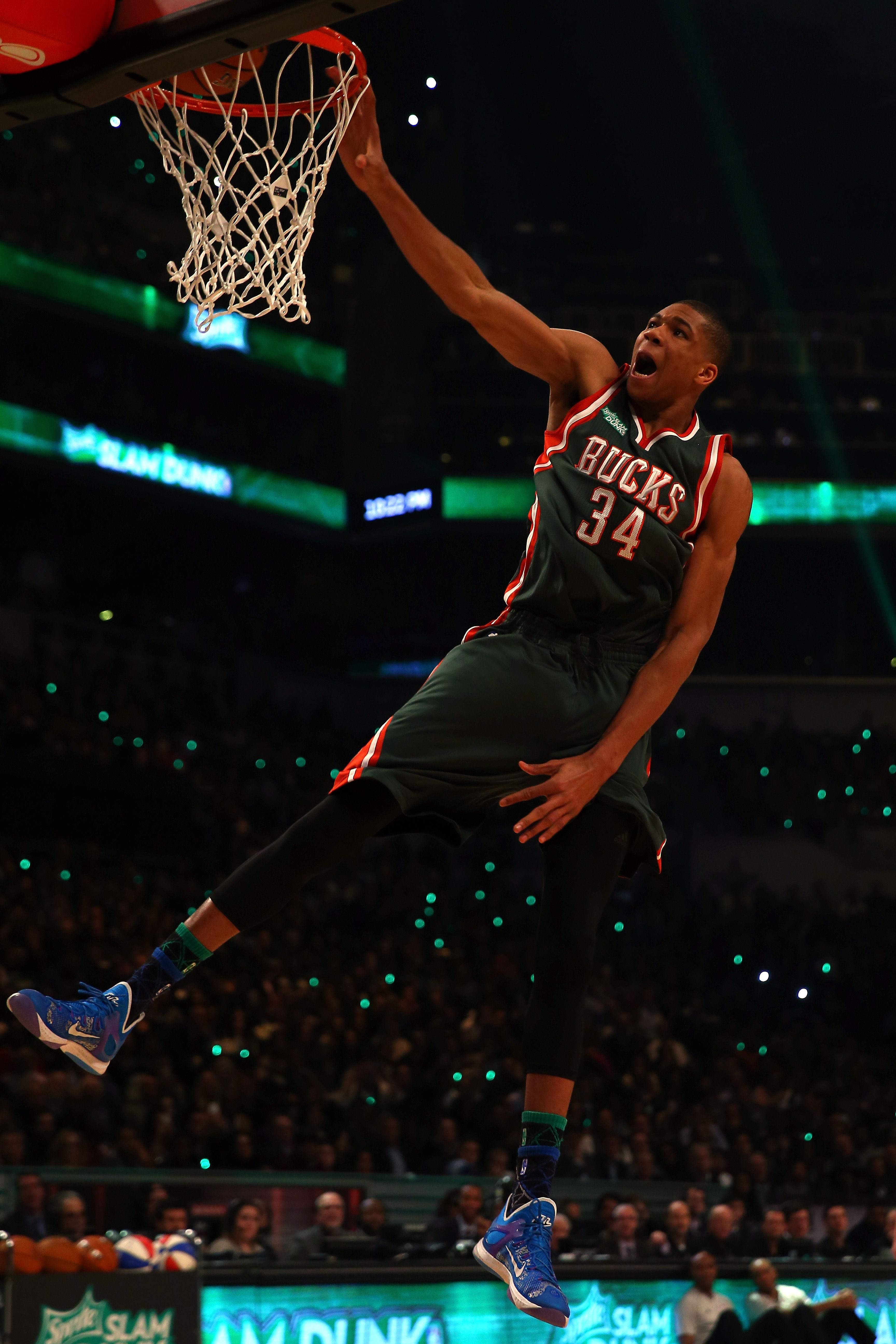 Elsa / Getty Images
"Giannis Antetokounmpo, the Milwaukee Bucks' 'Greek Freak': Most people can't pronounce his name, but he's one of the best players in the NBA. And he has quite the story about how he got there" — Steve Kroft on "60 Minutes":
"[H]is size and his coordination ... intimidate. He has a wingspan of 7'3". And his hands, which are a foot long, are thought to be the largest" in the NBA.
"And he's only 23. ... For the rest of the NBA, the idea 'The Greek Freak' might even get better is a very scary thought."
"He was born in Athens in 1994 into poverty on the lowest rung of Greek society. His parents had come here from Nigeria and raised their family. They had no papers, lived in tiny two-room apartments, sleeping three or four to a bed. There was rarely enough food."
Giannis: "We didn't have a lot of money. But we had a lot of happiness. So we wasn't broke, happiness-wise. When we were struggling back in the day, we were all together in one room, same room. We were having fun. We were smiling. There was some tough times."