October 10, 2021
🥞 Good Sunday morning! Smart Brevity™ count: 983 words ... 4 minutes. Edited by Fadel Allassan.
1 big thing: Canceling Columbus Day
The Columbus Day sale — a longtime ritual for car dealers and department stores — is dead.
Retailers are moving away from big sales events in general, and are especially eager to distance themselves from tomorrow's federal holiday, Axios' Jennifer A. Kingson reports.
State of play: For years, states and cities have been renaming Columbus Day to Indigenous Peoples' Day, to protest the legacy of colonialism that hangs over Christopher Columbus' "discovery" of America.
The last thing retailers want is to get caught in the culture war.
Plus, fewer people get a day off for Columbus Day than in the past.
What we're watching: Even after supply chains and inventories finally stabilize from the "Everything Shortage," retailers are expected to keep scaling back big one-weekend-only sales events as outdated relics.
2. This weekend's talk of Wall Street
Goldman Sachs clients are beginning to worry about stagflation — a combination of subpar growth and elevated inflation, which hasn't been a thing since the early 1980s, Axios' Felix Salmon tells me.
"Stagflation" was the most common word in client conversations this week as equity market volatility remained elevated. ... [T]his week the market focused on the risks posed to growth by supply chain challenges and rising energy costs.
Between the lines: We have the elevated inflation; we don't have the subpar growth.
Felix says we seem to be in the stage of "people looking for things to worry about."
3. Why the Macker is sweating
Three weeks out: The Virginia governor's race continues to tighten, with Republican Glenn Youngkin gaining ground on Democrat Terry McAuliffe, the former governor trying to get his old job back.
Check out the lead of Marc Fisher's big overview at the top of Sunday's Washington Post front page:
Bruce Carlson considers himself mainly a Democrat. He voted for Bill Clinton and Barack Obama for president and for Terry McAuliffe for governor back in 2013. But he won't be voting to make McAuliffe Virginia's governor for a second time.
Carlson, a retired hospital administrator, is switching over to the Republican, Glenn Youngkin, because he believes public schools are pushing a radical agenda ...
4. Yellen torches coin as "gimmick"
Treasury Secretary Janet Yellen drop-kicked the idea — popular online — of minting a trillion-dollar coin as a potential debt-ceiling exit ramp. She told ABC's George Stephanopoulos on "This Week":
"I wouldn't be supportive of a trillion-dollar coin. I think it's a gimmick. And it jeopardizes the independence of the Federal Reserve. You would be asking to essentially print money to cover the deficit."
"No one party is responsible for the need to do this," she added. "I believe it should be a shared responsibility.
5. 🌳 Tonight on "Axios on HBO": The treehouse interview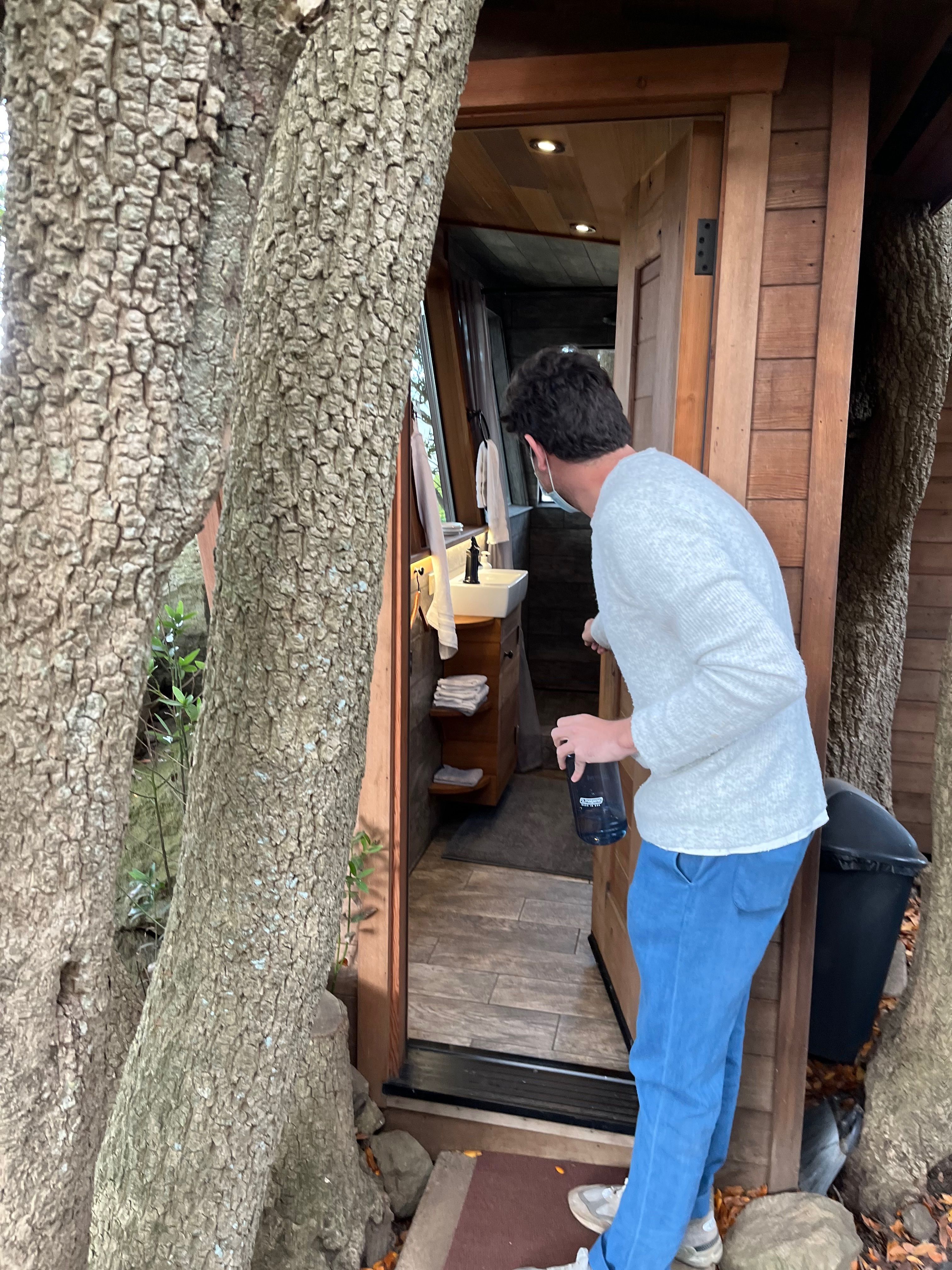 This is the the Airbnb-listed treehouse in Marin County, Calif., where I talk with Airbnb CEO Brian Chesky for tonight's episode of "Axios on HBO" (6 p.m. ET/PT on HBO and HBO Max). [Corrected]
Also tonight: Dan Primack interviews Labor Secretary Marty Walsh ... and Alexi McCammond sits down in Vermont with Ben & Jerry's co-founders Ben Cohen and Jerry Greenfield. Watch a clip.
6. Snapchat generation steps up
In four days, nearly 2 million Snapchat users checked out a new "Run for Office" module aimed at encouraging young candidates, Axios' Alexi McCammond reports.
Why it matters: The tech company — which claims to reach over 90% of the nation's 18- to 34-year-olds — wants to expand the "Snapchat generation" in local and state offices.
The top five issues Snapchatters say they care about: civil rights, education, the environment, health care and jobs.
A burst of interest came from six of the most populous states: Texas, Florida, Ohio, California, North Carolina and Pennsylvania.
How it works: Snap is partnering with 10 candidate recruitment organizations, including ones that focus on helping young progressives, conservatives and immigrants to seek elected office.
In the opening days, more than 24,000 Snapchat users expressed interest in working with one of those organizations to explore running for local positions, including school board or city council.
Another 46,000 users nominated a friend to run.
7. Remembering Gen. Odierno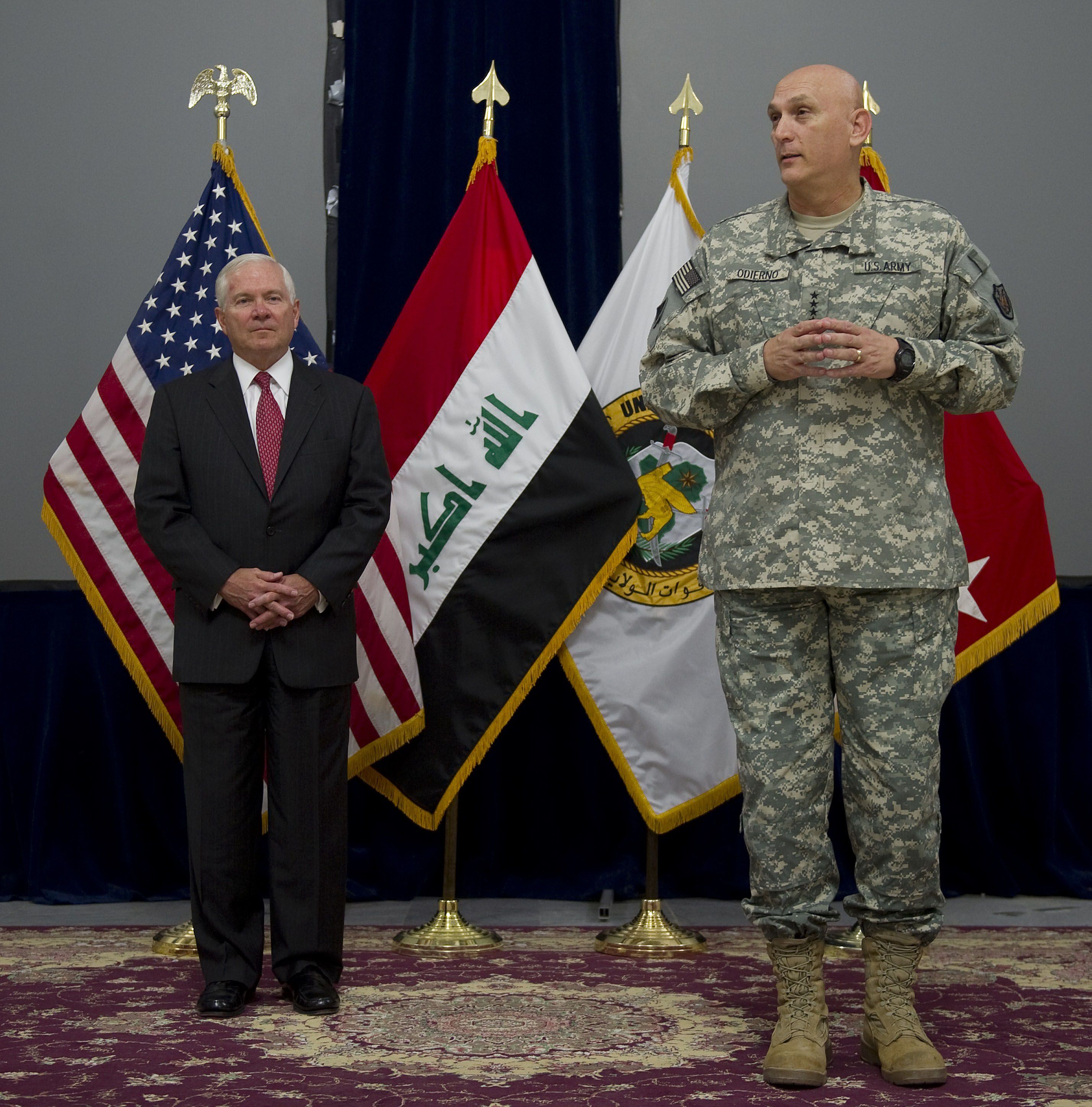 Retired four-star Army Gen. Ray Odierno — an architect of the surge in Iraq, and commander of coalition forces at the height of the war — died of cancer Friday at 67.
Former President Obama said: "I relied on Ray's deep knowledge, steady leadership, and strong judgment. It's why I trusted him to help come up with the plan to withdraw U.S. combat forces from Iraq."
"I was far from the only person to depend on Ray's counsel, and to appreciate both his strategic and operational talents. Today, our military is stronger and the world is safer thanks to Ray's service."
President Biden and Dr. Jill Biden said: "When we think back on our time as Vice President and Second Lady, Ray was part of some of our most poignant memories."
[W]e will be forever grateful for the words and the kindness that Ray shared when he spoke at the funeral of our beloved son Beau and awarded him with the Legion of Merit."
Go deeper ... N.Y. Times obit (subscription).
8. 🏈 Saturday in America: Storming the field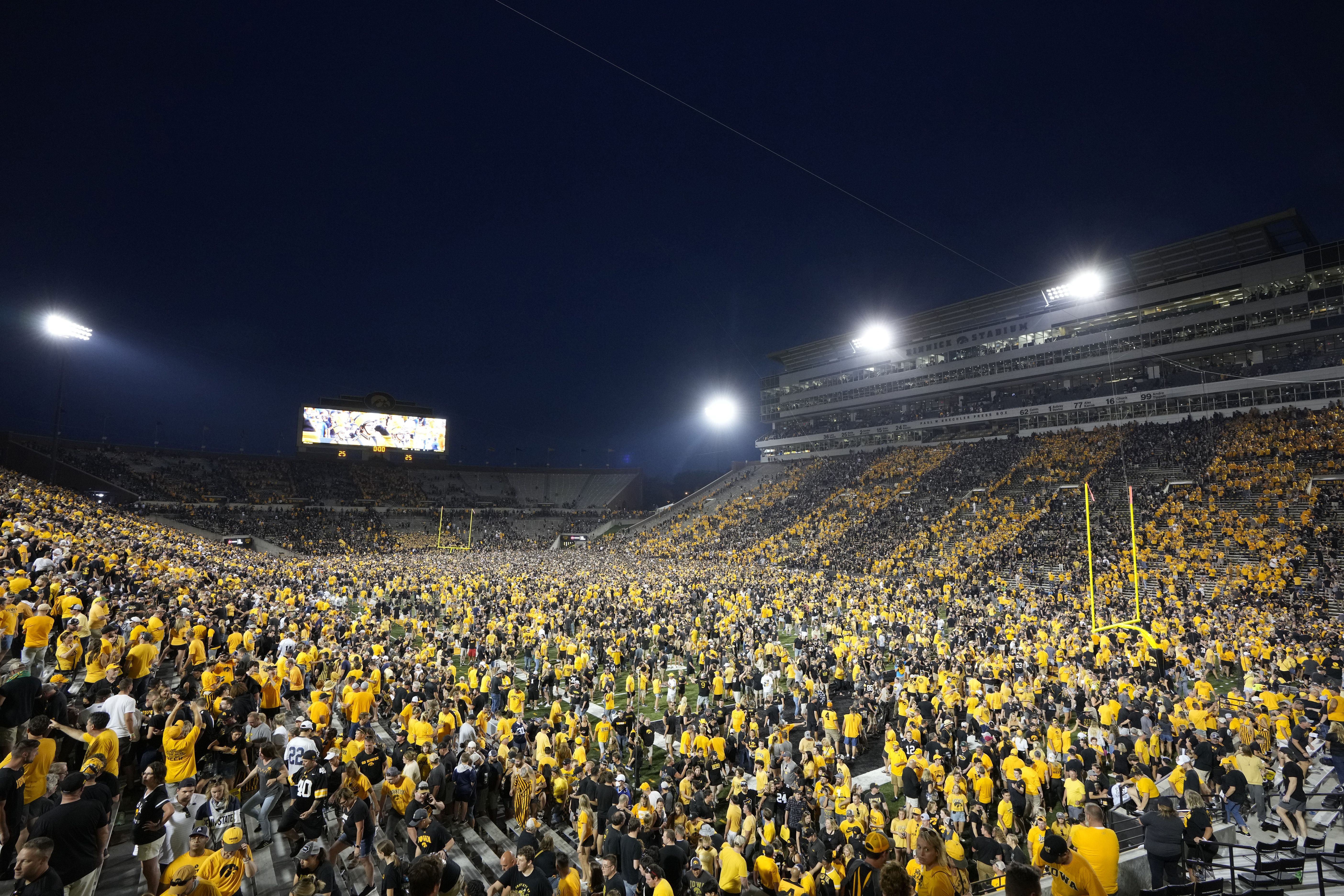 Fans rush the field after No. 3 Iowa beats No. 4 Penn State, 23-20, in Iowa City.
The Nittany Lions lost for the first time in 10 games. Keep reading.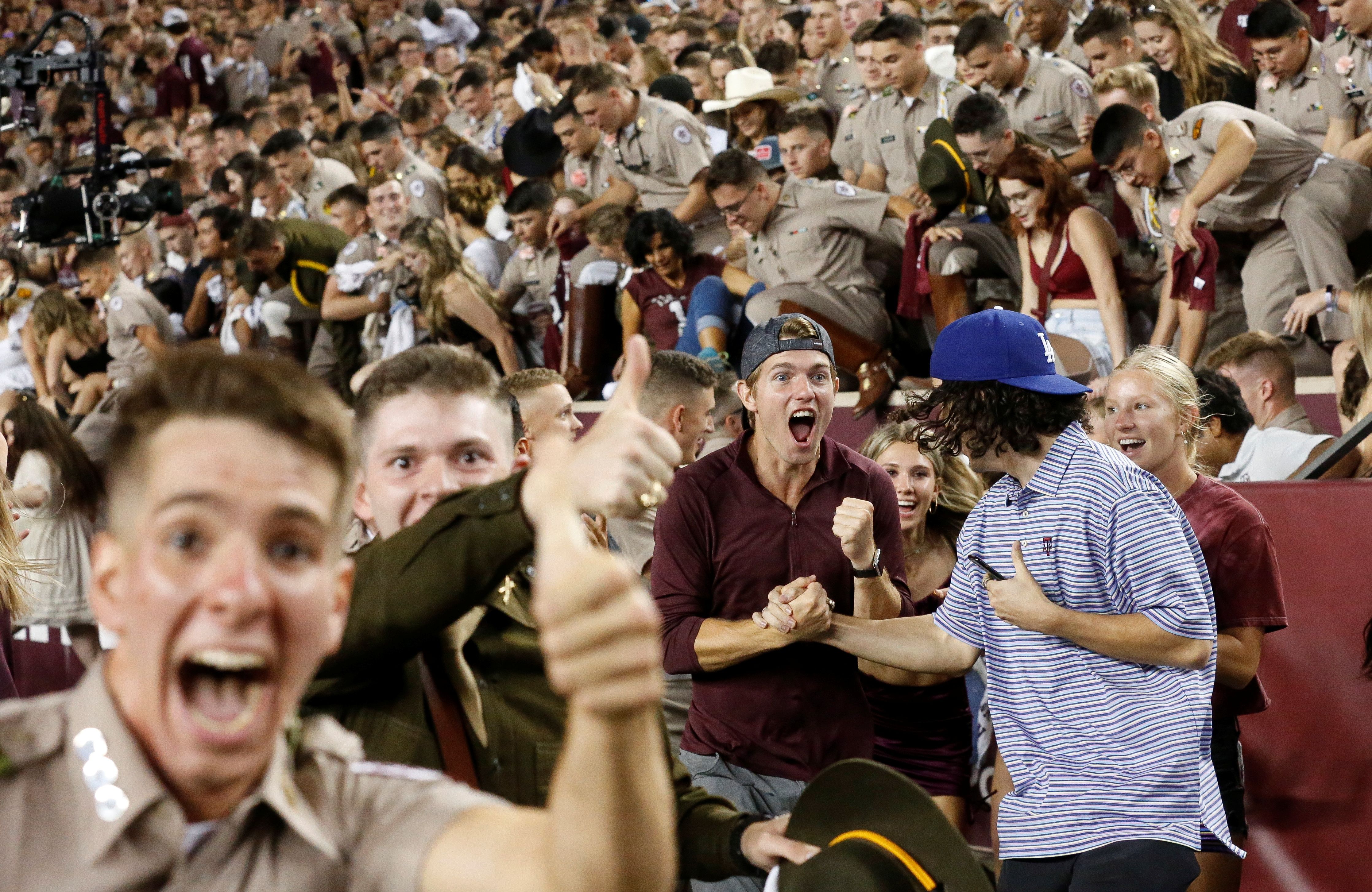 Upset for the ages: Texas A&M spills onto the field in College Station, Texas, after a game-winning field goal beat No. 1 Alabama, 41-38, as time expired.
The Aggies ended Alabama's streak of 100 wins over unranked teams, dating to 2007. Keep reading.
📬 Was this email forwarded to you? Sign up here for your own personal copy of Axios AM and Axios PM.