May 31, 2022
Happy Tuesday, and welcome back. It's the last day of May.
Smart Brevity™ count: 1,189 words ... 4½ mins. Edited by Noah Bressner.
1 big thing: Parents aren't all right
Parenting is always hard. Parenting in a pandemic — through an unpredictable economy, in a country where school shootings aren't rare, baby formula is hard to come by and classrooms are political battlegrounds — can feel borderline impossible.
Why it matters: 63 million parents in the U.S. have kids younger than 18 at home. Those parents work ... they volunteer ... they're raising the next generation — and the stress and strain are making all those things harder, Axios' Alison Snyder, Sophia Cai and Erica Pandey write.
"There's almost not a word to express the stress parents are under right now," says Gloria DeGaetano, a parenting expert and founder of the Parent Coaching Institute.
"'Overwhelmed' doesn't cut it. It's beyond anything we've ever experienced."
What's happening: Too much.
The rising cost of gas, groceries and other daily expenses topped the list of stressors in a March poll by the American Psychological Association and The Harris Poll.
Children have questions about the world's wars ... sadness about the relationships and opportunities the pandemic is robbing from them ... and fear and anger about the planet warming.
COVID, clashes over teaching about racism and U.S. history, and a renewed debate over gun control have put issues affecting kids and parents at the center of American politics.
A silver lining: Hard times can be opportunities to strengthen relationships.
In census data, parents reported becoming closer during COVID lockdowns: Parents of younger children said they read to their kids more often. Families said they ate more meals together.
💡 What you can do: If we're not parents, we know parents. Help them take care of themselves — so they can take care of others.
2. 🎒 Kids "frozen" at pre-pandemic age
Many students are "frozen, socially and emotionally, at the age they were when the pandemic started," the N.Y. Times found in a survey of 362 school counselors nationwide:
94% of the counselors said students show more signs of anxiety and depression than before COVID ... 88% said students are having more trouble regulating their emotions ... Almost three-quarters said kids are having more difficulty solving conflicts with friends.
Keep reading (subscription).
3. 🗳️ Axios dashboard: What matters '22
Based on Google searches of midterm issues, Americans are more focused on pocketbook issues than abortion:
Jobs and taxes are the two most-searched topics. Abortion ranks 14th — after health care, and before immigration/border.
Those are the sorts of discoveries you can make with an interactive tool Axios is launching today, powered by Google Trends data.
Our new dashboard lets you explore which vote-moving topics are driving searches in your congressional district — and how that compares with other parts of the U.S.
Between the lines: The figures above (for the week ending May 23) may reflect the fact that Americans have made up their minds about abortion.
Republicans are pushing inflation and other pocketbook issues — while Democrats hope the abortion issue will galvanize voters who fear Roe v. Wade will be overturned.
Some searches also may simply reflect people using Google to search for work or calculate their taxes.
🧠 Alasdair Rae, a data scientist who worked with Axios and Google Trends on the project, told Axios' Stef Kight:
"The biggest issues for the majority of people don't seem to be the adversarial culture war stuff, but the nuts-and-bolts stuff."
In some House districts near the Mexican border, immigration topics were of more interest than abortion, according to the data.
4. Biden embraces Fed's aggressive course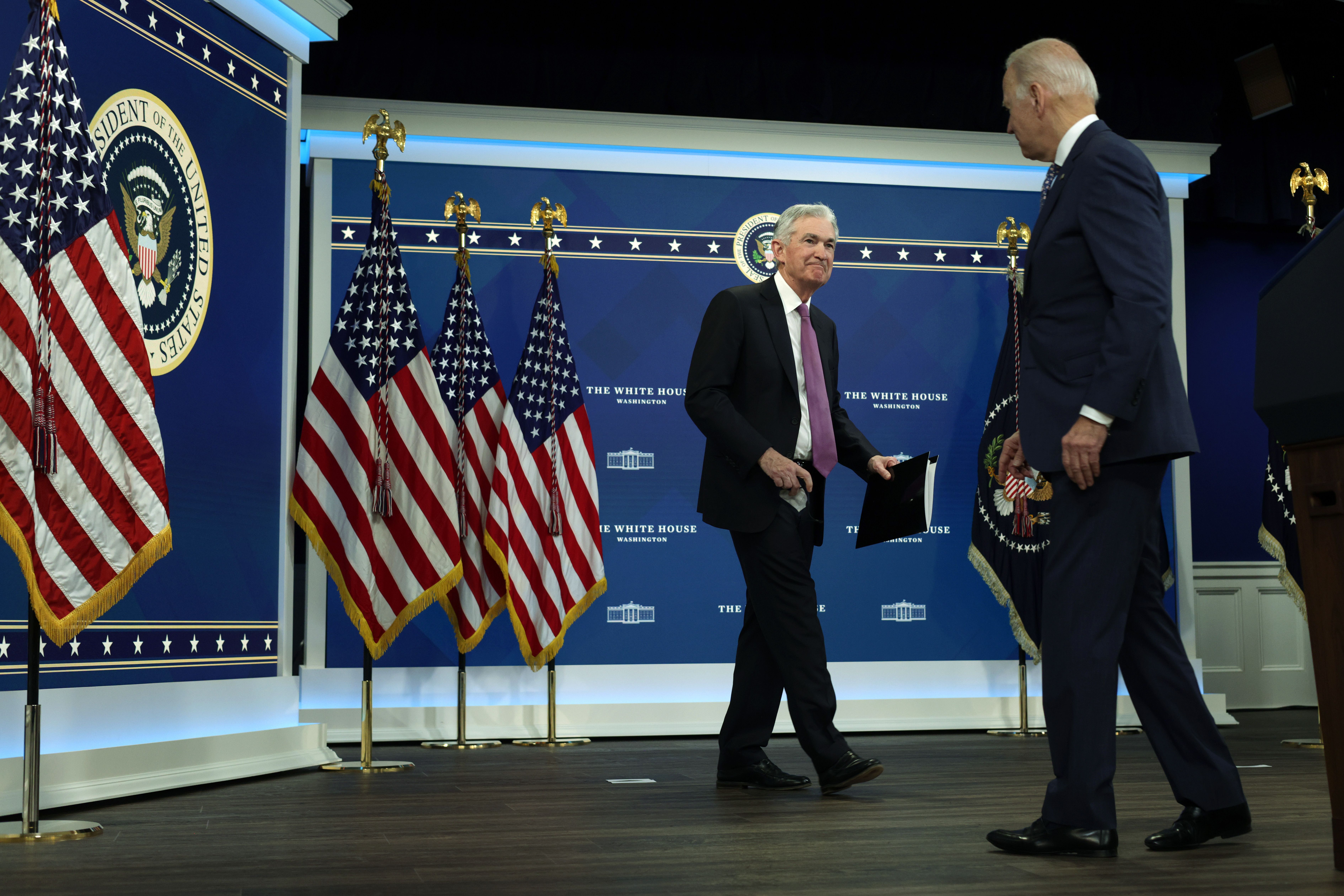 A Wall Street Journal op-ed by President Biden today ("My Plan for Fighting Inflation") shows he's all in on the Fed, Axios' Neil Irwin writes:
Biden is tacitly embracing the Fed's campaign of interest rate hikes and other steps meant to slow the economy and combat inflation.
Why it matters: It's a stark contrast with President Trump and many other past presidents (including Presidents Nixon, Reagan and George H.W. Bush), who pushed the Fed toward easier money.
Instead, while emphasizing the independence of the central bank, Biden is essentially putting the Fed front and center in the fight against inflation — even as we're starting to see downsides to that, such as higher mortgage rates and rising recession risk.
"First," Biden writes, "the Federal Reserve has a primary responsibility to control inflation. My predecessor demeaned the Fed, and past presidents have sought to influence its decisions inappropriately during periods of elevated inflation. I won't do this."
"I have appointed highly qualified people from both parties to lead that institution. I agree with their assessment that fighting inflation is our top economic challenge right now."
🔮 What's next: At 1:15 p.m. today, Biden and Fed Chair Jerome Powell will meet in the Oval Office for the first since just before Biden reappointed Powell to lead the central bank last fall. Neil's preview.
5. Charted: America's attention span
Data provided exclusively to Axios by NewsWhip shows social-media attention to the Uvalde massacre briefly peaked above even the 2018 shooting in Parkland, Fla. — but fell off much quicker, Axios' Sara Fischer and Neal Rothschild report.
Public interest about Parkland — measured in social media interactions (likes, shares, comments) with news stories — was sustained for much longer, as students became vocal gun-control activists.
👀 What we're watching: David Hogg, a leader of the Parkland students, tweeted that over 300 "March for Our Lives" protests are planned in 45 states on June 11, two Saturdays from now.
💭 N.Y. Times Quote of the Day ... Sen. Chris Murphy (D-Conn.), who's leading Democratic negotiations to get at least modest gun legislation:
When people give up on us dealing with the most important and most existential issues, it means they're giving up on democracy itself.
6. Russia's shrinking war
Friday will be Day 100 of the war in Ukraine.
The goals of Russia's invasion keep getting smaller, we see in these N.Y. Times maps of ground battles in March (left) and May.
More maps (subscription).
⚡ New this morning: Russian troops are slowly advancing toward the city center in Severodonetsk, a key city in Ukraine's Donbas region.
7. 📚 Covering America: "Banned books" library card
A limited-edition library card proclaiming "I read banned books" is so popular that Nashville officials have decided to make it a permanent option, Axios Nashville's Adam Tamburin reports.
Why it matters: The Nashville Public Library unveiled the provocative design in April, after months of national and local debate about censorship and book banning.
The campaign launched days after state lawmakers approved legislation that gives a politically appointed panel the power to remove books from school libraries across the state.
Library leaders initially intended to make it available for only a month as part of a "Freedom to Read" campaign.
What's happening: 4,200+ Nashvillians signed up for the card. That's nearly double the average monthly signups.
8. 🏖️ 1 for the road
I hope you and yours enjoyed some serenity over the holiday. This was my view as I woke up in Miami ...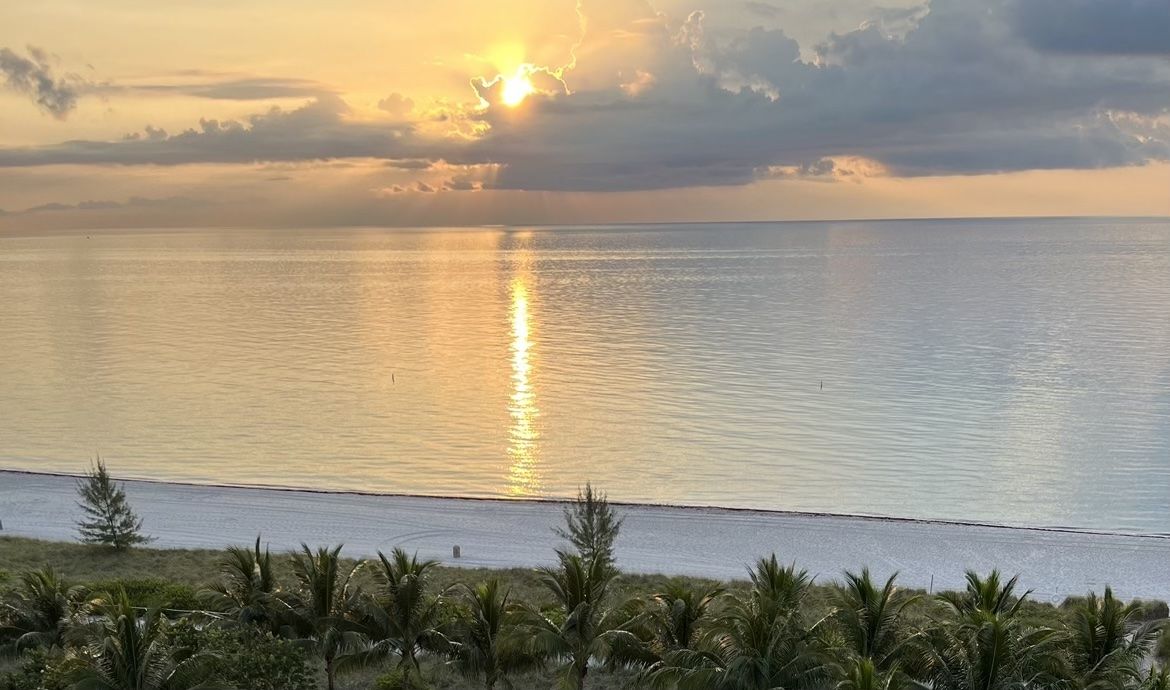 📬 Invite your friends to sign up here to get their daily essentials — Axios AM, PM and Finish Line.