July 28, 2022
Happy Thursday. Smart Brevity™ count: 1,473 words ... 5½ mins. Edited by Noah Bressner.
1 big thing: Keeping recession at bay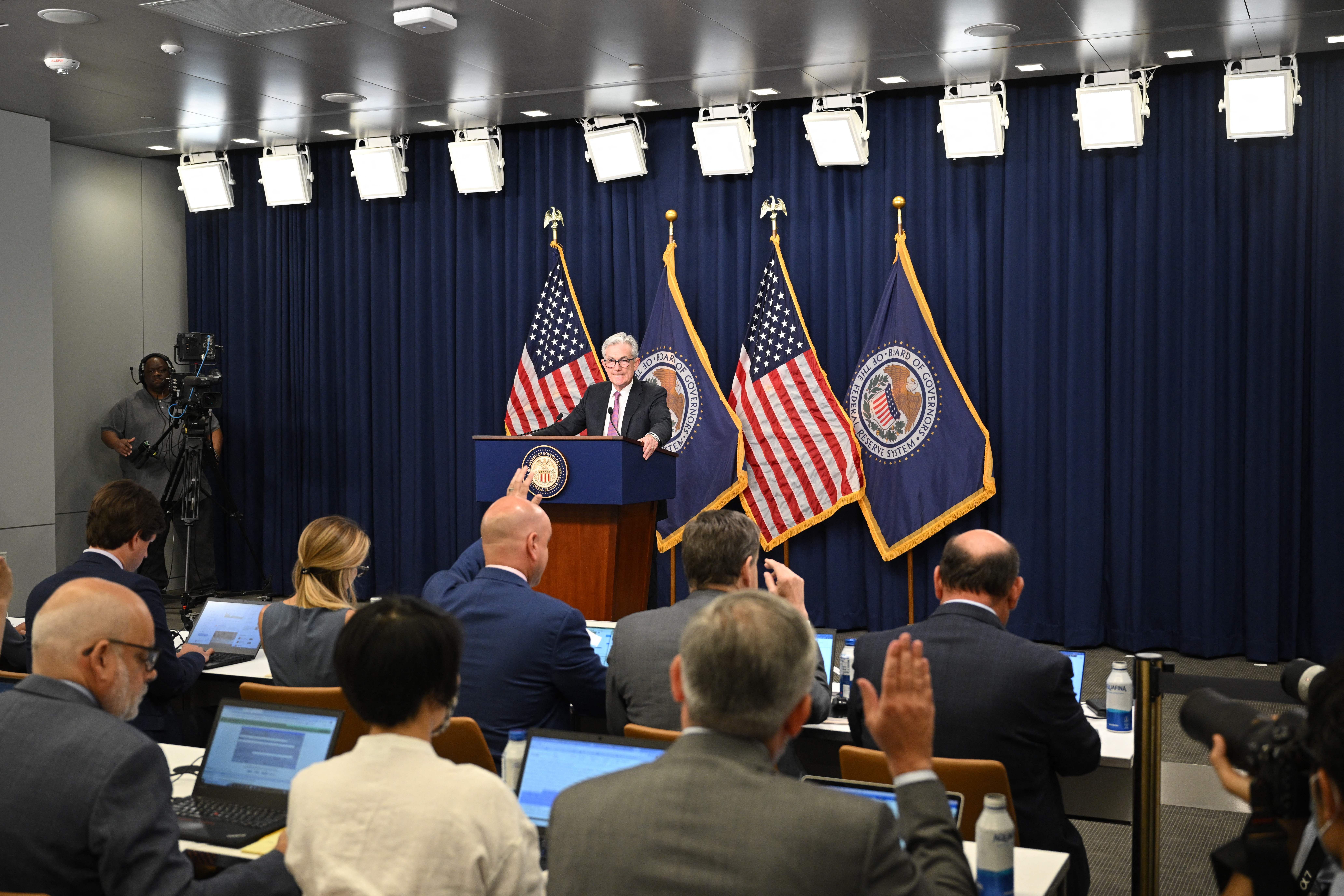 The U.S. probably isn't in recession right now. We hope not to fall into one, but it could happen. Either way, don't look to your friendly neighborhood central bank to make the call.
That, in a nutshell, was Fed Chair Jerome Powell's message about the hot economic topic of the moment, as he faced the media following a decision to raise interest rates another 0.75 percentage points, Axios chief economic correspondent Neil Irwin writes.
Second-quarter growth numbers due out at 8:30 ET this morning could show a second straight quarter of contraction — a common, though unofficial, rule of thumb for defining recession.
The White House has been pushing back for days against suggestions that the U.S. is about to find out it's in a recession. Yesterday, under media questioning, it was Powell's turn.
"I do not think the U.S. is currently in recession," Powell said in response to a question from Axios.
He noted that 2.7 million jobs have been added so far this year, and said he takes the initial release of quarterly GDP data — the figures coming out this morning — with a "grain of salt" because they often are heavily revised.
Powell was more ambiguous about what the future might look like. He didn't say a recession can be ruled out.
"We're not trying to have a recession, and we don't think we have to," Powell said — not exactly the tone of someone who thinks a recession is a no-way, no-how proposition.
Powell tried not to get baited into what exactly would cause economic events to get classified as a recession.
"We don't say, 'There is now a recession,'" he said. "That's not something we would do."
2. New life for Biden climate goals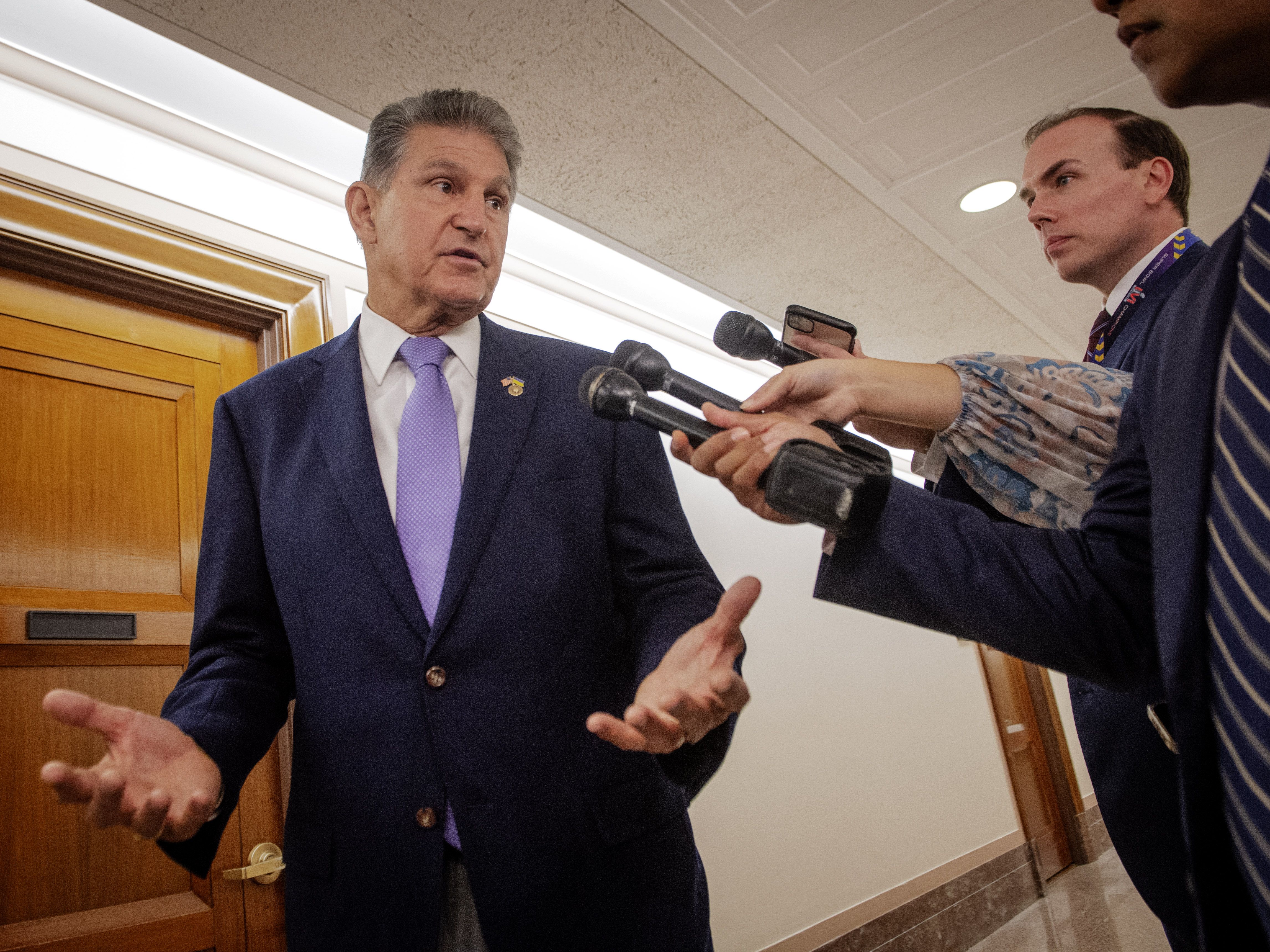 A surprise Capitol Hill deal could give White House carbon-cutting goals a huge lift that looked all but impossible weeks ago, Ben Geman and Andrew Freedman write in Axios Generate.
Why it matters: The climate provisions in the 725-page "Inflation Reduction Act of 2022" look consequential, and would have a global effect on America's climate image. But every Senate Democrat must be on board to move the bill.
Catch up fast: Senate Majority Leader Chuck Schumer and Sen. Joe Manchin (D-W.Va.) last evening unveiled a revenue-and-spending deal with $369 billion in "energy security and climate change" measures.
If approved, it would be the biggest federal investment in clean energy yet made in the United States.
Manchin is needed to move the bill on a party-line vote.
But Sen. Kyrsten Sinema (D-Ariz.) would have to vote for it too, and there's no guarantee that she will. "We do not have a comment, as she will need to review the text," a Sinema spokesperson told Axios.
🔎 Zoom in: The bill would provide tax credits and other incentives to spur the development and deployment of clean energy and carbon abatement technologies.
It also includes monetary incentives to help people buy clean cars, and would incentivize the increased domestic production of critical minerals used in batteries for electric vehicles.
Go deeper: 1-page summary distributed by Manchin's office ... What's in, out.
3. 🏛️ How the deal happened
In the past few weeks, Sen. John Hickenlooper (D-Colo.) kept talking and listening to Sen. Joe Manchin (D-W.Va.), even as many senators were privately — and publicly — castigating him, Axios' Hans Nichols reports.
At the same time, Hickenlooper convinced Senate Majority Leader Chuck Schumer to stay at the table.
With Hickenlooper keeping talks alive with some shuttle diplomacy, Democrats knew they had to convince Manchin that the package would reduce inflation.
White House officials have long argued that Build Back Better would lower costs, but Manchin didn't trust their analysis.
Enter former Treasury Secretary Larry Summers — no stranger to Democratic scorn in the Biden era.
The two spoke this week, the WashPost reports. That gave Summers a chance to convince Manchin the package would lower inflation.
👀 What we're watching: The airwaves are about to be full of TV spots and radio ads, targeting potentially undecided Senate Democrats (especially Sen. Kyrsten Sinema of Arizona), as well as vulnerable House members.
4. 🏡 Housing slowdown
The housing slowdown we've been anticipating for months is here, Emily Peck writes in Axios Markets.
Home sales are slowing down, and some of the pandemic era's hottest "Zoomtowns" — once-sleepy areas where remote workers pushed up real-estate prices — are already seeing price drops.
Boise, Idaho, is Exhibit A, The Wall Street Journal reports (subscription).
🧠 How to think about it: The idea of a real estate downturn might seem scary, especially if you lived through the last one. But with home prices at record highs, this was a market overdue for cooling off.
What's happening: Contract signings for home purchases, or deals signed but not yet closed, fell 8.6% in June from a month ago, the National Association of Realtors reported yesterday. That was well above what economists were predicting, and a 20% drop from last year.
🔮 What's next: Prices are coming down in some pockets, and analysts expect that to continue.
20% of builders lowered prices on new homes in July, according to survey data from housing market research firm Zonda.
Boise, Denver, Salt Lake City and Tacoma, Wash., saw the most price cuts in June, according to Redfin data cited by The Journal.
"Activity is now in free-fall, inventory is rocketing, and prices have started to fall," Ian Shepherdson, chief economist at Pantheon said in a note. He's been calling this slowdown for a while.
This wasn't a blip: "We can expect continued downturn as we head into the second half of the year," said George Ratiu, senior economist & manager of economic research at Realtor.com.
💬 Our thought bubble: This is how the real world is reacting to what's happening at the Fed — mortgage rates jumped, and suddenly houses were even less affordable. Though people would like to buy, they cannot.
5. 🌐 America's brand tanks in Europe
Major news — the Uvalde school shooting and the end of Roe took a devastating toll on Europe's view of the U.S., Morning Consult found.
Why it matters: America's brand rose sharply in Western Europe following Washington's strong response to Russia's invasion of Ukraine. But those reputational gains were quickly undone.
6. 🗳️ Yang, Whitman form third party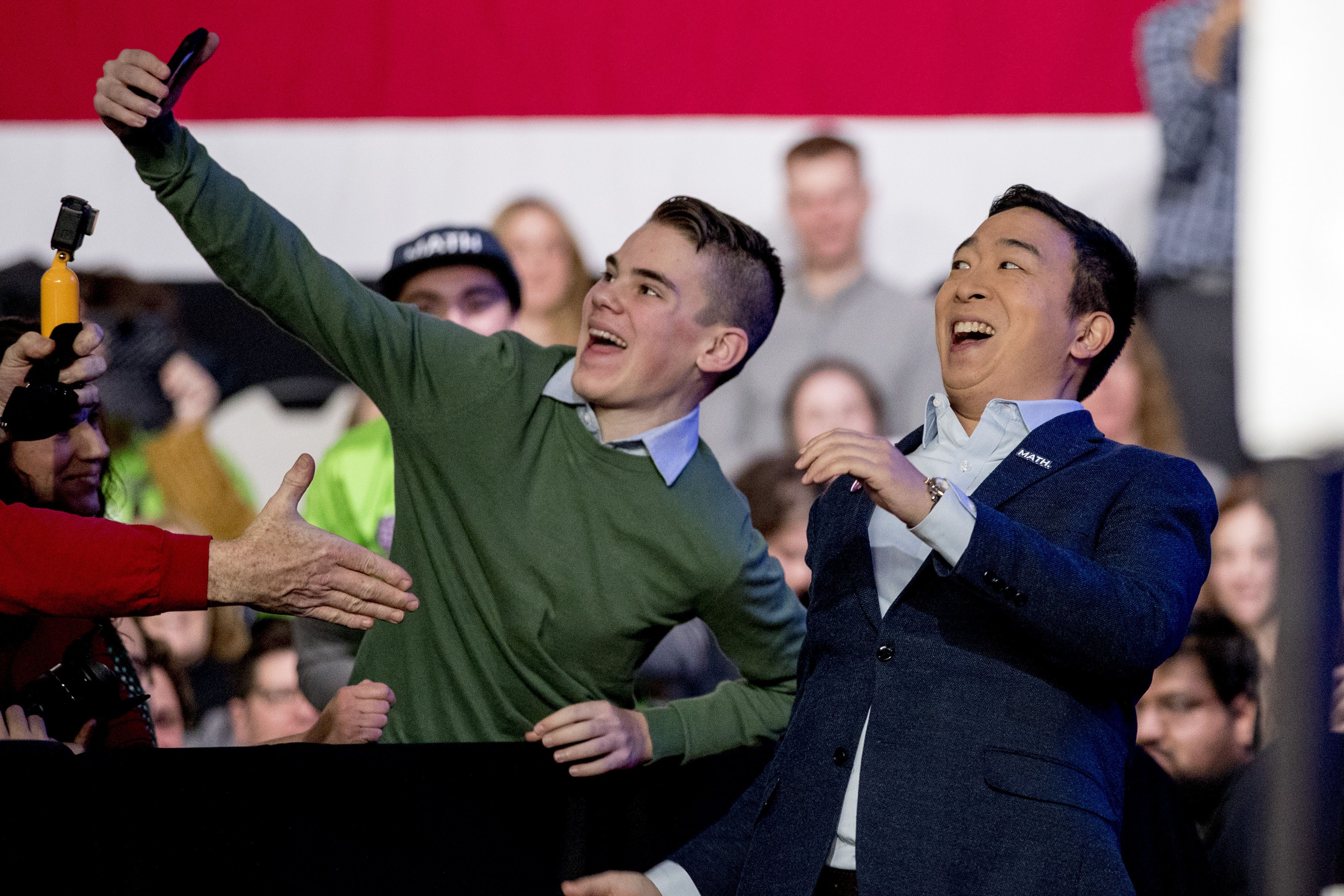 Andrew Yang announced his Forward Party is merging with a coalition of Republicans, Democrats and independents in an effort to form an alternative to the two major parties, Axios' Shawna Chen reports.
Why it matters: Yang says the new party, called Forward, is now the third-biggest political party based on resources. Founding members hope it will serve to bridge the stark divide in U.S. politics.
The new party will be co-chaired by Yang and Christine Todd Whitman, the former Republican governor of New Jersey. Its founding base consists of members of the Renew America Movement (RAM), the Serve America Movement (SAM) and Yang's Forward Party, Reuters reported.
RAM was created by dozens of former officials in previous Republican administrations and is led by former Trump White House official Miles Taylor.
SAM is a political organization made up of Democrats, independents and Republicans that was founded by former Rep. David Jolly (R-Fla.).
7. 📚 Navarro's dream cabinet
Peter Navarro — a hardcore Trump loyalist who would likely return for a senior White House job in a second administration — gave Axios an exclusive look at this passage from his forthcoming book, "Taking Back Trump's America," coming Sept. 20.
Some Trump "old gang" choices for a 2025 Cabinet might include:
Former Trump national security adviser Robert O'Brien to SecState.
Ben Carson to HHS.
Bob Lighthizer to Commerce.
Kash Patel to director of national intelligence.
John Ratcliffe to CIA director.
Ken Cuccinelli returning as head of Homeland Security.
Dan Brouillette in second turn at Energy.
Linda McMahon to HUD.
David Bernhardt in second turn at Interior.
And for new blood, with strong Trump loyalty ties:
Judge Jeanine Pirro of Fox News to attorney general.
Former Congressman Sean Duffy to head Transportation.
Bill Gertz for DNI or CIA.
Oracle CEO Safra Catz or Lara Trump as U.N. ambassador.
Mike Pillsbury, Frank Gaffney or Brian Kennedy as ambassador to China.
8. 🎞️ Fauci coming to big screen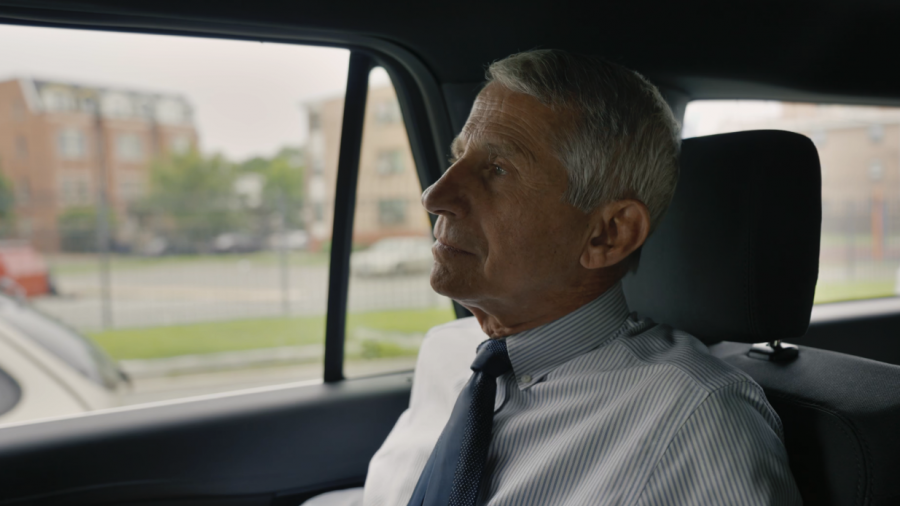 A documentary that followed Dr. Anthony Fauci for 14 months, beginning with President Biden's inauguration, will debut in movie theaters and then air on PBS in spring 2023 as "American Masters: Tony — A Year in the Life of Dr. Anthony Fauci."
The film follows Fauci, 81, "at home, in his office and in the corridors of power as he battles the ongoing COVID-19 pandemic and the political onslaught that upends his life and calls into question his 50-year career as the United States of America's leading advocate for public health," PBS says.
📬 Invite your friends to sign up here for their daily essentials — Axios AM, PM and Finish Line.