Axios AM
December 09, 2019
☕Good Monday morning. Today's Smart Brevity™ count: 1,187 words ... 4½ minutes.
⚡Situational awareness: PENSACOLA, Fla. (AP) — The Saudi gunman who killed three people at the Pensacola naval base had apparently gone on Twitter shortly before the shooting to blast U.S. support of Israel and accuse America of being anti-Muslim.
The FBI is operating on the assumption the attack was an act of terrorism.
1 big thing: Biden on stuttering, Hunter, Pete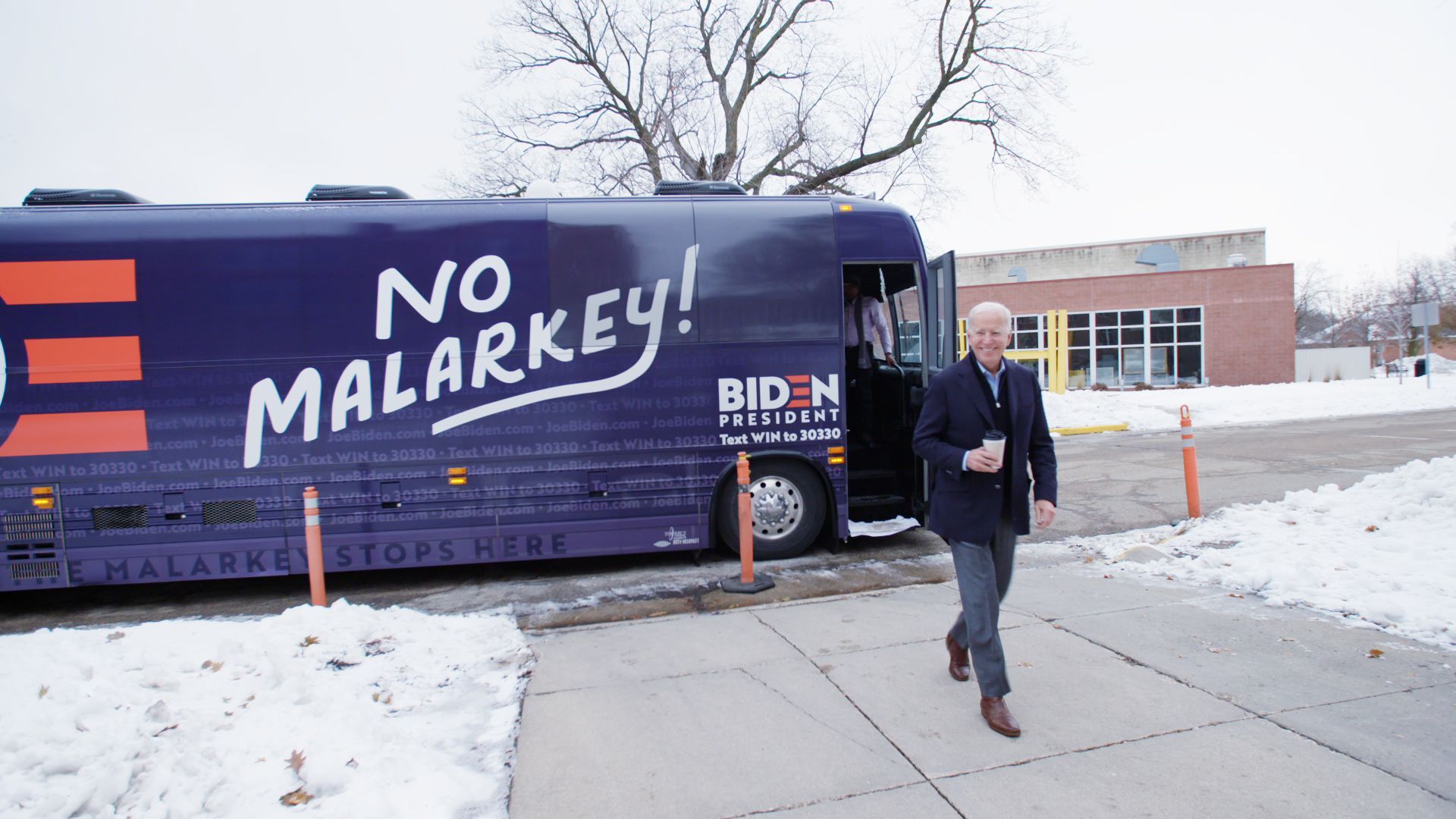 Joe Biden told me during an interview in Storm Lake, Iowa, for "Axios on HBO" that stuttering isn't to blame for a string of his verbal mistakes during the 2020 campaign.
"I don't think of myself as continuing to stutter," the former vice president said. "That doesn't cross my mind ... Look, the mistakes I make are mistakes. And some people think I still stutter. I don't think of myself that way."
A reporter for The Atlantic who stutters wrote recently that he studied Biden miscues and concluded that lifelong stuttering struggles were to blame.
Other highlights:
2. What Iowans want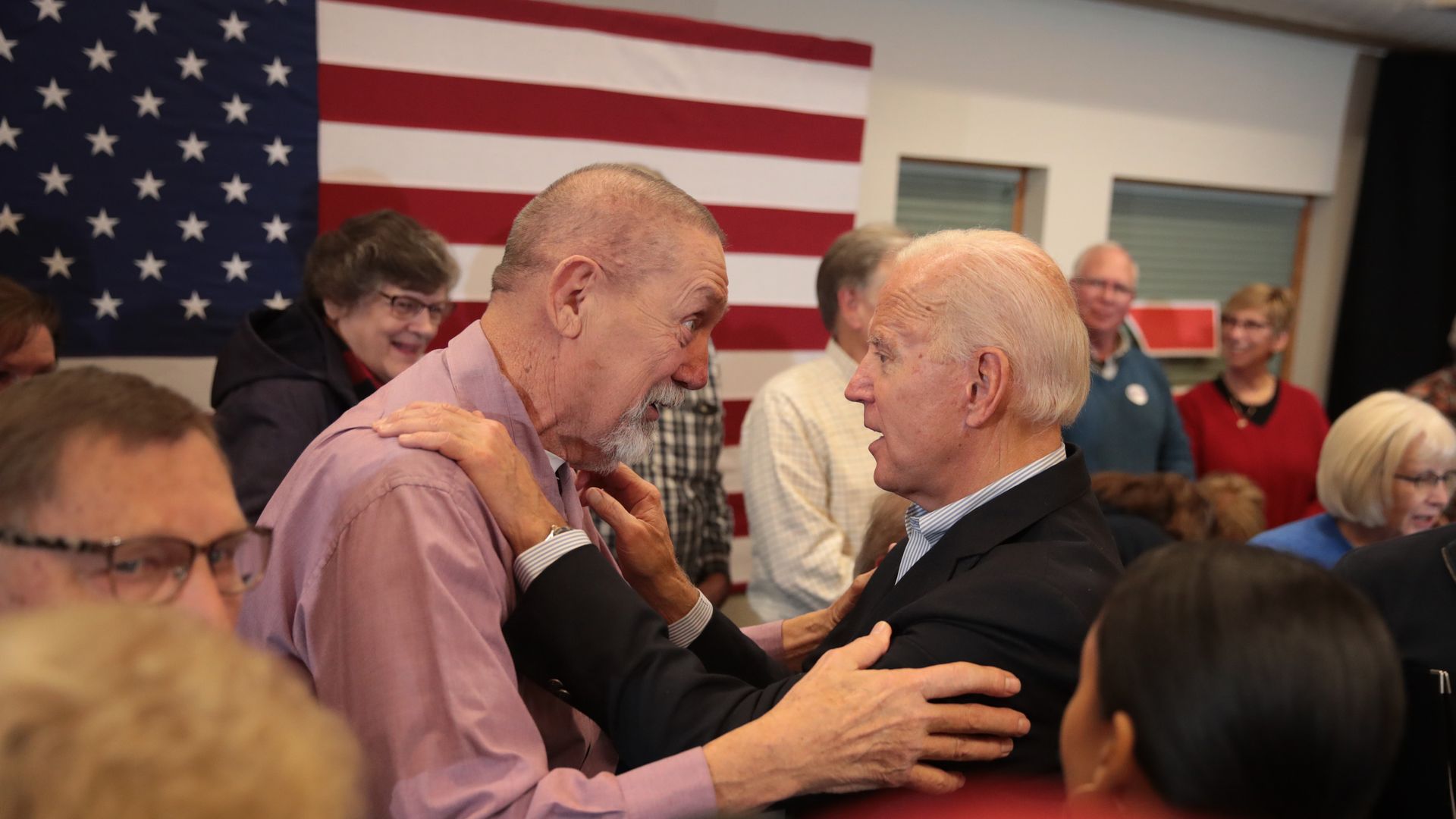 Rural Iowans who met Joe Biden during his weeklong bus tour say they want a nominee who works with Republicans — and they aren't fixated on impeachment or liberal proposals like the Green New Deal, Axios' Alexi McCammond reports from Cedar Rapids.
Why it matters: These voters' views validate Biden's argument that Democrats nationally aren't as liberal as on Twitter or as Alexandria Ocasio-Cortez — but also foreshadow liabilities for him versus others in the moderate lane.
Many potential Biden backers also spoke positively about Pete Buttigieg and Amy Klobuchar.
After his last event on Friday — where he ended by passing out pizza to his local volunteers and staff in Decorah — Biden talked with a small group of reporters on his bus, emphasizing compromise.
"If I win, and Lindsey [Graham] is still there, I promise you we'll be able to work things out," Biden said.
When Axios asked whether he thinks the Republican Party will revert to what he knew it to be pre-Trump whenever a new president is elected, Biden said: "Nothing's going to snap back" because "we're in a totally different world."
3. ⚖️ Articles of impeachment expected this week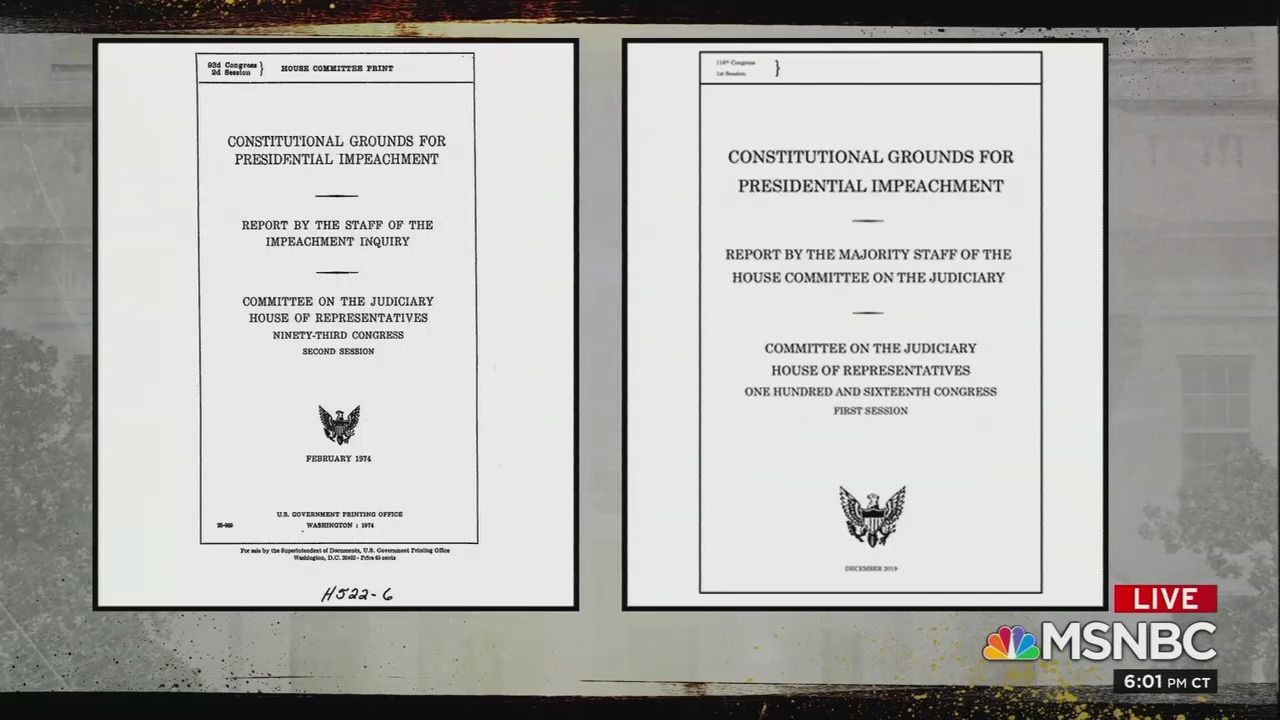 The House is rapidly headed toward the real work of impeachment this week, with articles expected to be introduced and voted on in the House Judiciary Committee, AP's Mary Clare Jalonick reports.
If the Judiciary panel approves articles by Friday, as is expected, that would set up a final impeachment vote in the days before Christmas.
Judiciary holds a hearing today (network coverage begins 9 a.m. ET) to hear evidence from the House Intelligence Committee, which investigated President Trump's dealings with Ukraine.
Republican members of the Judiciary and Intel committees met last night for an intense prep session, Axios' Alayna Treene reports.
4. Secret history: Officials systematically misled us on Afghanistan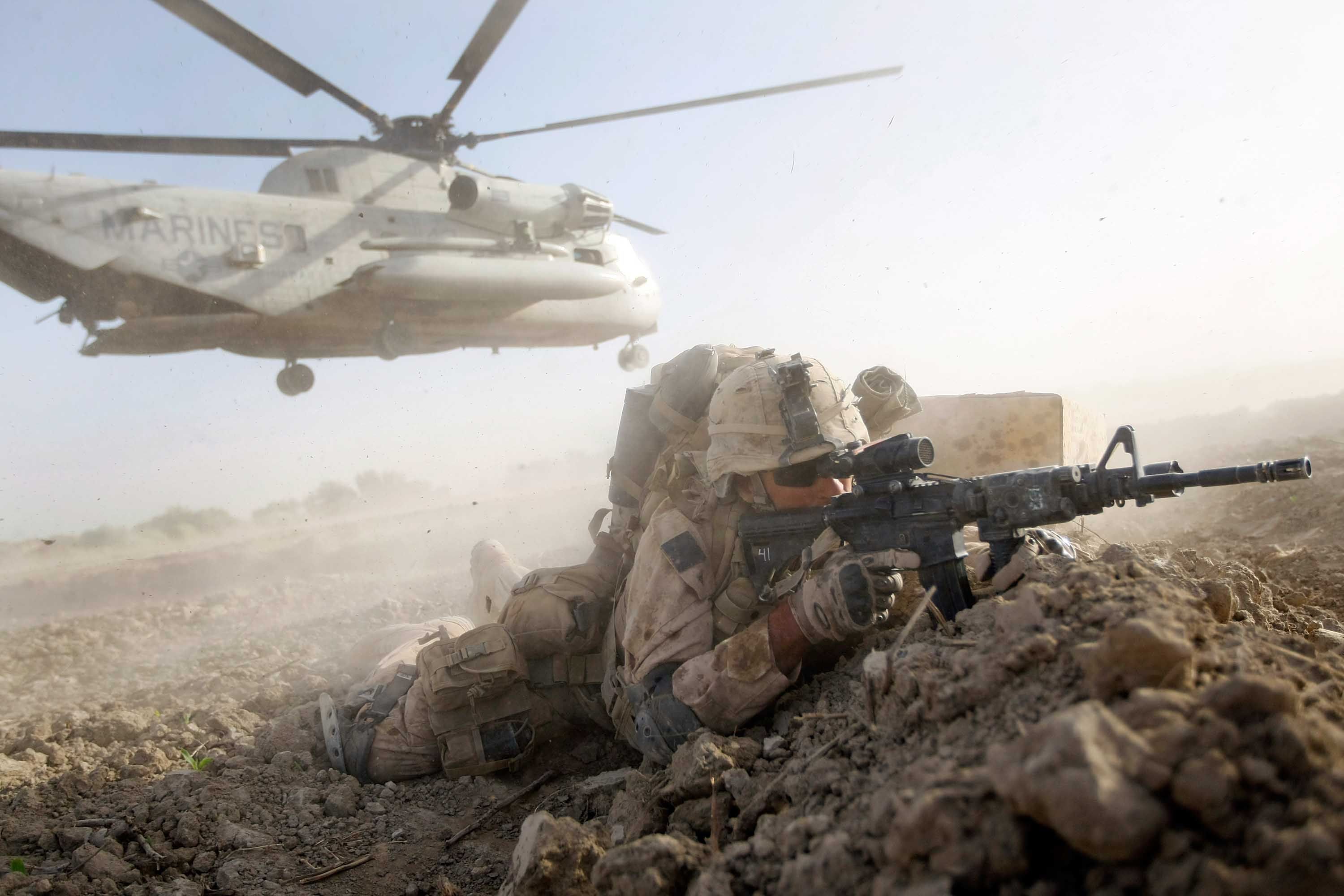 "A confidential trove of government documents obtained by the Washington Post reveals that senior U.S. officials failed to tell the truth about the war in Afghanistan throughout the 18-year campaign," Craig Whitlock writes.
They made "rosy pronouncements they knew to be false and hiding unmistakable evidence the war had become unwinnable."
"[P]eople who were directly involved in the war could not shake their doubts about the strategy and mission, even as Presidents Bush, Obama and ... Trump told the American people it was necessary to keep fighting," the Post reports.
"After a three-year legal battle, the Post obtained notes and transcripts, as well as several audio recordings, from more than 400 of the interviews and compiled them into a comprehensive database."
Go deeper ... "The Afghanistan papers: A secret history of the war."
5. 🇨🇳 Beijing pushes out foreign computers
"Beijing has ordered all government offices and public institutions to remove foreign computer equipment and software within three years, in a potential blow to the likes of HP, Dell and Microsoft," the Financial Times reports (subscription).
Why it matters: "The move is part of a broader campaign to increase China's reliance on home-made technologies, and is likely to fuel concerns of 'decoupling,' with supply chains between the U.S. and China being severed."
6. Rudy's role in impeachment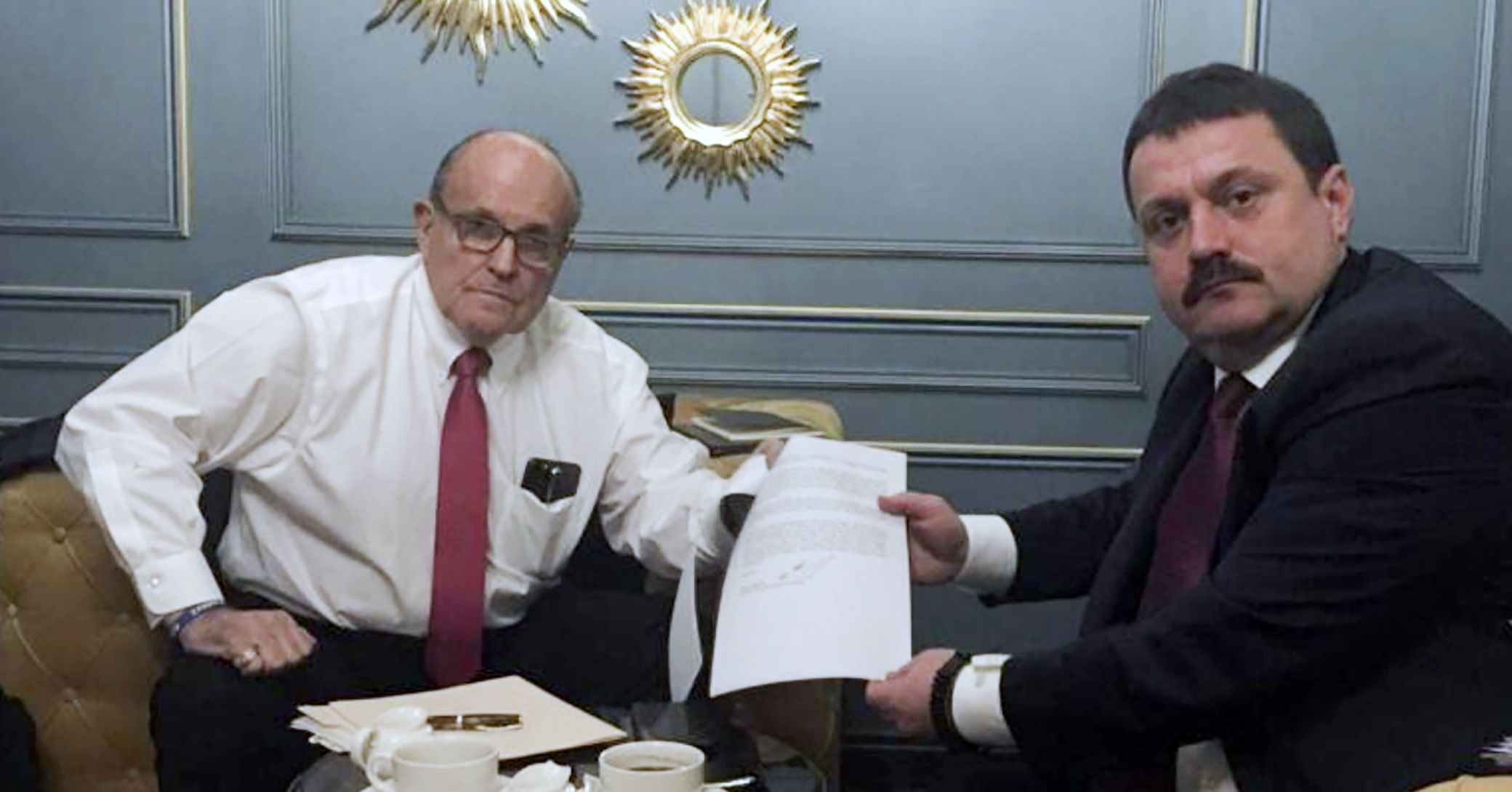 Within one minute of each other last night, the N.Y. Times and WashPost dropped big heaves on Rudy Giuliani's role in impeachment.
N.Y. Times, "The Indispensable Man" (5 bylines):
Without Mr. Giuliani's push for money and frank yearning for relevance, the Trump Ukrainian initiative might never have amounted to much more than presidential tweetstorms. Mr. Giuliani compressed the digital gases of the president's suspicions and wishful theories into what is now the molten core of impeachment.
WashPost, "Giuliani's two hats: Influencer-for-hire, policy force" (4 bylines):
Giuliani has bragged to ... Trump allies that he has made millions of dollars since the president took office ...
White House aides fear Giuliani has used his role as the president's lawyer to promote the interests of private clients, fretting that they do not know who he represents ... His conversations with Trump are protected by attorney-client privilege, meaning even Trump's closest aides are not briefed on what they discuss.
🥊 Maggie Haberman, a co-author of the Times opus, tweeted: "Giuliani's friends are pained that the last three years are what he is going to be remembered for more than his time as mayor in the '90s."
7. Poll finds impeachment helping Trump in Mich., Penn., Wis.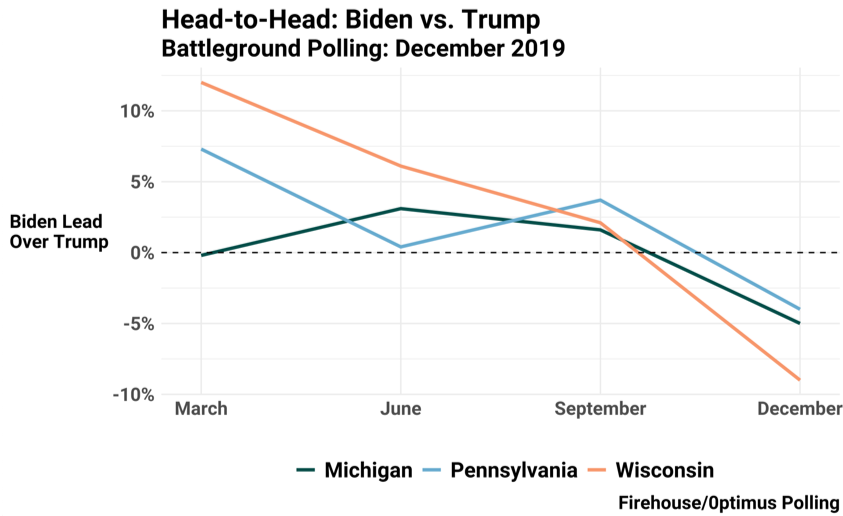 Quarterly polling by the Republican firm Firehouse Strategies, with Optimus, had President Trump struggling in the mega-battlegrounds of Michigan, Pennsylvania and Wisconsin. But in the new edition, he beats every Democrat.
Firehouse partner Alex Conant tells me: "Democrats racing towards impeachment are at serious risk of leaving behind the voters they need to retake the White House next year."
8. First look: Mike Bloomberg's climate week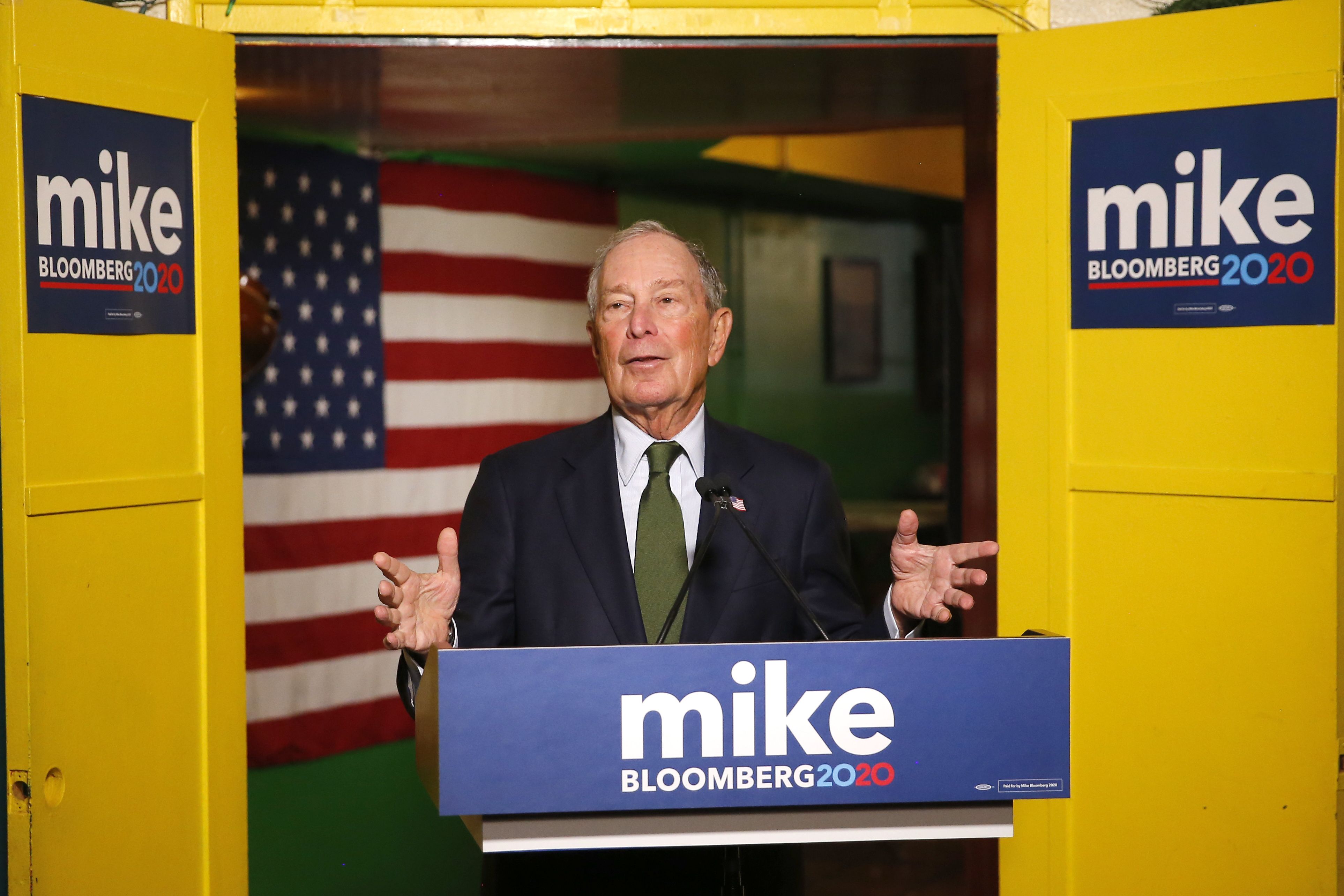 Mike Bloomberg today will announce a climate week that kicks off with the campaign's first ad on climate change.
It's an online-only spot in California that's called "Smoke and Fire." It calls President Trump "the climate denier," in contrast with Bloomberg's battles with the coal industry.
Tomorrow, Bloomberg will speak at the UN climate conference in Madrid, where he will deliver an update from America's Pledge, a group (which he co-chairs) that quantifies climate progress of 4,000 cities, states and businesses.
On Wednesday, Bloomberg will travel to California to announce policies to curtail the region's record wildfires.
9. The carbon footprints of the rich and activist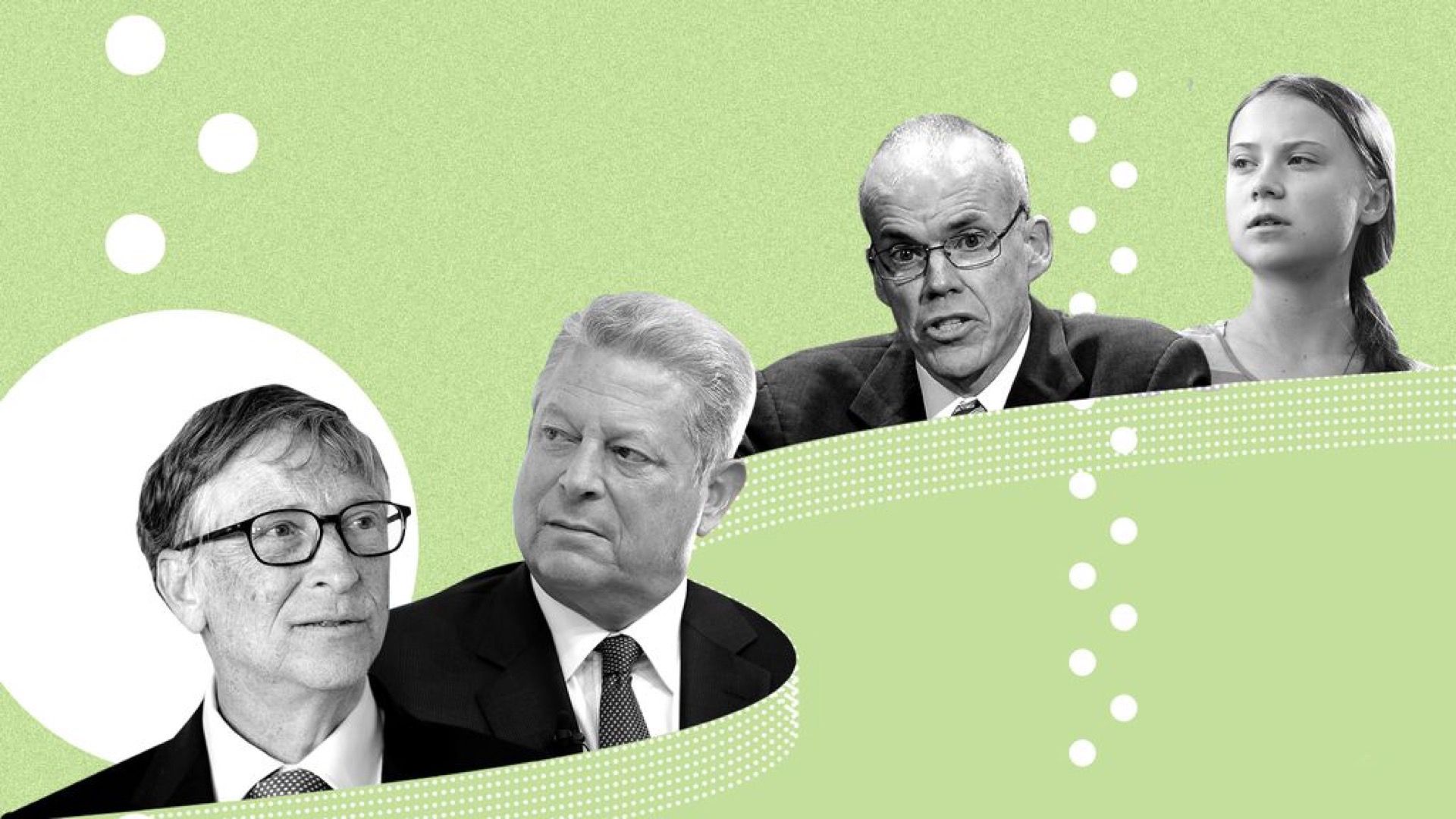 Axios' Amy Harder explored the travel and consumption habits of some of the world's leading voices on climate change for her "Harder Line" column.
Greta Thunberg eschews activities emitting a lot of greenhouse gas emissions, most notably flying and eating meat, and sailed to and from Europe for climate talks on carbon-free boats.
Bill Gates, who owns a private jet and loves hamburgers but has invested heavily in clean-energy technologies, told Harder in an interview over the summer: "I don't think there is anyone doing more [on climate], but if there is, congratulations to whoever that is."
10. 🏈 1 bowl thing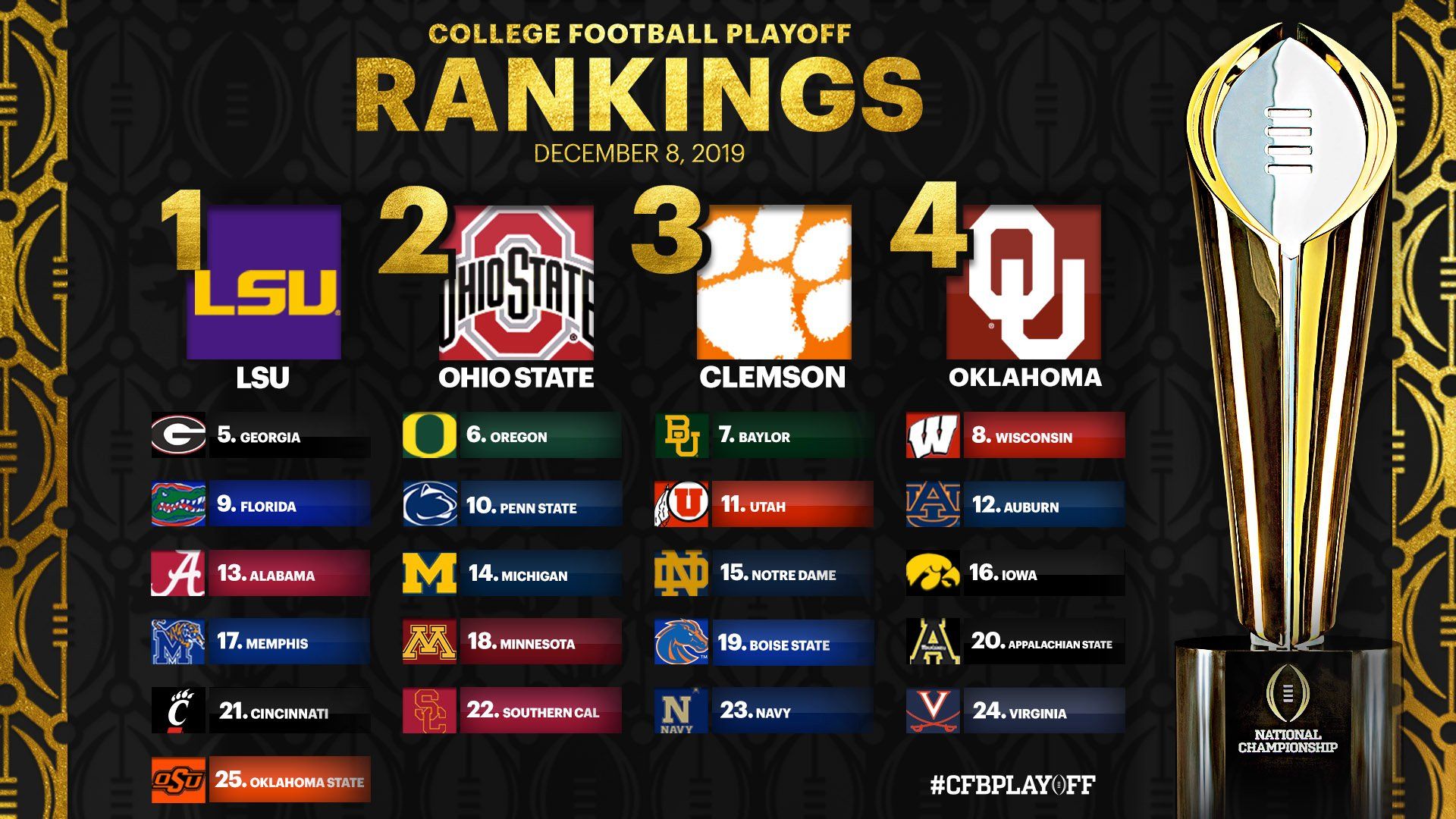 Fun fact: Twelve of the 26 first-year coaches in the Football Bowl Subdivision are taking their teams to bowls, AP reports in its Bowl Notebook:
Ohio State's Ryan Day is among six first-year coaches at bowl-bound Power Five schools.
His unbeaten Buckeyes, the No. 2 seed in the College Football Playoff, play #3 Clemson in the Fiesta Bowl in Glendale, Ariz., in prime time on Dec. 28.
The other semifinal match: No. 1 LSU (13-0) vs. No. 4 Oklahoma in the Peach Bowl in Atlanta, four hours before the Fiesta Bowl kicks off.