🕊Good Sunday morning. Happy Easter! Welcome to April, and make sure you're not an April Fool.
If you enjoy these breakfast conversations, please have your friends join us with the one-click sign-up here.
https://www.axios.com/newsletters/axios-am-6f50a703-bbe1-4765-aa3e-183bd80f040c.html?chunk=0#story0
1 big thing: Trump's island of misfit toys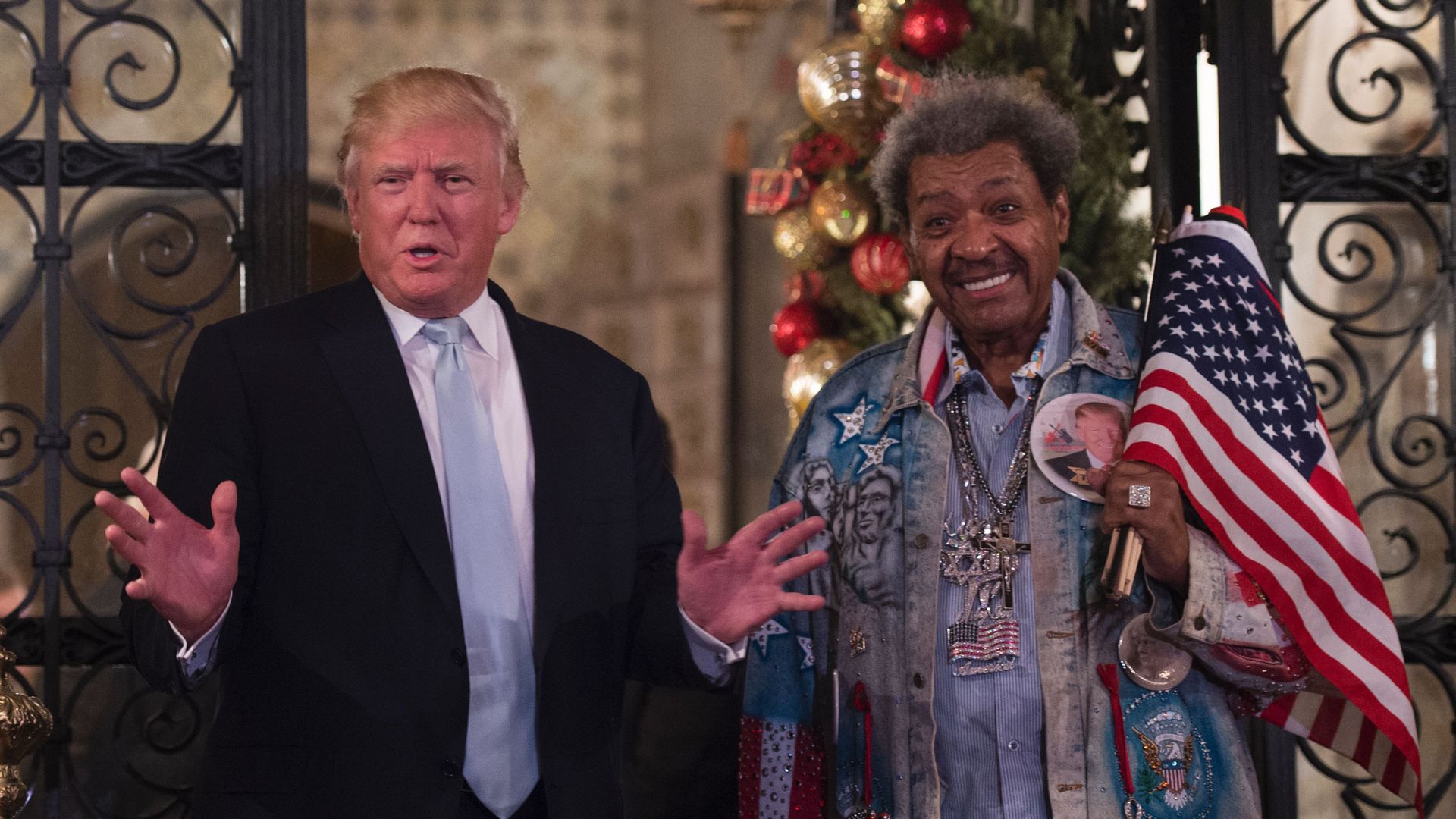 Why Trump listens to Don King ... As President Trump increasingly tunes out formal advisers, there's a growing list of misfits and hangers-on that he just can't seem to quit — and whose advice he seems to welcome and even adopt:
The WashPost reports on A1 today: "Trump began the past workweek cutting into steaks at the White House residence on Monday night with his political soldiers, including former advisers Corey Lewandowski and David Bossie, strategist Brad Parscale, and son-in-law and senior adviser Jared Kushner."
"He ended it dining on the gilded patio of his Mar-a-Lago estate with eccentric boxing promoter Don King, who said he vented to the president about the Stormy Daniels saga."
Last month, The Daily Beast reported a Trump dinner with Fox News host Jesse Watters and former White House gadfly Seb "Dr. G" Gorka because "he couldn't get enough of them on TV."
Trump remains phone pals with Reince Priebus, the chief of staff he pushed out.
The N.Y. Times reported last month that Fox News host Judge Jeanine Pirro "told Mr. Trump in an Oval Office visit months ago that [his lawyers Ty] Cobb and [John] Dowd [who has since left the team] were leading him down a path toward his demise."
A source close to Trump told me: "The 'misfits' or 'deplorables,' as some people call them, offer the President insight into the perspective of various constituencies: middle America, the Trump base, movement conservatives, culture crusaders, evangelicals, and populist nationalists."
"Don King may seem like a strange choice. Of course, they're longtime friends. But I'd also argue few people have their finger on the pulse of the People more than a big-time fight promoter. He's also one of the few people on earth who can rival Trump as a brander (e.g. 'Rumble in the Jungle,' 'Thrilla in Manila')."
Why it matters: Trump is successfully resisting the West Wing bubble that tended to imprison his predecessors. But he fills his time and mind with colorful, marginal thinkers who reinforce his instincts rather than broadening his horizon — comfort food, rather than nutrition.
As CNN's Jake Tapper tweeted about the Gorka-Watters dinner: "So you're the president of the United States of America. You can dine with literally anyone you want to. Titans of industry. Geniuses of the arts. Tech wizards changing everything. World leaders and humanitarian saints."
https://www.axios.com/newsletters/axios-am-6f50a703-bbe1-4765-aa3e-183bd80f040c.html?chunk=1#story1
2. Our devices may listen more attentively
Amazon and Google, the leading sellers of digital assistants like Alexa, have each "filed patent applications that outline an array of possibilities for how devices like these could monitor more of what users say and do," the N.Y. Times reports on A1:
Why it matters: "That information could then be used to identify a person's desires or interests, which could be mined for ads and product recommendations."
"In one set of patent applications,

Amazon describes how a 'voice sniffer algorithm'

could be used on an array of devices, like tablets and e-book readers, to analyze audio almost in real time when it hears words like 'love,' 'bought' or 'dislike.'"
"A diagram ... illustrated how a phone call between two friends could result in one receiving an offer for the San Diego Zoo and the other seeing an ad for a Wine of the Month Club membership."
Jamie Court, president of Consumer Watchdog, a nonprofit advocacy group: "When you read parts of the applications, it's really clear that this is spyware and a surveillance system meant to serve you up to advertisers."
What's next: "The Electronic Privacy Information Center has recommended

more robust disclosure rules

for internet-connected devices, including an 'algorithmic transparency requirement' that would help people understand how their data was being used and what automated decisions were then being made about them."
https://www.axios.com/newsletters/axios-am-6f50a703-bbe1-4765-aa3e-183bd80f040c.html?chunk=2#story2
3. Stat du jour
U.S. Customs and Border Protection stopped 1,903 people in the nine days it enforced President Trump's first travel ban (Jan. 27 to Feb. 4, 2017), according to a document obtained by BuzzFeed News "in response to multiple Freedom of Information Act requests":
Why it matters: "The vast majority of those stopped — 1,457 people — were lawful permanent residents, a group of people caught up in the confusion surrounding Trump's issuance of the order barring travel from seven Muslim-majority nations."
"Of the remaining 446 people subject to secondary inspection, more than 1/4 of them — at least 134 — withdrew their entry request. Such a move would have required them to leave the country immediately."
https://www.axios.com/newsletters/axios-am-6f50a703-bbe1-4765-aa3e-183bd80f040c.html?chunk=3#story3
Bonus: Pic du jour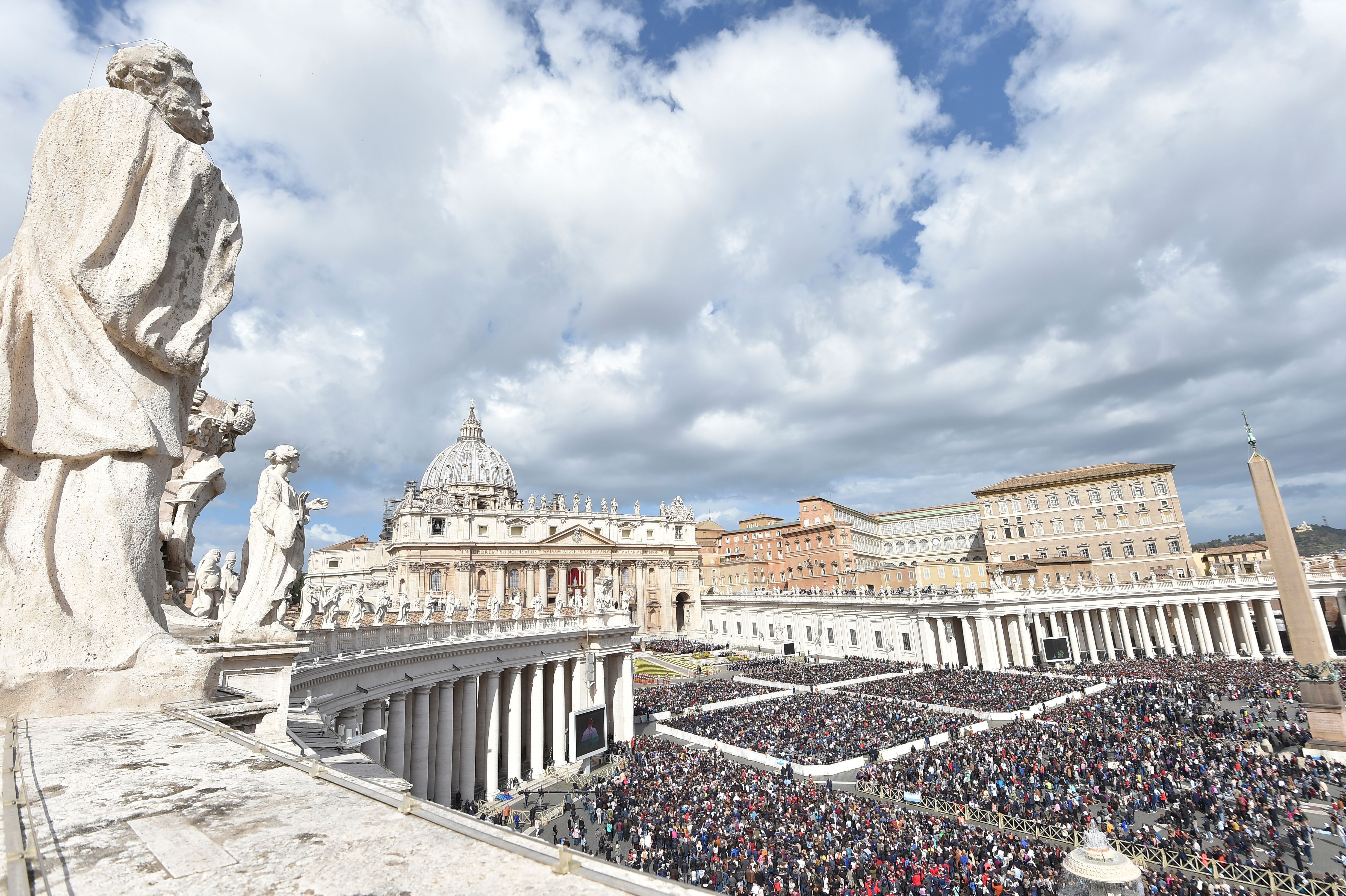 Andreas Solaro / AFP / Getty Images
How a pigeon saw Pope Francis' Easter Mass at St. Peter's Square in Vatican City.
https://www.axios.com/newsletters/axios-am-6f50a703-bbe1-4765-aa3e-183bd80f040c.html?chunk=4#story4
4. 2018 Dems unite on liberal stands, divide on how to win
"A new Democratic Party is emerging in congressional primaries across the country, united over the most liberal policies in decades but sharply divided over which candidates to run against President Trump and Republicans in the midterms," the WashPost reports on A1 ("In 2018 races, 'D' is for divided"):
"The party taking shape will challenge the GOP with a distinct populist tilt, marking a departure from the centrist views that had dominated during the era of Bill Clinton and Barack Obama."
The issues: "This year's candidates have largely endorsed universal health care, a $15 minimum wage, easing the financial burden for college students and tougher gun control."
The conflict: "[T]here is sharp disagreement as more than 1,100 candidates have filed, with disputes over tactics — how to criticize Trump or how best to talk about issues — and sparring over who should be the standard-bearers, either first-time hopefuls or experienced politicians."
P.S. N.Y. Times' Trip Gabriel says Pennsylvania is the one state to watch in midterms:
"Two developments are converging to give Pennsylvania its outsize role: New congressional districts drawn by the State Supreme Court make the map more of an equal playing field; and a special-election upset by a Democrat in one of the reddest parts of the state signaled an incipient blue wave."
https://www.axios.com/newsletters/axios-am-6f50a703-bbe1-4765-aa3e-183bd80f040c.html?chunk=5#story5
5. Hidden risk: Russian snooping near U.S. cables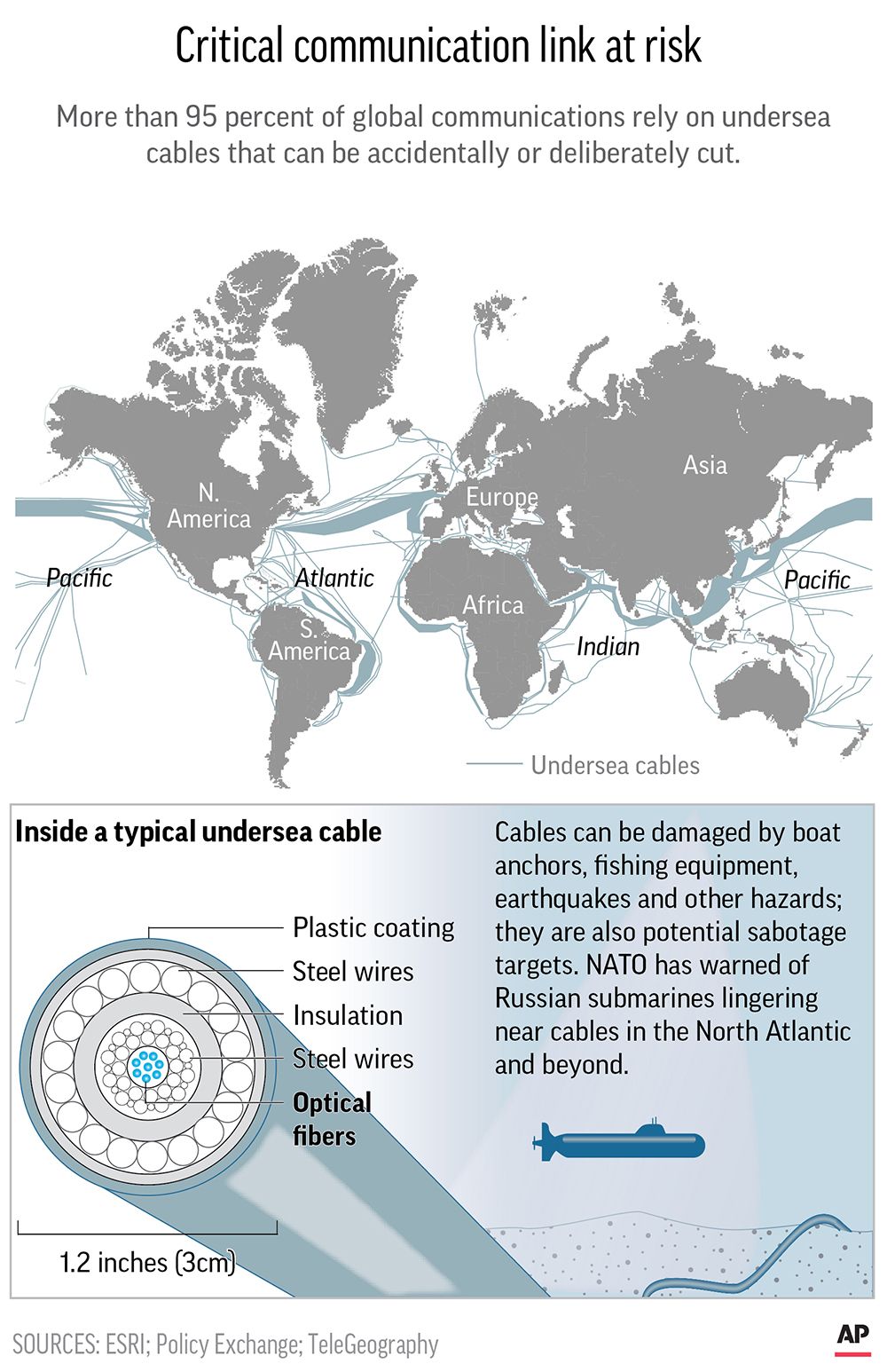 "Russian ships are skulking around underwater communications cables, causing the U.S. and its allies to worry the Kremlin might be taking information warfare to new depths," AP's Deb Riechmann reports:
"U.S. and Western officials are increasingly troubled by their rival's interest in the 400 fiber-optic cables that carry most of world's calls, emails and texts, as well as $10 trillion worth of daily financial transactions."
Gen. Curtis Scaparrotti, commander of the U.S. European Command, told Congress: "We've seen activity in the Russian navy ... that we haven't seen since the '80s."
Possible explanations: "Is Moscow interested in cutting or tapping the cables? Does it want the West to worry it might?"
Michael Kofman, a Russian military expert at nonprofit research group CNA Corp., said the Russians "are doing their homework and, in the event of a crisis or conflict with them, they might do rotten things to us."
https://www.axios.com/newsletters/axios-am-6f50a703-bbe1-4765-aa3e-183bd80f040c.html?chunk=6#story6
6. 1 fun thing: What your teens are playing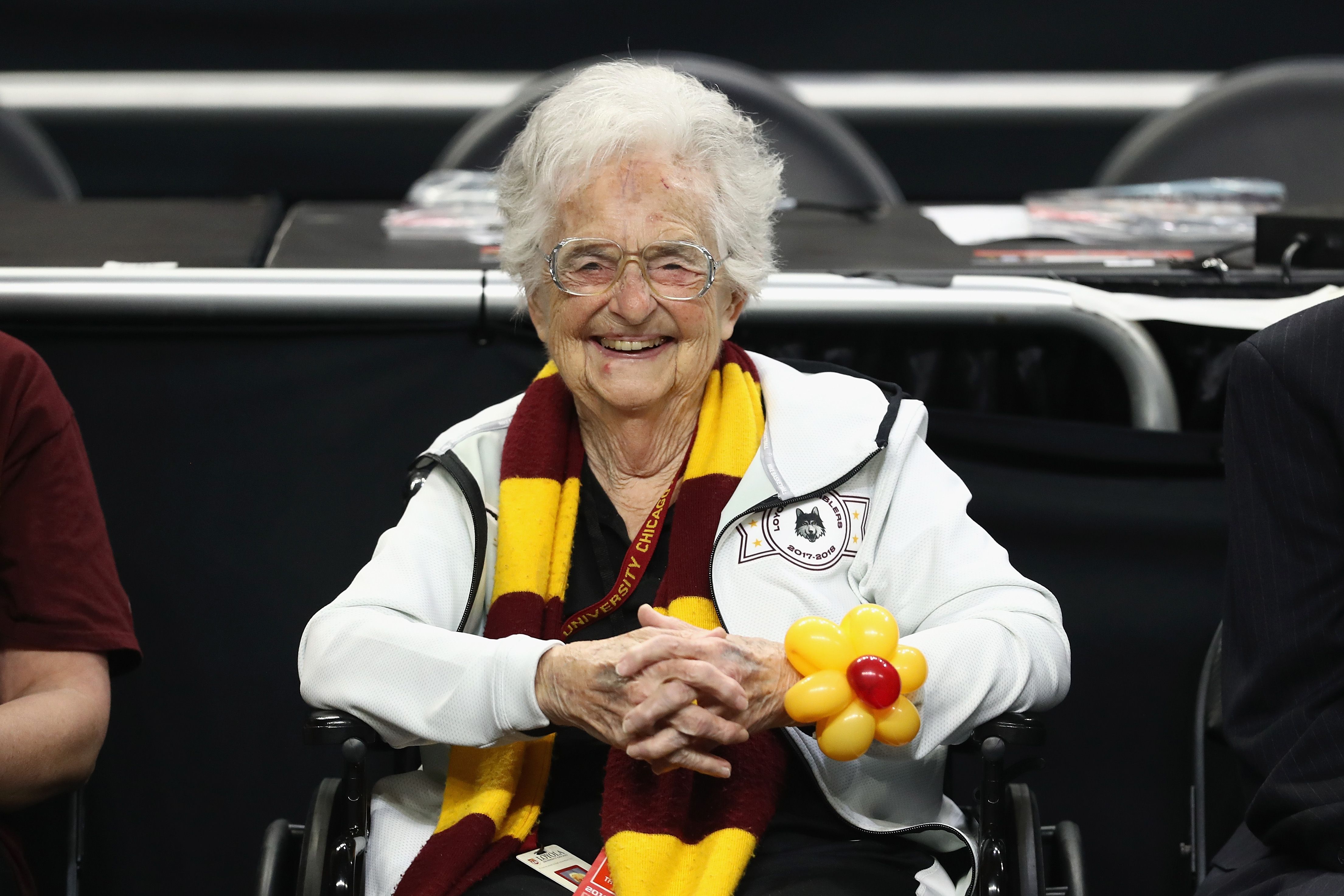 Famous nun: Sister Jean Dolores-Schmidt, 98, the Loyola-Chicago Ramblers' chaplain, watches warmups before the underdog's 69-57 loss to mighty Michigan. (Ronald Martinez / Getty Images)
Fortnite Battle Royale: The planet's hottest video game ... "In the nervous hours before Kansas' bus ride to [San Antonio's] Alamodome for its NCAA Tournament semifinal, most of the Jayhawks [were] crammed together in their hotel rooms [fighting] 99 opponents to be the last one standing in the post-apocalyptic world of Fortnite," AP's Greg Beacham reports:
Fortnite "is consuming the free time of college students everywhere."
"Fortnite was released last summer, and its Battle Royale version followed in September ... With its addictive gameplay and visceral excitement, Fortnite has become a unifying force for the teams that have reached the final weekend of the college basketball season."
"References to the game have popped up across the country during the tournament, largely because so many players are spending hours immersed in the game on their consoles or phones."
"[E]very player on the Villanova roster plays Fortnite except forward Dhamir Cosby-Roundtree, who prefers anime-based games but still spends countless hours watching his teammates play Fortnite."
It has also taken hold of "celebrities such as Drake, Travis Scott and Steelers receiver JuJu Smith-Schuster, whose combined Twitch stream of the game obliterated a viewing record for the platform two weeks ago."
P.S. Final Two ... Villanova favored over Michigan in tomorrow night's final (9:20 p.m. ET on TBS:
"Villanova Rolls Over Kansas to Reach Its Second N.C.A.A. Final in Three Seasons."
"Michigan Ends Loyola-Chicago's Long, Wild Ride in the Final Four."