Good Wednesday morning. You're invited — 8 a.m. today in downtown D.C.: Rep. Adam Schiff — top Dem on the House Intelligence Committee, and leading voice on the Russia investigation — is a last-minute add to the blockbuster lineup for our State of the Union postgame event. Doors open 7:30 a.m. at 1011 4th Street NW (near L St.). RSVP here.
Outside cameras and correspondents welcome.
Also joining our triple crown of conversations: Sen. Susan Collins (R-Maine) — a leader of the Common Sense Coalition which helped reopen the government — and House Democratic Whip Steny Hoyer of Maryland, who has seen it all in 36+ years under the dome. I look forward to seeing you for breakfast and conversation.
https://www.axios.com/newsletters/axios-am-6e2331f2-8bae-47f0-bcd4-d0f6c8f5a204.html?chunk=0#story0
1 big thing: The Trump paradox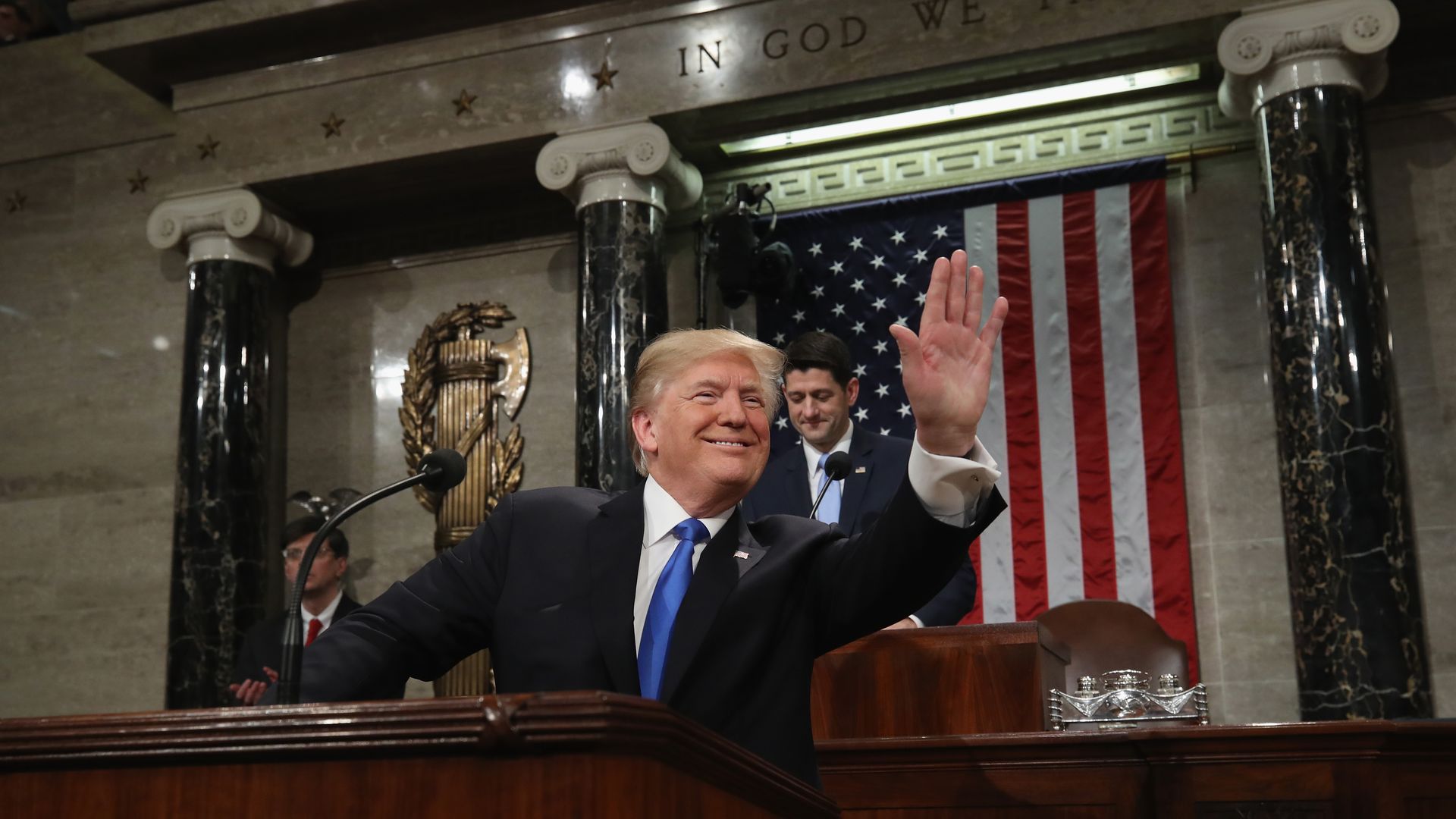 President Trump's State of the Union embodied the surprising and frequently baffling ways the president zips across partisan divides, Axios' Jonathan Swan writes:
There's not another American politician who in one night could call for creating paid family leave, keeping Gitmo open, making the nuclear arsenal stronger, making prescription drugs less expensive, cracking down on drug dealers, and helping convicted felons get "a second chance." 
This is the paradox of Trump, which Washington still isn't used to: Democrats on the whole will likely be so horrified by Trump's rhetoric on immigration — particularly "chain migration" — that they'll be loath to rush to his side on any of the other issues he laid out that they may like, such as infrastructure and prison reform.
And Speaker Ryan won't be his ally on every issue, either. As much of the chamber cheered paid family leave, he sat quietly.
Trump's flair for showmanship was on full display. The speech was packed with made-for-TV moments, including a North Korean defector who hoisted his crutches in the air and a young boy who plants flags on veterans' graves.
Trump's remarks about a police officer who adopted a baby girl from a woman addicted to heroin may have been the most deeply affecting moment in a State of the Union in recent memory. 
At the same time, Democrats will be irate that Trump brought out the parents of two girls murdered by MS-13 gang members. They'll argue Trump tried to demonize children who flee to the United States seeking asylum. 
A few other moments that stood out for Swan:
Trump's "Americans are dreamers, too" line is one he uses privately, and a dig at Democratic rhetoric on DACA recipients. 
He mentioned theft of American intellectual property, an issue that doesn't usually get high billing in SOTUs. And though he didn't mention China specifically, the reference was an unsubtle hint about his imminent tariffs against the country's products. 
The president's comments on drug dealers were unusual, ominous, and straight from his gut: "We must get much tougher on drug dealers and pushers if we are going to succeed in stopping this scourge." While a bipartisan coalition in Congress pushes for shorter sentences for some drug crimes, Trump's instincts on this issue remain ultra-hawkish.
Speaking of Trump's gut, the one executive order the White House pushed out during his speech was to keep Gitmo open. Remember: This is the president whose own defense secretary had to talk him out of torture. As Michelle Obama said, the presidency doesn't change you. 
And maybe the most consequential line of all ... Trump had trouble disguising his sneer about nuclear disarmament:
"Perhaps someday in the future there will be a magical moment when the countries of the world will get together to eliminate their nuclear weapons," he said, sardonically. "Unfortunately, we are not there yet."
Full text, as delivered.
https://www.axios.com/newsletters/axios-am-6e2331f2-8bae-47f0-bcd4-d0f6c8f5a204.html?chunk=1#story1
2. Visualizing the speech
The big picture: The president stuck mostly to prepared remarks in a speech that came in just over 75 minutes—about 15 minutes longer than last year's speech before a joint session of Congress.
On immigration: The president spoke at length about the need for immigration reform and used examples of violent crime, terrorism and threats to American jobs to make his case. Last year's speech referenced crime and economic security, but not as squarely in the context of immigration.
On infrastructure: He said he wants Congress to approve $1.5 trillion in public and private sector spending. Last year's speech called for $1 trillion.
On foreign policy: He made a hardline case for strengthening the military and modernizing the country's nuclear arsenal.
On the economy: The president trumpeted the historically-low unemployment rate and praised the new tax cuts.
Share the graphic, explore the data.
https://www.axios.com/newsletters/axios-am-6e2331f2-8bae-47f0-bcd4-d0f6c8f5a204.html?chunk=2#story2
3. Top tweet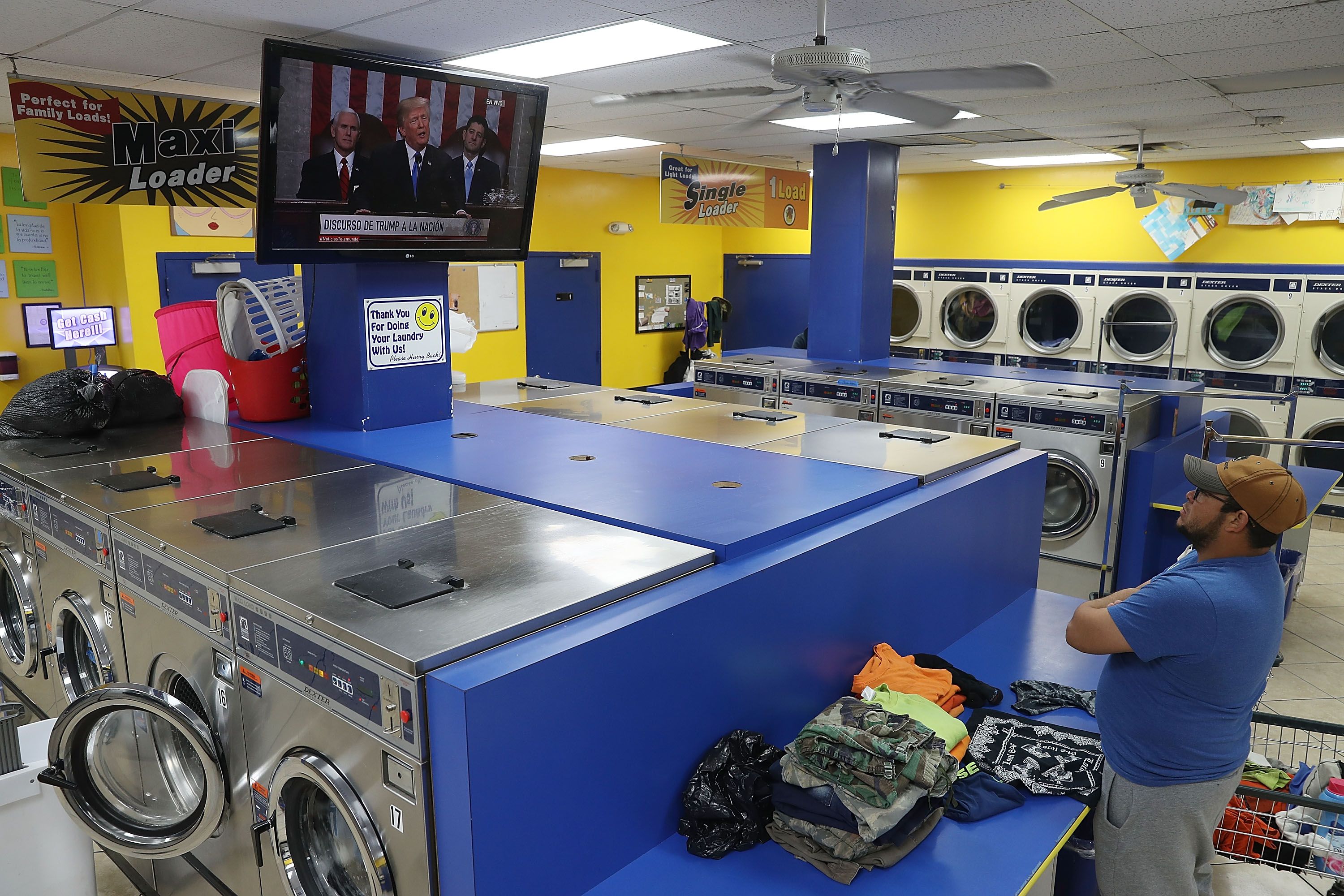 America watches ... Lenin Rosales at the Coral Way Lavanderia coin laundry in Miami (Joe Raedle/Getty Images)
WashPost's Josh Dawsey: 'Trump, in scripted TelePrompTer speeches, often embraces unity and bringing people together. Trump, on Twitter and unscripted, often embraces fights, incendiary comments and culture wars."
Boston Globe analysis, "Teleprompter Trump has a much different persona."
N.Y. Times Quote of the Day ... Trump: "This, in fact, is our new American moment. There has never been a better time to start living the American dream."
P.S. As Trump left the chamber, TV cameras caught him telling Rep. Jeff Duncan (R-S.C.) he "100 percent" favors releasing the classified Russia memo.
"Oh yeah, don't worry! 100 percent," Trump said, waving a hand when Duncan told him to "release the memo."
The lawmakers then guffawed. (Video)
https://www.axios.com/newsletters/axios-am-6e2331f2-8bae-47f0-bcd4-d0f6c8f5a204.html?chunk=3#story3
Bonus: The president's front page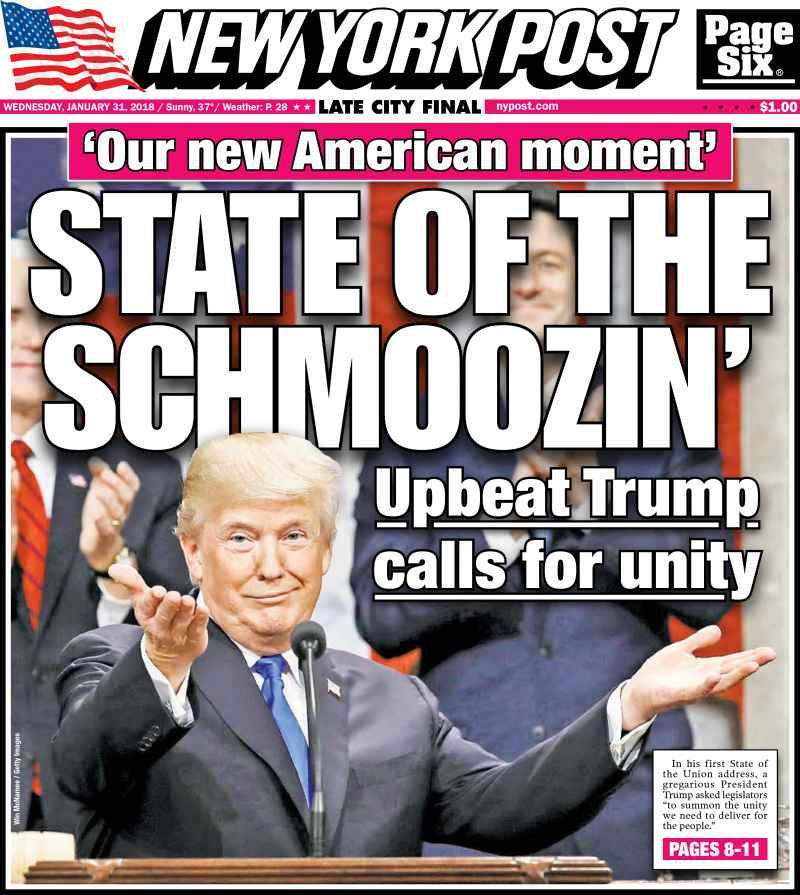 Courtesy N.Y. Post
https://www.axios.com/newsletters/axios-am-6e2331f2-8bae-47f0-bcd4-d0f6c8f5a204.html?chunk=4#story4
4. Pic du jour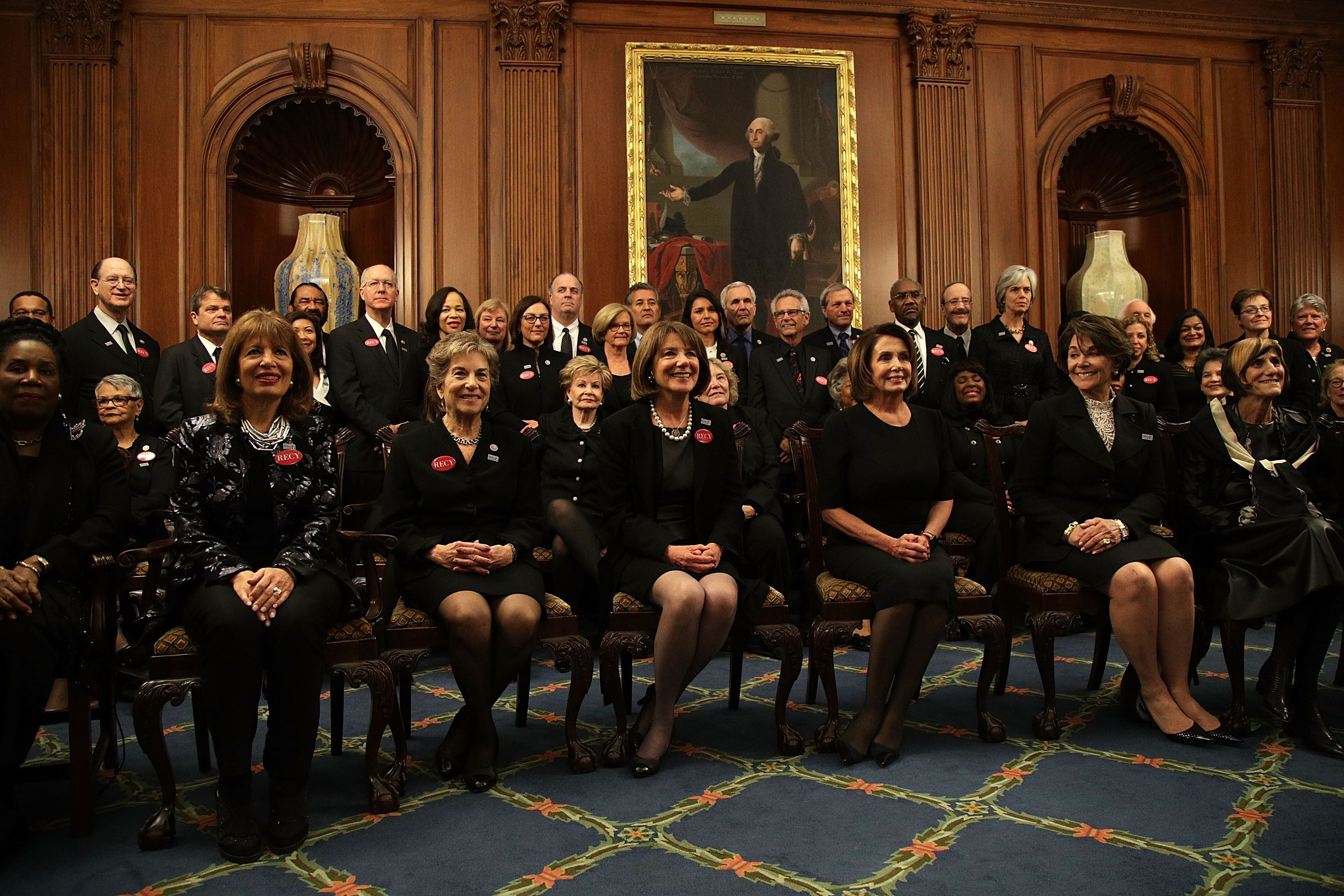 Alex Wong / Getty Images
House Democratic Leader Rep. Nancy Pelosi and other House Dems wear black to the State of the Union in support of #MeToo and #TimesUp.
https://www.axios.com/newsletters/axios-am-6e2331f2-8bae-47f0-bcd4-d0f6c8f5a204.html?chunk=5#story5
5. Hillary Clinton: "If I had to do it again ... "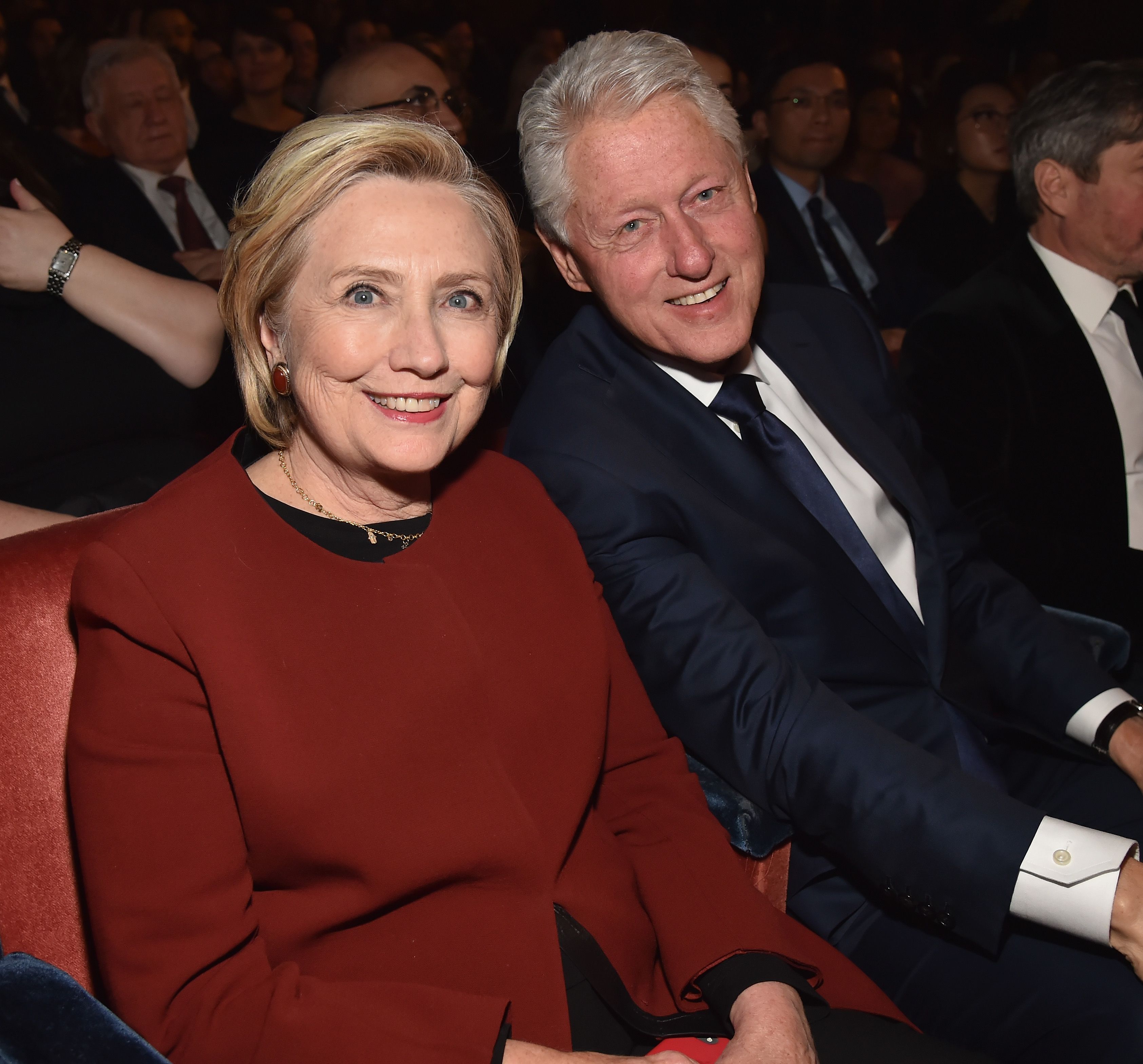 Hillary and Bill Clinton attend last week's MusiCares Person of the Year fundraiser honoring Fleetwood Mac, at Radio City Music Hall in New York. (Kevin Mazur / Getty Images for NARAS)
In a 1,500-word Facebook post moments before the State of the Union address began, Hillary Clinton addressed the N.Y. Times report on her handling of sexual harassment allegations against her 2008 campaign faith adviser, Burns Strider:
"I very much understand the question I'm being asked as to why I let an employee on my 2008 campaign keep his job despite his inappropriate workplace behavior. The short answer is this: If I had to do it again, I wouldn't."
"You may question why it's taken me time to speak on this at length. The answer is simple: I've been grappling with this and thinking about how best to share my thoughts."
https://www.axios.com/newsletters/axios-am-6e2331f2-8bae-47f0-bcd4-d0f6c8f5a204.html?chunk=6#story6
6. Health care's Three Amigos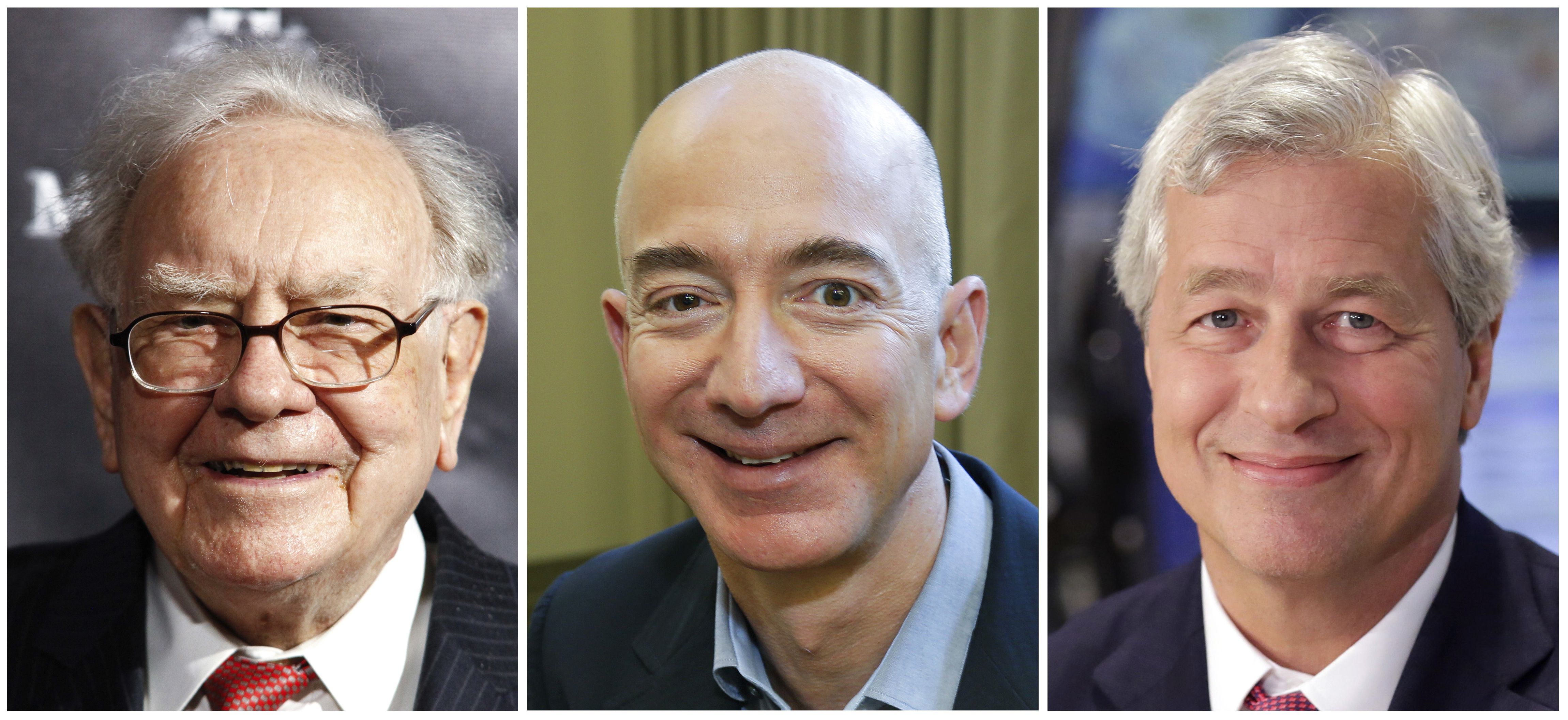 Buffett, Bezos and Dimon (AP photos)
Alliance of behemoths could disrupt health care ... Berkshire Hathaway's Warren Buffett, Amazon's Jeff Bezos and JPMorgan Chase's Jamie Dimon team up to try transform the American health care system, AP's Marley Jay writes:
They're forming a new, independent company to address health care costs for their U.S. employees, and possibly for many more Americans.
The three companies, with a combined market cap of $1.62 trillion, said they want to create a partnership "free from profit-making incentives and constrains."
The companies said their project will focus on technology that provides simplified and transparent care.
Based on the executives who have been named to top roles at the new company, Jefferies & Co. analyst Brian Tanquilut said there is a good chance it will eventually try to negotiate prices directly with health care providers like hospitals, bypassing companies that act as middlemen.
Why it matters: That could reduce costs in the medical and pharmaceutical supply chains.
Investors in health care companies were concerned: Health insurer Cigna dropped 7.2%, biotech drugmaker AbbVie fell 5.3% and CVS Health lost 4.1%.
https://www.axios.com/newsletters/axios-am-6e2331f2-8bae-47f0-bcd4-d0f6c8f5a204.html?chunk=7#story7
7. Next generation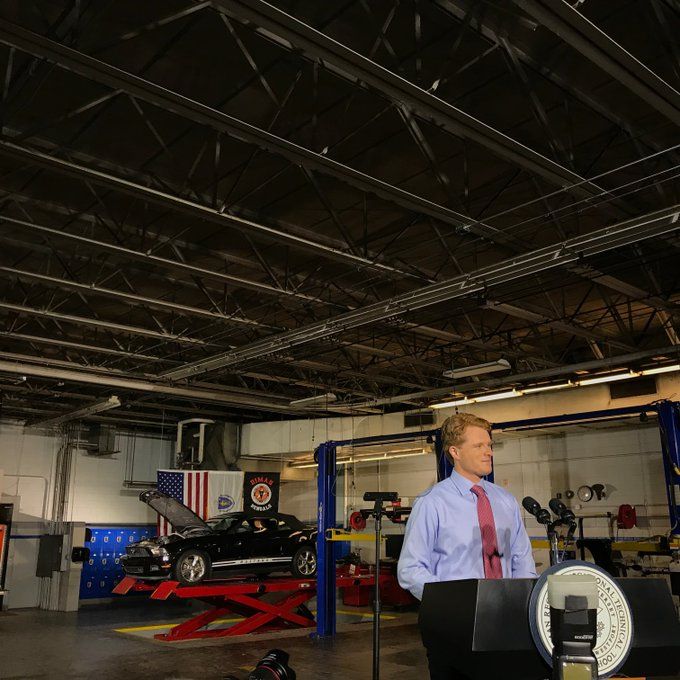 @RepJoeKennedy
In the official Democratic response, Rep. Joe Kennedy III, 37, "a Massachusetts Democrat and rising star in the party, channeled some of the collective disdain his colleagues were asked to stifle," per the Boston Globe:
"Kennedy delivered the party's stinging rebuttal to Trump from Diman Regional Vocational Technical High School in Fall River, where students and staff spent the week busily scouring the automotive shop and baking treats in anticipation of his visit."
"With a muscle car in the background and cheering students in front of him, Kennedy painted a bleak picture of a country riven by mass shootings, white supremacist marches, a 'war' on environmental protections, and a Russia 'knee deep' in American democracy."
https://www.axios.com/newsletters/axios-am-6e2331f2-8bae-47f0-bcd4-d0f6c8f5a204.html?chunk=8#story8
8. Data du jour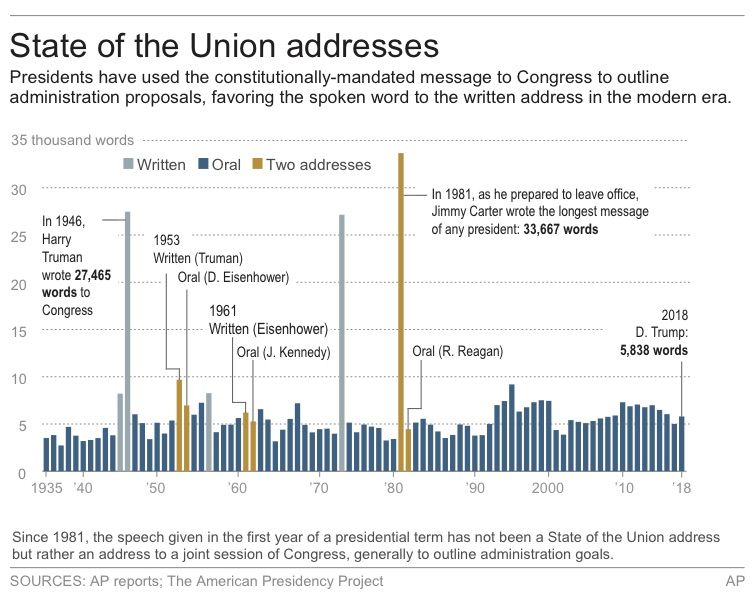 https://www.axios.com/newsletters/axios-am-6e2331f2-8bae-47f0-bcd4-d0f6c8f5a204.html?chunk=9#story9
9. Big media, Valley battle over sports TV rights
The year is 2034 — 16 years from now, writes Variety's Todd Spangler:
"The Olympics that have been a fixture on channels owned by NBCUniversal since 2002 have disappeared from TV altogether. Instead, the Winter Games stream live to your phone courtesy of Amazon, which bid the rights away from all of the biggest media companies. The downhill skiing competition has never looked better in 16K screen resolution, with not a hint of buffering."
"[N]o company is known to be making a play for the rights to the Olympics just yet. But as NBC is set to blanket the two biggest sporting events on American calendars — Super Bowl LII (Feb. 4) and the 2018 Winter Olympics (Feb. 9-25) — across screens everywhere next month, tech titans are making an unmistakable advance on sports telecasts."
"Over the past two years, Amazon, Facebook, Twitter, YouTube, Verizon and Yahoo have picked up smaller sets of mostly nonexclusive rights to different packages of live pro games, essentially rebroadcasting what's seen on TV to a fraction of the audiences coming to linear channels."
Why it matters: "In the U.S., TV and streaming rights for the most popular leagues are (mostly) locked up until 2021. But digital platforms may strike sooner on foreign shores: In the U.K., for example, bids for English Premier League soccer rights are on the table this year — and Amazon has been rumored to be a serious contender."
P.S. Fox Broadcasting wrapping up 'Thursday Night Football'' deal with NFL: "Fox is expected to pay significantly more than the $450 million that current rights holders NBC and CBS Corp. paid this past season." (Wall Street Journal)
https://www.axios.com/newsletters/axios-am-6e2331f2-8bae-47f0-bcd4-d0f6c8f5a204.html?chunk=10#story10
10. 1 moon thing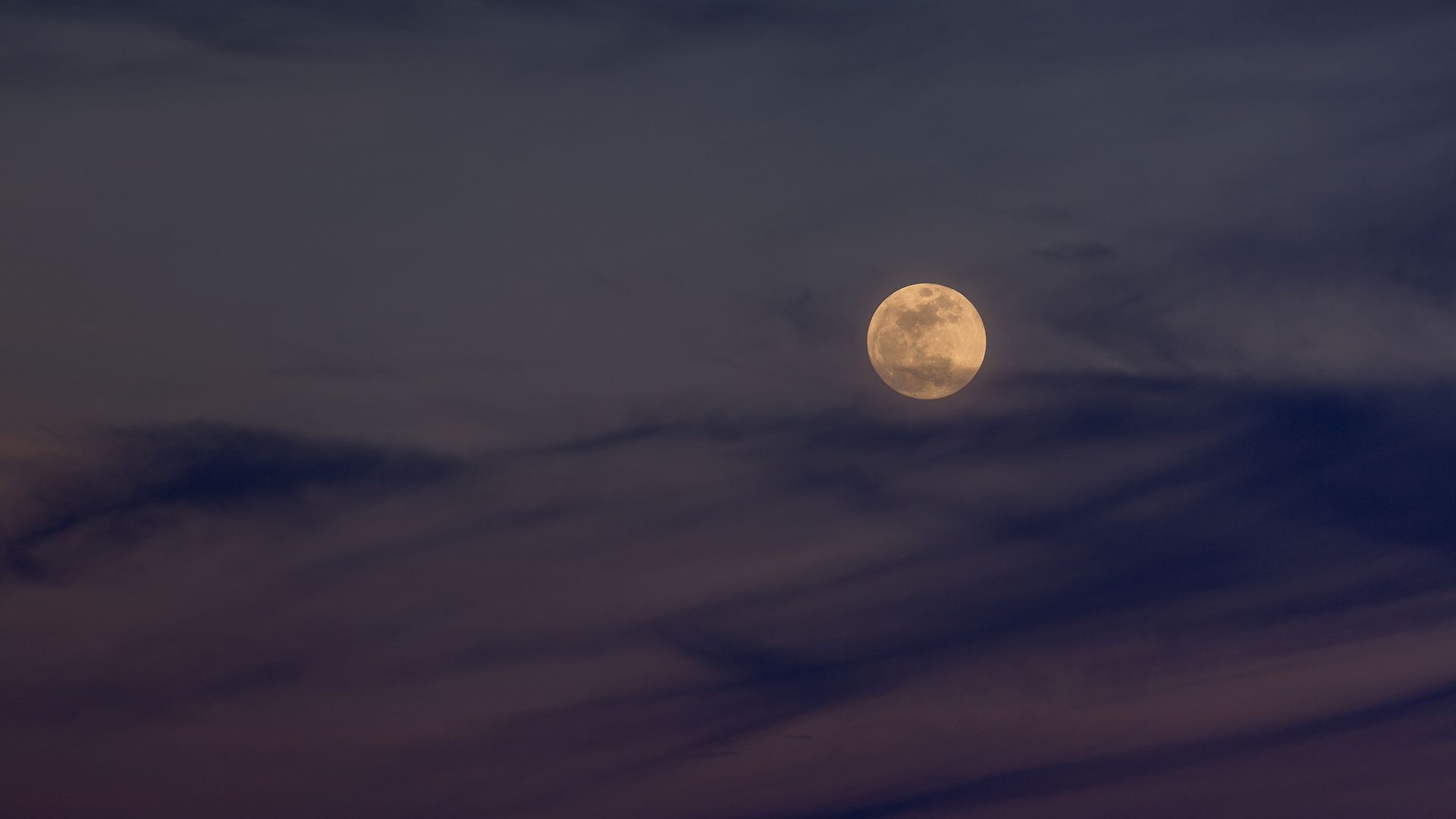 Rare "super blue blood moon" rises over West Coast ... The moon rises over the Mojave Desert near Amboy, Calif., last night before becoming a "super blue blood moon" when it becomes totally eclipsed before dawn.
This is a "lunar trifecta" in which the moon is at its closest to the earth, appearing 14% brighter than usual, and is simultaneously a "blue moon" (second full moon in the same month) and a total lunar eclipse or "blood moon."
Why it matters: Such a lunar event that hasn't been seen since 1866.