Axios AM
April 04, 2017
You're invited! For an inside look at the breaking health-reform news, please join us tomorrow morning for an Axios-NBC News event moderated by Jim VandeHei and Chuck Todd, with headliner House Majority Leader Kevin McCarthy — plus Cleveland Clinic CEO Toby Cosgrove and former HHS Secretary Kathleen Sebelius. 8 a.m. in downtown D.C. RSVP here.
1 big thing ... Trumpcare II: New hope on the Hill
Facing embarrassment and crosswinds when they head home for the Easter break, House Republicans are making another run at health reform. The latest plan, brokered by Vice President Pence, faces tough odds in the House, and an even slighter change of becoming law.
But it gives Republicans a chance to get back on the horse — to look like they're trying rather than giving up:
The twist, as reported by Axios' Jonathan Swan: Give HHS Secretary Tom Price more authority so he can grant waivers to let states knock out some of the regulations the conservatives consider the most expensive.
The problem: This goes against everything the conservative House Freedom Caucus has railed about the for the last six years — that Congress, not bureaucrats, should make these decisions.
The latest: Axios' David Nather reports in his Vitals newsletter: "Pence left the Freedom Caucus meeting last night without a deal, but [Chairman] Mark Meadows said the group was 'encouraged.'"
The strategy: A Hill source tells me the subtle message to Republicans is: "If we can't find a way to fix this, Trump will cut deals with Democrats" — with the chance for them to get preferences for their states.
The outlook: A Republican told me from the Capitol: "Everyone's still in all kinds of boxes. It makes this really hard."
The substance ... "Republican Health Proposal Would Undermine Coverage for Pre-existing Conditions," by N.Y. Times Upshot's Margot Sanger-Katz: "The terms, described by Representative Mark Meadows, Republican of North Carolina and the head of the Freedom Caucus, are something like this":
States would have the option to jettison two major parts of the Affordable Care Act's insurance regulations. They could decide to opt out of provisions that require insurers to cover a standard, minimum package of benefits, known as the essential health benefits. And they could decide to do away with a rule that requires insurance companies to charge the same price to everyone who is the same age, a provision called community rating.
2. A new can of worms
Top of WashPost front page, "Trump donor met Putin ally in secret," by Adam Entous, Greg Miller, Kevin Sieff and Karen DeYoung: "The United Arab Emirates arranged a secret meeting in January between Blackwater founder Erik Prince and a Russian close to President Vladi­mir Putin as part of an apparent effort to establish a back-channel line of communication between Moscow and President-elect Donald Trump."
Wait! What?: The Blackwater founder "presented himself as an unofficial envoy for Trump ... He has ties to people in Trump's circle, including Stephen K. Bannon ... Prince's sister Betsy DeVos [is Trump's] education secretary ... Prince was seen in the Trump transition offices in New York in December."
How it came to light: "U.S. officials said the FBI has been scrutinizing the Seychelles meeting as part of a broader probe of Russian interference in the 2016 U.S. election and alleged contacts between associates of Putin and Trump."
Why it matters: "The Seychelles encounter ... adds to an expanding web of connections between Russia and Americans with ties to Trump."
Look for: Reporters to press the White House on contacts between Bannon and Prince.
3. There were so many rumors ...
... about this story by Bloomberg's Eli Lake that "Susan Rice" was trending even before his story popped. The Internet just knows: The right was blowing up my Twitter feed and email with taunts about why I was "covering up" a story that I was just hearing about:
White House lawyers last month learned that ... former national security adviser Susan Rice requested the identities [or unmasking] of U.S. persons in raw intelligence reports on dozens of occasions that connect to the Donald Trump transition and campaign ...
Rice did not respond to an email seeking comment ... Her role in requesting the identities of Trump transition officials adds an important element to the dueling investigations surrounding the Trump White House since the president's inauguration.
4. Get smart fast: 9 steps to nuclear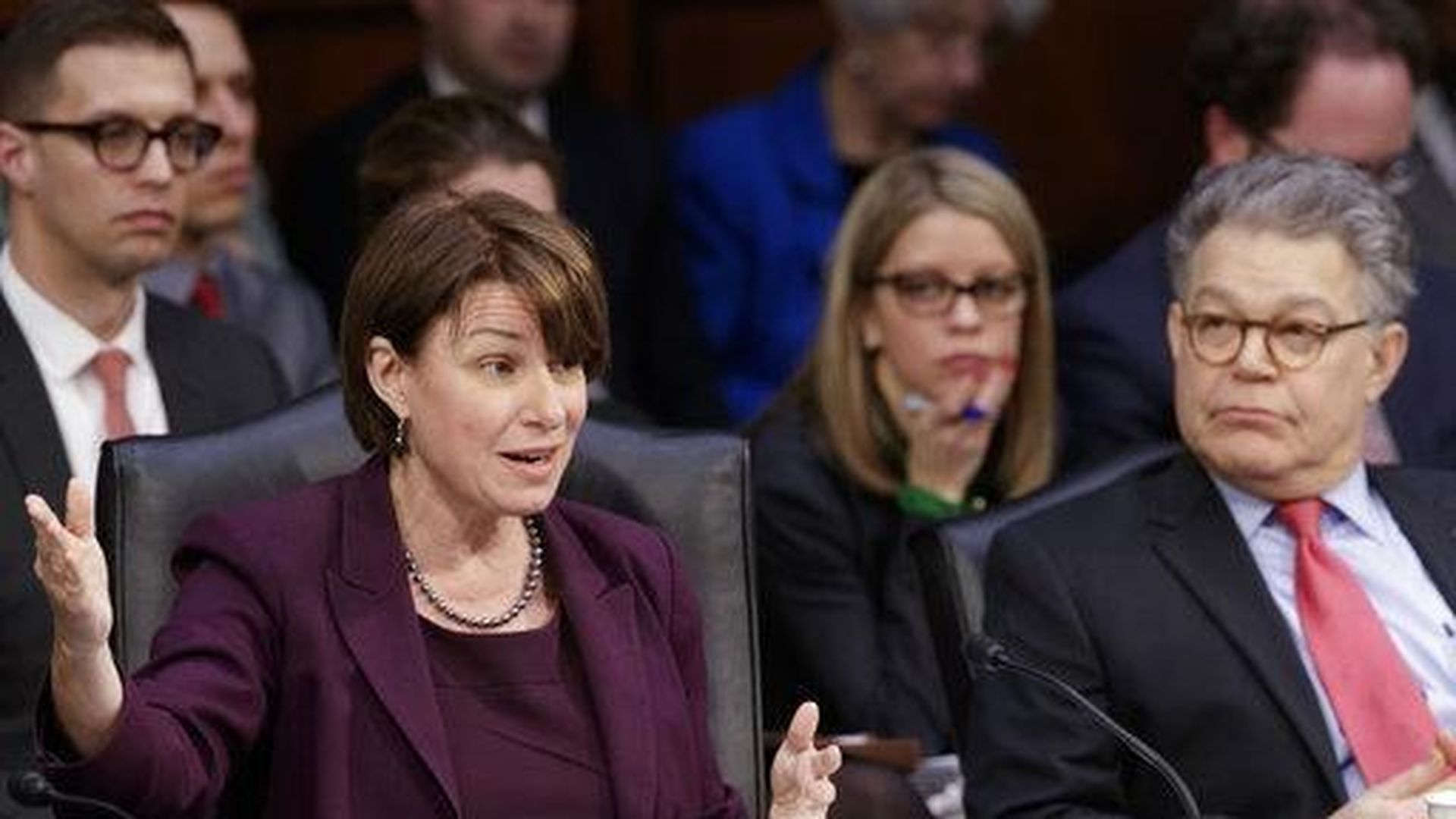 Here's a chance to pause and appreciate the winds of history that are blowing at us so fast, it's easy to mix them up or underestimate their significance.
In USA Today's banner story, "Nine steps to pave the 'nuclear path," Erin Kelly parses the mechanics of the high drama that's expected in the Senate late this week — "a complicated process that only a parliamentarian could love":
What's coming: Republicans plan to invoke the "nuclear option" to confirm Judge Neil Gorsuch to the Supreme Court over the filibuster of Democrats — blowing up "both long-standing rules and bipartisanship in a chamber that has traditionally valued both."
The roadmap: The Congressional Research Service bases its steps on Dec. 6, 2013, action by former Majority Leader Harry Reid, "who used the nuclear option ... to change Senate rules so that lower court judges and Cabinet nominees could be confirmed by a simple majority, scuttling a Republican filibuster."
The steps before finally moving to an up-or-down vote: 1. Reconsider ... 2. Point of Order ... 3. Ruling of the chair ... 4. Appeal the ruling ... 5. Vote to overrule... 6. Democratic point of order ... 7. Ruling of the chair II ... 8. Vote to overrule II ... 9. Re-vote cloture (to end filibuster).
5. Fox is winning the cable war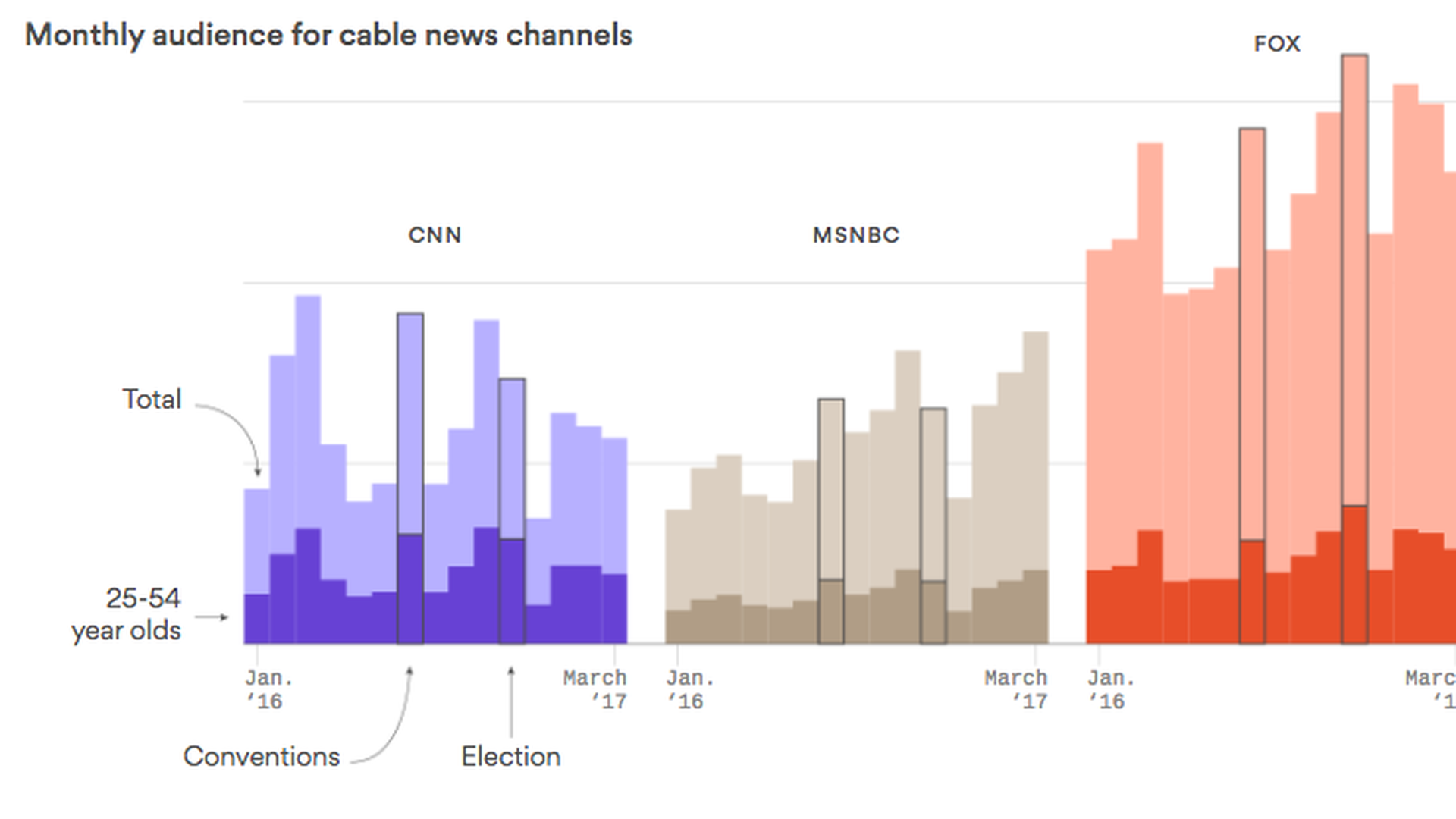 Shot ... While every cable channel is seeing a Trump bump in ratings, Fox is doing notably well, earning the best quarter in cable news history, Axios' Sara Fischer reports:
While Fox struggled behind the scenes with sexual-harassment laws allegations involving O'Reilly, the anchor's prime-time show scored the highest-rated cable news quarter ever, with 4 million viewers.
Chaser ... N.Y. Times front page, "New Harassment Claims at Fox Are Followed by Canceled Ads," by Emily Steel and Mike Schmidt: "Mercedes-Benz and Hyundai said they were withdrawing their ads from Mr. O'Reilly's prime-time show ... after The New York Times published an investigation this weekend that found five women who made allegations of sexual harassment or inappropriate behavior."
6. Stat du jour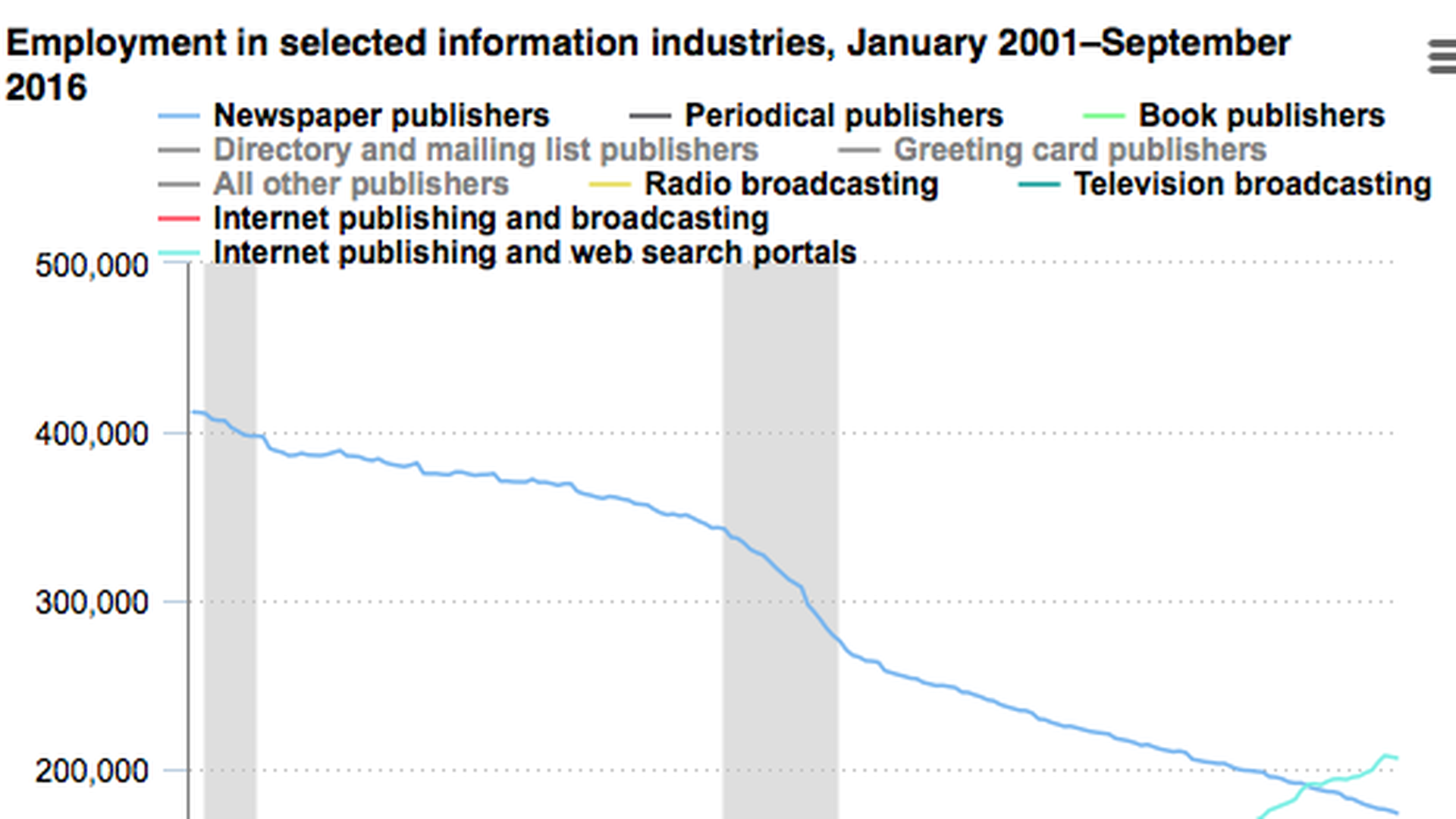 "Newspaper publishers lose over half their employment [412,000 to 174,000] from January 2001 to September 2016," per the Bureau of Labor Statistics.
"[E]mployment in the Internet publishing and web search portals industry increased from 67,000 jobs in January 2007 to 206,000 jobs in September 2016."
7. Sneak peek: Big labor's new strategy for Trump era
AFL-CIO President Richard Trumka gave Axios' Chris Matthews an exclusive look at an agenda-setting speech the labor leader will deliver at 12:30 p.m. at a National Press Club luncheon. Here's what we can expect from the movement in the Trump era:
Working both parties: Trumka will call out both "corporate Republicans" and "neoliberal Democrats" for policies, like free trade deals, that he says has shifted economic power from workers to corporations.
Holding Trump's feet to the fire: Trumka says 36% of AFL-CIO voters went for Trump — 3 points more than Mitt Romney. One of Trumka's top priorities will be to directly communicate with members to make sure Trump can't count on overperforming with union voters in the next election if his actions don't deserve it.
8. Trending in business: "The Commander"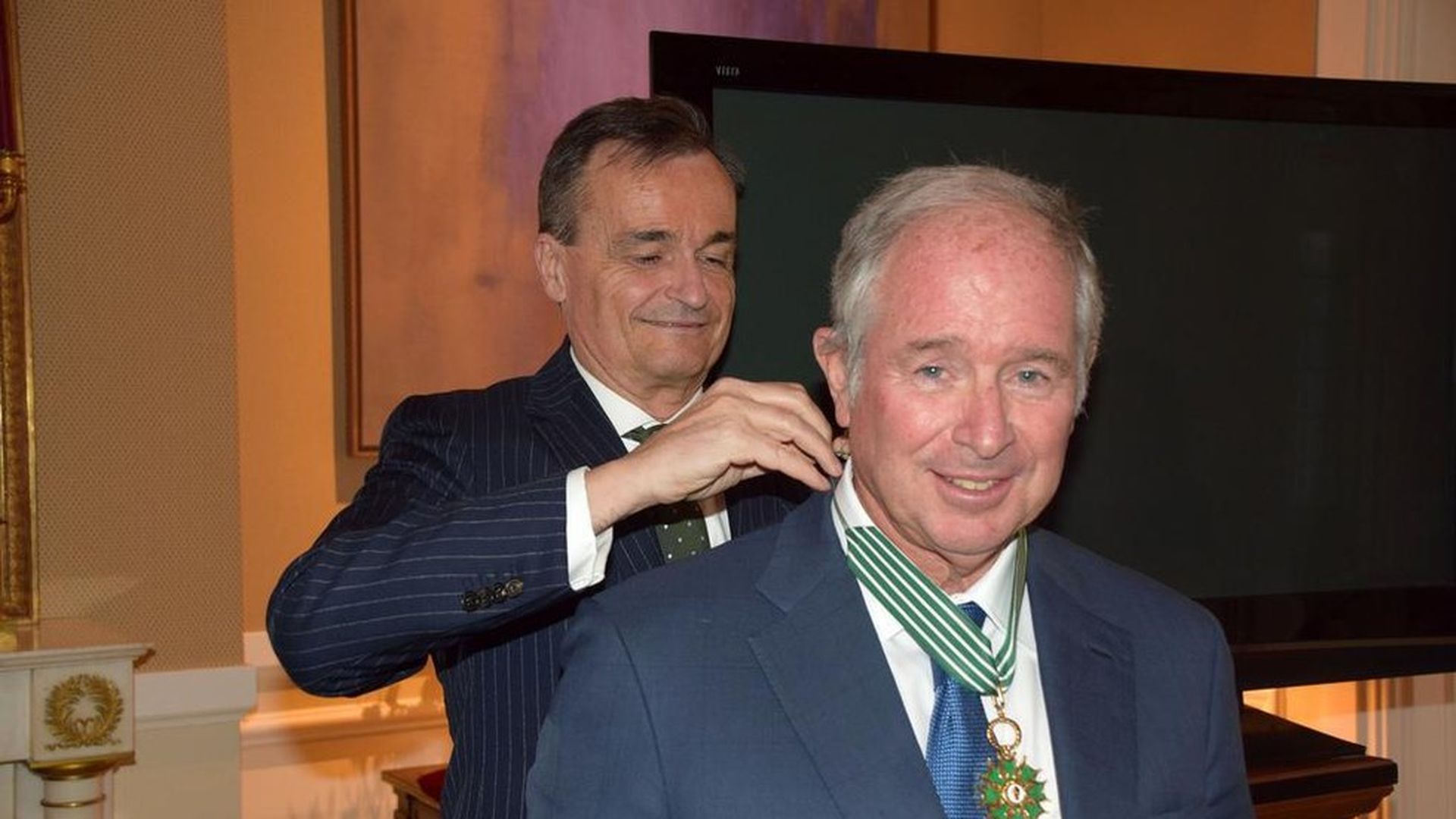 Stephen A. Schwarzman has many titles, including Chairman, CEO and Co-Founder of Blackstone, and chairman of President's Trump's Strategic and Policy Forum, an advisory council of CEOs. As of last evening, you can also call Schwarzman "Commander."
Gérard Araud, the Ambassador of France to the U.S., presented Schwarzman with the insignia of Commandeur des Arts et Lettres, for his service to French culture. The ceremony at the Ambassador's Residence drew a roomful of notables from government, business and society, including Ivanka Trump, Transportation Secretary Elaine Chao, Education Secretary Betsy DeVos and Sen. Roy Blunt.
Coming today ... CNBC wrote in March: "Everyone reads Berkshire Hathaway chairman and CEO Warren Buffett's shareholder letters for guidance on management, but to whom does Buffett turn for business wisdom? JPMorgan Chase chairman and CEO Jamie Dimon," also chairman of Business Roundtable.
Dimon's letter will post here at 11:30 a.m.
9. The talk of tech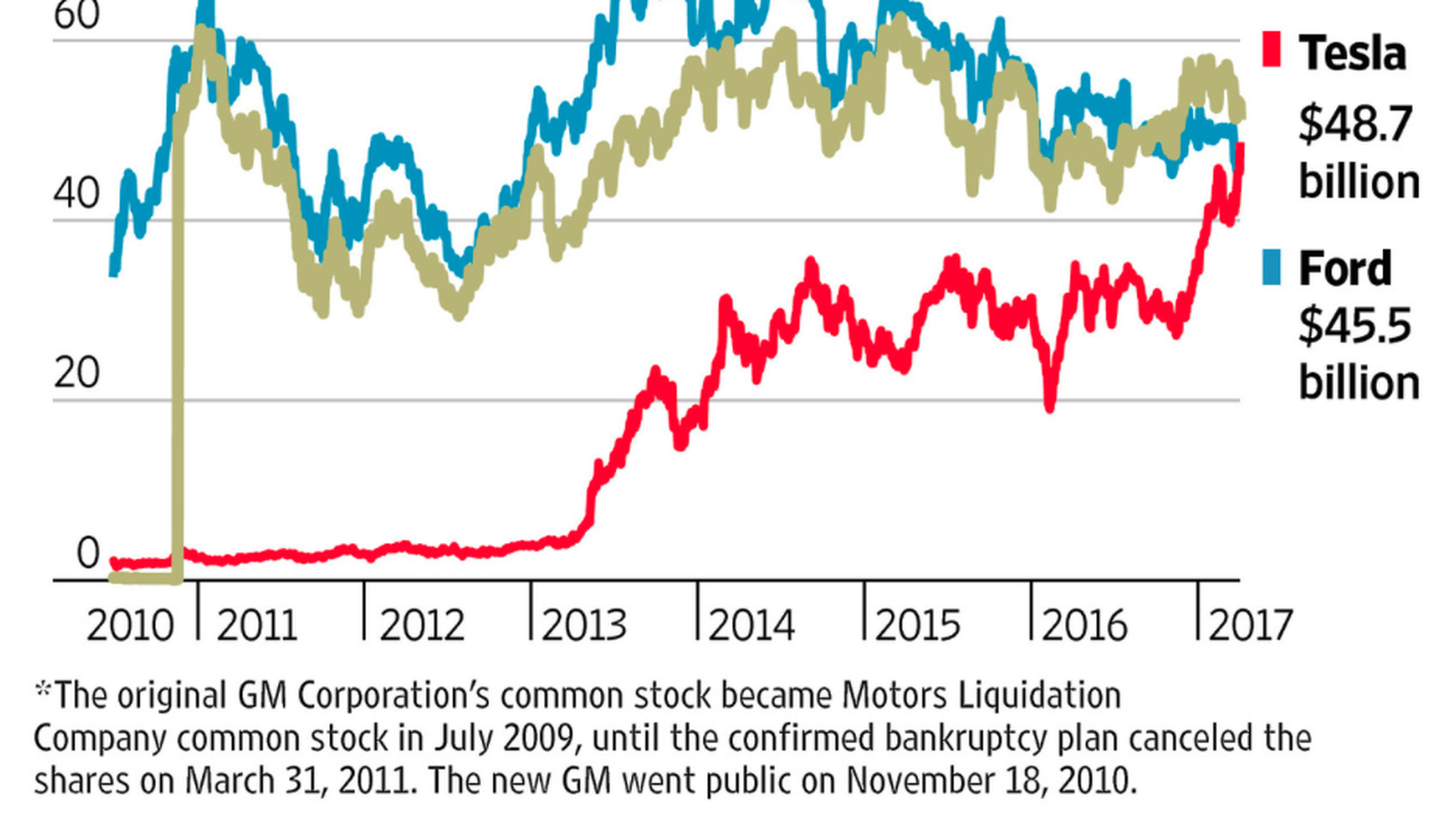 Wall Street Journal front-pager, "Tesla Steps on the Gas, Overtakes Ford in Value," by Tim Higgins and Christina Rogers: "Tesla Inc., the upstart Silicon Valley electric-car maker run by [Elon] Musk, has overtaken Ford Motor Co., the automotive pioneer that is exactly 100 years older, as the second-largest U.S. auto maker by stock-market value."
Market caps: GM $51.2 billion ... Tesla: $48.7 billion ... Ford: $45.5 billion.
The Snap effect ... Also on the Journal front page, "Tech Founders Wants IPO Cash — and Control: 'Dual-class' shares, which give majority to a few, spread in Silicon Valley," by Maureen Farrell: "[C]ompanies are structuring their IPOs so that founders and executives wind up with far more votes than actual shares. The exaggerated voting power gives those few shareholders dominance over all corporate decisions, ranging from the election of directors to whether to sell the company someday."
10. 1 fun thing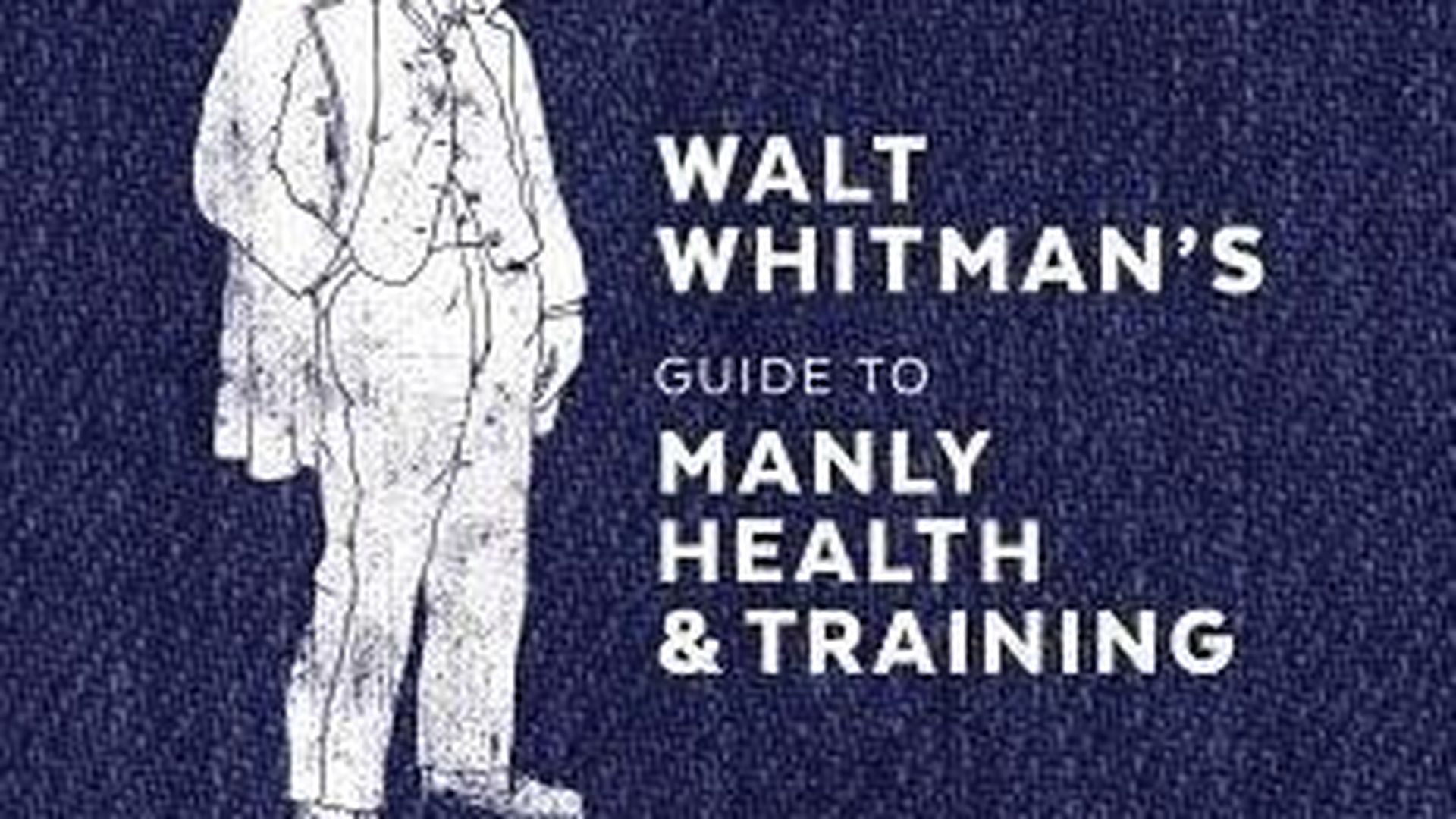 "Walt Whitman Is Not Impressed By Your Expensive Gym Membership: Fitness advice from the famous author's 1858 manifesto," by Bloomberg's James Gaddy:
Today, Ten Speed Press publishes the poet's health advice in 1858 newspaper columns, repurposed as Walt Whitman's Guide to Manly Health & Training, presenting itself as "a bearded Brooklynite's spin on men's grooming guides just in time to preorder for Father's Day." Among his tips:
Health as a Long-Term Investment: "If you are a student, be also a student of the body ... realizing that a broad chest, a muscular pair of arms, and two sinewy legs, will be just as much credit to you, and stand you in hand through your future life, equally with your geometry, your history, your classics, your law, medicine, or divinity."
"Places of training, and all for gymnastic exercises should be in the open air — upon the turf or sand is best. Cellars and low-roofed attics are to be condemned, especially the former."
"The game of base-ball, now very generally practiced, is one of the very best of outdoor exercises."
"Persons habituated to a daily summer swim, or to the rapid wash with cold water over the whole body in the water, are far less liable to sudden colds, inflammatory diseases, or to the suffering of chronic complaints. The skin, one of the great inlets of disease, becomes tough and thick."
"A gentle and moderate refreshment at night is admissible enough; and, indeed, if accompanied with the convivial pleasure of friends, the cheerful song, or the excitement of company, and the wholesome stimulus of surrounding good fellowship, is every way to be commended."
Walt Whitman lived to age 72 — 1819 to 1892.